Pallet coffee tables have become staple furniture in today's modern spaces. Besides functioning as support, design, and addition in your décor, coffee tables are necessary sections for stress relief, recreation and refocusing in your home/office.
See below for our collection of the best pallet coffee table DIY plans!
1) White Double Decker Pallet Coffee Table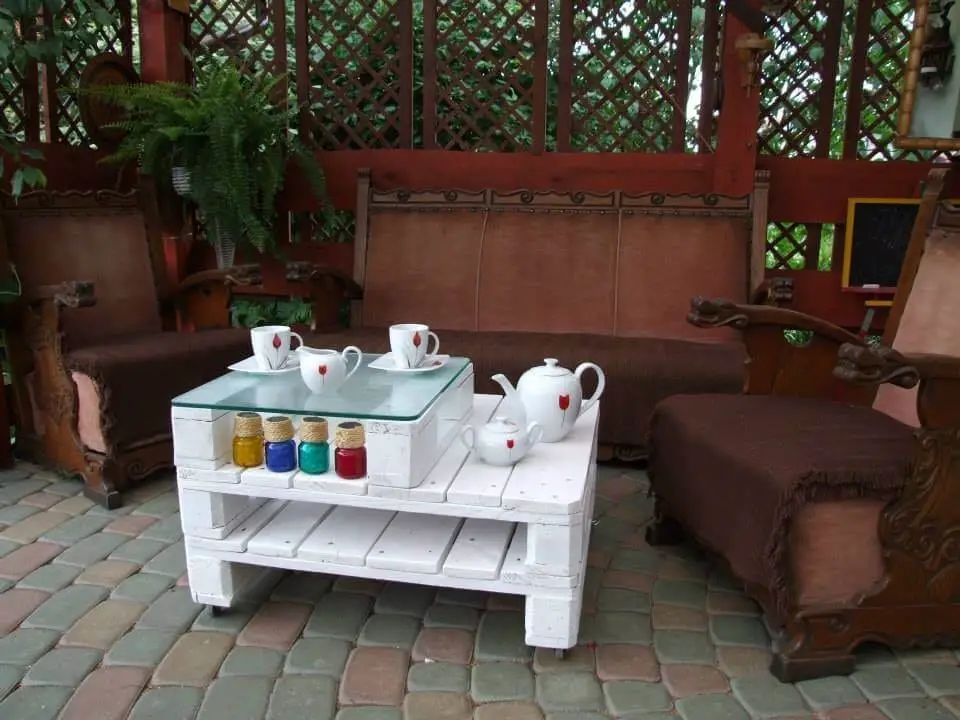 If you are the type of user that involves a number of peripheries at coffee time, then you ought to try out the white double-decker pallet DIY idea. This type of table is very conducive to group sessions.
Color options for the double-decker table are varied. But the white-painted pallet never fails to exceed color aesthetics. White paints can indeed maintain a neat, clean, minimal, rustic but solid hue in the furniture.
2) 2-Tiered Pallet Coffee Table
A geometric achievement, the 2-tiered pallet coffee table design can instantly turn your space into a highly utilitarian mode. It completes an entire modern/rustic décor look without the expense of sophistication.
The glass finishing at the table top lays to be just another option at hand. For a DIY project, purchasing glass can be outward contradictory to the whole DIY aim. But the sheer beauty and sophistication the glass provides are unquestionable.
3) Small Pallet Coffee Table with Wheels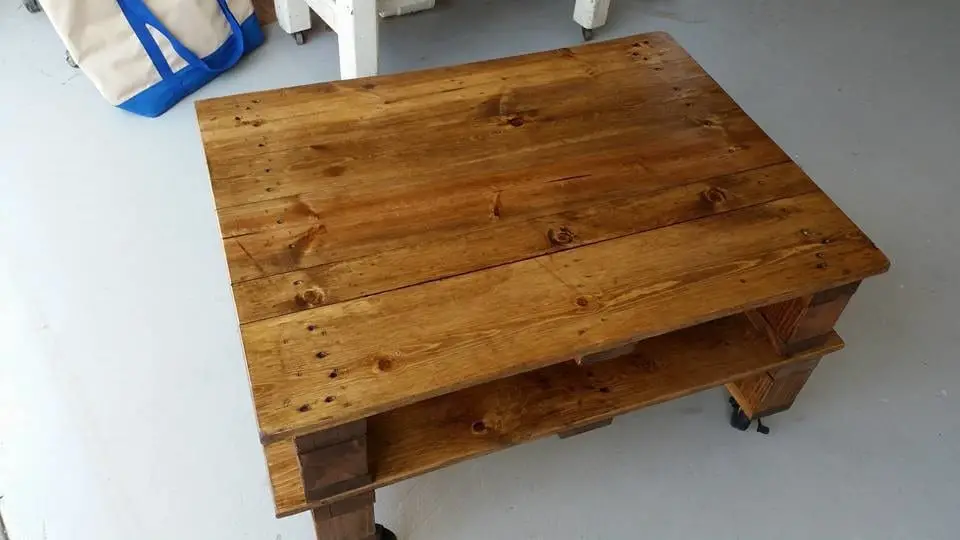 Like the vintage table design, this one perfectly matches outdoor use. You can assign this table design to patios or gardens. Nevertheless, it should also not hurt to assign this table design indoor. As long as it works for you and your décor, the small pallet table design can be in any place at your will.
4) Pallet Coffee Table with Succulent Planter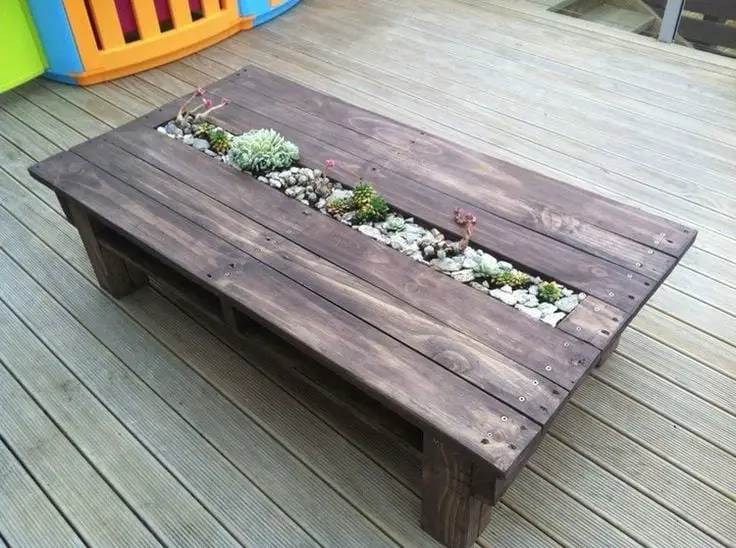 You are closest to nature with the pallet coffee table with the succulent planter. Before we proceed to the wonders of the coffee table with succulent, let us check the best-sold items everyone has been going crazy about.
The succulent plant bunch (mainly consists of cacti) can then be later planted after the soil has been poured into the planter section. After doing so, you can begin to drill 3/8 inch holes in the bottom of the planter.
These holes drain unnecessary moisture from the soil. And, it further encourages the plant's fast absorption. Once the plant bunch has been properly planted, you can proceed with color finishing for the table. It is highly recommended however that you leave the table in natural color and just apply a coating on the wood. But, it is all up to you now.
5) American Flag Coffee Table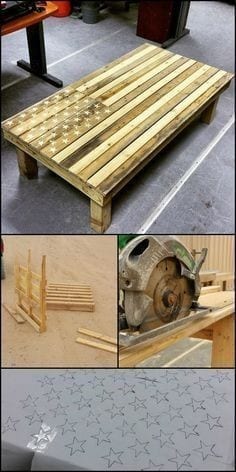 A while ago, the Union Jack was featured on a coffee table top but this time the American flag is waved. But compared to the Union Jack flag this coffee table has stained the stars and stripes on the pallet top instead of painting it on.
The effect looks magnificent and no doubt this project is very easy to make. You can build this because it is very easy to make and requires only a small number of pallets.
6) Rolling Coffee Table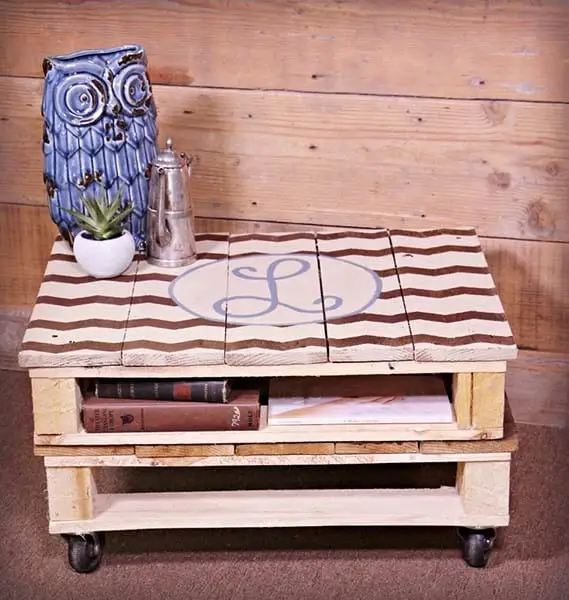 You can have coffee, entertain friends and just relax with this rolling coffee table. Set up only takes a few minutes. Just roll this table to wherever you want to and enjoy a nice cup. This table is made from two pallet frames fitted with round wheels at the bottom.
This table has a very spacious top although you can still see slots between each pallet. And you can paint this table whatever color you want or you can stain this according to the shade you want as well. 
7) Pallet Coffee Table with Glass Top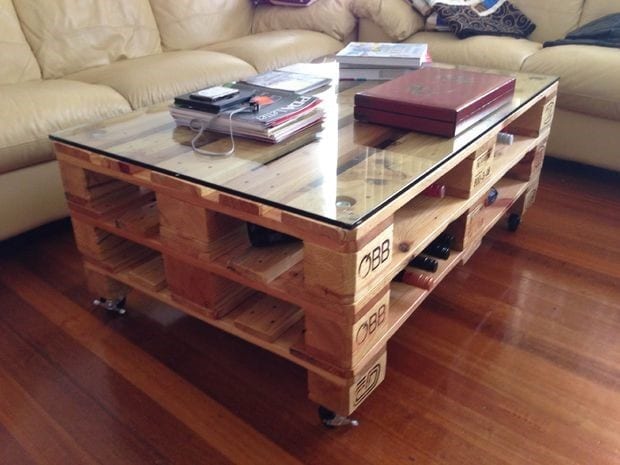 Instead of a table with a pallet top, this pallet coffee table boasts of a glass top. The sleek glass top has made this coffee table more sophisticated and classy. Remove the lovely glass top and you have two pallet frames stacked on top of each other.
The frames were stained with a moderately dark stain which was just enough to let the natural beauty of pallets shine. Staining also protects the wood from water damage and from food mess. This table is quite easy to make and will make a wonderful addition to your living space.
8) DIY Pallet Coffee Table
Now, this coffee table is unlike other tables that were featured before. This one has a unique geometric design that has given the table a unique retro look. This coffee table is small for starters but its beauty makes up for its height and size.
The top has a lovely geometric design that highlights the beauty of wood. The builder obviously used two shades of pallets and cut these in a diagonal formation. After the pallets were installed, the additional stain was added to the top to make it smooth and waterproof.
This coffee is quite a challenge to build because of its design but despite this, it has a simple basic style that can be constructed even  with someone with very little woodworking skills.   
9) Pallet Table DIY Plans
This is another low coffee table made from two pallet frames but this time this table has a square-shaped design. The table is large and spacious so it's perfect for entertaining, drinking coffee, parties and more.
The table appears to be flat and even because the spaces between the pallets were covered with pallets as well. The table is well-protected with a moderately-dark stain. The surface is therefore good enough for placing cold or hot drinks without fear of affecting your pallets.
And because this project is merely stacking pallets together, it is very easy to build and won't cost you anything at all. A good project for any beginner woodworker!
10) Low Pallet Long Coffee Table
Entertaining friends at home? Having family over for dinner? Let them have coffee or wine in your living room and let them envy your very lovely yet very cost-efficient coffee table made from pallet wood. This one is a very large table made from very large pallet frames.
Two frames were stacked together to make a coffee table fit for a large family or for a large party. This is a total knock out coffee table which was coated with a dark stain. This aims to protect the pallet wood and to create a waterproof cover for splashes and messes. 
11) Square Pallet Table with Short Legs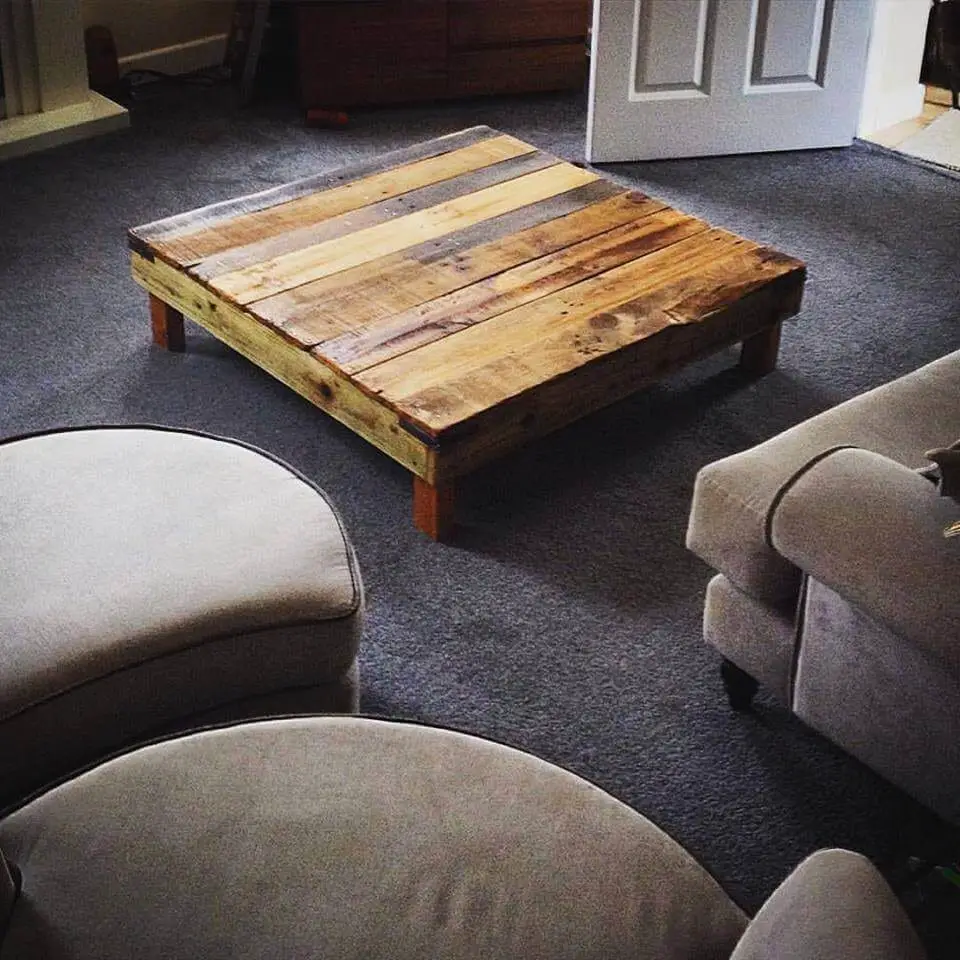 This is a coffee table with a very low design. It is huge and wide but its size only allows it to be a living room center table. It is made from several pallets and strong stubby legs. But what's striking about this table is that it looks golden and crisp.
The table top is smooth and very striking because of the dark stain that was applied on the top. No doubt that the builder understood the importance of using stain and waterproofing methods to protect the top of your coffee table.
12) Wooden Pallet Table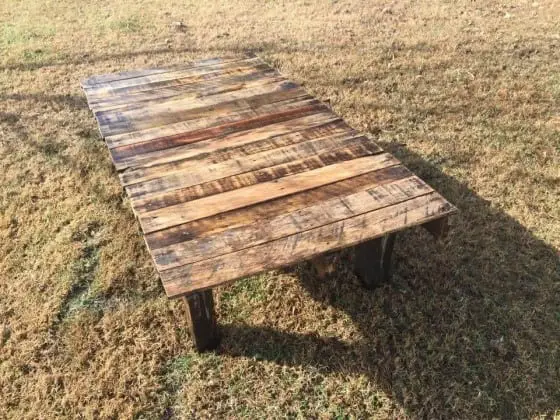 This is a very large pallet table that you can use as a dining table or a working table. The top is very rugged, non-stained and non-treated. The pallets look lovely this way but despite this, you still need to protect the top from spills and food debris. This large table  can seat eight or ten people at a time and would make a good outdoor party table too.
13) Pallet Table with Metal Legs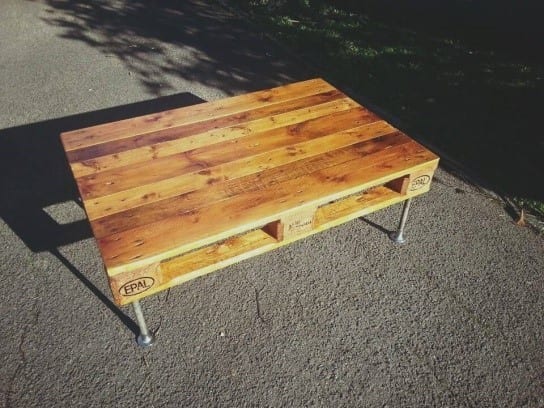 This is a pallet table that can be used as a coffee table or sectional table. It is low because it was made of a single pallet frame with very low hairpin metal legs. The table is wide as it is huge with a lovely polish on the top.
You can see that the builder too extra efforts in staining and polishing this table to protect it from mess and spills. This is a very easy project which can be done in just a few hours if you have all the materials needed for you.
14) Small Pallet Coffee Table with Wheels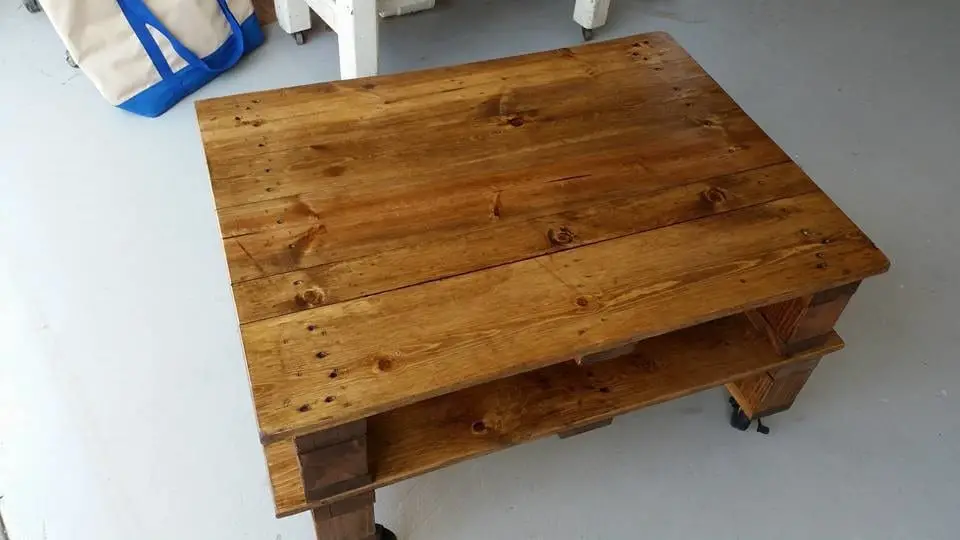 Coffee tables are mostly very short with only a few amounts of space on top. Now, this pallet table follows the same traditional design. It is short, with legs attached to large wheels. The table top is made of just four pieces of pallets which were made smooth and ready for water or dust.
The builder used a very dark stain to cover the lovely surface of the pallet wood. There is a small section at the bottom of the surface to store magazines, remotes and more. This is a good project that is quite easy to make.
15) Pallet Coffee Table with Round Wooden Legs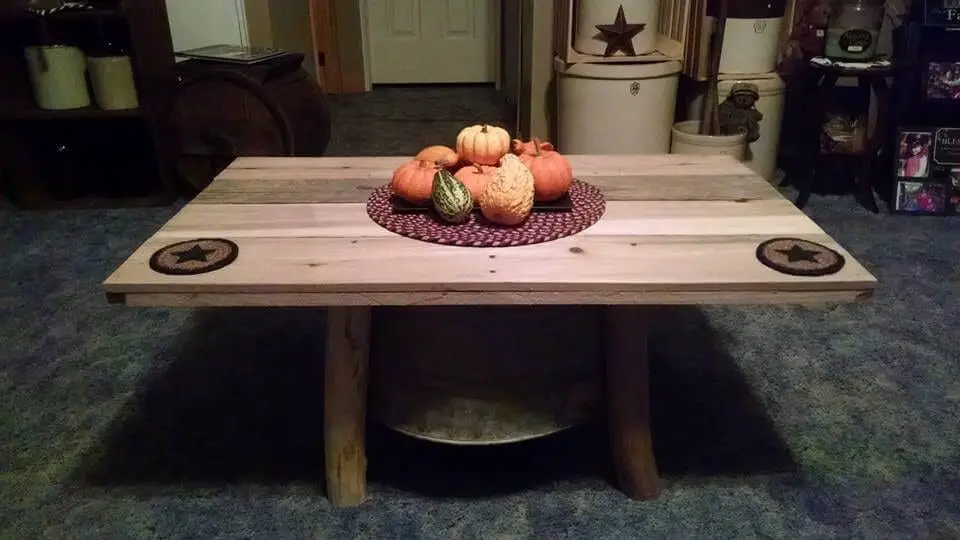 Now, this is a large coffee table that you can share with a large number of friends. This table has a strong pallet top made of only several pieces of pallets. The legs are strong and can hold food, drinks, and other accessories.
There is a section in the middle of this coffee table where you can place different things like magazines, newspapers, and books. Despite its size, this project is very easy to make and will just take you a few hours provided you have all the materials ready.
16) Large Pallet Low Coffee Table for Living Room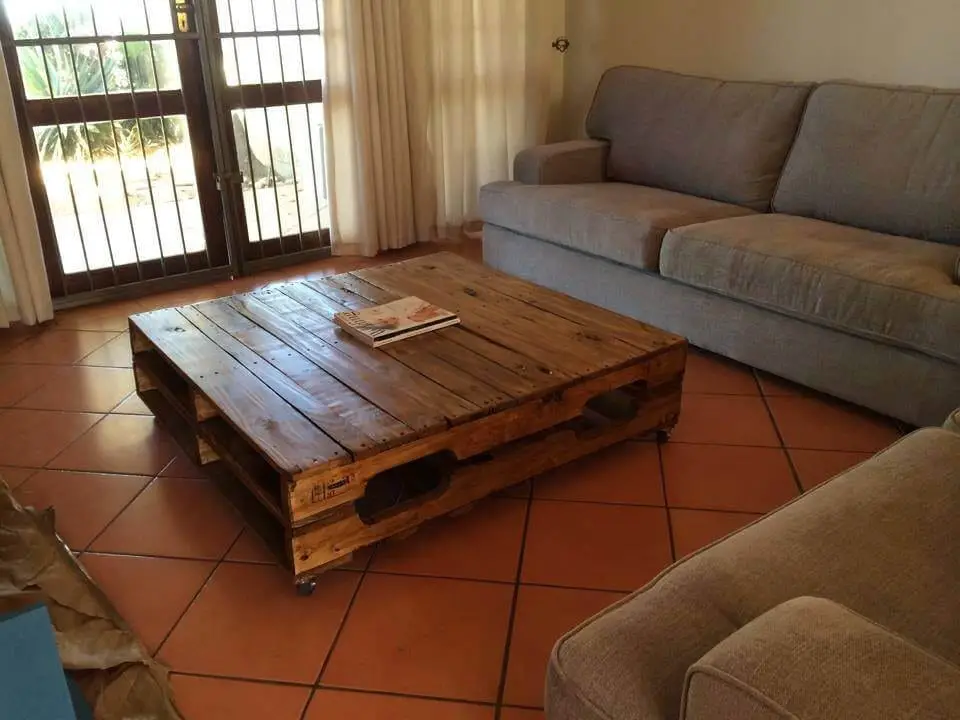 Pallet frames may be stacked together or dismantled from the frame to make a table. This is a coffee table made from just two pallet frames. This creates a wide and smooth space on top where you can hold anything.
The builder stained this pallet coffee table a very dark stain. This provides a good waterproof surface and protects the wood from spills and messes. This is a project that is very easy to make and won't take you a day to do. Include this in your woodworking project list for your next get together.
17) Pallet Coffee Table with Storage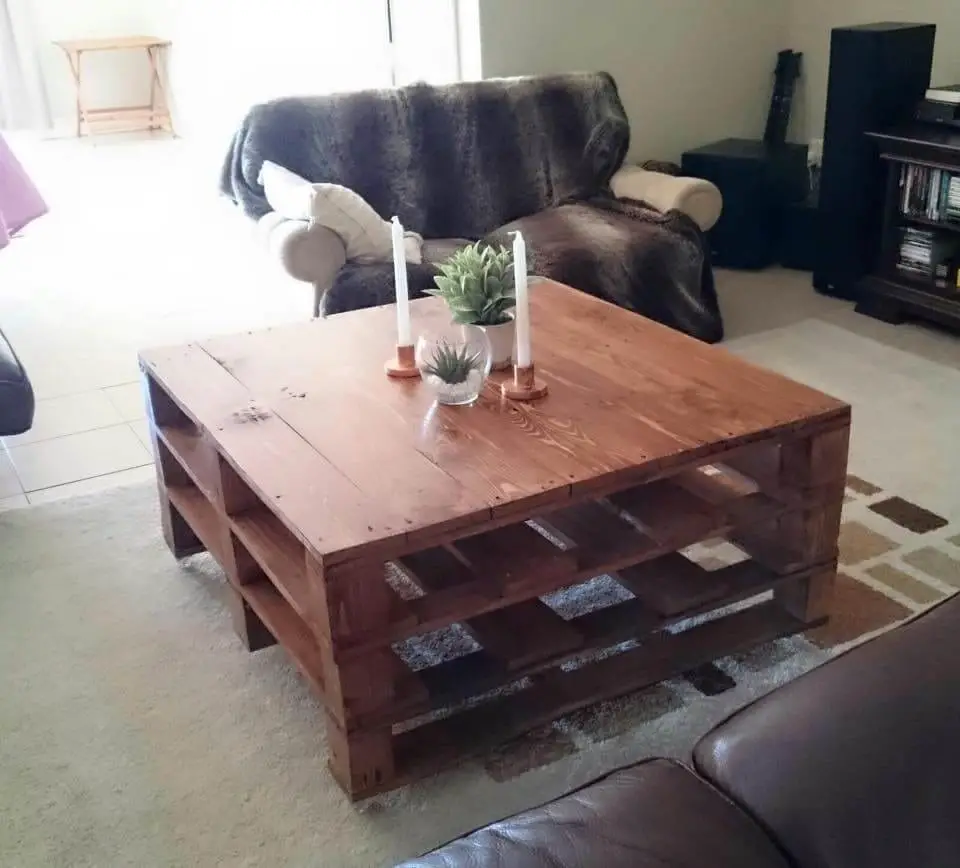 This pallet coffee table is low but has plenty of storage areas. It is made from two pallet frames assembled to make a large and steady table. The top is smooth and even plus stained to keep the natural beauty of wood.
The table is also waterproof because of the deep stain which is very important in case of spills and messes as you use this as a full-time coffee table or entertainment table.
18) Pallet Coffee Table with Hairpin Legs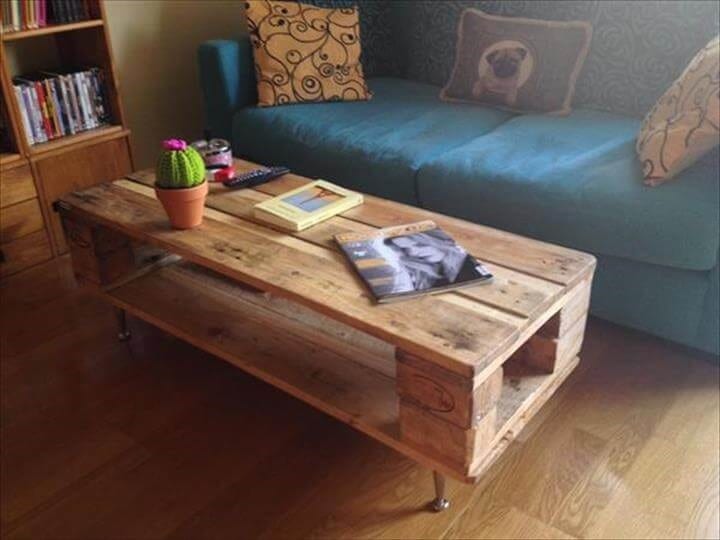 This coffee table has a unique design. This is taller than most coffee tables because of its hairpin legs. This is made from only one pallet frame, cut and folded to make a tall table. The storage section in the middle of this pallet coffee table is huge, you can place all kinds of things here. There is no doubt that this pallet coffee table is something you'll include in your woodworking to do list.
19) Blue Painted Lunger Pallet Coffee Table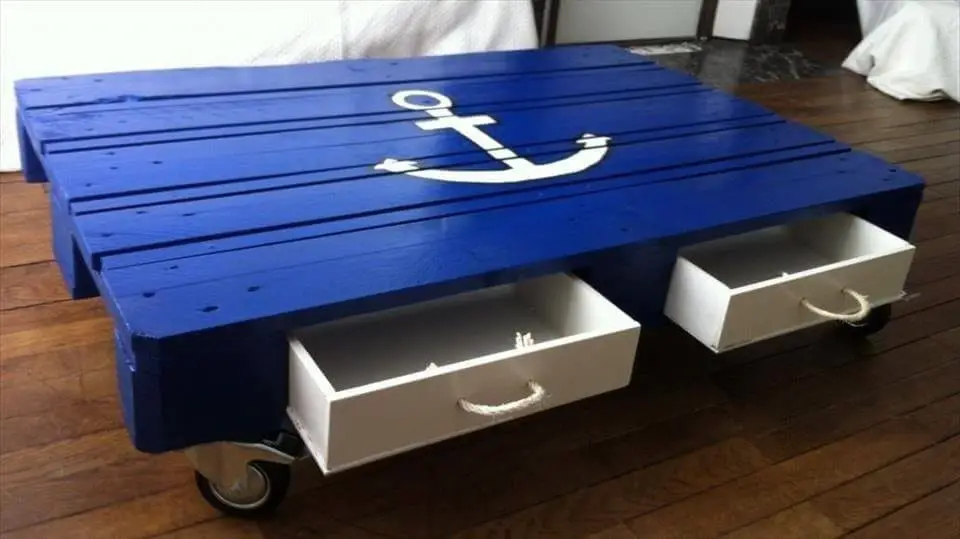 This is a lovely lunger pallet table that has two large drawers and a perfectly smooth top. This is actually made of only one pallet frame with the middle hollow part used to hold two lovely drawers. The top part is smooth with the gaps filled with more pallets.
This small table was fitted with caster wheels so it can be dragged, pulled or pushed to anywhere you want to put it. The most striking part of this coffee table is that it has a lovely blue top with a stenciled anchor design. This is a good project to include in your woodworking list and this could be your next one.
20) Pallet Metal Grill Coffee Table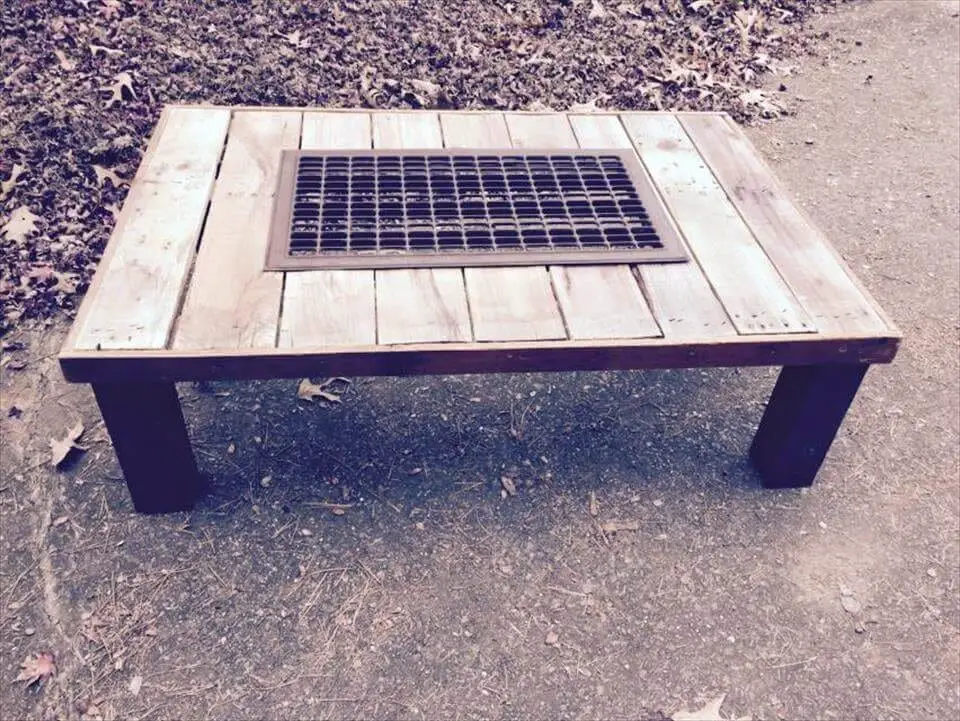 This pallet table is a short coffee table with a decorative metal grill on the center. The metal grill here is a good place to put a large hot pot. The table is very small and was made from only a few pieces of pallets.
The large legs hold the table well and no doubt that it can hold different things as well. This is one of the easiest projects and it won't take you hours to build it as well.
21) Vintage Outdoor Pallet Coffee Table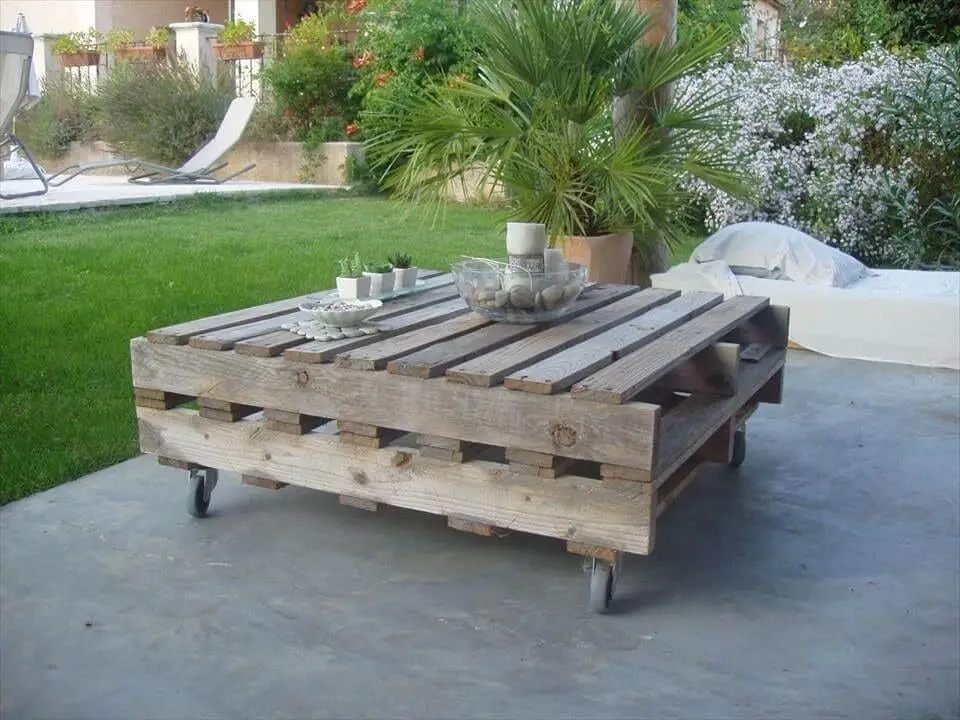 Dining outdoors or at least having coffee outdoors is going to be a breeze with this coffee table. This is short but has wheels at the bottom so you can take this anywhere in your patio or garden. This is made from two pallet frames stacked on top of each other to make a standard size table.
The top is not so even with the gaps in between the pallets but still, it works as a good surface to hold different items. In between the pallets are open sections where you can place different things like magazines and books. This is a good and easy project that you can make in just less than an hour.
22) Three Pallet Tables for Any Room of the House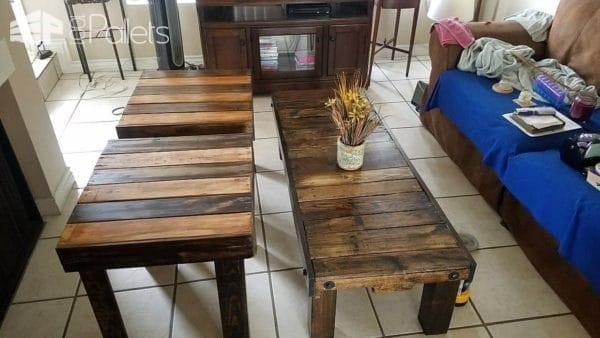 If you have a lot of pallets just stacked in your garage or shed then this is a good way to repurpose them. This is a plan to make three tables for your living room or dining area. Lovely dark pallets were used to make the tables and these were even stained a deeper stain.
This plan will teach you how to make a long and low table, as long as a sofa. This is perfect as a coffee table or a reading table. The other two tables are taller but are narrower compared to the long and low table. These two tables can be used as an end or side tables.
These pallet tables have a very basic and easy design that you can make in just possibly less than an hour. You must stain your wood especially pallets used as tables to preserve the appearance of wood and to provide a waterproof layer on top.
23) Union Jack Pallet Table Design
Pallets frames are versatile and will work perfectly as a very low table. The top can be reinforced to hold more items and to make a large canvass to draw or paint anything. The builder specifically painted the Union Jack flag on the pallet surface using regular wood paint.
But the surface and the lovely exterior is just the first thing that's amazing about this design. Below the surface are shelves with basket drawers. The drawers make a good place to store all kinds of stuff you usually get lost in the living room including the remote, magazines and more.
24) Green Pallet Coffee Table With Hairpin Metal Legs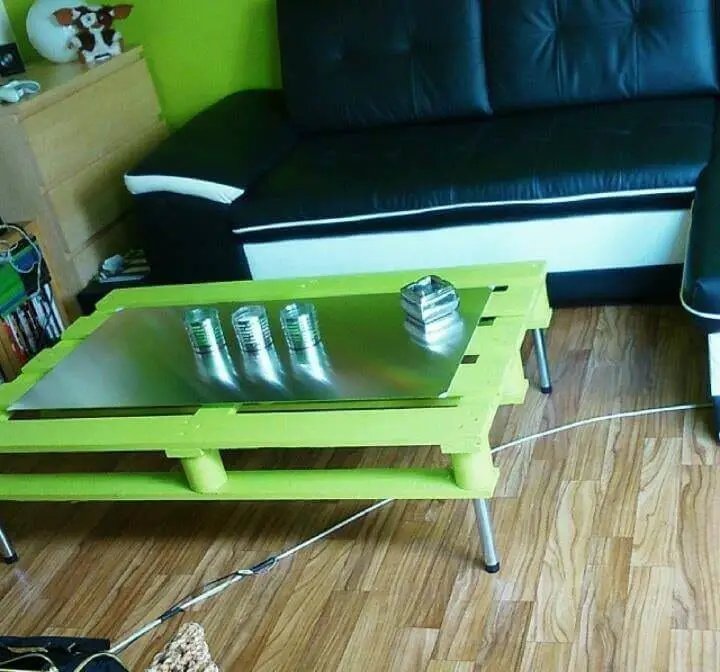 Do you agree that once something is painted mint green, it looks good enough to eat? Well, this cute little table looks like it is sort of yummy with its bright mint green shade. This is a table that's made of just one pallet frame.
It has legs made from metal hairpin legs so it's guaranteed to be strong. The builder added a small sheet of glass at the top to just holding steady a few items. This coffee table will surely be an instant hit when you host your next party this week.
25) Pallet Table DIY Design

This is a large but narrow pallet table made as a coffee table. The pallets used here were dismantled from their frames and this was assembled to create a table with a top and bottom section. The top layer was stained a very dark stain which keeps the surface clean, safe and very lovely.
All these qualities are very important for any coffee table and dining table. This project is easy and doable for anyone who is new to pallet project making.
26) Pallet Coffee Table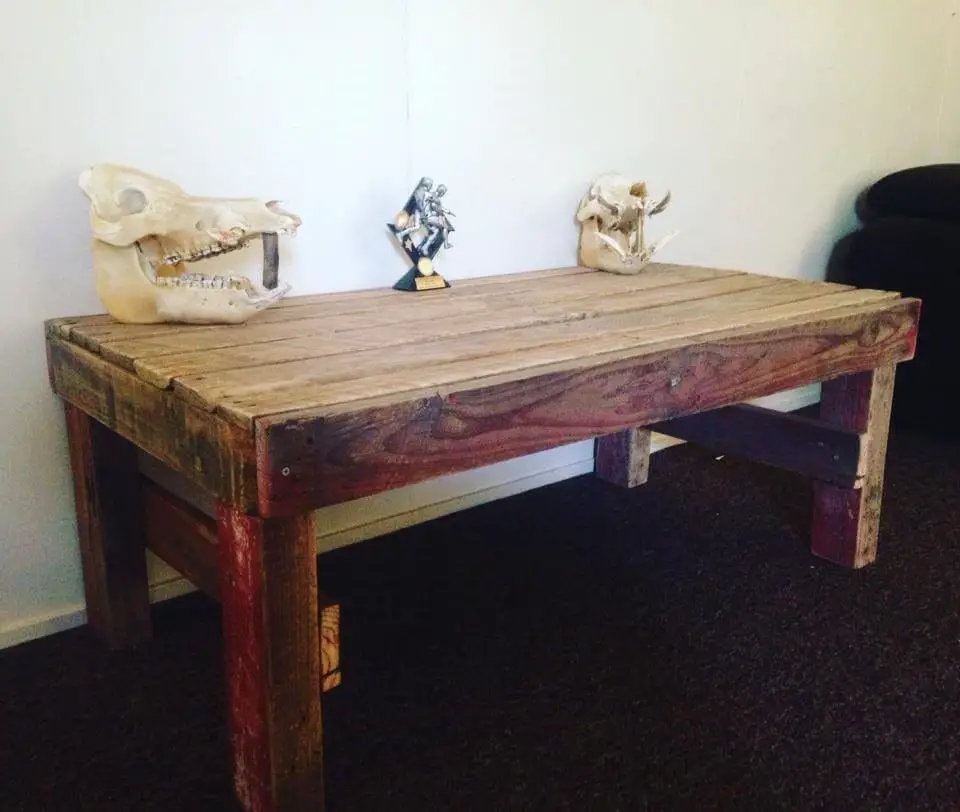 Something very striking about this simple coffee table is that it has lovely natural grooves along the side of the table. The top is made from a number of pallet frames creating a flat and even surface to work on and to drink coffee on.
The legs look large and sturdy which is perfect if you want to use this for something else than coffee. And it is wider and longer than other coffee tables which is another good thing. The builder did not stain or pain this coffee table but you should yours to seal off water and messes and to protect the lovely natural appearance and imperfections of pallets.