If you are a dog owner, you would know how expensive dog houses can be. Some would even cost more than a hundred dollars. But you can settle and relax knowing that you can make one for yourself in simple and easy ways and without spending more than seventy-five bucks.
A cheap and easy way to DIY dog house is through wooden pallets and wood scraps that you may have lying around, or you can totally purchase some for cheap.
Before building anything though, you would need inspiration, so make sure to check out these 17 DIY Pallet Dog House Plans and Ideas:
1) Wide-Opening Pallet Dog House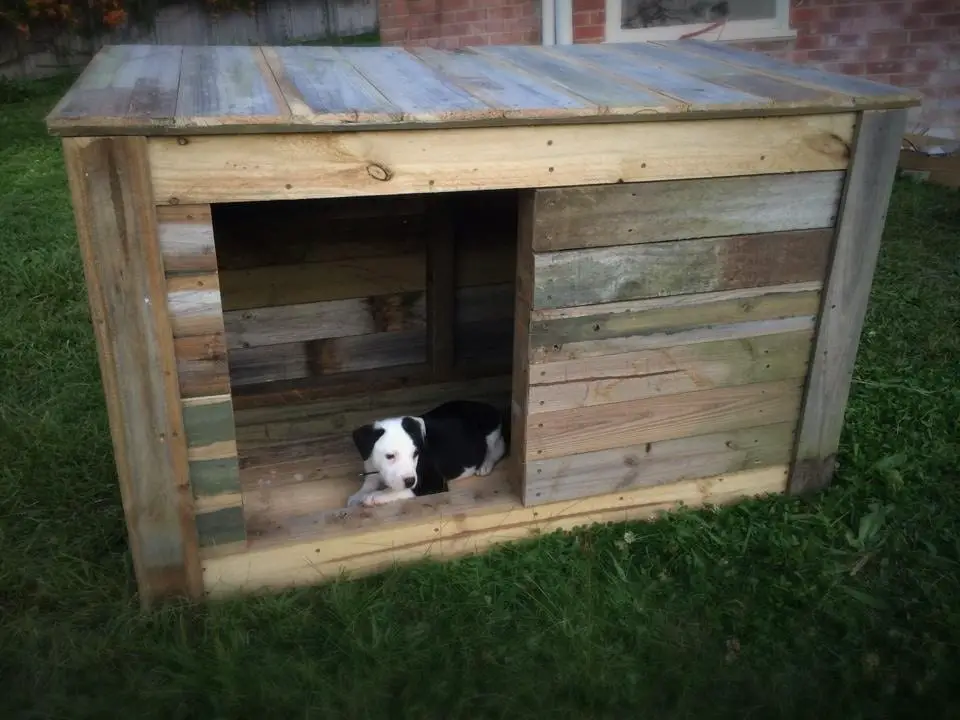 I personally like how simple and easy this DIY is! This DIY can be compared to just building a box with an old wooden pallet, adding a top and making sure there is just a wide opening! This easy DIY dog house has a lot of room for a small and medium-sized dog to move around.
You can look at the picture above and look at the dimensions if you have a bigger dog since you would want your dog to be comfortable and not squeezed in its dog house.
This dog house has the most modern design that would also double as a home décor. If you'd like to move your dog's house around your property or if you move a lot to different places, this DIY dog house would be a good match for most house designs.
2) Open-Air Pallet Dog House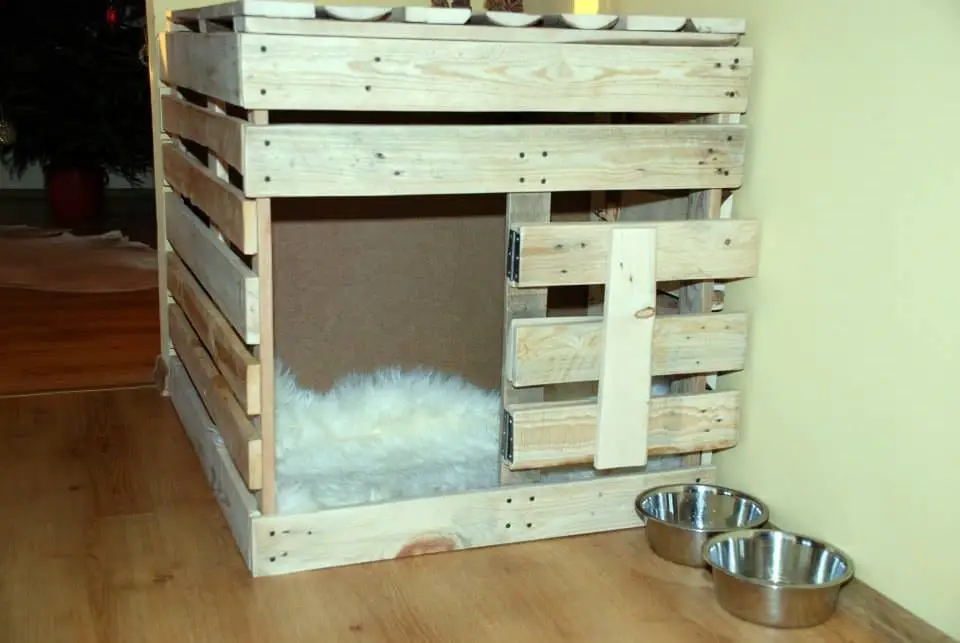 This open-air pallet dog house DIY is really easy and simple as it doesn't need much dismantling.  If you have multiple dogs but want them to have their own space, this plan is great for you and your dogs, this fantastic DIY Pallet Dog House provides enough space for your dogs and you can add little air holes to keep the air flowing inside,
3) Iron-roofed Pallet Dog House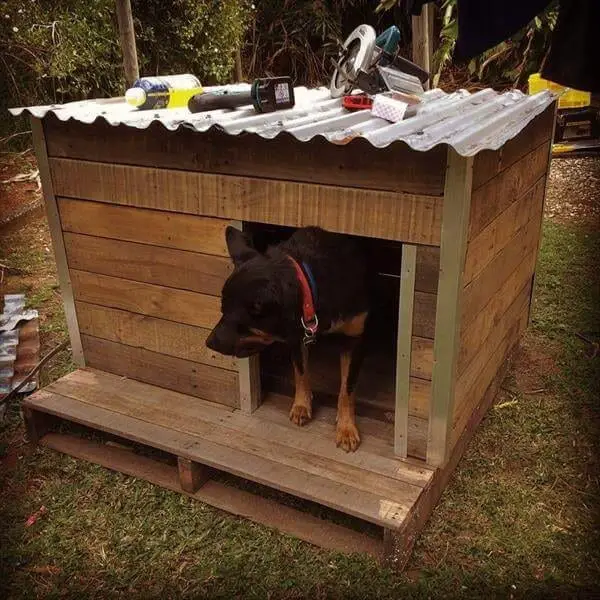 This DIY Pallet Dog House is roofed with a galvanized iron. If you have a larger dog, then this DIY Pallet dog house is suitable for them. This larger than the traditional dog kennel is easy to build even if you are new to the world of carpentry or woodworking.
If you look at the picture above, then you can see that with the right design effort and a bit of staining it can look charming and pretty.
4) Pallet Dog Bed And House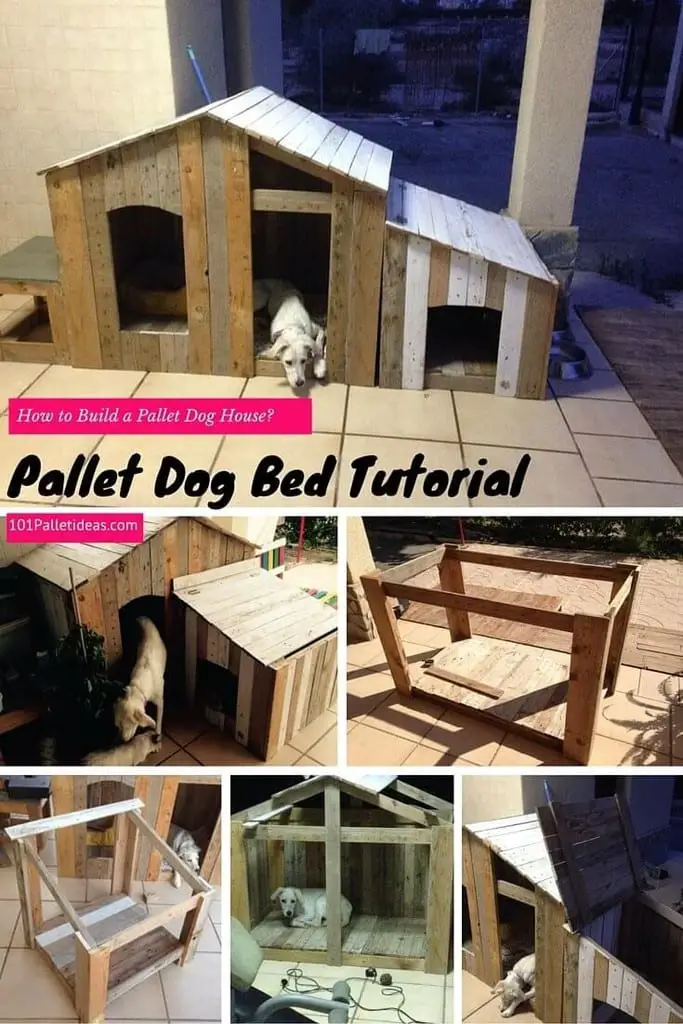 As a DIYer, you might want to make this especially classy Dog House for your pup. There is no way you wouldn't be attracted to this wonderful DIY Pallet dog house plan.
This DIY plan has a plus benefit of having a sun deck for your dogs to sunbathe on. Even better, all of this can be made from wooden pallets.
5) Pallet Dog House With Food Bowls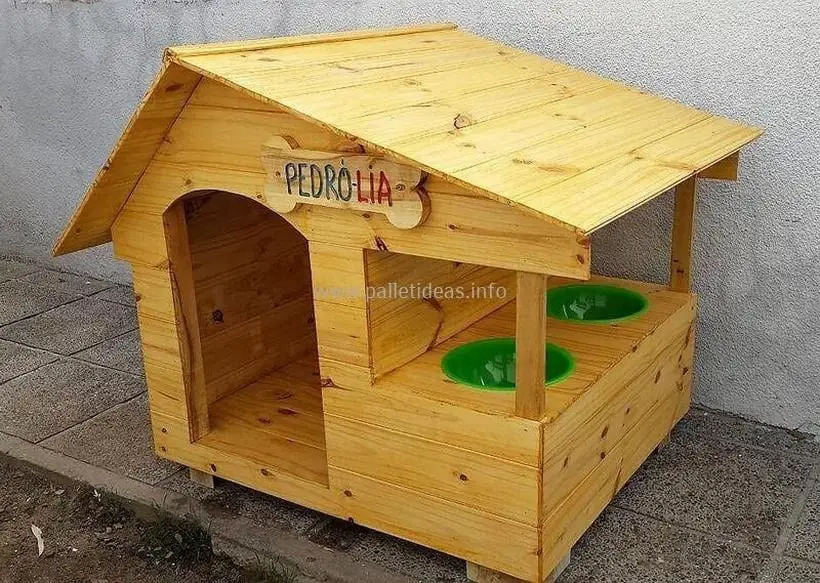 This DIY Pallet Dog House is easy to love by you and your furry house. You'll understand when you see the plan. The appearance of this building is perfect for any spot around your property whether indoor or outdoor. This dog house design is perfect for the safety and comfort of your loved dogs.
6) Minimal Pallet Dog House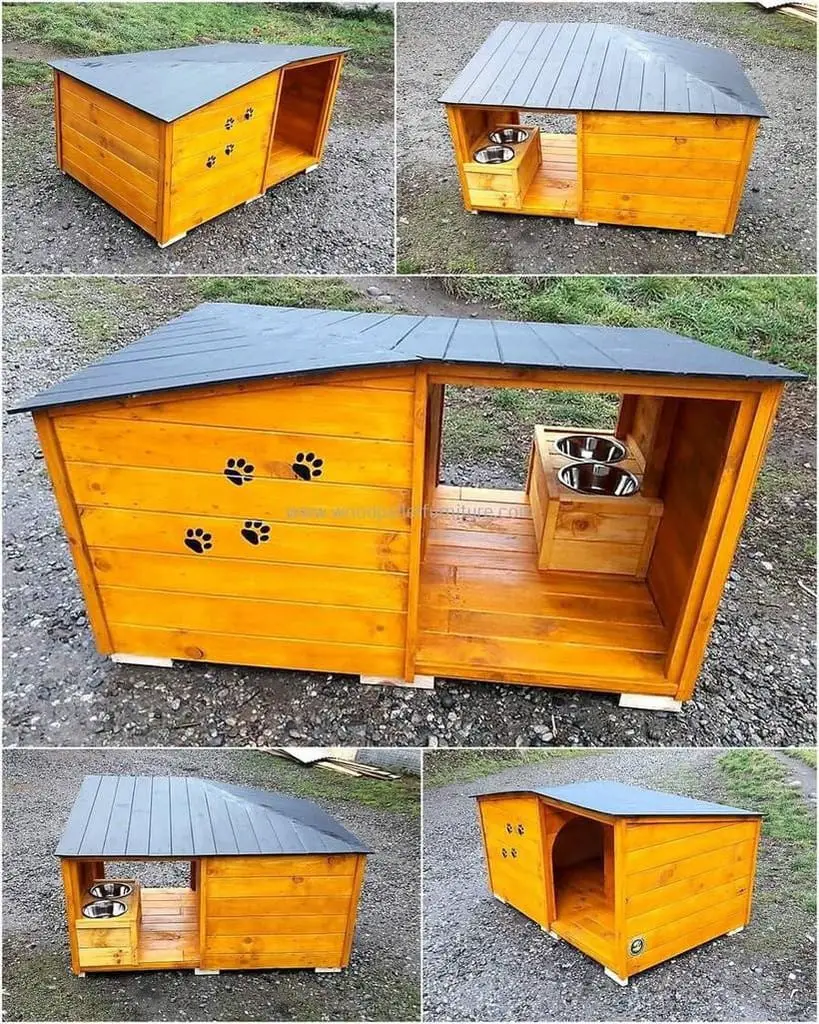 This unique DIY Pallet dog house is meant to endure for a long time. If you decide to build this DIY you can finish the frame in no time and can be easily formed with just a few scraps of wood.
Looking at the DIY idea and instructions, this Pallet Dog House may start as awkward and pretty basic but can easily be done by those with minimal woodworking skills. 
7) Pallet Dog House With Mini Porch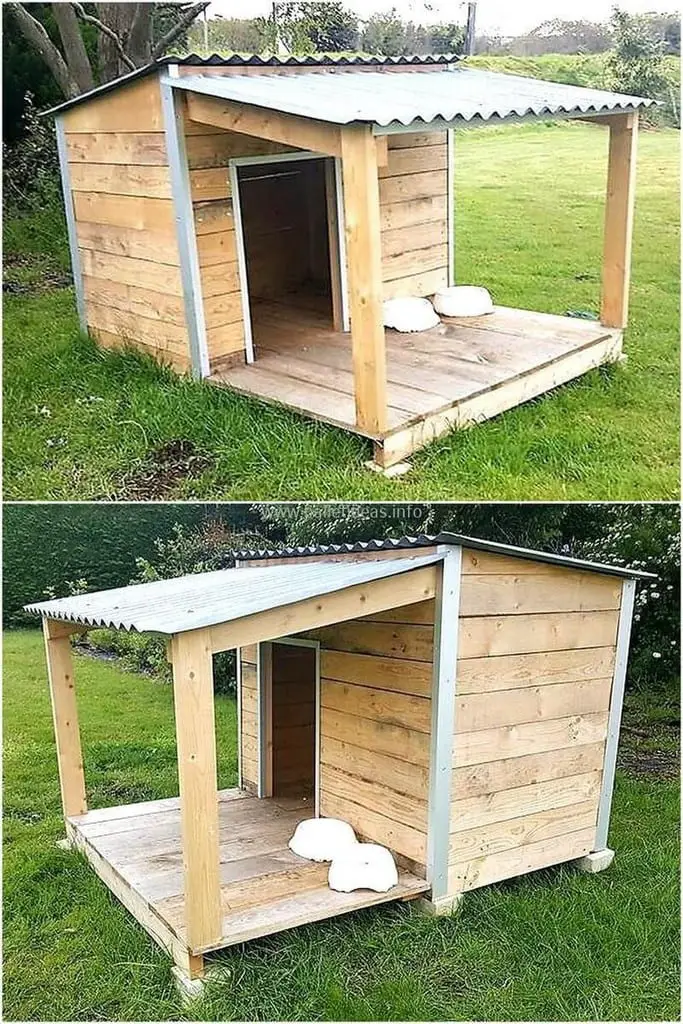 If you love the idea of a porch attached to your dog house, then this model is perfect for you. This DIY Pallet Dog house is perfect shade and protection for your dogs.
8) Pallet Dog House With Doors

This DIY Pallet Dog House is perfect for any sized dog and has a big lounging space for all sizes of dogs. This safe and comfortable kennel can provide your dog with the coverage and safety that it needs.
9) Pallet Double Dog House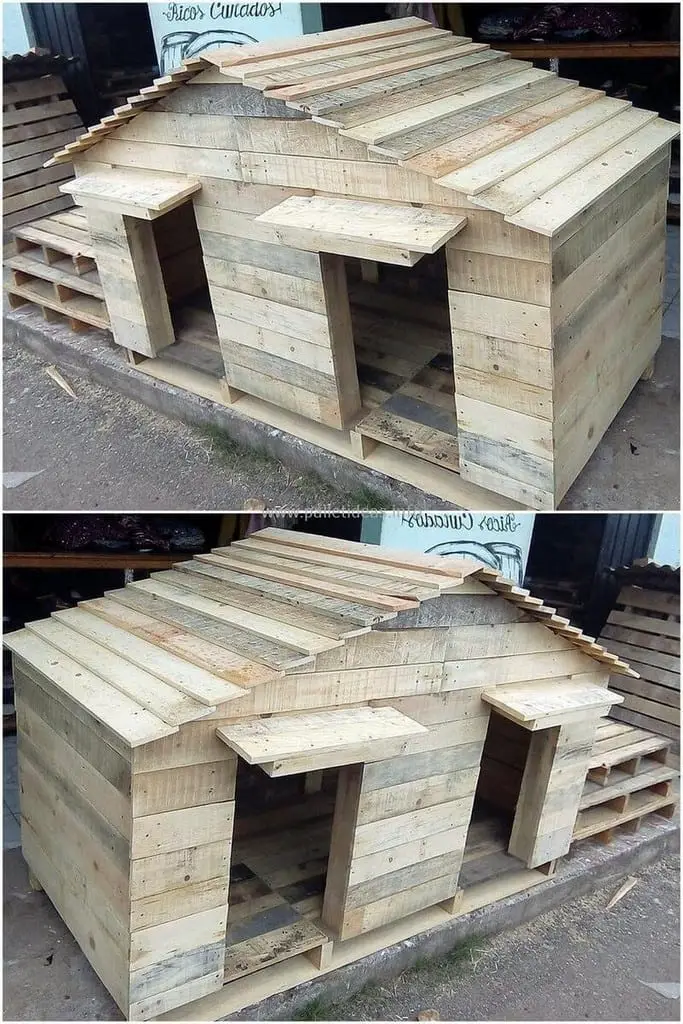 This DIY Pallet Dog house is particularly classy. Having multiple sections allows comfort for multiple dogs or it can give your dog a sense of adventure and different compartments to explore around.
10) Pallet Dog House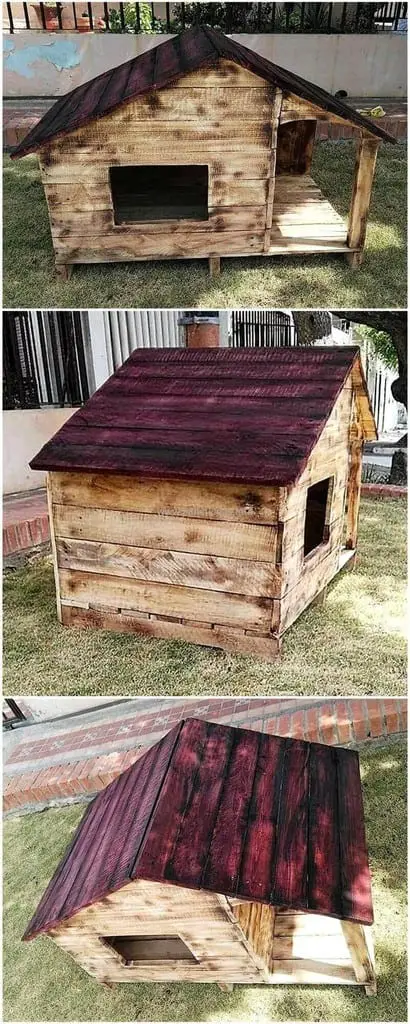 Maybe you want your dog to have their own space, but you don't want them to stay outside, then this plan is a great option. Create this classy looking Pallet Dog House that can be placed indoors and won't look too bad inside the house.
11) Pallet Dog Outhouse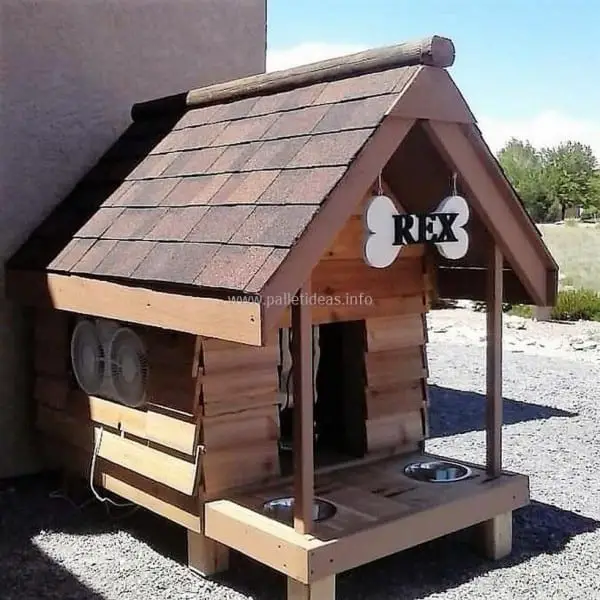 This DIY pallet dog house is designed after a cottage type house. It may look very complicated, but the plan is actually really simple.
Even if you are a beginner at woodworking or have very little tools, you can head out to the hardware store with less than a hundred bucks and get everything for this project.
This dog house is a traditional cottage style that follows a basic A-frame of a cottage home. You can totally adjust the plan dimensions as you like if you'd like the extra room. 
12) Simple Pallet Dog House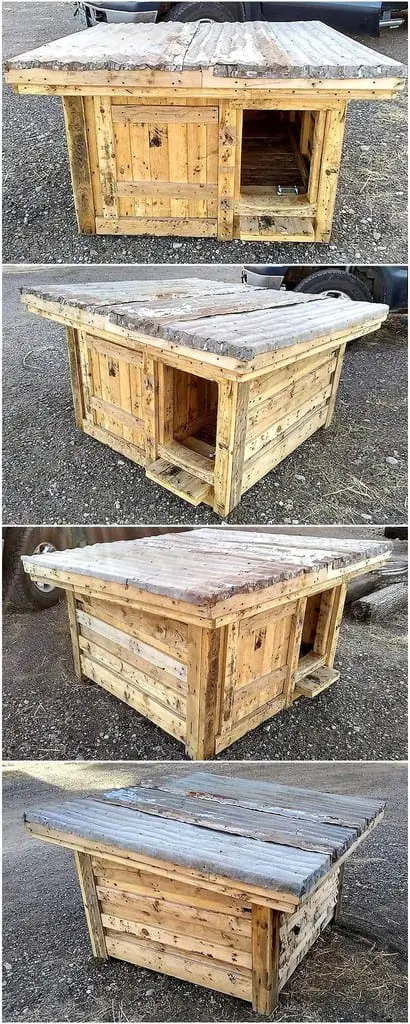 This Simple DIY Pallet Dog House may be the simplest in our list. Amazingly, this dog house from scratch can be built in just one weekend.
13) Pallet Dog House For Small To Medium Sized Dogs
This DIY Pallet Dog house is great for small to medium sized dogs as it can provide a lot of coverage from most elements outside. This fun, adorable and creative plan has a porch to it that your dog will just love.
14) Elevated Dog House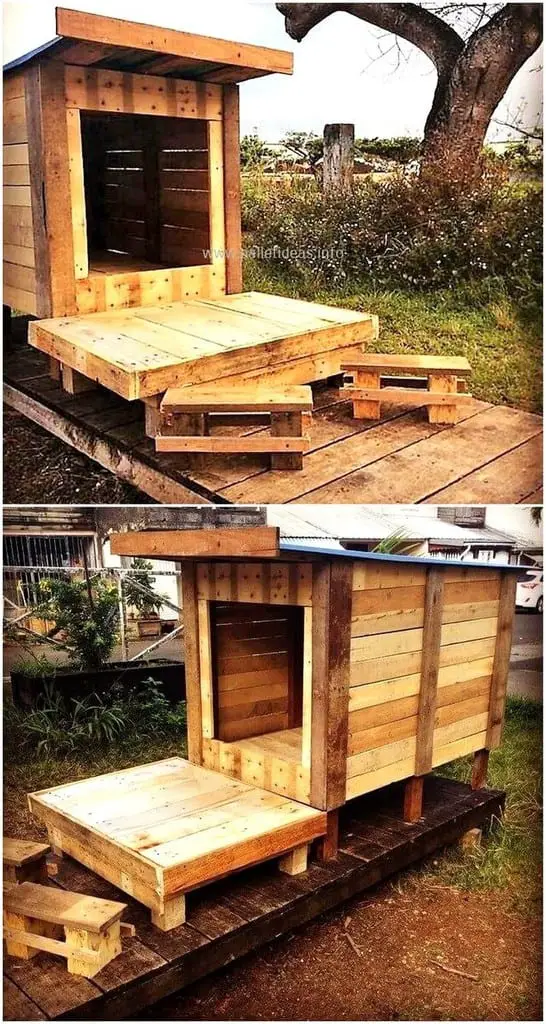 During cold climates, your precious dogs would certainly love a warm and comfortable kennel. This DIY dog house is a great option as it can be built for only below seventy bucks and it can look like a hundred.
Although, smaller dogs would love being higher. This kind of DIY dog house is perfect for all dogs but might be a little more appreciated by a small dog.
15) Elevated Dog House With Ramp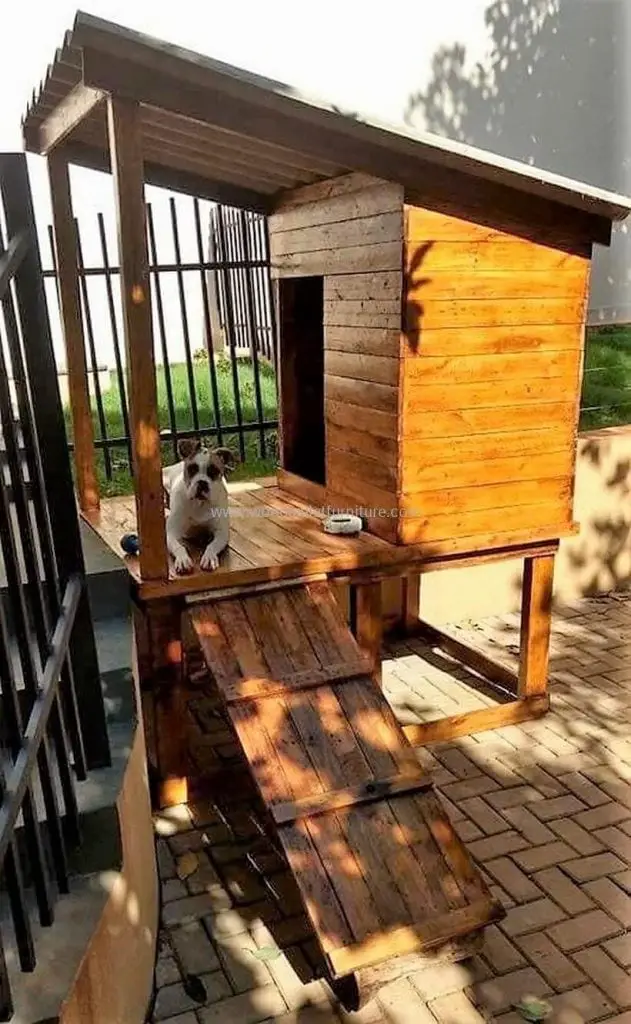 Any dog would enjoy having a big-sized house and then some. What really stood out to me in this plan is that it can be created from wooden pallets and salvaged wood scraps and look this good! Your dog can finally stay out of your furniture and have their own space.
16) Dog House-Slash-Football-Goal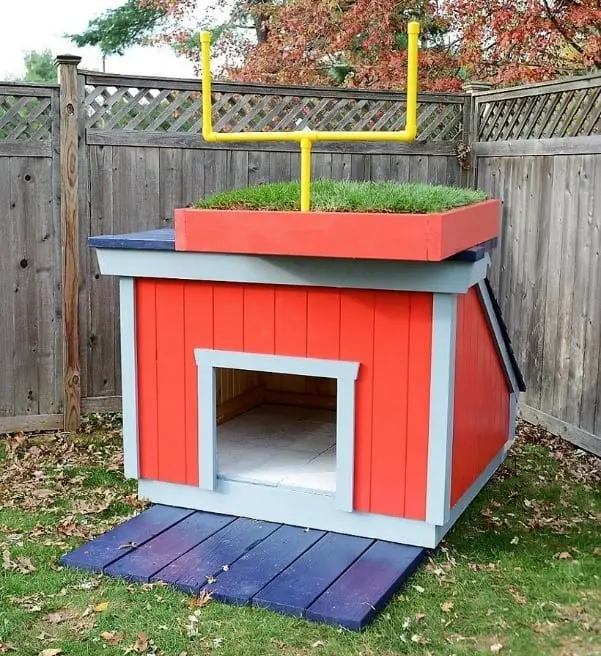 If you are living in a colder climate, then you would need a warmer and cozier place to stay in. This plan is perfect for you and your dogs because it is very easy to follow, easy to build and very promising for your dogs.
17) Dog House With Food Bowls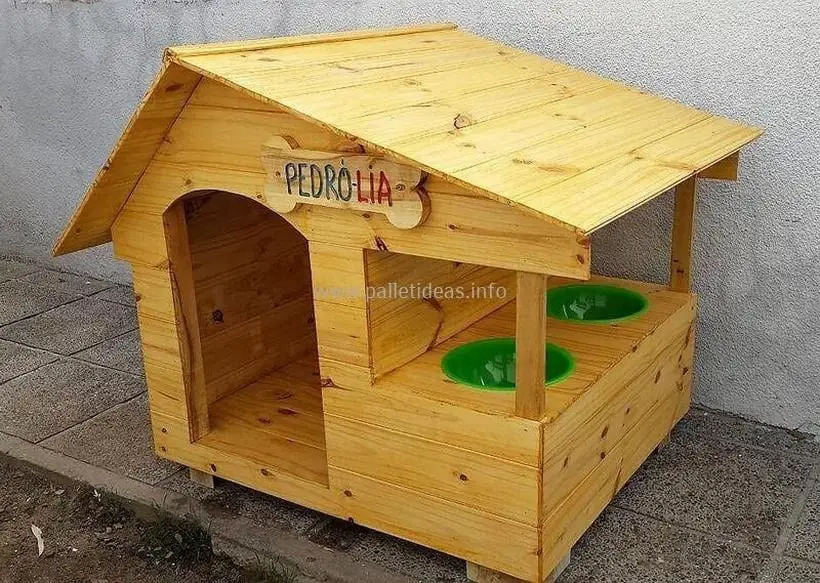 This DIY Pallet Dog house is very sturdy and simple to build. It may look a little daunting to build but it is actually undemanding. If you want to give this plan a try you will only need one weekend, a little woodworking skills and a few pieces of wooden pallets.
However, there are a few setbacks on this, an elevated and high would be a challenge when cleaning. So, while the project is good for beginners the work after is only good for the patient.
Conclusion
So, there's our list of 17 Best DIY Pallet Dog House Plans. Making your own wooden products should not be expensive nor a torture, it can be cheap, easy, time efficient and well, it should be pretty once it is done.