A lot of us may not really be familiar with DIY wall art plans that are made out of wooden pallets. After all, we may be more familiar with the mainstream plastic ones, as they are generally easier to use, and more convenient as well.
However, if you are the type of person who feels more satisfied after completing a challenging, yet interesting project, a pallet wall art DIY plan may be the best option for you.
You have come to the right place! We have listed some amazing plans to create easy, yet innovative pallet wall art ideas. Start by preparing some of the other tools needed, such as hooks and supports. We'll take care of the rest.
1) Mantle Wooden Frames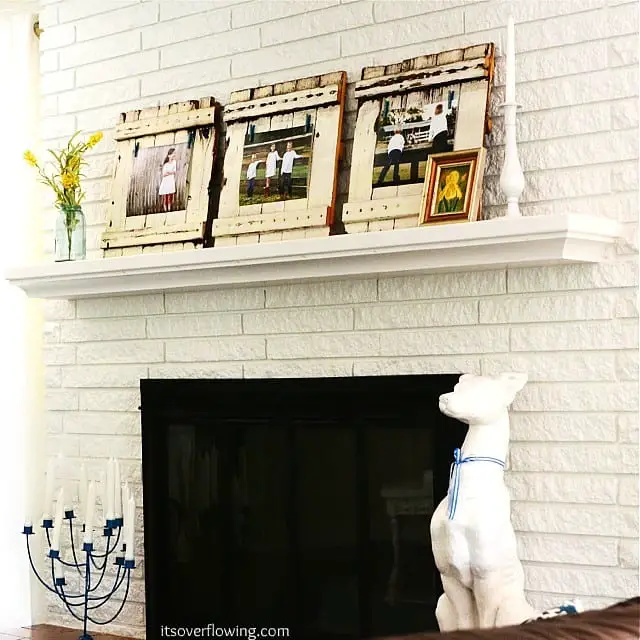 Image URL: https://cdn.diys.com/wp-content/uploads/2017/01/diy-pallet-frames.jpg
Instead of sticking with the usual frames that you can buy from your favorite store, why not explore on your artistic side even further by making for yourself some mantel decor out of wood pallets.
For this project, you can simply use things that you have around your house, with most of the items familiar to you. This is also a good way for you to reduce, reuse and recycle, with style!
2) Abstract Ocean Art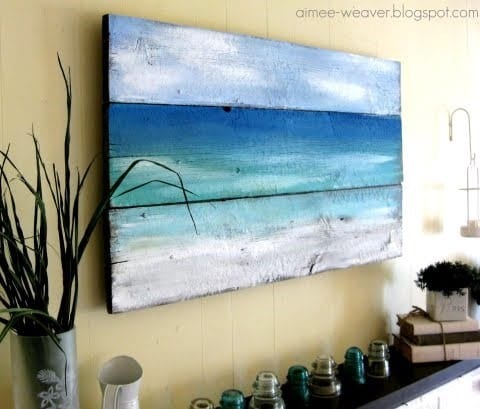 Image URL: https://cdn.diys.com/wp-content/uploads/2017/01/ocean-painting-on-wood.jpg
Why not give your room a fresh view of the ocean without really bringing something from the ocean inside? It need not be a complicated work of art, but a simple and artistic collaboration of colors that reflect a scenic ocean view.
The good thing about this project is that there are a lot of ways in which you can paint your ocean! You just simply need to choose your favorite, and start the project right away! You may even incorporate several other fixtures, such as bottles with pebbles and sand to get the real ocean to feel!
3) Wall Accents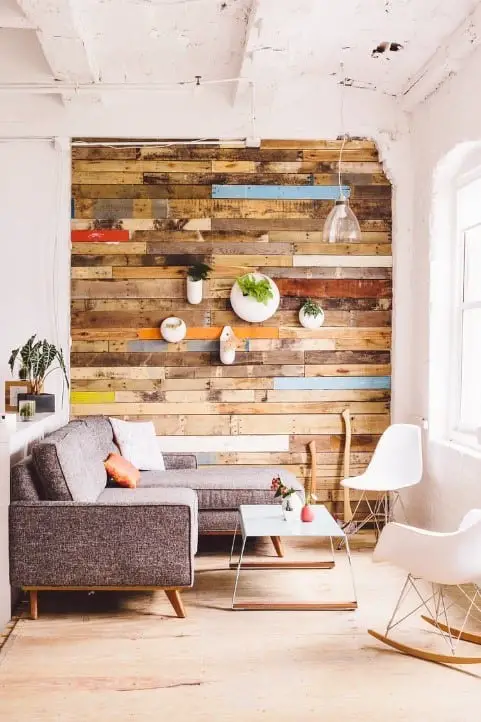 Image URL: https://cdn.diys.com/wp-content/uploads/2017/01/DIY-Pallet-Accent-Wall.jpg
Tired of your wall looking dull and lifeless? Why not create an accent wall and create an interesting space in your living room, or even in your workspace.
You may want to use the plain pallet wall art, but you can also infuse some other interesting fixtures, even painting it according to your preferences. You may choose to accept only a portion of your wall or decide on making your entire wall a piece of art.
4) Mason Jar Art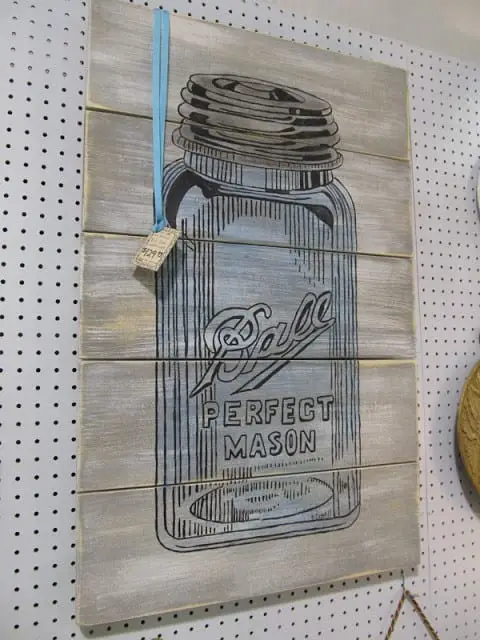 Image URL: https://cdn.diys.com/wp-content/uploads/2017/01/diy-mason-jar-pallet-wall-art.jpg
Thinking of a pallet wall art that you can hang on your kitchen wall? Why not create one that reflects one of your tools – a mason jar! The good thing about this type of art décor is that it is quite easy to make, as there is no need to use several color patches unless you want to make your jar extremely colorful. This project is a great way to explore our freehand painting and drawing skills.
5) Sign Pallet Arts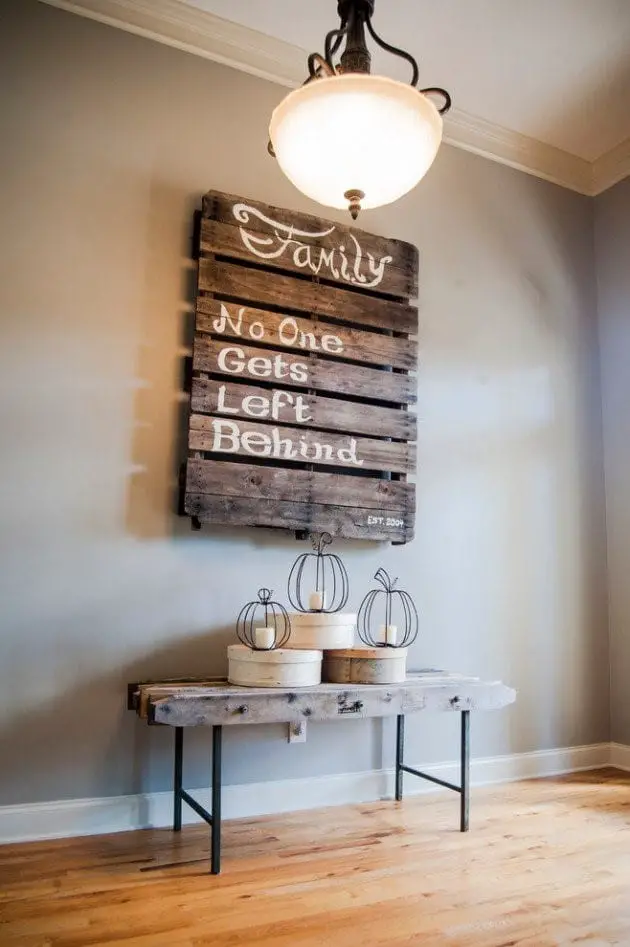 Image URL: http://www.architectureartdesigns.com/wp-content/uploads/2014/01/224-630×947.jpg
Interested in showing your favorite quotes and thoughts on your wall? A pallet wall art with the sign is a perfect artistic décor. You do not have to use other people's favorite quote, but make your own statement!
This interesting sign art will talk to your guests, and if you use some witty quotes, you will be delighted to hear them chuckle as well! You may also infuse other forms of art, such as a small drawing, or a painting to make the art décor even more alive.
6) DIY Clock
Image URL: https://cdn.diys.com/wp-content/uploads/2017/01/diy-pallet-wall-clock.jpg
This chic and sweet clock is not just an amazing timekeeper, but also a perfect addition to your home. Tell the time while being amazed at the beauty of this pallet wall art.
Whether you have a contemporary or traditional style for a home, you will certainly find this artistic addition an interesting piece of your home. This project is pretty easy to make, and functional at the same time.
7) Nautical Wall Patches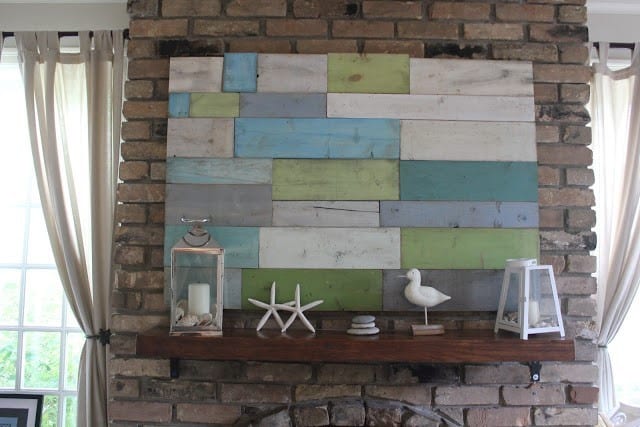 Image URL: https://cdn.diys.com/wp-content/uploads/2017/01/diy-colorful-pallet-wall-art.jpg
Another nautically inspired pallet wall art is coming your way with this interesting DIY piece! It is not just colorful and patchy, but eye-catching at the same time.
Whether you have a real beach house or dreaming to have one, this piece of art is a great addition to your wall.  Add some pieces of pebbles, or other decors to make them feel even more real.
8) Peace Wall Art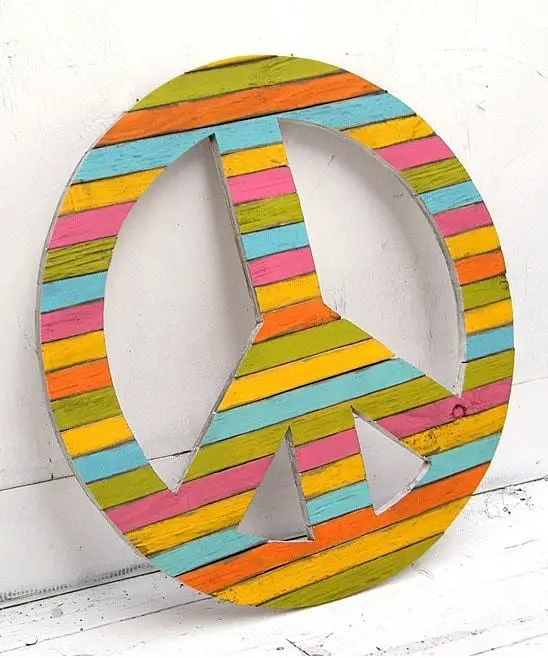 Image URL: https://cdn.diys.com/wp-content/uploads/2017/01/Diy-peace-sign-pallet-wall-art.jpg
If you want to shout peace but would rather say it through your artistic capabilities, creating this peace sign for a pallet wall art is an interesting choice.
This project is completely doable, especially if you have some skills and experience with wood making. As a bonus, you can also turn in your artistic side and paint it the way you like it.