Woodworking and pallet make a great pair. Woodworking hones your skill and precision, and the pallet is cheap and easy to find. After hours of labor, you may end up with a great decorative piece or a highly functional furniture or household item. And if you do make a mistake, you will not have wasted any large amount of money.
Regardless of your skill level or goal in pallet woodworking, you will definitely find interesting pallet crafts among the projects we have listed below. Scroll down and happy woodworking!
1) Vertical Flower Pot Base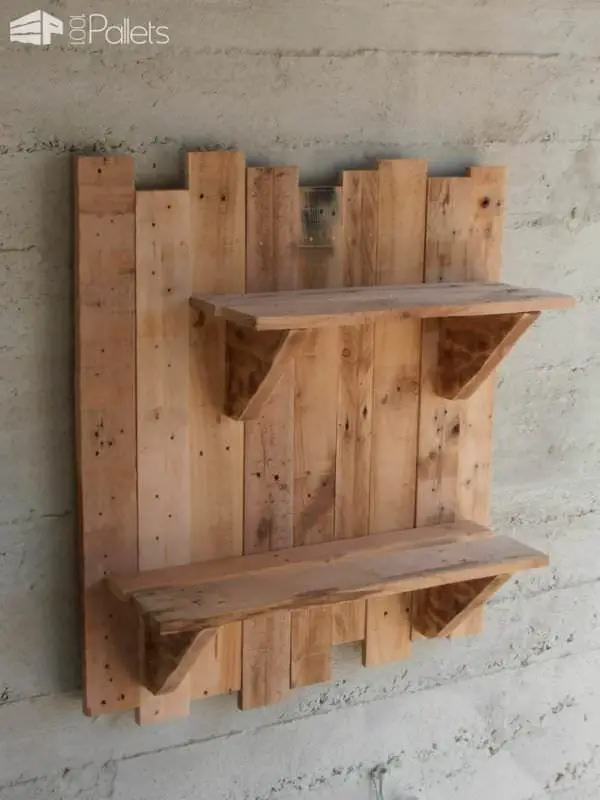 This piece is originally intended as a display shelf for potted plants, but it is really a lot more versatile than that. We have seen these being used as holders for votive candles, small jars, and random knick-knacks. You can also extend the shelves to make a full shelf for books and other items.
This pallet craft project is great because it is easy and quick to make but resembles those expensive pieces sold at shops. You also will not have a hard time finding any material because this shelf requires only a few panels. Just make sure to use the right stain or sealant if needed, and you are good to go.
Source: https://www.1001pallets.com/2013/08/flowerpot-vertical-base-with-pallets/
2) Christmas Decor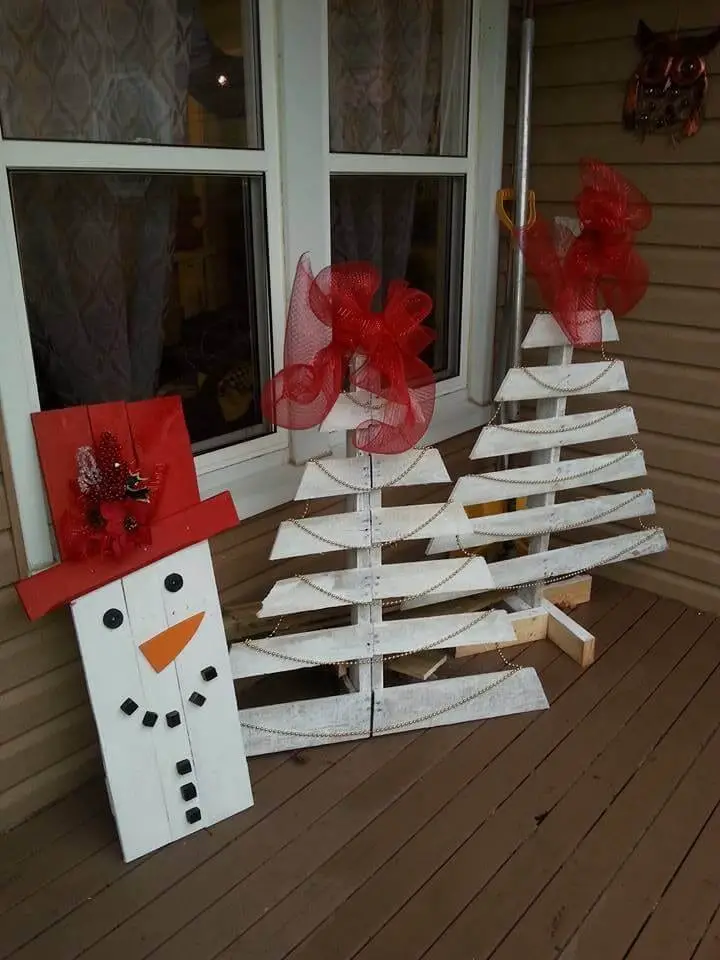 There is a huge variety of decorative items you can make out of pallet wood. The ones in the photo are standing ones, but you can also create hanging decor or little ones that will fit the top of your desk or stand. You can also go for other shapes, such as stars, Christmas balls, and the like.
These are also very cheap. You can easily find ribbons, beads, some felt, or any other colorful material you can use to decorate your pallet snowmen and trees. They are sold at low prices in craft stores, but you can always just use anything you already have lying around.
Source: https://www.easypalletideas.com/20-diy-pallet-tree/3/
3) Simple Pallet Shelf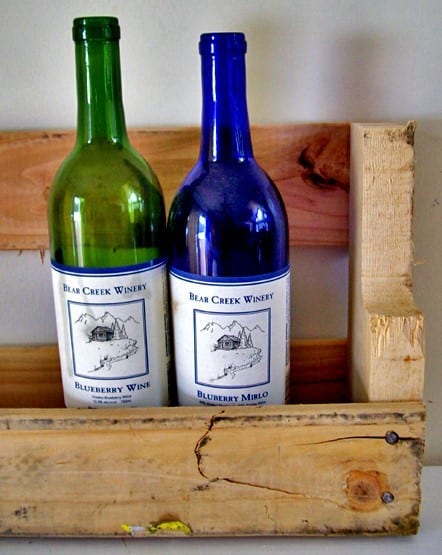 You are not a woodworker if you have not tried making a shelf. This pallet shelf is a great project for the kitchen because the design gives a suitable storage space for bottles and cans. You can also easily change the measurements for those oddly shaped items you can't seem to find room for in your pantry.
This is an ideal pallet craft project for beginners and experienced woodworkers alike. It does not require any complicated cut or technique, it is easy and quick to build, and the cost is almost zero because you can practically use any scrap you may find in the neighborhood.
Source: http://www.ana-white.com/2010/04/hack-5-minutes-and-free.html
4) Rustic Tray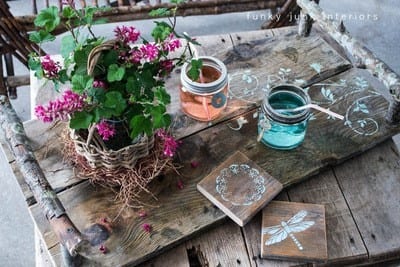 That rustic tray is so lovely, and we think it should for you regardless of whether you plan to use it in your own home or an accommodation business. Make sure you use good pallet wood or fill in any unsightly holes sufficiently. We recommend that you use sealants to protect it from spills.
There are many variations of this design online. You can add a cover or lid, legs, compartments, partitions, and the like. However, the bare simplicity of this rustic pallet food tray does have its own charm and vintage feel, so we would stick to this.
Source: http://funkyjunkssponsorstore.blogspot.ca/2012/04/rustic-tray-for-mothers-day-with-martha.html
5) Toddler Bed Frame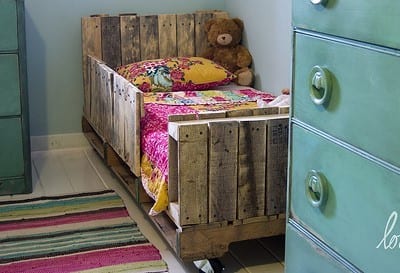 What a cozy-looking bed, right? Your child will surely love this DIY pallet bed frame. The raised side gives a certain sense of security and is ideal for children who tend to fall out of bed in their sleep. You can also modify this a bit and build a similar bed for your pet, or you can make yourself a reading nook.
You can even add some touch of personality by transferring their favorite pictures to the wood or handcrafting monograms and nice sayings. We have seen versions with lights and with the pallet wood panels aligned in zig-zag.
Source: http://loridanelle.blogspot.com/2010/06/diy-toddler-pallet-bed.html
6) Saloon Door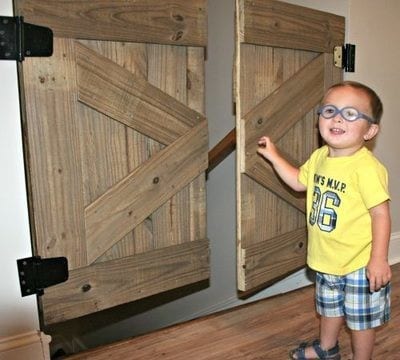 We love Old West saloons so much that we would build this saloon door every chance we get. You can use this as a stair gate for babies and pets. Due to the design, it should not get in the way of non-targets (you), and you can easily modify the height and the installation of the lock to prevent your child from outsmarting you.
This is not only for indoor use. With the right sealant, this can be installed outdoors too. You can use this as a garden or house gate, securing your property and adding some wild west flair to its appearance at the same time.
Source: http://blog.homedepot.com/diy-baby-gate-rustic-flair/
7) Pallet Clock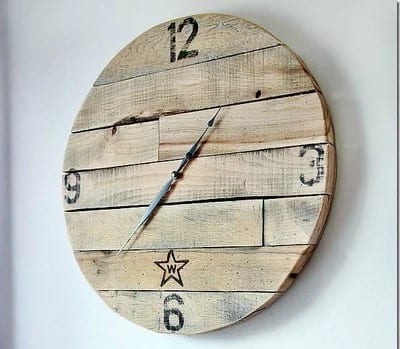 Wall clocks are important design statements. This is why you can find many clocks that are large and super intricately designed (and expensive!). The look of your clock can tell your visitors much about you! This pallet wall clock is a great addition to any room in your home or office because it is simple yet striking.
Furthermore, it is easy to build and spruce up. The particular design shown in the photo should work great with both matching and contrasting interiors, so you should not have a difficult time figuring out where to put it.
Source: http://www.thistlewoodfarms.com/trash-to-treasure-how-to-make-a-pallet-wood-clock
8) Coffee Or Center Table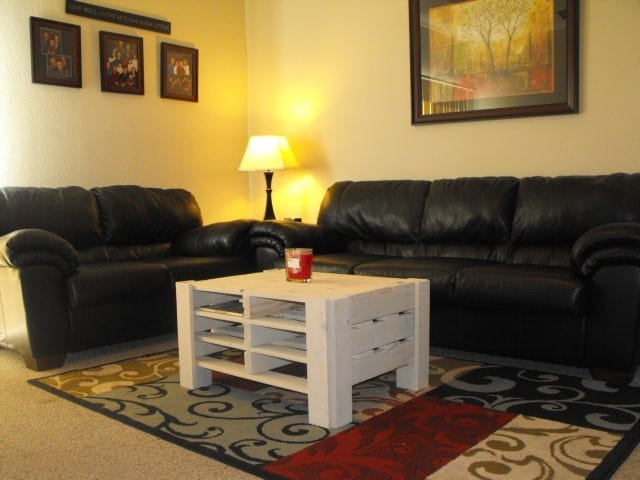 Tables are nearly always the upcycling option for pallet crates. There is very little modification involved, but the final product is very useful and should last a long time when maintained and used properly.
The coffee or center table in the picture is a good option for small spaces. It does what it is supposed to do, it pops, and it gives you some storage space. You can find many design variations online: low and wide ones, with and without glass tops, and different shapes. There is a lot of room for your creativity.
Source: http://www.ana-white.com/2011/09/pallet-coffee-table