It is always rewarding to go home to beautiful arms after a hard day's work! The home should be our warm and happy abode. The home should cultivate nothing but fun and positivity. For that very reason, decorating the home is a highly necessary endeavor.
I am sure you would always get that bouncing, tipping sensation every time you get to express yourself through your décor. You ought to know that that kind of feeling is not an isolated case. You are not alone. We all feel it. In fact, recent studies have proven that 80% of homeowners who decorate their homes are twice healthier and happier than those who do not.
The craft of pallet décor demands discipline, concentration, creativity and deep imagination. In what sense, should you ask? The subtle rules of minimalism can be quite a tricky concept for those with a different sense of aesthetics. Thus, the first thing that you have to consider before acting on your home décor is deciding on the aesthetics.
So, what is it going to be? What is going to be my statement? Should I go minimal or fancy? Ask yourself these questions beforehand.
Should you decide to go minimal- then, the wood décor craft is perfect for you. Home decor is art; art is home decor! So, like most artworks too, mounting wood crafts, pallet tables, etc. requires the control necessary for producing a masterpiece. Like painting, designing your home with the pallet items is also creating a perfect balance between elements in space.
The wise use of space and the knack for facilitating elements- color, objects, shapes, etc. to a unified whole are the two main tickets to home décor heaven.
If you think pallet decorating is expensive and fancy- then, it is time to get that ship sailing. You will be surprised at how practical pallet decorating can go. Alas, these 10 pallet project ideas for décor will help you design your home in no time, no sweat, no excessive cost!

Here are 10 DIY pallet project ideas for décor:
1) DIY Pallet Sofa
Image source: https://www.youtube.com/watch?v=subJo9PXdFU
Imagine how much trouble you can save from buying/purchasing a sofa. Yes- building a sofa from pallet wood is nevertheless challenging. But, one thing that the effort guarantees fun.
Through the DIY tutorials, you would get to learn the basics. And after you learn the basics, that is the time you touch up the sofa with your preferred style. With that done, consider yourself feeling liberated.
There are simple options for building the pallet wood sofa. In fact, building the sofa is undeniably simple if you have all the materials. By all means, we ought to make things simple. However, if you insist on a mild fancifulness on your sofa, why, you can put in the colors. I recommend you use spray paints for a smoother, finer color finish.
Do not shy away from asking yourself about your preferred sofa size. Bigger sofa sizes can be best fixed indoor, while the smaller ones are best assigned outdoor.
However, if you decide to swap both sizes in the future, that is totally fine. If you have the sufficient manpower to realize the task, please do. Our ends justify our means.
There are various types of creative pallet wood sofa designs. The list begins with Pallet Lounge Sofa Set, Stained Whole Pallet Sofa with Orange Cushion, Cool pallet Outdoor Furniture Set, Euro Pallet Cushioned Seats + Coffee table and many more. It does not matter which one of these you would anchor in your design. After all, you can always improvise.
2) DIY Blanket Ladder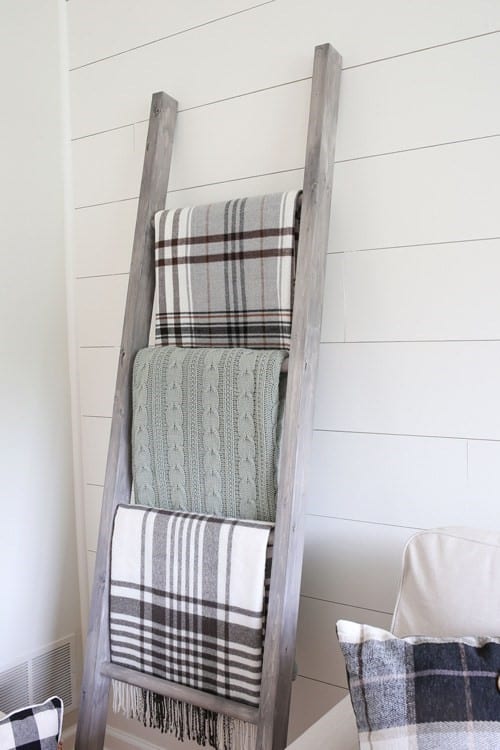 Image source: https://angelamariemade.com/2017/09/easy-diy-blanket-ladder/
The Blanket Ladder proves to be a novice builder's friend. You can easily put up this item with just a brief brush of its basic wood pallet nailing technique. With very few building materials needed, you can even assemble this project item with just bare hands. This DIY project is all about technique, creativity, and imagination.
This DIY project item proves to be simpler than expected. You are bound to finish this in a few minutes. Using reclaimed wood, used screws, nails and a few sanding pads, you can build this one right now in your home easy and free! While doing it simple, benefiting from it proves to be a sophisticatedly wonderful experience.
Why have a blanket ladder, first and foremost? Well, it is super-convenient, for starters. If a solid holder of your thick blankets does not impress you, then, nothing will!
Blanket ladders ease out your physical drain of having to unroll heavy blankets. With this item too, you will no longer have to manually fold the blankets and fear the possibilities of ugly creases your mind.
Cedarwoods or fresh-cut pines should be the best wood materials for your DIY project item. These wood qualities prove to be solid, fine and light. Sanding these wood types also proves to be a piece of cake. However, should you insist to utilize whatever pallet wood is available in your, that should be fine!
3) DIY Pallet Mug Rack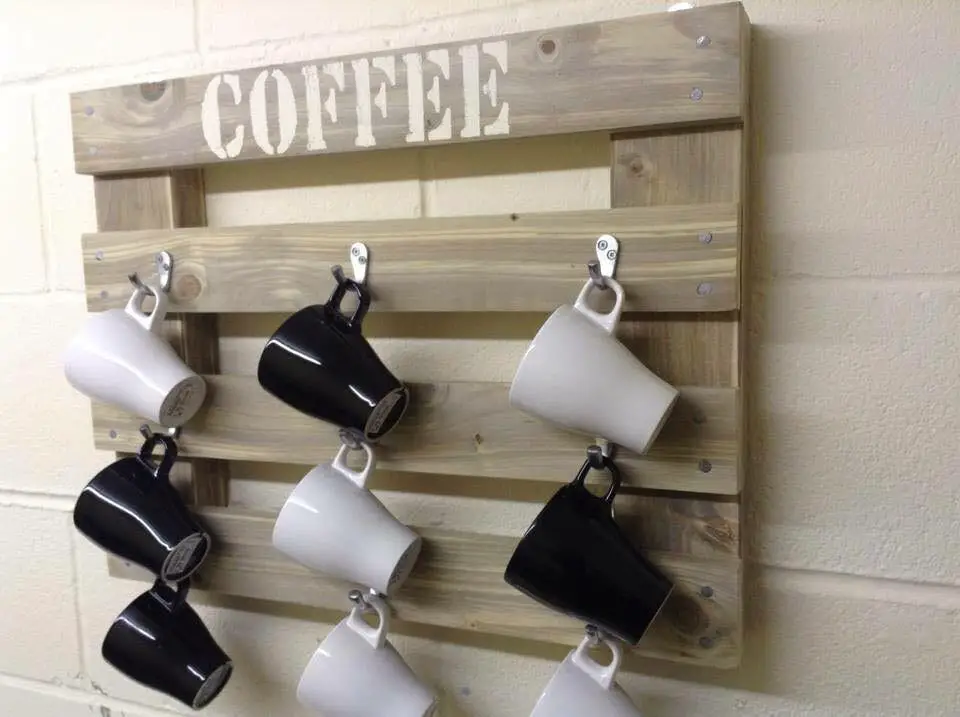 Image source: http://www.rentate.com/wooden-cup-rack/wooden-cup-rack-diy-pallet-coffee-cup-holder-101-pallet-ideas/
This is the type of DIY wood pallet décor that fits all seasons. It works well in balancing the mood in your home- whether you are really intending to have coffees early every morning or not.
Whatever your call is, the coffee mug rack will surely steam up your day. Offhand, it will also cool off your living with calm colors oozed by your hanging mugs.
You can treat this item as an official coffee station in your home. More so, you can stylize it by leaving it some space for your condiments, suppose you have already considered putting the hanging ridges.
Being an official coffee station, the coffee rack is bound to organize your mugs. You can add in some cool hues of blue, white, gray, light green, etc. into its bulk.
Assembling the rack is slightly challenging. But it will not leave you sweaty for a second. In fact, you can easily put it up in just a few minutes. However, if you decide to put in additional designs to its bulk, a plain cedar pallet wood should be your breadwinner. Meanwhile, more DIY tutorials are now offering hinging or wood attaching methods for a sturdier output.
4) DIY Pallet Trunk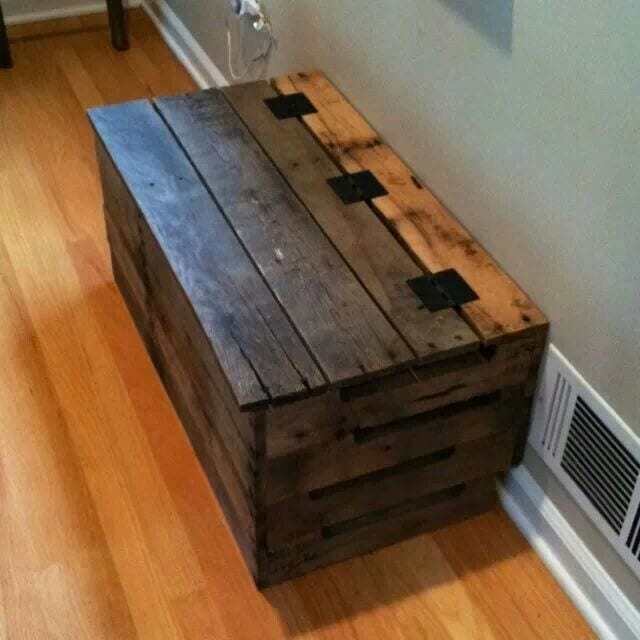 Image source: https://www.pinterest.com/pin/184999497169671943/?lp=true
I am sure that there is that one time in your life wherein you were not able to shake off that feeling of intense curiosity over trunks. Yeah! Who can blame you? Trunks harbor that sense of deep mystery in them. But, doing this DIY pallet trunk pallet is way beyond spinning mystery in your home, although that is always part of the package.
Trunks can serve as sitting benches and storage for your precious things. In and of itself, a trunk item possesses natural rustic charm. This rustic charm happens to be a strong balance of tones, hues, and shadows in your home. So, like most trunks, you can assign this item at the edge of your bed, at the corner of a room or perhaps, even outdoor.
DIY tutorials on the pallet trunk are fortunately easy. You can easily follow its template and then imbibe your signature after. You can proceed with varied stylistic options- Beach Type Trunk, Forest Rustic Trunk with built-in racks, Heavy Wood Trunk, Polished Pirate-Inspired Trunk, etc. There is a lot to choose from. But firstly, you will have to master the basics.
Proper planning on the dimensions of your target trunk/chest is a step to take if you want to avoid excess/wasted wood. Despite its easily-framed appearance, the pallet trunk can be a tricky tip. Setting the right measurements, and precisely cutting the wood into planks further guarantee an economical DIY project output.
5) DIY Pallet Plaques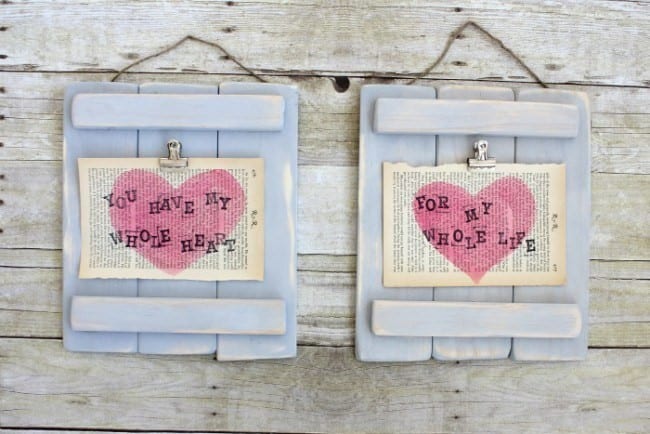 Image source: https://www.ohmy-creative.com/home/diy-pallet-plaques/
Focus on a section of wall in your home and try to imagine how much of it you can touch up! Alas, you will be surprised at how much you can do with it with just a wood pallet on hand. But, you will be more surprised at the DIY tutorials on the pallet plaques. With minimal work, expenses and working devices, you can put up your favorite framed pictures on the wall in no time!
The pallet plaque DIY will teach you how to cut up plain, unpolished wood sections and reshape them as frames/plaques. Furthermore, this project will also save you from buying picture frames and watching them rot when the time comes. Ultimately, the plaques wood pallets produce have been proven to be durable, artistically expressive and naturally rustic.
Coming up with magic in your décor is guaranteed to be an easy feat with the help of the pallet wood. With the natural, unpolished wood, you will no longer have to worry about how it fits in the artistic scene. Wood textures, if you have not noticed, are natural producers of earthy and natural colors.
Other sheets that you can frame with the pallet plaques are certificates, awards, paintings, etc. You can even post wood plaques in your wall without anything in it. It could just be a plain wood plank. That is how naturally charming wood textures are. Harnessing these wood pallets is but a prologue to a lot more décor touches.
6) DIY Stenciled Pallet Signs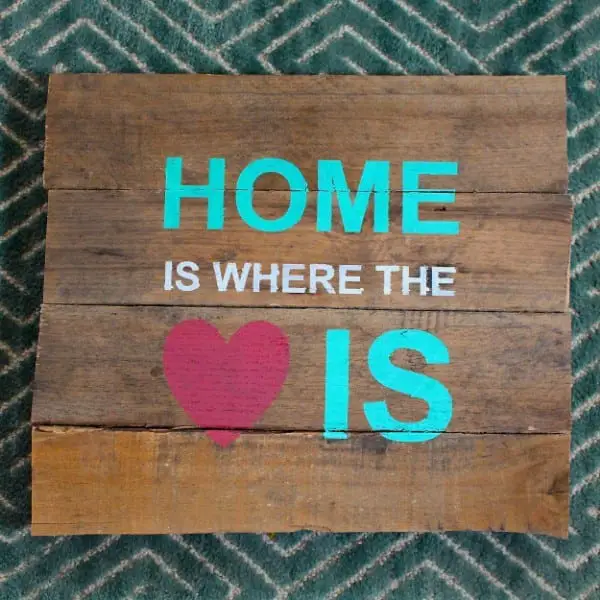 Image source: https://www.weekendcraft.com/journal/how-to-stencil-a-pallet-sign
Ensuring outdoor signage plots in your home promises safety, security, and order. Utilizing pallet woods as raw materials, on one hand, makes the whole business easy, fun and memorable. By all means, building the stenciled pallet signs should be down-right simple. In fact, it proves to be the simplest in all the DIY projects in this list.
The great thing about the stenciled signs is that they light up enough for people to acknowledge its statement. Meanwhile, its sheer simplicity is a beauty to behold. Thus, it does not glare, like common aluminum signs, but rather blend in with the total atmosphere. Being stenciled, these items are sure to lighten the eye without sacrificing an urgent tone.
Restaurants, eateries, and cafes are common patrons of the wood pallet signs. Respectively, many French restaurants used wood signs since the beginning of the 19th century. In that line, the sign contents in the wood may not necessarily have to be imperative like no parking, no blocking the driveway, etc.
Wood signs too, are unmistakably spinners of romance in the atmosphere. This is most probably due to the fact that the French widely used wood signs in their decors. So, it is natural that we feel a tinge of romance from the décor. By all means, you can touch up your home with the décor year round- from Easter, Halloween to Christmas!
7) DIY Spoon Pallet Wood Rack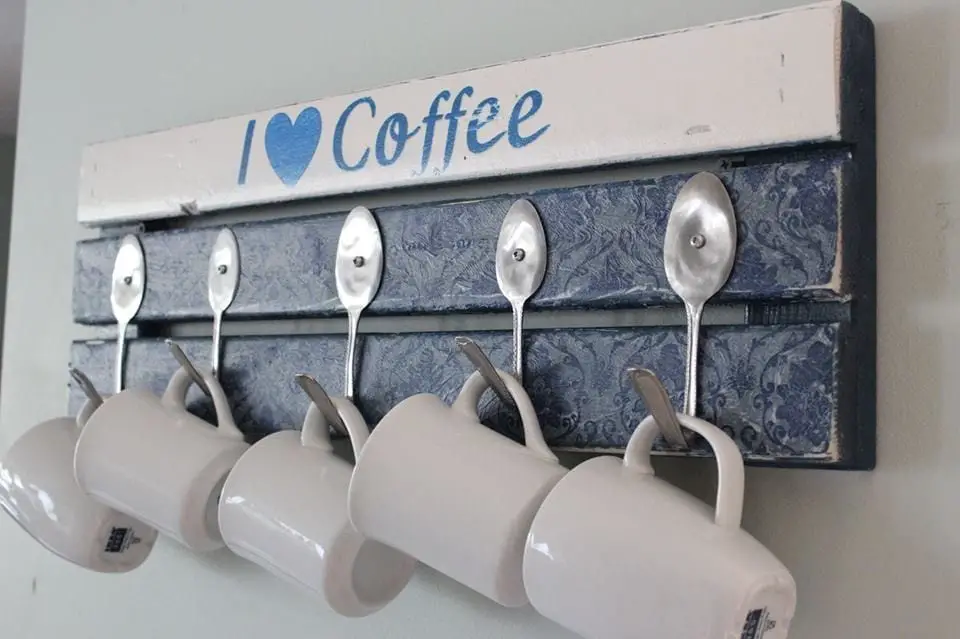 Image source: https://www.diys.com/coffee-racks/
If you are planning to put your creativity to the test, then the wood pallet spoonwood rack DIY project should be the perfect laboratory for you! Why? Well, the project involves curved spoons as hooks for starters. While this is highly experimented on and of itself, it ranks as a highly standardized design.
There is no mistaking the DIY project due to its highly creative nature. It can yield to an optimum expressive nature. Nevertheless, you can even experiment from its already top-notch creativity and still express your signature.
The secret of this DIY project lies with its personalized quality. By all means, the finished output of the project is sure to show off your innermost thoughts.
Stainless steel spoons match easily with a wood texture. The shinier the spoon finish is, the better it can highlight the overall feel of the rack. Paired with cedar wood, the project item will certainly last for long. It can function as a rack for even the heaviest materials. Accordingly, stainless steel spoons are designed to withstand the significant weight.
There are several DIY options online that will guide you through the creative formulas of the décor, but nothing beats your personal touch. The personal touch is what distinguishes your design from the rest.
Also, your décor output is highly dependent on the tone of your wall. If you have a brightly colored wall, you ought to come up with a light-colored design.
8) DIY Tree Shelf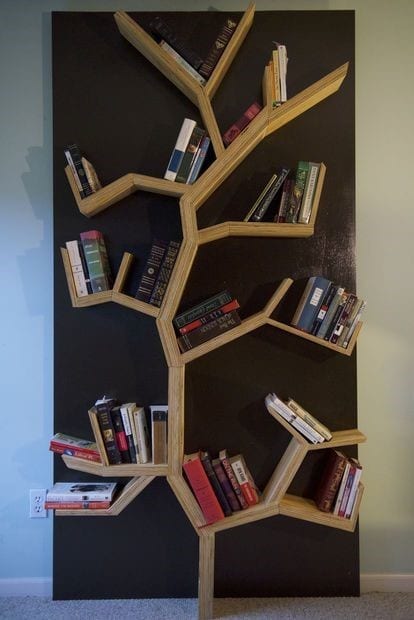 Image source: https://www.pinterest.com/pin/275564070927825258/?lp=true
This DIY project may look like a necessary addition to your home but, if it does not serve up to a purpose, it can be an eye-soar to your home. Thus, selecting the right place for the shelf shall have to be a priority.
Easy and practical to construct, the tree shelf proves to be builder-friendly. However, it can consume a bigger space in your home section. So, careful planning is a high priority for this project.
A most distinct quality of the tree shelf item perhaps is its tricky complex appearance. While it projects to be that way, it is actually a basic construction. This tricky appearance of the tree shelf makes it a popular selection among indoor designers. Thus, most designers are rooting to include this DIY item in their overall home decors.
You can further boost up the fun and energy of the tree shelf by adding in the paint. Colors can serve as corner guides for placing storage on the shelf. Thus, a color-coded tree shelf is sure to ease obsessive compulsive kicks when it comes to storing your books and magazines. Spray paints are the best paint solution for this DIY project item.
The tree shelf item can be developed into a rack. A certain propensity for redesigning and upgrading lies in the fixed and somehow formal construction structure of the said DIY project item. An immediate means for upgrading the tree shelf Is by adding recycled wood and hanging stuff.
9) DIY Wine Rack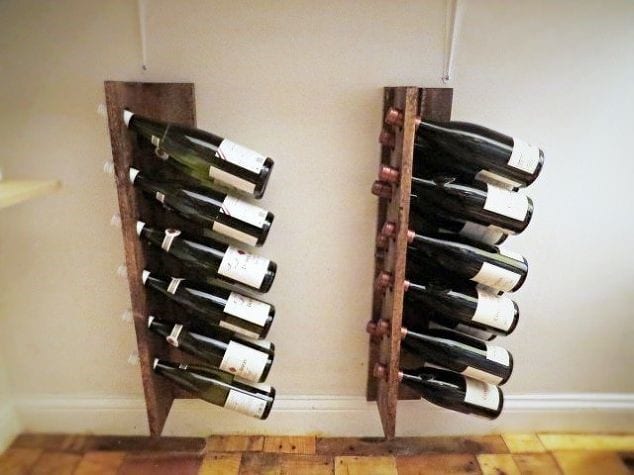 Image source: https://www.hometalk.com/9201720/quick-easy-inexpensive-diy-wine-racks?expand_all_questions=1
Of the classiest DIY projects to date, the wooden wine rack tops it all. Practically easy to build, the wine rack is also a super-convenient material. Given that its wood source hails with high quality, it can actually last in your home is both a functional and a set piece. Technically, it should be functional on many levels.
DIY tutorials/pointers for the wood material are constantly popping in the web nowadays. The wine rack, besides being common, has been noted to give the overall home décor a fresh, classy style. What is most prevalent among DIY tips is the classy-ness of the wine rack output. There are various guides in constructing the wine rack online, but only a very few offer effective means.
The construction of the wine rack demands precision and accuracy. I would insist on this statement so because I am aware how sophisticatedly efficient wine rack technologies have been expected. Again, cutting the necessary wood piece for construction is the life and soul of this particular DIY project.
Using only a wooden pallet, 2" nails, hammer circular saw, etc., one can already complete the wine rack. Thus, the best suggestion for the wine rack is for the builder to make use of thicker sections of the wood pallet. This not only ensures a solid, classy wine rack but a stylized wine rack.
10) DIY Toddler Pallet Bed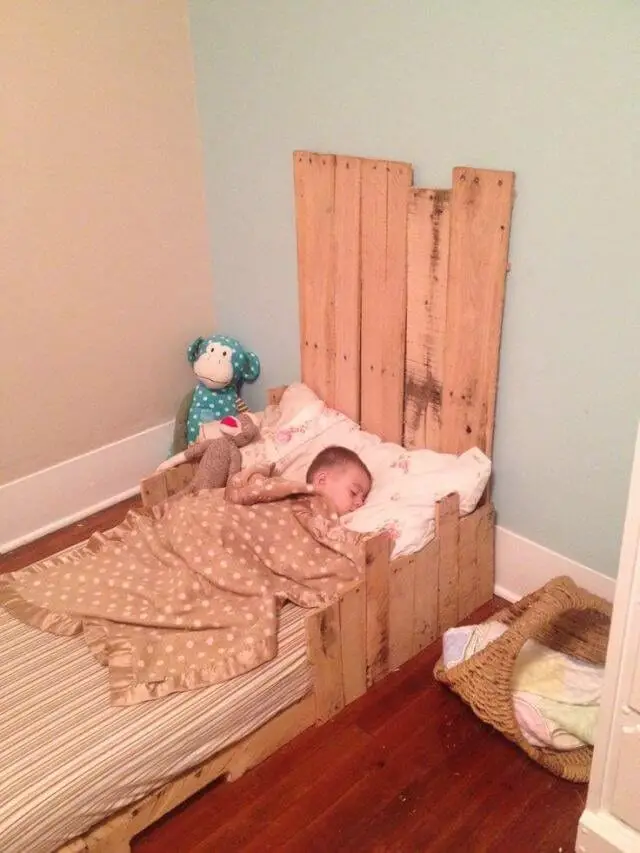 Image source: https://www.1o1pallets.com/pallet-bed/diy-pallet-toddler-beds/
Another DIY item that has basic construction is the toddler wood pallet. With only wood sections and immediate handy tools, you can instantly come up with the toddler item.
But function-wise, working so much for a tool that has purpose intended only for one-time use can be quite daunting, Thus, we would advise you that you subtly design the toddler bed as more than a toddler bed.
Other home décor designers can go top-notch with both interior and exterior designing such that they include toddler beds in the scene. While this is totally fine, it would be better if besides putting it for design, you are also aiming for it to be a multipurpose device. Whatever that means, should you put a crib or a general wood bed there in your home décor, for as long as it is your intention, you should be the sole judge?
Building the wood bed platform proves to be an easy and simple feat. More so, it cannot be pushed through without you pouring in some artistic decisions on it.
But before you go avant-garde from your bed structure, you must first be a master in setting up the item's headboard. The headboard is like its core. Without the headboard, the bed cannot sustain weight changes through time. So, yeah- it is a practical construction to realize, but still, it follows certain rules.
Another great thing about the toddler bed is that you can exactly recycle any finished material and enhance it as a multipurpose board. But that entirely depends on how creatively you can perk up the material. You have a recycled wood item and some building materials on hand. Your décor command can only make the difference now.
Conclusion
Creative do-it-yourself home décor touches have since become the new black in today's modernity. Whether you go rustic, lean, minimal or colorful, it is all but your call. At the end of the day, it is you who would go home to behold it.
Woodworking craft perhaps serves as the overarching principle in the whole home décor deal. Without the basic knowledge of wood construction, you will not be able to pull of such act. Like in any crafts, a good dose of principle, creativity, and discipline are important ideas.
Even if you have already imbibed the principles herein, that is not an assurance that you can instantly be confident with the work. Although these DIY projects are completely doable, these should still require sensitivity for spatial aesthetics and a witty sense of beauty.
Are you thinking of going back to that exciting feeling of installing an artwork from recycled wood items? Well, these 10 pallet project ideas for décor will definitely keep the ball rolling.
Do you have further thoughts about our list? Would you like to add personal crafts on the list? Talk to us through the comment section below.