Pallets are naturally lovely. This is one of the many reasons it's used as furniture. The lovely natural swirls, indentations, and imperfections made this material perfect as it is. And of course, pallets are very cheap.
You can make a pallet sofa, chair or table without spending too much. However, you must use only solid, strong and durable pallets. It must be free of holes, cracks, mold, and pests which will affect the strength of your table. Enjoy making your pallet table..
Below are 21 pallet table designs that you can make today.
1) Chic White Pallet Patio Table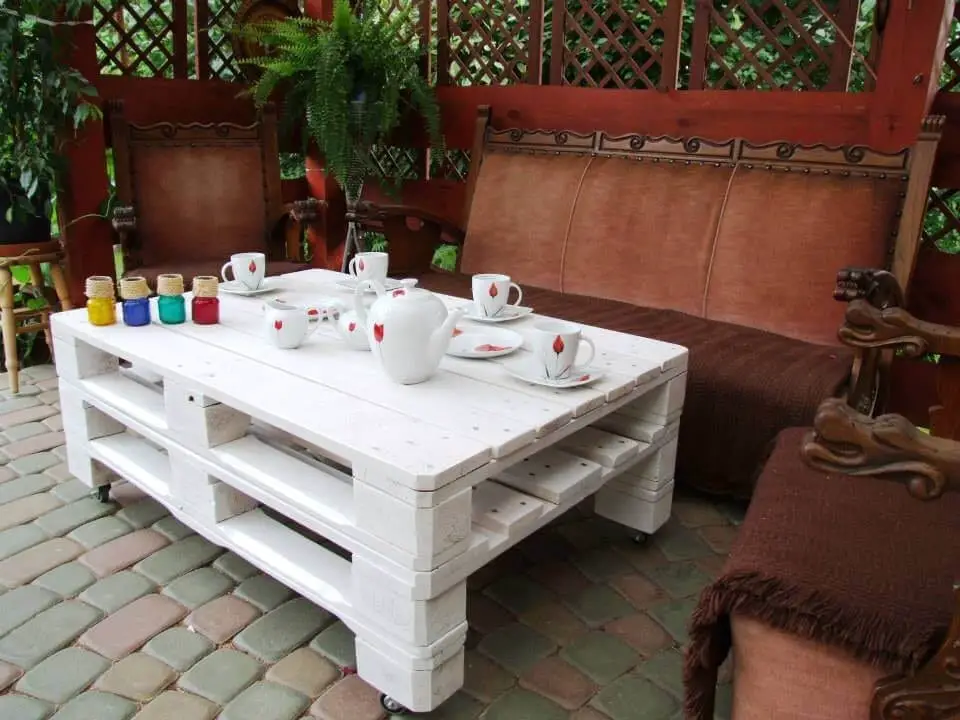 Having coffee with friends soon? Invite two, three or four of your good friends for coffee and to show off your lovely white coffee table made from pallets. This is a pallet table made by stacking two pallet frames.
You might say, how could you use the top of this table when there are gaps in between the pallets?
The builder did the most practical thing and placed pallets to cover the gaps thereby forming a flat and even surface. Now this table is very easy to make and was simply painted stark white to stand out from the brown and dark theme colors of the patio fence and furniture. You can paint this any color you like or you can stain it if you want a more natural appearance.
2) DIY Outdoor Pallet Table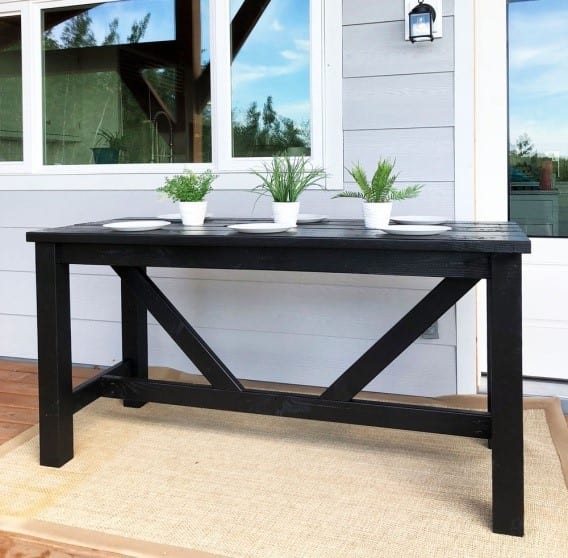 This is a lovely outdoor pallet table that was made from large pallets. The table top, as well as the table legs, were painted black which gave it a modern feel. This table uses a truss beam to improve its strength and balance.
3) Mini Pallet Table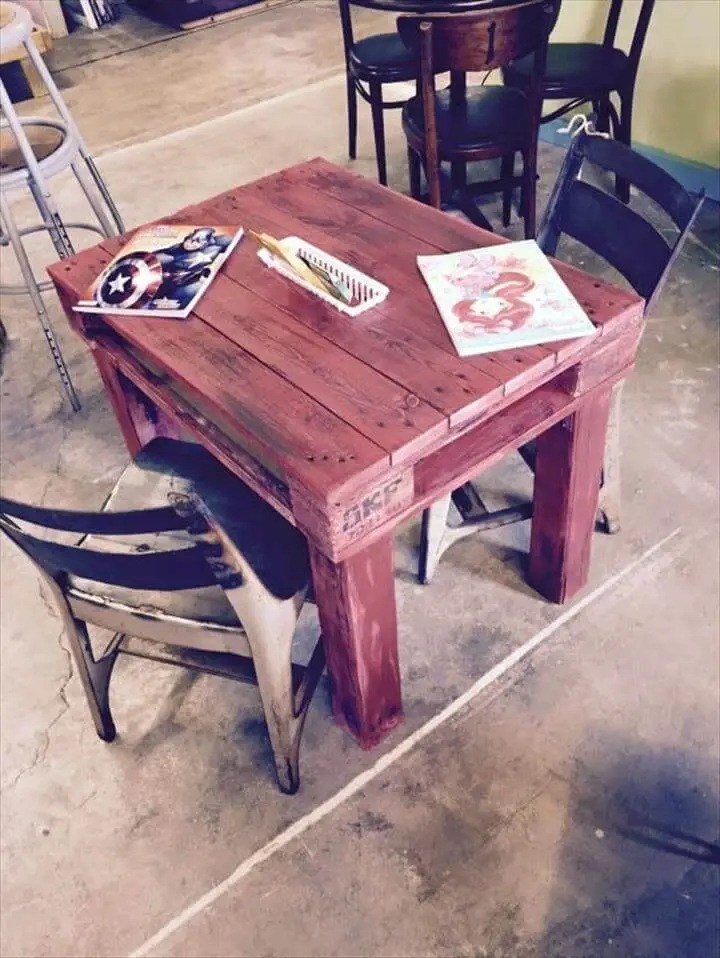 Have you ever wished to make a small play table for your kids? This is a plan to make a very small table that's perfect for a child's playroom. This table is going to be a good place to eat too or to read and study. This is made of a single pallet frame with wooden feet.
4) Upcycled Pallet Wood Table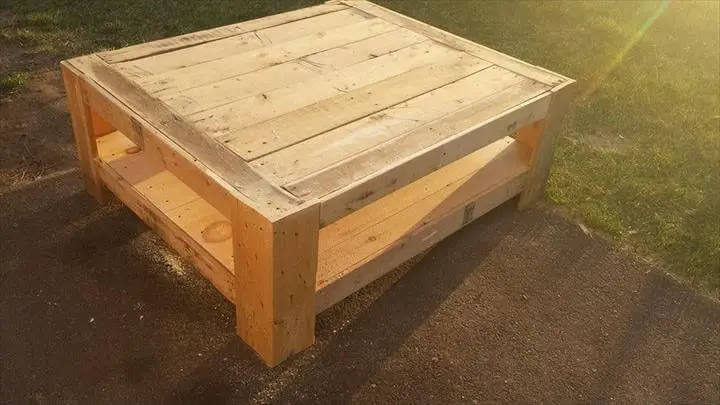 This is a pallet table what is wider and larger compared to regular coffee tables. It is made from several sections of pallets; the top was even framed with extra pieces of pallets to create a lovely geometric design. The bottom section is perfect for storage and can even fit a dog! Overall, this pallet table looks table and perfect as a coffee table or sectional table.
5) Pallet Dining Table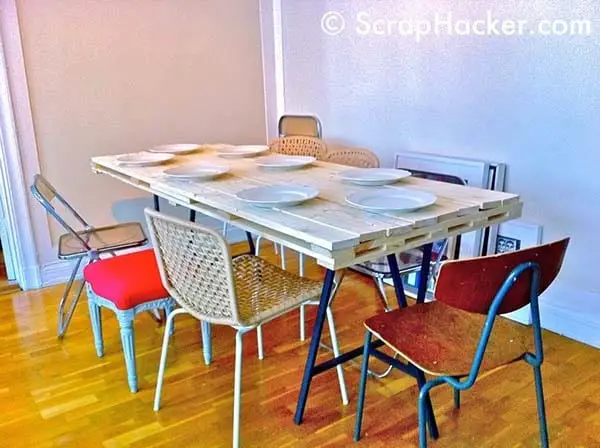 Pallets can be dark or light and can be long or short which is why it's a favorite for making dinner tables. This is a huge dining table made from very light, very perfect pallets. The pallets were simply assembled to make a perfectly flat surface while its legs were constructed out of metal.
6) DIY Pallet Picnic Table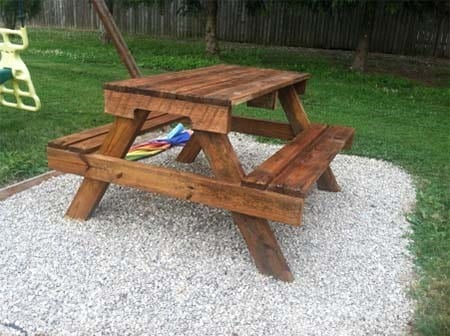 This is a picnic table with attached benches. This picnic table has a simple design and can accommodate around 3 people per side/bench. The table top may not be that wide and long but is an even surface where you can eat, entertain guests and spend time outdoors with your family and friends.
7) Reclaimed Pallet Wood Table
This is a very brightly-designed pallet wood table that's made for kids. Just looking at the design of this table, you will instantly feel a smile on your lips. The table has a wide top with a very large design. The design was painted on the wall using brush and wood paint.
8) Woodworking Table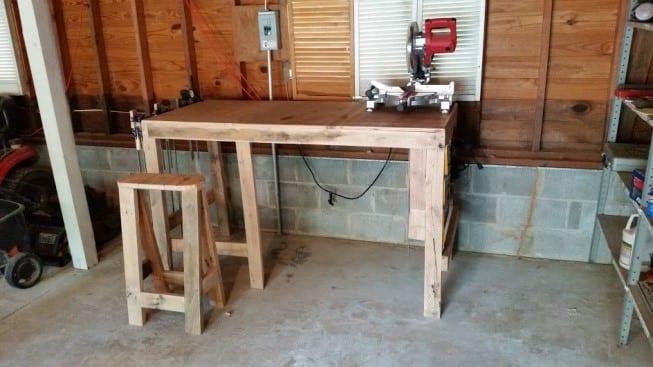 A woodworking table should be large, wide and strong. This is where you will place heavy materials like wood and metal, to work on them. This is where power tools are positioned and operated like a circular saw, table saw and a miter saw.
9) Corner Table Made of Pallets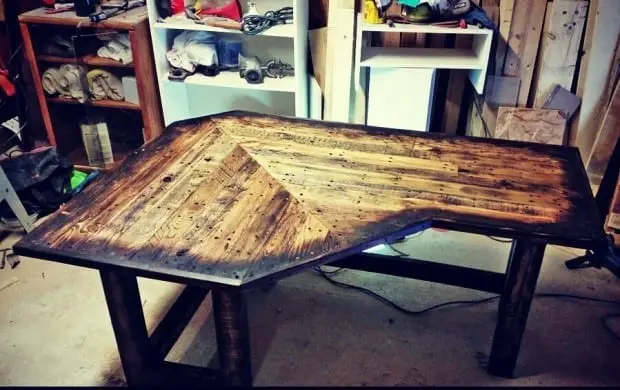 This is a very unusual table because of its size. It has a large top with a rectangular shape. This was constructed to fit in a corner of the room hence the shape. This design is a good idea to save space. It may only occupy a corner but it will surely hold a lot of stuff as well.
10) The Outdoor Table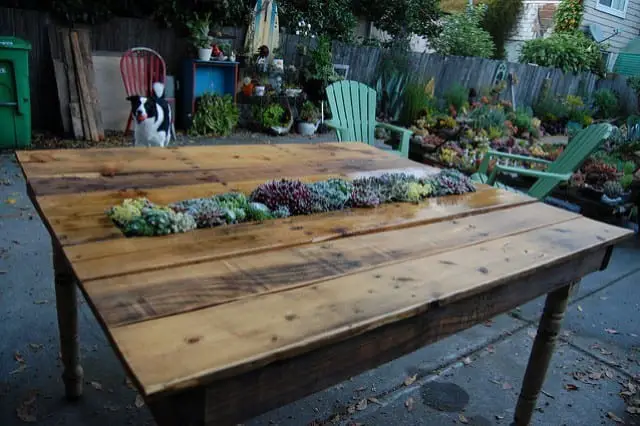 This large pallet dining table is truly one of a kind. Because aside from having a large table top to use, it has a growing garden in the middle. Slots were laid out in the middle to hold plant planters. The slots can hold up to three planters, each planter with a colorful decorative or flowering plant.
11) Pallet Dining Table 2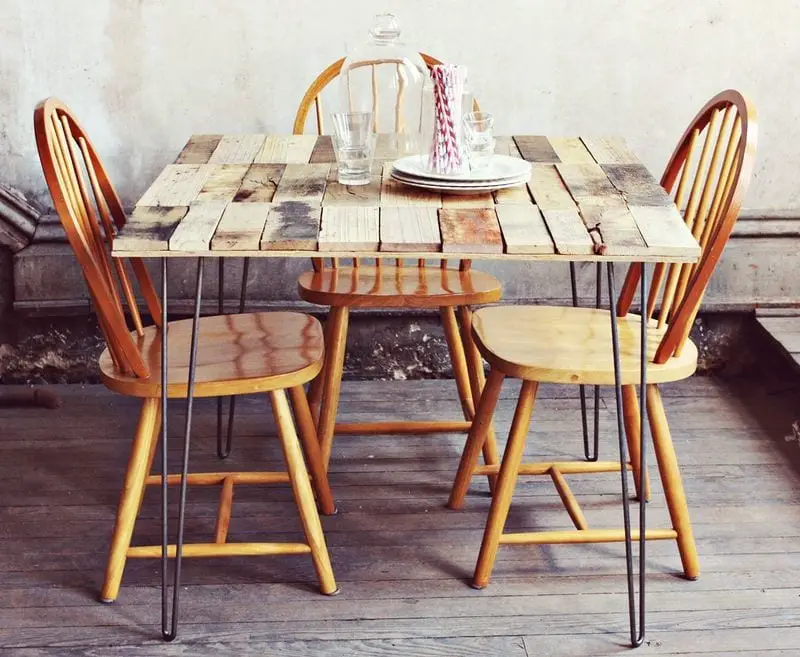 This pallet table is made from tiled pallets. The top looks awesome with pallets with different colors and shades. It is even, smooth and slightly stained to bring out the natural beauty of wood. The legs are metal which gives it some kind of 70s style.
12) Very Smooth Pallet Dining Table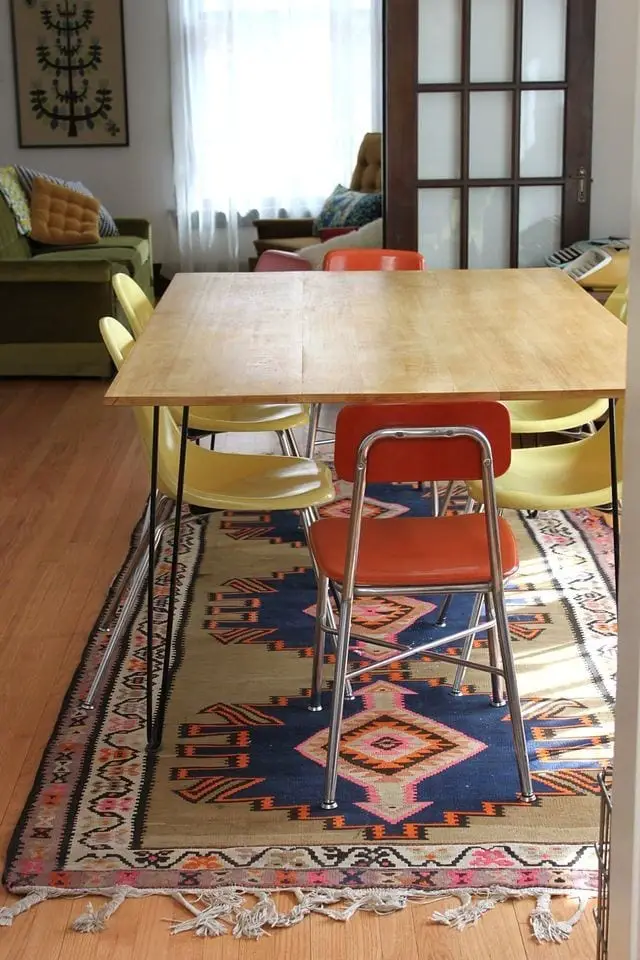 Even a fly will slip and fall once it lands on this table's surface! This is a super thin, but nonetheless very smooth and stunning pallet dining table. This table is large and can accommodate at least six to eight people at a time.
The pallets used in this table are well sanded, treated and stained to create a lovely area where you and your family can dine and wine. You will love using this not as a dining table but also a working table, crafts table, and a computer table as well.
13) Building a Pallet Table Design with Glass Top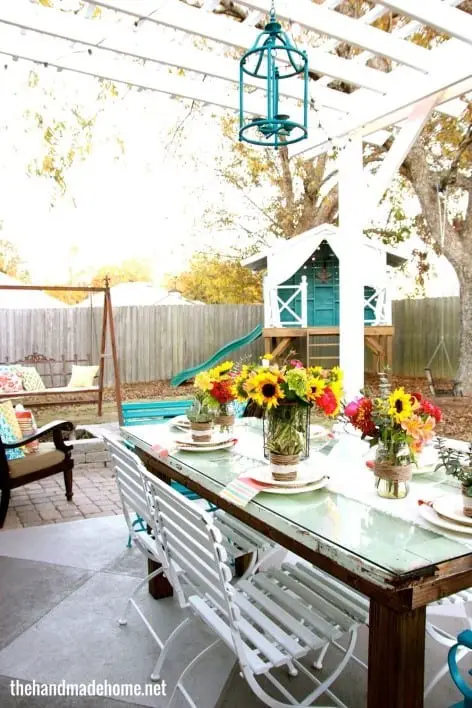 This pallet table design has a lovely glass top. The table was made entirely of pallets and has solid legs. This is a large patio dining table that can seat six people comfortably. It can accommodate a large number of items on top like dinnerware, flowers and of course, food.
14) Rustic Pallet Table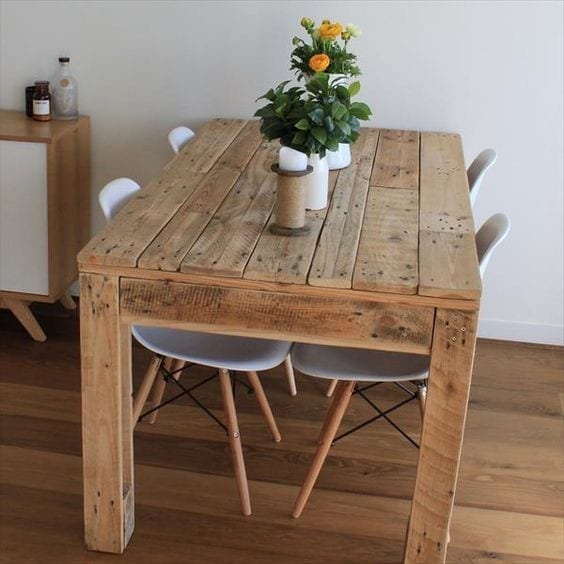 This is a rustic pallet table that has been made to accommodate four to six people at a time. This table has a wide and smooth surface which makes it perfect as a dining room table or woodworking table. A slight stain shields the top of this table from water and scratches. The legs are large as they are strong and will make excellent support for the large table.
15) Rustic Style Pallet Table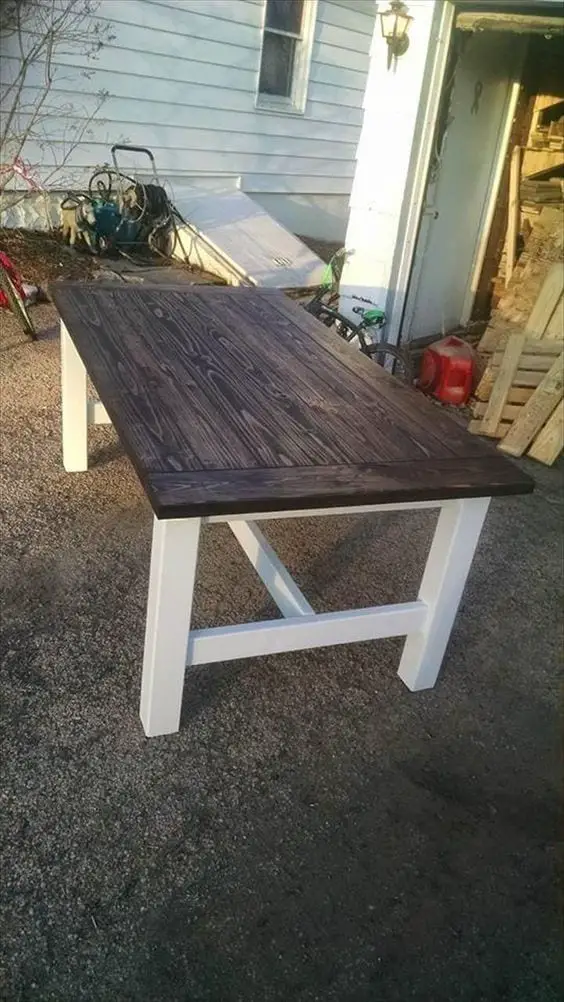 This is a pallet table with a very simple and straightforward design. As you can see from this table is versatile and is loaded with plenty of possibilities. It is long and wide so it's perfect as a dining table. The rustic design can be a good idea for a country or a chic style abode.
16) Pallet Table Design DIY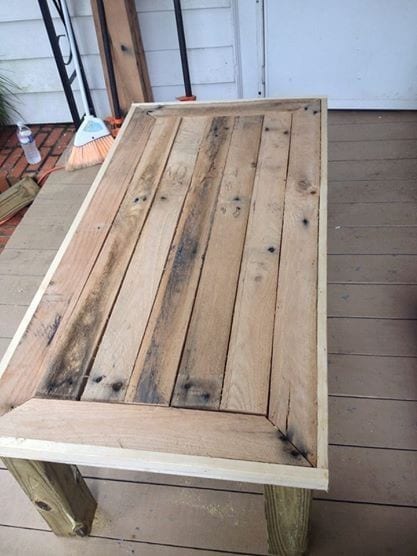 Aside from using an entire pallet frame to make a table, you can dismantle the pallets and use these. This project has cleverly used the pallets in making a lovely geometric design. The top looks awesome but at this stage, it was not yet treated using varnish or color but nonetheless you can apply varnish or any color you wish.
17) Reclaimed White Washed Pallet Table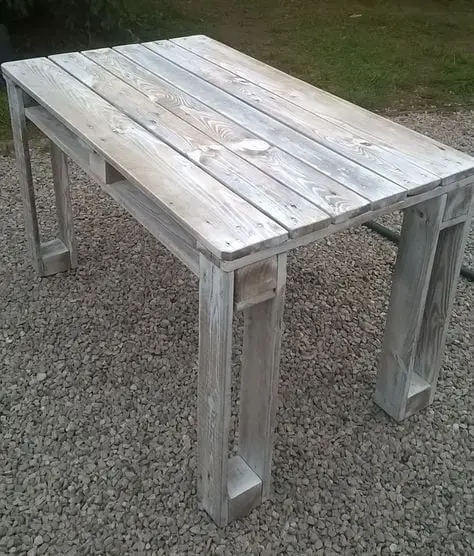 This pallet table has a very straightforward and modern design. The top is smooth as it is very accommodating. It is large and wide so it's a good size for a dining table. The large legs are made from pallet sections adding to its unique and modern design.
18) Very Large Pallet Dinner Table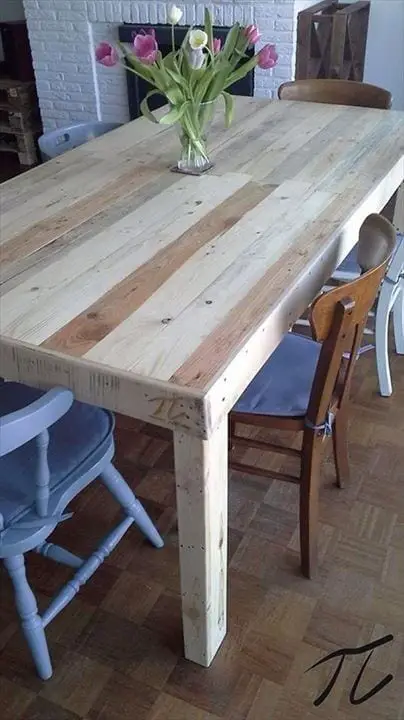 This pallet table is large which can accommodate more than six people for dinner.
19) Lovely Pallet Wood Table

Now, this is a pallet wood dining set with a square-shaped table and four pallet dining chairs. Everything looks perfect in this setting. The table top may be square but it offers enough space for tableware and food.
The chairs have a very tall backrest but nonetheless, have made a very comfortable way to enjoy a meal. You can improve this design by making it larger for a large family or if you want to invite friends for a special event or party.  
20) Very Large Pallet Dining Table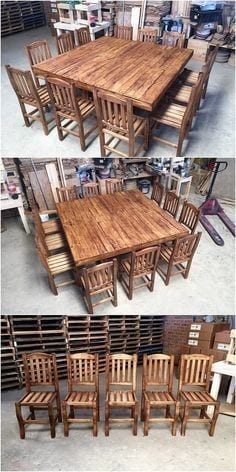 Now, this is a very large pallet dining table with a square shape. It was designed to fit a family of ten, each member seated in a comfortable seat with space at the table. The large pallet table has a huge and wide top which has been stained a very dark color.
21) Pallet Table And Bench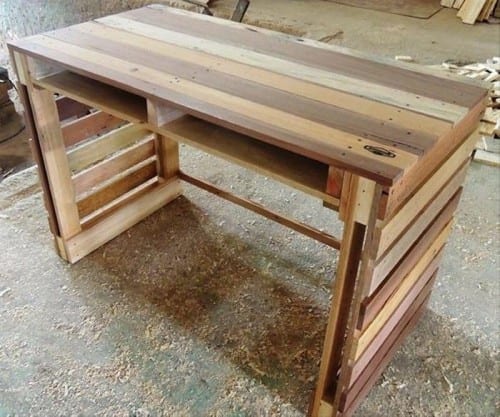 Now, this requires a bit more skills than just your basic woodworking skills and may be a good project to level up your skills with a friend. One thing that does not change though, is that this project will help you cut costs and save on expensive wooden furniture by building your own from wooden pallets that you can probably get for free.
Conclusion
Pallet wood is a versatile material that can be cut and assembled into any kind and size of the table. Pallets are very lovely and its beauty and imperfections shine through when you stain or varnish your table top. Pallets are very strong as they are very affordable.
We hope you have found the pallet table project that's right for you.