One of the most expensive pieces of furniture you'll ever buy from the furniture store would be a desk. Wooden desk price normally ranges from around six hundred to a thousand dollars, even more for the fancy looking ones. 
But why break the bank when you can build your own DIY pallet desk with these 10 easy Pallet Desk DIY plans. Check out the list below.
1) Workshop Pallet Desk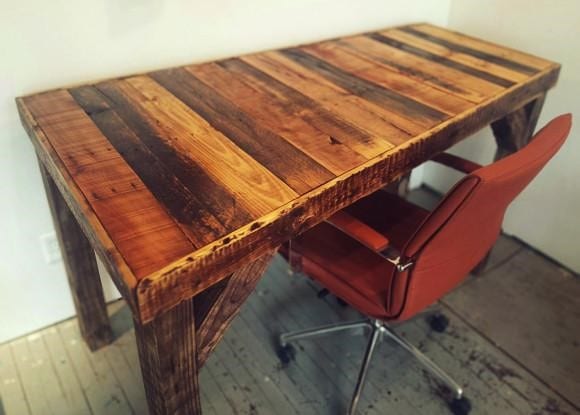 Who doesn't want an awesome wooden desk for their workshop? This wooden pallet desk for your workshop is a must. I for one, have my own wooden pallet desk in my workshop.
If you're needing a nice big desk to organize all your workshop items but you don't want to spend too much on expensive desks then this pallet DIY is perfect for you.
2) Artsy Pallet Desk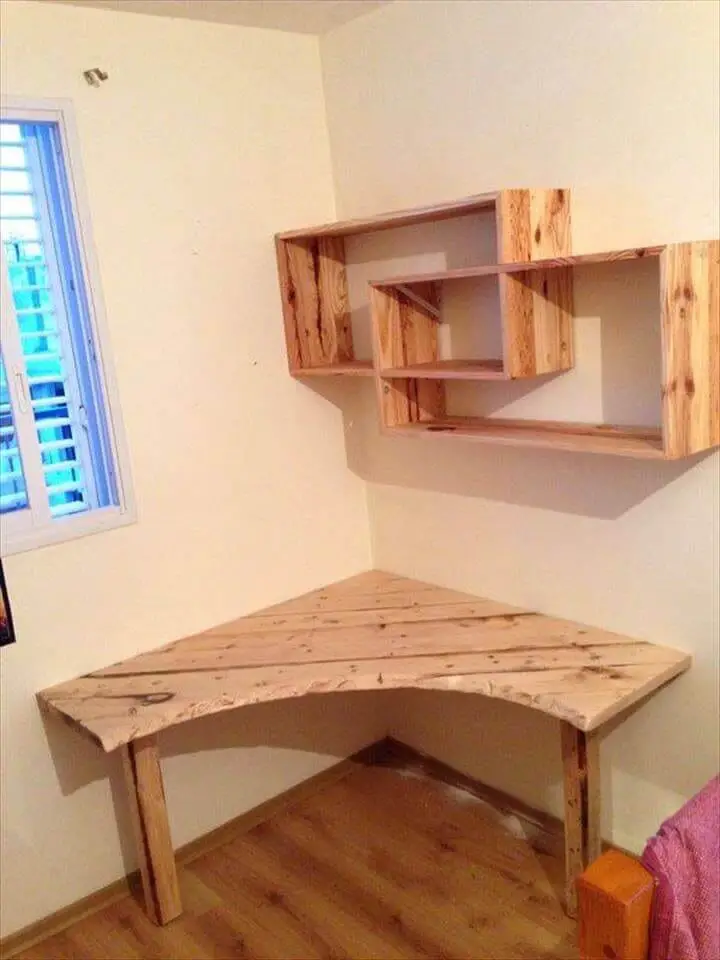 Making an art out of wood can be a hectic task and requires good art skills. But this much easier way of creating an artsy piece of wooden furniture is a must DIY for anyone. This sectional pallet enhances the character of this pallet desk and features space-saving. 
3) Foldable Pallet Desk
This is another pallet desk DIY project that requires a good amount of time and a certain level of woodworking skills. This item is built on a wooden pallet but also includes some wooden parts that have to be connected by a hinge. The first part (the wooden pallet) doesn't have to be designed but the foldable wood is shaped in a specific design and all parts were attached together to make the final wooden desk.
This pallet desk is more than just stylish and cost-effective, it is also efficient and convertible. This folding pallet desk is perfect for those who want a compact desk.
4) Wide Pallet Desk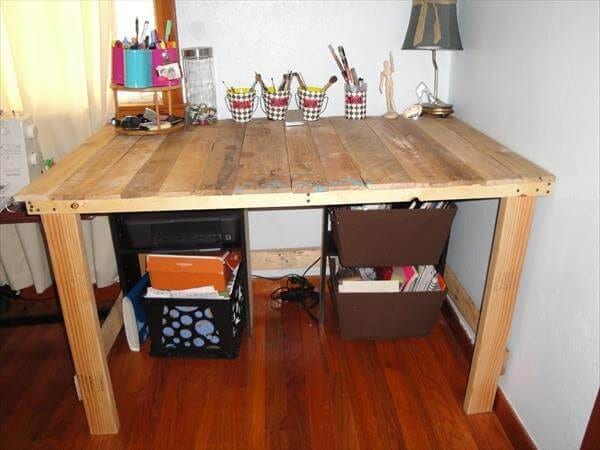 This wide underside pallet desk table has enough room for boxes underneath. I personally like how practical it is!
This may be the easiest DIY plan in our list today. Its top is the pallet itself with its spaces enclosed with more wood strips. Its table legs are regular wood cut into measurements.
5) Dark Stained Pallet Desk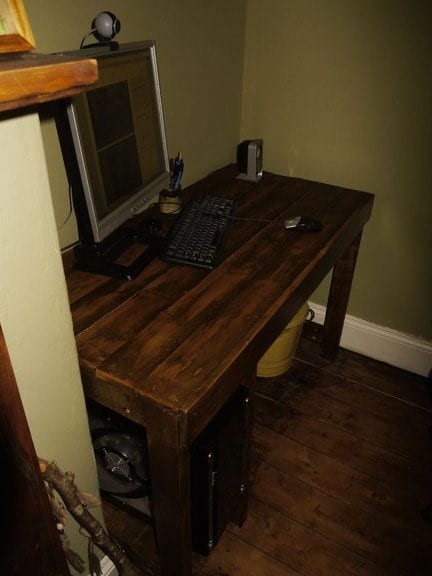 This DIY pallet desk is an impressive easy and fast how-to that allows you to transform the most of a large pallet into a sizable and compact pallet desk. Finishes with varnish and wood finishing, this piece is seriously gorgeous.
So, if you are old school and looking to use desktop PCs in your room but aim to conserve as much space, then this pallet desk is just perfect for you. Rustic but practical, it looks great for minimal cost and minimal materials.
6) Wooden Pallets Corner Desks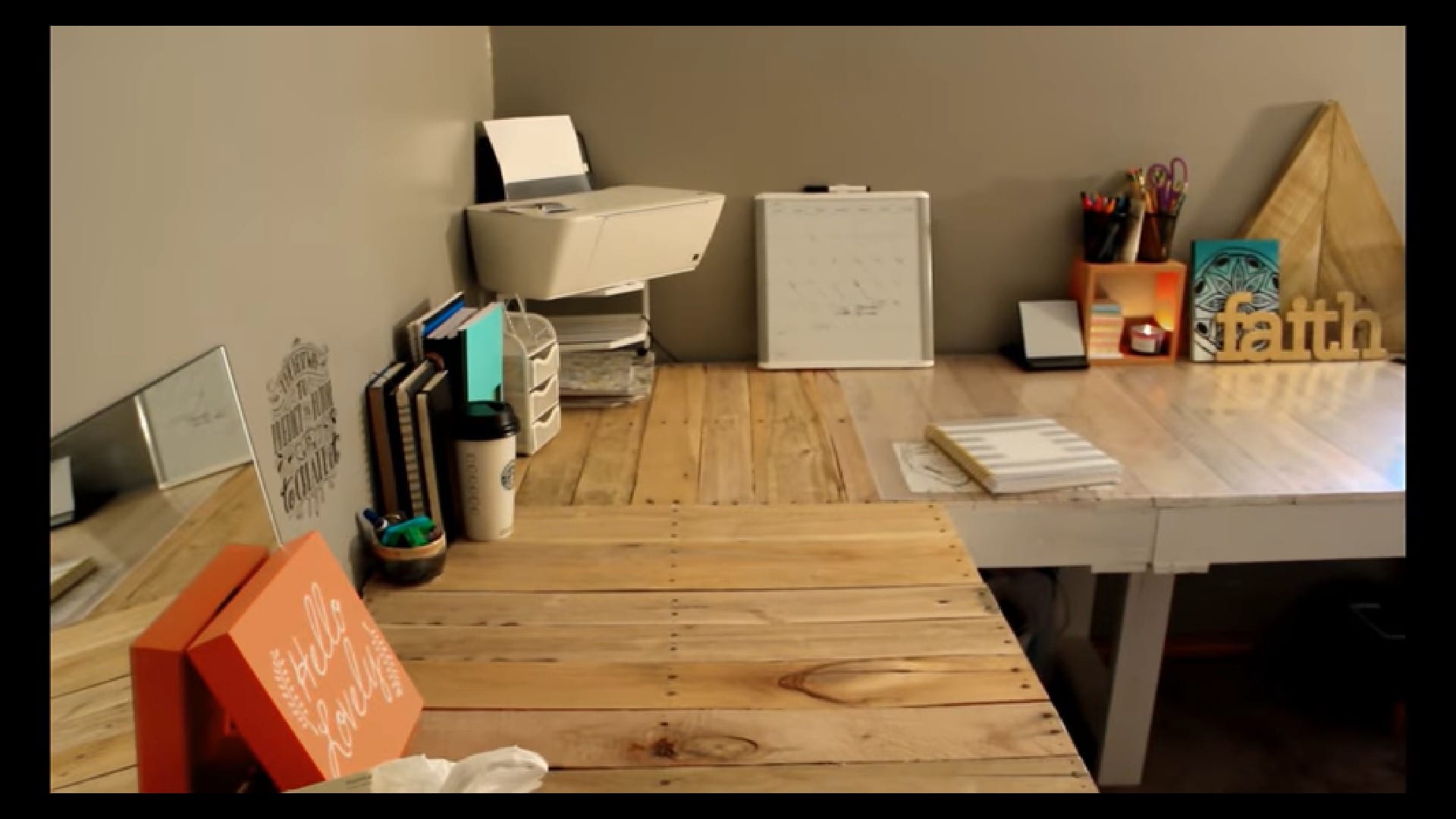 If you don't have this, then this is one of those things you never think you need until you get it. This L-desk is one hundred percent recycled from wooden pallets. This can give the room a nice look and you'll get more space because of its shape.
You don't have to worry, this L-shape desk does look very sophisticated, but it is easy to do and requires minimal woodworking skills.
7) The $5 Pallet Desk
This desk material costs the couple just $5. This fully functional and sturdy DIY pallet desk can hold a lot of weight and can be trusted for most items in your house. You will definitely be more comfortable using this $5 table than a thousand-dollar expensive one that functions in the exact same way.
8) The $15 Pallet Desk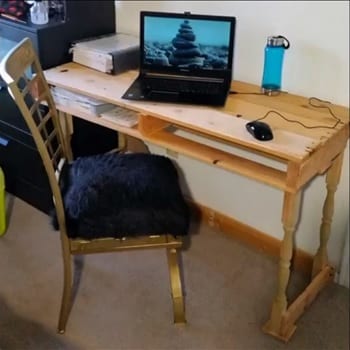 Luckily, if you're feeling a bit more luxurious than just $5. Moreover, the finished product looks more elegant than the $5 one. So, it's worth the extra 10 bucks.
9) Pallet Desk/Bookshelf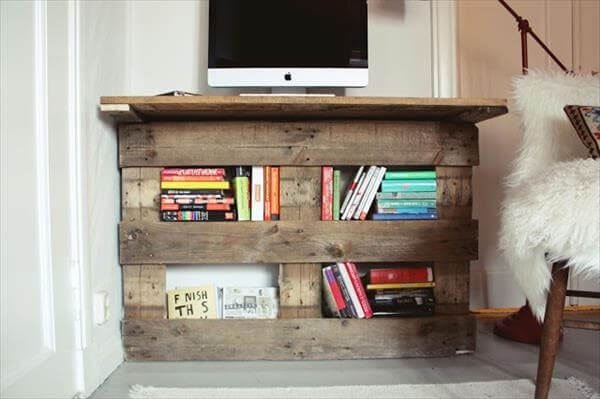 This unimaginably easy DIY wooden pallet desk doubles as a bookshelf. This is my personal favorite in all this list. You can place it in a corner and not worry about the space it will take. This pallet desk can be upgraded with colors. This easy to do furniture does not even involve too much woodworking skills or steps. The frame of the pallet is kept as it is and is only remodeled to have larger spaces in between and a top.
Even looking at other angles I can say that this escritoire is seriously stylish for a DIY wooden pallet desk. Making this a statement furniture of a compact furniture is a must!
10) Pallet Desk With Drawers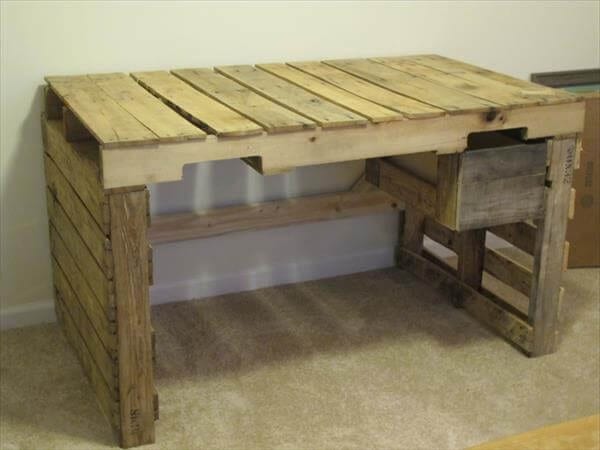 This is a gorgeous piece with one more feature added to it. This DIY wooden pallet desk is made from several wooden pallets and some pieces of wood and comes with a single drawer.
11) The Perfect Pallet Desk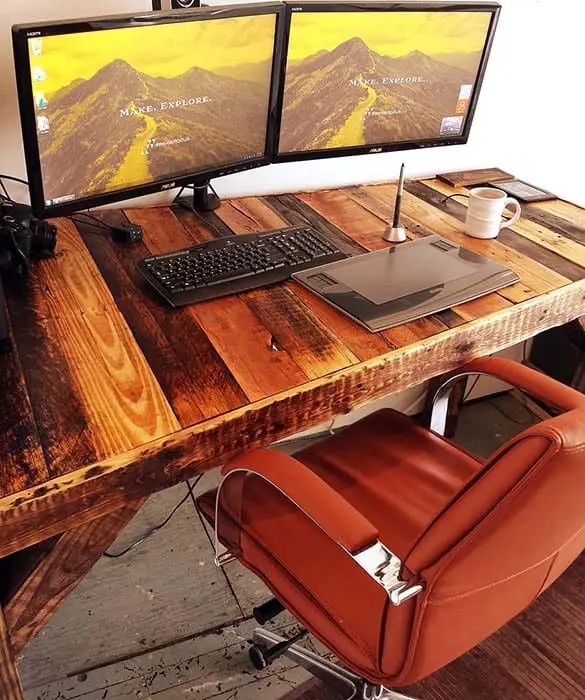 Why spend so much on a computer table when you can use a pallet desk like this. Now, this desk is made completely from pallet wood. It is wide as it is spacious. The top was made from several pallets with varying shades.
The pallets were arranged in such a way as the light and dark pallets alternate with each other creating a very lovely pattern. You will have a large space to work and play on this large desk and as you can see, two large computer monitors and some file cases can fit easily. This is a very easy project that won't take long to build. You can use this as your inspiration for your next projects as well.
Conclusion
Whether you're looking to recycle that wooden palette sitting in your garage for the longest of time or you're wanting a new desk, or you're itching for your next DIY project, these 11 wooden pallet desks are ideal for you! All these plans are easy to follow and easy to recreate.
With less than intermediate skills in woodworking, minimal tools and even less money required, you can follow through these DIY ideas and plans. You can choose whether to create a wide table with a lot of leg room and box room or save some space with the compact and foldable pallet desk.