Using wooden pallets for DIY projects has become popular with a lot of people across the globe and the added benefits of repurposing and/or recycling wooden pallets into furniture has not escaped DIY-ers.
More than just having a fun DIY project, but crafting a highly functional furniture i.e. sofa, tables, outside furniture. DIY-ing your wooden pallets is also a way to cut expenses on a tight budget.
1) Standard Chair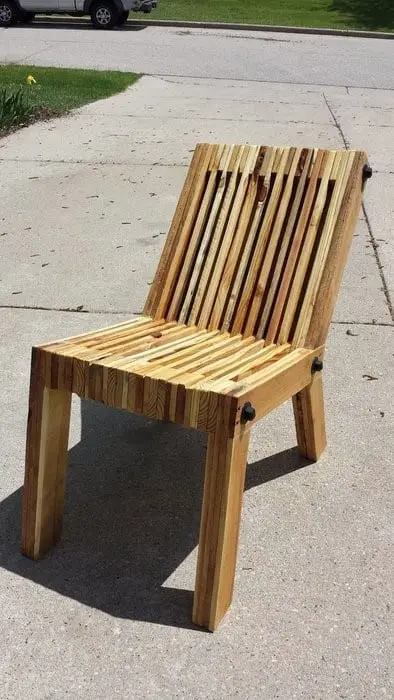 Via Instructables
This DIY is easy to do with reclaimed wood and a stringer pallet. When doing DIY's, especially furniture from wooden pallets, you would generally need basic woodworking tools, here are some that you might have in your tool shed: A screwdriver, a hammer, a handsaw, a chainsaw, wood file, a drill, some sandpapers, wood screws, nuts for your screws, cloves, wood glue, and of course, pallets.
2) Adirondack Chair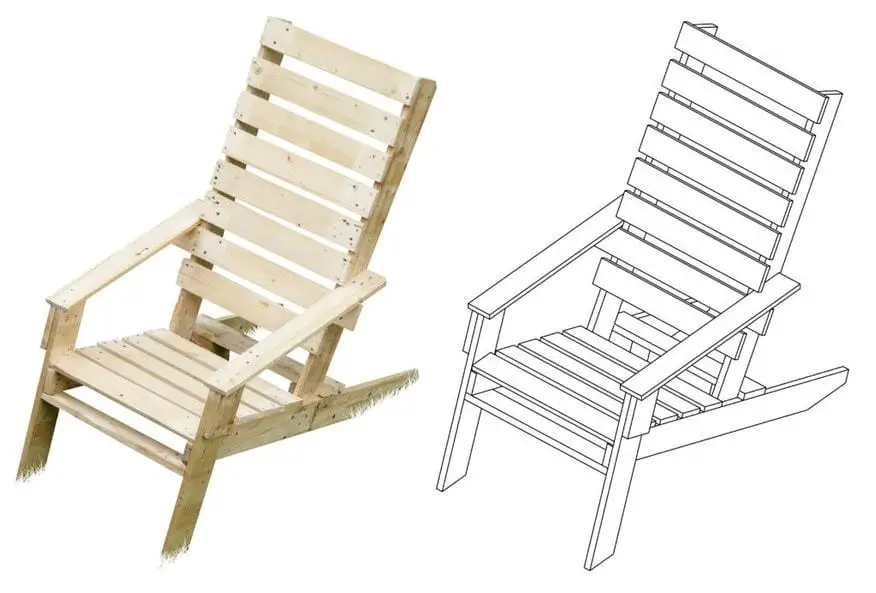 Via Instructables
This DIY plan is easier than most on this list. Its amazing design is easy to understand and follow. Making sure that you have the narrower boards is essential when trying this plan out. Once you disassemble your pallet, you can remake them into this Adirondack chair.
3) Outdoor Bench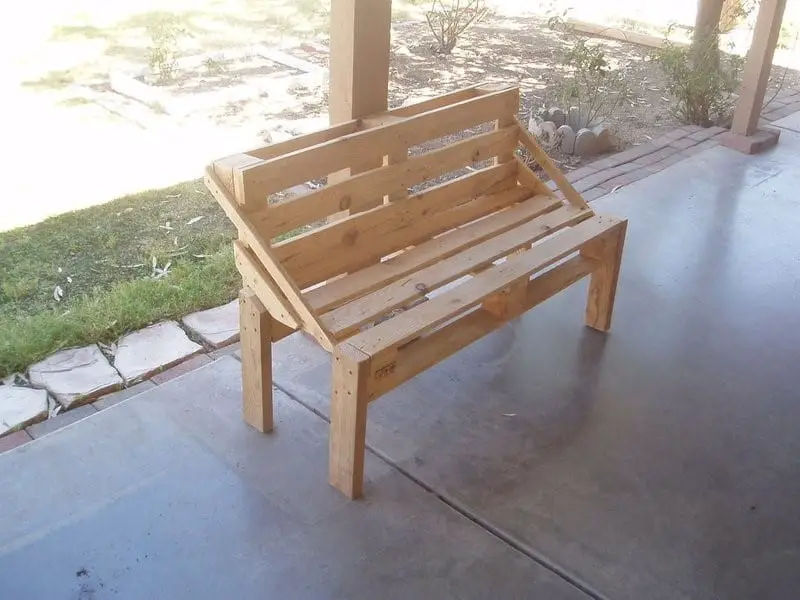 Via Instructables
This outdoor bench is perfect for the patio. Made entirely from wooden pallets, this chair is really cheap and easy to do. You can use one standard American size pallet, or you can use two that are cut in half. It would be good to have tools handy in order to do better cutting and take less time when doing these projects.
Here is a general process of making a DIY chair from wooden pallets.
First, you would need to disassemble your pallet. To do this, you must cut the nails in the pallet with the handsaw between two tables.
Second, you should start on the leg chairs by using three large boards and cut it into two pieces of the length you would want, with an angle of at least 45 degrees, when done, stick your legs to a flat board that would serve as the seat with wood glue and screws.
Third, join the legs. If you have the standard American pallet, you should have 8 boards left. Use five of these and cut them to use with the legs.
Fourth, do the backrest, have 2 boards cut and glue, nail or screw perpendicularly to the seat you have made.
Fifth, join the seat and backrest. You should support the backrest with a little bit more wood.
Finally, finish your DIY with some wood finishing like paint or varnish, you should do this especially when you expect to use it somewhere there is high humidity. Most of all, have fun.
4) Outdoor Adirondack Chair
Via Instructables
This Adirondack chair has its step-by-step process and instruction at Instructables. Adirondack chairs are becoming more and more popular because of their stylishness and comfort. This chair can be done easily using the slats or planks of wooden pallets. The backrest can also be adjustable if you wish to tweak the process and the chair a little bit.
5) Standard Dining Chair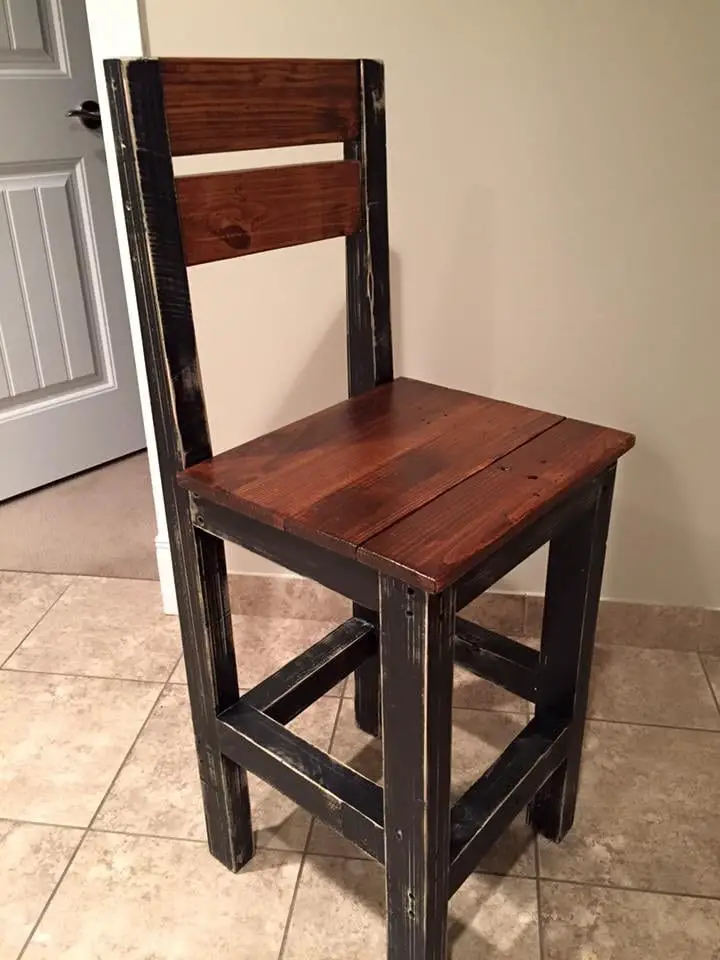 Via 99Pallets
This chair may not look like it was made from reused wooden pallets. The availability of different wood finishing products now gives you the ability to make your DIY furniture look expensive and brand-new.  This standard chair is easy to make and is a favorite among DIY-ers.
6) Twin Chair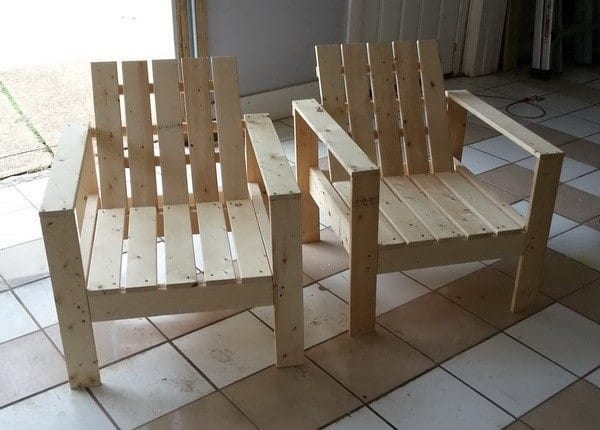 Via RemoveAndReplace
These twin outdoor chairs are great for outdoor gardens or hangout places. Purely made from pallet slats, these finely sanded chairs are easy to do and can be done even by beginners. Of course, you would need a pre-disassembled wooden pallet if you're going to do this since it can take painstakingly long hours when you try without knowing how to disassemble wooden pallets.
7) Standard Chair 2
Via 99Pallets
This twin standard chairs are done by a somewhat intermediate woodworker and DIY-er. The design in the wood can be done with a planer or can be cut by a saw and sanded. Nevertheless, it is still worth a try even for beginners.
8) Lounge Chair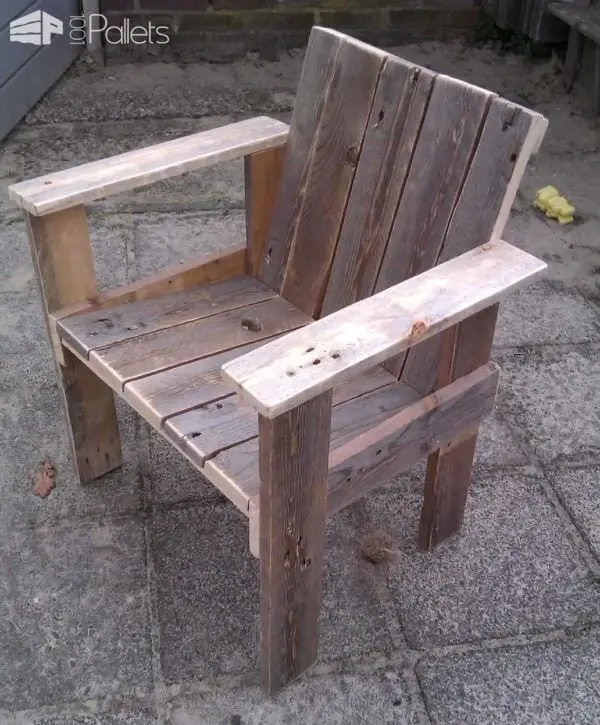 Via 1001Pallets
This outdoor chair is an easy to do plan but should be finished with wood finishing products if it's going to stay outside. Wooden pallets may be treated with chemicals and pre-treated to last long but the occasional wear and tear of the wood will also depend on the presence or absence of wood finishing to protect from external elements like rain and insects.
9) Outdoor Chair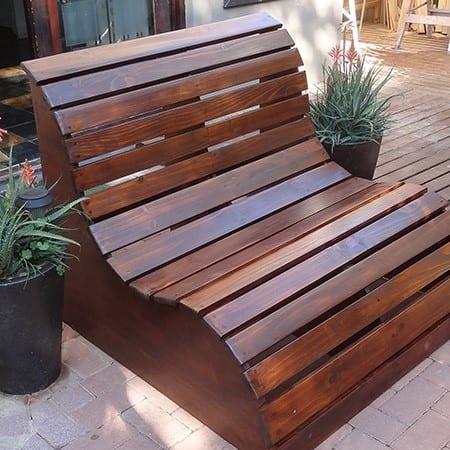 This elegant and beautiful chair is actually really cheap. It may look expensive because of the furnishing but it was made out of wooden pallets and reclaimed wood. For flat and wide boards in your DIY projects, you can always opt to use reclaimed wood instead of buying regular brand-new ones.
10) Lawn Chair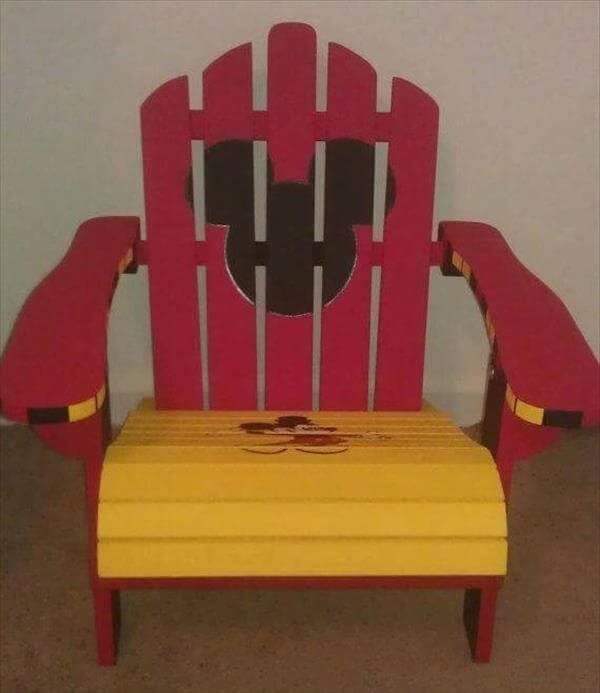 Via 99Pallets
This colorful outdoor chair can be done in two ways, one is to use colored pallets, there are some available, but you may see these less often. You can use these colored pallets and remake them into furniture. Or you can also paint your DIY chair from wooden pallets.