Pallet wood is the best for building fences because it's strong. You can build a perimeter fence around your property, a garden fence, a fence to hold animals and pets and a fence to cover sections in your yard. Pallets are also beautiful; you can find pallet wood in a variety of colors and shades. The natural swirls and imperfections on the surface of pallet wood make it a lovely natural backdrop to any garden or yard.
Pallet wood is also versatile you can build fences of varying heights, shapes, sizes and purposes. Pallet fences can be constructed by using the entire pallet frame or you can dismantle the frame to use each pallet.
But no matter what type of fence you want to build, you must always use strong and solid pallets to make sure that your fence is strong and durable. Never use soft, cracked, dented, hollow or mold-infested pallets. Remember, strong materials make strong fences.
We have 62 lovely, versatile and cheap pallet fences ideas for you. These fences are very easy to make. Some are huge, tall and wide for a large area while some are simply small, quaint and decorative fences. Have fun finding the best pallet fence that will suit your needs here.
1) Lovely Little Red Fence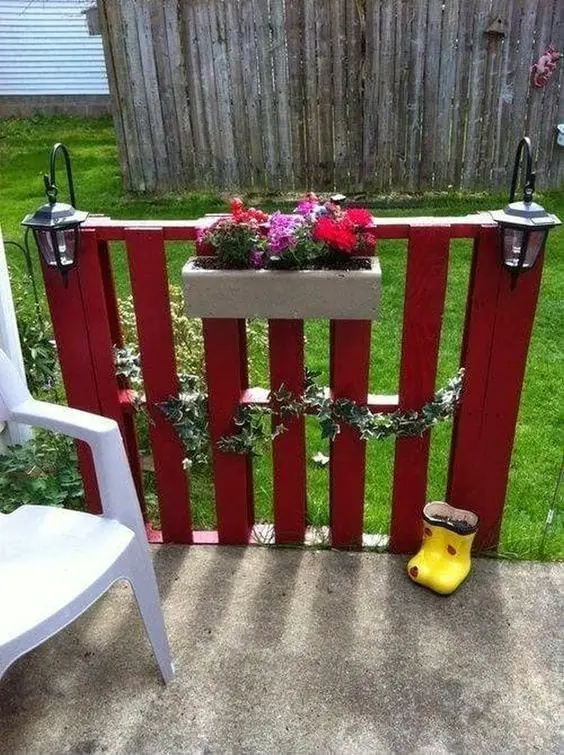 This is a red fence that was made to enter a small area in a garden or patio. The fence was neatly made and with a small planter on the door and some outdoor garden décor.
2) The $0 Pallet Fence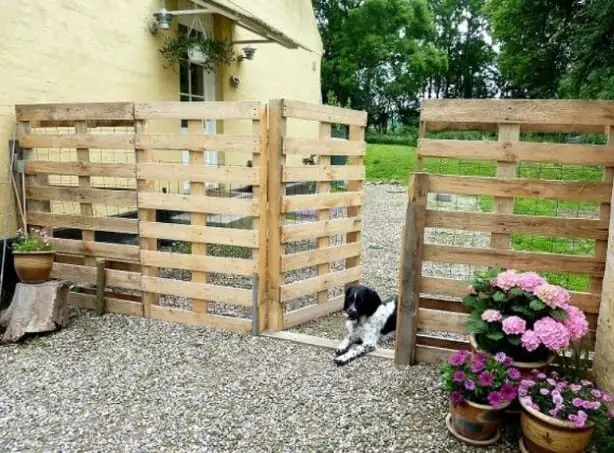 This large fence and gate were made from old pallets, therefore, you can bet that the builder did not spend anything to make this fence at all. This was made to secure a garden or a special area where you keep exotic plants as well.
The fence and gate are made from large pallets but these are not stained or treated. The best way to go is to use stain or paint on your pallets to protect it from water and from extreme heat.   
3) Pallet Frame Fence Garden
Another pallet fence style is a garden style fence that lets you grow different plants on top of the pallet frame.
Once this is filled with soil, you can now grow any kind of decorative plant or flowering plant from this section. Aside from using the top part of a pallet, you can also use the many sections in the body of the pallet frame as a handy planter. As soon as these plants grow, you will have a lovely vertical garden planter for a wall.
4) Flower-Dressed Pallet Fence
This pallet fence was meant to protect patches of flowering plants. A small gate lets you access the area to tend to your plants anytime. This is a good fence design to use if you want to hold off people from entering your property.
5) Pallet Fence With Minimal Gaps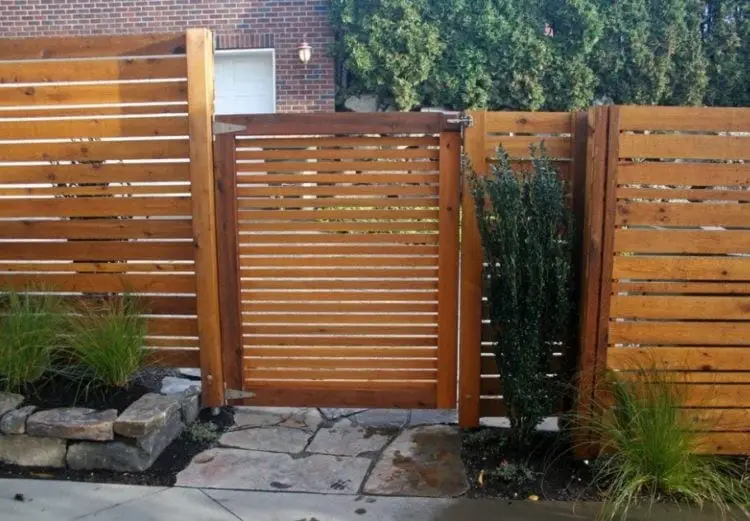 The fence and the gate were made by arranging the pallets with only minimal gaps.
6) Pallet Fence with Planting Space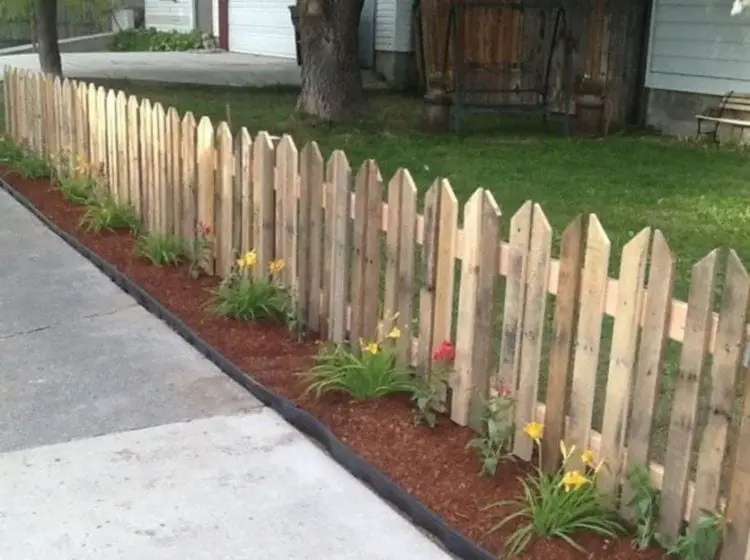 Have you ever thought your yard needed a facelift? One way to do it is to add this lovely pallet fence which frames your walkway so easily. The fence is made from shaped pallets which were done using a circular saw or a table saw.
This fence also keeps people from stepping on the green grass as well as on a small planting space right next to the walkway. This proves that despite its size, this fence was able to serve its purpose of protecting the turf.
7) Pallet Fence for a Small Garden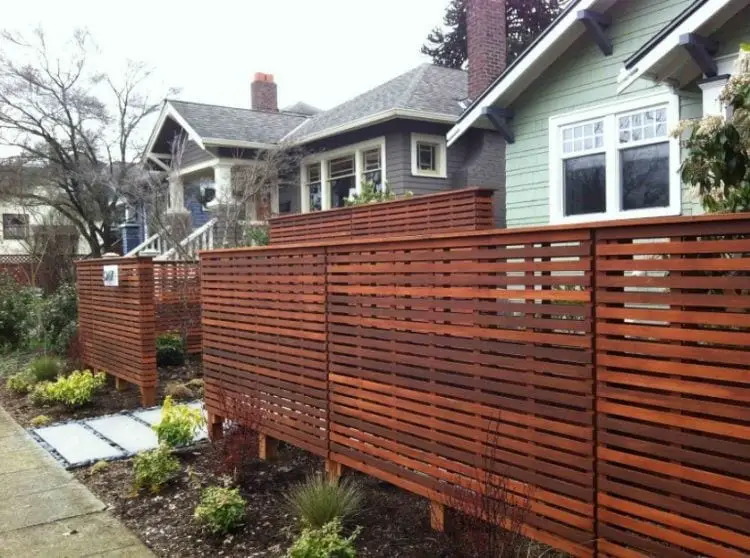 Aside from securing your property, a fence also helps create a private area at the front or at the back of your home. This fence is made from pallet wood and was arranged to create a fence with very small openings, hardly enough to peek through.
The fence looks well-built and a very dark stain was applied to protect the fence from rain or extreme heat. The fence was constructed in such a way that a small garden can still be seen from the bottom half of the fence. 
8) Large Pallet Fence Design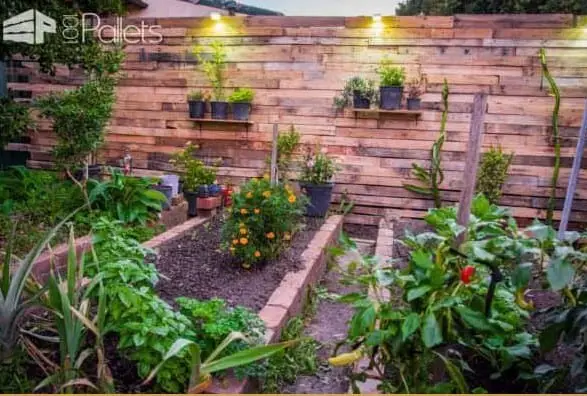 A fence seals off an area protects it and provides privacy as well. The pallet fence here has been erected horizontally to protect this small area filled with lovely and exotic plants. The pallets create a lovely cover that was even made more beautiful with shelves, hanging planters and even perimeter lights.
This is a tall wall that needs a large number of pallets because of its size.
9) Cute Pallet Fence for Your Garden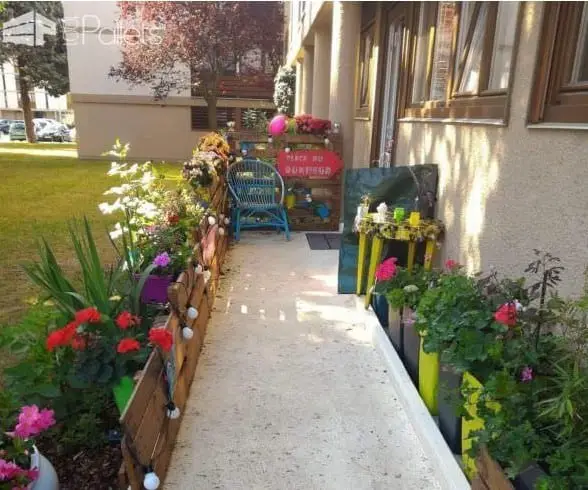 Sometimes a fence is used to just seal off an area or to say "back off!" The pallets here were simply arranged horizontally along the sides of the pathway leading to the house. The pallets are staying put because of pegs that were hammered in place.
The pallet fence is small so that the flowers can and plants can be seen and admired from the pathway. This is an easy project that you can accomplish in just a small amount of time. And as you can see, the builder made this path even brighter with stringed lights so that in the night time this will look awesome.
10) Easy Pallet Fence Patio Surround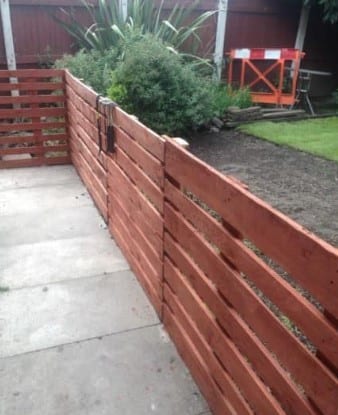 A fence can provide privacy. It tells people that this is your property and no one can come in unless you invite them in. Now this fence is not too tall and not too short either but it does a good job in protecting the area at the back. The fence is even, clean and well-designed.
11) Pallet Garden Border Fence
This border fence is short but it extends the entire perimeter of the property. Why erect a small fence like this? This fence is basically to tell anyone that this is private property. It does not have to be tall; it just has to be enough to get noticed.
The builder added debris on top. Vines and branches were used and these have made the area more secluded.  You can see that this is quite easy to make but it may take time if you have a large property.
12) Sturdy and Stylish Pallet Gate
A gate provides privacy and also an entryway. This one gate was made to keep intruders and provide a safe and secure home or property. This gate was made of only a few pallets but was made strong by using upper and middle frames.
The gate was stained with a very light and very gentle stain which was enough to keep the natural beauty of pallet wood. Staining also helped waterproof the gate so that it can withstand rain or shine. This gate can take a few hours to make but no doubt it has a simple design.
13) Geometric Pallet Fence Design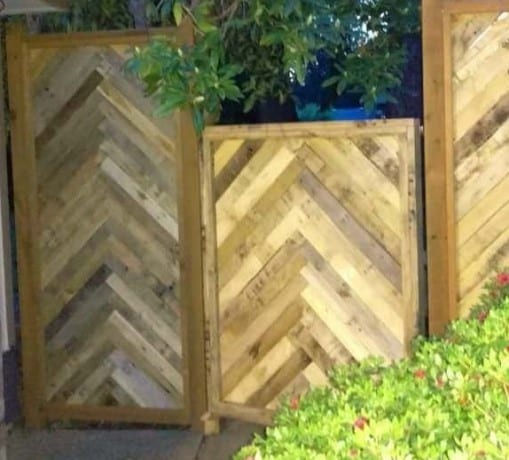 This pallet fence has a more complicated design. It is made from a number of sections; each section has a geometric design and made from a large number of pallets. The pallets were carefully constructed and were stained with a very light stain to just enhance the natural beauty of the pallets.
14) Pallet Front Gate Design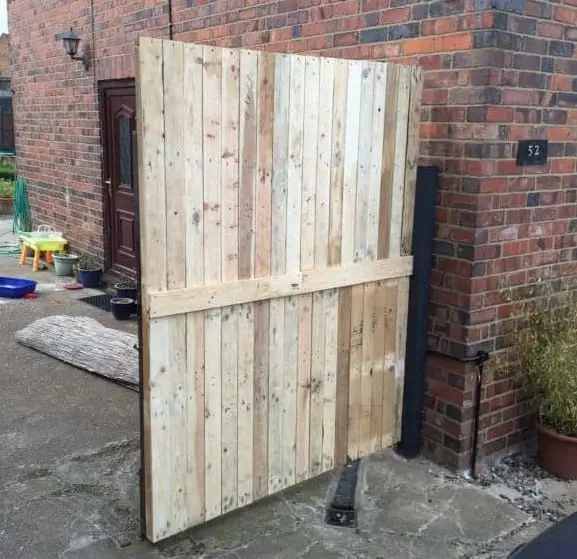 Pallets can create a private screen to close off a section in your home. This pallet fence is tall but it is able to cover and provide privacy. The pallets were installed in a way that there are no slots or openings that anyone can peer through.
This fence obviously was not treated but this should not be the case. You should at least apply a light stain or varnish to keep this fence waterproof. You can make this larger and wider if you have a larger backyard or lawn.
15) Gate and Fence Pallet Wood Plans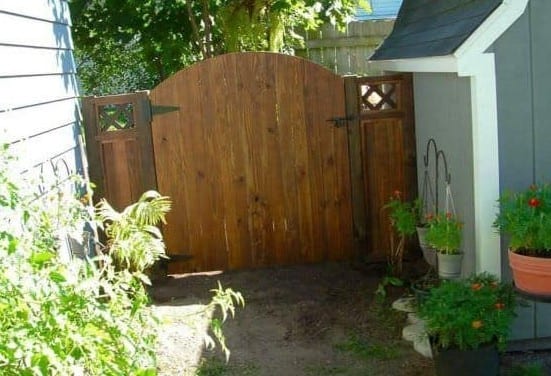 Pallets can make a simple fence or an elaborate one just like this. This pallet fence is tall as it is wide. You can hardly see what's at the back of this huge pallet fence. This was made from large and durable pallets.
The top of the gate has a curved design; the sides or the posts at the sides of the gate have small lattice designs on top. You can completely eliminate this if you want your gate to completely seal off any intruders.
This gate and fence were stained deeply with a very dark stain but it was still able to enhance the natural beauty of pallets. Take this pallet wood fence as inspiration for your next woodworking project.
16) Quick Pallet Fence Design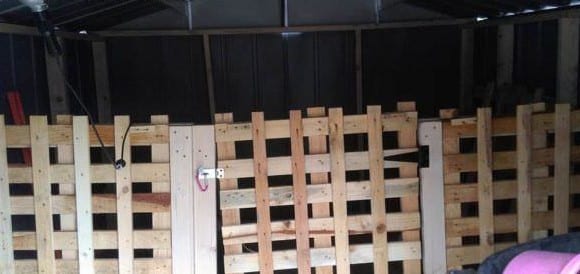 If you need to construct a fence to seal off an area in your yard then this is a design for you. This makes use of pallet frames with the edges cut to connect with each other. Large posts were placed in between each frame to stabilize it so the fence would be strong and sturdy enough.
A gate was placed in the opening of the fence and this one was no different from the frames used. A simple hinge was used to fasten this door to a post. Overall, this is a very easy project that does not require a lot of skills, just a lot of pallet frames depending on the size of the area that you want to seal in.
17) Garden Fence Made from Pallet Wood
This is a whimsical pallet fence that was used indoors. It looks like it may be a decorative fence or just used to decorate the room though with its cute colorful stars and other decorative items. This small gate has a lot of possibilities.
You can use this design to make a larger and wider gate to use as a pet fence indoors. It can also be used as a safety fence for toddlers as well. You can paint this fence according to the color of your room or just stain it to bring out the natural beauty of pallets.
18) Pallet Fence to Cover Large Pool Pump
A pallet fence can be made larger, wider and stronger to cover an eyesore in your yard. This particular pallet fence was able to cover an ugly, large swimming pool pump found in the middle of the yard. The fence was made from tightly-spaced pallets arranged in a vertical as well as a horizontal manner.
A large letter B made of pallet wood was placed in the middle of the fence which has made this a more personalized project. How to make this perfect-looking letter? A jigsaw and a stencil will make this lovely letter and more shapes and patterns easily.
19) Entrance and Fence From Reclaimed Pallet Wood
A fence can also serve as a decorative part of your garden. It can also serve as a frame for flowering plants and vines to grow on. This fence is wide and covers a large area. The arches were also made from pallets which mean the fence is light and easy to work with. You can easily construct this with its very easy design but no doubt it can take a while to complete because of its size.
20) Pallet Picket Fence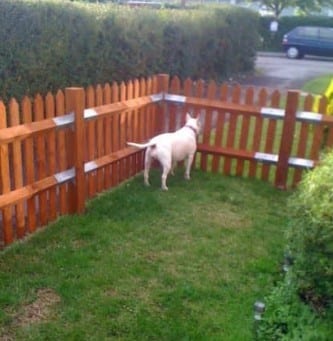 This pallet fence is obviously for this dog to stay in one place. This is made from pallets which were reinforced in all sections especially along the posts. The fence was painted brown to contrast the bright green grass.
But if you were to make a fence for a dog, you must consider a few important things. If your dog is tall and large, he can easily climb up or jump off this fence. A very frisky dog can dig out of this fence too. Good, well- constructed posts are essential if you want to build a strong fence for a dog.