It is a common fact that pallets serve little use after their primary usage in the ships. Throughout their entire journey, these pallets are exposed to several conditions, thus receiving a lot of marks, spots, and signs of wear and tear all over their surfaces. Should you just throw them because of that?
Not necessarily!
All these wooden imperfections only make these pallets interesting to work with. Why not give these loyal pallets another chance at making people happy?
In fact, there are a lot of projects that you can do with these rustic and appealing pallets. One of them is pallet flooring. These pallet flooring patterns and projects can serve as your inspiration in your next project.
Keep in mind that these pallets are just there, but it is up to you to implement your creativity and artistic capabilities. It all depends how you rock your floors using these pallets, thus making your entire interior space amazingly attractive.
As a bonus, these pallet flooring will also protect your interior floors from getting damaged because of cold winters!
1) Wide Pallets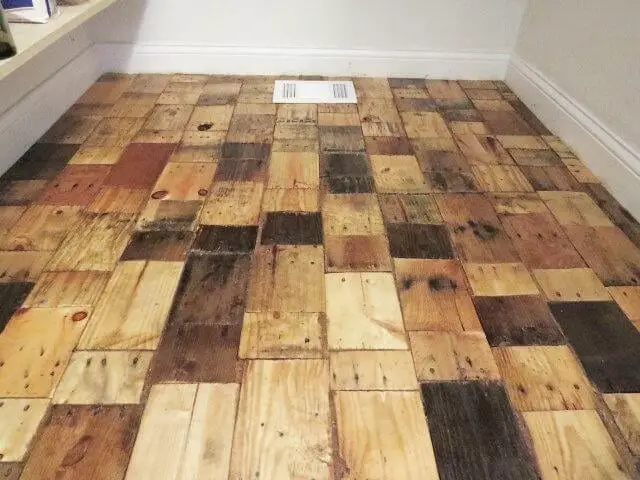 Image URL: https://www.palletsdesigns.com/wp-content/uploads/2018/01/pallet-flooring-desings-12.jpg
What makes this pallet flooring pattern a unique one is that the pallets look wide. While it is possible for you to get those wide pallets, you can also create the look by putting two pallets of similar features together, making them look like a single, wide pallet.
Place the tandem next to a wide pallet, and it will not look like they were single pallets combined together. This plan can easily be crafted not just for your indoor flooring, but can also be done for your terrace area, and expect this project to enhance the beauty of your area in a very attractive way.
This improvised wooden pallet flooring will certainly be a perfect place for your family and friends to gather. You just need to place a couch, whether wooden or not, and decorate with cushions that will further complete the ambiance of your enhanced living room space!
2) Kaleidoscopic Pattern
Image URL: https://www.palletsdesigns.com/wp-content/uploads/2018/01/pallet-flooring-desings-11-100×72@2x.jpg
Thinking that you are only limited by the number of patterns and projects that you can do with your pallet flooring? Think again. After all, there are a lot of styles and designs that you can implement, given that you use your creative thinking.
For this specific example, you can create a kaleidoscopic pattern for your flooring by arranging the wooden pallets accordingly. Enhance the output by painting the colors in a way that will further emphasize the artistic pattern that you are trying to create.
You can start with this basic pattern, and further explore on kaleidoscopic patterns later on for a more creative floor!
If you think of it, this pattern may also be used, not just for your floors at home, but even for your walls at the same time. There are also wooden pallet projects for walls. This will certainly result in an interesting wall for your home.
3) Kitchen Floor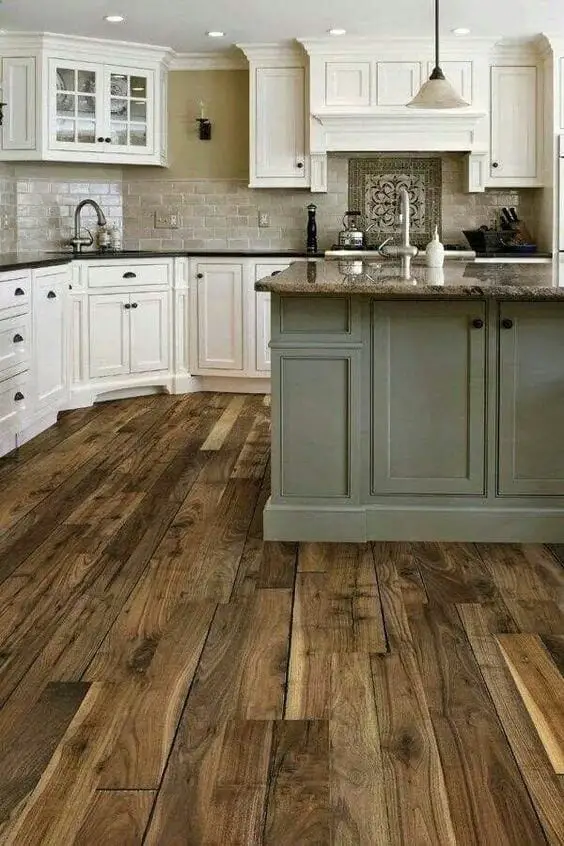 Image URL: https://www.palletsdesigns.com/wp-content/uploads/2018/01/pallet-flooring-desings-9.jpg
This design is not just elegant, but very attractive to look at. The use of wooden pallets can also reach as far as your kitchen area. This gorgeous project is crafted intelligently and smart, thus providing you with an exceptional output, at a very affordable price.
After all, all you need are the pallets that are lying around, some wood treatments and paints, and your artistic imagination. This project is not just an ideal option for kitchen areas, but it can also be done for hospital floor renovation at the same time. The arrangement of the pallets is just basic, which means that there is no need for you to form some patterns.
If you are not fond of wooden floors, this project will certainly change your mind! Enhance the way that your kitchen looks, and start inviting family and friends over, showing them your latest project! Include this project in your next renovation plan, and your floor will become the talk of the town!
4) Charming Café Floor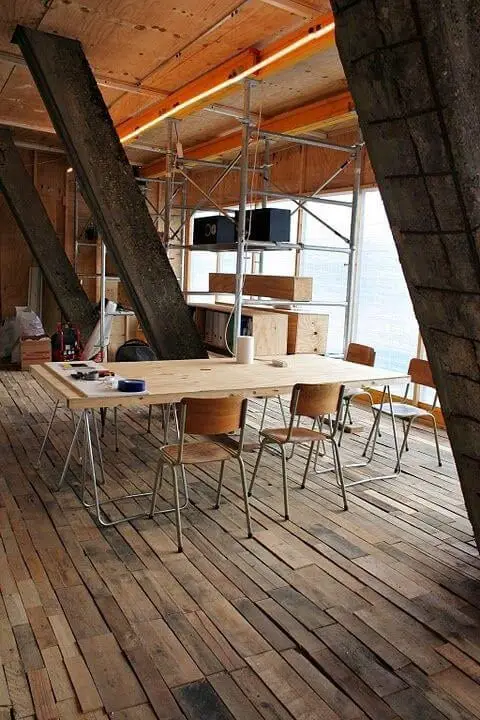 Image URL: https://www.palletsdesigns.com/wp-content/uploads/2018/01/pallet-flooring-desings-8.jpg
Are you fond of visiting cafes with interesting wood floor patterns and want to create your very own café with an interesting floor plan? Why not use pallets instead of regular lumber wood? For this project, come up with a charming pallet flooring using recycled wooden pallets.
This project may look like those expensive wooden floors from fancy cafes and restaurants out there but there is no need for you to spend a lot of money because you can construct this floor entirely out of those seemingly useless stacks of wooden pallets. You have the option to paint the pallets so as to create an even appealing floor plan.
If you do not own a café but would like to still have a similar pattern for your flooring project, why not? You can still use this pattern for your home, and totally change the ambiance and feel of your own abode.
5) Restaurant Pallet Flooring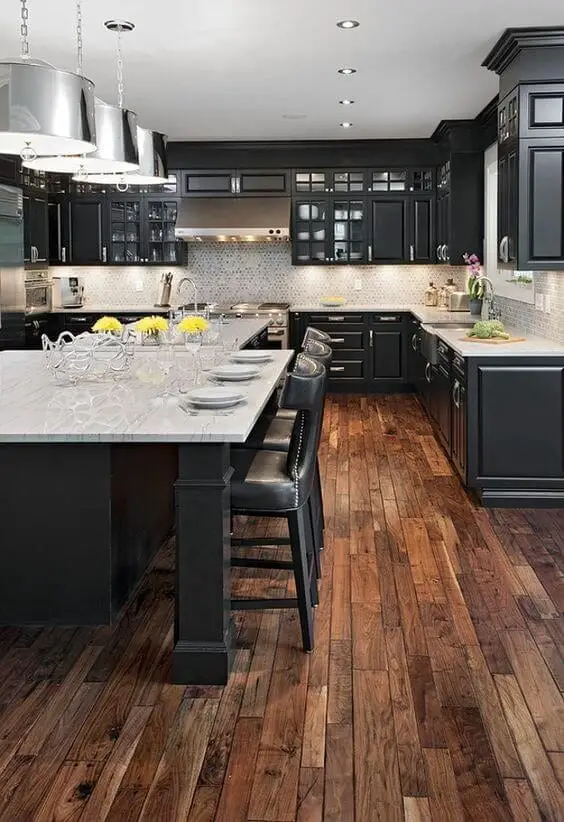 Image URL: https://www.palletsdesigns.com/wp-content/uploads/2018/01/pallet-flooring-desings-7.jpg
Looks like a real fancy restaurant right? True, the fixtures and tables may have something to do with it, but what really stands out in this image is the wooden floor. The thing is, this is not just regular wood, because it is constructed completely using stacks of wooden pallets.
While not sacrificing or compromising the quality of the overall restaurant place, this pallet flooring certainly improves the ambiance of the place, giving it a more luxurious look because of the contrast that it gives to the rest of the things in the area. You may also want to have this project for your floors at home, especially in your kitchen area.
The thing about wood pallets is that they leave you with much freedom when it comes to choosing the color, pattern, and style of application. Therefore, get the basics of this project, and incorporate your very own creativity as you start creating your own project at home!
6) Light Colored Hallway Pallet Flooring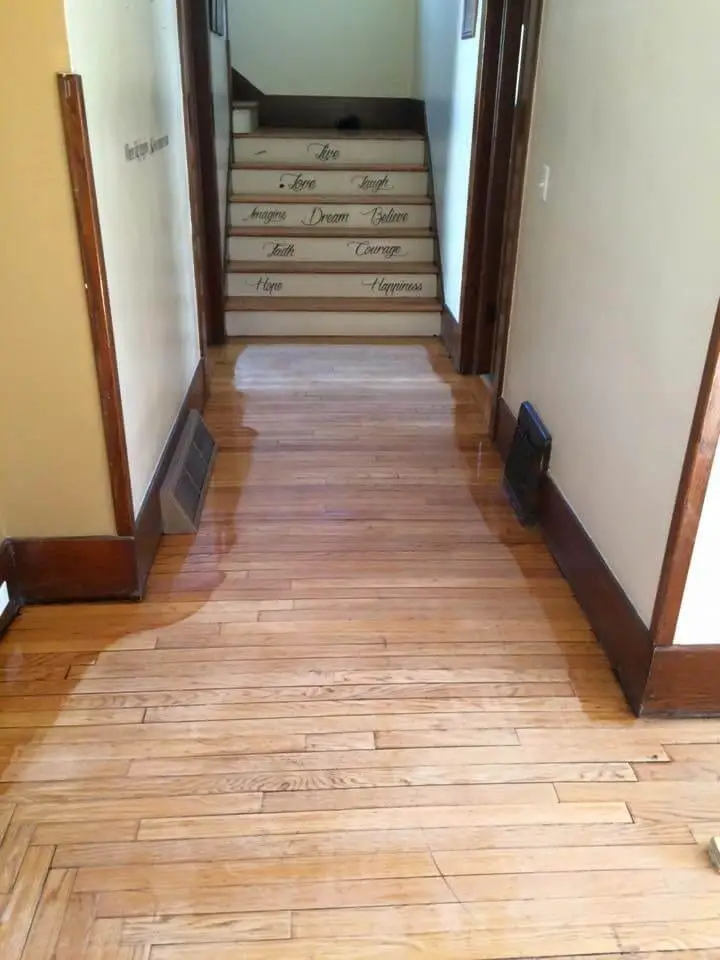 Image URL: https://cdn.easypalletideas.com/wp-content/uploads/2016/02/pallet-interior-flooring.jpg
Your hallway leading to your stairs at home will certainly make the place a very elegant one by using pallet flooring. For this specific project, the pallets were left in a lighter colored state so that they provide a contrast to the darker color of the borders of the walls.
As a result, there is an interesting play of colors in the final output of the project. You have the option to choose the direction of the pallets, though it would be recommended to place them in the same direction as your stairs so that it will not create a conflicting, awkward look.
This project is perfect as a hallway flooring project. You may also copy the same style and pattern for your bedroom floors, or even in the living room, depending on your preferences and requirements. Create an impressive pattern in the most artistic way!
7) Deck Pallet Floor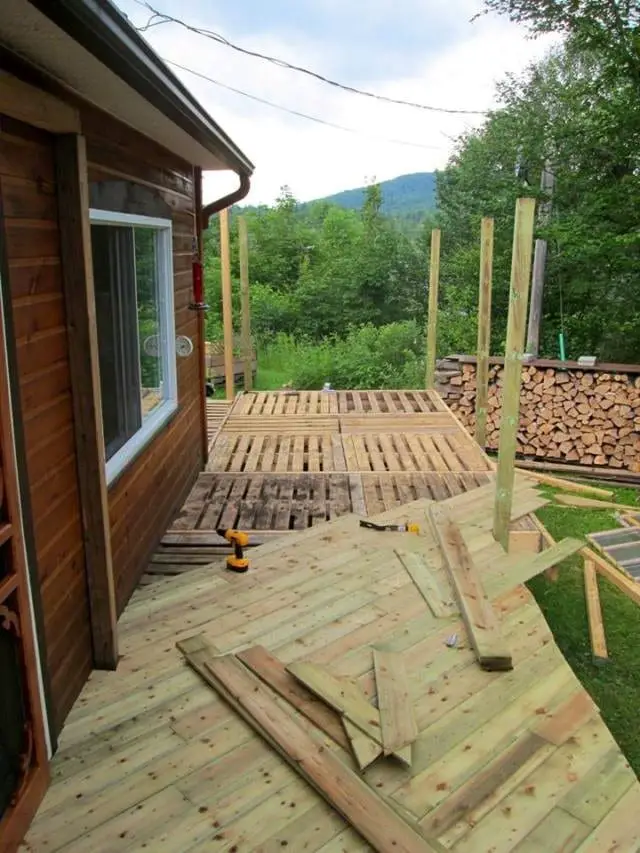 Image URL: https://mobilehomeliving.org/wp-content/uploads/pallet-balcony-projectjpg.jpg
Yes, you guessed it right! These pallet flooring projects are not just for your interior floors. In fact, they will also look great as your deck floors, just like this specific project in the image.
To make things more interesting, the DIYer decided to arrange the pallets in a diagonal way, not just to defy what is basic and common, but in order to create an even more attractive appeal.
You can choose to paint the pallets, but you can also decide in favor of leaving them with their natural colors. The best thing about having wooden pallet flooring in your deck is that it further adds to the natural look of your place.
With this pattern for a flooring project, you will certainly wow your visitors and friends with the way you have turned your deck from a normal, basic one, to a very interesting place which will make you just stay there all day.
8) Dining Room Pallet Flooring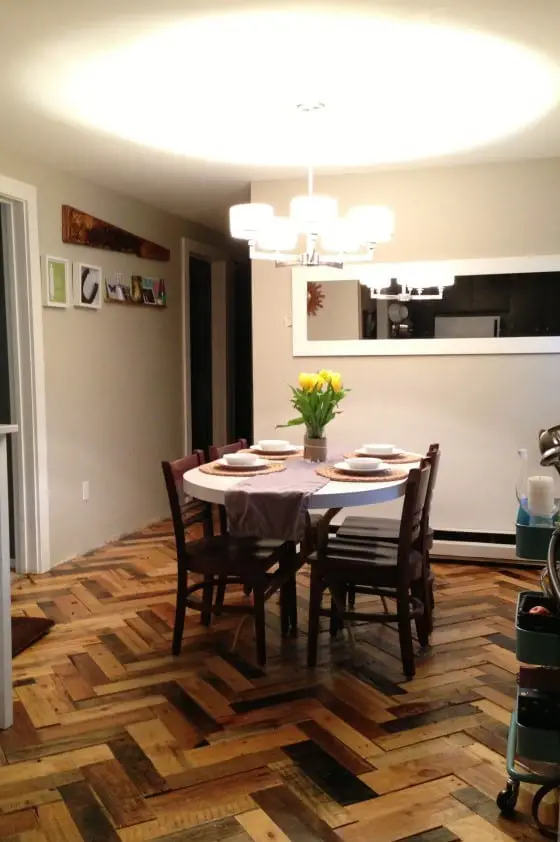 Image URL: https://mobilehomeliving.org/wp-content/uploads/pallet-flooring.jpg
Do you want to further liven the appearance of your dining area? Why not change your flooring to the usual ones that you use to a wooden one? Worried about the possible expenses? Worry no more! You can create a wooden flooring for your room without having to spend a lot of money.
All you need to do is to gather some wooden pallets that are just lying around and turn them into a masterpiece by arranging them in a way that will make them attractive in the floor. As in this project, you can choose to pain the pallets into different colors, and create a pattern that will complete the look of your project.
It is now time for you to start enhancing the way your dining room looks, and get that feeling that most restaurants with wooden flooring have. You will certainly love dining at home even better than eating out because of this.