You would definitely agree that there is no better kind of relaxation that lying down and reading your favorite book. You can even opt for crocheting or other hobbies. Personally, I love hammocks and swings, especially those adorned with handmade quilts, pillows, and soft cushions.
Spending some time on a bench is definitely a huge help when it comes to unwinding or looking for an inspiration to create something. True, you can experience this pleasure by lying down on a wooden bench, or even one that is cushioned.
However, why not explore further on your creative side by having a pallet swing bed instead?
Yes, a pallet swing bed. It refers to a swing bed that is made out of wooden pallets. Since you can easily secure the materials, this only means that this option is a more affordable one. If this is your first time on a DIY project, you may not have an idea where to start. I know how stressful it could mean. To help you out, I have prepared 7 pallet swing bed DIY plans for you to choose from, and get the ball rolling!
1) Outdoor Pallet Swing Bed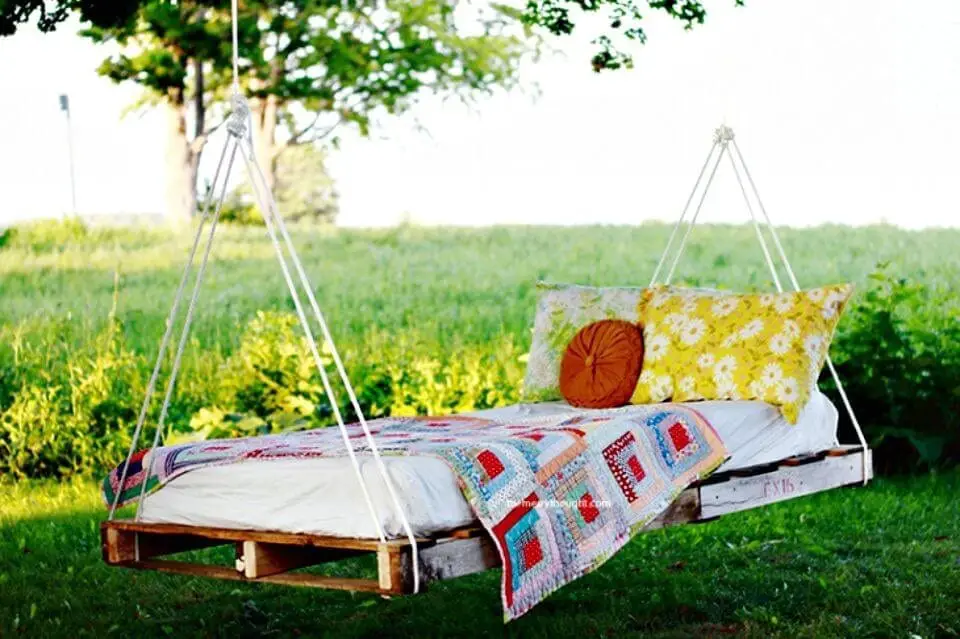 Image URL: https://cdn.diycraftsy.com/wp-content/uploads/2018/01/Easy-Build-Your-Own-Pallet-Swing-Bed-Tutorial-.jpg
Outdoors during the summertime is perfect! This season would be lacking if you fail to go outside and enjoy the breeze blowing right through your yard. Having a swing would be nice, but it would be much nicer if you turn your swing into a bigger place to relax, say a bed?
This sample project is fun and easy to make. In fact, all you need to have is some pallets and some rope. Of course, having a comfortable bedding will complete the picture. In this beautiful pallet swing bed, you can enjoy a very relaxing nap in the middle of the day, enjoy a cup of coffee, or read your favorite book.
If you are planning to schedule a lazy day, this pallet swing bed outdoors is a perfect project for you. As a bonus, it can also become an attraction in your home, or even a conversation starter when visitors and friends come along. For one, there are a number of ways in which you can create these beds. This specific project is also one that is open for alterations so that you can create a piece that meets your requirements.
2) Shabby Chic Pallet Swing Bed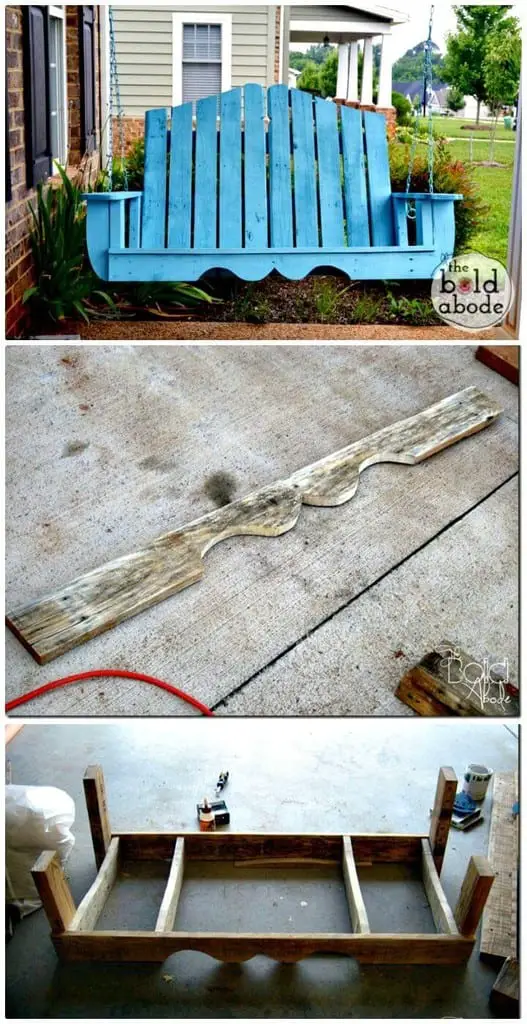 Image URL: https://cdn.diycraftsy.com/wp-content/uploads/2018/01/Easy-DIY-Pallet-Swing-Tutorial-.jpg
This blue stained shabby chic pallet swing bed is another idea that will certainly add enjoyment and fun to your outdoor area. This will certainly bring delight to you personally, as well as your family members. This bed has been prepared and shaped using pallet stacks, placed on top of the other.
This is a traditional design, with a crowning backrest, as well as a wavy design of the front base. Choosing a blue hue makes this project look shabby and fun, perfect for an outdoor décor. Of course, you can choose your own color, adding some immense appeal to your space.
If you are planning to turn this project into your personal model, this amazing pallet swing bed is one project that you can start working on. You can alter some measurements, or add a few features, even selecting a new color to make it more personal. Choose where to place this swing bed, and you can start your lazy day perfectly.
3) Lovey Dovey Pallet Swing Bed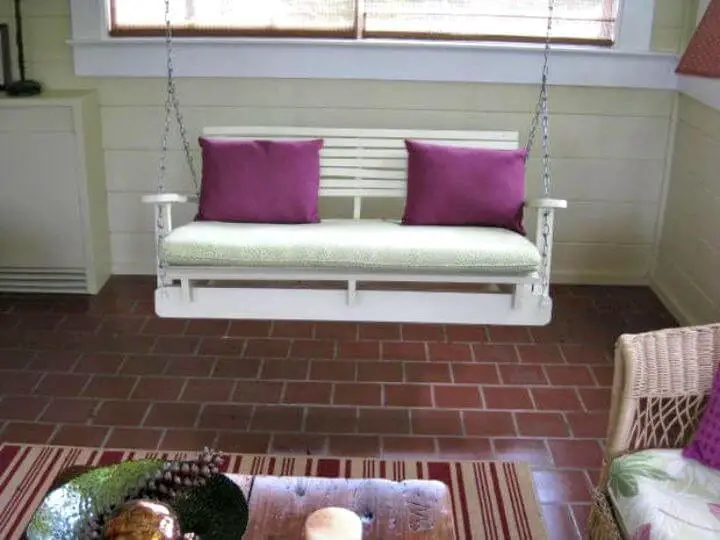 Image URL: https://cdn.diycraftsy.com/wp-content/uploads/2018/01/How-To-Build-Your-Own-Pallet-Swing-Chair-Tutorial-1-1.jpg
Why not attempt to enjoy that luxurious feeling while spending time lounging in this lovey-dovey pallet swing bed? Add this fixture to your patio space, porch, or even in your living room. If you have unused, or remaining pallets just lying around, why not start using some of them, creating them into this project? No doubt, this will give you the best time for relaxation. Simply add some cozy and comfy mattress, with some selected cushions to make everything perfect!
Depending on your personal preferences, you can also choose to paint this swing. The DIYer of this example chose the color white to create a chic look, while also establishing a color contrast against its colorful cushions.
Create this pallet swing bed project accordingly, and enjoy it whether indoors or outdoors. Here you can learn the exact measurements that will create a similar output. Of course, it is up to you to customize everything in order to meet your personal preferences and requirements.
4) Floating Pallet Swing Bed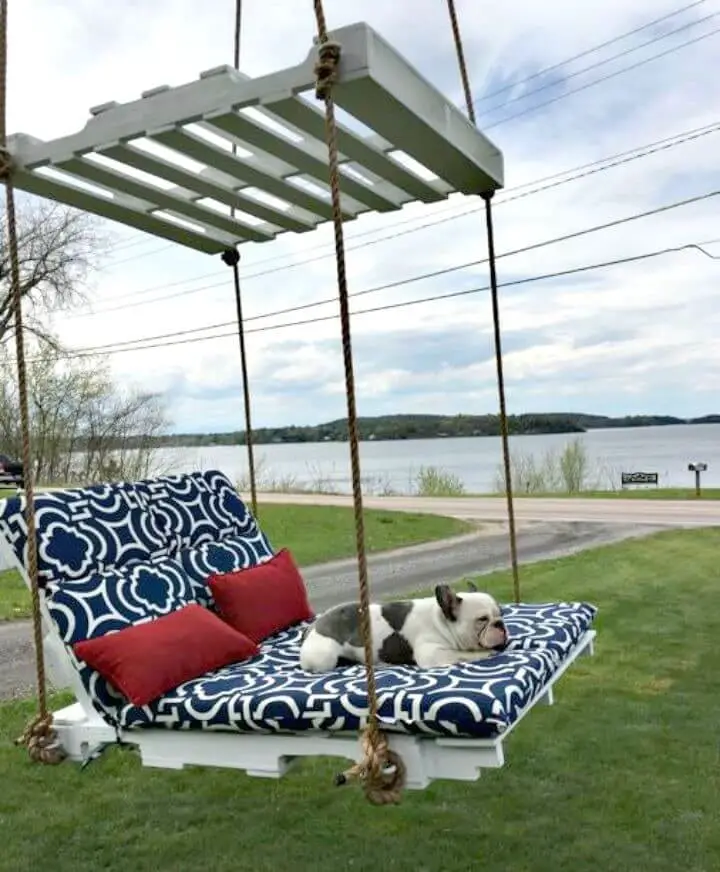 Image URL: https://cdn.diycraftsy.com/wp-content/uploads/2018/01/How-To-Make-a-Tree-Swing-Out-Of-An-Old-Pallet-Tutorial-.jpg
If there is a tree in your yard or a place where you can hang something, this floating pallet swing bed is another good project to start with. Boost up the enjoyment and fun by creating this amazing swing for your patio or garden. Enjoy your afternoons under a calm and lovely weather, especially during the summers or springs.
In order to achieve the completion of this pallet swing bed, all you need to do is to prepare three to four pallets in order to install this swing.  Aside from just the main bed, this design also comes with a back support to make it more comfortable as you lie down.
The roof should also be backed up with sturdy ropes for hanging them strong. It is also important to make sure that the ropes are balanced accordingly to minimize problems. With some added pillows and cushions, you can turn this masterpiece into a very comfortable place to relax.
5) Simple Pallet Swing Bed
Image URL: http://twelveoaksmanor.com/2013/08/17/pallet-swing/
When you have wooden pallets lying around, it is time for you to make all those furniture pieces that you have been wanting to have for so long. A wooden swing bench is definitely one of the best options to start with. In this design, two pallets are joined together in order to create the shape of this pallet swing bed. It also uses a metal chain support to ensure that it hangs securely. Metal chains are definitely sturdier compared to standard ropes.
You can also follow this design's black stained finish, along with cushions that will complete this comfortable masterpiece. If this pallet swing bed idea has captured your attention, replicate it and create one that matches your needs and preferences? You may use some of the ideas in the instructions, or you can also alter some in order to meet your personal requirements and preferences. Ultimately, this project will certainly satisfy your creative side and artistic powers.
6) Personal Pallet Swing Bed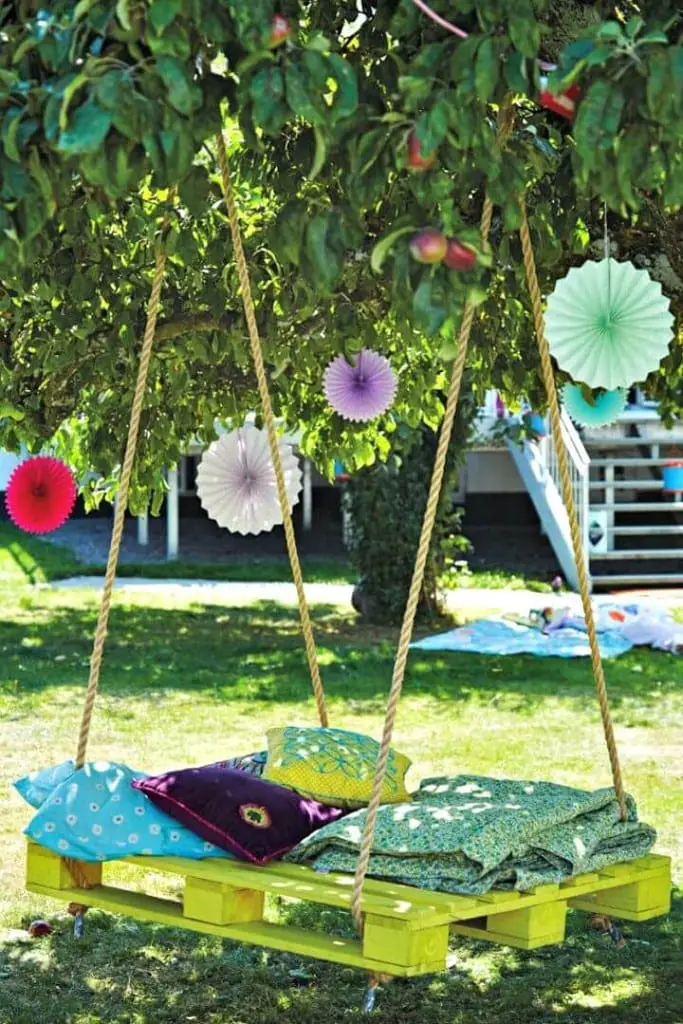 Image URL: https://cdn.diycraftsy.com/wp-content/uploads/2018/01/How-To-Build-Your-Own-Pallet-Swing-Tutorial-.jpg
If you are envisioning yourself lying down under a tree in your yard, why not take into consideration creating a pallet swing bed that can be attached to your tree? The next thing you will certainly look forward to is the feel of the summer breeze, and the rays of the sun playfully glowing in the middle of the day. This is an exciting and pleasant project that will allow you to enjoy lounging time.
The best part about this project is that it is made out of wood pallets, which means that you can get them easily, provided that you have some of them just lying around. In this particular DIY project, the swing was painted in a yellow color, and filled with some comfortable pillows and mattress, thus making your entire resting experience a really relaxing one. You'll certainly look forward to those times of the day wherein you can simply relax and not worry about the stresses in life.
7) Summer Pallet Swing Bed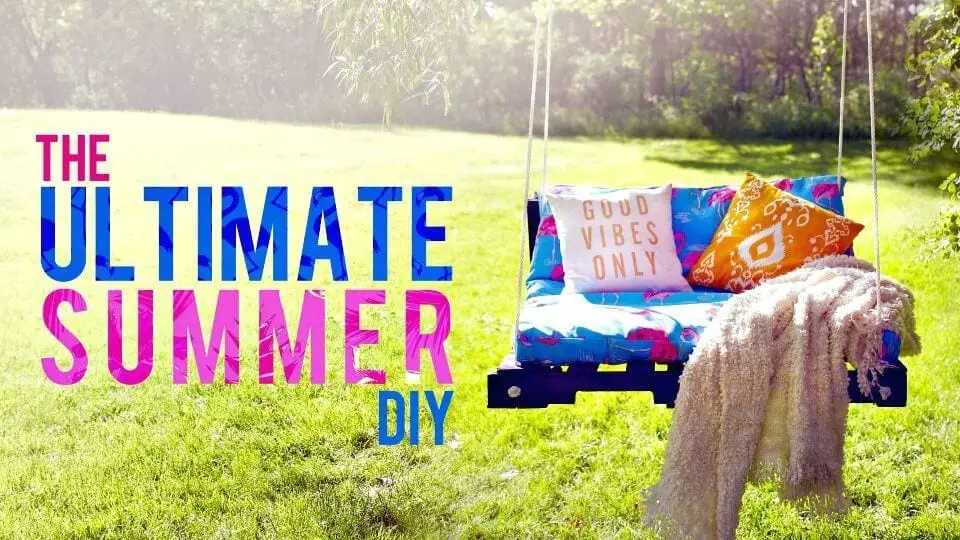 Image URL: https://cdn.diycraftsy.com/wp-content/uploads/2018/01/Easy-DIY-Outdoor-Pallet-Swing-Tutorial-.jpg
If you need a space where you can chat with your friends and family, an outdoor pallet swing and bed is a good option for you. This design is both fun and cute, and comes with a wide place for the seat and headboard. When following this design, it is nice to make sure that this swing is supported strongly on the tree using some durable and sturdy ropes.
Recreate this project and enjoy the benefits of making your own masterpiece. You may also opt to stain the seat, making it look really appealing when you finally add a colorful batch of cushions and mattress. Alter the overall design by making some personal changes, perhaps to the measurement of the pallets, or the choice of color.
Conclusion
Having pallets as your material of choice is simply amazing. For one, you will certainly anticipate a durable and fantastic output at almost no cost. In terms of ease of use, using pallets are also convenient because you do not have to be busy with a lot of boring measurements and cuttings. Everybody can simply build their pallet swings despite not having any woodworking background or experience in the past.
The mentioned pallet swing bed DIY plans are just some of the projects that you can start with. After starting on a guided one, you can then explore further on your creativity, playing with your artistic capabilities, and create your personally designed and customized pallet swing bed. Share with us what you have created and encourage other DIYers to make the same!