If you are one of the many people who live in a house with very limited space or have a number of kids but not that much space at home then you have probably thought of using a loft bed. A loft bed or a bunk bed is a bed that has two or three beds stacked together. You might be familiar with loft beds if you have been to camp or stayed in a dormitory. A loft bed allows you to save space and to share living space with someone else.
There are traditional loft bed designs that only have two levels each level with a single or twin bed. But through the years, the space-saving loft bed has become more than just this traditional design.
You can now find loft beds with three or four levels or loft beds with only the bed on top. The bottom part can be designed to have a desk, some shelves or simply an open space where you can place a sofa, tables, and chairs or a computer station.
Kids' bunk beds are even more elaborate. You can now find loft beds with a play area on the first level and a sleeping area on top. Some bunk beds are specially designed for boys while there are loft beds for girls.
And you can make your own loft bed too. Here are designs and plans to make the best loft beds online. Most of these bunk beds require at least basic woodworking skills as well as knowledge of the basic hand and power tools.
You will find that most of the beds on this list were made of tough wood or pallet wood but some builders chose to improvise and use other materials like plastic, metal or fabric. Still, there are loft beds with a simple or basic design while there are beds with more complicated or elaborate designs.
This is a list of the top 89 loft bed designs to inspire you on your next woodworking project.
1) Camp Loft Bed Ana White Design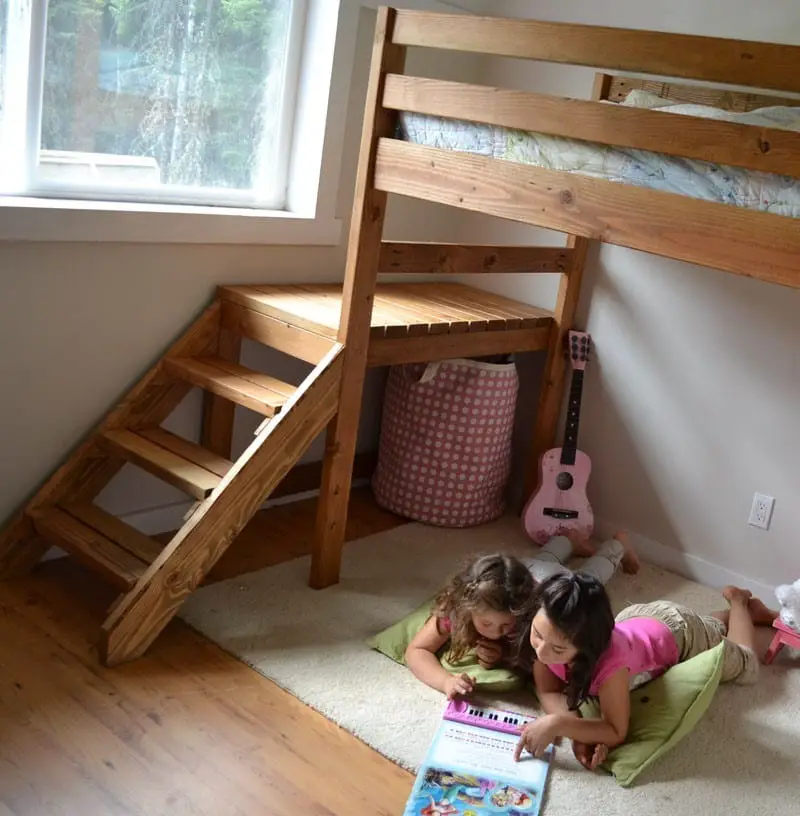 Kids love bunk beds because it's like sleeping in a playground! Having a ladder to climb to get to your bed on top is really super cool even if you have to share a room with a sibling! This loft bed design features the child's bed on top and a play area on top. This is a perfect idea especially if your child's room is very small.
Your child can climb up a short ladder and get to bed without a fuss. She could invite friends over and play on the floor as well as the bottom part of the loft bed. The play area is huge so you can place a small table or chairs or some shelves to keep, books, toys and more.
The bed is high from the ground and can be accessed by a short ladder. Kids will love to play and sleep here, therefore, a tall and wide side rail is important to keep them safe. You can improve this design by making the bed frame larger and to make shelves, seating sections and to paint this bed your child's favorite color.
http://www.ana-white.com/2012/07/plans/camp-loft-bed-stair-junior-height
2) Firehouse Loft Bed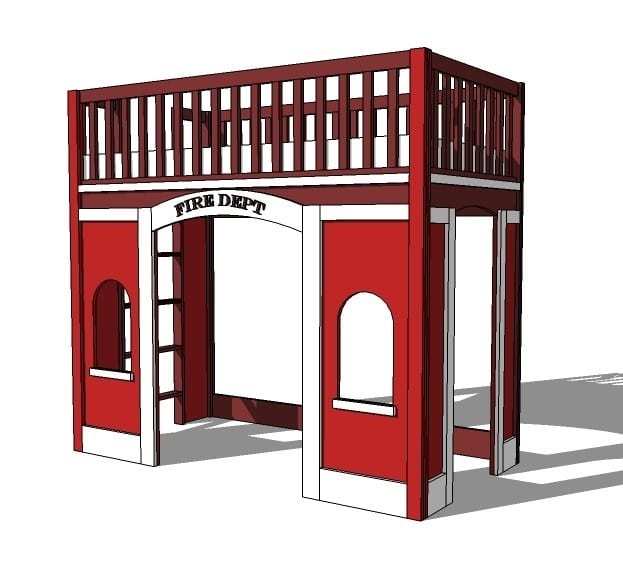 This is a loft bed with two levels and can accommodate three kids. Designed to look like a firehouse, this bed has a moderately high upper bunk with a bed that can sleep two kids at the bottom. The top bunk is safe rails to keep your child safe and sound as she sleeps or plays. The bottom bed features a very large area to play and sleep.
The sides of this huge loft bed have cute little shelves where your kids can keep books, toys and other playthings. This could be the perfect loft bed for young children and even a transition bed as your kids grow up. This project also requires more than just basic woodworking skills. You may also use this as inspiration for your next furniture project for a kids' room.
http://www.ana-white.com/2011/11/fire-station-loft-bed
3) Rocket Tower Loft Bed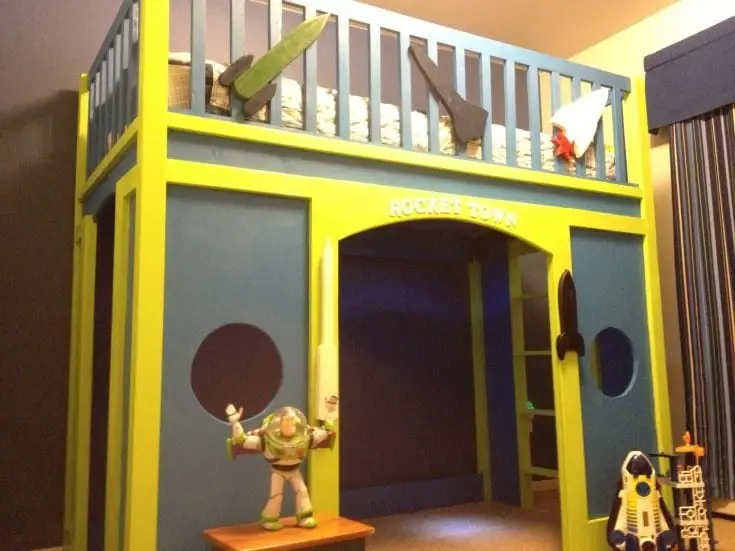 This looks like a space themed bedroom of kids that love Buzz Lightyear. The loft bed is huge with a playhouse at the bottom. The bed is larger for a child and has matching space-themed sheets. There are side rails that will protect your child as he plays or sleeps.
Now the bottom part of this loft bed is more than just a play area. It could become a spare area for a guest playmate to sleep in in case of a sleepover. Just place a sleeping bag or mattress here and you got a spare place to sleep.
Your child can play all day in this spacious area. Inside are shelves and a ladder that leads to the second level. This project is a very challenging one but no doubt possible even for someone new to woodworking.
http://www.ana-white.com/2013/01/rocket-town-loft-bed
4) A Fire Engine Loft Bed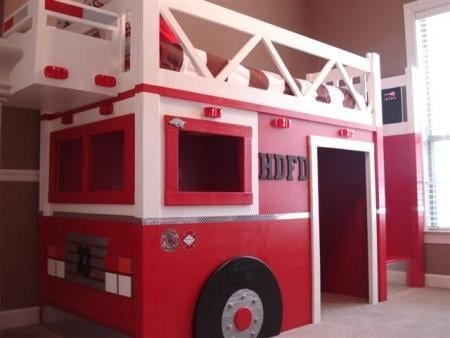 This time it's a fire engine loft bed! This is a replica of the most popular emergency vehicle that your child will surely recognize. If you have a child that dreams of being a firefighter when he grows up then this is the best bunk bed for him.
The top part of the fire engine is where the bed is and this is accessible by climbing a large safe ladder on the side of the bed. The top level has safety rails to keep your child safe and sound. The bottom part of this loft bed is where the action is.
This is the play area where kids can play make-believe firemen and respond to a fire. There are wooden wheels, sections that can be opened and closed and a large area to play other games as well. Like other playhouse/loft beds, the lower level can be converted into a spare area for sleeping.
http://www.ana-white.com/2011/11/fire-station-loft-bed
5) Another Great Loft Bed for Kids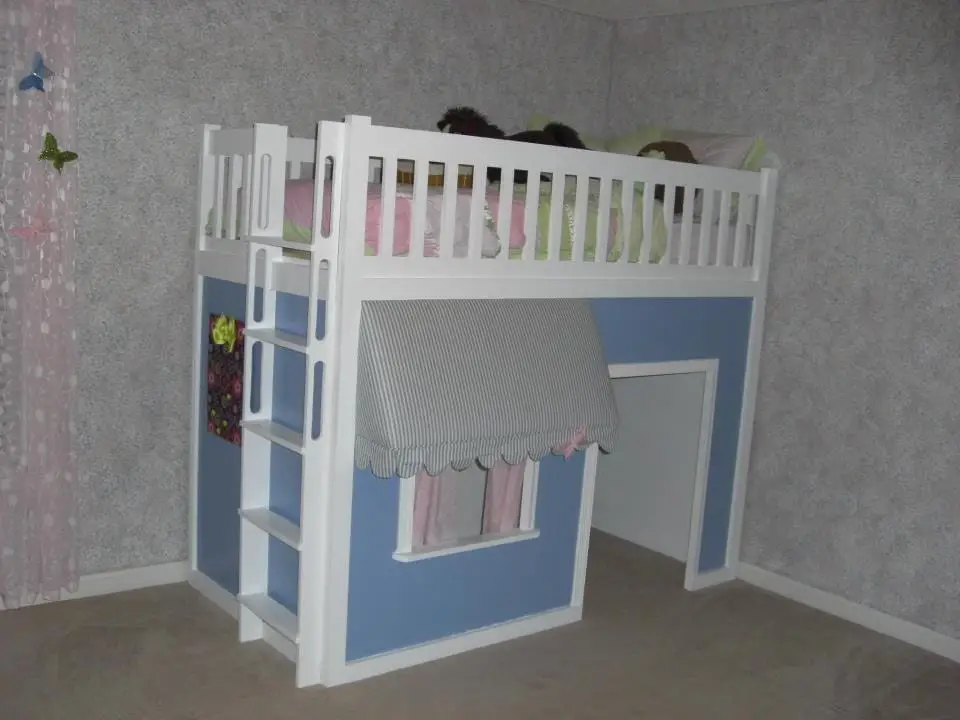 Kids have tons of imagination. A bed can be a fort, a castle or a cave in the forest. If your child has a cool imagination then she deserves this lovely loft bed. This bed was built to have the sleeping area on top and a play area at the bottom.
The mattress in the top area is for a preschooler while this section has moderately-high side rails. This part can be accessed by climbing a tall ladder located at the side of the loft bed. The bottom part looks like a small playhouse where kids can play any game they want. It is the perfect place to play house, to read or to make crafts.
This has a door to access the interior of the playhouse and windows to let air and light tin. This lower part is also huge even larger than the bed section on top. And aside from using this as a play area, it can also be used as a spare place to sleep during sleepovers. This bed is for only one child and you might need more than basic woodworking knowledge and skills to complete this. 
http://www.ana-white.com/2012/01/another-great-loft-bed
6) Fun Loft Bed for Kids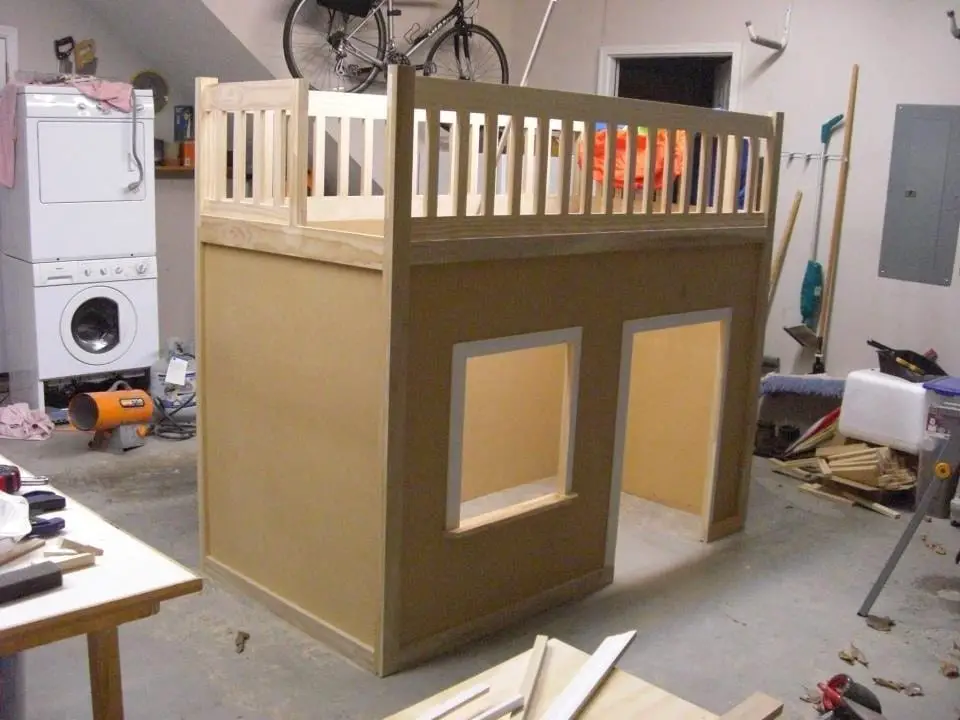 This is a loft bed which has a similar design to the previous one however, this is quite bigger. This bed has a large sleeping area that can fit a single or twin mattresses. There are side rails all around the upper area to make sure that your child is safe as she sleeps. At the bottom of this bed, a large area is meant for kids to play, read or to sleep over.
You can update this design by adding wooden accents to the exterior walls of the play area.
You may also raise the side rails on top for added safety especially if this bed is for a very young child. Also, the lower bunk could use seats, tables, shelves and other accessories where your child can place his or her toys.  
http://www.ana-white.com/2012/01/another-great-loft-bed
7) Handmade Home's Free DIY Loft Bed Design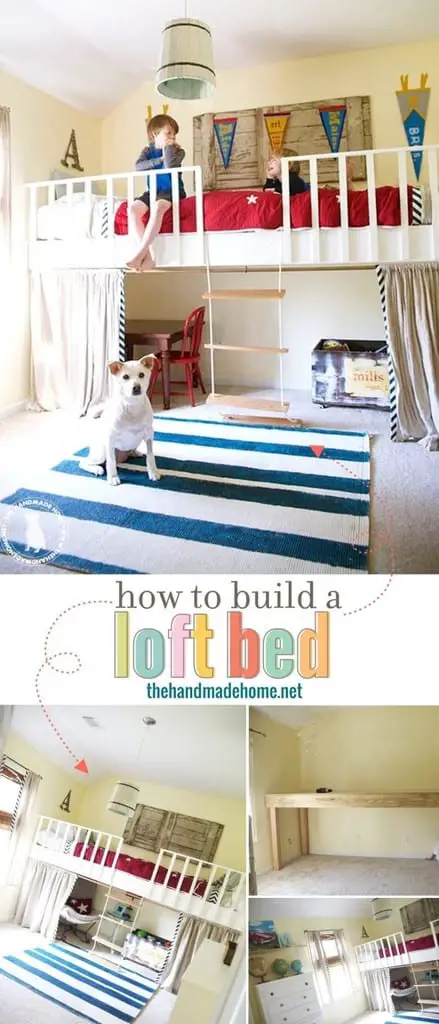 One of the best reasons to create a loft bed for your child is that you can bring out your inner child. This is a design that features a sleeping area on top and a very large play area at the bottom.
This huge loft bed has actually occupied an entire wall in a bedroom. You can see that the bed is very long as well as wide. The top sleeping area has a large mattress plus extra space to play because the bed frame is larger than the mattress.
The entrance to this loft bed is in the middle of the bed and a rope ladder was used instead of a regular bunk bed ladder. The lower area is huge and ideal for playing all day long.  Your child can play with her playmates, read or even study from this area as well.
Accessorizing this very large bunk bed is easy. You will find matching linen and curtains as well as playhouse furniture and rugs.  This is truly a fantastic place to sleep and play for a kid.
https://www.thehandmadehome.net/2011/08/how-to-build-a-loft/
8) Kids Club House Loft Bed Design
Instead of building your child a treehouse, this large loft bed could be the next best thing. This has an elaborate sleeping area at the top bunk which looks like a mini tree house. Your child will be safe and sound as the structure encloses the bed.
At the bottom, a large area is allotted for play. Playroom furniture like a large sofa, seats, and shelves are present. This area may be used for play as well as a spare area for sleeping. Simply place a sleeping bag or a spare mattress and you have a comfortable and spacious area for a sleepover.
https://www.buildsomething.com/plans/PFD64F9CBEC04520E/KidsClubhouseLoftBed
9) DIY Loft Lego Bed Design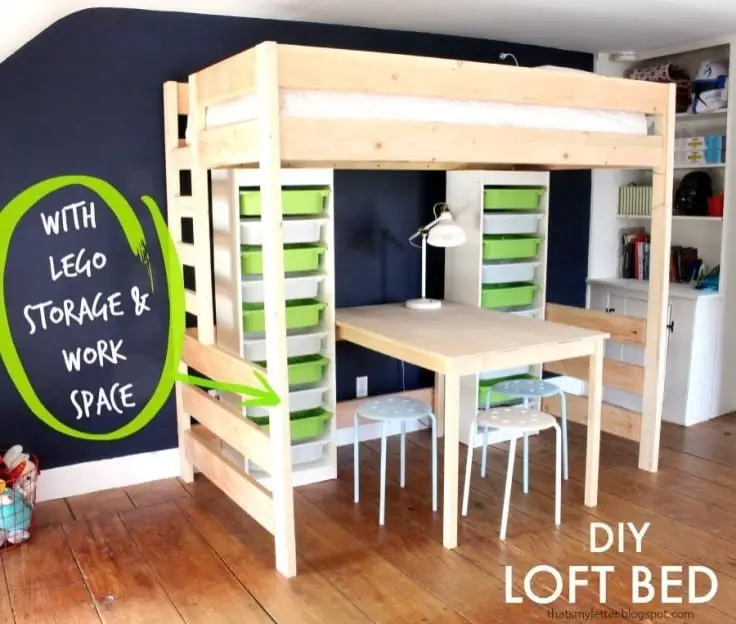 This is a loft bed design dedicated to a child that loves Legos. Not only does it resemble a minimalistic Lego structure but is the ultimate place to store and play with Lego creations too.
This loft bed has the bed on top and is accessible by climbing a ladder. The structure is box-like with four large posts and support beams running from the sides to the back of the bunk bed. The bottom half is where your child and his playmates can spend all day playing with Legos. Not a piece will be amiss when you build them these storage systems.
Your child will learn to keep Lego bricks according to color and size. There are a lot of shelves and drawers even for the most intricate pieces like wheels, people, vehicles and more. A table and some chairs have been set near the shelves and this is where they can build and play with Legos all day long.
10) Junior Loft Bed from Lowes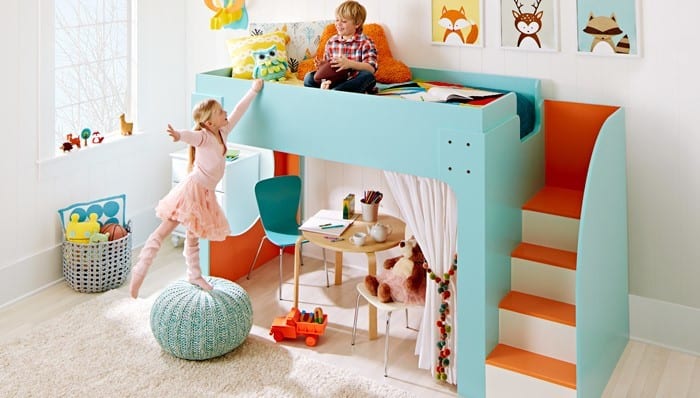 This is a sample loft bed plan for a toddler from Lowes. The loft bed looks extravagant for a child but in fact, you can build this in a day if you have complete materials and all the right tools.
The bed is at the top with a large staircase at the side to easily climb up or down. The bottom part of this gigantic structure is the play area where kids can play almost anything. Kiddie furniture, ottomans, curtains, shelves and rugs adorn the lower area and fill it with a splash of color. You can build this loft bed for a boy or a girl, simply place accessories that your child will love.
Improvements? Adding some side rails would make the upper bunk safer. Building shelves at the top and below is also a good idea.
https://www.lowes.com/creative-ideas/woodworking-and-crafts/junior-loft-bed/project