A shooting bench is a very good woodworking project most especially if you love shooting and you have a gun collection.
Do you love woodwork or carpentry?
Do you want to start building?
Fortunately, you don't have to spend hundreds of dollars just to have a durable shooting bench because you can make one easily using these best shooting bench plans.
With only $100, you can purchase the materials you need to build a sturdy shooting bench and challenge your carpentry skills as well.
Let's start checking the best DIY shooting bench plans today! Enjoy reading and watching the supplemental videos!
1) Portable Shooting Bench by Larry Willis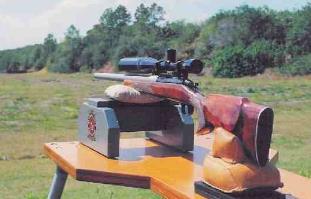 This shooting bench project's total cost $75 since the builder had extra material to make this sturdy shooting stool. The final outcome is an extremely stable shooting bench weighing 55 pounds. With the use of this sturdy and solid bench, shooting is more precise and shooting is considerably easier.  The builder performed a few improvements on this shooting bench project which are worth the job.
The table top has a measurement of 27 by 36 inches. It is made from two pieces of ¾ inch grade 1 plywood that are glued together.  The bolt heads were recessed in the tabletop to avoid snagging anything that may slide across its surface.   The three legs measure 31 inches long. They are made from heavy 1.5-inch diameter galvanized steel pipe, and all legs were screwed into a galvanized pipes welded in the central part of a steel mounting plate.
Helpful Link: http://www.larrywillis.com/shootingbench.html 
2) Manuel Ferran Homemade Sturdy DIY Shooting Bench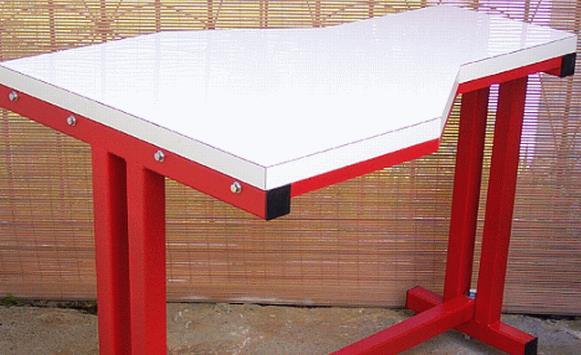 This is an elegant white and red painted shooting bench plan that can impress your family and friends. The cost of the materials is roughly $70. The amount of time to finish this bench stool is about 8 hours. The tools used in building this project are welding equipment, angle metal grinder, wood saw, metal file, laminate pressing roller screwdriver, power drill,  cleaning rags, and wrenches. The materials include square steel tube, TVC cap for tube ends, plywood, plastic laminate, hex head bolt, flat washer, lock washer, jam nut, hex nut, lock washer, enamel paint, thinner, and mineral spirits.
You can build this shooting bench plan on weekends when you're free. The level of difficulty is medium. It is a good project for those who have good carpentry skills but are also suitable for beginners. Check the helpful link for more details and the supplemental video too!
Helpful Link:
http://www.airgunarena.com/index.php/Shooting_bench_plans_-_steel
3) Sturkey's Shooting Benches Inspired Plan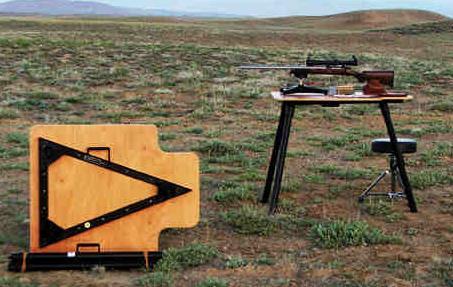 If you want to drive a great inspiration to your next shooting bench project, you can count on Sturkey's. Sturkey's Shooting Bench is known for their sturdy, stable, portable, and heavy-duty shooting benches. Their benches are specifically designed for bench rest shooting. The floating nut plate or collar arrangement is the hallmark feature of their benches. They have a triangular design, accommodating most terrain irregularities with a spacious top. Every bench can accommodate right-handed and left-handed shooters by just simply moving the seat into the preferred side.
Get an inspiration from Sturkey's for your next shooting bench project. You might come up with a professional grade shooter seat that can be adjusted from 20 to 28 inches high. An acme threaded post influences the adjustable height. You'll need wood, lumber, stainless tubes, and basic tools and materials to build this shooting bench project.
Helpful Link:
https://goneoutdoors.com/plans-building-shooting-bench-5994135.html
http://www.shootingbenches.com/
4) Shooting Bench Plan by Bill Clarke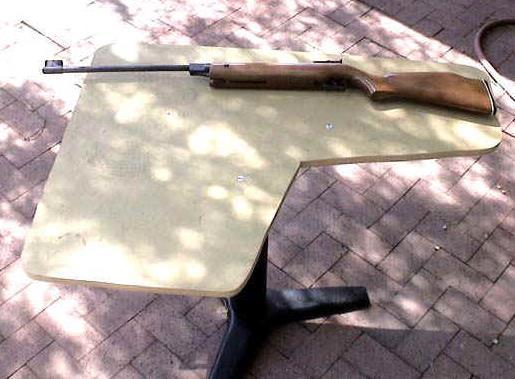 This shooting bench plan has rounded corners. For the top material, the builder used ¾ inch MDF board available bigger home stores. Plywood would work, but make sure it doesn't flex when pressure is applied. The builder positioned the top where the table based was balanced, aligning the feet of the base with the notch on top and keeping the table feet away from the shooter. Over-length bolts were used for adding a second layer of bench top as needed. The bolts were made sure enough to countersink, keeping anything from snagging while being used.
The finishing depends on your preference, but you can either paint, seal, or cover it with vinyl or any material you want. The accessories that are useful for shooting benches may include sandbags as well as adjustable front rests. A shooting bench is a great addition to your collection. This plan can challenge your woodworking skills or carpentry skills too.
Helpful Link:
http://www.airgunarena.com/index.php/Shooting_bench_plans_-_pedestal
5) Homemade Shooting Bench Plan by Missouri Hillbilly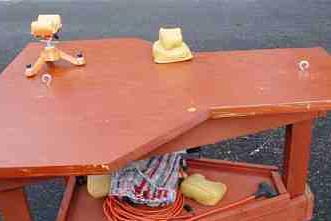 This homemade shooting bench is about the size of Workmate with more durable and appropriate size for the builder's shooting needs. The materials include ¾ inch plywood (ACX), two 8ft pressure treated 4x4s, three 10 ft pressure treated 2x6s, and two 3/8 by 4-inch eye bolts (wood screw). The builder kept a good number of fasteners and screws as well as paint, glue, and varnish available at home.
When it comes to the construction process, the initial step was building the top. The top has two layers of ¾ inch plywood which were screwed together using drywall screws. They were countersunk and then filled. You can check the photo on the helpful link below. The top has a measurement of 4ft wide at the left and 2 ft wide at the right with a total length of 5 ft. The cutouts of the side are 1 ft deep by 2 ft feet on the short side and 3 ft o the longer side. The top table has a double layer all throughout.
Helpful Link:
http://s6.zetaboards.com/almtnman/topic/1422253/1/
6) Anarchangel Shooting Bench Plan
Some plywood was left from a previous project, so the builder and his friend decided to create a shooting bench. They used a ¼ sheet of plywood for the top and doublers for the legs of the table. They were able to create two from 1 sheet of plywood. The measurement is 24 inches wide and 36 inches long that is easy to fit inside a car trunk. A set of Waddell's legs were used and ¾ inch hardwood. Galvanized deck screws were also used at 1¼ inch. The doublers were chopped, sanded, and glued to the bottom. Screws were also used for a more stable leg foundation and reinforcement of the top.
This is a very strong shooting bench. The amount of time spent on building this project takes about 2 to 4 hours. It will depend on your carpentry skills and availability of materials and basic tools. The builder is proud of the final output and boasts its great durability and stability.
Helpful Link:
https://anarchangel.blogspot.com/2006/11/benchwarming.html
7) Free Shooting Bench Plan by My Outdoor Plans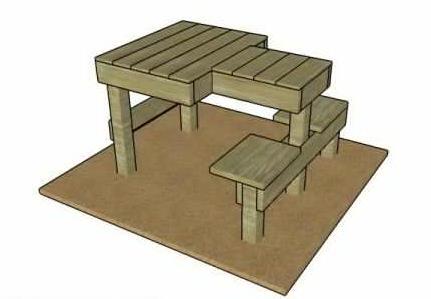 The designer-builder of this shooting bench wants a shooting platform for permanent use. This shooting platform can accommodate two shooters at a time. This bench was built with the use of pieces of lumber. The top table has cutout sides, giving enough room for each shooter. The top is covered by slats which are fitted in a way that there are no gaps left. The slats are smooth because they were sanded and are leveled as a shooting platform.
There are two seats built into the bench for the utmost comfort of the shooters. The seats of this project are covered in plywood. The legs are sunk in concrete, making it more stable. Lumber and basic tools were used for this project, For the exact measurements and full details, you can check the helpful link below. A helpful video guide is also provided.
Helpful Link: http://myoutdoorplans.com/workshop/free-shooting-bench-plans/
8) Rotating Top DIY Shooting Bench Plan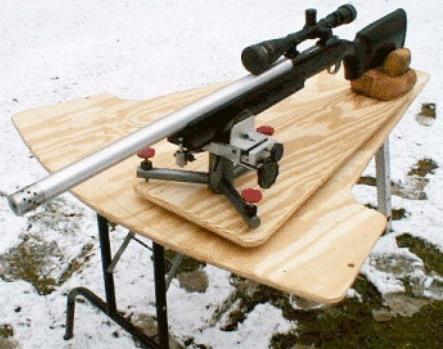 Roy is a precision shooter and varmint hunter who built this swivel bench. Are you into shooting moving targets? He wants to get a bench, allowing you to move your rifle gun through a wider arc. He perfectly achieves this goal without moving the shooting bench front rest.
It is a great shooting bench, wherein the top has a raised center, swiveling on metal rollers. The rollers provide a smooth movement without noise, which is important most especially when you are engaged in game hunting.
For the folding frame, it is made of lightweight aluminum tubes, supporting the top. With this shooting bench, it has only three legs, allowing you to get more room and you'll have an easy time to set your rifle even on an uneven ground. This shooting bench design is a great option for the moving targets. Check the full details and supplemental video below.
Helpful Link:
http://bulletin.accurateshooter.com/2008/01/shooting-bench-with-swivel-top/
9) Collapsible Portable DIY Shooting Bench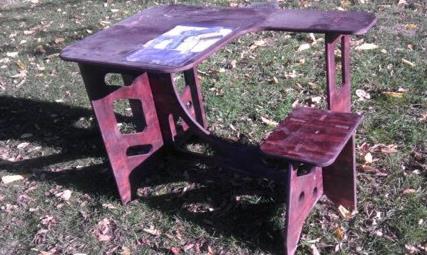 The main aim of this project is to get a shooting bench that's portable, inexpensive, and easy to disassemble. This is a homemade shooting bench which was built at a price of a single sheet of plywood. The cutouts are specially built on the framing pieces, keeping the weight to a minimum and creating a stylish look at the same time. Even with these cutouts, the shooting bench stays sturdy and durable enough for more accurate shots.
The builder puts a comfortable seat and an L-shaped top for enough room to do an easy maneuver. The sheets of this shooting bench can be disassembled and then packed flat for a space-saving storage. It is an ambidextrous shooting bench, which means that it can be used by both right-handed and left-handed shooters. This shooting bench is specially built at a fifth of a price of commercial shooting benches.
Helpful Link:
http://www.realitysurvival.com/survival-resources/free-shooting-bench-design-plans/
10) Wagon-Style Homemade DIY Shooting Bench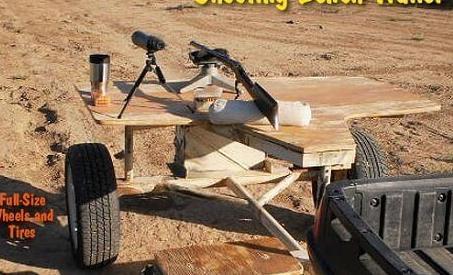 The designer-builder of this shooting bench wants a mobile bench that suits shooters lifestyle which is always on the go. This shooting bench was constructed in the form of a trailer that you can haul on your vehicle's trunk. Salvaged wheels, axle, and tires were used from a junk Chevy car. The full-sized tires used in this shooting bench allows the shooter to use the bench on varying terrain and surfaces. The top portion is covered in plywood so it has a more spacious room, providing two shooting positions.
A twin-seat provides a comfortable place for the shooter to relax. There's a large storage box you can use to store ammunition. You can also put a slot so it will fit a patio umbrella that will protect you against the heat of the sun. Create yours today and enjoy your personalized shooting bench!
Helpful Link:
http://bulletin.accurateshooter.com/tag/shooting-bench/