Your patio is a place to relax and enjoy bonding with family and friends. It is really fun to work with pallet wood. While it is usually found in backyards and on the streets, a pallet can be a great material to be used in do-it-yourself projects.
Just make sure you used heat treated pallet to ensure your safety since other pallet stamps could mean being exposed to harmful chemicals. We have compiled the best pallet patio DIY plans to help you ignite your ideas and enhance your creative skills.
Let's get started with the best patio-inspired pallet woodwork plans today! Enjoy reading!
1) DIY Wood Pallet Patio Deck
A wood pallet deck would be a great addition to your outdoor space. It would match your lovely garden. To build this project, you will need wood pallet deck supplies. The builder used pallets bought from a local pallet manufacturer.
The measurement is 48 x 48 inches. The two-way barrel pallets can hold up to 1000 to 1200 pounds of weight. You also need concrete half blocks at 8 x 8 x 6 inches, paint or stain, solid stain, sand and gravel for leveling, and paint sprayer.
The estimated cost for this project is $120. It is worth purchasing pallets that can hold weight, but you can also use reclaimed wood for this project.
You can start small like what the builder did because the number of wood pallets you'll need will highly influence the size of the deck you can build.
In this project, the builder used six wood pallets, making an 8 x 12-foot deck. The steps include cleaning the location, determining the block size, digging a hole, cutting, assembling, and nailing the pallet hammer.
2) Beautiful Pool Pallet Patio Deck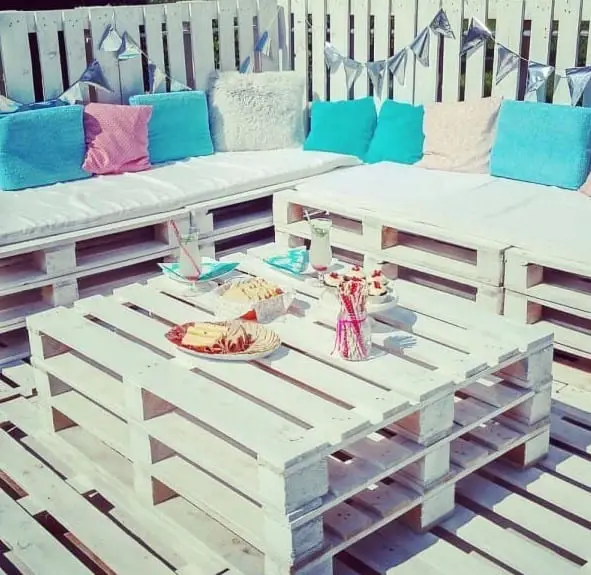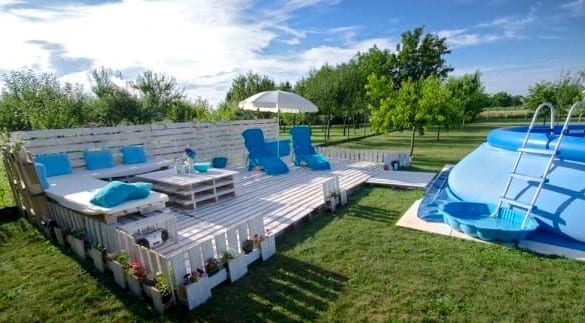 This is a fascinating pallet DIY project. You'll surely be impressed about this pool patio deck because it can match those made by professionals. It is perfect for summertime and you just need a few pallets to start with. The builder started with just 43 pallets. The pallets were sanded, giving them a smooth surface and getting rid of dirt.
Each pallet was covered and painted with the use of an air-paint gun. The pallets were sun-dried, and when they were fully dried, they were laid 13 by 19 feet on a geotextile fabric.
This will serve as a base, preventing the grass from growing in between the wood. Each pallet was neatly laid down. Next, the wall was built and they added some bench chairs too. You can add flowers and plants around as well as cushions and decorations like vases.
3) Pallet Swing DIY Chair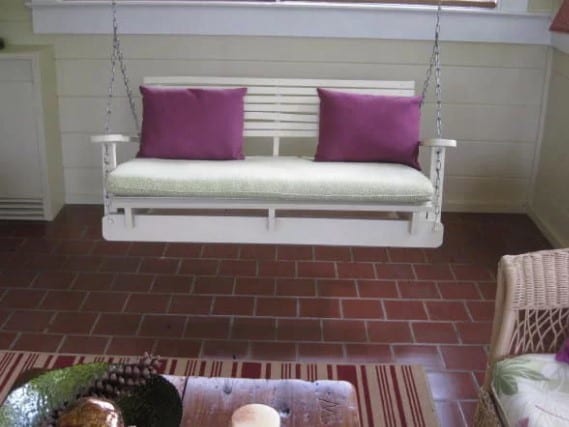 This pallet swing chair is a beautiful outdoor furniture using 4 wooden pallets. It is specifically designed and created from the ground up. The tools and materials you'll for this project are 4 pallets, screws, metal chain, u-bolts, chop saw, jig saw, hammer, screw gun, and nail remover.
It primarily involves tearing down the wooden pallets with the use of a jigsaw, building the seat bottom and the seat back, connecting the back and the seat bottom, installing the chains and u-bolts, and painting the swing.
You can add decorations like cushions, nameplate, or anything you can think of. It is a good project to keep you busy during weekends! Build your own pallet swing now and enjoy your patio and general outdoor space!
4) Rustic Pallet Patio Coffee Table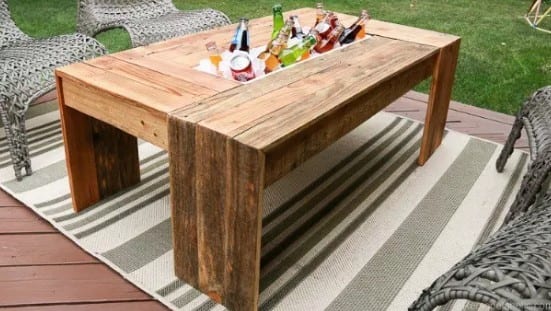 This is a rustic coffee table design that is made of pallet wood and it provides a lot of options using it.  You can use this as a cooler for drinks during summer. It is also used to plant flowers and succulents.
The tools and materials include pallet wood (around 3 to 5), pine lumber (2×4), plastic box planter (30 in. length), teak oil, miter saw, table saw, screws, hammer, brad nails, nail gun, pencil, tape measure, rad, brush, biscuits, biscuit joiner, and drill.
It is so nice to have a coffee table with a drink cooler at the same time. Its versatility is outstanding! Enjoy the comfort and relaxing nature by building your very own coffee table and beverage cooler in one today!
5) Pallet Patio Chair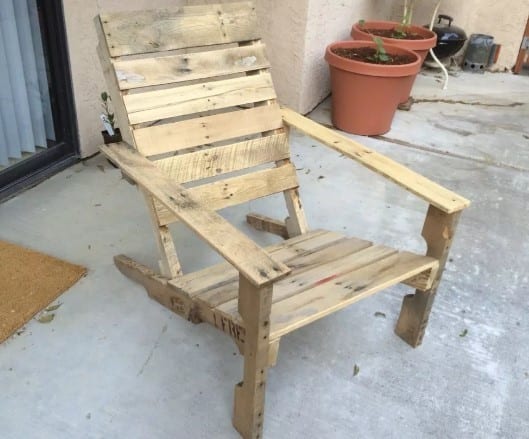 To prevent the pallet from splitting, you can use a cordless drill for creating pilot holes for the screws. Use a circular saw for cutting all the pieces to the proper size.
The builder used a wood glue and nail gun for the bottom and back slats. When the chairs were completely assembled, they were sanded using 60-grit sandpaper, thus removing splinters as well as rounding the edges.
6) Pallet Patio Bar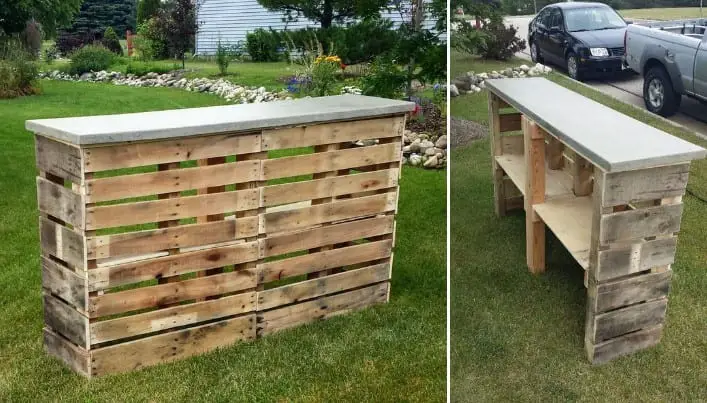 This wood pallet bar project is a great addition to your patio. The materials you need to complete this project include 3 pallets of similar size, 1 plywood pallet, 1x3x8's (3), 2x4x8's (2), deck screws, bolts (5 in), concrete, caulk, melamine sheet, wire reinforcement, and a bag of cement. The tools you need are a power drill and a power sander.
The bar is 40 inches high and 6 feet long. You can make the pallet patio bar more stable. It is able to support the heavy weight of the concrete. You can build a leg in the center of the 2×4's.
A plywood pallet was used for making the removable shelves. The countertop is made of melamine with the final form measuring 74x18x1.5 inches. Silicone caulk was applied along the corners for smoother edges.
The bar is secured with the help of the concrete. Like the builder, you'll be happy with this woodwork project. It is a one of a kind pallet DIY project indeed!
7) DIY Pallet Patio Floating Deck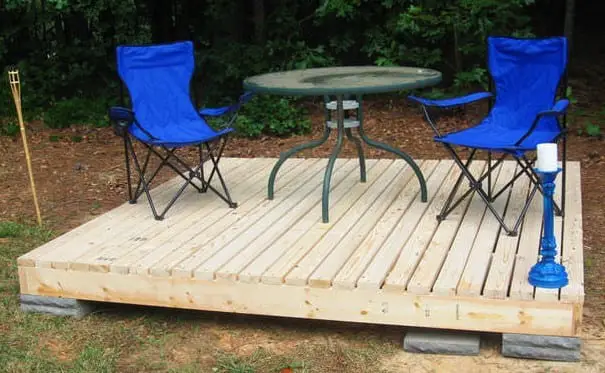 The builder's stepfather wants a deck for his duplex that is only temporary. It is relatively affordable to make. This project is pretty basic. The square frame measures 2 by 6 and this pallet floating deck is 8 by 8.
The cheaper version is 2 x 4. The recommended is 5/4 x 6s. Th builder also recommends spacing the boards evenly by using the carpenter's pencil flat end.
The builder used garden stones that are flat for each corner, making it leveled. This project is simple and easy to do. It is a beautiful platform for your patio or any outdoor living space.
The things you need are basic materials and tools like a miter saw, hammer, pallet, nails, screws, and drill. It's about time to make use of your reclaimed pallet wood by using your basic tools now!
Enjoy the fun and relaxation this floating deck can bring to your family bonding and personal time experiences!
8) Pallet Patio Island Deck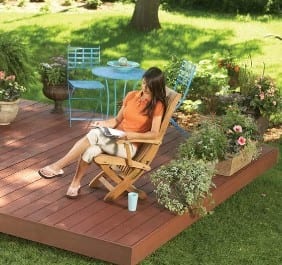 It is a floating deck or an island deck. The design is very simple and you can use a pallet than buy expensive boards. It has hidden fasteners. You can build this at the end of your backyard or in a shady corner of your garden. There is no need to do deep frost footings. It means saving you so much time doing the manual labor.
The builder designed this deck with a simple construction. The power tools you need are a circular saw, miter saw, and drill. A composite deck was used but pallet is also a good replacement. The dimensions of the deck are 11-ft. 8 inches square.
9) Pallet Patio Picket-Fence Bench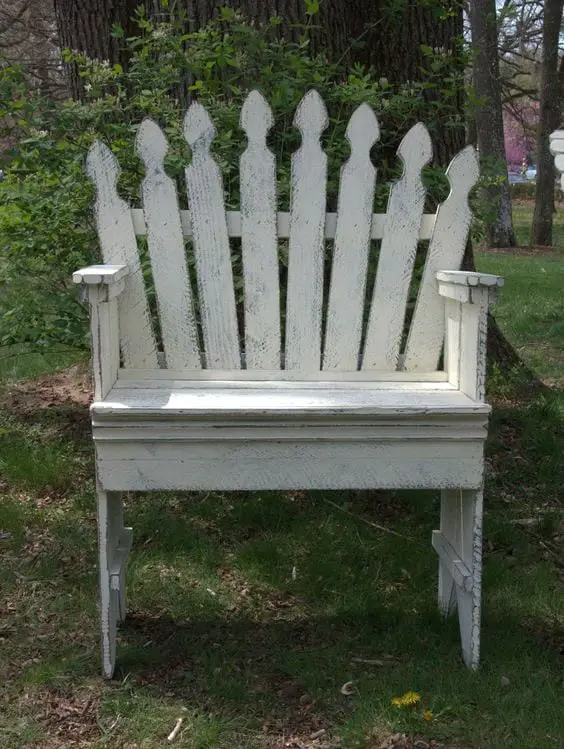 Whoever thought about the idea that two picket-fences can yield to a homey, brilliant and relaxing outdoor bench is a drop-dead mastermind. I just can't get over the fact at how simple the odds are to complete this highly-stylized bench. As to why I have not thought about this before is a certified mystery. But as to the sheer brilliance this project produces is an enigma. I mean, just look at the image!
I am sure you are also dying there in your seats to know the secret. Well, all it needs are, as mentioned above, two fence boards, construction materials, cushions, paints (if you need to color it) and for the intangible, a fat idea on pallet design. Apparently, this project could go any simpler. Thus, the bulk of the DIY plan simply involves crossing the two picket-fences as leaning and sitting planes for the bench.
Other simplistic alternatives for the boards are cedar decks. Cedarwoods are lighter compared to other wood types. With this alternative solution, expect a very convenient mobilization of the outdoor furniture.
10) Pallet Patio Outdoor Pretty Cantina (Sectional Furniture)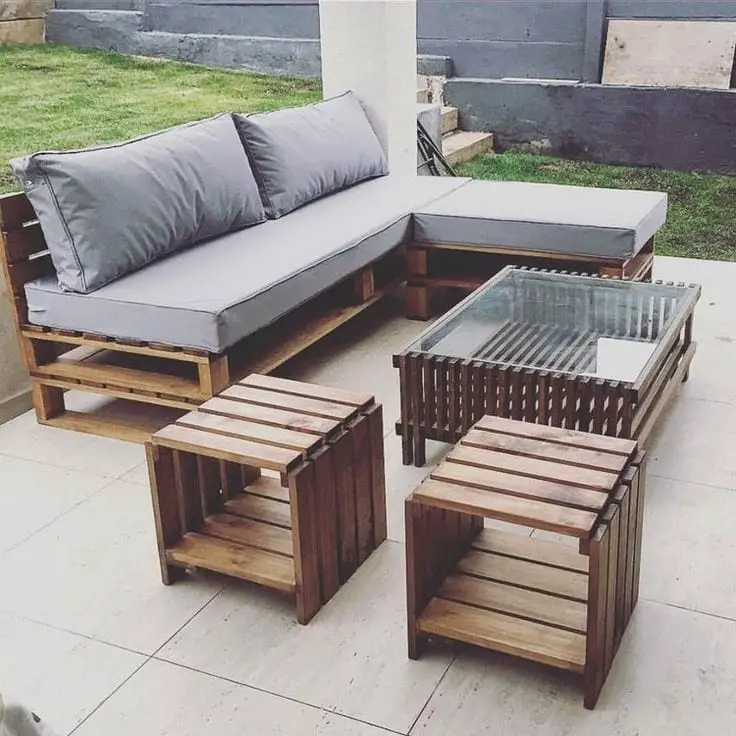 Cute, slick, pretty and candid. That is how I can best concisely describe the sectional furniture sets. While I do not consider it that much of a challenge, securing more than the average number of pallet woods still proves to be time-consuming though. That is why I prefer using recycled sets. After all, the pry bars can own up to the work in this case.
Sectional furniture sets resemble more as mini-versions of larger furniture. These items are however lighter and more eye-friendly when assigned outdoor. Above all else, sectional furniture sets are easier to move around. In that line, I would recommend that you pair up smaller pallet wood sections to end up with lighter pieces. But, it is all up to you anyway.
11) Pallet Patio Daybed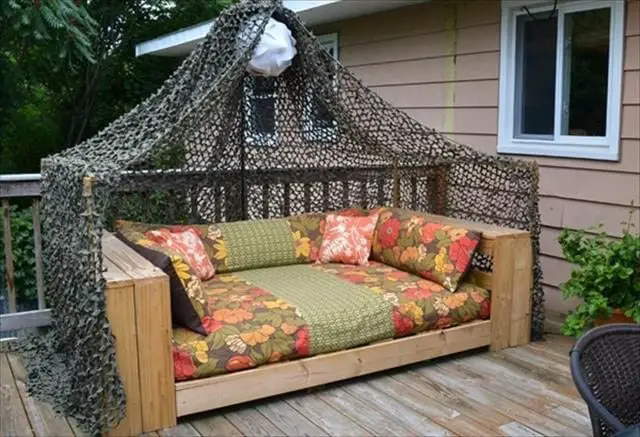 A bed, a sofa, or a couch this daybed could be anything and through this sturdy pallet, we can make anything. Daybed pallets can be more attractive outdoors but if you want to put it inside, still it can be an option. The square-shaped bed is 100% made with pallets. Added with a little floral accent and a few more accessories like the comfy cushions and a hammock covering to avoid leaves and bugs from dropping while your sleeping. The style is sleek with floral designs to make the accent more tropical. 
This daybed furniture has a different approach. It has a minimalist style, a simple sheet design but has stylish cushions and pillows giving a little twist to it. This can be a great view of furniture if you put it outdoors.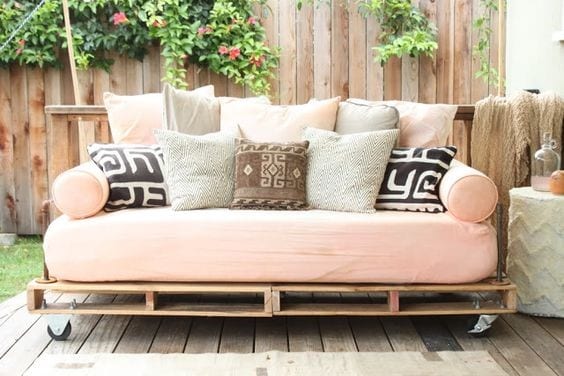 This is a convenient way of making a pallet bed. The woods are simply attached closely with each other making it a bit neat and clean to look at. However, the green colored chair and bed still matched with the colors of the mattresses which is floral together with the aqua blue cushions. You can place this daybed around your porch or terrace.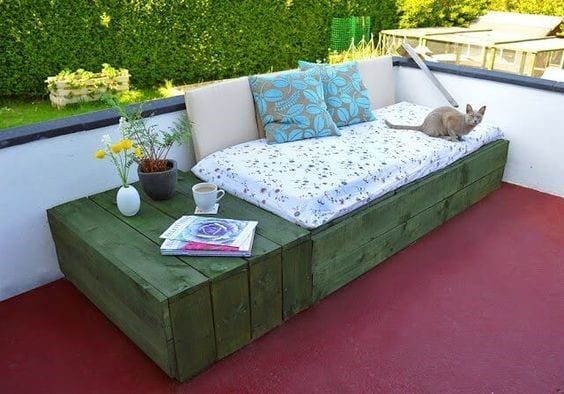 12) Pallet Patio Table
Your ideal outdoor dining table, this is it! This door table pallet is a unique twist to all other ideas. The chairs are not consistent, the table stands are exquisite as they are cement blocks and the table itself looks different from all the others. You'll want to place this one fine barbecue or pick nick day.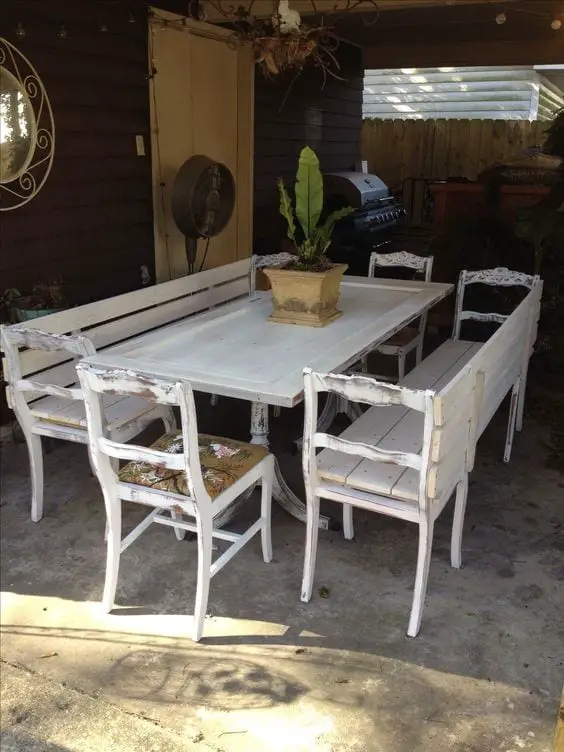 A little bit rustic and a little bit classy because of the white colored tables and chair. You'll definitely want this type of pallet patio furniture, it has simplicity and style all packed into one. The uniformity of the pallet wood on the chair is well coordinated with the tables. You can create and place this pallet furniture indoors, but it would really be a thing if you place it outdoors on a porch.
13) Pallet Patio Coffee Tables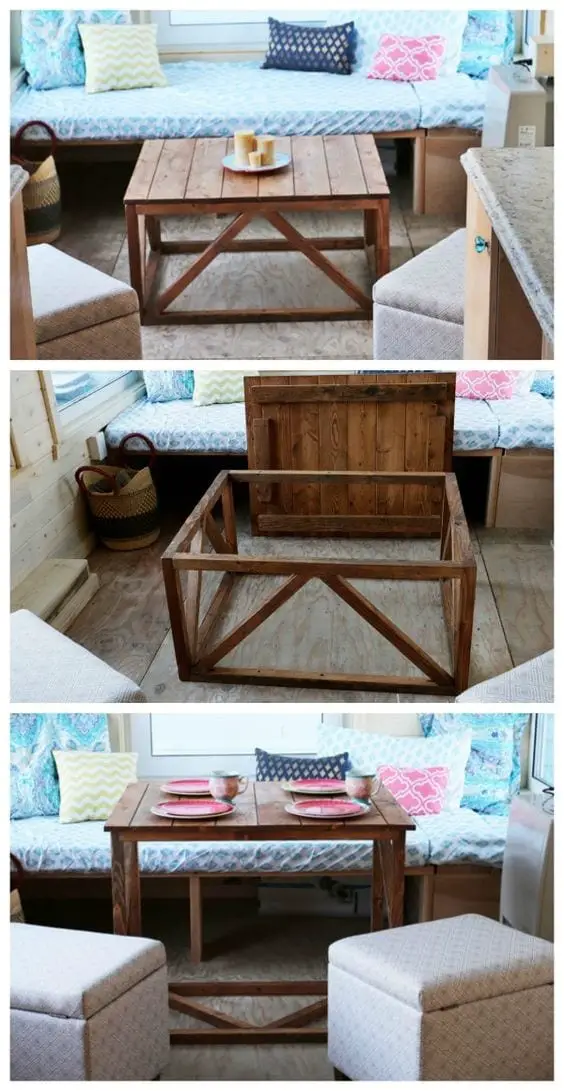 Plain colored, simple yet practical. Since it's a coffee table you don't want to worry about the size. This table is small but has a unique design, the pallet woods are well attached creating simplicity with its matching wood brown color. You can create and place this coffee table beside a daybed or even your corner lounge pallet.
If you have no idea about the different types of wooden pallets, then make sure to check out this website to guide you on the different pallet types and sizes: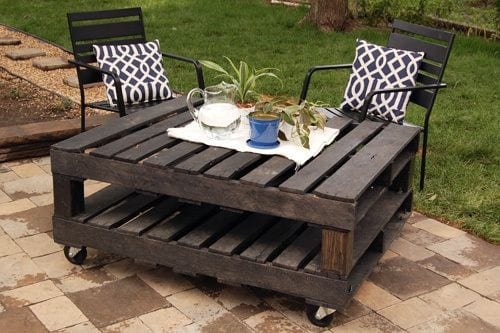 Who loves rolling tables? Me! You! And Everyone. An example of a very convenient way to put up a table outdoors. This dark brown pallet patio furniture is a must-have if you have a spacious, but not too spacious garden outside your house. The color combination between the table and the cushions are very well blended. What more can you ask for? C'mon and sit down let's have a coffee.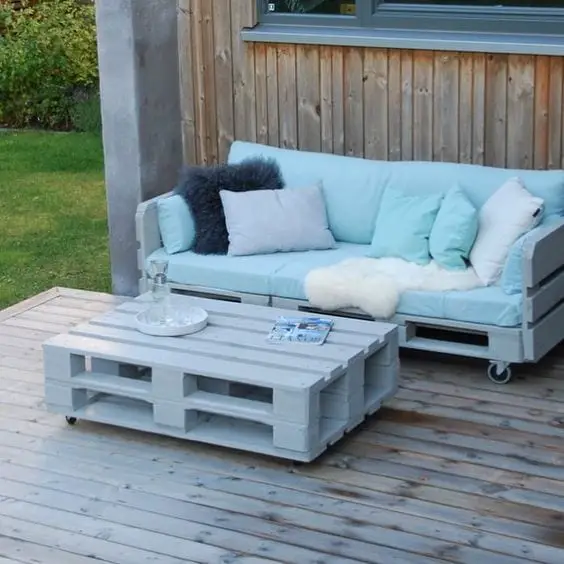 This ocean colored pallet patio coffee table will let you feel calm and relax when you're around it. The aqua blue color combined with the cool colors of the sofa is a must-have. You can even put a little podium as what is seen in the picture to lift the coffee table just a little above the ground.
14) Pallet Patio Plant Garden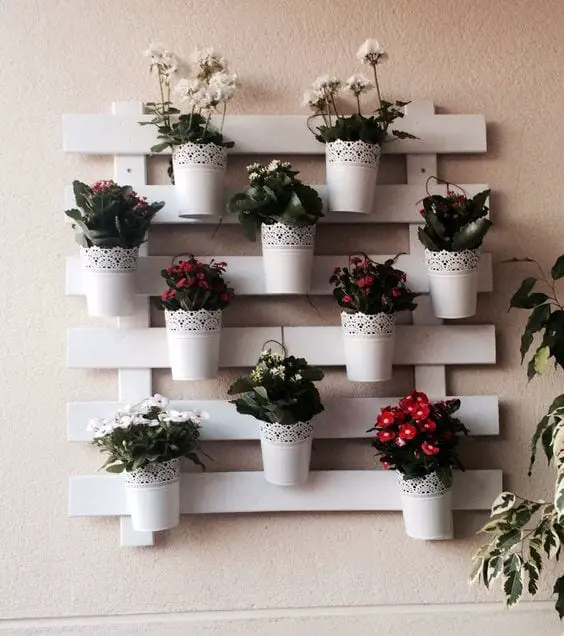 Four words for this: Simple, Chic, Fabulous, Stylish. Isn't this just an amazing idea to put up a nice easy garden around your house? Yes, indeed it is. This white hanging garden of flowers will offer you convenience. You don't need to dig down and rummage your whole garden to plant your flowers beautifully. The white colored pallet woods and white little flower pots make an appeal if you place this indoors to brighten a corner in your house.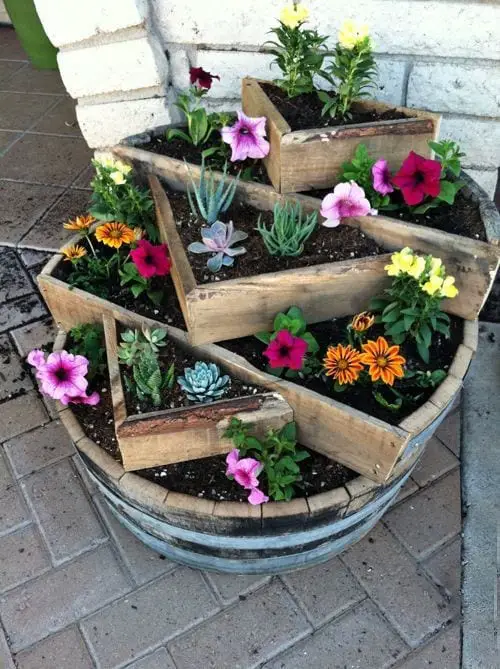 Another fabulous idea you can get is this, a multi-shaped pallet patio garden. At one stack you will now have a terraces effect for a garden. Every layer has a different type of plant which makes it colorful even if you will use a plant, non-colored pallet wood. This could be great outdoors, beside your pallet patio daybed.
15) Pallet Patio Corner Seat Benches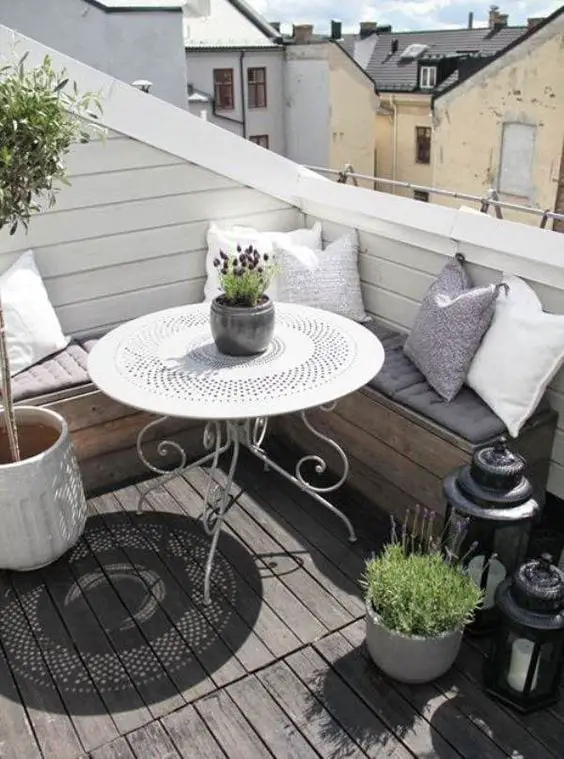 You can probably use and save the space on a corner in your house if you have this pallet patio corner seat. The furniture has plenty to any, accessories are coordinating well with the seat, the gray and white hues are matching perfectly with the bright sunlight since it is outside. This can be great not just on a terrace but on a porch as well.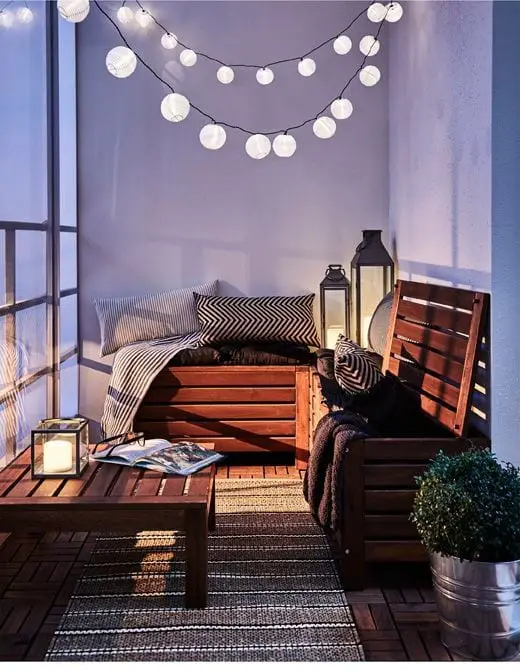 A modern type of pallet patio corner seat is what you can see in this picture. The seats and coffee table are purely made out of pallet wood. It can give a great viewing experience if this pallet patio furniture is placed on the top or terrace of your house, however, this can also be a great furniture indoors.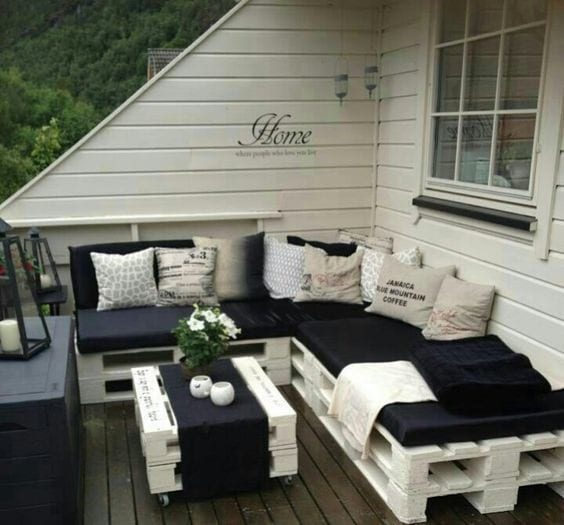 A spacious corner seat like this could also be a great pallet patio furniture for your house. The classic combination of black and white matches perfectly with the brown floor added with ash gray colored pillows. You can spend a great weekend with your family sitting on this corner seat.
16) Rustic Pallet Patio Beds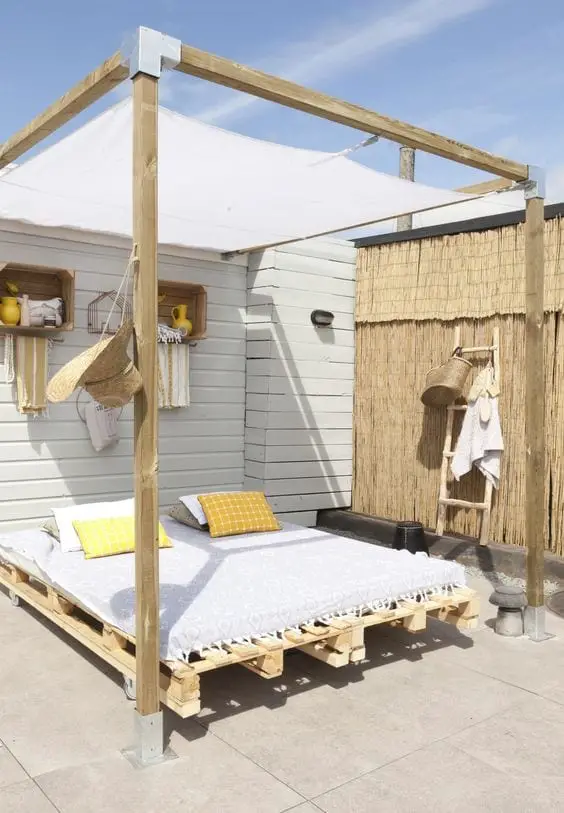 Want a sunbathing experience at a luxurious resort spa? Well, you don't have to, you can have it every day if you have this pallet patio furniture. A bed made of pallet wood placed outdoors could just be the best part of your house, however, it needs a little space, a little trick of accessories. The colors are mostly plain, white and yellow combination. Simple eh? C'mon let's start making it.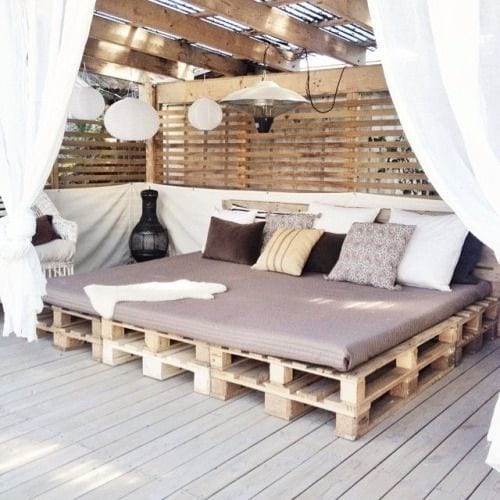 A two-layer stacked pallet wood built with a square shape as corner bed would be a great addition to your pallet patio furniture. The pastel colors of the sheets are very appealing to the nude colors surrounding the bed and the bed itself.
This pallet patio furniture consumed just a little corner in a house. The design is a bit ecologic because of the leaves, the pure color of the wood and the gray accented comforter and white cushions are just a perfect combination. You can put this furniture in just a few days as you can see in the photo only a few pallets were used and consumed only a little space on the terrace.
17) Pallet Patio Tables With Wheels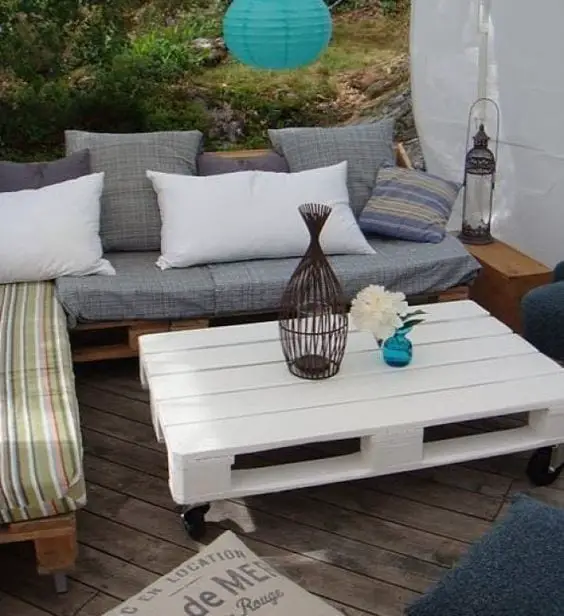 This type of table can be used as your coffee table, center table, study table although it's a little short or you can use this simply as a display table. You can put photo albums, empty stylish wine bottles or any decorative accessories.
18) Pallet Patio Swing Chairs
Swing chairs are amazing furniture that could definitely bring relaxation and comfort to you. Aside from the design, it is ideally placed outdoors to enjoy fresh air when your swinging with it. This swing chair is a contemporary type of furniture, there is no theme, all colors are mixed together added with the pure color of the wood.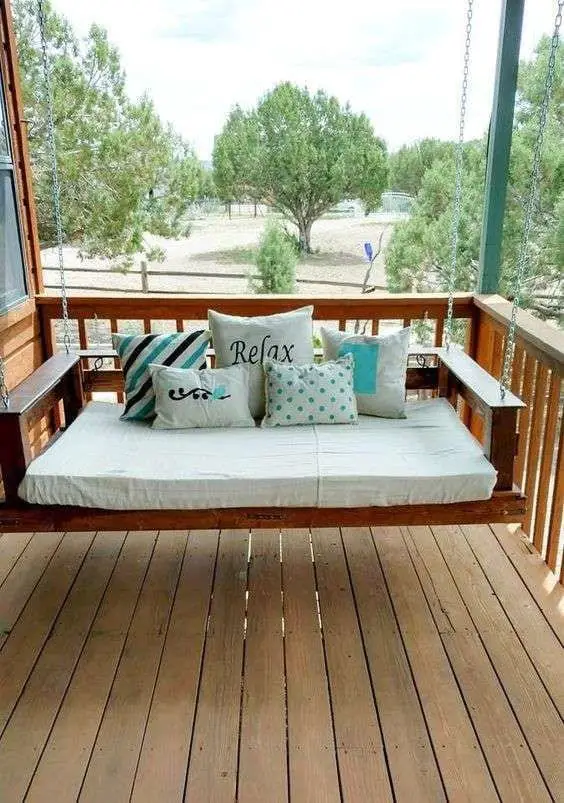 You can also put swing beds indoor, on your porch. You will still enjoy the breeze of fresh air. This swing bed has unique style though it's still created from pallet wood. It literally is a bed with comforter and pillows on it. This could be a relaxing way to sit down after a tiring day at work.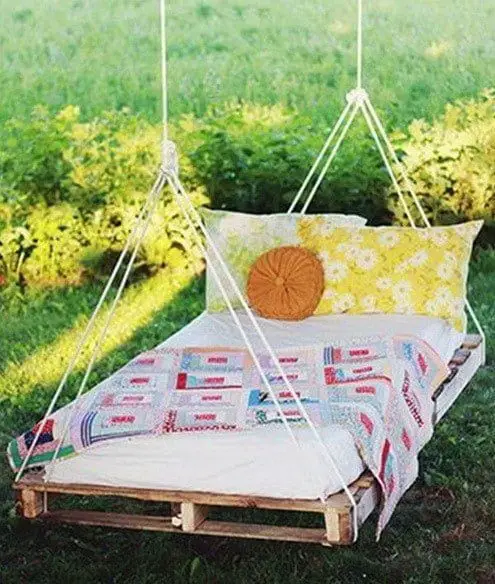 Another one would be this swing bed. As you can see it's located outdoors under a tree. You can put up a swing like this but you need to make sure to have a spacious place not too spacious to create a relaxing swing bed like this.
19) Pallet Patio Benches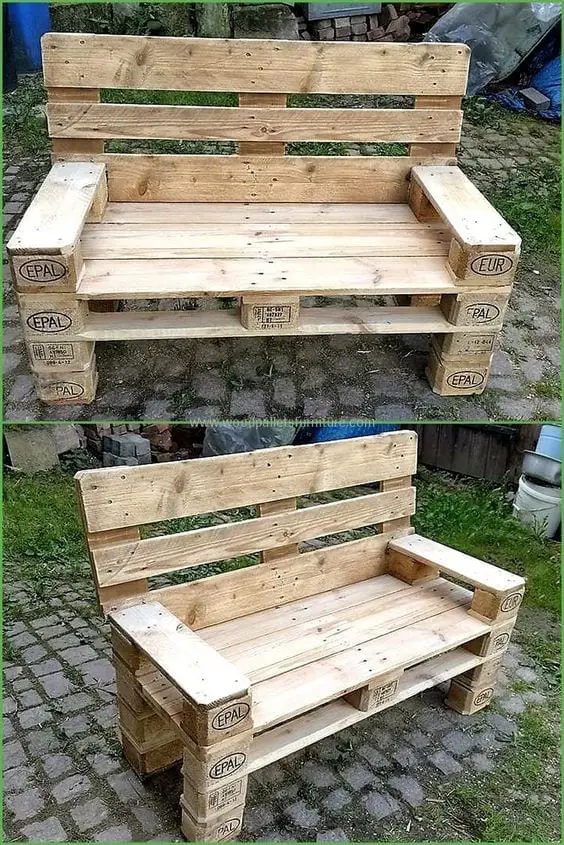 This pallet wood chairs would best fit outdoors since the material is wood. It is could use up a lot of space if you place it indoors, however, if you prefer to place it indoors still you can. Pallet chairs are best when they are created without any paints since the color or the wood itself is already appealing.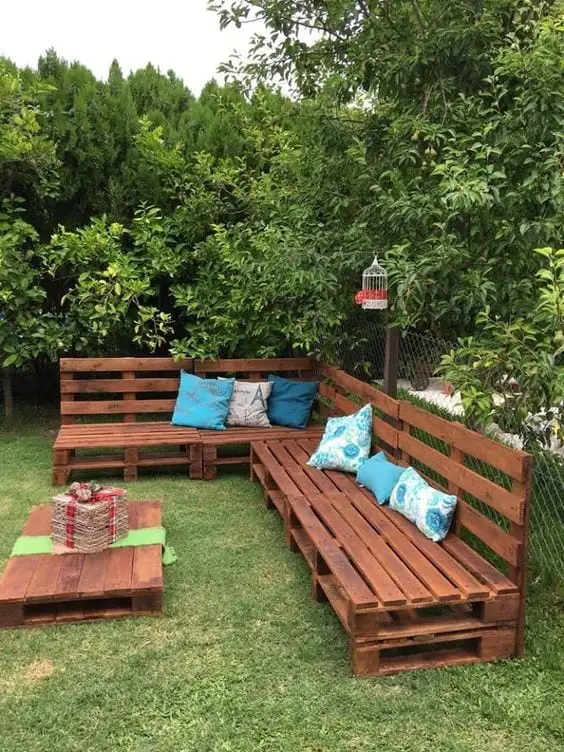 You could also create a large size chair like this, add it up with a little coffee table in front. Now, you have a corner seat, chair, or bed. The materials are purely from pallet wood and this furniture would be best outdoors. You could enjoy this chair while chatting with family or friends while having a barbecue party.
20) Pallet Patio Stools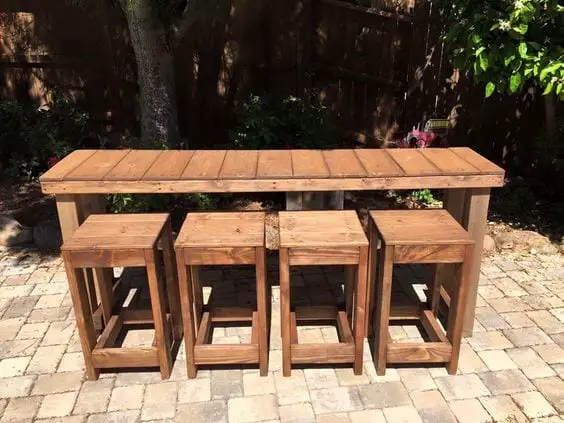 A picnic table or a dining table, which one would you prefer? I believe that this pallet patio furniture is great for a picnic and outdoor activities. The stool chairs are very convenient when you're having an event outdoors. You'll just have to carry the stool to where you want to sit. These stool chairs are made with pure pallet wood, not painted and simple design without borders and curves.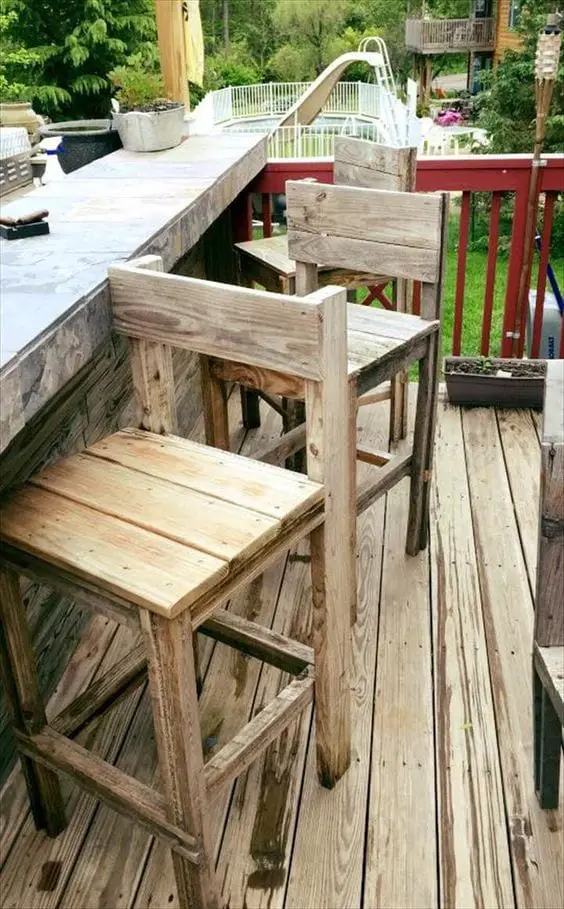 Stool bar chair like this could also be stylish. Its wood style is already a design. You can put this beside your pallet wood wine rack and get a glass like you're in a bar.
21) Pallet Patio Kitchen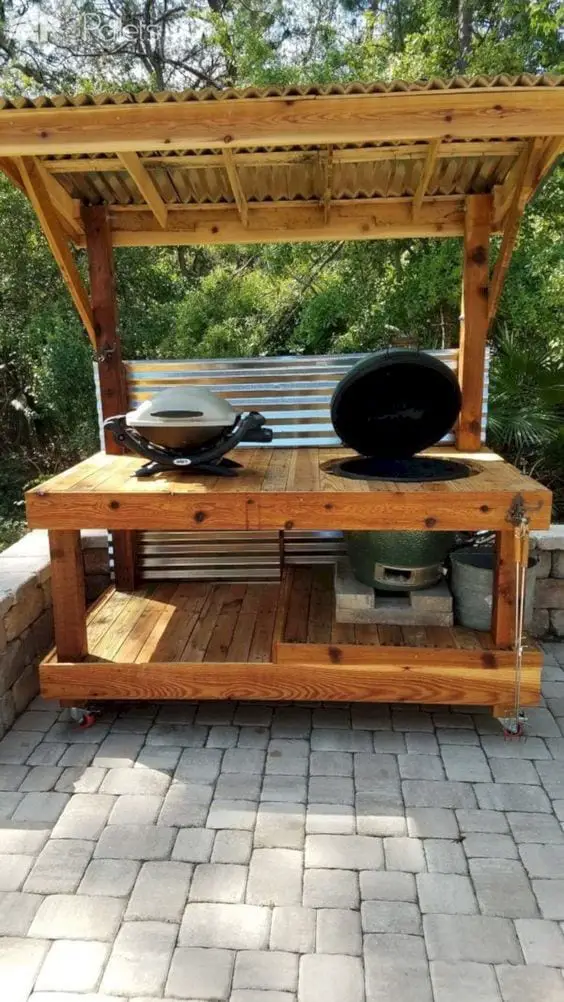 This pallet wood made mud kitchen is a cool design, it's like you brought a whole kitchen out for barbecue. This mud kitchen is made with pure pallet wood while the cooking equipment like the griller was installed after the wood kitchen was made. This could be a great backyard picnic essential next time!
Conclusion
We have come to an end, but your pallet journey will about to start. These DIY patio pallet projects are easy to build and can make your patio or any outdoor living space unique and beautiful. Now you probably realized the creative used of pallets.
You don't have to be highly-skilled in carpentry work because all you need is a little bit of creativity, willingness, and power tools! Explore and have fun! Start your DIY project today and share with us now!