Whether you are aiming it for either interior or exterior placement- these pallet planter items are sure to make your home the best place in the world.
We have prepared 15 best DIY pallet planter ideas that are surely worthy of time and money. It is not that much of an investment, really. All it takes is sheer imagination. Creativity is key here. Rest assured, I will be with you the whole time. So, what are you waiting for?
1) A-Frame Pallet Planter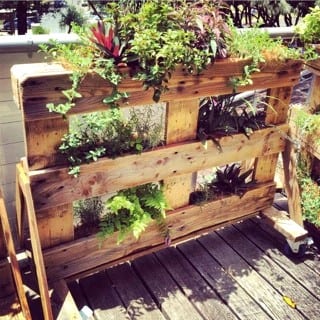 Finally, gardeners have finally come up with the a-frame pallet planter. It resembles similar attributes to the rest of the vertical planter designs, being a variant of such mechanism. But if you study it closely, the a-frame planter gives a number of treats the typical vertical planter designs cannot. It is collapsible, for starters.
Perhaps another captivating quality of the said mechanism is its shelving ability. The secret of this design lies in its spatial composition.
2) Tiered Pallet Herb Garden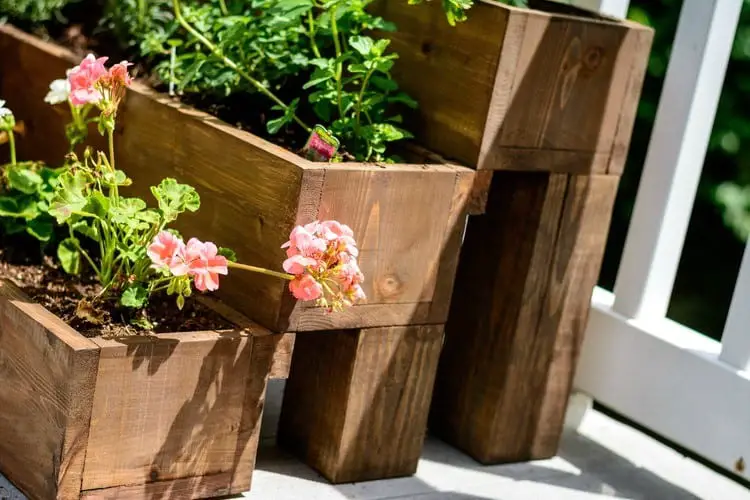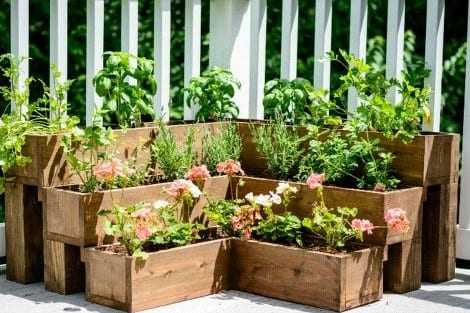 A tiered herb garden is a gift from heaven! I have seen a lot of homes with such structure and never thought it has functions beyond merely decorating. But, I was gladly proven wrong. Apparently, tiered herb gardens serve two very important functions- to protect and support the herbs.
The tiered structure also ensures that the necessary nutrients for your plants are held intact despite water slippage. It makes gardening very easy, too. Besides its slick architecture, it evenly distributes nutrients to your plants. Is it not a gift from heaven? What do you think?
3) Pallet Window Flower Box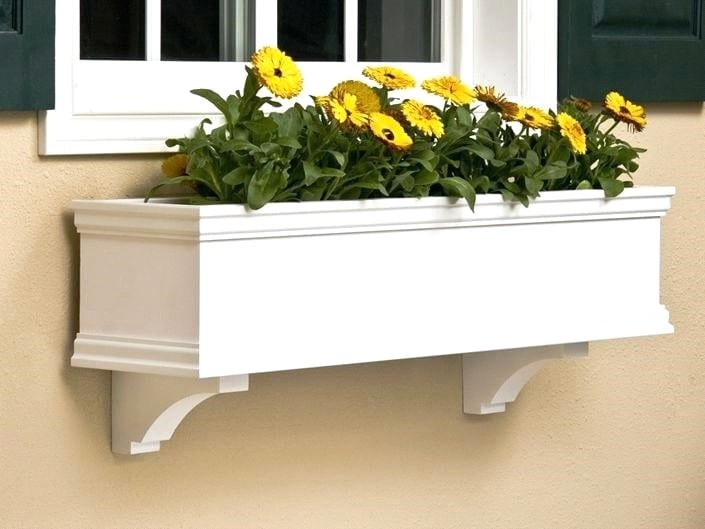 Another pallet planter design that I cannot miss putting in my home is the wood window flower box. This design is so easy and convenient to put up.
Window flower boxes will surely complete the mood in your home. Imagine waking up early in the morning and opening your window to breathe in the fresh flower scent. I bet it would start your day with a big smile! It if is not enough- you could set up daisies or hydrangeas in your flower boxes and forever bathe in the freshness of its scents.
The window flower box design will provide a touch of beautiful simplicity in your home. Above all else, the flowers attached closer to your private space are proven to effectively pass on positive energies you can greatly benefit from.
4) Pallet Mounted Planter Boxes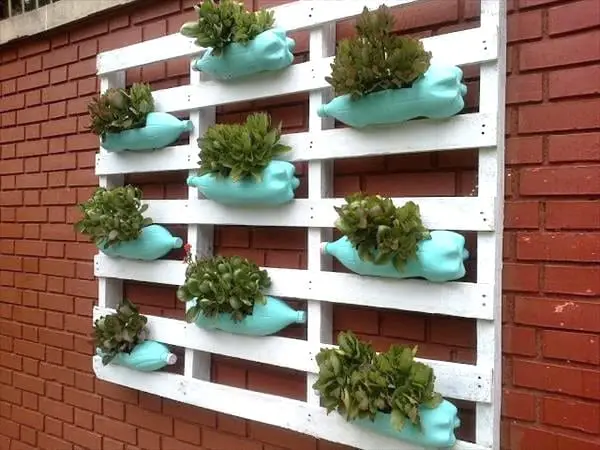 If you are looking for mounted pallets that are built together comfortably, the wood pallet mounted planter boxes will surely make you happy. These boxes look neat and organic for starters. With the boxes on hand, you can easily stylize with your preferred colors and feel. In and of itself, the design exists for the sole purpose of convenience. In terms of convenience, the design/structure efficiently absorbs water leakage.
5) Pallet Monogram Mounted Flower Planter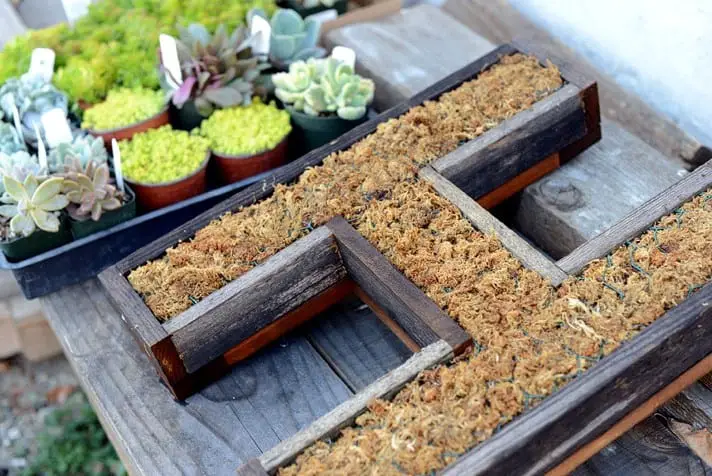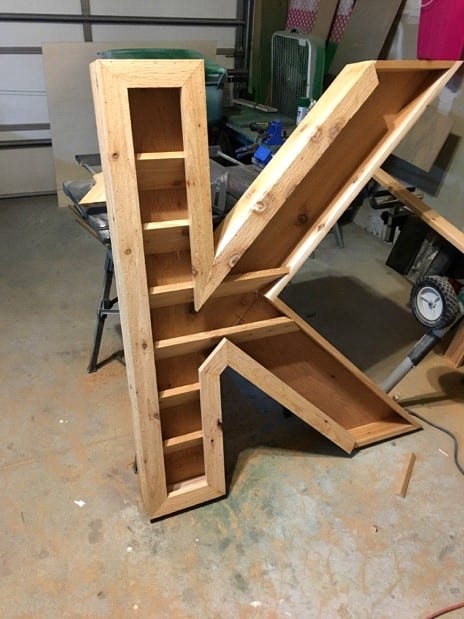 Have you grown tired of the very formulaic setup of many pallet planters? Here you go! Rule out your artistic wild with this setup! The wood monogram mounted flower is sure to turn heads. Your home will never be the same with this fancy yet neat design. All you need to ensure is a woodcraft sketch, a good idea and a spacious porch, patio, garden, backyard, etc. Just look at the picture. If it does not captivate you, what else will?
Highly adjustable, you can put everything you want with this type of structure. The ultimate tip for fully utilizing your mounted flower planter is to arrange your plants very tightly inside the mounter. This type of arrangement will reveal full blooms later- a sight that will truly captivate you and the passersby!
6) Planter Box With Climbing Trellis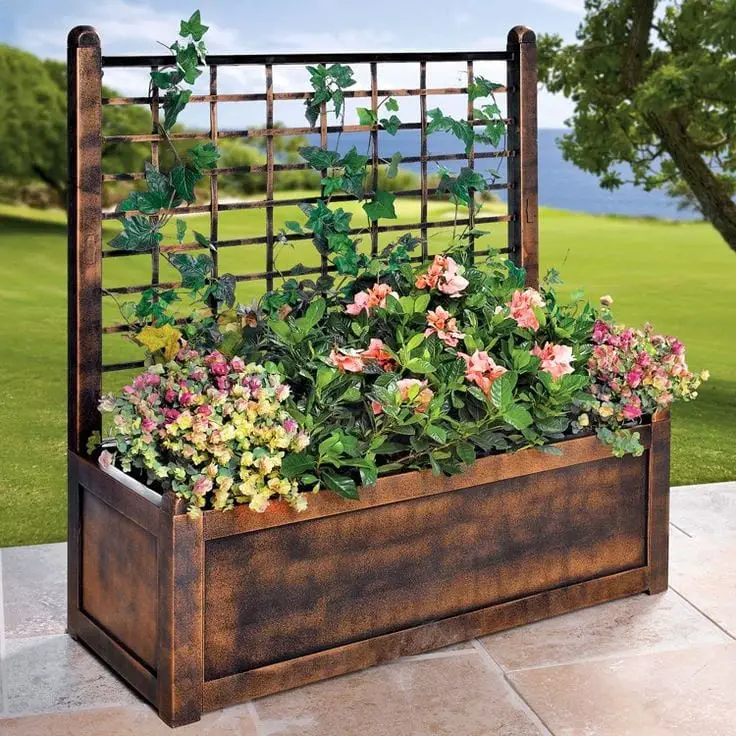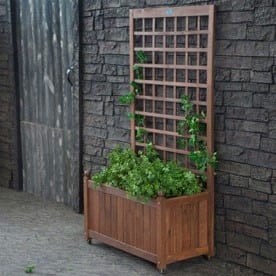 Believe it or not- but such fine, sophisticated climbing trellis design is a DIY output! Yes. And, I am telling you: you can do it nice and easy. The climbing trellis design saves so much space, supports the plant and beautifies your home. But the best benefit it offers so far is the opportunity it gives to novice planters.
Plant varieties Morning Glory, Leather Flower, Nasturtium, etc. grow with creeping vines. Certainly, these plants are a beauty to behold.
7) Hose Hiding Outdoor Planter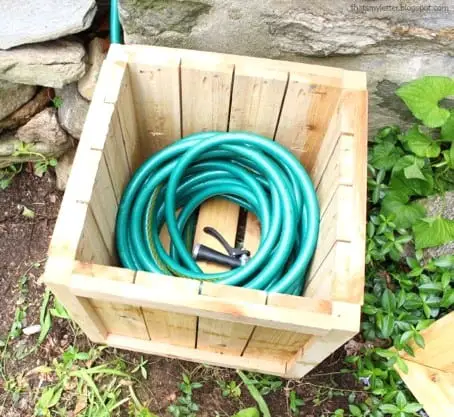 I find hose-keeping quite an ordeal. Do you not? Imagine manually wrapping the hose around your arms and bearing with all the dirt in your shirt.
Now, that should be horrible. But the ultimate trouble yet is a flattened hose line stepped into by passing feet. I cannot quite bear with it. And, I am sure you do, too.
8) Pretty Painted Wood Planter Boxes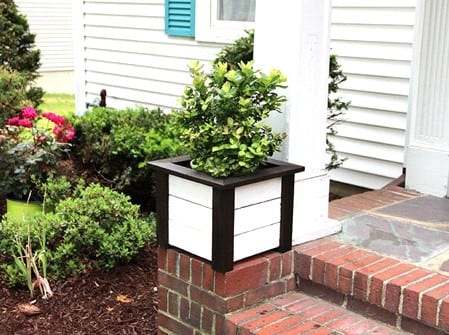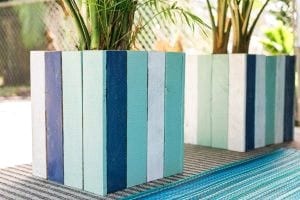 Painting my wood planter boxes is one of my get-around routines. Finally, after an hour or two's work, all I reap is beauty, comfort, and life. Now, I would like to share with you some to-dos for this design.
The choice of colors vis-a-vis the boxes' sizes and shapes matters so much too. Trendy colors for the summer include blue, lavender, turquoise, white and other cool colors. Remember that the simpler and cooler the colors, the better. You can go mixing all these colors if you do not want to end up with a heat-stroke. Later in the spring or fall through, you can complement your backyard with bright colors.
The pretty painted wood planter boxes are sure to ease your mood. Just think how happy you will be coming home to these eye-candies! That reason alone marks this endeavor as priceless, fun and summer-worthy!
9) Triangular Wood Porch Planters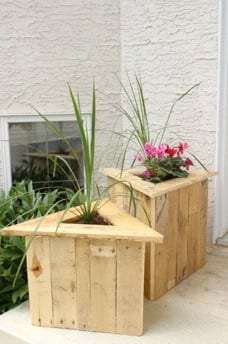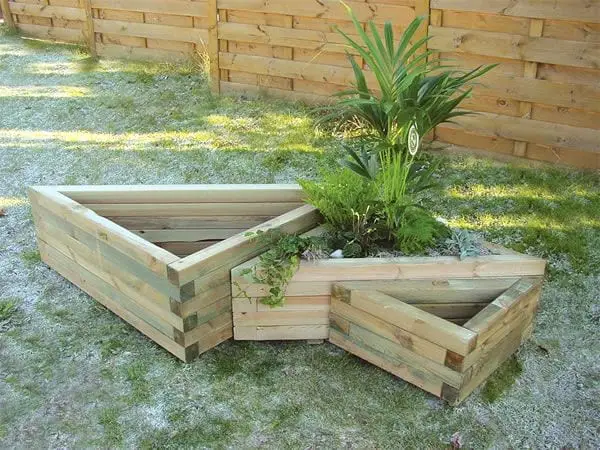 What is with the triangle? One: it is fresh to the eyes, two: It saves space and finally, three: it requires less effort for assembly. Dimension-wise, you can save a lot of wood with the triangular planter boxes. Complicated as it may appear, there are actually practical methods for assembling your own triangular planter boxes.
10) Mounted Flower Box For Deck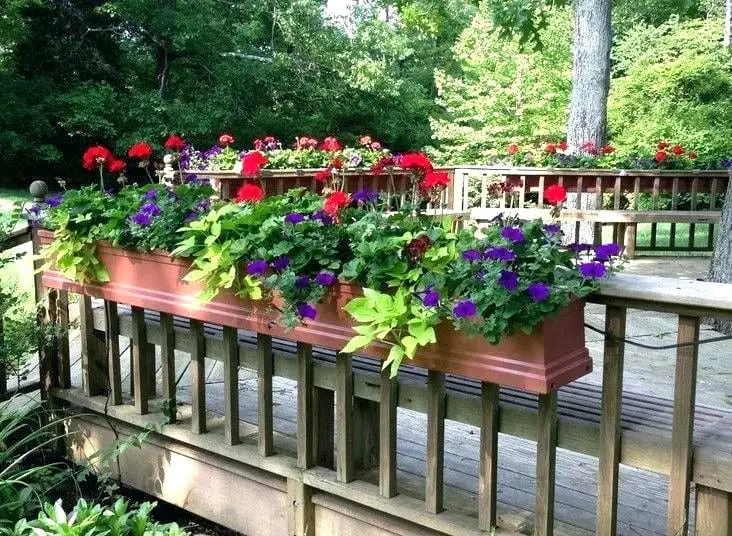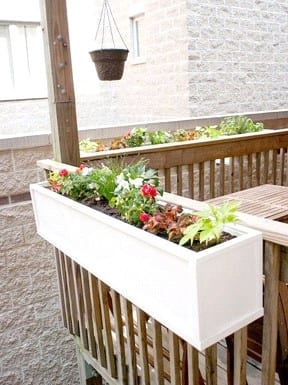 The mounted flower box for deck works like a magic. Easy to build and install, it will definitely leave your porch looking like a paradise. In no time at all, you can hang the deck put up all the potted plants.
11) Tiered Wood Flower Boxes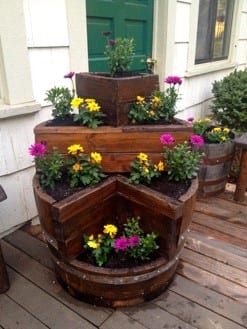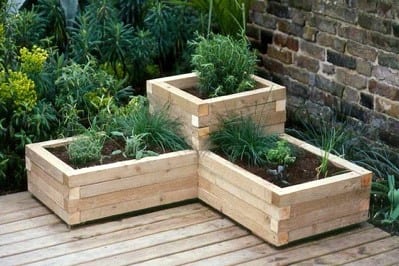 While such design shares commonality with the general vertical planters, the tiered wood flower boxes distinguishes itself being, you guessed it- tiered, of course. Its symmetrical arrangement can turn even your stalest porch or yard. This design perfectly matches indoor touches as well. All-in-all, DIY designs of this caliber ultimately empower you to stylize and exercise your creativity!
Although I consider the triangle-designed planter boxes highly artistic, I still root for the tiered-box designs to be highly practical. The tiered-box designs prove to be fitting setups for herbs, specifically. What do you think?
12) Tall Wooden Porch Planter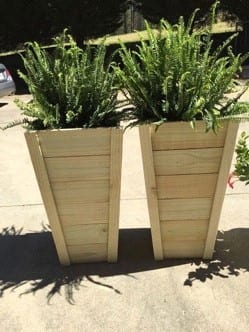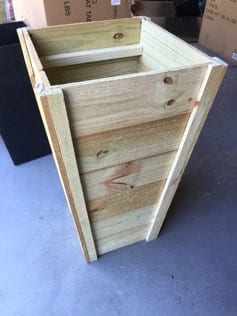 What I enjoy so much during summer is tending landscape, establishing decors and beholding a breathtaking outdoor scenery. This can only be made possible by the DIY tall wooden porch planter! Thankfully, my porch complements well with its opposite scenery. Just look at these pictures (these are not personally mine, though) and think of any other ways that could better such design!
Let me give you perspectives on the sheer importance of putting up a tall planter in your porch. First, it provides warmth. Porch planters are a real deal when it comes to welcoming your guests! Once done putting up, try checking your guests' faces when they enter your home and you will definitely see big smiles. That should be the warmest of welcomes mutually shared between you and your guests.
Second, tall porch planters protect your plants from outdoor ruckuses and other critters- raccoons, birds, deer, etc. And finally, tall planters strongly hold the soil together for proper nutrient absorption by the plant.
Crafting the tall porch planters is both easy and complex. But all-in-all, so long as you have got the patience and the eye for details- you are sure to be done in no time. Above and beyond these, you would get to reap a beautiful, space-saving porch planter all up and ready around the seasons!
13) Pallet Wall Planter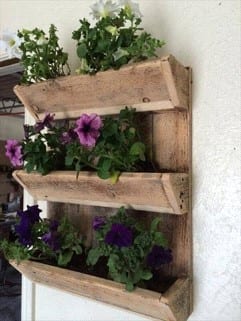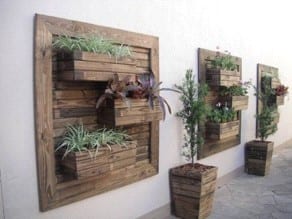 I cannot go on with this list without indulging in the equally pretty business of growing plants indoors. If you are having second thoughts about the prospects of indoor planting, why, just look at these pretty images. Trust me when I say this: growing plants indoor is double the fun and ease! Having plants inside your home completes any overarching decor that can pop in your mind.
Whether you are thinking of giving your home a touch of modern, rustic and even classical look, the wall planter is sure to blend in. But beyond all that, it brightens your home to an ambiance you never thought you would desire. Wall planters stand alone but never draw all attention to them. Overall, it adds up to the homey-ness of your home without overdoing it, or at the expense of neatness.
A few of the pretty-looking plants that grow indoor include Bromeliads, Spider plant, Viper's Bowstring Hemp, etc.
14) Cascading Flower Pallet Planter Box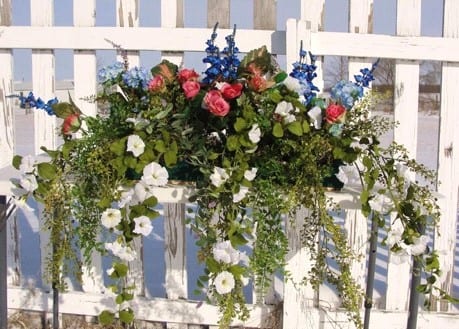 Now, if you are ready to be floored by how life-changing of a beauty this design will soon yield from the flower, come to take a look! First off, the engineering of the setup is undeniably genius! It just works on so many levels. Here, you have a pallet planter box with numerous designated holes surrounding its bulk.
15) Outdoor Barrier Planter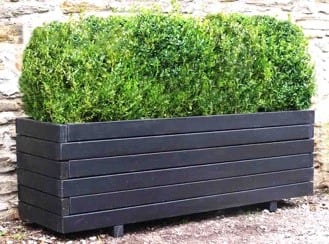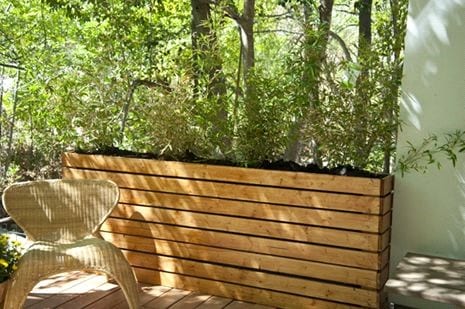 You can always refer to countless options on how you would like to frame your barrier pallet planter. You can pick the wall hanging planter, plain pallet planter, the L-shaped or A-frame pallet planters, etc. There are so much to choose from. And, if you are not in a hurry- I would recommend you to go for a vertically-supported planter. This may take time but mind you- it yields the best structure there is. Prepare to be impressed by the overall décor this mechanism will leave in your backyard!
16) Pallet Raised Planter Bed

It is a good way of keeping rabbits out of the garden and keep things organized. Good thing the builder found a free wood. You don't have to spend hundreds of dollars, all you have to do is create a DIY pallet like this!
The total time to finish this project is about 6 hours. The things you'll need include 3 to 4 pallets, vice grips, hammer, drill, crowbar or pry bar, staple gun, skill saw, or miter saw, landscaping fabric, and treated wood.
Use heat treated pallet with HT stamp because it is safer to use in the garden. Those with MB stamps were treated with a dangerous chemical called Methyl Bromide.
Conclusion
There you go! That was our list of 15 brilliant DIY pallet planter ideas. As has prevalent in the list, the key factor for any DIY projects is creativity. There is no question to that. Also, we were walked into the many ways we can save space, money, and effort in the whole gardening business.
Imagine how much you would be spending your money on if you would insist on buying the items instead. The whole mechanisms, designs, structures and engineering methods all stand as priceless pieces of knowledge.