A router is a powerful tool that can help you cut, shave and shape wooden pieces perfectly and quickly. With a router, you will be able to work on different projects that require excellent precision and keen attention to detail. You can create wooden panels, cabinets, decorations and even toys with a simple router tool. Routers can be handheld or it can be mounted on a router table.
A router table gives you the freedom to maneuver your workpiece (material) as you glide it over the blade of the stabilized router. Benchtop routers can cost hundreds of dollars and can be very heavy and inconvenient if you have a small working space. These are the reasons why most woodworkers just make their own router tables in their own workshop or home.
Making a router table can be as simple as constructing a bench and a simple mounting device for a handheld router. It could also be as complicated as constructing a router cabinet from scratch (shelves, table and all) which could take more than basic woodworking skills.
Here are the best router table DIY plans in the web. These router tables are more than just weekend projects. These will be able to improve the way you work in your workshop or workstation and will allow you to finish your projects on time.
Most of these projects are for making router tables from scratch while some here have been constructed out of old tables, desks, and even cabinets. You may also find unique router table designs like horizontal router tables and foldaway tables. Some projects may be too difficult even for an average woodworker while some may simply serve as inspiration for your next weekend project.
Check out the best router table designs we have for you. These projects were made by expert woodworkers and shop workers, therefore, you must possess more than the basic woodworking skills to complete any of these projects.
You will be working with power tools and hand tools, therefore, you must exercise extreme caution and safety. Wear safety goggles and work gloves all the time. Always keep in mind electrical safety in your working area. If you must use a shop vac, look for the best one that will suit your needs. Always check the instructions on how to use your router as a table router to make your work safe and efficient.
1) Creston Wood Router Table Design
This is a classic example of a router cabinet. The router sits on top where the workspace is and the shelves are where you can place tools, accessories, and parts for your router. The camera angle made the router cabinet huge but actually, it is compact and just the right size for any small working area.
The router was mounted on a wooden workspace with a wooden fence that can be moved forward or backward depending on the workpiece that you are working on. This connects to a shop vac from a small hole that is found directly on top of the blade.
When you speak of shelves, this router cabinet has enough to store all the things you will ever need for your work. The area in the middle allows you to remove the router and use it as a handheld tool as well. This cabinet is quite difficult to construct because the plans will start from scratch. However, you can have these commissioned so you can have a safe and convenient router table for your woodworking projects.
http://www.crestonwood.com/plans.php
2) Router Table Pressure Jig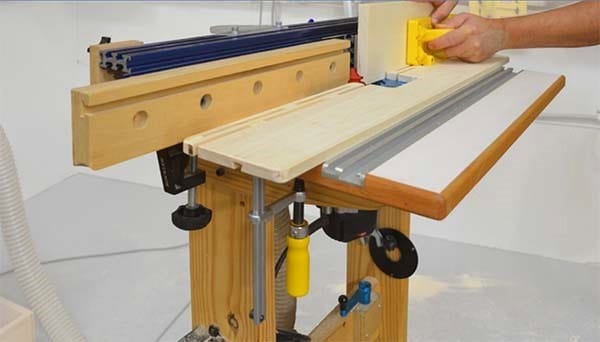 This is a plan to construct a router table with a pressure jig. This is more than just an average benchtop router table because you will be adding a pressure jig that lets you work on more complicated projects.
This table was also constructed from scratch with the handheld router used as a table router tool. A pressure jig will make it easier when routing workpieces near the edge. The jig may be adjusted to provide just the right pressure and allow you to make stopped cuts.
Although a pressure jig may not be necessary since not all projects require this cut, this may come in handy especially when you want to further improve your woodworking skills. This project is moderately-difficult and may be completed in a week if you have all the materials and tools handy.
https://www.microjig.com/wp-content/uploads/2016/04/MJ354-MF-DT-Clamp-Router-Table-Pressure-Jig-Plans.pdf
3) Simple Router Table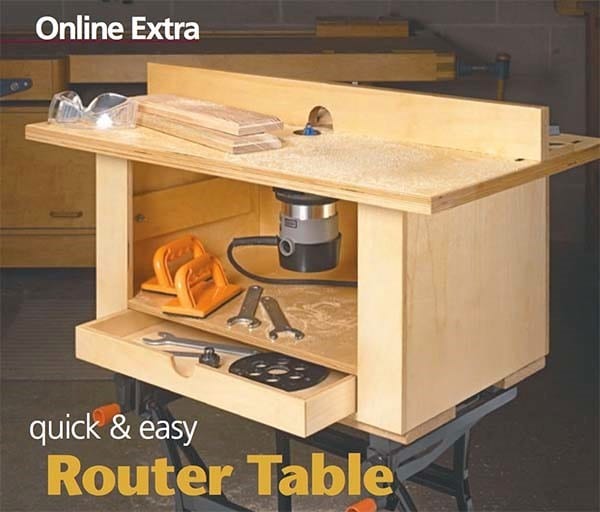 You can't argue that this is one of the simplest router table designs you have ever seen. It is simply made of a workbench, the fence, the router itself and a small pull-out shelf at the bottom. This can be placed on top of a workbench or can be built with taller legs to level with your working table. This router table was made from very simple materials and is actually very easy to make.
Like ordinary router table designs, the router is placed at the bottom of the table top with only the blade exposed. The router is held by a brace that keeps it in place. The table top is huge with plenty of room at the back for the fence to move so you can work with larger and more complicated materials.
A shop vac can connect to a hole at the back of the fence near the blade. A shop vac will suck up all the dirt and dust that accumulates as you work, making it easier and safer to work. 
http://www.woodsmith.com/files/issues/195/quick-and-easy-router-table.pdf
4) Jane's Router Table Design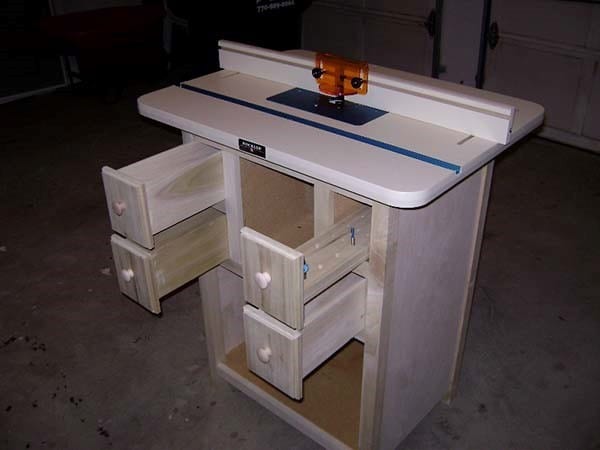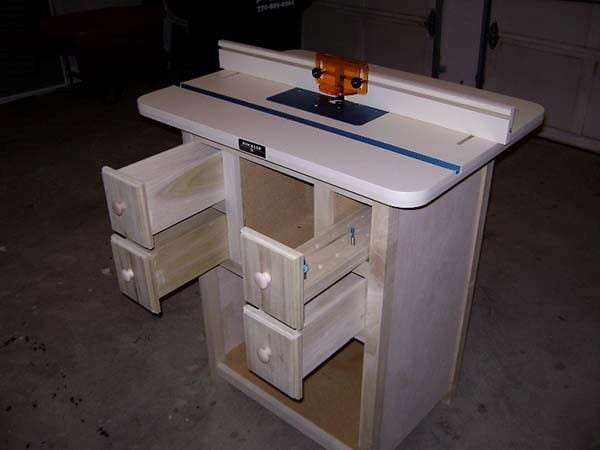 This router table was made from scratch and as you can see, every small detail has been carefully planned, measured and built. Let's start from the table top which houses a router blade mounted on a sheet of thick glass, a movable frame, a dust port system and a pressure jig system. As you check the router cabinet body, you will surely admire the intricate sections that were specially made for different tools and router parts.
Take the upper right shelf, for instance, pull it out and holders were made to hold different parts and accessories. The lower shelves are spacious and can also house other types of power tools and more. The cabinet itself is mobile. It can be moved and placed in any location you wish to work in. With this router cabinet, you can have all your power tools and hand tools in one place.
This router project is quite difficult especially if you have only the basic knowledge of woodworking and using various power cutting tools. Otherwise, you can have your router cabinet commissioned and use this design as your inspiration. 
http://www.scottmoore.net/projects/router/
5) Patrick's Router Table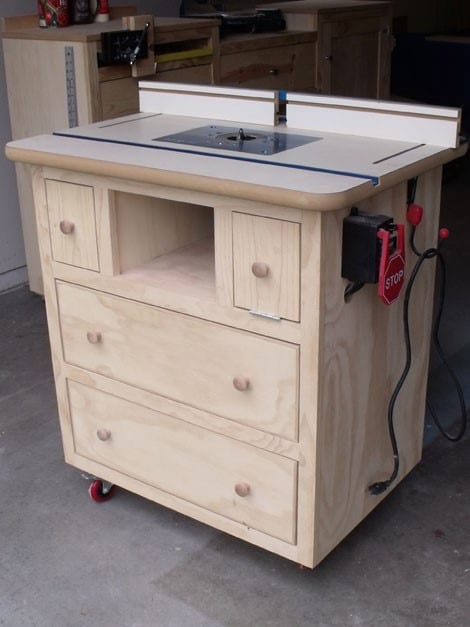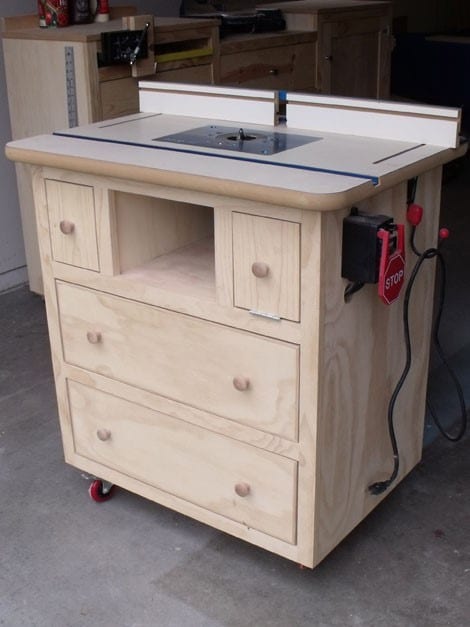 This router table design from Ana White is something that you may want to consider if you have the woodworking knowledge and skills because this is not an easy design. The router sits on a cabinet, not just a table and this cabinet have more to offer than routing workpieces.
This cabinet has a spacious tabletop that will accommodate large workpieces and gives you plenty of room to work around. The fence at the back can extend farther and can be locked in place with two stoppers. The router tip sits next to a hole where a shop vac hose attachment is mounted. A pressure jig is also found near the edge of the table.
You can't go wrong when it comes to storage space because this router cabinet gives y you more. It has two large square-shaped drawers on each side while two extra-large drawers are at the bottom. With this amount of space, you can place your router accessories as well as your other hand tools and power tools. This router table design could be the challenging workshop project you have been looking for.
http://www.ana-white.com/2012/07/plans/patrick039s-router-table
6) One Project Closer Router Table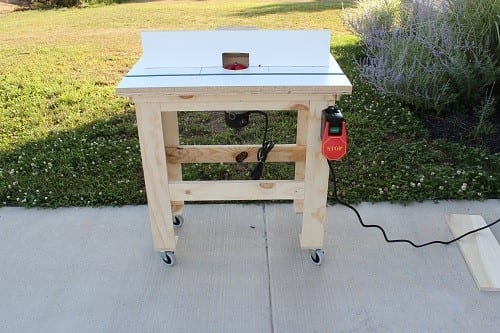 This is a simple router table project that will surely get you interested. It is easy even for someone who has only the basic woodworking skills. This router table stands tall, as tall as a workbench. You can use this level to the workbench; a seamless transition from one working space to another.
The table top is quite smaller than other simple tables though but it has all the features you need for basic routing jobs. As usual, the router tip sits at the middle of the table with the fence at the back.
There is plenty of room for the fence to move backward so that you can accommodate larger pieces as well. A safety switch can be seen at the bottom right of the router table. This switch will cut the power to the router in case of emergencies. This router table project is so easy it can be done even on a weekend.
7) 3-in-1 Router Table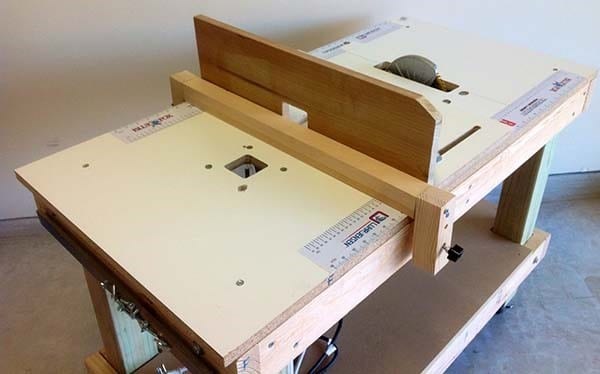 As you can see, this router table can also be used to cut angles and work on different intricate shapes without wasting materials. This router has a huge tabletop with a large movable fence at the middle and with plenty of room to work at the back.
This is also not your average height router table because as it is as tall as a working table with sturdy, braced legs. This table was made from scratch from sturdy lumber. The builder also placed measuring strips on each end of the table so that workpieces may be checked the time and again.
This router table design is easy to build and will work well with a working station at home or in the field. This can also be built on an old table or you can construct a table from scratch to fit the router and various attachments.
http://thinkingwood.blogspot.com/2012/12/project-2-diy-portable-3-in-1-workbench.html
8) American Woodworker Router Table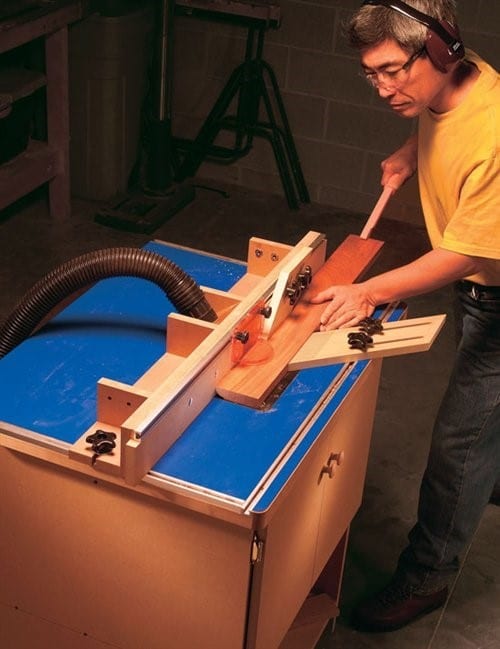 This router table was made from the ground up with all the important features that will make your job easier and safer. As you can see in the photo, the working table is quite large with room for large workpieces.
What's interesting is that the fence has been neatly designed to not just hold the workpiece in place but to allow a shop vac attachment to be placed near the router tip. The vac attachment efficiently removes dust and dirt off the workpiece so you can work more efficiently and safely.
The table sits on top of a cabinet and unlike other router tables; the router tool is hidden from view. Cabinet doors cover the router and provide space to store tools and accessories. This allows you to neatly place your things away when not in use.
http://thinkingwood.blogspot.com/2012/12/project-2-diy-portable-3-in-1-workbench.html
9) Wall-Mounted Router Table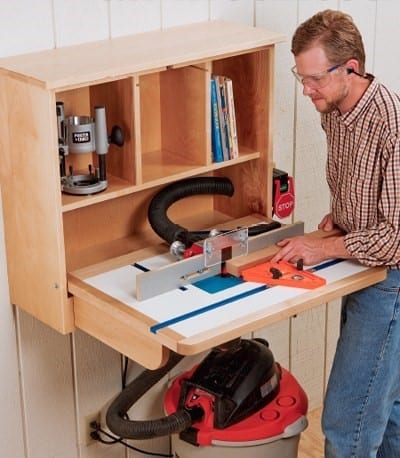 If you have a small space in your working station or shop then a large router table would just take too much space. Here is a solution for woodworkers who need a router table but can't afford to lose precious space. This is a wall-mounted router table that can function as a full-sized router. It was constructed to be part of a fold-away working table system that looks like a study table.
This router has the basic parts. It has the router tip at the middle, a moving fence, a pressure jig and even a vacuum port where a hose attachment can be placed to remove dust. The tabletop may be small but it gets the job done. And of course, when you are finished with work, you can simply fold it away and take back precious workspace inside your shop or garage.
This project is fairly easy to build and with the right tools and materials, you can have this done in just the weekend.
http://www.rockler.com/how-to/building-wall-mounted-router-table/
10) All-Around Router Table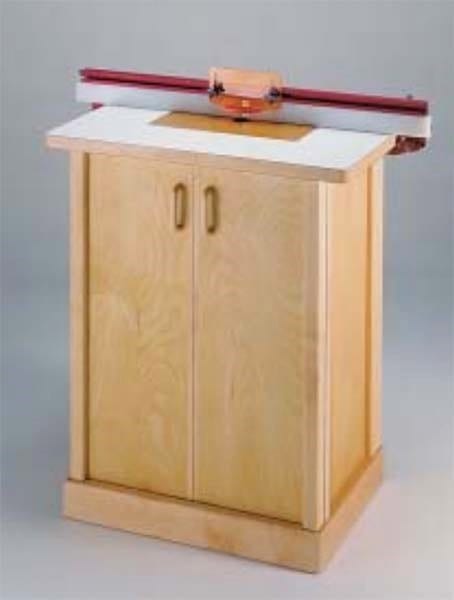 This is a router table built on top of a cabinet. The cabinet acts as a storage area and a neat place to hide the router and possibly a shop vac. This design is very minimalistic and it will make your workplace neat and organized.
The working area or table top is moderately large with a full fence at the back to hold the workpiece easily. The router tip protrudes at the middle while the router body is supported by heavy-duty braces found inside the cabinet. The fence can be retracted to the back of the table to allow you to work on larger and more complicated workpieces.
The cabinet is huge, opens using two doors. This is enough storage for the tool accessories, parts, and other power tools. This is an easy to moderate woodworking project that you can possibly complete in just a weekend with the right tools and materials ready.

http://woodtools.nov.ru/projects2/PlanPDF/Woo1dworking%20Plans%20-%20Router%20Table.pdf