There are so many benefits to building a deck for your home. A well-made deck improves the appearance of your home and therefore increases its value.
It can also serve as an outdoor area for the family and for entertaining guests. Finally, compared with home additions, deck additions are easier and quicker to build and are way less intrusive.
Luckily, there is an even cheaper and easier way of building your home a nice deck. You can buy super cheap pallets online or gather discarded ones around your neighborhood for free. Here are some nice pallet deck DIY plans you can follow.
1) High-Elevation Two-Level Deck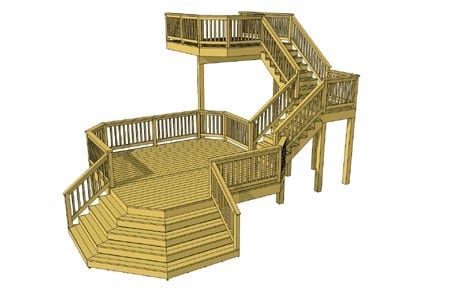 This high-elevation deck plan features two levels. It is unique in that it has two flights of stairs with one landing. The top level gives access to the house and can be used for grilling and barbecue, whereas the bottom level can serve as the main area for dining and entertaining guests.
The gorgeous cascading stairs on the bottom deck is very visually appealing and helps fuse the enormous structure into the environment. This is a great addition to your home, especially if there are no little tykes around and you have plenty of time on your hands!
Plan: https://www.decks.com/deckplans/highelevationdecks/2L005
2) Simple High-Elevation Deck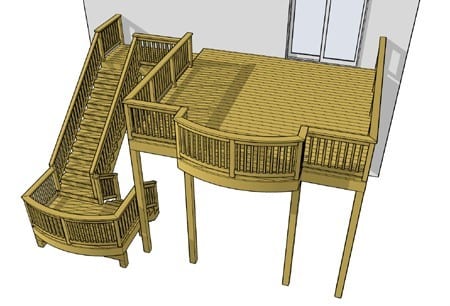 We love how the curved elements of this high-elevation deck look very classy yet so simple. The top area is great for entertaining guests or as an outdoor dining area. The curved bay provides a great vantage point, so this may be ideal for a side of your home that faces a scenic view of the landscape or cityscape.
The switchback staircase's landing, which also features the same curved bay of the top deck, is another good area for chatting, and it is a lot more intimate.
Plan:  https://www.decks.com/deckplans/highelevationdecks/1L092
3) Large Three-Level Deck
This huge three-level deck is a great project if you are quite an experienced woodworker and have a few days to spend toiling over lots of pallets. Obviously, this plan is for large houses. It gives nice variety in that there is somewhere to go according to your mood.
The transitions are quite smooth because of certain reductive elements fused into the design, so they do not awkwardly pop. The balanced sizes of the decks and the sweeping stairs all make this deck appear much bigger visually.
Plan: https://www.decks.com/deckplans/mediumelevationdecks/3L020
4) Small Single-Level Deck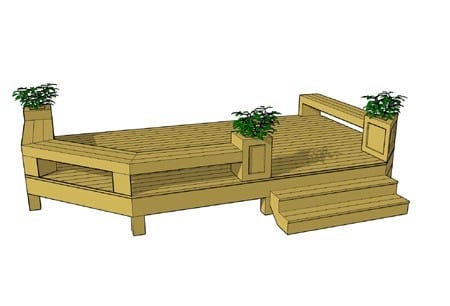 You may find this a suitable pallet deck project if you are relatively new to building large-scale wood structures or you just really want to give your home a fairly simple deck.
The benches and planter boxes accentuate the deck nicely and further make it a great place for entertaining despite the small area. Meanwhile, the angled corners and wide stairs give the deck a certain touch of elegance, so the entire structure looks interesting despite it being small.
Plan: https://www.decks.com/deckplans/lowelevationdecks/1L049
5) Small Pool Deck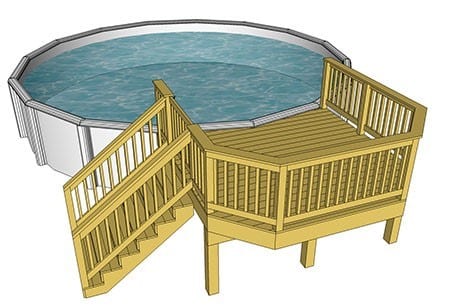 If you are a novice builder, you can hone your woodworking skills by constructing this simple and small pallet deck for an aboveground pool. The plan is available in many different sizes, so you will surely find one that fits your pool.
The deck should be a hit among kids. You can put up a simple snack station here during a pool party or a simple dining table. This may be a small pallet deck, but it is very versatile and functional.
Plan: https://www.decks.com/deckplans/pooldecks/pool1010
6) Small Basic Deck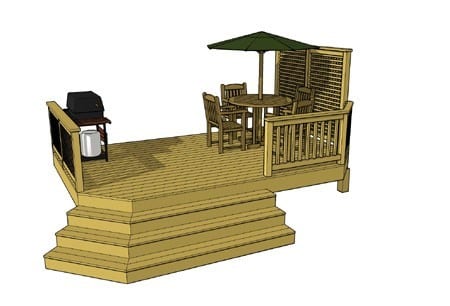 This is a relatively simple deck that should not take too long to build and consume too many pallets. The size makes it ideal for small and medium-sized areas, and the clipped corner gives the simple design an elegant twist.
Another interesting detail is the privacy door standing opposite the stairs. It serves an important purpose and makes the deck more aesthetically pleasing at the same time. This is an easy build and therefore ideal for new woodworkers.
Plan: https://www.decks.com/deckplans/lowelevationdecks/1L032
7) Two-Level Deck With Recessed Tub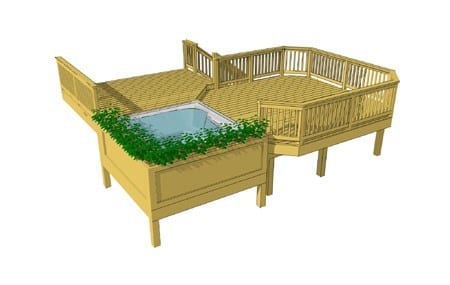 If you have some experience with woodworking and know quite a number of techniques already, you may find this two-level pallet deck a suitable project. It has a recessed area for a hot tub and a big space for entertaining guests, grilling, and/or dining.
Two sides of the hot tub are surrounded by planter boxes, which improve the overall look of the deck. As a whole, the deck is very Instagrammable and looks great to hang out in.
Plan: https://www.decks.com/deckplans/lowelevationdecks/2L022
8) Deck With Curved Bay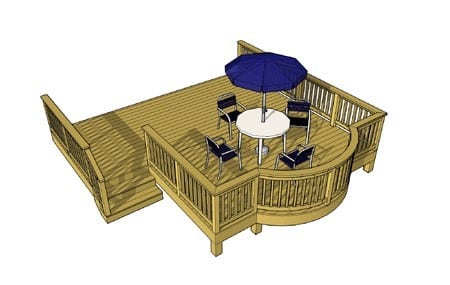 This is a simpler version of #2. As you can see in the photo, this pallet deck design highlights symmetry and therefore looks very classy. The curved bay gives you a good vantage point and looks great from any distance.
Depending on where the door is, you should be able to fit a grill by the wall. Despite the very aesthetic appearance, this one-level pallet deck is relatively easy and quick to build, so you can easily nail it (pun intended!) even as a novice woodworker.
Plan: https://www.decks.com/deckplans/lowelevationdecks/1L040
9) Medium Pool Deck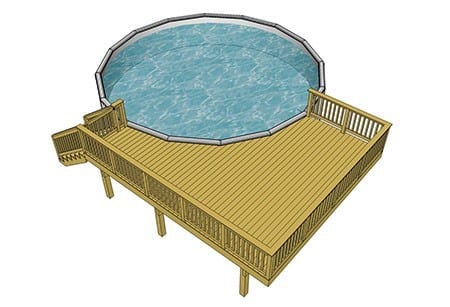 This pallet deck for aboveground pools may be relatively large, but the design is quite simple and is hence ideal even if you are new to woodworking. The plan is for a 17' x 20' deck that wraps around a quarter of an aboveground pool measuring 52" high and 24' wide.
The overall area is 249 square feet, which should be spacious enough for some small furniture pieces. The good thing about the plain and bare look of this deck is that you are free to decorate it whichever way you like.
Plan: https://www.decks.com/deckplans/pooldecks/poolquarterround
10) Covered Porch Deck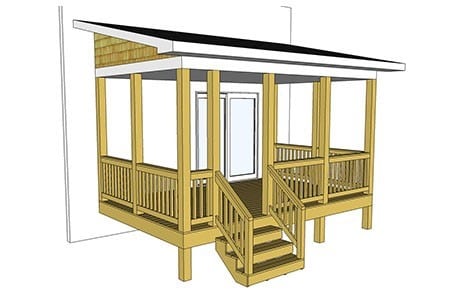 It's about time we mentioned a covered deck here. Sure, you can always add a roof to any of the previous pallet deck plans we have shown, but it is still better if you can visualize the entire design put together.
This is a great project if you are a beginner wanting to try your hand out at building decks and roofs. Needless to say, this suits homes in regions with bad climates because it keeps you dry while looking stylish.
Plan: https://www.decks.com/deckplans/porchdecks/1PS1610