Woodworking is one of the best hobbies you can engage in because it is fun to do, it is challenging, and you can create useful things out of it. Among the most versatile items, you can make as a woodworker are pallet boxes.
Pallet boxes are some of the most ubiquitous items you can find, especially if you happen to live near a shipping port or a marketplace. However, with a few tweaks here and there, you can make one-of-a-kind decorative and/or completely functional.
Here are 10 pallet box DIY plans and ideas you might want to try as your next woodworking project.
1) Simple Pallet Storage Box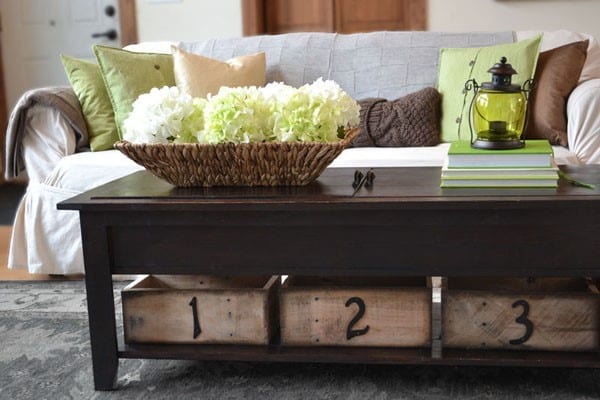 This basic pallet storage box is perfect for those tight spaces in your home or between furniture that you want to accentuate and use for storage at the same time. These little boxes are also ideal for any home because you can easily decorate them with some cheap or free paint or maybe some decals.
If you are a beginner at woodworking, you should really consider trying this one out first before moving on to more complicated projects. This is great because not only is it highly functional, it is also easy and quick to do. Besides, any scrap (read: free!) pallet will do, so in case you make a mistake, there is not a lot of loss.
2) Chalkboard Pallet Box Crate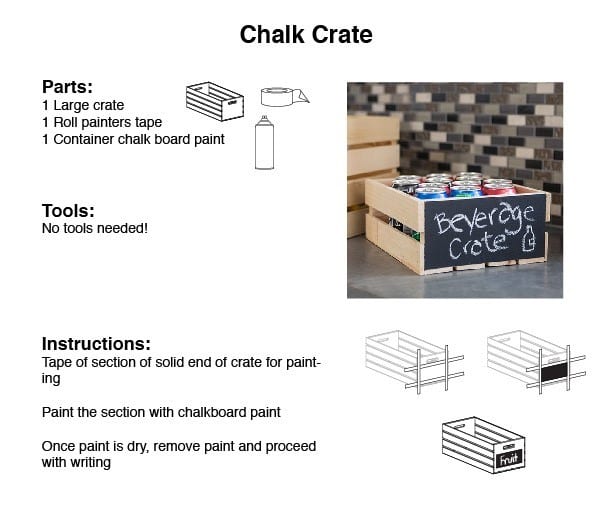 This is one of the simplest projects on this list. You can build your own box crate out of scrap pallet wood or just grab some crates that are already assembled. All you have to do is a slap on a chalkboard or any other nice material you can write on, and you've got an easy competitor to those expensive labeled boxes on your favorite handmade goods site.
Labeled chalkboard pallet boxes can be used for storing spices or fruits, utensils, tools, office supplies, toys, electronics, and much more. Since pallet wood is so easy to work with, these boxes will fit right in regardless of where you put them.
3) Pallet Box Crate On Wheels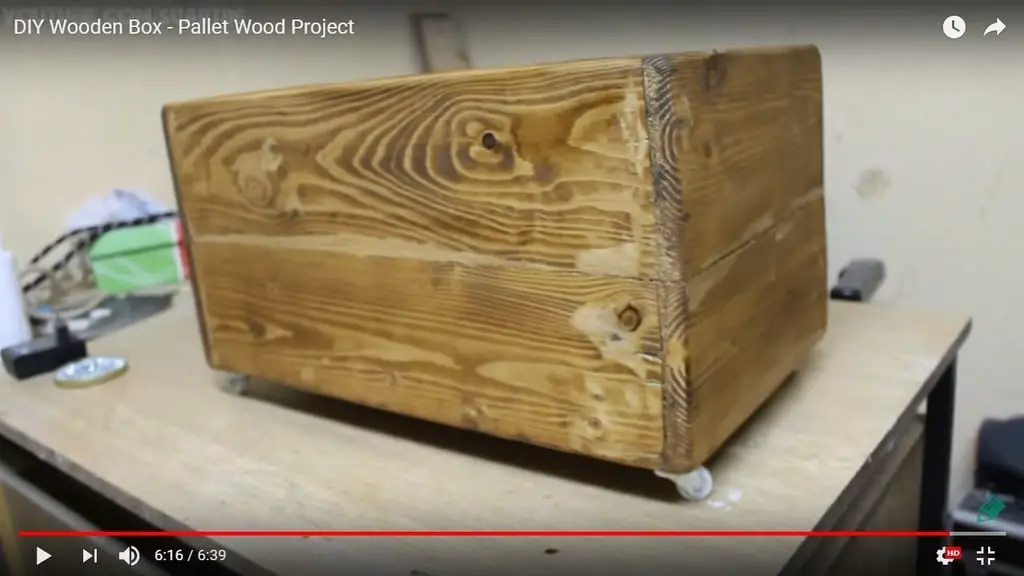 A simple box crate is a very useful and versatile thing to have in nearly any part of your home, office or workshop, but screw on some wheels on it and it becomes a thousand times even better. Caster wheels are very cheap, and you may even be able to find a few lying around in your basement.
We like this project because not only is the finished product very functional and practical, the building process is also very fast and simple. No matter if you are a novice or an experienced woodworker, you will love working on this project. Use it as a toolbox, a rolling toy cart for the kids, anything!
4) Pallet Chest Or Trunk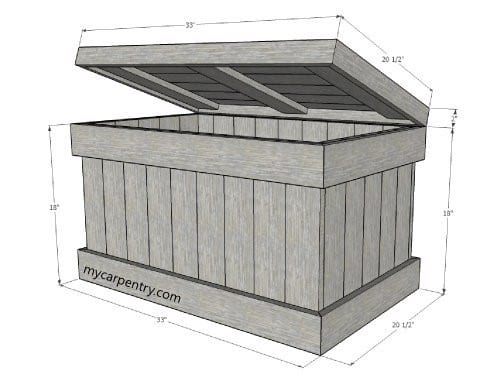 Chests are must-haves in any home. No attic, masters bedroom, or playroom is complete without these things. And it is very easy to see why chests and trunks have become a staple. They are the furniture counterpart of the tote bag. Just toss your stuff in, and all your eyesore is gone in an instant.
You can easily decorate this pallet chest so that it matches the rest of the room. Want to go for something rustic, modern, or maybe something in between? Easy peasy. It is all about the stain and the finish. Take the time to give your pallet chest a killer look, and not one of your guests will care what you're keeping in there.
5) Pallet Cooler Stand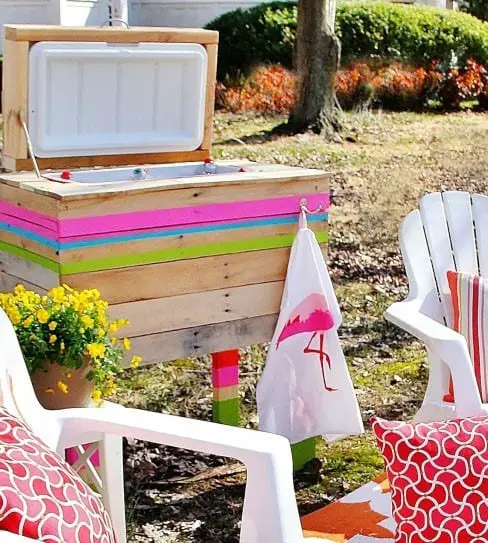 A cooler is a huge plastic box that works the way it needs to on its own. So why build a pallet cooler stand? Because you can! Kidding aside, a well-built pallet cooler stand is helpful for those times you need to plop your cooler down on the dirty or muddy ground. After all, your cooler contains food and drinks, and seeing it filthy can ruin your appetite.
This pallet box is not difficult to make, and all these basic version needs are measurements of your cooler. However, you can also find pallet cooler stand plans that feature some add-ons, like space for prepping food and drinks beside the cooler's opening.
6) Pallet Planter Box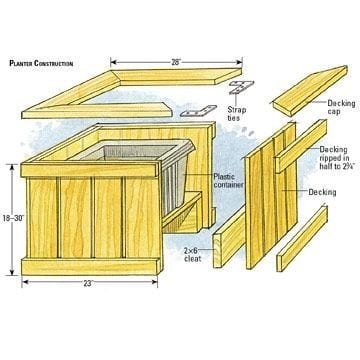 One of the most common uses of used pallet wood is as planter boxes. The illustration above is for the basic square planter box, and you can find plans for other shapes, sizes, and heights of planter boxes. You can also add metal or caster wheels to it, especially if you have plants that require to be moved frequently.
We also recommend this as a starter pallet woodworking project. It does not consume too much time, and the panels you need (at least for this basic square planter box) are quite short, so you should not have issues finding and collecting them from around the neighborhood. It is also very easy to make because there are no complicated cuts or specialized tools involved.
7) Pallet Coin Box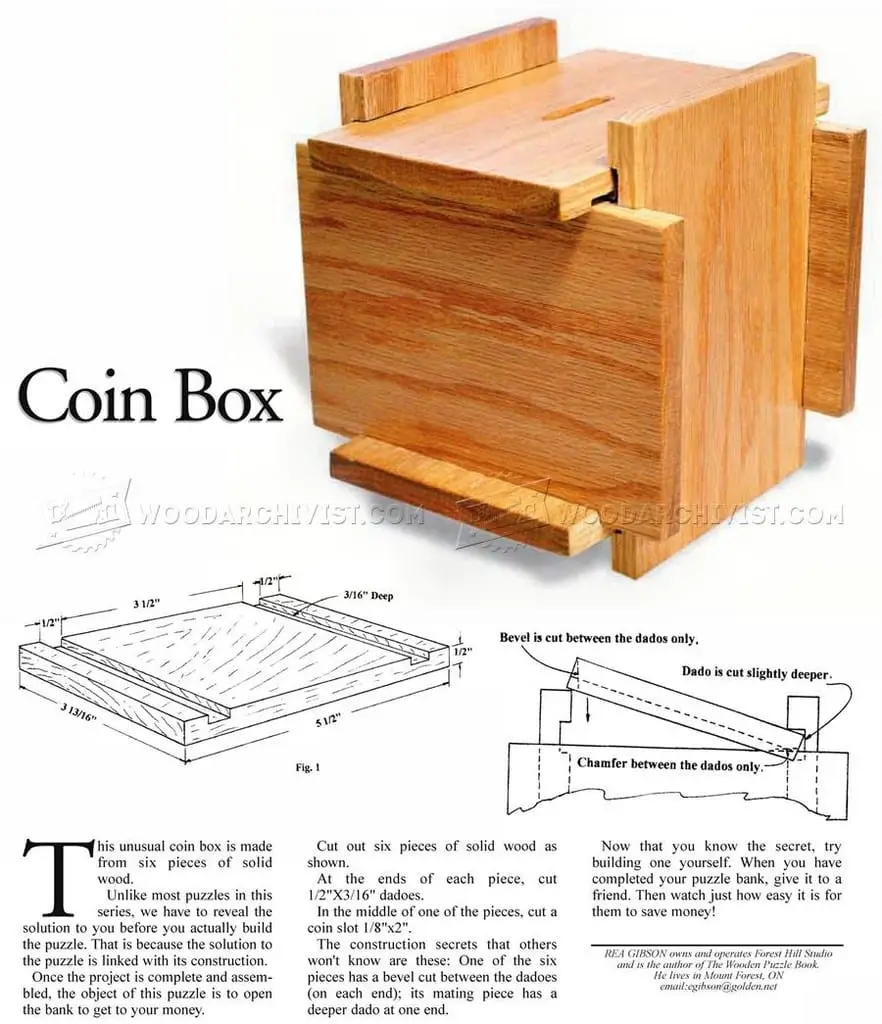 This pallet coin box or coin bank project is a great way to practice your dado cutting skills. As shown in the photo, this looks very simple and basic, but those cuts can be tricky for beginners. You need to have absolutely steady hands, a keen eye for detail, and great measurement skills.
You can build this for yourself or as a gift for family, relatives, and friends. This also presents a nice opportunity of putting your monogramming skills to practice. Imagine having several of these in your kids' room or your family room, labeled with your children's names or goals you are saving up for.
8) Pallet Storage Box For The Garden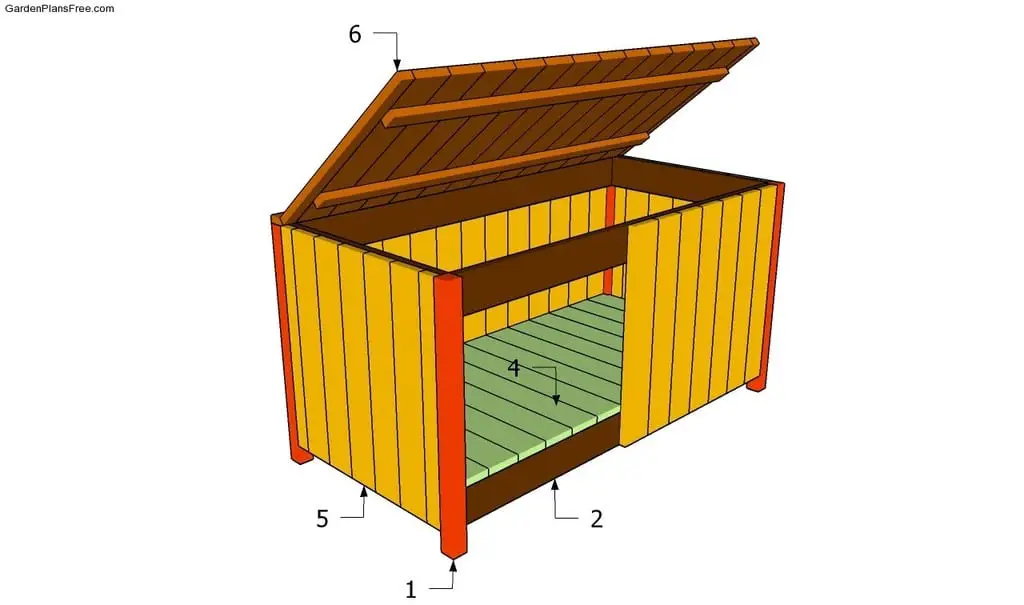 This plan should work not just for garden storage boxes but for any outdoor storage box. The plan is very easy to follow and adjust for dimensions because it is so simple. You can use this to store your bulky or long gardening tools or keep large tools in this. Just pay attention to your choice of finish if you are indeed using this as an outdoor storage box.
Meanwhile, this will also work as a large chest for books, toys, bulky linen, fabric, or work equipment. Due to the size of the box, do set aside enough time for completing this. The newer you are to woodworking, the more time you should devote to constructing this. You don't want to mess up something this big!
9) Small Decorative Pallet Box Crates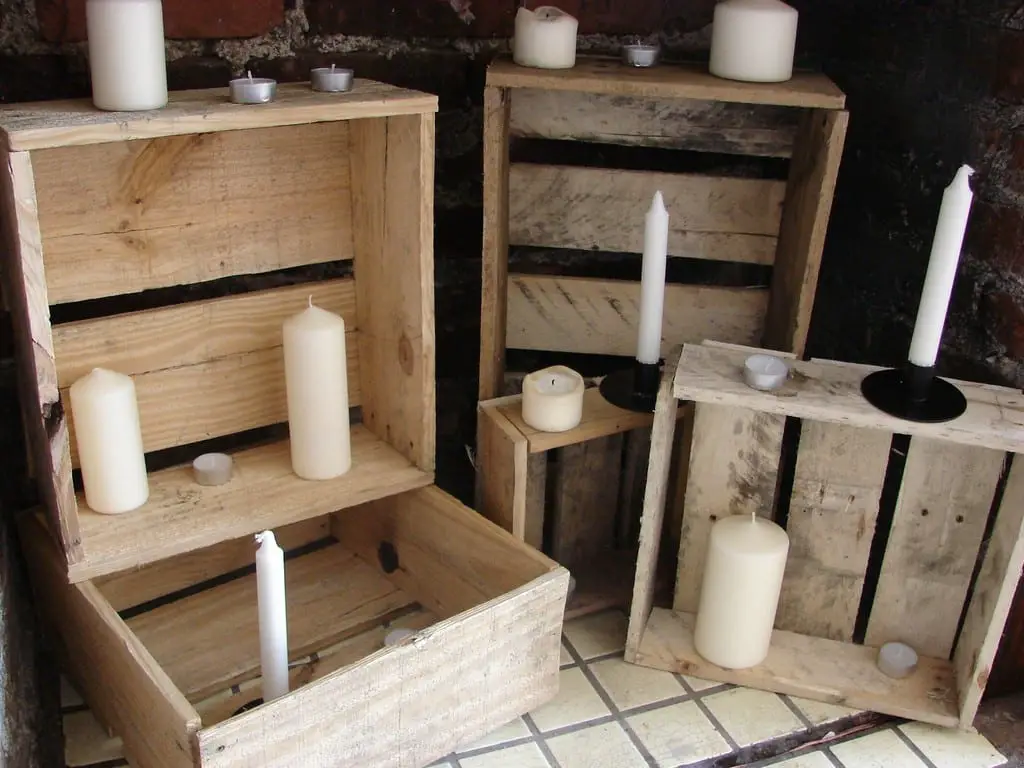 If you are brainstorming for unique holiday decoration ideas, take a look at this one. These are just those shipping pallets you see at groceries and ports, only a lot smaller and therefore cuter. You can do something similar to the ones in the photo or build a mixture of open and closed boxes for some variety.
These decorative pallet box crates are great ornaments because they are mostly used as stands and backdrop. They will work with anything. You do not even have to wait for an occasion to put these on display. You can place them in a prominent area in your room or living room and put candles, travel souvenirs, and other knick-knacks in them.
10) Pallet Jewelry Box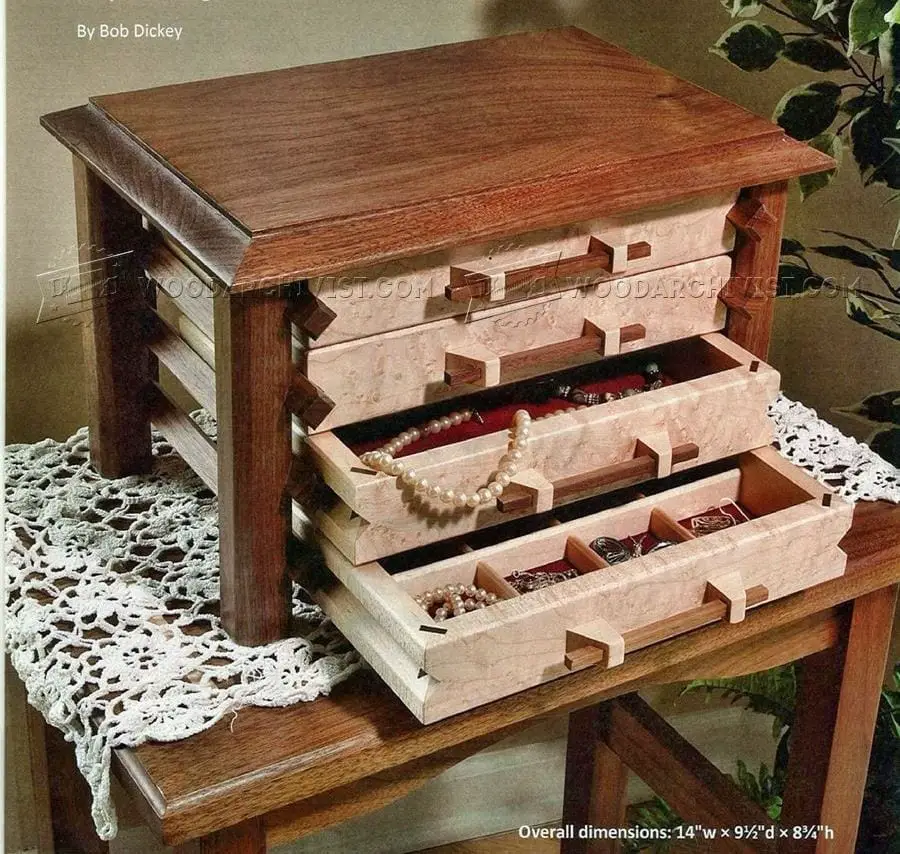 No list of pallet box projects will be complete without a jewelry box plan. Regardless of whether you want to give this to someone as a gift or just use it to practice your woodworking, this plan is worth trying out, especially if you plan to do a lot of cabinetry in the future.
You can practice different cuts and joints and experiment with various designs that you think will work with your special friend's dresser. If you don't quite feel like making a jewelry box, you can tweak the plan a bit to create small drawers for office supplies and similar items instead.
Conclusion
You've reached the end of the list, fellow woodworker! We sure hope you loved reading about the featured plans as much as we enjoyed putting them together. Feel free to tell us what you think or show us how you nailed (pun intended!) these projects. And do share this brief guide with your fellow box-loving friends!