Woodworking in an acquired skill almost anybody can learn. It can be used to make large as well as smaller and more delicate items, which makes it suitable of girls. Anyone who is eager to acquire a new skill or wants to try something different can learn it easily. Using this skill anyone could make those amazing products in low cost which were out of your price range.
To help you begin with, we are listing 30 such woodworking projects which can be easily made and will be loved by girls all around.
1) Wooden Bungee Organizers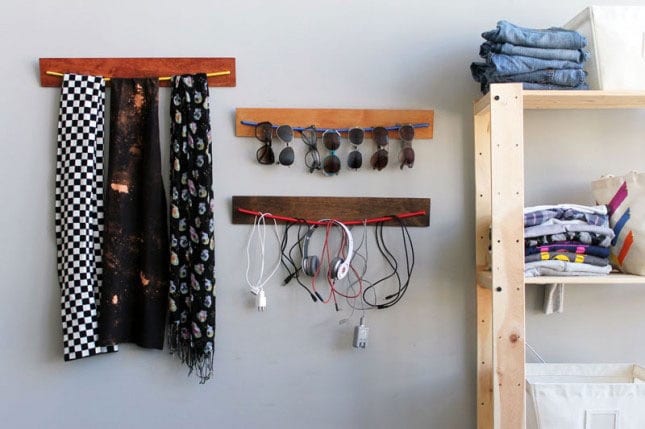 Haven't you craved for this lovely organizer? Things would appear just perfect hanging in these, making them look presentable in every possible way. It is perfect for a girl who always wants to make her things organized. Yes, if you're listening, this goes out for you. All your items such scarves, sunglasses, cords and jeweler will be hung on this wooden organizer, you don't have to stress anymore about the mess up! The solution is right here!
You will need bungee cords, wood stain, three 2-foot hobby boards, and picture hanging kit. If you are living in an apartment or flat, everything's would get easier for you in your small apartment. This is perfect for hanging accessories, and most importantly all girls are passionate about keeping these to an access.
It will benefit you girls in so many ways!! Let your imagination run wild! I'm personally so much in love it, that I am considering getting one of these in unique colors. Wouldn't this look amazing as a gift, too? Think about it and start building if woodworking is your favorite!! It's worth a try! Just look below the image and it will surely attract you towards it.​
2) Wooden Jewellery Board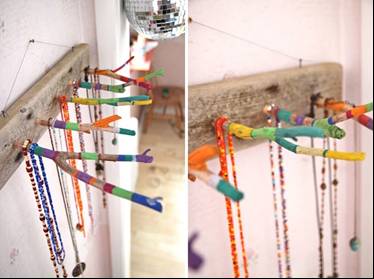 All my necklaces, bracelets and other jeweler were lying around for no reason. So, I thought why not make a wooden board for my jewelries only. How wonderful it would look if all my jeweler set is displayed? Well, let me tell you how I starting building it.
I made it from a piece of driftwood and some sticks I found behind my house. Then, I painted the sticks with water colors to give it a beautiful and attractive appearance. Trust me; you will love it after the result. It's not much of a hassle for you that I can assure you of.
There on, I drilled holes in the driftwood and curved the sticks so they would fit in the holes. Secondly, I used glue to make it stick together. There you go your board would be ready-to-use in no time.
Don't you think your worthy and expensive things are ought to be displayed and not just stay in your cabinets? I'm sure you're going to adore it each time you dress your board with different items that goes with it. Best of luck preparing!! Share it with your loved ones as well and let them find out the secrecy of this useful jeweler board.
3) Wooden Orbit Mirror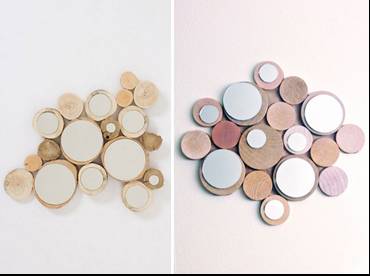 Want to design your house with something unique and worthy? Well then, what's the entire wait for? Why didn't you start creating air easy!! Its show you something that would surprise you with joy. Yes, I'm talking about the wooden orbit mirror you see below. Isn't it so exciting? You can hang these on your wall to give them a decorative appearance. I'm sure; people would love it in the first sight.
Hence, to start creating, you will need all the essential items that I will mention. First, wooden circle mirror along with circle cut outs then you will need tea bags, wood glue, mountain tape or adhesive. Begin by staining some of the wooden cut outs with the wet tea bag. Try different hues and the let them dry for 20mins. There on, place your cut outs and mirrors in any specific design you like. Furthermore, use the glue to stick the wood and mirror together. Let it dry, and there you go-you are completely ready with the master piece. Look at the picture below and see if your master piece is like the shown below. Good luck creating! Hope you fulfill your job and result is just worth-seeing! It a great idea for you girls? Let us know about your feedback!​
4) Mops, Brooms, Gardening Tools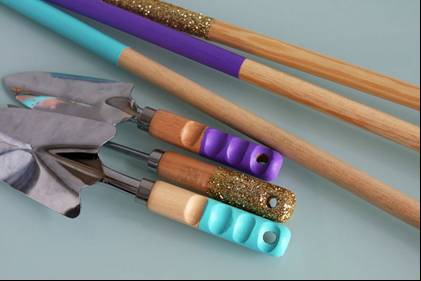 Who says chores should lack style and color? Not necessarily, you can always add beauty to your house, in accordance to your performance. Beautify your house with the essential items only. It's time to take care of the things that lack behind and are being ignored. Well, if you've got wooden cleaning and gardening supplies, wouldn't life become better especially for girls or women. This idea is mops, brooms and gardening is absolutely for you. You will need wooden gardening tools, acrylic paint, glitter, mod podgy, painter's tape and spray shellac.
Gather all these tools on one side and start adding fun stuff to the items! Decorate each item with which design you prefer to make them look attractive. These wooden house hold items will be mostly useful for girls who wants to enjoy while cleaning. There go! Start designing your own! The picture below looks extremely appealing. Look through the step by step method to make sure you understand everything clearly. You do not want to miss a chance on getting such useful items that are better and fun in every way. Best of luck!
5) Tree Branch Table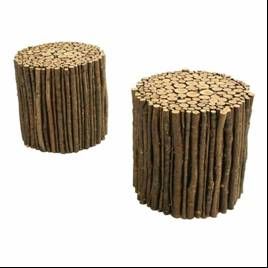 I' m hoping you would need something like this, that is much cheaper than buying an expensive material. Well I was, and trust me this was the most resourceful wooden product I have used in my life so far. Also I'm a huge fan of bringing in natural element whilst maintain a modern aesthetic, so I think this tree branch is as amazing as it gets. Especially when everything is handmade so you don't have to waste your money on buying Expensive things. At first, it appears to be a collection of solid branches, but the step-by-step procedure will reveal how it is the woods are formed into a table.
You will need to get a wooden box and then start by cutting them into tiny holes as you see in the picture below. Moving on, paint the wood with any suitable color you think goes with it – a color that will look attractive and appealing. The next thing you need be doing is stick the tiny holes on the wooden surface of the box. Glue it together and let it dry off. Next you will glue down the branches on the surface, get plenty of branch and let them all dry overnight. Hopefully, the result will turn out just as you expected it to be.
6) Handmade Wooden Bangles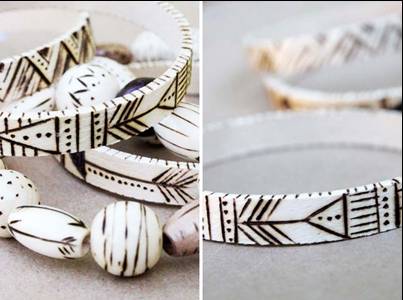 Doesn't the word excite you ready? Bangles! We love wearing them around our wrists, don't we? So, why not try to make handmade wooden bangles Imagine, it will be less costly as well as interesting. Give it a try and see the outcome yourself! Personally speaking, I'm a little obsessed with bangle bracelets and recently had an awesome idea to create my own using wood, to create some unique wooden bangles. While I could have bought these from the store rather I preferred to become creative instead and utilize my talent. They were perfect for my wrist!
Firstly, I separated the hoop and used the inside piece. Next I used my wood burning tool and burned specific designs onto the surface. Moving on, I repeat this task and used variety of wooden heads and burned designs into the surface of each one. Then, I used stretchy cord and strung my beads into a bracelet. From the picture, it may seem tricky, however, it is quite simple and a quick way to make your bracelets. You can even the design, on everything will be done per your decision. What more could you ask for? You can even use these for gifting purposes and your friends would adore such a cute gift from you! Share the piece if you liked it!
7) Leather and Wood Shelf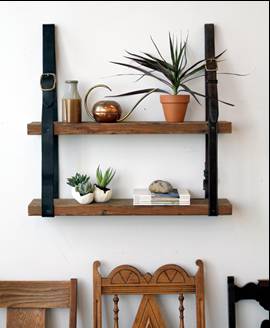 A hanging leather wood shelf has been on my to-do list for a long time and I was waiting to get started sooner as the result is of worth and useful. However, the biggest delay was finding the belts for this purpose. Has anyone of you discovered that thrift-shop leather belts are often overpriced? Something I wasn't proud of at all. Regardless, a little patience assured worthy enough. Hence, what I found was: one super long thick black belt and a couple dark brown well-worn beauties. What I adore about this project is that a mixture of belts looks great, the more it is covered with wood, the better. Also, the whole structure is very easy to set up if steps are followed correctly. It will be all customized! Just give it a thought, you will be able to select your own designs and colors! I would love dealing with such interesting and fun tasks.
I recommend, get a helping hand in the start as you might start to face difficulty when you have no idea about it. Gradually you will pick up. The materials to create such beautiful wood shelf are: 2 wood boards, 2-4long leather belts, carpet tacks, hammer, measuring tape and a pencil.
8) Rustic Pencil Holder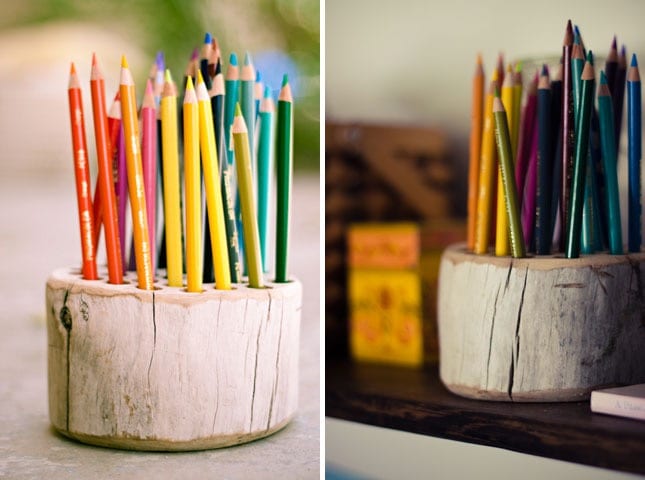 I don't know about you, but I myself needed a pencil holder that I don't have to go and buy, and I have seen a lot of people with rustic accessories and tableware popping up all over design blogs lately. This wood cake stand is one of my favorites, and I'm hoping to be able to make some so that I can share with you girls out there. Don't panic if you don't understand the whole procedure, just follow the steps and you would pick up in less time. I love the idea of bringing the outdoors in forming something useful productive. Which is why I was thrilled to go and pick up some woods and start creating! For the procedure to be started, you will need: Handsaw, small slice of wood either from a large branch or tree base, drill, sandpaper. Using your handsaw, cut the piece of wood in accordance to the size you prefer. The, drill holes into the top of the wooden piece (that will allow you to fit pencils inside). You can drill in a design or randomly. Sand down the wood and start adding pencils into it. There you go, your task is completed and it's ready to be in use for your purpose. Simple, wasn't it?
9) Little Wooden Houses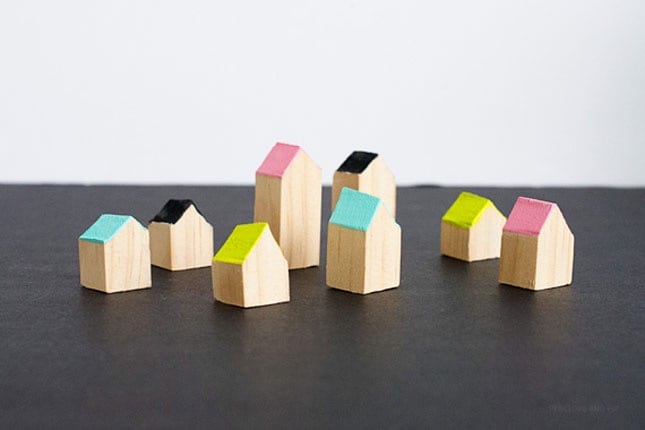 This is a really sweet and simple project that could make you or one of your friends feel special, because it has its own uniqueness and specialty. These little wooden houses would make a cute addition in the house placed anywhere. It could be a lounge, room or even kitchen. I think everything in miniature looks naturally adorable, don't you think? Well, let's get started. You will need: length of hardwood or balsa wood that is 2cm wide, saw, pencil, ruler, sanding block and acrylic paints plus a dish for mixing. For instance, if you're using hardwood then you will surely need a saw, however, in the case of balsa, it a lot softer and can be cut with just a craft blade. Moving on, mark off your house shapes on your mood. Then, cut your shapes. Remember to work safely with all the items, as it could also get dangerous if you're using a blade. So, be careful always! Sand your wooden houses so your edges are smooth. Paint the roof with different colors and see how they look. Line them up in a row and start looking for a place to decorate them. Girls love tiny things and you can also use it to gift a friend on an occasion. They are sure to be surprised! Doesn't the picture just appeal you? Go start creating your own and share them with us on our website!
10) Hanging Boxwood Pendant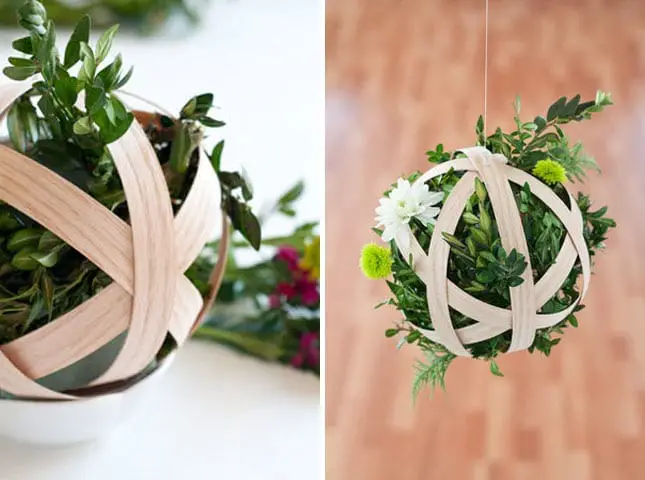 Apart from all the above things mentioned, another thing that attracts me towards it and I have always wanted to make one; the hanging boxwood pendant. Isn't it cool making such awesome items out of wood? These can be useful for girls as they love such types of projects. So, the materials you will need are: Wood veneer edging, small cup hooks, wood glue, small brick of green dry floral foam, boxwood and flower cuttings, ruler, scissors and so on.
First and the foremost, from the roll of veneer edging cut out five strips or as many as you prefer in accordance to the size you're making. Secondly, apply glue onto the very end of one of the wood strips. Then, connect the ends together forming a loop. Alongside, make sure you let the glue dry off so you can repeat the same task with other wooden strips. When all of this is done, you can add flowers inside or various types of greenery that would look beautiful. Add plant cuttings and hang pendants with string. I know all this might seem complicated to you in one go.
11) Wood Clock Project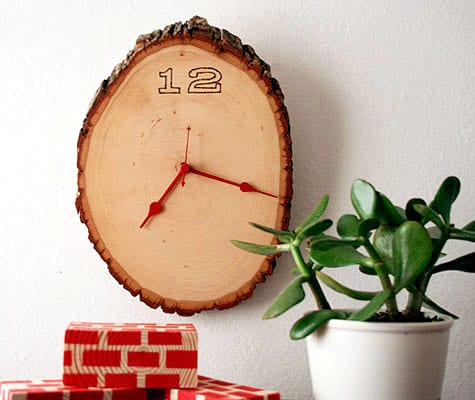 This is so inspiring! Making a clock out of wood. I'm sure the girls would love having one of these in their rooms. The clocks they have created on their own, less costly and simple! Why not research on it and start creating our own? Exciting much?! Of course, why would it not be- since a girl would enjoy playing with wood and creating something unique and useful of it? So, here's what you will need: small wood disk, pencil, scissors, clock mechanism and AA battery, larger size clock hands (depending upon the size of your wood), wood burning tool, small foam brushes, polyurethane, power drill and drill bits, paintbrush and sandpaper.
Lightly sand the surface of the wood disk and the metal clock with sandpaper, choose a favorite font that that you like to be printed on the wood screen. Hence, displaying time clearly. Thereon, burn the outline of the number onto your plaque, make sure you do not burn your fingers! Be extremely careful! What you need to do next is drill a hole on the middle of the wood and apply polyurethane to the wood allowing it to completely dry off. Turn the disk and add clock mechanism into the drilled hole. Follow the instructions by attaching hour, minute and second hands to the clock mechanism. Finally, set the time and hang it on the wall. How creative!! Have fun doing it!
12) Wood Necklace Holder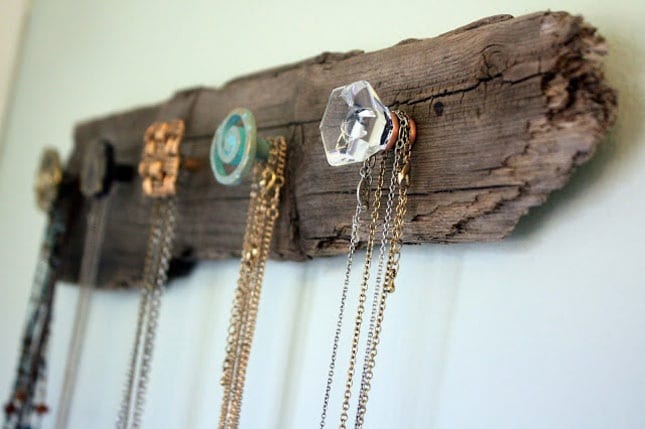 I found this genius idea to get my necklaces organized, and I thought I should give it a go. I got inspired by the idea, and decided to share among you girls. My thing used to stay in a mess, particularly the necklaces- when I had to deal with the hassle of tangling and untangling them. Then, one day I was browsing on the internet and found myself this useful necklace holder that can be easily made at home! It's sure worth a try. How cool would it look hanging on your walls? People entering would have a good immediate impact on your room seeing things placed in a presentable way.
To start with, you will need a flat board to attach your knobs. Be very creative regarding this type of task! For my board, I used a piece of driftwood that I found at the beach last week. Then, measure and drill the holes for the knobs. Thirdly, attach your knobs to the board using already drilled holes. Finally, attach the finish project to the wall and hang your necklaces. Now, your necklaces are officially organized and noticeable!
13) Gift design boxes for trinkets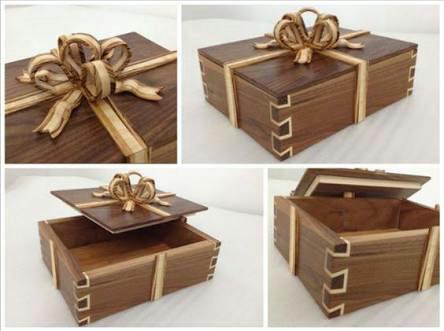 Girls do you need the small container to hold safely and soundly your special mementos?? Then see above the stunning and mind blowing Trinket boxes. Isn't it amazing?? I know you will definitely like it.
Everyone adores beautiful carved boxes as they are make for great storage of jewelry as well as for décor as well. . See the picture below, I had one which was gifted by a talented friend of mine and it is delight to have this box as being an envy of many cousins.
So Girls using this attractive and beautiful box you can now store your jewelry, Stationary, make up or any other valuable materials. Whether you want to give a gift to someone or want to add to your own collection, much type of trinket boxes are now easily available, you can chose any design or any style from the internet. Choose the one from the internet and begin your working now!
14) Heart embossed coin boxes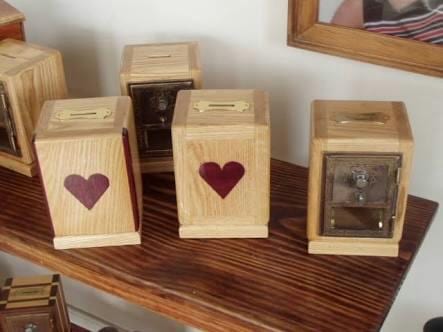 Heart design things are the girl's favorite. They are always attracted by this design styles. So girls, grab this as this item is a perfect tool for teaching you the lesson about developing saving habits which is very important for you in the present time as well as in the future. You can fulfill all your wishes by your saving activity.
They can be made easily and you will have a lot of fun if done as a group project. Then what are you waiting for? See the video below and start learning how to make this awesome and attractive heart embossed coin box.
You can also make these cute heart embossed box for gifting it to your best friends forever as well as to your mother's day too. They are perfect box for saving money or for other valuable items which needs safe keeping. These can also be the cute center pieces for coffee tables.
15) Pens and pencil holder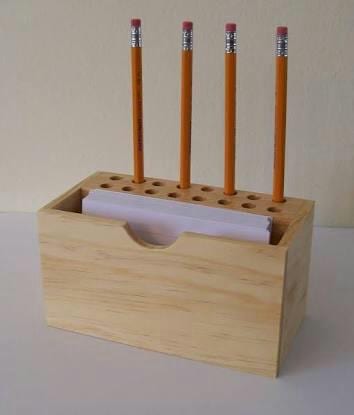 Nowadays, Time is the most valuable thing for all of us so don't waste your precious time in finding your scattered and dispersed things on the table while writing or signing some important documents. Just make this cute and elegant stationary holder which will hold your all pens and pencils and even some notes. This innovative pencil holder make for a perfect study tool and helps keep the desk clutter free with also paper holder for small bits for notes. It is of simple design can be used in both home and offices. This can be made in any size and in any shape as u like. Make it according to your own choice and feel free to use it.
Now don't get worried and make it by yourself quickly by watching this tutorial. I also did it.
This takes some serious woodworking skill. If you are wondering what a radial engine is, this project is probably not for you.
16) Cute wooden lamps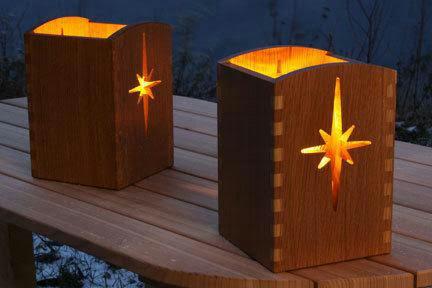 Are u tired of buying lamps again and again for your home? Now feel extremely free to make it by your own girls according to your own desire. U don't need to follow anyone's choice, just think about your own design and give it a true existence. So girls make these charming wooden lamps by watching this video.
If you don't like it follow this one as I found it the best!
Moreover I want to tell you all that These charming wooden lamps can be made for a perfect night side table with beautiful carving and can be used on the patio table as well for night dinner to enchant anyone plus are easy work and can be made in bulk for holidays and events decoration or gifts. Now you don't need to buy the traditional old lamps to gift it to your closed ones. Just make the one or in bulk and present it to your friends and families.
17) Geometric earrings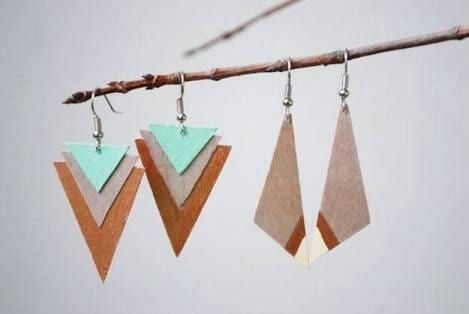 GEOMETRIC EARINGS? The name itself is so fascinating that it makes every girl more curious to know what are these and how can we make it? The answer is very simple and so is to make these elegant earrings. These cool geometric shaped earrings are perfect to wear for any girls days out or to add a flare to any out as they are unique and funky and can also make for perfect occasional presents as they are super easy to make this project cannot go wrong. They can be made according to your own choice and can also be given a 3D effect by just adding few steps more. Girls would love to wear it in any party or they will look super cool at beach parties and stuff like that. The best part of these geometric earrings is that these never goes out of fashion, I repeat never. So what are you waiting for girls? Watch this tutorial as soon as possible and get rid of old fashioned jeweler.
18) Wooden Lockets or necklace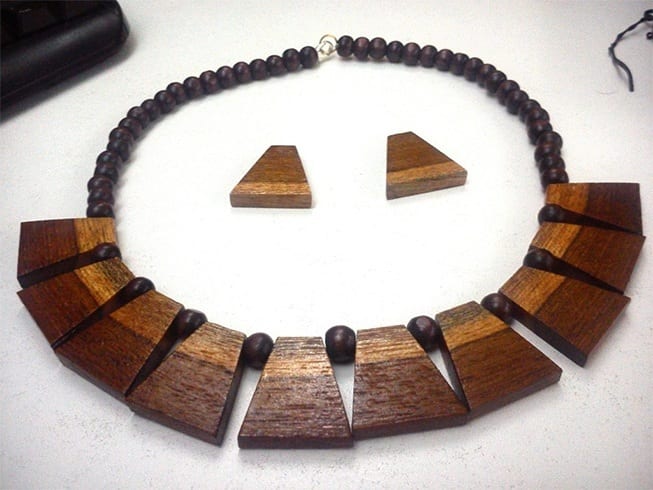 These beautiful wooden acrylic lockets and pendants are actually inspired by the movie 'The illusionist'.
For all the beautiful girls out there. Do u all need to add more perfection to your beauty? These wooden necklaces will provide you a great help to you for grabbing anyone's attention. Now you don't need to give orders and waiting for so long to fulfil your dreams. You can make these at home not only the necklaces but also the pendants, the circle or the heart shaped ones. They can be made in any size depending on every individual but it should be large enough so that u can store pictures of your family members or your closed ones. These adorable lockets are quite wonderful for everyday use as are beautiful and will work well with any outfit they are super cheap and easy to make and are perfect for those who are green behind the ears. They also make for quite cute friendship gifts for friend and family.
You can make a pendent by watching this tutorial or if u are not comfortable seek some expert advice.
19) Wooden book support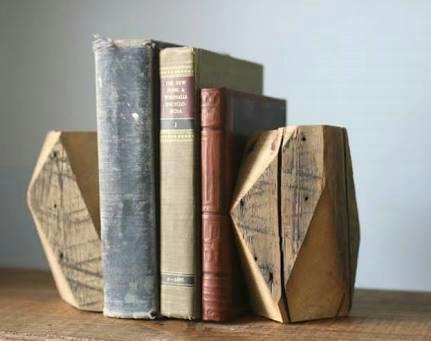 Books are girl's best friend, this phrase perfectly fits here for all the girls who love reading books and would love to retain them even after reading it. Don't worry you can keep your favorite books with you even if you don't have proper space or shelf to keep them. You can use this wooden supporter which will provide your books a great support and will lighten your stress. You don't need to waste so much money to buy those expensive shelves. Just try it and for sure they will add immense beauty to your room and will surely attract you to your books again and again. This unique wooden book support is perfect for all the nerds and book lovers out there and will give a new perspective to their room as it is unique and will add an air of coolness to their rooms, plus its super easy and low on budget as well. So why not use this to its best? You don't actually need any tutorial for this so just go for it girls.
20) Wooden coat hanger at the entrance
Wooden coat hanger or you can say wooden scarf hanger can be used to hang your coats or scarfs or even your bags. When you are in great hurry and need to rush to work just grab your scarf and bag girls and find your way to work. These are extremely accessible for all the girls out there. These rustic coat hangers give a nice overall look and is handy for hanging coats and scarf for easy access as well as useful in case of guest. These are standard so easy to make and the stuff can easily available in your house as well as it can be something to boast about in your next gathering at your home.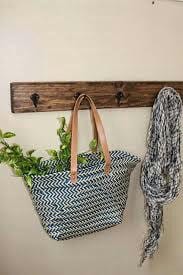 21) Wooden movable hanging closet
This simple wooden hanging closet can add a bit of iconic look of theatre to your room plus also looking suave, it can be used for coats and dresses needed for the week. It is quite simple and you can add design and decorations as per your taste and room. So girls make this now and prevent the creases of your clothes by having this wonderful wooden movable hanging Closet.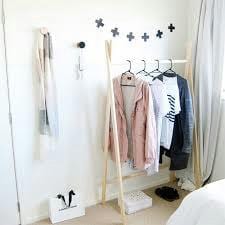 22) Wooden plant hanging boxes
These hanging boxes are perfect for small flower or potted herbs and will add to the beauty of your garden and patio, it will also make for a refreshing look and environment. The can be made easily by recycling old boxes also add some carving for decoration.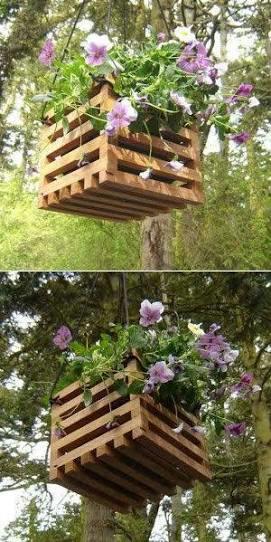 23) Wooden bird house
Birds add too much beauty to the nature and so this bird house. You will surely enjoy making these cute wooden birds houses. These cute bird houses are also great project for new babies and can easily involve kids. They are beautiful and will add to the overall ambience of the garden plus will be a delight for bird watcher. They are simple to make and may involve much glue work so can be fun to make as projects for parks and neighbors also. Gather your friends and neighbors and try it out girls. I know you will surely enjoy making this. You can decorate it according to your own choice and keep it in your garden and it would be loved by all.
24) Wooden door mats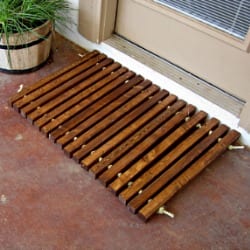 Girls would always love to look better and unique than others. You always find innovative and creative ideas which can make you more skillful. Here I can give u the best idea to make this beautiful wooden mat. This can be the best mat for all the girls who want to add beauty to their houses These wooden door mats are quite unique and make for a fun replacement for the regular one, these can be more long-lasting plus easy to clean so less work for the moms out there. They can be made by new babies and oldies alike with everyday material so recycling will go hand in hand with this project. You don't need to waste anything now neither u will need any expert advice to make this. This will not demand you deep washing and drying. You can clean it easily and can be used for many years. Just paint it out with your favorite color or put some fresh flowers and this would possess a great impression on your guests too.
26) Wooden Phone Holder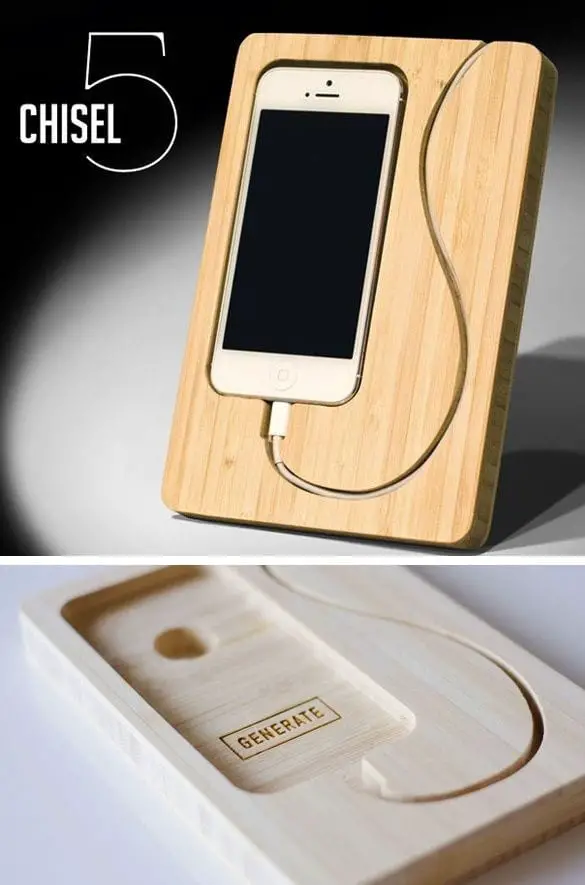 Girls are you facing difficulty in using the phone while driving? Don't worry here is the solution-"A wooden phone holder". This phone holder is durable and easy to install. Now while driving you can access music without any difficulty, you can play movies and most importantly you can answer your emergency calls.
27) Wooden Candle Holder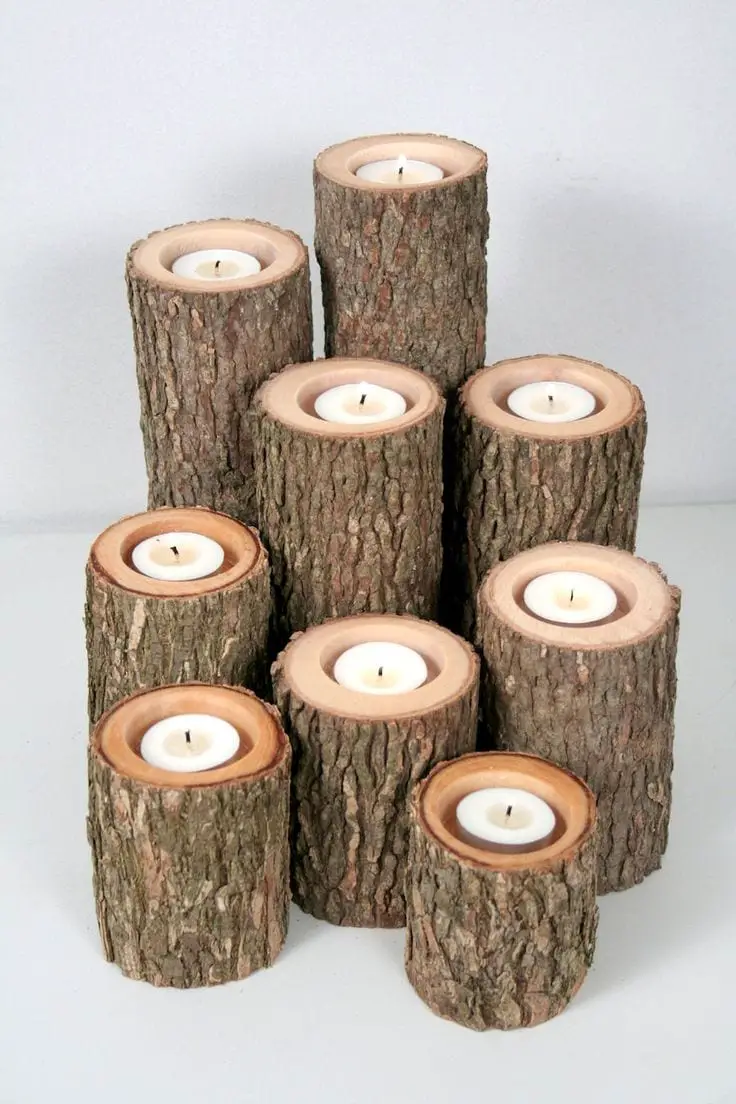 The beautiful and elegant wooden candle holders! Isn't it the best gift for all the girls out there? I think yes it is! It can greatly help you to switch on your mood within a blink of an eye and will change the ambiance all around you. These wooden candle holders can be in any shape and size or you can make it according to your own desire.
28) Earrings for Girls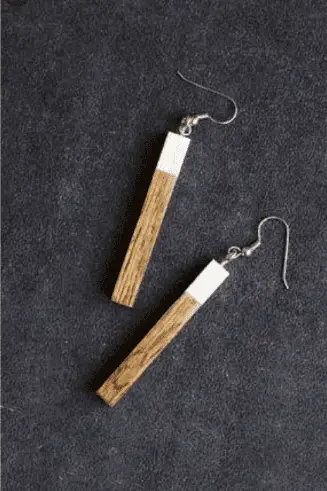 Home decorating is great any time of the year but it seems to be remarkably famous during the Christmas holiday and other occasions. During the month November and December, people are making plans to decorate and are searching for unique home decorating ideas. Fashion is always changing and one could go broke trying to keep up. Every season, fashion experts give us much fashionable jewelry. Wood earring for girl is one of them. Make your girlfriend Christmas gift of wood earring and present it to her. Wood earrings for girls specially designs with, wood turning, lathe, project, design, ideas, inspiration, woodturning, turning, woodwork, necklace, pendant. Whether you have been in a relationship for decades, been dating for only a few months, or been single for a while, you can present to her. Wood earrings for girls are easily available in very reasonable prices. This will also change your lifestyle. A Beautiful Mess of handmade, fashion and pretty earrings for your sister, mothers and for you girlfriend. Beautiful and easy to wear wood earrings.
You can find different types of wooden earrings and can gift the one you like the most to your girl.
29) Round Pocket Watch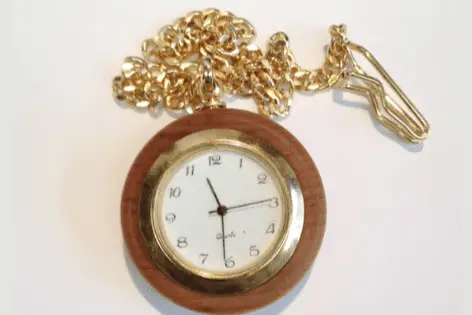 ​A pocket watch is a watch that is made to be carried in a pocket, as different to a wristwatch, which is strapped to the wrist. The round pocket watch were the most common type of watch from their development in the 16th century until wristwatches became popular after World War I during which a provisional proposal. Round Pocket watches made by wood generally have an attached chain to allow them to be protected to a waistcoat, or belt loop, and to avoid them from being dropped. These types of watches were also mounted on a short leather strap or fob, when a long chain would have been awkward or likely to catch on things.
​Women's watches were normally formed like, with a watch fob that was more attractive than defensive. Chains were frequently decorated with a silver or enamel pendant, often carrying the arms of some club or society, which by association also became known as a fob. Also common are clasps designed to be put through a buttonhole and worn in a jacket or waistcoat, this sort being frequently associated with and named after train conductors. An early reference to the pocket watch is in a letter in November 1462 from the Italian clockmaker Bartholomew Manfred to the Marches di Mantua Federico Gonzaga, where he offers him a "pocket clock" better than that belonging to the Duke of Modena. By the end of the 15th century, spring-driven clocks appeared in Italy, and in Germany. Peter Heinlein, a master locksmith of Nuremberg, was regularly manufacturing pocket watches by 1524. Thereafter, pocket watch manufacture spread throughout the rest of Europe as the 16th century progressed.
30) Wood Makeup Item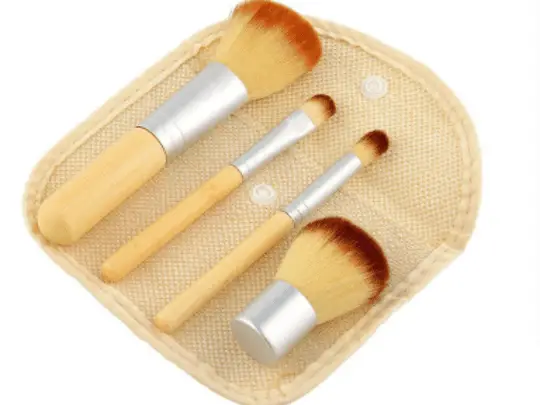 It is crucial for every girl to have makeup essentials for everyday look. Every girl should have good quality of makeup in her makeup bag such as foundation, blush on, eye liner. This wooden makeup kit is best for all the girls out there who don't want to waste their time in searching these accessories. It will assemble all your makeup items in one box and will keep you at ease. It is portable and can easily be fixed in your bag.
Conclusion
In the end I would like to ask you all if you enjoyed the items listed above? Will you now make your own item for your comfort? Well, you will love by having these items around you. What do you think about each of the item? Let us know and do share this article if you liked it Good luck for preparing.