The headboard is the most striking feature of your bedroom. This frames your bed, adds a sense of order and can turn a simple room into a luxurious, classy or rustic sleeping area. There are several materials you can use to make a headboard but lately the most popular is pallet wood.
Pallets provide a rustic, chic and country appeal to any room. It is widely used because it's beautiful inside and out. There are a natural beauty and warmth in pallet headboards compared to using metal or plastic headboards.
Here are 54 pallet headboard DIY plans to inspire you. These lovely pallet designs are very easy to make with an exception of a few that's just over the top designs! Most of the pallet headboards here were simply stained or varnished; only a few were painted.
1) Dark Color Pallet Headboard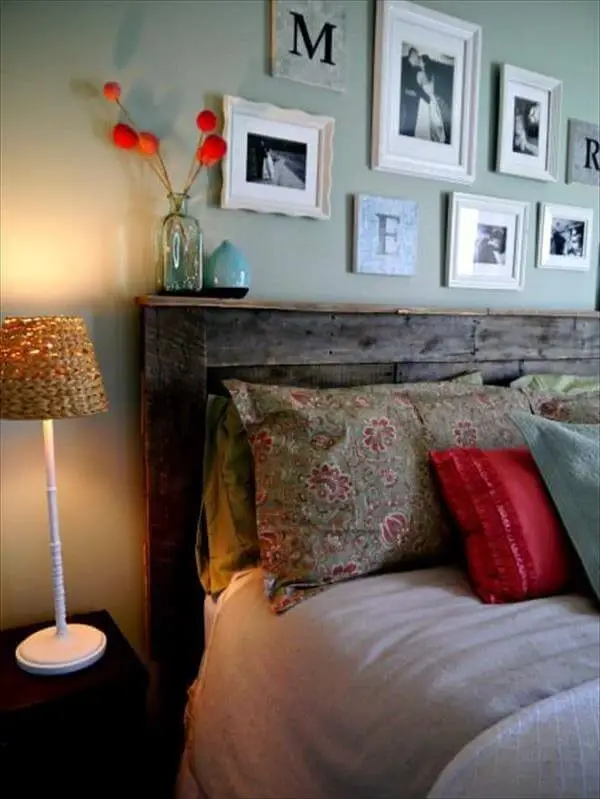 One way to decorate a bedroom is to use items that are close to your heart. Look at the lovely photographs on the walls of this bedroom. Nothing can be better to add more homely charm than to use a simple, traditional pallet headboard.
This headboard was made from pallets with natural dark color. The pallets were stained a slightly dark stain which has enhanced its lovely imperfect designs and shapes. You can see that this headboard is huge but it lacks height which lets you decorate the wall with photographs and another lovely décor.
There are so many ways to keep a bedroom more inviting. Aside from using photographs and decorations, you can also use lighting. A touch of warm yellow light on each side of the bed makes a lovely glow enough to warm the room up. This pallet frame headboard is an easy project that can also warm up any bedroom and this can be built in just a few hours.
2) Pallet DIY Headboard Design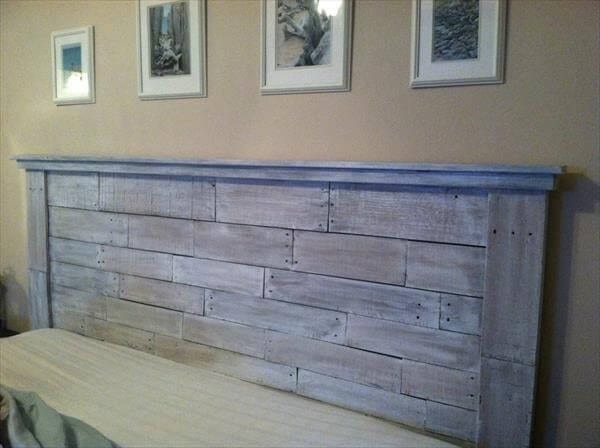 Pallets are versatile and can be made to look new, old, distressed or upscale. This design uses several pieces of pallet wood to make a lovely wall-attached headboard. This headboard is wide which was possibly made for a double bed. It has a ledge on top that frames the pallets but is not enough to hold anything.
3) Fabric Covered Pallet Headboard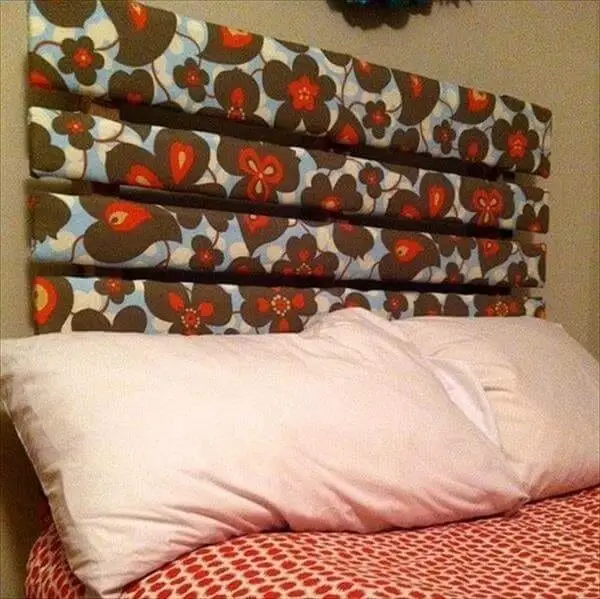 Where are the pallets in this headboard design? The pallets were covered with colorful fabric and were installed horizontally to create a very lovely, very homely headboard. You can make your own design with any fabric that you readily have.
4) Pallet Headboard Made with Love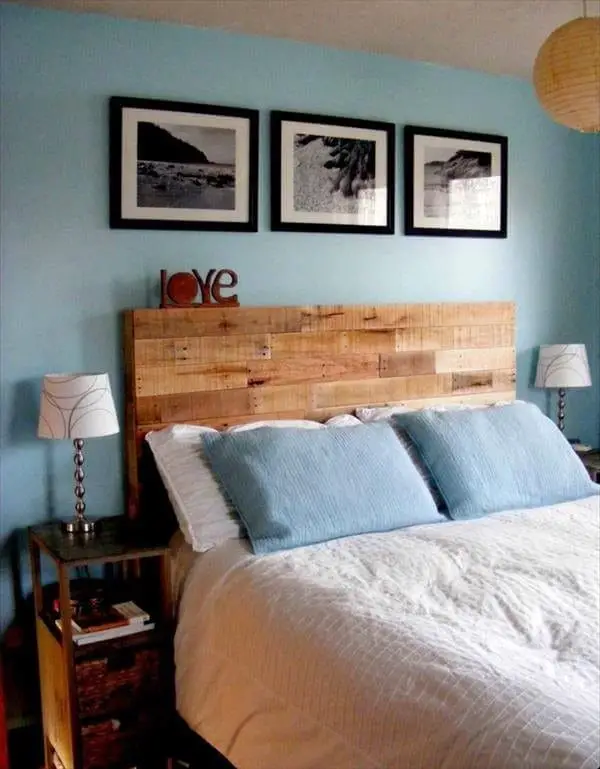 This lovely blue wall color just won't be that lovely without the light brown pallet headboard. This headboard is wide, suited for a double size bed. The boards were carefully stained with moderately-dark stain to stand out.
As you can see, very smooth and almost perfect pallets were used for this design and no doubt that the builder has chosen only clean and solid pallets for his project.
5) Very Tall Headboard From Pallet Wood
This is a large headboard that spans almost the height of the wall. The pallets used for this design had varying colors but the builder has strategically placed the pallets well in the design. This huge wall fixture was carefully stained lightly and this worked as the natural beauty of pallet wood shone through.
6) Crossed Pallet Wood Headboard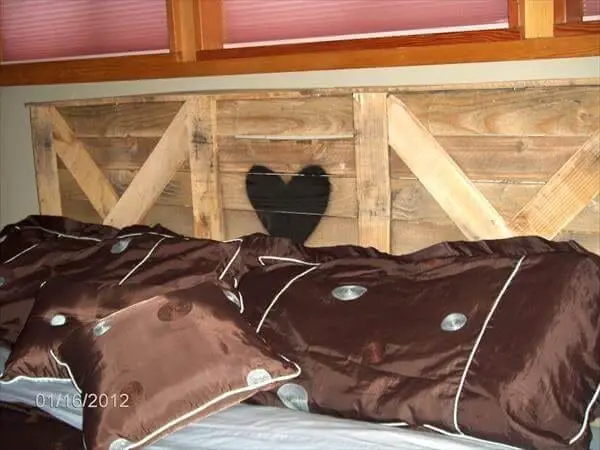 The design of this pallet wood headboard is its most popular feature. It has a large cross design that creates a country feel. The pallets used here are large and come in a variety of colors but the builder stained it just a little to enhance these imperfections. The design is quite obvious especially with the stenciled heart design but no doubt that this is very easy to make as well.
Do you know that pallet wood is a good canvass? Aside from this simple heart design, you can actually come up with pallet bedframes with different designs, shapes, and letters.
7) White Headboard Pallet Design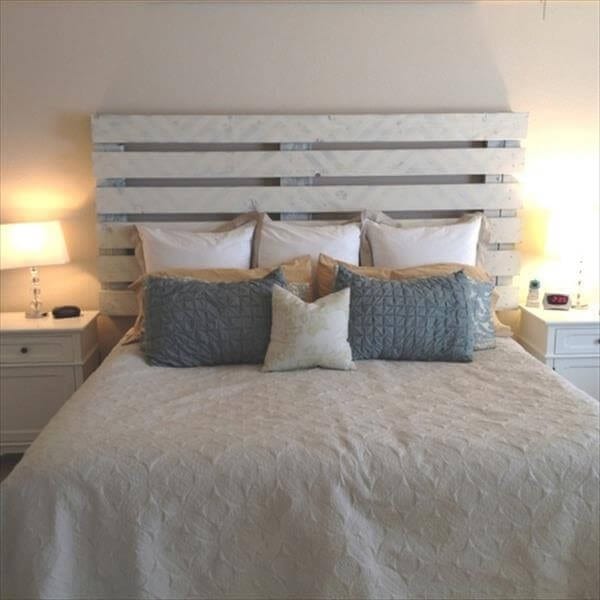 What makes an all-white design very inviting? Something in all-white rooms makes it relaxing and very classy which is why this headboard was painted plain, stark white. But as you can see, the white color has subtle zigzag patterns on them which have made it more interesting. This design looks modern and chic as well.
And this headboard is so easy to make. This plan will show you how to install and how to paint the pallets to create that unique zigzag look.
8) Classy Pallet Wood Headboard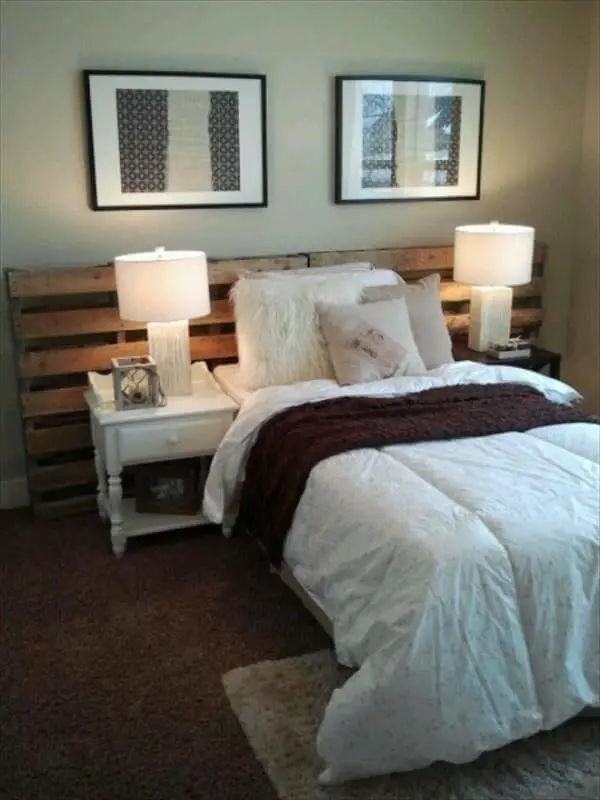 This very classy, very chic headboard was made by using only a few pallet frames. These frames were simply stained a dark, warm stain to contrast the light-colored walls.
Aside from the dark-colored pallet headboard, the warm lights from each side table have made this room even more inviting. This is actually a very easy project and requires no cutting or shaping. All you need to do is to stain your pallets and you are done.
9) Large Pallet Wood DIY Headboard Design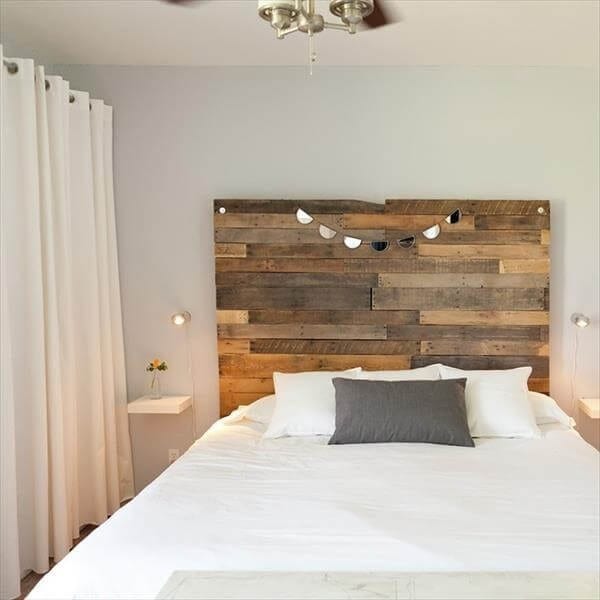 This is a small room but the large headboard has made it huge. The oversized headboard at the back is made from lovely pallet wood. This was given a light stain to contrast the bright room as well as the very large window. The bed is not too large but the headboard made it so luxurious.
10) Olive Green Pallet Wood Headboard DIY Design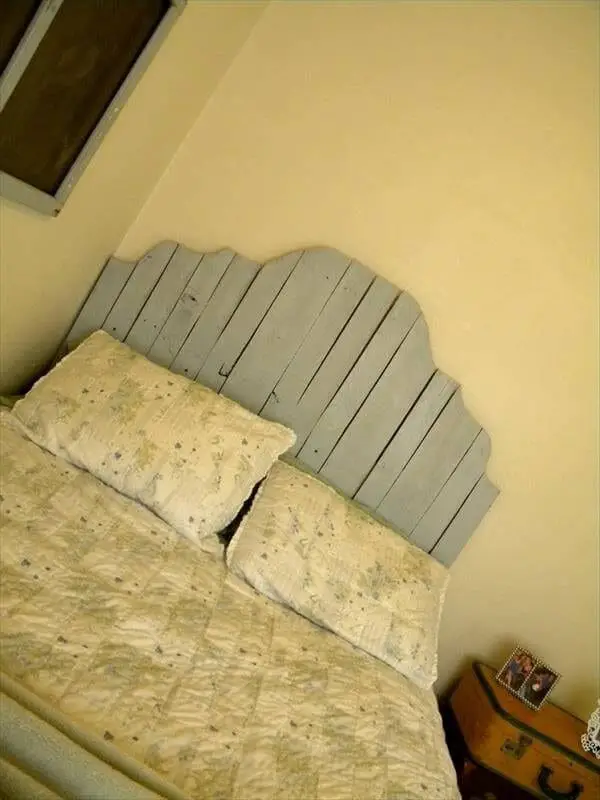 This is a headboard with a curved design which is possible for a girl's room because of its lively olive green color. This design shows the amazing versatility of pallet wood since it can be cut into different shapes and patterns.
Any woodworker would know that this design pattern is not possible without the use of a jigsaw. This kind of saw makes cutting any kind of material, with absolute precision possible.
11) Rustic Pallet Wood Headboard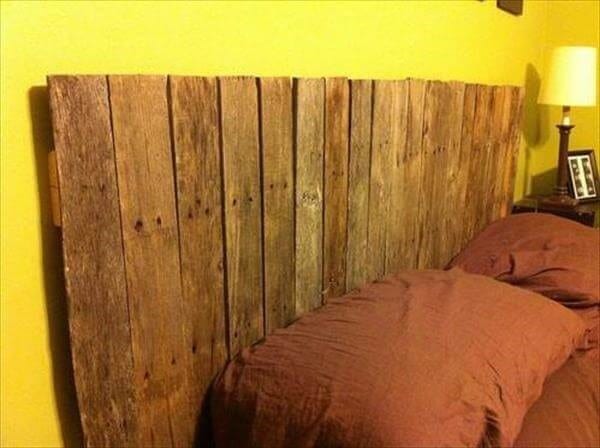 This is a rustic style headboard design that makes use of a number of pallets to complete. What's awesome about this design is that it was made to look very old, like it has been there for a long time even if it was just constructed weeks ago. This, of course, can be achieved with the use of varnish or staining your wood.
Pallet wood is the kind of wood that loves to be manipulated. It stains well and makes the perfect canvass for different designs. But to stain pallet wood takes a lot of time which is why you need to provide ample time for your wood to dry out before you can use it or install it.
To achieve this lovely, dark stain, you need to apply at least two coats. The first coat should be dry before the final one is applied. This will protect the wood and enhance its natural, lovely appearance.
12) Well-Made Pallet Headboard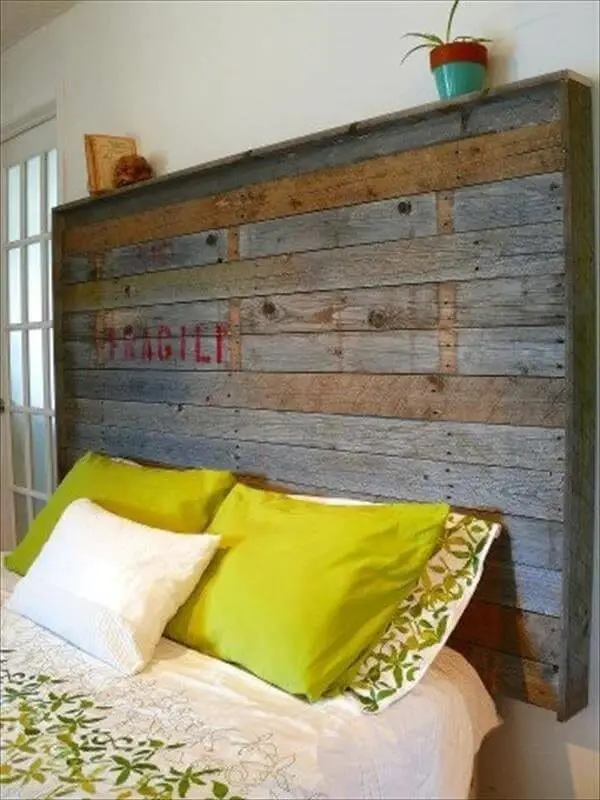 This headboard is tall as it is wide. It provides a warm atmosphere to an otherwise lifeless room. This is large and needs a number of pallets to build. It has space on top to place plants and other decorations. The surface of this pallet headboard was stained with a slightly dark stain.
It was not too dark to make the room dark because of the size of the headboard. The stain was not too light either as not to highlight the lovely natural beauty of pallet wood.
13) Classic Pallet Headboard Design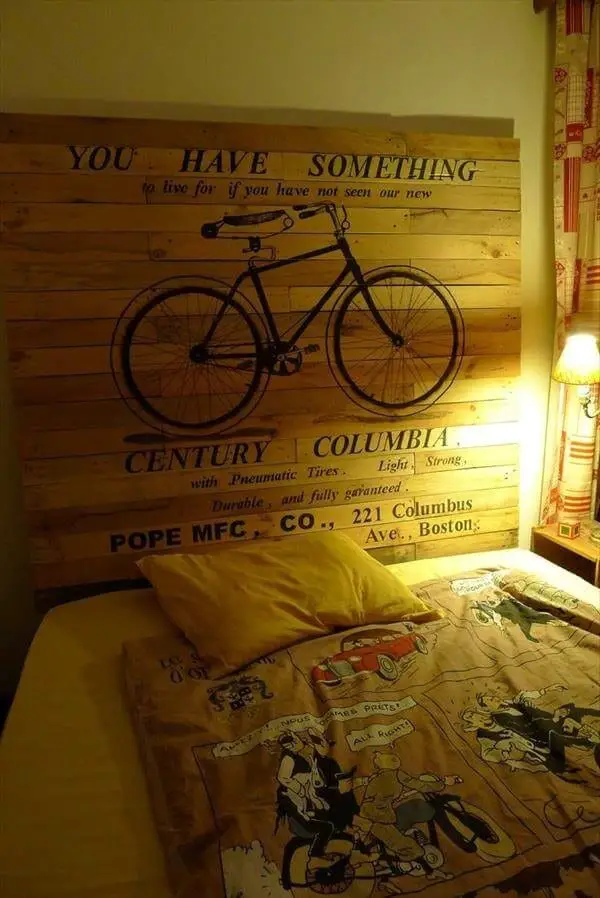 This is an ingenious pallet headboard design which is perfect for the cycling enthusiast. This lovely headboard has a warm and inviting appeal. It was painted with designs that the owner of the room can relate too. And you can use this as a room inspiration. Paint your headboard the design that you can relate as well.
And the design would not be possible without the pallet frame. The headboard pallet frame is wide as it is tall. This gives the designer/builder a large canvas to use.
You can tell that the wood was slightly stained which is important if you want to preserve your project. Only a light stain is needed so that the natural beauty of pallet wood may be preserved.
14) Distressed Pallet Wood Plan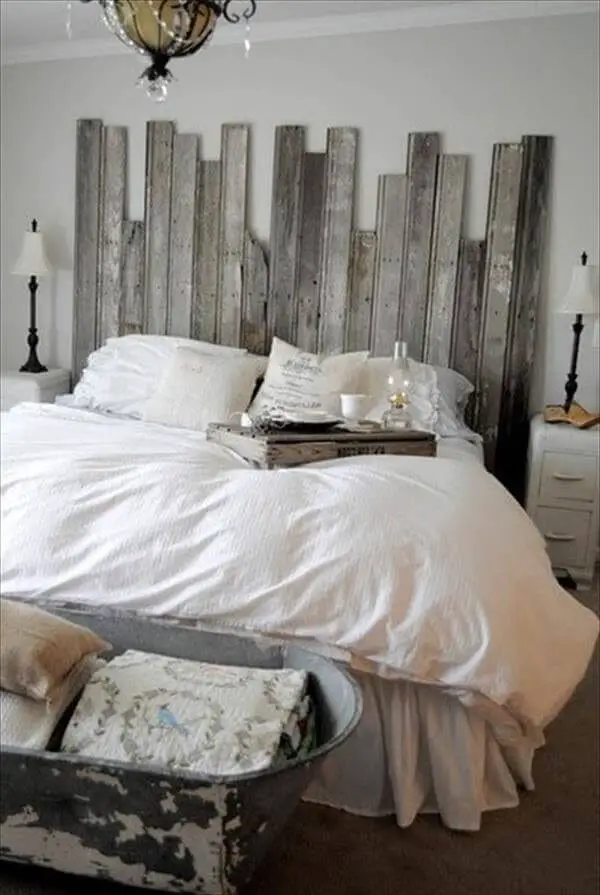 This is an irregularly designed pallet wood headboard with pallet wood of different lengths. The pallets used here were cut strategically to create this very irregular design.
The pallets were stained to bring out the natural beauty of wood.  This headboard design is quite tall and almost reaches the top of the ceiling. And although this is already a very classy design, you can improve this in several ways.
You can improve lighting by adding gooseneck lamps to highlight the height and design of the pallets. You can also stain this darker if you have light walls or paint this according to the color you want.
15) Industrial Designed Headboard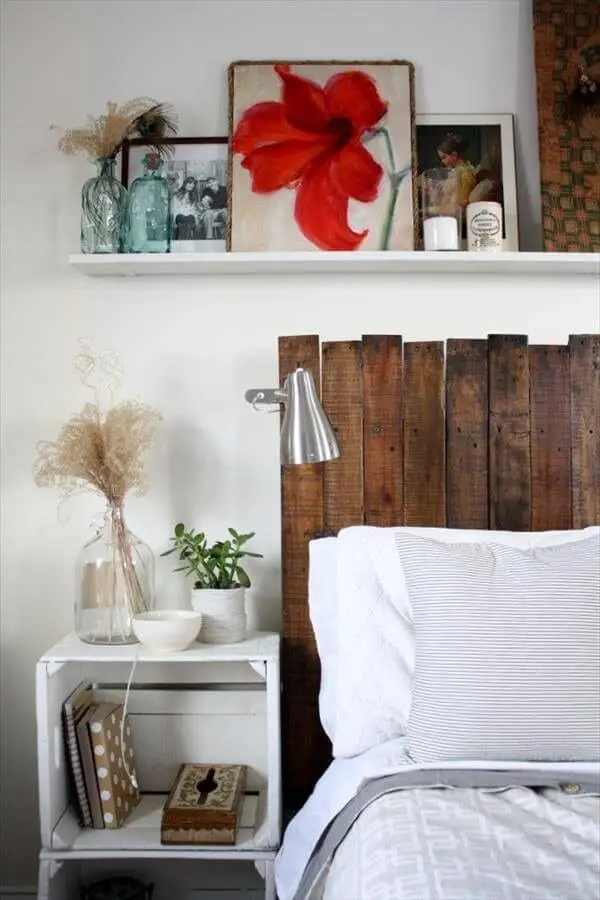 This headboard design was made for an industrial designed room; this explains the metal accents found on the bed and side tables. This is a very basic design which is made of several pallets arranged in a vertical manner. The pallets create a warm atmosphere in an otherwise cold industrial-designed bedroom.
16) Love Laugh Live Pallet Wood Headboard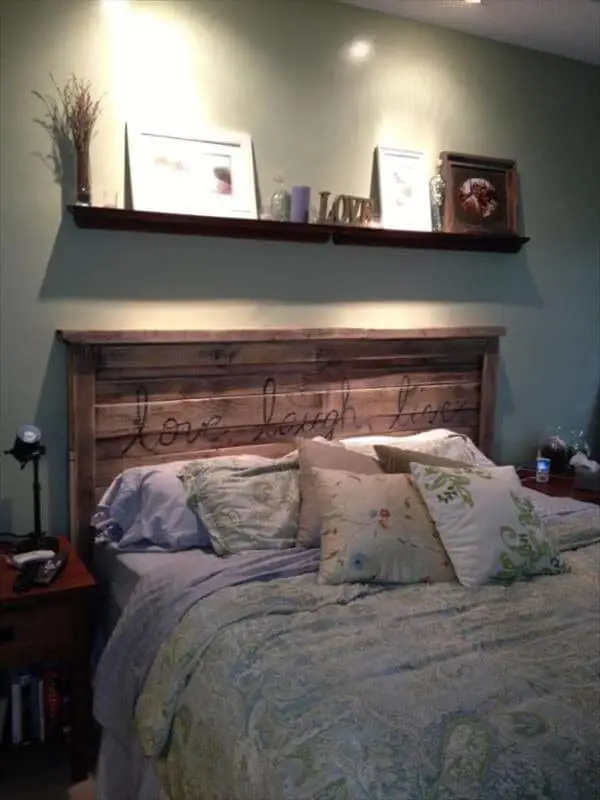 You may have known by now that you can use a pallet wood frame as canvass by painting directly on wood. This is good if you want to convey special messages in your projects. Here the words LOVE LAUGH LIVE were written on the pallet surface.
The headboard is as wide as the bed but is tall enough to provide some writing space. The top of this pallet headboard has a surface where you can place different items like picture frames, knickknacks, and other decorations. Lights were installed at the back and at the top to highlight the different items on display.
17) Pallet Wood For Child's Bedroom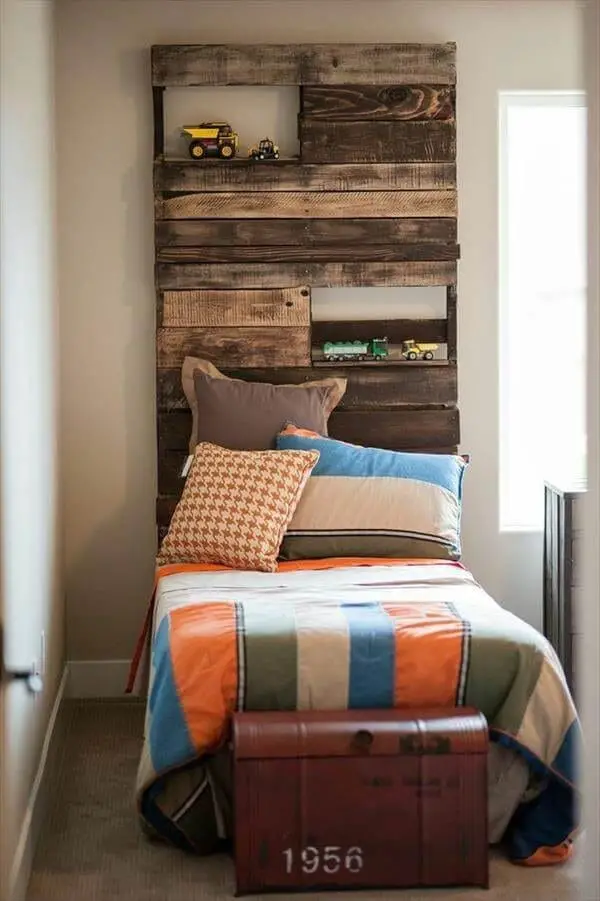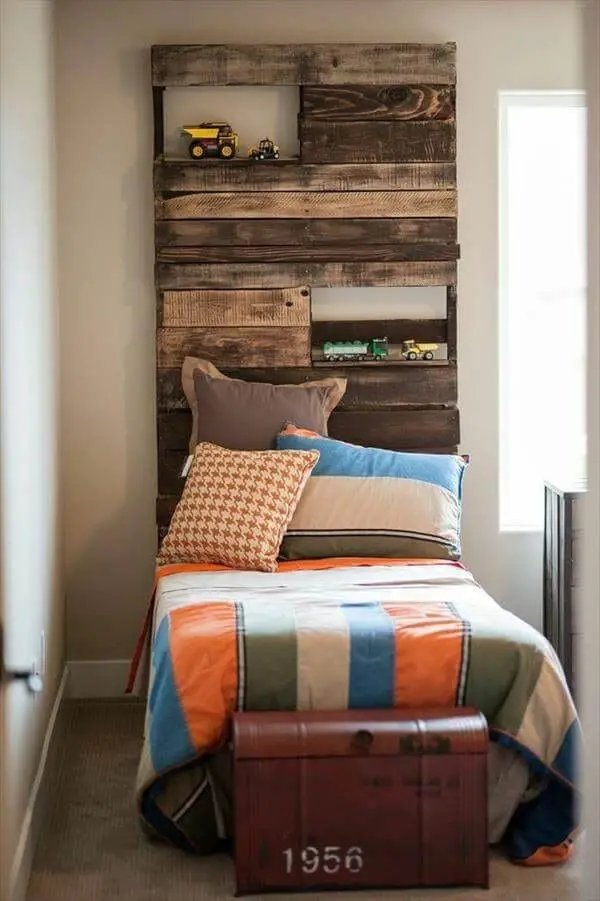 Does your child love trains? If he does then this is the kind of headboard for his room. This is a small child's room but it has a very soft bed and a huge headboard with a colorful design. The headboard has storage areas where model trains were displayed which are something that's really awesome for a train enthusiast.
The pallets used here were given a slight stain to show the lovely appearance of pallet wood. The pallets were also carefully selected to create a stunning wall accent.
18) The Two Pallet Headboard Design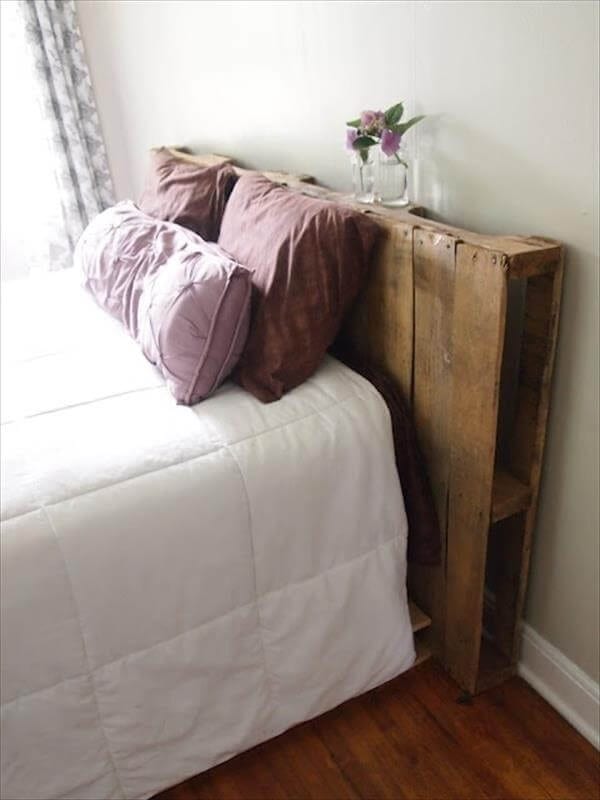 With just two pallet frames, you can make a simple project just like this one. This headboard does not even need to be cut, shaped or anything. All it needed was a light coat of medium stain for that perfect rosy glow.
The frame even offered some space to store a few items. You can place some photographs, a lamp or candles. If this is for a kid's room, you can place her toys, dolls, stuffed animals and books on this level space.
19) Almost an Entire Wall Pallet Wood Headboard
This bedroom has a very tall ceiling and no doubt it is very hard to accessorize. It's tough to choose furniture and is equally hard to pick a theme because you have to think about the room size.
This very tall headboard has dramatically added life to this very boring large room. Imagine this room without this headboard! This has made the room look relaxing, inviting and chic. The pallets used here were stained a very dark shade to create a striking contrast with the room color. Overall, this is an ingenious and luxurious design that you can build despite its size.
20) Double Bed Palled Headboard Inspiration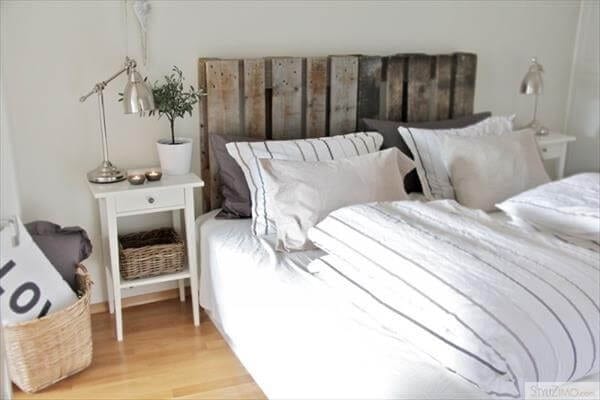 This dark pallet headboard was made from pallet wood with a dark shade. It has a very simple, easy to make a design that even someone new to woodworking would be able to follow. This headboard design is for a double bed. Therefore if you were to follow this design, you should build a wider design if you have a larger bed.