Christmas is one of the biggest things we are always looking forward to. Not only is it simply a joyful season altogether, it is also a great excuse to whip out our saws and create some awesome pallet décor and other woodworking projects.
We like working with pallets because they are easy to find and craft. So it was not surprising that we found a lot of Christmas pallet ideas as we were looking for some inspo! We compiled photos of these projects to hopefully get you to start working on your very own project too. Have fun!
1) Propped Up Pallet Christmas Trees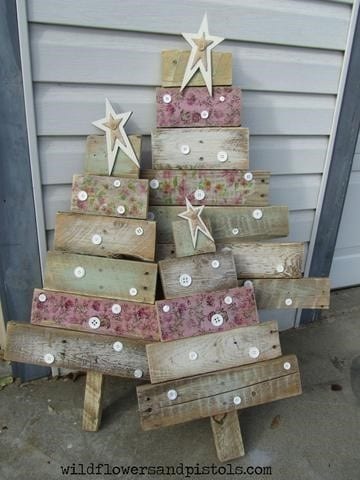 Pallet Christmas trees are among the quirkiest holiday décor you can DIY. They may take some time to build, especially if you are new to breaking pallets apart, but the overall technique is quite easy and the final décor is very cute.
We love this specific set of pallet Christmas trees because of the details. The buttons are simple but pretty ornaments that truly represent the childlike innocence of Christmas. We also like the mist effect because it gives the trees some ethereal glow.
The blogger who created these trees used proprietary milk paint, mod podge, buttons, napkins, and of course… pallet wood. All the tools are very basic: Sawzall, screws, and the like. This is a very fun project to do on a weekend!
Source: http://wildflowersandpistols.com/blogs/news/78165059-pallet-wood-christmas-trees
2) Pallet Snowflake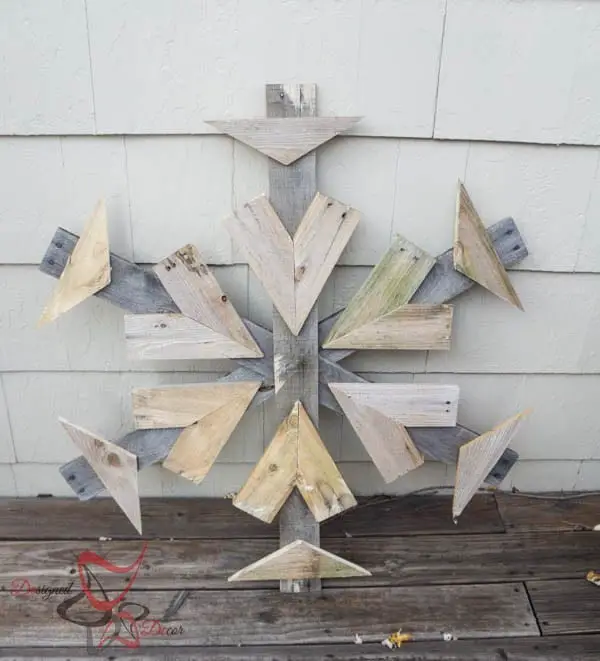 There are many variations of this pallet snowflake online, but they all follow roughly the same technique. If you are an experienced woodworker, you can probably eyeball the measurements. Anyway, the parts do not strictly have to be very symmetrical.
If you are looking for something versatile, you can build this pallet snowflake. You can make it in different sizes, hang it, glue it to a wall, or simply have it lean against a wall. You can even paint it or surround it with lights for a more Christmas-y effect.
You can also make multiple snowflakes of varied sizes and display them all together to form one huge snowflake showing different interesting patterns. This project is great practice for honing your ability to make precise cuts and symmetrical measurements.
Source: http://designeddecor.com/repurposed-pallet-snowflakes/
3) Chevron Christmas Tree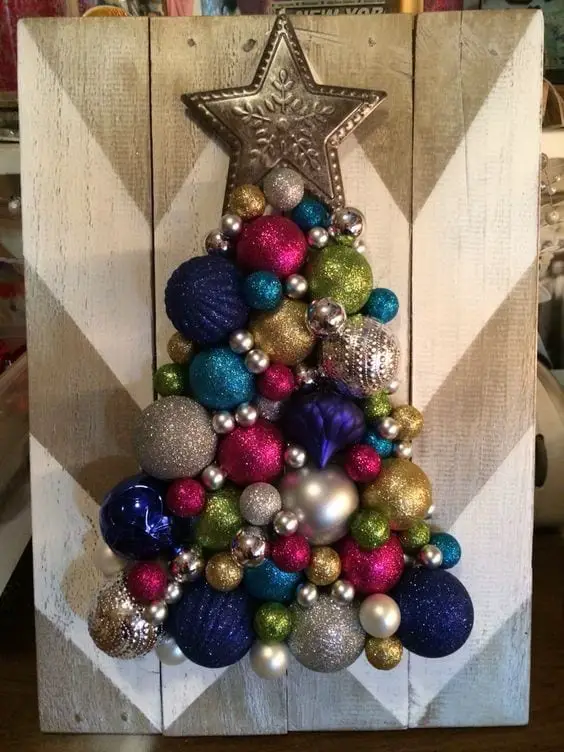 The role of your discarded pallet wood here is quite simple. It is merely the backdrop for your Christmas tree, and you can paint it in many different ways to create bright, colorful, cheery, festive patterns. Alternatively, you can opt for something simple, like the geometric backdrop seen in the photo.
There are many ways by which you can arrange the balls to form the Christmas tree. You can place them close together in a very packed layout or allow for a bit of space between them to show some of the pallet art behind.
Alternatively, you can add ornaments other than balls. You can put strings, beads, small sparkly items, or ribbons. As a whole, this project is a good thing to try if you want to put up special Christmas décor but do not have space.
Source: https://www.pinterest.ph/pin/342484746642544239/
4) Propped Up Pallet Snowman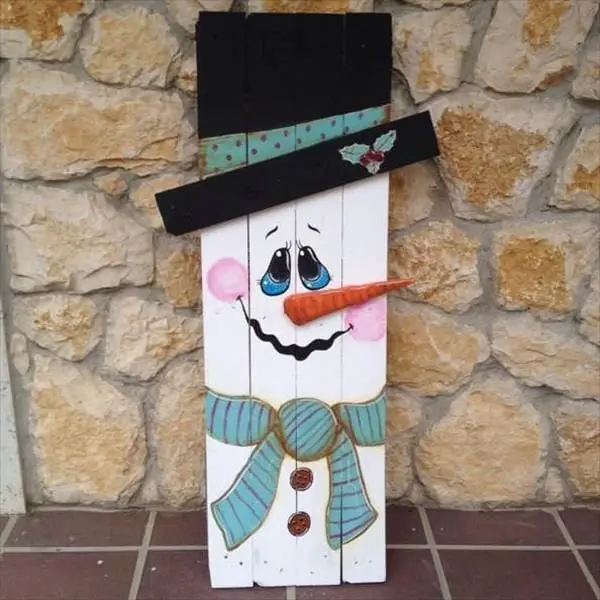 This is one of the simplest pallet projects on this list and the quickest to do. If you feel confident about your painting skills, feel free to prop this up against a wall in your front yard or porch. You can even hang it or glue it to a wall, depending on the size (weight) of your pallet snowman.
If you are putting your pallet snowman outside, make sure to find good quality pallet wood and use a good sealant to protect it against the elements. To make the piece look more attractive, you can also add real items, such as hats, scarves, buttons, and similar things.
This quirky project is fun to do with kids. The sight of their pallet snowman on display at home will make them feel proud of their handiwork and encourage them to do more DIY art themselves.
Source: http://mobawallpaper.com/pallet-christmas-decorations.html/best-25-pallet-christmas-ideas-on-pinterest-christmas-wood-within-pallet-christmas-decorations
5) Pallet Presents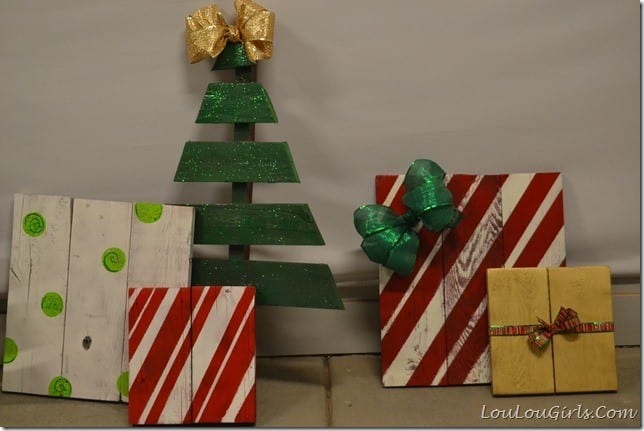 This Christmas pallet decoration is all about paint. Each "gift" is just a flat panel that is painted and/or decorated with ribbons and other items. You can paint simple patterns resembling those on gift wrappers in your local store or go for something a little more intricate.
Another option is image transfer. As the name suggests, you transfer a printed photo directly on the pallet wood surface. You can transfer patterns, images of Christmas symbols, or even edited photos of everyone in the family.
Due to the size and weight of these "gifts," you are free to put them anywhere: under or by your Christmas tree (real or pallet!), hung on or glued to a wall, or leaning against a wall in a group. This can also go on your mantelpiece.
Source: http://www.loulougirls.com/2015/11/diy-pallet-christmas-tree-and-presents.html
6) Lit Pallet Decor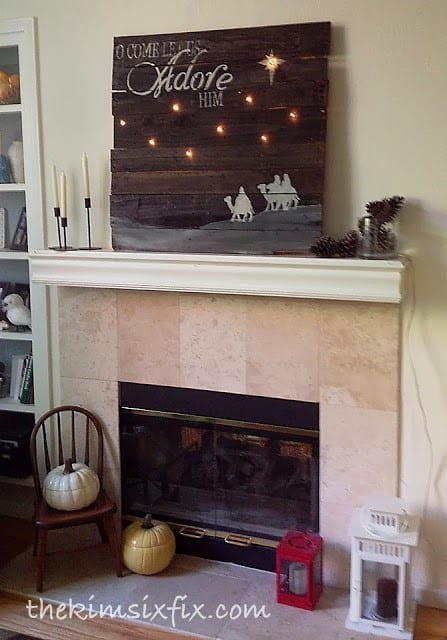 We have to admit that we immediately fell in love with the understated elegance of this pallet Christmas décor. It does not have the typical flashy icons that are commonly associated with Christmas, but the message is there.
We also like how the lights are set up. They do not shine too brightly so they look very subtle and soft instead of accosting the eyes. The text is also great because instead of going for the usual greeting, it relays something deeper and reflects the real spirit of the holiday.
The procedure is detailed in the link below. Make sure to follow the steps very carefully to produce a flawless output.
Source: http://www.thekimsixfix.com/2013/11/lighted-reclaimed-lumber-christmas-sign.html#more
7) Pallet Santa Claus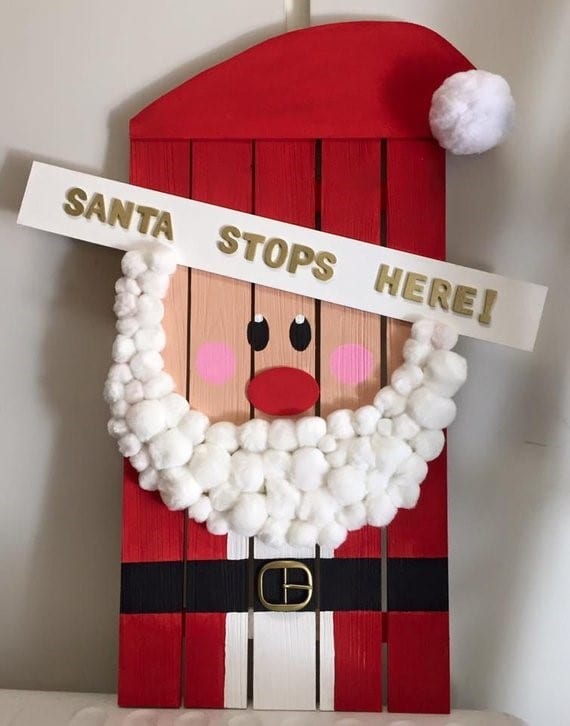 This is a variation of the pallet snowman we listed above, but we feel that this deserves to be a separate item because we do not see a lot of wooden Santas during Christmas. As you can see, this design is very simple, so you should be able to do this nicely even as a new woodworker.
We also love the details here. There is a real belt buckle, a nose, a hat, and the iconic beard. To us, this project combines just enough wood and cute add-ons.
We think this project will be a hit with the kids, given that Santa Claus is one of the first symbols of Christmas that they get to know growing up. Depending on the age of your child, they can paint the red area (no precision required) or the smaller details like the eyes and cheeks.
Source: https://www.etsy.com/listing/512465175/santa-pallet-decoration?ga_order=most_relevant&ga_search_type=all&ga_view_type=gallery&ga_search_query=pallet%20christmas&ref=sr_gallery-1-32
8) Simple Painting On A Pallet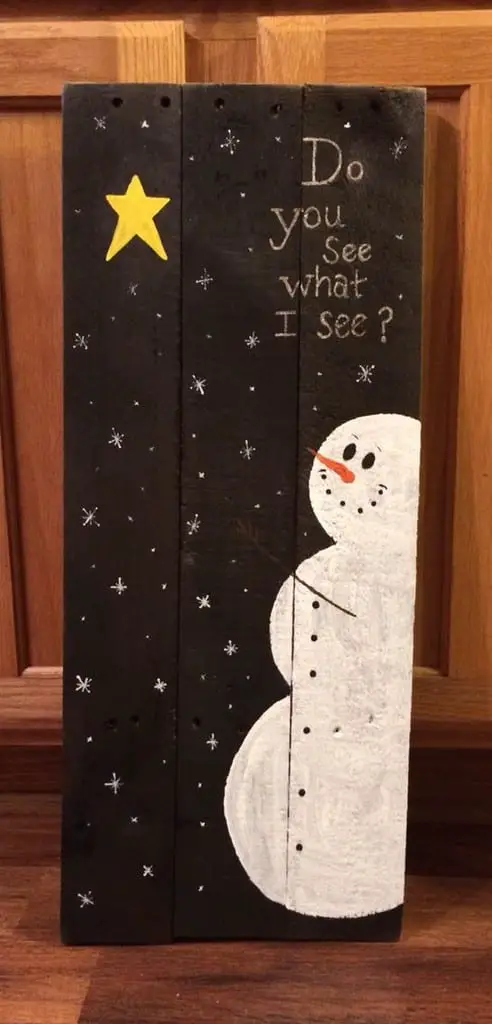 This is the easiest pallet Christmas project here. Take a pallet apart, put some boards together to create whatever size you are comfortable working with, and then paint away! The good thing about this pallet project is that it gives you absolute freedom regarding the kind of design you want to do.
You can paint something very straightforward, like the one in the picture, something abstract, a simple pattern, or a message. If you are not too good at painting, you can transfer images instead. Finally, hang your pallet painting, put it on your mantelpiece, or let it rest against your Christmas tree or a wall.
Make sure to paint or transfer photos with the right technique to avoid ending up with a stained or dirty (residue) pallet piece.
Source: https://www.pinterest.co.uk/pin/242842604886939653/
9) JOY Pallet Sign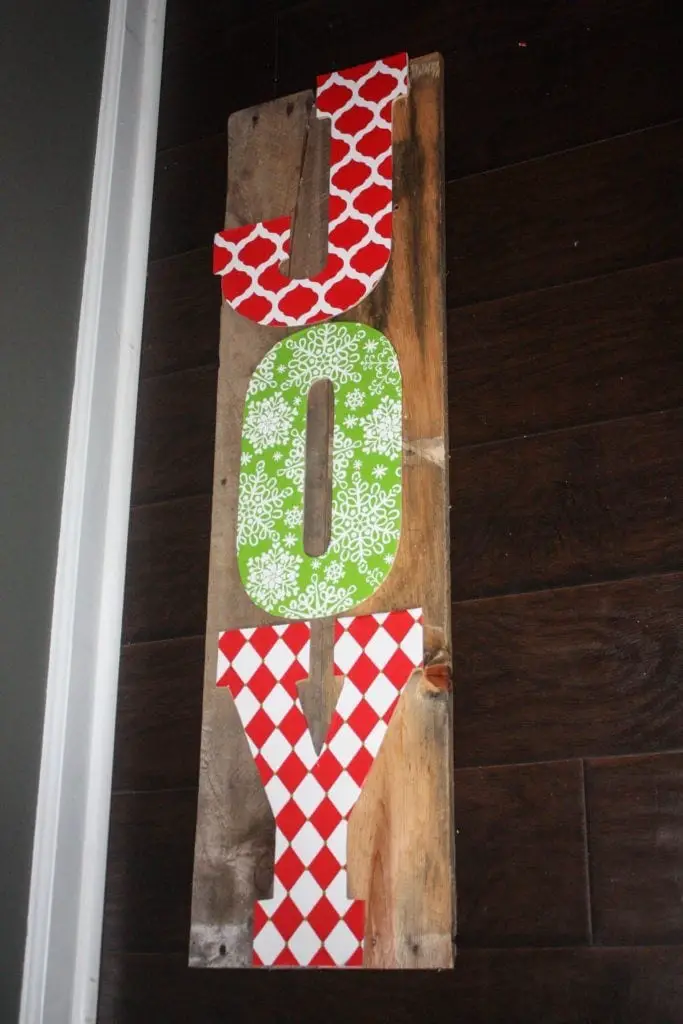 Christmas décor does not always have to be all about symbols and icons. Sometimes, you can be so straightforward as to just display text. The biggest advantage of this is that nobody has to guess what your décor stands for or symbolizes!
We also want to point out that the word "joy" is a good choice, especially if you are in a religiously diverse neighborhood or family. This way, you are spreading cheer to everyone and not only to those who celebrate Christmas.
Needless to say, this project takes less than 10 minutes or probably just a few more minutes longer, depending on whether you are buying your letters ready-made or you are making them yourself.
Source: http://www.re-fabbed.com/diy-joy-pallet-sign/
10) Corner Christmas Tree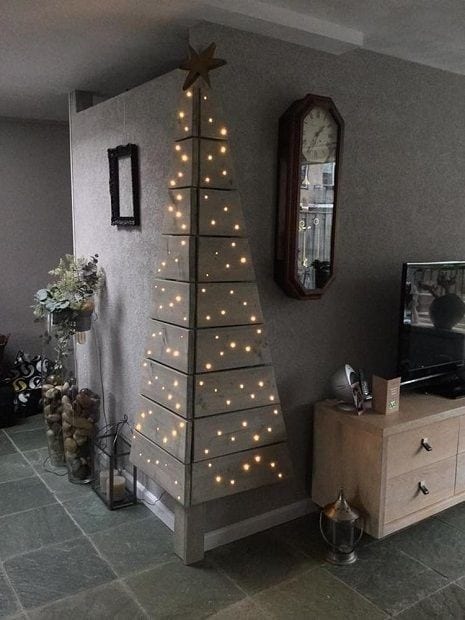 This must be the most eye-catching pallet Christmas décor in this list. We love how the tree has a 3D effect. There is an impression that you have a real Christmas tree standing in the corner when in fact, the "tree" is affixed to the wall.
This is obviously perfect for individuals who want to have a unique but affordable Christmas decoration that lets them practice their woodworking and save cash and space. The lights are also a very nice touch and should never fail to charm your guests if done correctly.
Source: https://www.pinterest.ph/pin/502010689707320339/
Merry Woodworking!
The joy of Christmas lies not only in all the festivities but also in the beautiful pallet projects you will be making. We hope you are as excited as we are about working on these great Christmas pallet ideas! Do let us know what you think in the comments and feel free to like and share!