Pallet wood has got to be the most popular building material, especially for indoor or outdoor furniture. More and more homeowners use pallet wood because of its many amazing characteristics. Pallet wood is a very strong material that can withstand a lot of weight. Keep in mind that pallet wood frames are primarily used for shipping and delivery of various products which is why pallets are naturally made strong.
Pallet wood is also very versatile. You can use the pallet frames as they are or dismantle the frames to use the pallet pieces individually. Pallets may be used to construct all kinds of furniture including cabinets, sofas, chairs, shelves, bed frames and more. You can even make wine racks, spice racks, tool shelves and so many more.
Aside from being strong and versatile, pallets are also cheap. You can simply collect pallets from a recycling center, from the trash and also from different companies and businesses that simply throw away pallet wood. The only things you need to buy are the hardware and other accessories you may need to use to build your pallet furniture.
Pallet wood is also beautiful inside and out. The natural color and imperfections on pallet wood make a nice backdrop for any kind of furniture. You can stain pallet wood a light or a deep stain or you can paint it according to the color accent of your home. Some builders simply prefer the natural color of pallet wood but if you are using your furniture outdoors you must stain it well, at least two coats. This will not just preserve the beauty of wood but will prevent water and sun damage.
We have the best pallet wood furniture plans for you. These are furniture that you can use indoors or outdoors. The plans here come with a complete list of materials and tools you need for every project. Pick the best pallet furniture that's perfect for your needs. 
List
Here is a list of more than a hundred pallet furniture plans to keep you going forever! These plans will help you make chairs, sofas, tables, wine racks, bars, shelves and bed frames to name a few. It's a guarantee that these plans are very easy to make and will not take you too much time and effort to do so. You don't even have to be a master at woodworking to work on any of these projects at all. Check these pallet furniture DIY plans now.
1) Outdoor Pallet Loungers
Pallet wood is one of the most versatile building materials. It can be made into almost any kind of furniture, indoors or outdoors because it is so functional and beautiful. Pallet wood has that certain warmth whether it's lightly stained or covered by a dark shade stain. And what could be lovelier to make than an outdoor lounger?
These lovely outdoor seating areas are very spacious and can occupy a large family or a large group of friends. Whether you are entertaining, having a private party or just having a movie night on the patio, these outdoor pallet loungers can keep you comfortable no matter what the occasion may be.
This outdoor lounge area is made from several pallet frames and may take a weekend to complete because of its size. But nevertheless, you can build this even if you are not an expert woodworker. 
http://sassy-sparrow.blogspot.com/2012/04/diy-outdoor-patio-furniture-from.html
2) Another Cool Patio Lounger
This lounger is a large sofa with pallet wood frames. You can use this lounger to entertain guests or to laze around one Sunday afternoon because it looks almost like a sofa bed. The pallets let this large cushion rise inches off the ground for a very comfortable seat.
This is a lovely place to hang out with friends or have a nightcap with your family. And of course, this is a very easy project despite its size. As long as you have all the materials ready, you can have this comfortable outdoor pallet furniture ready for guests tonight.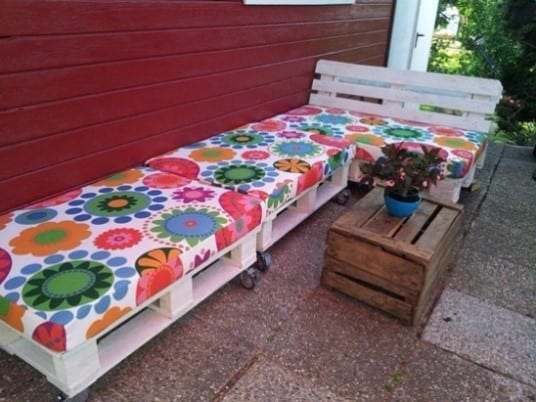 http://sassy-sparrow.blogspot.com/2012/04/diy-outdoor-patio-furniture-from.html
3) Soft and Comfy Patio Lounger Made From Pallets
This could be a lounger made for a hotel or a luxury home because it looks very comfortable and very classy. Believe it or not, this comfortable patio lounger has pallet frames underneath the large cushions.
Pallets are not just versatile but are also very strong. It can, in fact, take the weight of different products when these are shipped or delivered from one place to another.
In this design, the pallet pieces were placed underneath these cushions to make the seats more comfortable and more luxurious than ever. And because these loungers are so comfy, these will surely be an instant hit in the poolside or an outdoor bar or restaurant.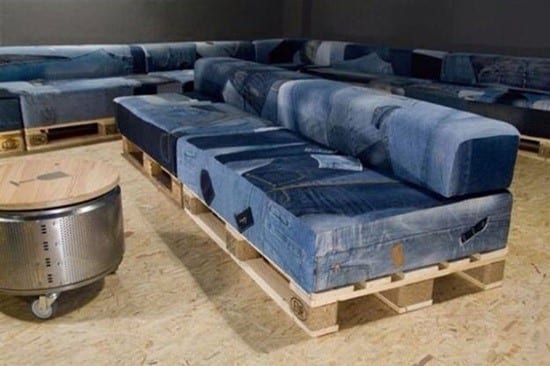 http://sassy-sparrow.blogspot.com/2012/04/diy-outdoor-patio-furniture-from.html
4) Sit and Relax Pallet Sofa and Lounge Chairs
Do you know that sofas, loveseats, and armchairs cost an arm and a leg these days that it's so expensive to replace your old one or buy a new one? This is why most homeowners who know DIY use pallet frames to make furniture. One of the easiest to build is a pallet sofa and lounge chair.
Looking at the sofas we have here, these were made just by stacking the different pallet frames together to make the frame for the chair cushions. Ordinary cushions become luxurious seats that can be used to entertain guests for dinner or a family gathering.
And don't worry about the pallet strength because these pallets were built to handle so much weight. A pallet sofa can seat two to three grown men without breaking a sweat.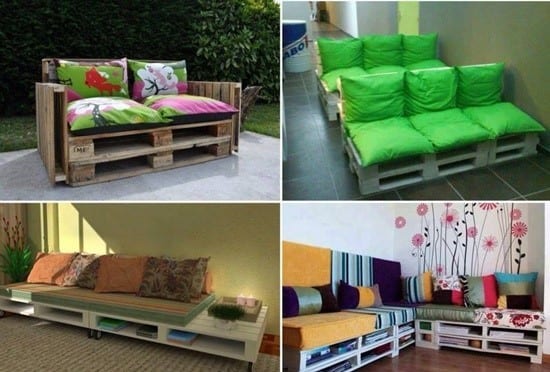 http://sassy-sparrow.blogspot.com/2012/04/diy-outdoor-patio-furniture-from.html
5) Pallet Chillout Lounge
A lounge is what it's supposed to be. It is where people come and gather to lounge around. It is where you can entertain guests, have a family gathering or just spend the day lounging. As you can see here, these loungers have a pallet frame. Even the center table was made from wooden pallet frames, therefore, this is pallet outdoor furniture set.
These are actually no different from the preceding pallet lounge and patio furniture, however, this lounger is smaller and more than a chair than a day bed. But no matter what, these are very easy to do build because these were simply made by stacking one pallet frame after another. With enough pallet frames, you can definitely finish building this patio furniture set in just a day.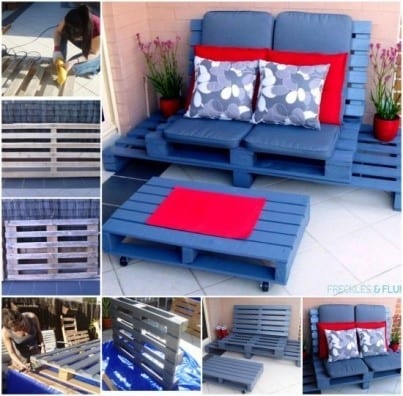 http://www.frecklesandfluff.com/home/timber-pallet-chillout-lounge
6) Modular Corner Lounge
This is a corner pallet lounge chair/sofa that looks like it was from a very classy home. It may look this way but actually, this design can be imitated without spending a lot of money. You see, pallet frames that you need to build this project may be obtained from a refuse area or from a business that throws away their pallets after use (yes there are companies who just throw these precious materials away!).
All you need to purchase are the cushions, covers and the hardware used for the project. And as you can see, most of the pallet frames used on this project were merely stacked together and assembled. No need to be an expert woodworker to construct this corner lounger; you can finish this just in time for a barbecue party or game night with friends.
7) Pallet Sofa
Sofas are not just found indoors. You can also place a sofa outdoors but before you do, you must pick the right materials that can remain strong and beautiful even under the blazing sun or cold rain. One of the most common materials used to build outdoor sofas is pallet wood.
Pallet wood is not just lovely but is also very strong and can withstand the elements provided that it's stained or varnished the right way. Wood stain can help improve the appearance of wood and can protect the wood from the harsh rays of the sun and rain. Staining and varnishing waterproofs the material so you can use it year after year outdoors.
This pallet sofa design is one of the easiest simply because all that is left to be done is to stack the pallet frames one on top of each other to make the sofa frame. Two frames, one on each side were used as armrests. What could be more comfortable than this very easy pallet sofa design?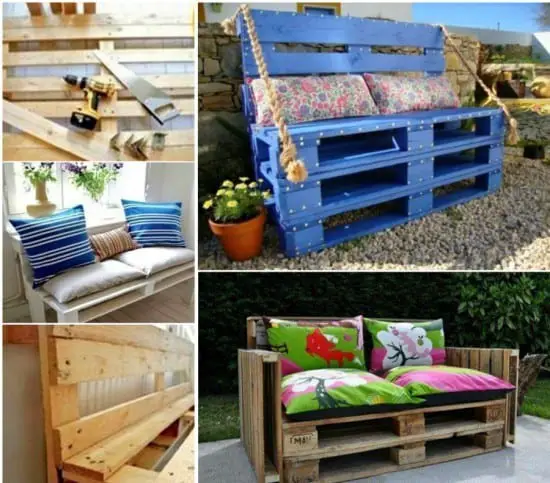 8) Pallet Bed Swing
This pallet bed swing will lull you to sleep even if you are outdoors. What could be more comfortable than this bed? Two large pallets were used to make this spacious pallet bed swing. A large cushion or mattress was placed on top of the pallet frames while soft pillows were added to cradle your head. If you think that this pallet bed won't hold, just see how it was fastened with a strong rope.
If you plan on using this design in making your own pallet swing then you must consider the strength of the tree branch (if you intend to place this under a tree!) or the strength of the beam of the house where this swing will be installed. A careful assessment will prevent any accidents when this lovely swing bed is used.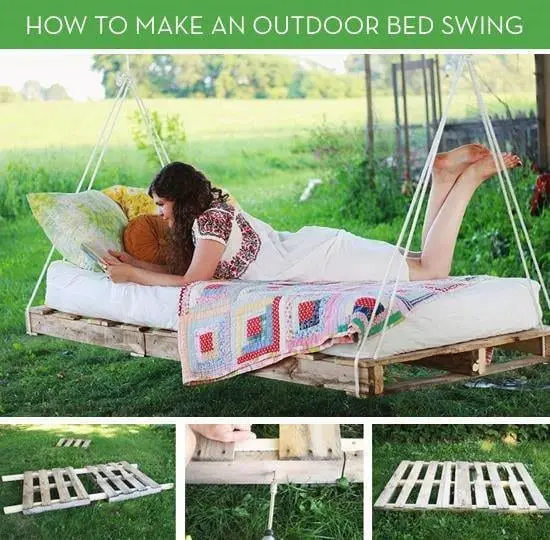 9) Pallet Bed Swing 2
If you did not like the previous pallet bed swing design then this one might steal you away. This design uses more pallets to support a larger mattress. But despite its size, it can only hold one adult or two children.
And instead of just tying the ends of this pallet swing bed to a tree or to a beam on your patio, another pallet frame at the top holds the swing in place. This pallet bed swing has a very easy design and because of this, it can be constructed out of recycled pallet wood pieces easily and quickly.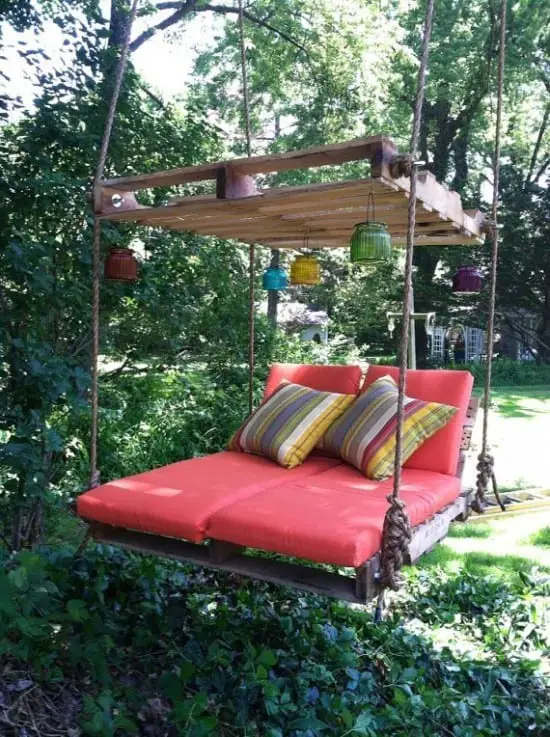 10) Outdoor Pallet Bar
Entertaining guests for a patio party or barbecue can be more than fun when there's wine, beer or liquor. This outdoor pallet bar lets your guests serve themselves with your drinks. This bar sits quietly in a corner and holds drinks, ice, bottles of wine or beer and finger food. Watch your guests navigate to this bar. No need to serve them each.
This bar is very easy to make and only requires a few pallet wood pieces to make. The top of this bar was made from cement but you can use pallet wood pieces, natural stone or tile.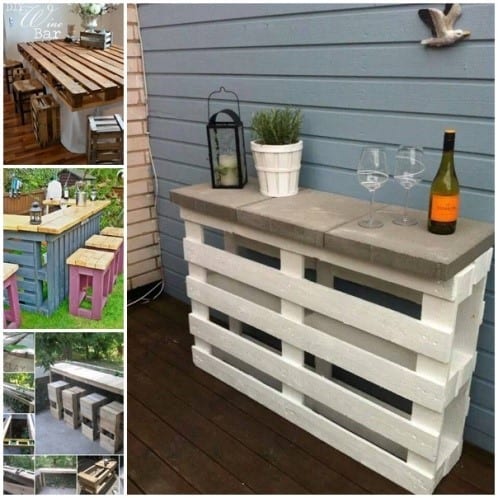 http://thepoorsophisticate.blogspot.com/2012/10/completely-free-pallet-wine-bar.html