21) Bel Air Gun Shooting Bench Plan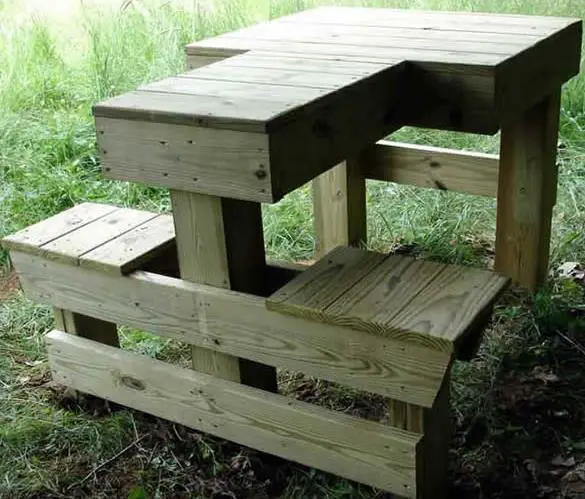 This shooting bench can accommodate both right-handed and left-handed shooters. It's anchored 9 inches in the ground. This shooting bench is a real rock steady. The 6 x 6 legs are adding stability even without a concrete anchor. Because you'll use minimum support, it means easy egress and ingress from the shooting position. You won't experience skinned knees due to legs wrapped against cumbersome supports.
This shooting bench measures 32 inches high and the seats are 14 inches from the ground. The seats make a very comfortable position when it comes to precision shooting using a bench rest. The materials used include lumber, screws, nails, plywood, and basic tools. The level of difficulty is intermediate. You'll have a greater confidence building your very own shooting bench today using available resources and purchasing of materials at a minimum cost.
Helpful Link: http://belairgunrange.com/services/shooting-bench-plans/
22) Solid Shooting Bench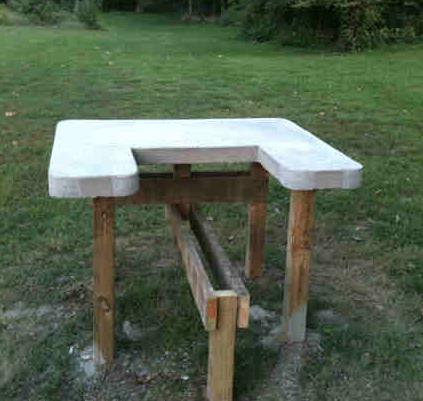 The location of the concrete-wood shooting bench was measured 100 yards after testing. The bench style of this project was based on the experience of the builder. He is also a shooter who hates running out of the room just to set some stuff when he is shooting so he wanted a bigger bench. He also wants a shooting bench that can accommodate left-handed shooters. He is a right-handed shooter and decided to build a U-shaped bench to accommodate both types of shooters for himself and his friends.
The frame was made with 2×4 lumber screwed to pieces of ¾ inch plywood. The ultimate plan was to pour the shooting bench on top of the posts to avoid lifting it into the right place later. The builder took 4×4 post, and he traced around all the four corners of the bench. The coarse part was laying the frame on the ground. The builder sprayed paint through the holes, marking the location of the posts. This shooting bench is a combination of concrete and wood.
Helpful Link:
http://centerfirecentral.com/shooting%20bench/shooting%20bench.html
23) Portable Shooting Bench by Dave Arnold
If you are shooting in bench rests matches, you definitely need a shooting bench. Some shooting ranges have so-called "loaner" benches. However, they are not user-friendly to all shooters. For you to shoot winning scores, choosing a shooting bench that can fit you and your gun is important. Steadiness is an important quality that you need in a shooting bench. You might also want a portable shooting bench that can easily be transported to and from the shooting range.
This shooting bench is heavy enough to add weight to its steadiness. Don't worry, it is not as heavy as requiring help from other people. It is portable enough to be moved from your vehicle to the firing range. The table top is made from a hardwood slab. You can use maple, ash oak, or walnut. Don't put a "spring" on the top. The best thickness is between 1 ¼  to 1 ½  inch. You can put a nice furniture finish once it is done on its wood portion.
Helpful Link:
https://www.muzzleblasts.com/archives/vol2no2/articles/mbo22_6.shtml
24) Shooting Bench by Gone Outdoors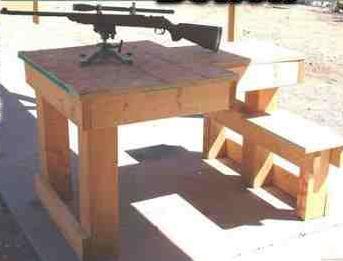 At eHow, they have a 5-step instruction shooting bench building plan ideal for those who want a target practice. So far, the hardest part of this project is digging holes for the shooting bench vertical posts. The shooting bench location influences the features of your bench. Once you create a permanent shooting bench, it is a good idea installing a roof for shade during rainy days and hot summer days. It will serve as a protection for longer shooting bench lifespan.
You can install the shooting bench on a concrete pad, adding stability and facilitating retrieval of the brass. You can also provide bullet holders, padded seating, built-in gun rests, and lockable or weatherproof storage for eye and ear protection. You can also provide small tools and other shooting supplies. You are more confident building your very own shooting bench today using available resources and purchasing of materials at a minimum cost.
Helpful Link:
https://goneoutdoors.com/plans-building-shooting-bench-5994135.html
25) Folding Wooden Shooting Bench by Towerstool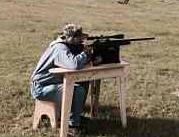 This is a very durable and sturdy folding shooting bench that is made for a shooter relying on a steady surface to correctly zero in on the target. It is easy and quick to set up. Just simply lift the top platform, fold the side legs into place, pushing the lock-in and you are ready to shoot. The features of this shooting bench include birch wood make, water-resistant finish, sealed feet, spacious top, hinged legs, tripod concept, and stands firm on various terrains.
This shooting bench is ideal both for right-handed and left-handed shooters. The top of this shooting bench measures 30 inches wide x 43 inches long with a part cut out with 35 inches total height to 30 inches leg room. It weighs only 28 pounds. The unique tripod design firmly stands even on uneven ground. There are no loose parts because they are completely assembled.
Helpful Link:
http://towerstool.com/shooterbench.html
26) DIY Shooting Bench by Lovemywoods INGO in GunOwners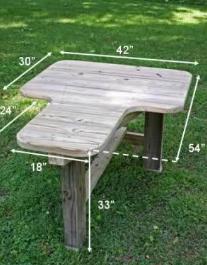 If you want to sight in a firearm, make the sighting-in process more enjoyable with this shooting bench plan. This shooting bench was modeled after the Atterbury shooting range benches. This plan has a separate stool so you could move it around wherever you wanted it, reducing the weight of the main shooting bench. Expect that this shooting bench is pretty heavy but with high durability.
This shooting bench has a simple design and it's made of treated lumber. It has a three-leg design since the table sits on the ground and will be regularly moved from one place to another. Even if the ground or terrain is uneven, the three legs will not rock. You can stain your shooting bench with a wood stain like you would normally apply on a deck. The cost of materials is about $70. It is a very comfortable shooting bench.
Helpful Link:
https://www.ingunowners.com/forums/general-firearms-discussion/39653-built-my-own-shooting-bench-pictures.html
27) sbk1971 DIY Shooting Bench Plan by ar15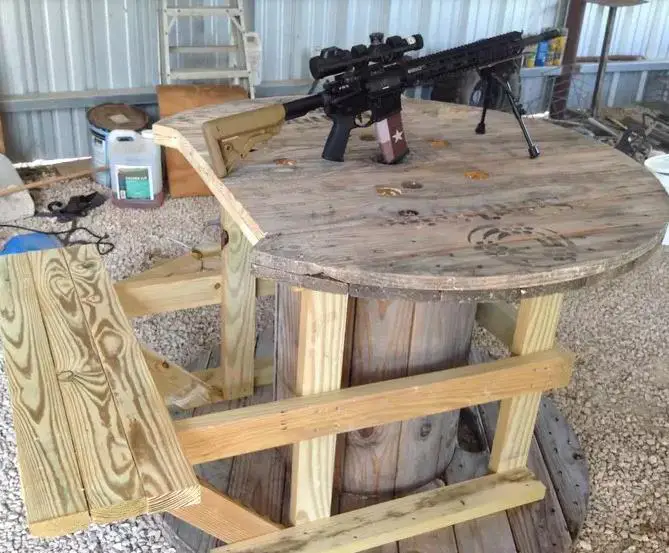 This is a unique wooden shooting bench. The materials used include lumber, plywood, nails, screws, and finishing coat. The basic tools used include drill, table saw, circular saw, and jigsaw. The builder has not provided a detailed plan but you can use the photos as the basis for your next shooting bench project. The overall design is very sturdy and heavy-duty.
You can send a message to the builder to ask more information since the site is a forum for shooters. The builder responds as evidenced by the thread. You can always use this information to create a very good shooting bench plan. The photos are clear and big so you can print them out easily as your basis. This is ideal for those woodworkers with intermediate and expert carpentry skills because of the design complexities.
Helpful Link:
https://www.ar15.com/forums/general/Shooting_bench_made_out_of_big_wooden_spools/5-1771192/
28) DIY Pallet Shooting Bench by Texas Bow Hunter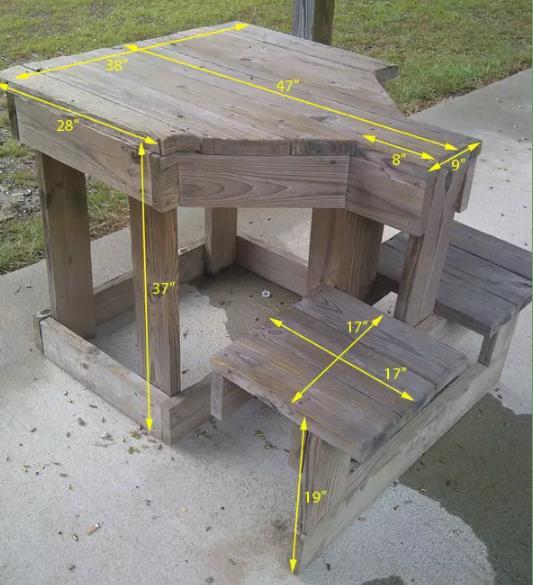 The builder has always been looking to build something that is useful and inexpensive. The builder provided schematics so of his shooting bench design. Pallets are usually used in woodworking and they are readily available with different sizes. Pallets are very affordable that won't cost you hundreds of dollars. With 48 by 48 inches pallets, you can build a sturdy shooting bench.
This has greater versatility using pallets. It is durable, cheap, and effective. It only requires minimal assembly time. For preventative maintenance, you can stain or paint it or just leave it as it is. Again, this shooting bench is only a schematics of the builder. You can use it as a good basis for your next woodworking project. Click the helpful link below for the full details. A supplemental video is also provided to help you.
Helpful Link:
http://discussions.texasbowhunter.com/forums/showthread.php?t=316878
29) Knockdown Shooting Bench Plans
The Knockdown Shooting Bench Construction Plans can be downloaded with 30 days free trial on the website provided on the helpful links. It is portable, so you can move around from one place to another. This shooting bench plan is a great accessory for shooting in a primitive shooting range. It is made from a single sheet of ¾ inch plywood. It can be assembled only in seconds. It is perfect for left-handed or right-handed shooters.
What you can read at first is the preview of the plan, but you can download if you want to and get a 30 day free trial of the plans available. Generally, this plan can be built using basic tools like a jigsaw, circular saw, hammer, and drill. The basic materials are plywood, lumber, nails, and screws. You'll have a greater confidence building your very own shooting bench today with the use of available resources and purchasing of materials at a minimum cost.
Helpful Link: https://www.scribd.com/doc/79715146/Knockdown-Shooting-Bench
30) Take Down Shooting Bench by Hunting Washington
This is a very easy to follow shooting bench plan. The builder modified his shooting bench by adding a 3rd layer of ¾ inch plywood that is glued and screwed at the bottom.  It was moved from the left leg side closer to the middle. The builder welded the bench legs and screwed in mounts.  Do not use using electrical conduit pipe with the non-taper threads for easy use. However, they wobbled.  Use pipe threads instead.
Even if this shooting bench is not light, it is very strong and solid. Knock the end caps off the legs, leaving bare pipe ends so they bite better into the ground better. You can also laminate yours of the overall thickness about 2 ½ inches. It is adjustable. You can have the legs ditched but still in level, allowing you to stand up while shooting slug guns and recoiling rifles.
Helpful Link:
https://hunting-washington.com/smf/index.php?topic=192354.30