31) Shooting Bench Project by Sonya Project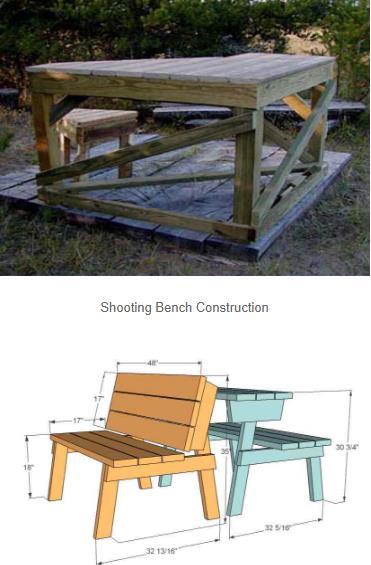 If you are looking for wood shooting bench at your private shooting place, there are many ideas and techniques to do it. What is best that suits the pocket to one end and durability to another. Doing such kind of creative projects needs creativity and cautions at the same time. The listing of right raw material and tool is just not a righteous deed if the technique is not appropriate. Well, to solve such anarchy,  out guiding pdf of wood shooting benches will help you best to create your own wooden shooting bench with little effort, time and energy.
The project costs $120. To wind up with such a constructive plan, time is estimated at 3 to 5 hours. The tools needed to equip are wood saw, screwdriver,  the rasp for edges, hole digger, wrenches, and more. With such essentials, you can easily create wooden shooting bench which will also help in building your skills in carpentry.
Helpful Link:
http://sonyaproject.blogspot.com/2014/04/guide-wood-shooting-bench-plans-pdf.html
32) Free Shooting Bench Plan by Howstuffworks
A target shooter is aware how difficult it is to hold a rifle or gun steadily in the hand in a target practice. That is why a shooting bench is a valuable accessory in a shooting range which is very useful for an avid target shooter. A shooting bench is basically a table where a shooter can place the rifle tripod or stand with a bench to comfortably sit down on while aiming a target.
This shooting bench plan used 4 x 4 x 6 inches wood posts, treated decking boards, post-hole digger, 2 x 4 lumber, concrete mix, and electric saw. The first step is choosing the exact spot for the shooting bench. It is important to have a clear shot with the right angle. The construction process involves digging two holes with a pole digger. This plan has shaped like a triangle for accommodating both the left-handed and right-handed shooters.
Helpful Link:
https://home.howstuffworks.com/home-improvement/how-to-build/how-to-build-wooden-shooting-bench.htm
33) Reloading Shooting Bench Plans by the National Reloading Manufacturers Association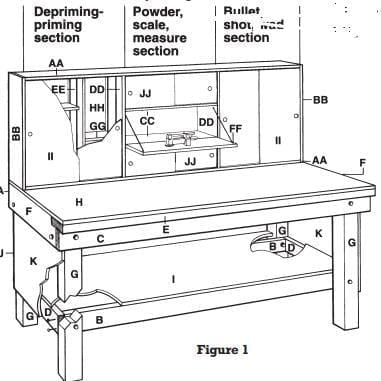 You can now streamline gun or rifle reloading with this easy-to-follow set bench plans for
a sturdy, simple, and practical shooting bench. You can reload the handgun, shotgun, or handgun ammunition. This shooting bench is specifically designed to resist the pressure associated with reloading tools and pressed. It is spacious for mounting presses and other shooting equipment.
The shooting bench featured on this plan is versatile, meeting the needs and expectations of reloaders. You can scale the dimensions depending on your space requirements. The measurements on this plan have been designed about a waist-high of a 6'2" shooter. You can adjust it so it will fit your height by making the legs shorter or longer. This shooting bench plan includes drawings with actual dimensions. It has been reinforced by screws and bolts for greater stability and durability.
Helpful Link:
http://accurateshooter.net/Blog/benchnrma.pdf
34) Professional Shooting Bench Plans by Super Shed Plans
This shooting bench plan is available on eBay by Super Shed Plans, offering a custom set of plans so you can build your very own shooting bench. By availing this plan, you'll be provided the step-by-step instructions on how to cut out and assemble all the parts of this bench. Colorful illustrations are provided in every step of the way. They have an entire library in their online store dedicated to engineering and firearms. This bench was carefully selected by their experts as well as the designs of their customers.
As they claim, their plans are easy to build and maintain. The features of their shooting bench plan have no ripped boards. The table top accommodates the standard size of boards without the fancy cuts. They provide the complete tools and materials list. The design is efficient and made to last. Customers can avail and they'll get a CD.
Helpful Link:
https://www.ebay.com/itm/Professional-Shooting-Bench-Plans-Build-Your-Own-Bench-Ammo-Books-PDF-CD-E51-/321973724593
35) Shooting Bench Plan by Maryland Shooters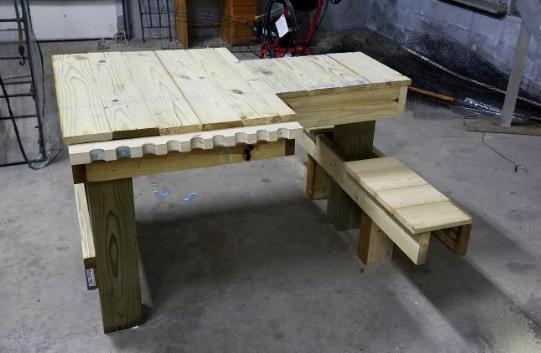 This plan costs $120 for the screws and pressure treated lumber. The photo on this site can serve as a good basis to build your next shooting bench plan project. It is best to build one that is suitable for right-handed and left-handed shooters. It is good to select high-quality materials and available tools for building a steady and durable shooting bench.
This is a permanent shooting bench that can be positioned at home or your commercial shooting range. Now, you can create a good shooting bench that is sturdy and comfortable.
Helpful Link:
https://www.mdshooters.com/showthread.php?t=200429
36) Shooting Bench by Mike Nelson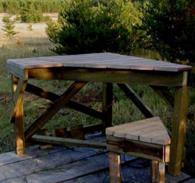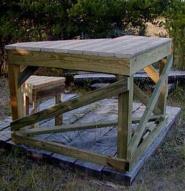 According to the builder of this plan, a good shooting bench should be ergonomic, solid, and sturdy. On the photos provided, the benches were designed with three legs and separate stools. Many shooting bench designs have integrated the seat fixed with the bench. However, you can simplify the construction by separating the seat, thus giving the shooter more seating options. The three-legged architectural design makes the shooting bench more stable. The bracing and framing make it sturdy and ergonomic.
When it comes to the design, it doesn't accommodate the right and left-handed shooters equally. However, the shooting plans can easily be mirrored in favor of the left-handed shooters. The three legs are for greater stability more than equity. By moving the seat to the right side of the table, or by turning the table a quarter turn, it can provide a left-handed shooter a good shooting platform. The builder used treated lumber for less maintenance. The total cost for this project is about $50 and an additional $30 for more expensive decking boards.
Helpful Link:
https://www.chuckhawks.com/shooting_bench.htm
37) Shooting Bench by Dutchworks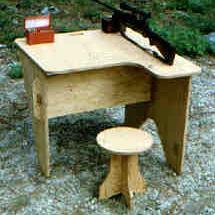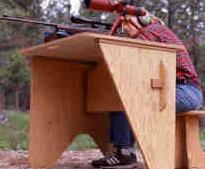 This shooting bench plan by Dutchworks is a portable and folding shooting bench. It can be built in a three-legged or four-legged configuration. It is specially modified to suit the needs of every shooter. You can build a heavy-duty or lightweight version. It can be finished either painted, plain, and varnished. Using a handy stump for building the stool from plywood scraps is important. These plans include clear illustrated blueprint with two pages of the detailed step-by-step instructions of this shooting bench plan.
Of course, you want a shooting bench plan that uses basic materials and tools available in your garage or home. Rather than spending hundreds or even thousands of dollars on shooting benches sold on stores or online, you may want to create your own using your carpentry skills.
Helpful Link:
http://www.butlerprojects.com/other/shootbench/index.htm
38) Shooting Bench by bcr308 ForumGon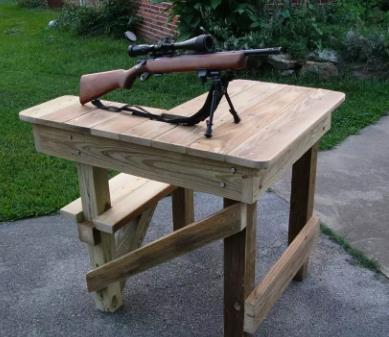 This shooting bench is a great addition for a shooting range. While you may perceive a problem with this plan because it is not accessible for left-handed shooters the builder just doesn't want to be wasting materials because he is a right-handed shooter. This shooting bench has a removable wheel so you can move it around. It actually works similar to a wheelbarrow.
The height is also adjustable so you can back your vehicle up to it, putting the overhang of the top from the tailgate and you can just flip it over. You can load this easily even without help. Now, you are more confident in building your next project. Of course, you want a woodwork project plan that uses the basic materials and tools available at home. Rather than spending hundreds or even thousands of dollars on purchasing items sold on stores or online, you may want to create your own using your carpentry knowledge and skills.
Helpful Link:
http://forum.gon.com/threads/what-do-you-think-of-my-new-shooting-bench.386313/
39) Benchrest Plan by Rimfirecentral
This benchrest plan is solid, portable, and heavy. The top table should be 32-34 inches high. When it comes to the knee clearance, the side connector strips must not be deeper than two inches. You have to have legs with plumped and squared using angle iron strips prior to welding. Filling the pipes for additional weight can be done using cement for greater stability.
You can move this shooting bench back, providing a clearly visible firing line. This shooting bench is ideal for clubs without a room or resources to build separate shooting ranges. Wooden shooting benches can be solid and made durable using high-quality materials.  Instead of spending hundreds or even thousands of dollars on purchasing items sold on stores or online, you may want to create your own using your carpentry knowledge and skills.
Helpful Link:
https://www.rimfirecentral.com/forums/showthread.php?t=92325
40) Shooting Bench Plans by Airgun Academy
Shooting benches are benches where shooters can shoot from. There's even a sport depending on benchrest shooting.  A shooting bench is used in stabilizing the gun for the best shooting possible. There are a lot of variations of shooting benches, and the basic benches look similar. They have large flat surfaces with cutouts on either rear side, allowing either for right-handed or left-handed shooters, getting close to the rested rifle.
When it comes to permanent shooting benches, they are built of heavy materials. The best foundation for a shooting bench is a concrete slab. With this shooting bench, the legs have the same length. You can get rid of this problem by constructing a bench with three legs. The level of difficulty if this shooting bench plan project is intermediate depending on the carpentry and technical skills of the builder.
Helpful Link:https://www.pyramydair.com/blog/2007/07/what-is-a-shooting-bench/