Children love rabbits because they are furry and appear more harmless than dogs and cats, as both of which have sharp claws and teeth. However, unlike dogs and cats, rabbits need to be placed in a hutch so that they can be easily taken care of.
But how can you make one?
In this list, we've compiled some of the rabbit hutch plans that you can follow so that you can construct one for your child's beloved pet.
1) Construct your own sectional rabbit hutch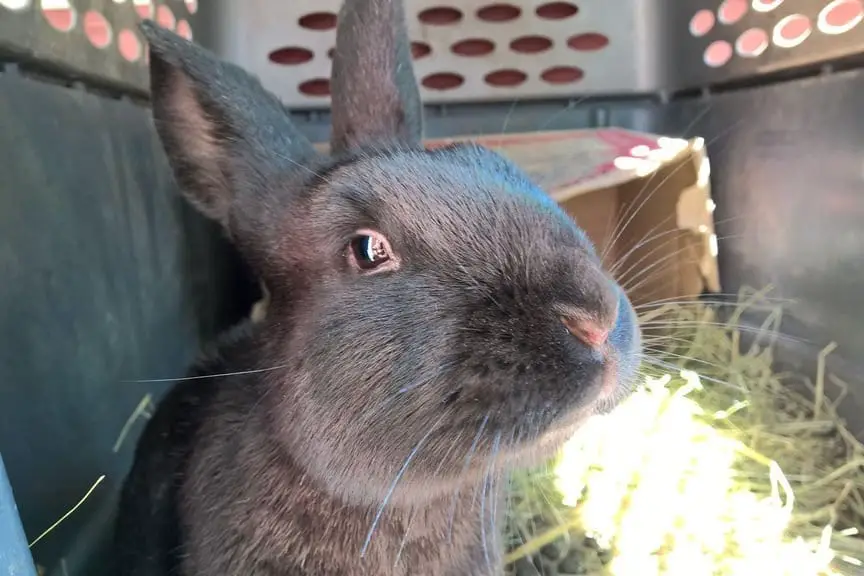 Rabbits are known for their ability to reproduce fast. If you're already taking care of a rabbit pair with different sexes, it's highly possible that you'll have more rabbits in no time.
Because of that, you'll surely need a lot of space. With this in mind, it would be best to build a huge hutch and divide it into multiple sections.
In this rabbit hutch plan, complete details on how to create your own are provided. From the materials and the size of the wood to the actual construction process, everything is already written.
Photos for each step are also present. This is helpful for some steps such as installing the hinges or anything that will bind the wood pieces together.
There's also a video demonstration found at the end of the tutorial.
It's only fitting for this tutorial to be presented on our list due to its positive points.
https://www.instructables.com/id/Building-a-Sectional-Rabbit-Hutch
2) Single Rabbit Hutch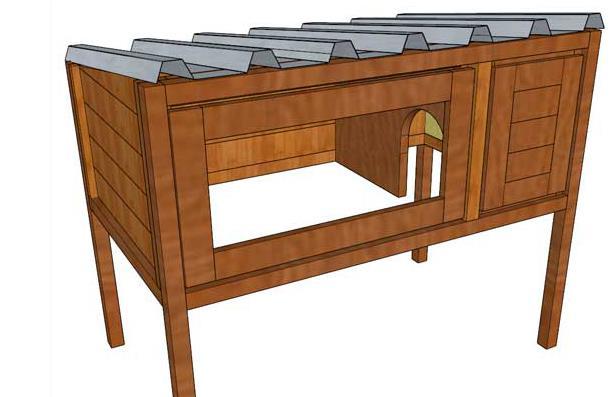 For those who are just getting started with taking care of a rabbit, you may not need multiple cages. This will help you make a single hutch while giving your pet ample space.
Just from the image, it can be seen that this rabbit hutch gives enough room for your solitary pet. It even looks like a house, as there is a "division" from one room to another.
Specific details such as the cut list and detailed instructions for each step are not skipped. This is extremely important for those who want to construct this hutch but are just starting with woodworking.
Since the hutch is big enough, it wouldn't be too difficult to "upgrade" it by dividing the once big rabbit hutch into smaller ones in case you want additional pets.
All of these points are more than enough for this rabbit hutch plan to be mentioned in our list.
http://www.simplyeasydiy.com/2015/07/diy-rabbit-hutch-design-2.html
3) Simple and spacious rabbit hutch
For those who have a limited supply of wood and don't want to spend too much on making a rabbit hutch, this plan is for you.
From the image itself, it's obvious that this rabbit hutch plan does not have solid blocks of wood in it. Most of the cage is made of wire, and the wood only serves as the beams where the wire can be attached to.
This is the perfect plan for those who want to build a rabbit hutch fast but only a few pieces of thin wood is available.
Despite being made mostly of wire, this rabbit hutch gives a lot of air to the rabbit. It's also spacious enough for them to move around.
The website provides the measurements for the wood and a general view on how the hutch was made. There is also a video which demonstrates how he made the whole hutch.
4) Outdoor rabbit hutch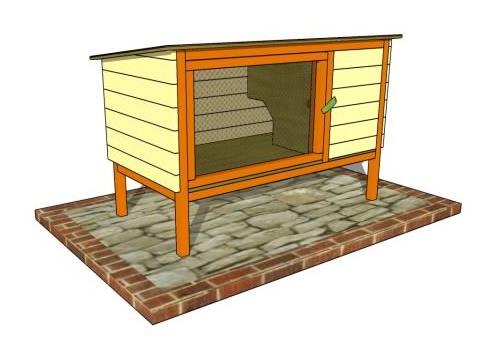 If you're planning to get a rabbit as a pet, you'd want to keep it safe. This rabbit hutch will ensure that your pet is free from harm and is protected from the elements and predators.
This rabbit hutch has two sections – one would be the "living room" while the one with the rabbit hole is considered as the bedroom.
What makes this different from other rabbit hutches is that most of it are covered with wood. This will ensure that your pet will not easily get wet or cold in case of sudden rain or change in temperature.
Despite being covered by the hutch, the door has a wire mesh that serves as the entry point of air, keeping the rabbit cool inside.
This hutch plan provides complete information – from the materials, sizes of the wood, up until the step-by-step instructions. It sure is friendly to new woodworkers.
5) Rabbit hutch fashioned like a chicken coop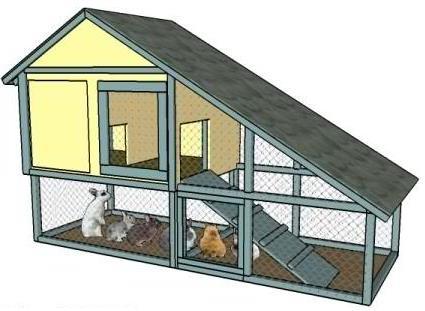 If you already have a lot of rabbits but you can't continuously make rabbit hutches for all of them, then it's time to consider making a bigger rabbit hutch.
The instructions in this rabbit hutch plan will help you do that.
Fashioned like a chicken coop, it can house several rabbits in just one place. They can utilize the space at the bottom of their sleeping area to move around.
Since this rabbit hutch is bigger than others that we've mentioned, this project is quite challenging. However, this is a great way to improve one's skill in woodworking.
The instructions found on the website are detailed. Along with the instructions, each step also shows a diagram of how the hutch should look like.
The diagram is also a good way to determine how each wood piece should be cut – thanks to the sizes specified for each of those pieces.
https://www.myoutdoorplans.com/animals/free-rabbit-hutch-plans/
6) Rabbit hutch that can even fit someone inside!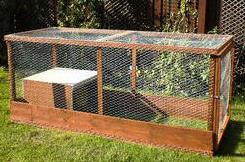 Some children prefer to play with their rabbits without getting hindered by the cage. However, getting the rabbit out could result in them hopping away for good.
This rabbit hutch makes it possible for someone to fit inside and play with the pets rather than the latter being taken outside!
That is possible thanks to the height of the hutch. If your children aren't that big, they can stay inside for a while and play with the rabbits.
The hutch is also quite long. This gives your rabbits enough room to move around and stretch their legs.
The instructions for making this rabbit hutch are short. Each step is usually written with just a few sentences.
But despite its brevity, it can't be denied that all important details such as the size of the materials and the tools needed are enumerated. This will ensure that the project is made correctly.
http://www.therabbithouse.com/outdoor/rabbitrunplans.asp
http://www.therabbithouse.com/outdoor/rabbitrunplans2.asp
7) Rabbit hutch and tractor in one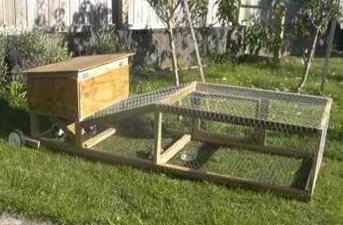 Since rabbits chew on greens, they feel right at home if they are outside. However, they're vulnerable animals that need protection.
With this rabbit hutch fashioned like a tractor, your pet will be able to enjoy the outdoors while they are protected from any attackers.
Since this hutch has wheels, it can be moved from one spot of your lawn to another. This also gives your rabbit a new piece of grassy land where he can munch on the greens.
The hutch is also spacious, giving it enough room for more than one rabbit. And if your pet wants to sleep or the weather just became too hot or cold for them, there's a covered area where they can go to so that they can rest.
This also eliminates the problem of cleaning up their droppings. Of course, those droppings will further fertilize the soil and make your plants grow.
http://www.bettaliving.org/diy-plans/32/rabbit-hutch-plans/imperial
8) Make your rabbits live in a condo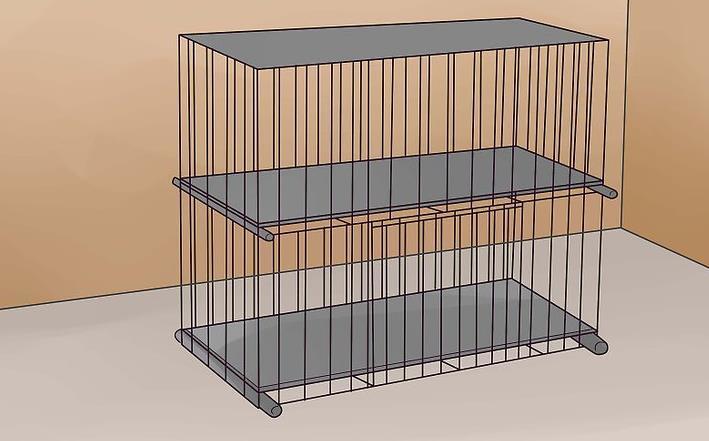 Since rabbits reproduce faster, it's highly possible that you'll eventually end up with a lot more rabbits than your rabbit hutch can handle, If you're seeing that your pets are starting to reproduce, or if you intend for them to do it, then why not consider building a bigger hutch for them?
This is when the rabbit condo becomes useful. This rabbit hutch has a higher vertical space than others, which can then be used as "floors" that your rabbits can occupy.
And since rabbit condos allow for a good number of occupants, it will help save precious floor space.
A good portion of this hutch is made of metal, but wood is still needed.
Although the tutorial on the website is short, there are photos that one can use as a reference for making the hutch. This will help anyone to finish the project even if written instructions are limited.
https://www.wikihow.com/Build-a-Rabbit-Condo
9) The complete tutorial for building the rabbit hutch in one website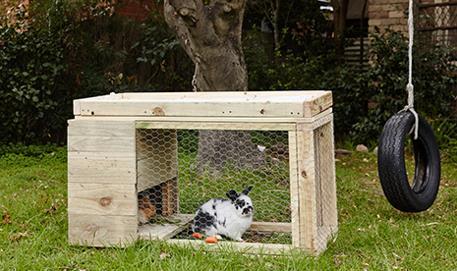 Some rabbit hutch tutorial sites only have written instructions, while others do it by providing a bunch of photos.
This website, though, is a complete tutorial because it has written instructions, photos, and even a video!
Another good thing about this hutch is that it breaks down the whole process into very small tasks that should be accomplished one after another. This will surely benefit beginners, as they can focus on one task at any given time.
The actual rabbit hutch looks simple, but it has enough space for a rabbit to move around the cage safely. There's also a rabbit hole to get to its small shelter, which serves as a good protector against the rain or extreme temperature.
Since this rabbit hutch isn't that big, placing it whether inside or outside the house will not be a problem.
All of these points combined qualify it in our list.
https://www.bunnings.com.au/diy-advice/outdoor/pets-and-wildlife/how-to-build-a-rabbit-hutch#step-by-step
10) Three chamber rabbit hutch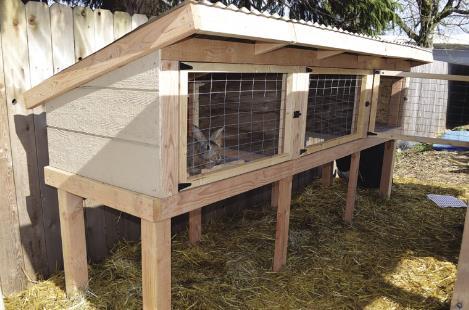 If you want to take care of a rabbit pair and you're expecting it to produce an offspring, then it's best to create a three rabbit chamber right off the bat. Since this rabbit hutch is made as a whole, you won't always spend a significant amount of time in case the number of rabbits that you're taking care of has increased.
The instructions are not that difficult to pick up, even for those who are new to woodworking. Pictures are also provided right after mentioning some of the steps, giving you an idea of how it should look like once all of those steps are applied.
Though some specific detail such as the sizes is not mentioned, it's still possible to make the project even with just the help of the pictures.
All of those positive points are more than enough for it to be part of this list.
https://www.self-reliance.com/2016/07/build-a-rabbit-hutch-and-tractor/