Woodworking is the art that gets you busy and you can do this activity in the leisure time. If you are new to the art of woodworking there is nothing to worry about. It is not so much difficult that you cannot learn. Remember, learning never stops. So, have the courage to start the art of woodworking and take your time out to learn it.
I am sure you would get some good ideas for the woodworking projects of your home and office. With these woodworking projects, the beauty of your drawing and dining room would be enhanced. You should not lose hope while learning these woodworking ideas. By the time you would learn these projects very easily; if you work hard and concentrate, you can go for the further more complex projects.
1) Four Holes Tooth Brush Holder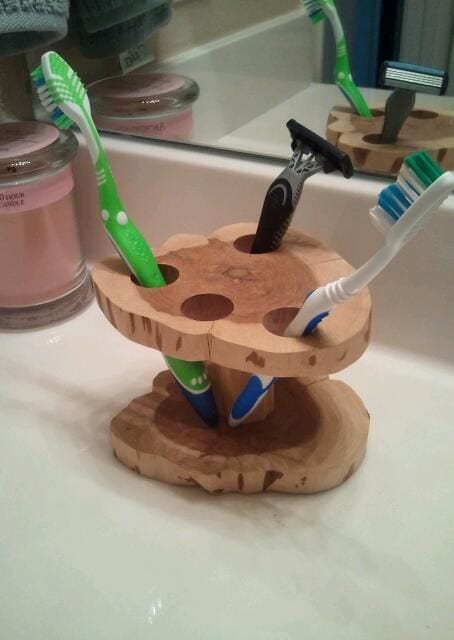 Often in the morning you really need a good brush holder for your toothbrushes and razors to hold. No one wants that the toothbrushes remain without a brush holder. So I am introducing a new project which I found this online by myself and it's a wooden brush holder having four holes inside. You can increase the holes, it depends on your demand. It is very useful as when you enter in the washroom your first need is the brush in the morning, so if you find it in a perfect brush holder it's really amazing. I am sharing some of the pictures of different brush holders with you. Have a look at these pictures.
2) Open Card Holder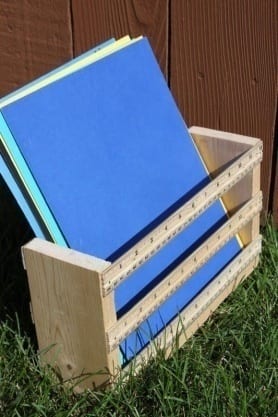 In the office, you always need a card holder to keep the important cards to remember. I found this online a card holder to fulfill your need. You can keep your essential items in the card holder too. This one is not very difficult to make, so the beginners out there, don't need to be worried. Your necessity can be fulfilled like this, so I am sharing some pictures with you of this card holder.
3) Nice Bottle Vase

In the kitchen usually, there are many of the items or decorative materials to be displayed. You always are in search of some new products to decorate on the slab of the kitchen for good impressions. I found this online a totally new and classy looking bottle vase which is made of wood for your decorated kitchen and dining decoration. It's really an outstanding idea to keep that bottle vase on the dining table. You would find no difficulty in making it.
4) Homemade Swing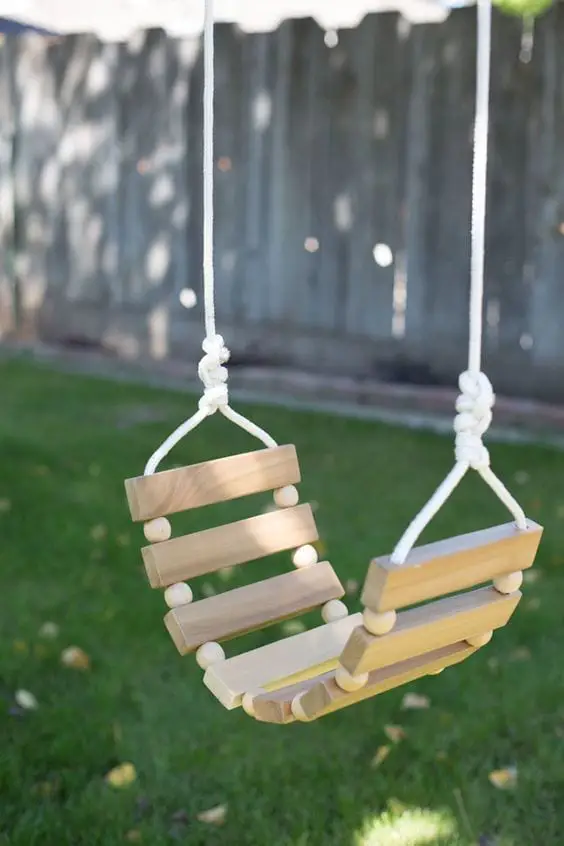 Isn't it really a necessity for the kids in your home to have a swing in the lawn? A homemade swing really captures the attention of everyone. On the lawn of your home, your kids can enjoy having a swing. There would be no need to go to the park now. In the evening they can have their own park at home. I found this online this wooden swing according to this idea as I think this is a basic necessity of every home.
5) Stylish Guitar Holder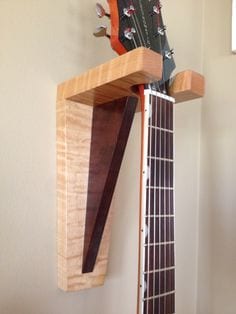 At your home, there must be a proper place for keeping a guitar as you have to take it with you while going out. Normally you get desperate when you are not finding your guitar. You always have a fear of breaking that guitar. Have you ever heard about a guitar holder?
6) Rectangle Shaped Rack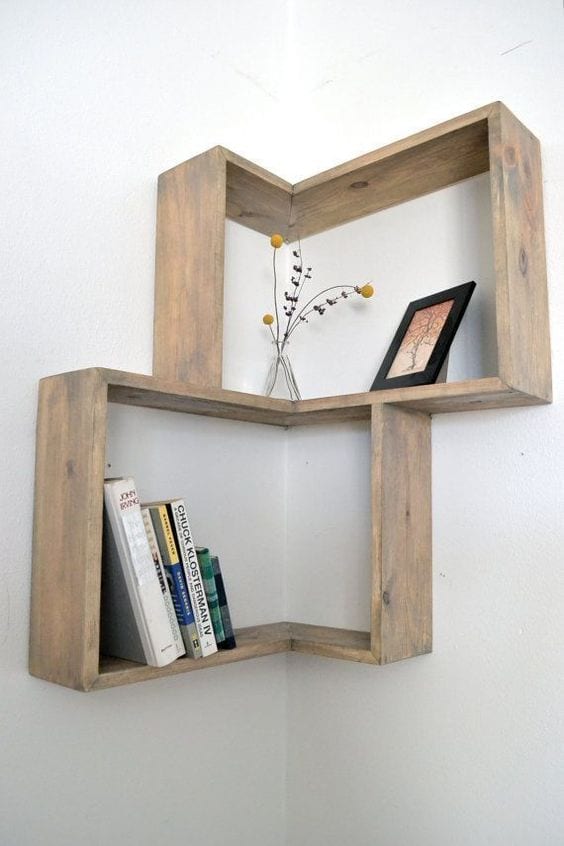 In your home, you are always in search of a rectangle shaped rack. In this rack, you can keep your books and some other material inside. You can also keep a photo frame inside it. I found this online such type of a rack by myself to keep my things in a right place. This way, your valuable items and accessories cannot be misplaced. Let's have a look at the pictures mentioned below.
7) Stairs Shaped Rack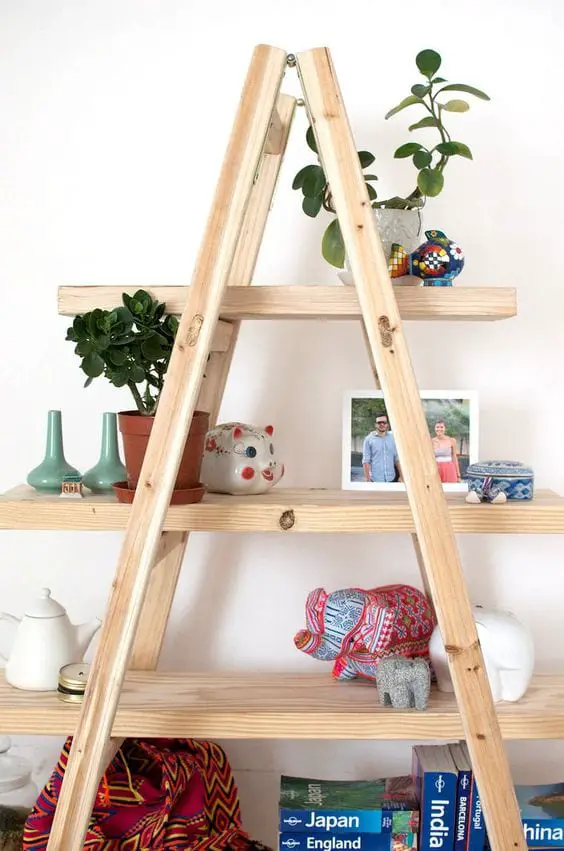 Have you ever heard a stairs shaped rack? It is a rack that you can differentiate from among a lot of racks. It would look very unique and elegant at your home. I have seen such rack in my friend's home and decided to make such an amazing rack by myself. You can keep a lot of things inside it, as it has stairs so there is ample space in this rack.
8) Shadow of a Rabbit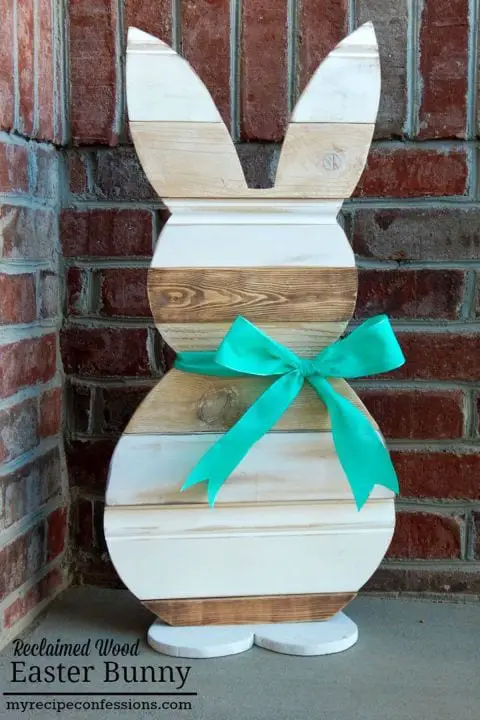 Have you seen any rabbit that has a bow and is made of wood? It is really a funny type of rabbit, especially for your kids. However, you can place it in your drawing room for decoration. I found this online such type of rabbit for my drawing room to create a very cozy look. I am very happy to have such rabbit and my guests also admire me as I found this online it with full effort. I am sharing some of the pictures of this wooden rabbit with you. Just have a look at these pictures.
9) Puzzle Shaped Table and Stools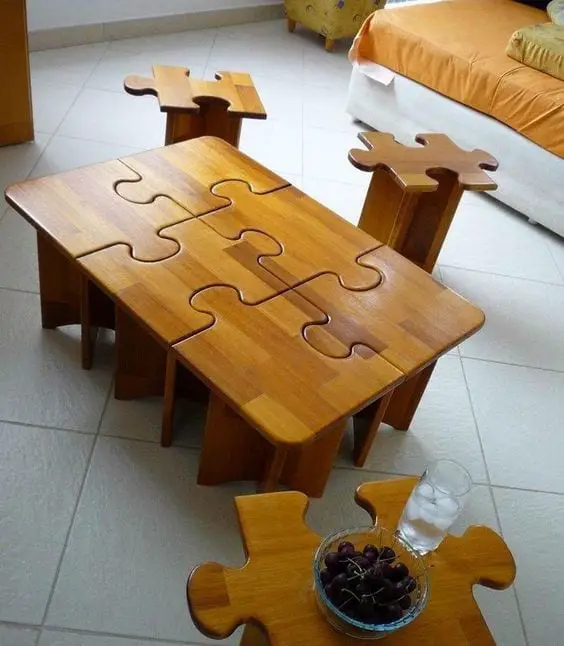 Isn't it amazing to have a set of table and stools in puzzle shape? I have such type of table and chairs at my home. I found this online these by myself. You can keep them in your dining room or drawing room according to your demand. It looks very nice and catchy and all your guests would definitely admire them.
10) Heart Shape Candle Stand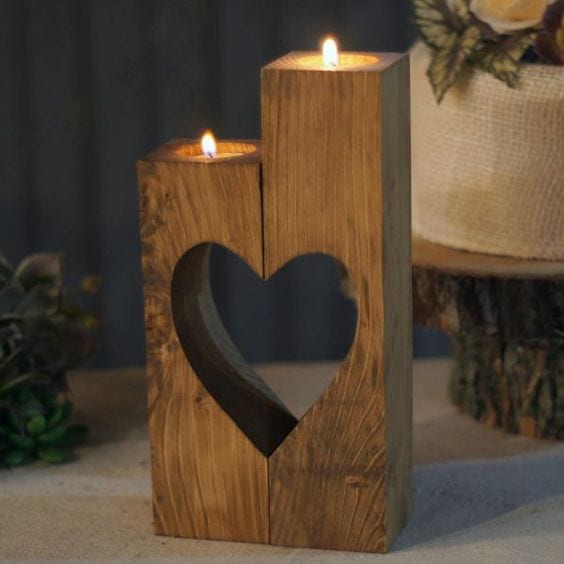 How would you feel to have a heart shape candle stand in your washroom? While taking a bath, it can give you a very soothing feeling. What an idea of keeping a wooden candle stand in the washroom !! Anyhow, it depends on you that where you keep it.
11) The Decent Mobile Stand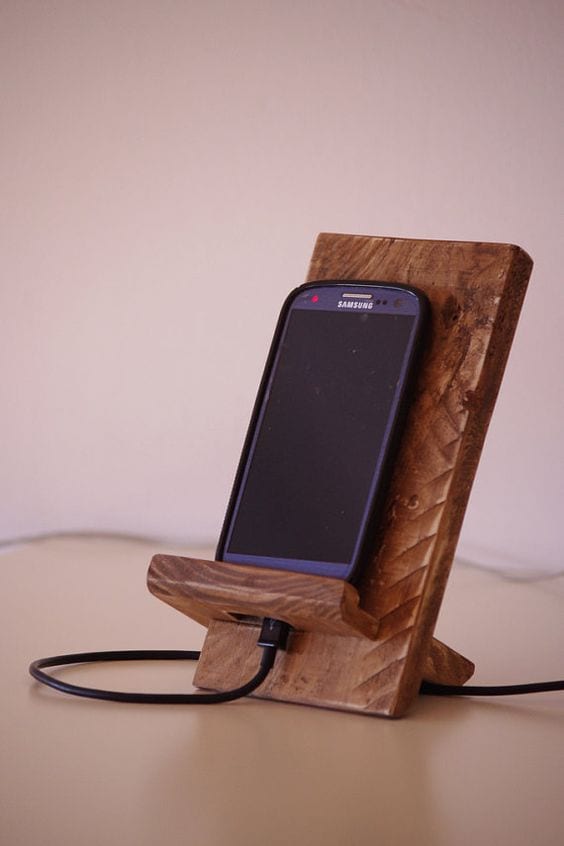 Always you find a proper place to keep your mobile and you don't find it. To solve your problem I am introducing a mobile stand which is made of wood. You can connect your mobile to the charger by keeping the mobile on the stand as well as you would never miss your important calls. It is a very small stand, but it is very useful.
12) Box for Keeping Stationary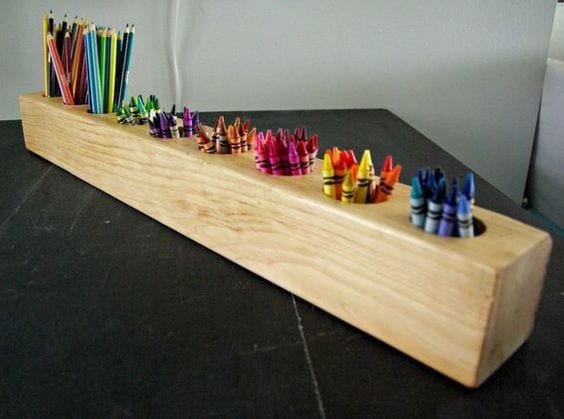 At home usually, your kids have not a proper place for keeping the stationary, and they really miss that place. Sometimes their stationary is found lying in the drawers and you really need a proper place to keep them. I have introduced a wooden box in which you can keep the pencils and colors inside.
13) Unique Wall Planter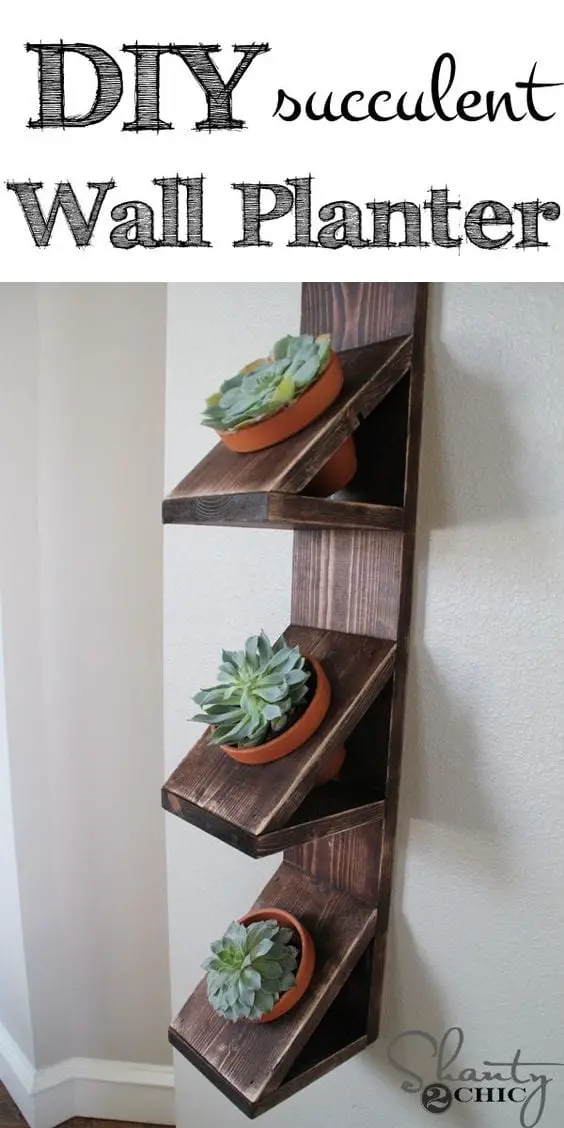 Have you ever seen plants which are attached to the wall with a wall planter? It's an amazing idea and a good start for the beginners. It can enhance the decoration of your lobby. When your guests would pass through the lobby, they would feel great. I am sharing some pictures of this wall planter. Just have a look at these pictures.
14) Playing Dice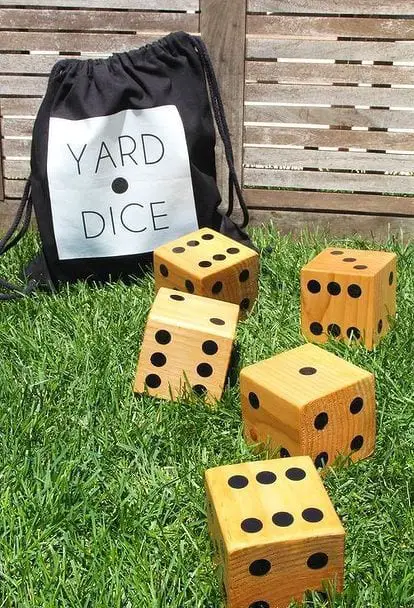 If you and your kids are playing on the ground, you can use these kinds of dice while playing. There are some mathematical games in which you can use these dice. I found this online them as I usually play in the yard with some of my friends. I play some kind of mathematical games, so these dices help me a lot.
15) Useful Wall Knife Stand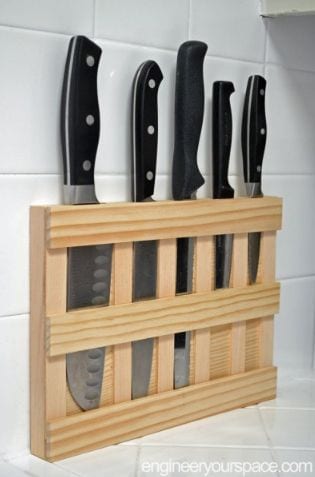 In your kitchen, you really need a proper place to keep your knives. I found this online this knife stand with wood and it is very useful. You can keep your knives at a proper place by using this wall knife stand. A knife is a thing that you need repeatedly in the kitchen while making food. Especially for the ladies, it is very essential.
16) Spice Rack For Kitchen

Are you fed up with keeping your spice bottles in the cabinet? I have a solution for you. I found this online a wooden rack for keeping your spice bottles. This is the first need of a lady in a kitchen. Every lady wants a spice rack in the kitchen.
17) The Comfortable Baby Cot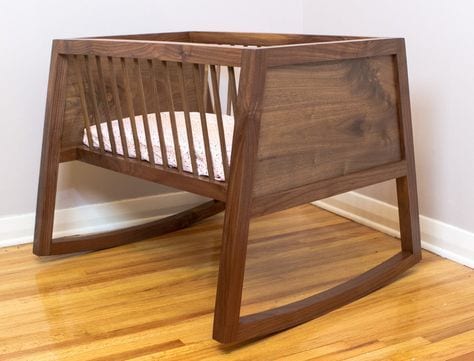 You would definitely want that your baby could get a good sleep in the cot, to fulfill your wish the cot should be very much comfortable. I have a made a baby cot that is the most amazing one and the comfortable one. I found this online it from wood. While going to bed, your baby really needs a sound sleep so that sleep can only get through a wooden baby cot. I am sharing some pictures of a different cot with you.
18) The Everlasting Desk Calendar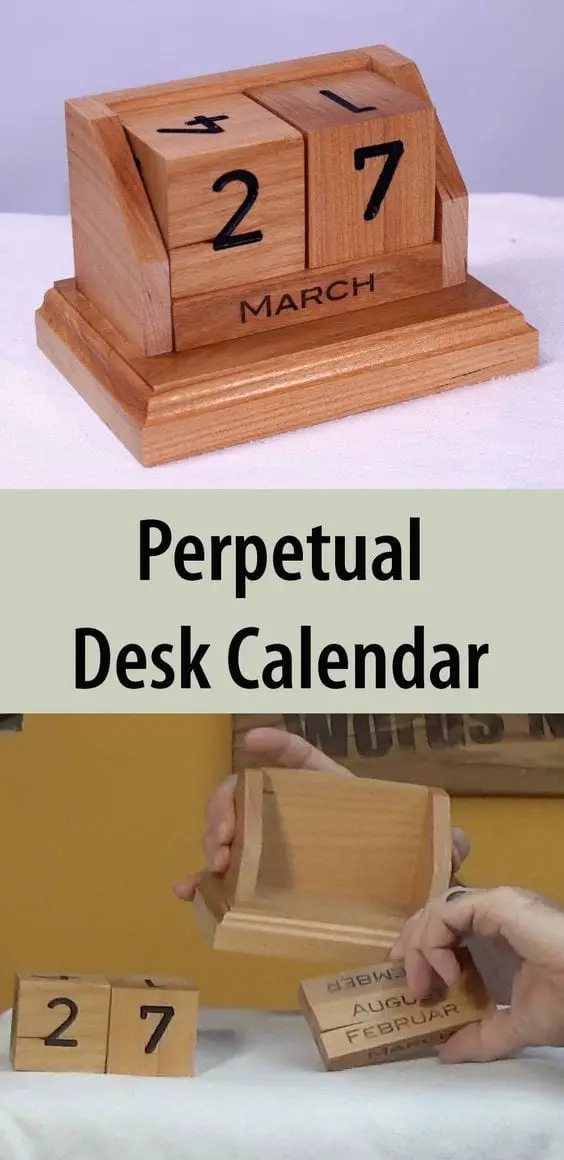 Have you ever seen a calendar which is everlasting? In your home or office usually, you use such calendar which is made of paper and torn out after use. But this is the calendar that can never be outdated, as it is a wooden calendar and you can change the dates and months on it with your own will. At the cubical shape bars you can see there are the months' names and on the square shape boxes, there are the numbers
19) Exclusive Wall Hangers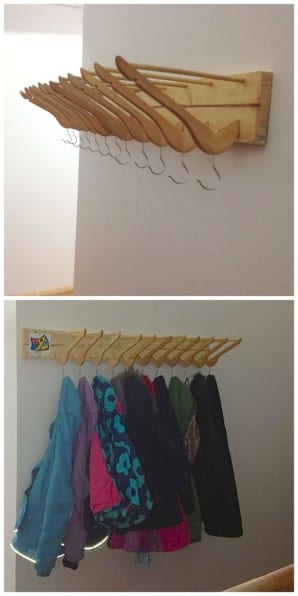 In your home, you are always in need of a stylish wall hanger and you also need that it should be a durable one. I am introducing you a wall hanger that is the most stylish and durable one. It is a wall hanger that is made of wood. Really it's a fun to have such a wall hanger in your home as you can hang your clothes and whatever you want in it.
20) Different Styles Spoons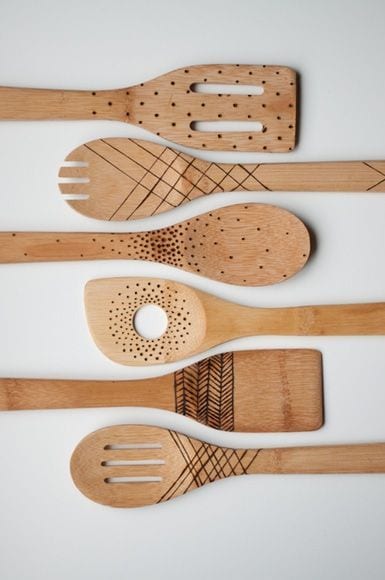 In your kitchen, you really need such spoons which have different styles and you can take help from them for a variety of purposes. I am very much sure that you need such type of spoons. So I found this online some different kinds of spoons for your help. I am sharing some pictures of these spoons.
21) Stylish Wooden Floor Vase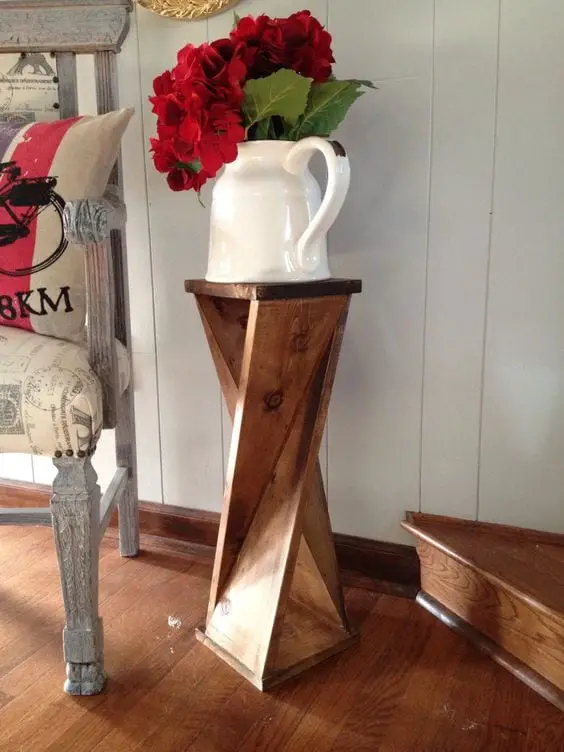 During the late Victorian era, wooden items for decoration started to attain popularity. Wood is having a significant role in our life. It is used to decorate every corner of our living places. Vases are among most stylish and beautiful items of wooden material. You can use wooden vases as a lamp, to make an attractive centerpiece of your table, to store all kitchen utensils in a vase and use as an accessory holder like decoration pieces. I make this wooden stylish vase at home easily and embellish with different decoration items that give a marvelous look to my room.
You can decorate your favorite areas and corners of your house by placing stylish wooden vases. These wooden items give a classy look to your interior furnishing. You can also make a wonderful variety of wooden vases easily at home.
22) Wooden Bookshelf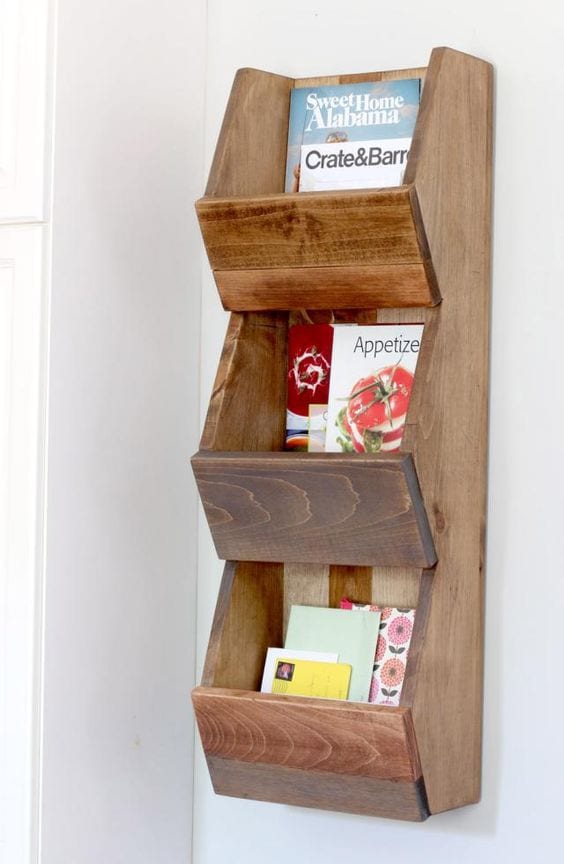 We can make different decorative wooden items with your own choice. Wooden items are preserved for a long time by coating from protective layers. Books are very precious things that are needed in almost everywhere as in homes, colleges, universities, libraries and in offices. By doing this you can give style and carry a large number of your books. I am actually making one of these wooden bookshelves for my home. It is perfectly cool and artistic work. Racks are used to store books and may be adjustable or a fixed. Some book shelves are having a door of glass, wooden or glazed. This is the easiest way to decorate your place.
I can decorate my favorite areas and corners of my house by placing stylish wooden book shelves. These wooden items give stylish look to my interior furnishing. You can also make a wonderful variety of wooden bookshelves easily at home. It is actually very stress-free and interesting to make.
23) Wooden Wall Mounted Piant Pot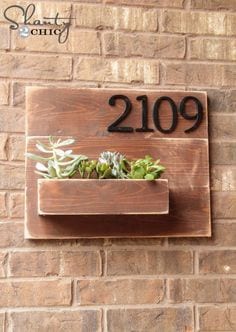 Now a day, it is not difficult to decorate your living places. We can decorate walls with beautiful and attractive wooden hangings. I am actually making one of this wooden plants hanging in my home. It is totally cool and creative work. We can make these eye-catching wooden plant hangings at home easily by using some common tools. This is the easiest way to spice up your walls. By doing this you can give style to your walls as well as mention your address on it.
24) Side Table
Basically, wood is a durable product, that's why I choose wood furniture for my home. This side table draw looks elegant because it is made from fine wood. This side table can be the reason to decorate your room because it keeps things saves. This wooden draw is really helpful because you can put many things in it so it can be saved from the children's. It is just like a side table on a bed. You can make a side table draw at your own style, you just need to visit this website a lot of designers are waiting for you.
25) Bottle and Glass Holder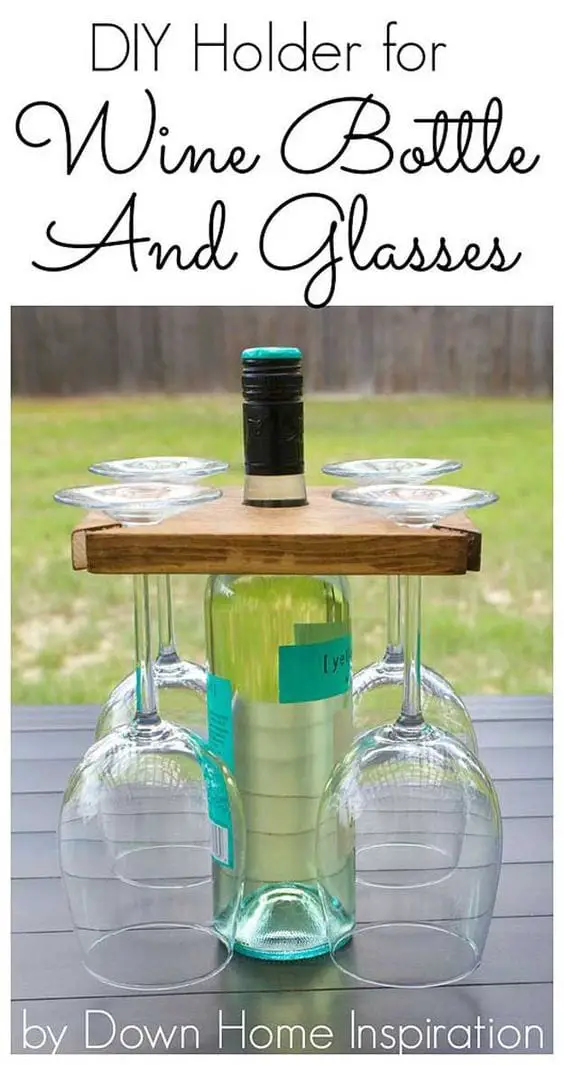 I really feel trouble to put glass and bottle in the same place so that it can be saved from breakage. I continually think that what I should have to do with the help of wood. As a result, I make a glass and a bottle holder. You can see in this image that how perfectly my creativity came into being. Those how like woodworking really like this simple wooden holder
26) DIY Art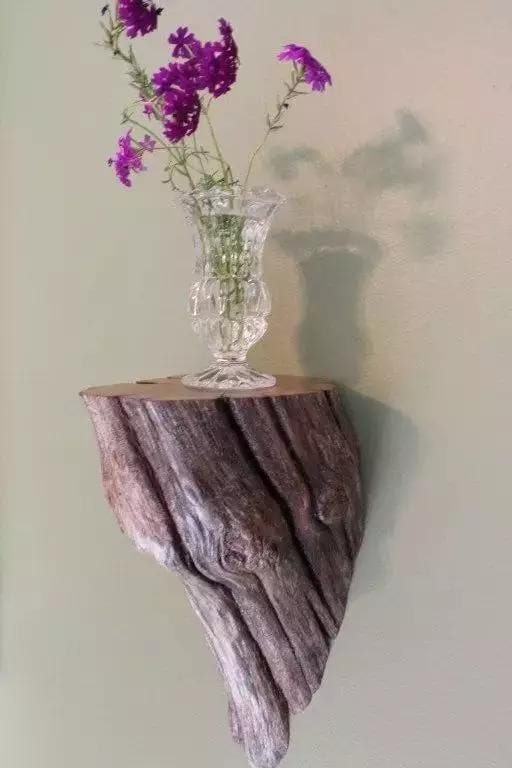 If you have a creative mind you can do much DIY arts with wood. Like this image, I use simple tree wood for decoration purpose. This looks really elegant and unique DIY wood art. Now it depends on you that you like the simple wood or wanted to paint the wood sample. I keep my decoration secure from children. It's hard to find a unique place for your showpiece. Like I put a decoration piece you can use the different one or same like me. There are a lot of ideas using simple wood.
27) Christmas Tree DIY Art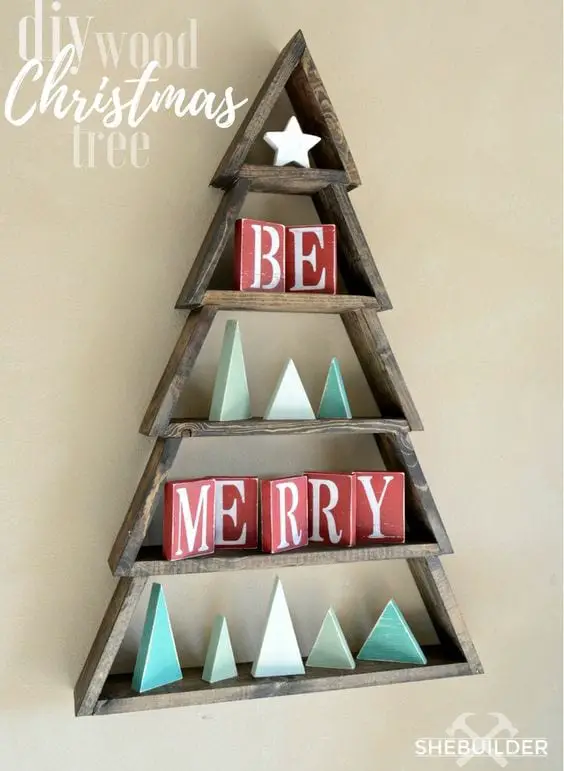 The concept of making this DIY wood art comes from the Christmas tree. This Christmas tree has five layers it depends on you that what things you are choosing to decorate this wooden Christmas tree. I wanted to make something unique in Christmas see my hardworking comes true. This Christmas tree is made from wood; the step of making this Christmas tree is really easy that you can also try it. You can put many decorative things in it.
28) Art Supply Organizer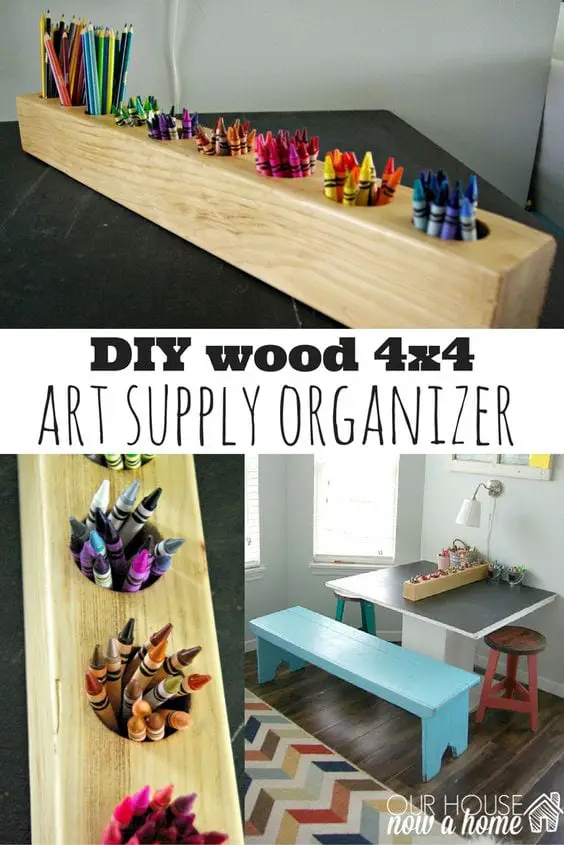 It's really hard for me to put my art product in one place. I think continuously that what thing should be made to put things in one place than an idea comes into my mind that I must try to make something with the help of wood. I make art supply organizer by using the wood material. This is really helpful for me when I am doing any art and craft I put aside the supply organizer so that all things are found in place.
29) Tick Talk Clock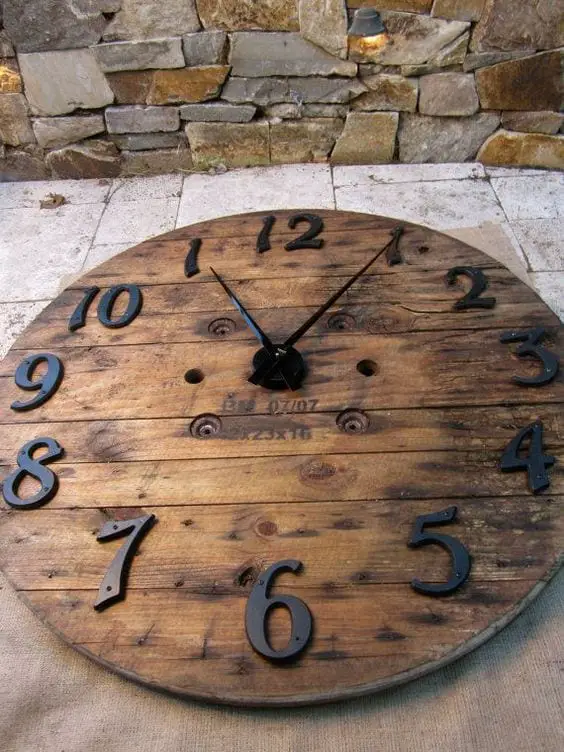 I think the clock is an important element in your home because it tells the correct time. If you want to go anywhere you need to follow your clock so that you can be punctual as I am. I try to make something different with the help of wood that's why I make the wood clock. You can see in this image that how beautifully the clock looks. Don't color the wood because if you paint the clock glow of wood can be customized and you are not able to see the taste of wood.
The clock is the sign of punctuality that is the main reason I am interested in making this wood project. Furthermore, I used pallet wood blocks to make the square shape of the wooden clock. You can make any shape of a wood clock like a square, rectangle.
Use compasses for make perfect circle for wood clock. There are many shops available which you can buy the hand made a wooden clock. Everybody has different taste so you can make clock according to your taste. It is really easy to follow video while making any DIY wood project. I also used to follow video for new ideas other videos are shown in this link.
30) Cup Hanging Stand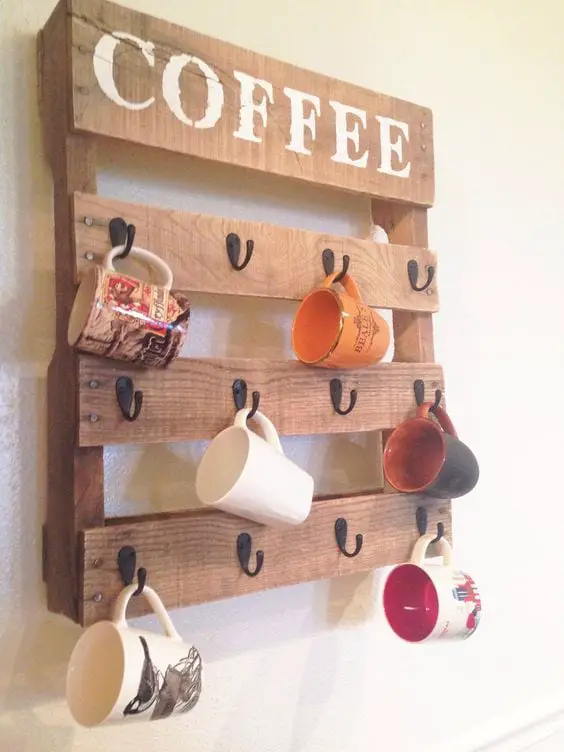 This project is so easy and it is included in one of my favorite DIY wood projects. I used pallet wood to create a cup hanging. I put this in my kitchen and it was so helpful to me that I find my favorite cup instantly and could not need enough time. I think everybody feels trouble to find their favorite cup that is the main reason of making this wood project.
Write any name in front of this wooden stand like I write coffee. When you write the name children can easily find the cup. This project is really different. You can use the cup hanging stand in any events like birthday parties and Christmas. Not even cups you can also hang many things like keys, bills and etc.
31) Yarn Wrap Letter

I really like this concept and as a result, I make this project with the help of wood. You can use a different yarn for wrapping the wood letter. It depends on you that what color you are choosing for wrapping. Further, you can put flowers and beats in it. This is the best gift for giving someone in any occasion. Just remember that the taste of color is different from each other so it's your duty to remember another person's likeness in color while wrapping wood with yarn.
This project is the mixture of wood and yarn. Basically, I love to make colorful art, but this art is different because I used wood in the base of the letter, you can use cardboard as well. The hardness of this project comes with wood. Bring your inner creativity come out and make your favorite letter. You can create a full word by making different letters.
32) DIY Wooden Arrow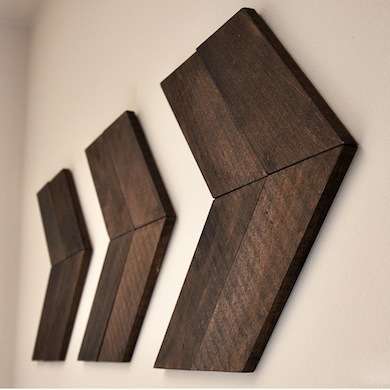 Ever looked up your walls and fancied something minimalist yet classy? Then fret no more because this is just the thing to spice up your walls. I came across this antique looking, minimalist set of wooden arrows as shown in the picture and I am actually thinking of making one for myself. It is utterly cool and easy to make too. It is one of those things that when you finish them, they turn out to be exactly what was the image it in your head.
If this minimalist piece of art turned your heads too, then do try and make one for yourself. Try and experiment tweaking a few details on it too, like changing the color or the arrangement of the arrows.
33) Easy-to-Hang Wooden Bottle Crate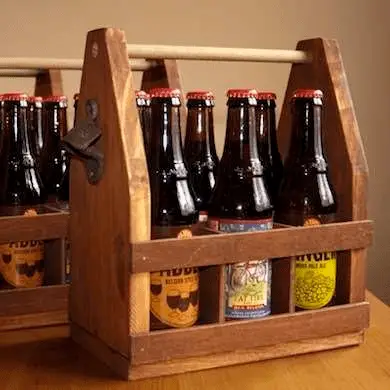 I came across this wooden bottle crate just a few days ago. Quite easy to make, I am planning to make one for me to carry on parties and road trips. Building wooden items is not an easy task for normal people like you and me, however, it isn't impossible. With proper care and learning, anyone can make wooden items. Practice your woodwork on this easy to carry bottle crate. This item can easily carry more than bottles and you can take it to any party or road trip easily.
34) Wooden Dog Food Table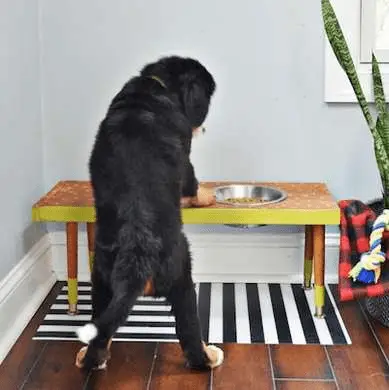 Another wooden item that you should have in your own house is this DIY wooden Dog food table. Not so difficult to make, I made one for my dog and he is very happy after getting a treat from me. Believe it or not, this wooden dog food table has made my life easier and both dog and I are happy to get it. If you are a dog owner, this is a must have a wooden item and buying one would cost extra pennies.
It wasn't as difficult to make as it looks. I made the wooden dog in just a day and a half and it didn't cost me anything. I made in a very less cost and hence I am recommending this interesting dog food table to you. Make this food table for your dog and give a treat to your dog. Learn to make this table and gift your dog the best gift of his life.
35) Wooden Outdoor Birdhouse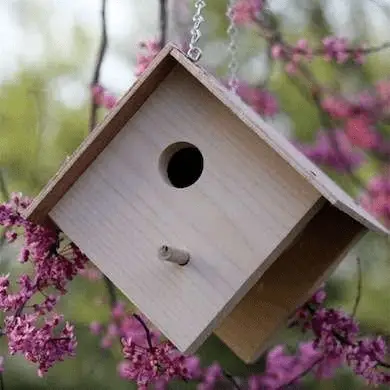 This is the most interesting wooden item I have come across in recent times. I was searching for one for quite a while until I found this and I made one to hang in my garden. The birds visit it for playing along and it is very easy to make as well. I made mine in only 2 hours. You can also make it in the same time. Make one and save yourself a lot of cash.
Making this particular item is very easy and it doesn't need any of the hard work or expertise required to make wooden items. You can easily make it and hang it in your garden. You can also place it inside your house.
36) DIY Indoor Photo Frames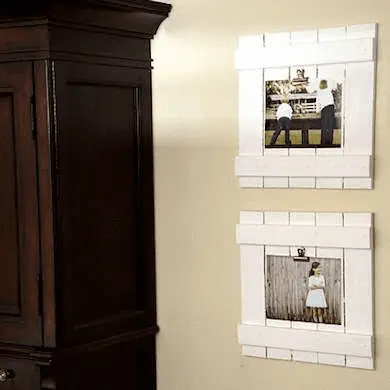 These indoor photo frames got my attention when I was searching to some good wooden wall hangings. Easy to make and exciting photo frames are must have to decorate your walls and rooms with amazing pictures of your favorite moments. You can make these photo frames easily and can attach them to any wall inside your house for decoration and can save a lot of memorable pictures of your favorite moments.
37) DIY Cutting Board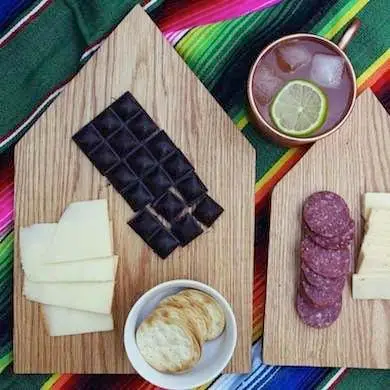 For girls who want to do extra work on weekends and make their kitchen chores easy, this might be the best idea. Not only for girls though, can men who love cooking also makes this easy to carry the wooden item to make cutting vegetables and fruits easy. This is a basic wooden cutting board for kitchen purpose, but it can save you a lot of extra pennies. I made this to my wife and she is using it very enthusiastically.
38) Wooden DIY Dog Bed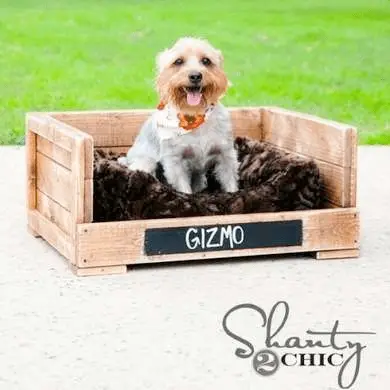 Make this Wooden DIY dog bed and give a treat to your dog. I searched it on the internet a couple of months back when I was looking to buy a good bed for my dog. Besides, the dog food table, I also tried to do this by myself and I succeeded. It isn't that difficult to make as it looks. It just took me 2 days to complete this item and my dog loves it. He doesn't sleep anywhere else now and this has decreased my tensions regarding my dog. If I can make this item, surely you can make it too.
39) DIY Photo and Print Frame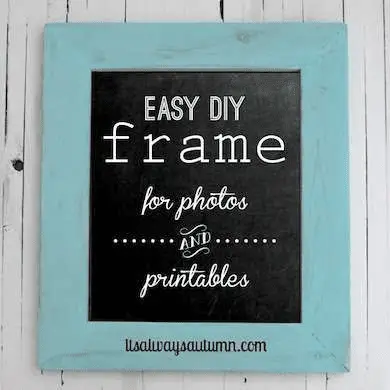 The one wooden item you surely should look to make yourself is this photo and print frame. I made these exciting photo frames and print frames and now my whole house is covered with them. You can also make these easy to make wooden photo and print frames and can hang them anywhere in your house. These wooden frames can be used for indoors as well outdoors.
Conclusion
Long and short, woodworking is not so much difficult task to handle, but for the beginners, it is a little bit difficult. The beginners should not get worried as it needs some guidance and a little effort to manage. Have the courage to start these woodworking projects. If you want to ask some questions you are free to ask, I will answer your questions. If you have enjoyed my list of projects, just share your ideas by giving your comments and reviews. Share these projects with your friends and family members too.