Introduction
First things first. Before you go shopping around for a sliding miter saw, you need to make sure that it is really what you need. In a nutshell, you need to invest in a sliding miter saw if you do a lot of molding and framework, milling or squaring, and working with boards measuring larger than 8 inches.
A quick look at the available sliding miter saw models available online will make you dizzy. Manufacturers have developed an overwhelming range of sliding miter saws, which is where terms like standard vs. compound, sliding vs. fixed, single- vs. dual-bevel, and similar ones come from. And it is not just the model that you need to consider. You have to look at the brands themselves because they often help you predict how good one sliding miter saw is.
Two of today's renowned brands of power tools are DeWalt and Ridgid. In this article, we compare the two and see which company you're better off relying on when shopping for your very own sliding miter saw. We also go over some of the things you should keep in mind when choosing a saw model. Scroll down to find out more about these two and feel free to let us know what you think!
Ridgid Sliding Miter Saw vs DeWalt Sliding Miter Saw
| Product Details | Ridgid | DeWalt |
| --- | --- | --- |
| Sliding Miter Saw | 2 | 8 |
| Sliding Miter Saw Kit | 0 | 2 |
| Single vs. dual bevel | Dual | Single, dual |
| Blade size (inches) | 12, 10 | 7 ¼, 10, 12 |
| Price | Check Lowest Price | Check Lowest Price |
Buyer's Guide
How to Look for a Good Sliding Miter Saw – Buying Guide
Here are some things to keep in mind in addition to the price if you are in the market for a trustworthy, reliable sliding miter saw.
Power tools, corded or not, are dangerous by nature. To avoid injury and any other untoward incident in your workshop, look for a sliding miter saw with top-of-the-line safety features. Among the most common safety add-ons are electric brakes, fence guards, and the like.
We believe that innovation should be balanced with intuitiveness. That is, a top-notch feature is useless if people can hardly figure out how to use it. For example, on some DeWalt models, you can lock the miter just by applying some pressure on the handle instead of tightening a knob.
The blade size is one of the things that determine the price of a sliding miter saw because it decides the size of the board you can cut. Naturally, the larger the blade, the bigger the board you are allowed to cut. The price difference can be substantial even for just a couple of inches.
Features that make blade changes easy and fast are always appreciated, especially if you tend to work on a wide variety of projects (and hence use different kinds of blades). An example of such a feature is a built-in storage for the blade change wrench.
There are numerous ways to classify motors in sliding miter saws. You can group them by the amperage, whether they are a belt- or direct-driven, and whether they are brushed or brushless. Most sliding miter saws have 10-15 amp motors. Direct-drive brushless motors are generally considered better but cost more.
A dual-bevel sliding miter saw swings to let you make matching bevel cuts on both sides of the workpiece without you having to flip the board. Dual-bevel miter saws are unsurprisingly more costly than single-bevel ones, so make sure you do need a double-bevel saw before buying one.
Corded sliding miter saws are generally believed to be more reliable in terms of power, but they tend to have limited applications, especially in terms of location. Cordless sliding miter saws, meanwhile, can be used in a wider range of projects, but they are sometimes seen as inferior in terms of power.
This refers to the presence or absence of carbon brushes in the motor. In general, brushless motors are considered more efficient than brushed ones. They cost more, but the incremental improvement in performance more than makes up for the extra dollars spent.
Miter saw users are still quite divided regarding laser guides. Veteran woodworkers swear by the power of the naked eye and ignore the alleged benefits of having this feature (You have to keep adjusting it, anyway.), while others appreciate how it just helps make the job easier.
This may be the last thing you look at when shopping for sliding miter saws, but this is actually one of the most important. Dust can ruin your tools, especially if you let them accumulate in the interiors of your sliding miter saw. This is why you need a model with an effective dust collection system.
How do we compare Ridgid Sliding Miter Saw vs DeWalt Sliding Miter Saw?
Ridgid and DeWalt have established just a year apart (1923 and 1924, respectively). While years of operation is not the only thing that influences the quality of the products of a company, we think it plays a large part. The longer a company has been around, the more experienced they are in crafting their tools and the more exposure they have to evolve trends, which is a good way to get a feel of what tool users need and want.
Manufacturers try to make their products as versatile as possible, but the fact remains that different projects may require varying tools also. This is why variety is important. It is always good to have numerous options to choose from. DeWalt wins by a landslide here, having 8 saws and 2 kits against the 2 saws from Ridgid.
Most buyers of Ridgid and DeWalt sliding miter saws seem to be happy with their purchase. We can say that both brands have only their fair share of negative comments. We are calling it a tie in terms of customer opinion.
As mentioned, DeWalt has many models available, whereas Ridgid has just two. These models range from more or less $200 to under $900, with the Ridgid models being on the two extremes of the spectrum. We have to go for DeWalt here because there are many customers who do not trust cheaper models but are not willing to shell out for the most expensive models either.
1) Ridgid Sliding Miter Saw
Why Use Ridgid Sliding Miter Saw and Who Is It For?
The first thing you will notice about the two sliding miter saws from Ridgid is that these two lie on the extreme ends of the spectrum. The 12-inch model costs more than $700, and the 10-inch one is priced at a little over $200. We think this is okay if you already have a clear picture of the sliding miter saw you want and do not mind the price. However, there are many individuals out there who hesitate to trust cheaper models but do not want to splurge either.

These two Ridgid sliding miter saws are models MS1290LZA (12 inches) and R4112 (10 inches). Both are compound sliding miter saws with a laser. It is no surprise that even the cheaper model has the laser feature, given that manufacturers nowadays are all in a hurry to equip various power tools with this convenient feature. Although many tool users still look down on sliding miter saws with a laser, the fact remains that it makes cuts more accurate for a lot of people.

We went over the reviews that both models have garnered so far, and it appears that the majority of their buyers seem to be very pleased with the performance of these sliding saws. We did see some complaints, but they are few in number, and the issues mentioned appear to be quite isolated.

Therefore, we think we can safely conclude that the quality of Ridgid sliding miter saws is good enough for both novice users and experienced ones. These can be among your safe, go-to models when shopping for sliding miter saws.

Overall, we recommend that if choosing between DeWalt and Ridgid sliding miter saws, you should begin browsing the Ridgid models first. There are only two of them, so it should not take too long. This is also a good place to start if you already have a Ridgid battery platform.
Main Features
Quick-release vise
Easily and quickly modified angle adjusters
Strong and stiff sliding rails
Large table
Laser guide
Large handle and clear lines
Easily tightened clamp
Accessible controls
High fence
Q&As
How long is the warranty?
Ridgid offers a lifetime service guarantee for their sliding miter saws. That comes with free parts as well.
Pros
Predominantly good reviews
Has both affordable and premium models
Cons
2) DeWalt Sliding Miter Saw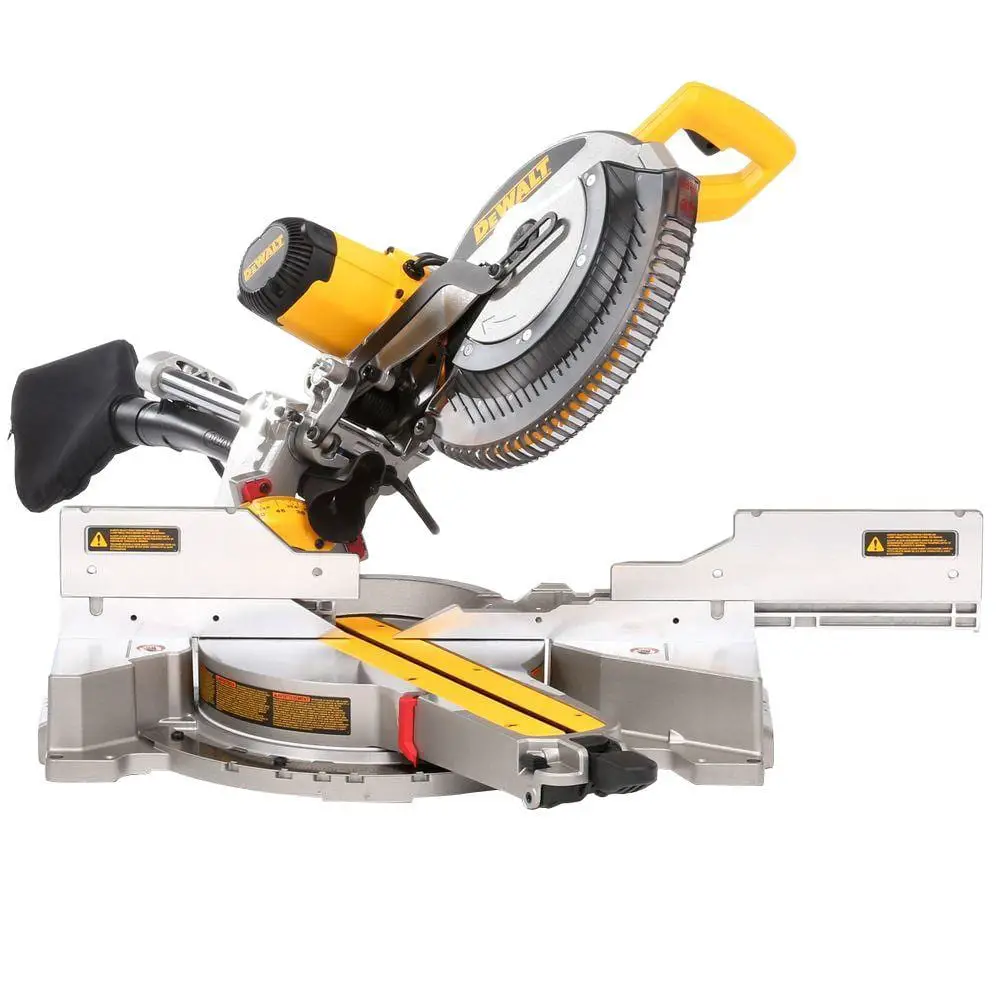 Why Use DeWalt Sliding Miter Saw and Who Is It For?
DeWalt has 8 sliding miter saws and 2 kits. The saws are the models DWS779, DWS709, DWS780R, DWS780, DW718, DW717, DHS790AB, DCS361B, and the kits have the saws DHS790AT2 and DHS790T2. The DW717 has a 12-inch blade, and the DCS361B has a 7.25-inch blade. The rest have 12-inch blades. Save for the single-bevel DCS361B, all sliding miter saws listed here are dual-bevel models. All of these are compound saws.

DeWalt miter saws are known for their easily adjustable detents. You can find and use pre-set detents for usual mitering angles, but you can also adjust at fractions of degrees. The detents can typically be released by pressing on levers located on both sides of the handle. DeWalt miters are also quite easy to lock because of the intuitive design. Instead of having to reach for a knob to be tightened, you just usually have to press on the handle.

The prices are not bad. They are widely varied, so there is something for everyone. You can find low-cost entry-level models or invest in their expensive, top-of-the-line sliding miter saws. We think the hefty price tags of these saws are well-justified by their features.

All the basic and standard sliding miter saw features are present across the entire product group, and the more expensive models have innovative features that are reasonable for the saws' prices. However, take note that between some models with stark differences in prices, the variation in features may not be enough to justify the price jump, so choose models carefully.

The reviews, which we think are a great way to gauge the quality of a company's products, are predominantly positive. We did read through some of the complaints and realized that a lot of them are isolated in nature. A lot of them are related to delivery conditions, parts, and other issues that are out of the control of the manufacturer.

Therefore, it is safe to say that DeWalt sliding miter saws are good quality saws. Indeed, DeWalt has been around for a long time, similar to Ridgid, and their longevity says a lot about the quality and performance of their power tools.
Review
The Grizzly cabinet table saw is all about quality cuts and good performance. This has a heavy cast trunnion, precision-ground cast iron table covered with a powder-coated paint. It is powered by a 3 HP Leeson motor, one of the most powerful motors for power tool use. The motor connects to a triple belt drive to power it's cast iron table and wings. Because of this table's construction, it could give good cuts for a lifetime.
The Grizzly cabinet table saw has a camlock T-fence, a riving knife, heavy cast handwheels, a magnetic switch and a T-slot miter gauge, all of these features will make an efficient table saw for worksite use.
Main Features
Varying blade sizes and speeds
Adjustable stainless steel miter detents
Exclusive back fence design
Oversized bevel scale
Cam lock miter angle
Innovative dust collection system
Integrated CUTLINE blade positioning system
Well-engineered clamping mechanism
Linear ball bearings
3-year limited warranty
Q&As
What do the kits contain?
DeWalt has 2 sliding miter saw kits: DHS790AT2 and DHS790AT2. Each kit includes a saw, a blade, a blade wrench, a dust bag, and 2 batteries.
Pros
Wide variety
Compact models available
Offers both low-cost and premium models
Cons
Small differences between certain models
The Final Cut
Our verdict is that you should look at both DeWalt and Ridgid sliding miter saws. Ridgid has just one model available, whereas DeWalt has numerous. Needless to say, these DeWalt sliding miter saws come with a wide variety of features and are thus applicable for a wide range of projects.
But the sheer number of DeWalt models available is also the reason you need to take a look at the lone Ridgid sliding miter saw on the market. It should not consume too much additional time, and who knows, it might be the one sliding miter saw you need.