An Adirondack chair is a simple chair made from wood. Also known as a Muskoka chair, this type of chair is generally used outdoors. Aside from wood other manmade materials may also be used. The very first Adirondack chair was made of 11 pieces of flat boards.  It has a straight back, a sloping seat, and wide armrests.
Did You Know?
The first one to make an Adirondack chair was an American named Thomas Lee. He made his chair as he was vacationing in Westport, New York in the Adirondack Mountains in 1903. Called "Westport Plank Chair" Lee offered the design to Harry Bunnell who was a carpenter. Bunnell saw the possibility of commercializing the design and got a patent for it in 1905 without asking Lee's permission. Bunnell manufactured the "Westport chairs" for the next two decades. The chairs were painted green or medium dark brown and each one bore Bunnell's signature.
The modern Adirondack chair still holds the dramatic charm that the original chair had during Lee's time but with a few modifications. The seat is now contoured, the back slightly rounded and the armrests wide and long.
Adirondack Chair DIY Plans & Ideas
You can find a large number of commercially-available Adirondack chairs but there are also DIY plans online. You may find chairs made of polymers and plastics instead of wood while there are some designs that stand true to using hardwood or lumber.
1) The Red Rocker Adirondack Chair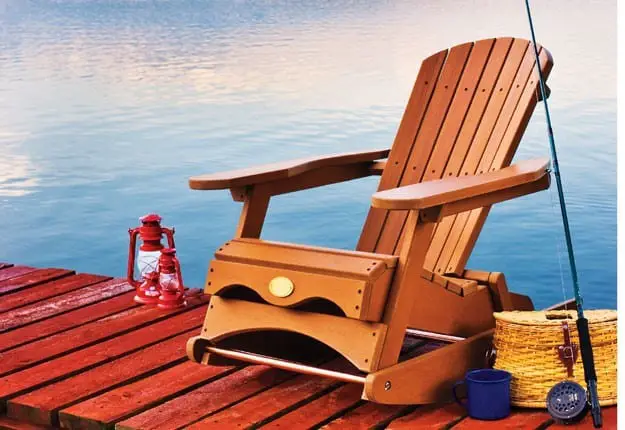 The Red Rocker is a classic Adirondack chair that is designed to be a rocking chair. It has the classic large backrest with long and wide arms. The seat is curved at the back as it keeps your feet from the ground at the front.
This chair is made from redwood which is one of the most durable and efficient hardwoods commonly used to make patio furniture. This rocking chair displays the natural beauty of lumber and at the same time protects the wood from rain or sun. The plans to make this chair is quite easy to follow however, you must have all the materials and tools handy.
2) Typical Adirondack Chair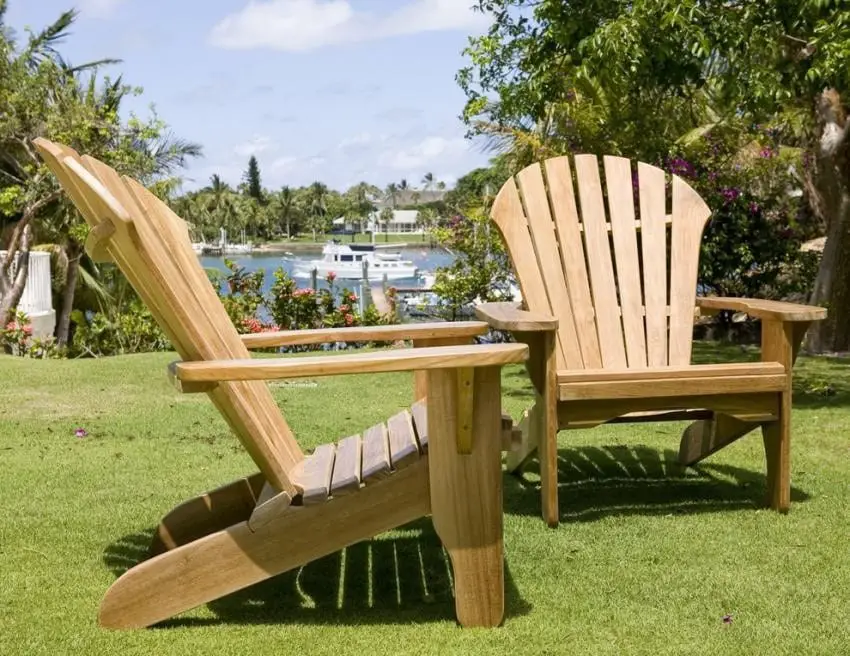 This is a very large Adirondack chair with the classic seven plank backrest build. The difference is that this pair has wider feet and seems to be designed to recline farther than other styles. A coat of wood stain covers this comfortable pair, therefore, its sure as the sun that it can last for a long time outdoors.
This basic Adirondack chair plan is one of the easiest and you will be able to complete this easily even in a day or in a single weekend. And if you wish to apply a coat of paint instead of wood stain, make sure to use a weatherproof coat especially if you plan to leave your chairs outdoors.
3) Black and Decker Adirondack Chair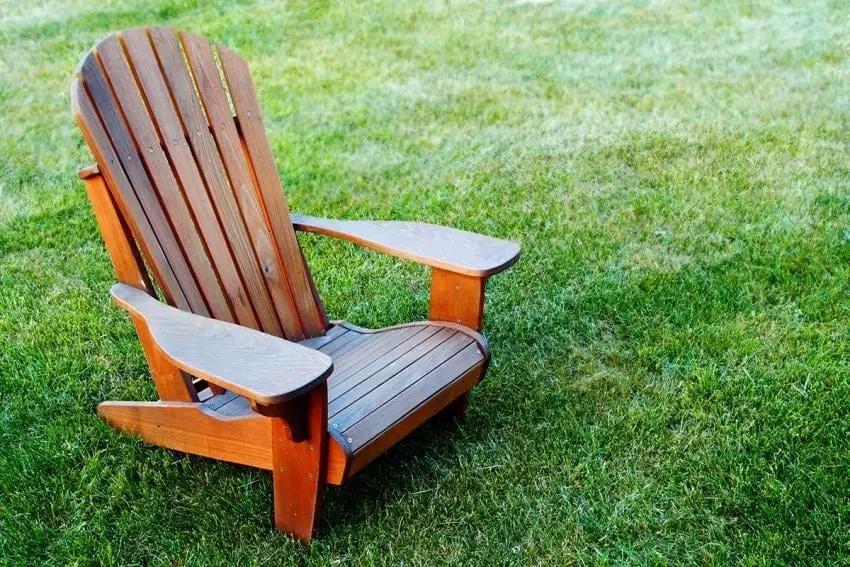 Surely one thing you've noticed as soon as you see this photo is why this Adirondack chair is so close to the ground?
This Black and Decker design seems to have lost its legs but nevertheless the chair looks strong; perfect for sitting close to the ground and relaxing. The back has the classic seven plank design but is longer which can extend up to the back of the head.
The armrests are long and wide but become narrower as it moves farther. The seat is no less comfortable and great for relaxing, entertaining and even sleeping. This seat is obviously stained to protect it from the rain and the scorching sun.
4) Timeless Adirondack Chair Designs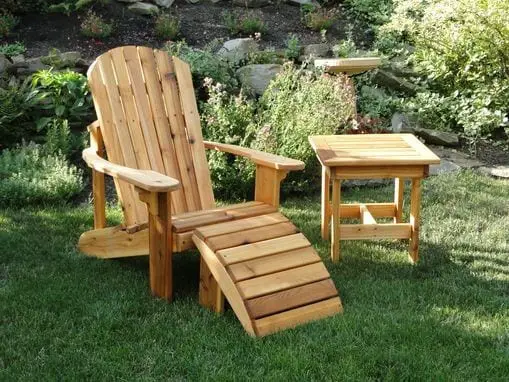 What a way to relax this weekend! This Adirondack chair design will surely sweep you off your feet with its full poolside chair design. The backrest has the seven plank classic design and the armrests are large to let you relax your weary limbs.
Now the seat extends to the back, like a typical Adirondack but it does not stop at the front because it juts out to cradle your legs. Imagine sitting on this comfy chair with a book in hand and a towel wrapped around you… This definitely deserves to be your next outdoor woodworking project.
5) Colorful DIY Adirondack Chairs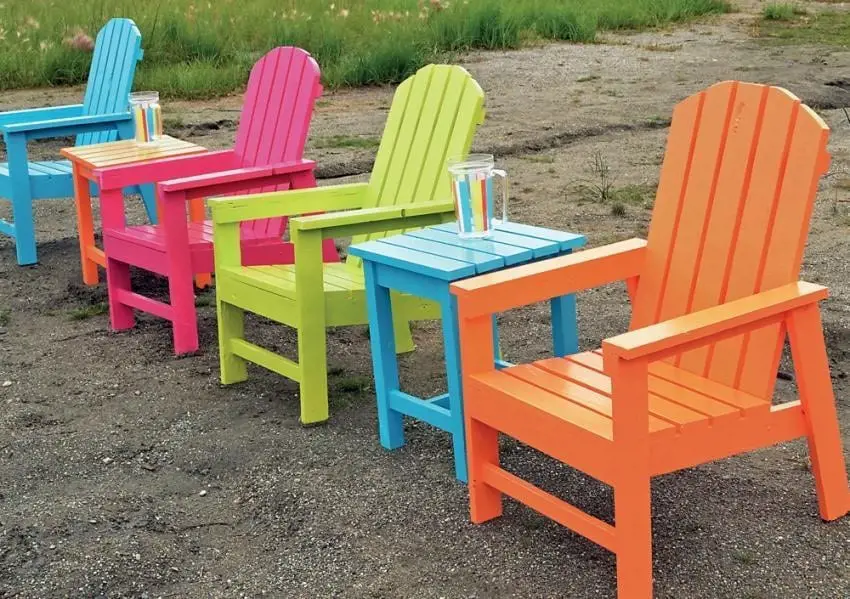 Do you want to collect all the colors for your patio? I would! These chairs have the classic Adirondack design with a moderately-high back and gently reclining the seat. The armrests are large while the seats are large and strong.
These were made from treated lumber and painted in different fun shades of color. It is not certain if these chairs were used near the pool, on a patio or in a garden setting but nevertheless, you can use it anywhere and take it anywhere too. These colorful Adirondack chairs should be your next backyard project.
6) Adirondack Beach Chairs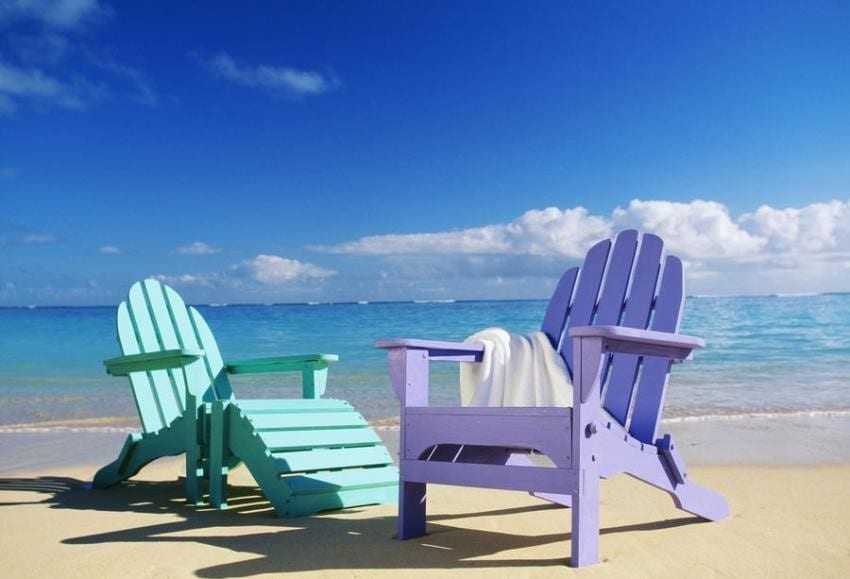 These beach chairs are ready for summer action! One chair has the classic Adirondack charm with the large six panel back and swooping seat and one chair have an extended feet design. These chairs were made with tough, treated lumber made to withstand the rigors of cold salty air.
You can see that these chairs received an extra helping of color too. Actually, these chairs have more to offer than just being beach chairs. You can also construct one for your poolside or for your relaxation area on your patio or under a pergola.
But for this design, you can add a beach umbrella, a blanket, and a small table to enhance that summertime mood. Plans for this fun yet relaxing beachside Adirondack chairs are easy to follow with materials list and step by step instructions as well.
7) Redwood Adirondack Chair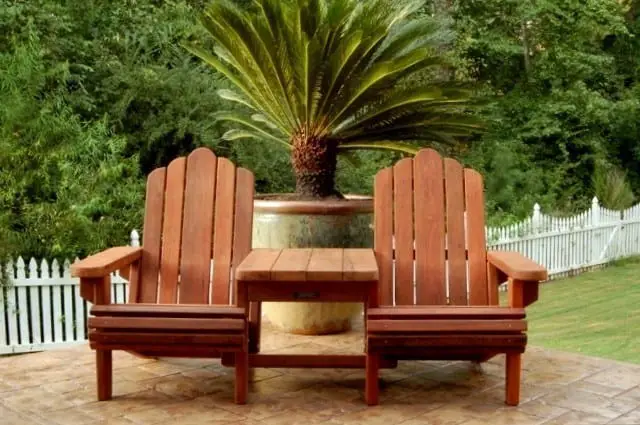 Why make one Adirondack chair when you can build two? This is a plan to make that perfect redwood seating in your patio or backyard. This is an Adirondack chair made out of strong and durable redwood.
This has extra-large backrests and armrests so you can sit and read or sit and sleep. The seats are large as well so you can add pillows and a blanket for total relaxation. Sit and stay cozy with a friend or your spouse.
Watch a movie outdoors or just recline to gaze at the stars. These chairs have been stained with a protective weatherproof coat to withstand rain and heat. 
8) Treated Hardwood Adirondack Chair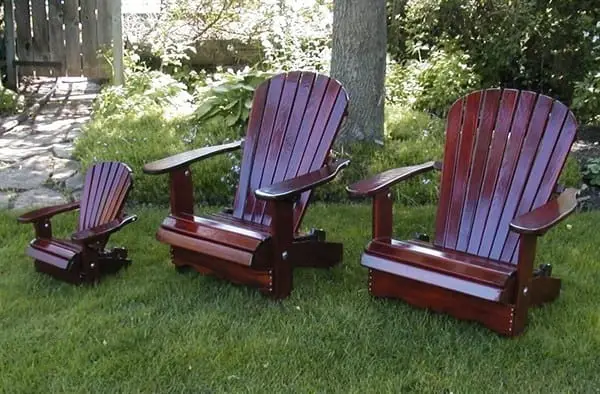 These seats are really huge and you get plans to construct not just one Adirondack seat but for three seats. These seats are really for a family of three. These were made from treated hardwood which was expertly stained and weatherproofed for protection.
The design is basic with your utmost comfort in mind. The backrests are huge and the seats are spacious; you can even fit two people in the biggest seat! The smallest seat is cute and will surely be the darling of the patio.
You can place these on your patio, in a shaded part of your garden or under a pergola where you can relax and meditate. This is a family project waiting to happen!
9) The Conventional Adirondack Chair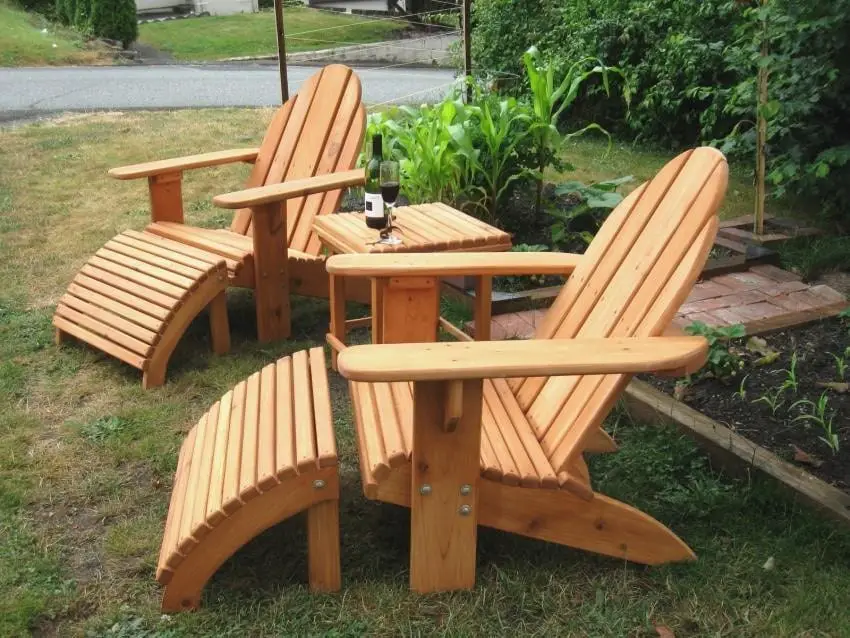 Create a relaxing setup in your patio or backyard, poolside or garden with these two conventional Adirondack chairs. These two were made to help you relax and take your mind off your worries with its extra-large backrests and long and wide armrests.
The armrests are so huge you can place a cold drink on top!  The seat swoops backward and to the front to lift your feet from the ground. This is made from tough lumber which was treated to withstand tough weather.
The plans to make this Adirondack chairs are not too complicated and in fact, even anyone who has only a small background in woodworking can do this. Make sure to select the best materials for this project and you can have this relaxing outdoor seating soon.
10) Basic Red Adirondack Chair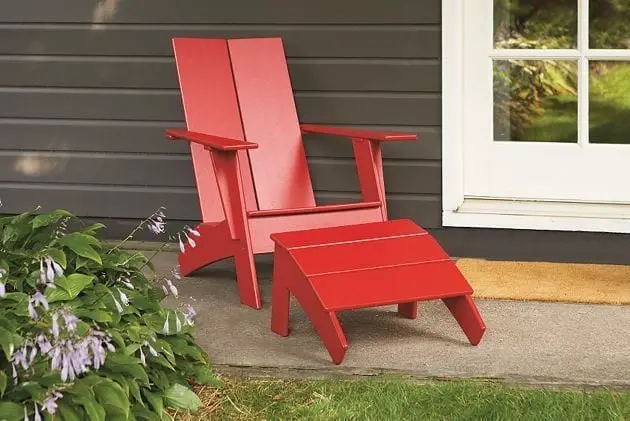 This is a two-piece Adirondack with a seat and an ottoman. The seat has a unique two-panel backrest which looks very sturdy. The armrests are high and huge. Without the ottoman, the seat features that curved Adirondack style but with the ottoman, you got the perfect place to retire your weary legs.
The plans to make these two seats are simple yet a bit tricky so be sure to have all your tools ready to get the most out of this project. The seat and ottoman are red and this is very striking color in an otherwise green or brown yard. But you can also use your own color and or a shade that you think will complement your backyard best.
11) Ana's Adirondack Chair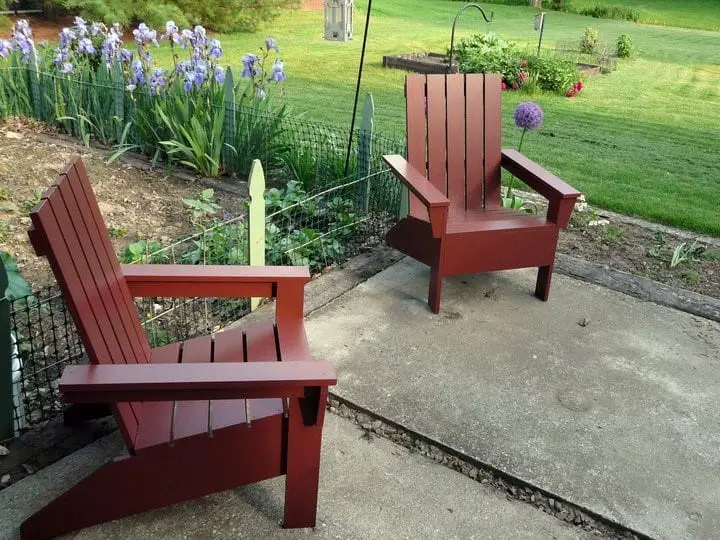 These Adirondack chairs have a seamless look. The backrests only have five planks but are still wide and long. The armrests are extra-long and wide and the seats are higher from the ground compared to other Adirondack chair designs.
These chairs were made from treated lumber so expect these to last for a long time. These were painted a reddish=brown hue with paint with weatherproofing features. You don't need to take these indoors in case of rain or extreme heat because these will stay beautiful outdoors.
Adirondack chairs like these can make any patio or porch worth checking out. Accessorize with throw pillows, area rugs, and a blanket and you got an interesting and relaxing outdoor area for you and your family.
12) The $10 Adirondack Chair
Would you believe that the materials and hardware used to build this Adirondack chairs cost only $10, maybe even less? This chair was made from recycled wooden pallets which were sanded and cut accordingly.
The backrests have five long and wide planks while the seat is wide and can even accommodate two people. The armrests are awkwardly large and wide but no matter, you can use these as a narrow table, one on each side.
The seat is not too slanted at the back which makes this design a bit stiff. But nevertheless, it is an economical way to build an Adirondack for your patio or backyard.
13) The Pallet Wood Chair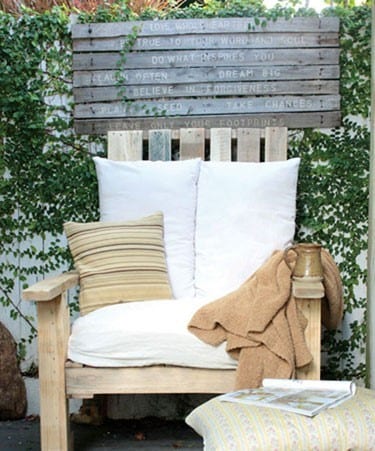 This Adirondack chair may be too hard to check out since it is loaded with pillows and accents but this just proves that this type of chair is perfect for outdoor relaxation. This is made from recycled wooden pallets which were weatherproofed and cut into the desired shape. This chair holds true to its traditional design with its long armrests and a swooping seat. Can you imagine relaxing or taking a nap here?
14) DIY Beach Adirondack Chair
Possibly made for a lifeguard, this is a beach Adirondack chair that has extra-ordinary tall legs. What makes this true to the Adirondack designs is its swooping seat but with this design, you can only recline a few bits.
This was made from strong lumber which is treated with a weatherproofing coating. The builder has cleverly accented this seat with pillows with complementing colors. There is a footrest along the legs of this seat which concludes that this was created for a lifeguard. But going back to the design, this is clever yet simple. You can finish this in just a few hours provided you have complete tools and materials.
15) MinMax Adirondack Chair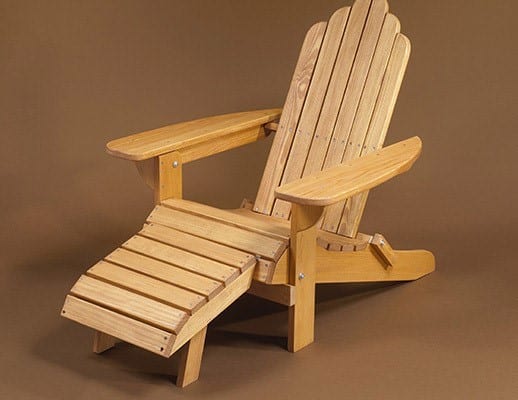 You can relax all day long in this Adirondack chair This may look like a classic but it has few features that set it apart from other Adirondack chairs. For one, the seat is not just slightly curved at the back but has a deeper decline.
Instead of a rounded front, the seat extends to accommodate your legs. It is a bit narrow compared to other seats but despite these, it still makes a good chair to relax in when you are outdoors. The design plan for this MInMax Adirondack chair comes with complete step by step instructions as well as a materials list.
16) The Cozy Adirondack Chairs
What a great idea! Snuggling with a blanket in your comfy Adirondack chair in front of a fire pit. This ingenious solution to the cold summer nights could be your next outdoor furniture project. These chairs have a very simple design which could be completed in just a day if you have complete tools and materials.
The backrest has only four wide planks but still looks durable and efficient. The seats are huge and are moderately sloped at the back. The armrests are huge and could be used as a table and the seat is slightly higher from the ground compared to other traditional Adirondack chair designs.
These chairs have been coated with lovely red paint which is a standout when you are outdoors. Overall, this is a fantastic project to check out with your family.
17) Golf Course Adirondack Chairs
Golf courses have fantastic views and usually, people don't get around that much to notice the view because they're busy minding their play. Now, these Adirondack chairs will let you rest your weary arms and legs and enjoy the view along the fairways.
Sit with your friends and check out the amazing views across the course. The seats are made with a classic design with large and wide backs, seats and armrests. From the back of the chairs, you can see that these are made of lumber and surely have been waterproofed to retain their lovely white color.
You can make this kind of chair for your own yard or garden and invite friends over to enjoy the view as well.  At least you don't have to chase after a ball anymore. Take this as an inspiration for your next woodworking project.
18) 2 x 4 Adirondack Chairs Plan
Nice and pleasant, you can use these Adirondack chairs as the highlight of your patio, seating area or relaxing area. This has been painted purple which easily stands out from any yard or garden. The backrests are huge with a curved design; the armrests are long but narrow than other classic Adirondack chairs.
The seats are adequately slanted at the back, all the good qualities of a true Adirondack chair design. And aside from getting plans to make these seats, you also get a free plan to make the table between the two seats. You will not just be making seats but a complete seating section!
19) Adirondack Chair Swing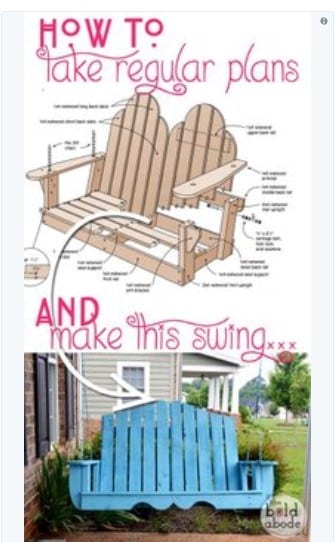 If tires and tubes can be made into a swing then an Adirondack chair can be used as well. This is a sample of a guide on how to make your dream Adirondack swing a reality using simple materials. The chair has to be built from scratch because you need to construct it to fit an existing arch.
The swing must be made of light but durable materials so wood pallets are the best thing. And of course, waterproofing or weatherproofing is very important because this will remain outdoors exposed to the elements.
This project is easy to make and it could be something for a novice woodworker. This can be an inspiration to help you on your next outdoor woodworking project design.
20) The Yellow Summertime Adirondack Chair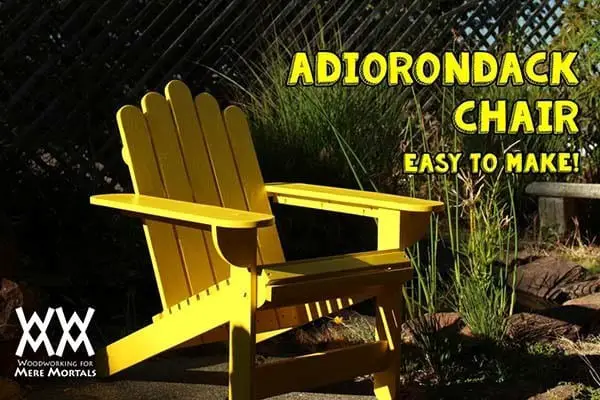 This bright yellow Adirondack chair is quite a stunner. Just look at its tall and wide backrest with yellow planks. The seats are yellow, with a touch of red at the feet. The armrests are large and extend to the back.
There are so many ways to use this chair; you can use this in your patio to serve as a relaxation chair, near the pool to be a poolside chair or as a garden chair. But no matter where you use this or what you use this for; you need to make sure that your chair lasts longer.
Apply a weatherproof coat on your chairs or use wood stain on the planks before installing them. These plans are very easy to make too; a video was even made to feature the build.