Nothing beats eating with good friends and family outdoors. A long-time staple when dining out is the picnic table. Picnic tables are commonly found in parks, beaches, resorts, lakeside areas and recreational centers.
And while most picnic tables use wood as the material of choice there are some builders who use composite materials like plastic or metal. Most builders create picnic tables and benches with materials that they have readily on hand like recycled plywood, wooden pallets, and wood from fallen trees.
The following are plans for the best 58 picnic table projects online. Most of these plans are quite easy with the materials and equipment needed to make these tables available almost anywhere.
1) The Classic Picnic Table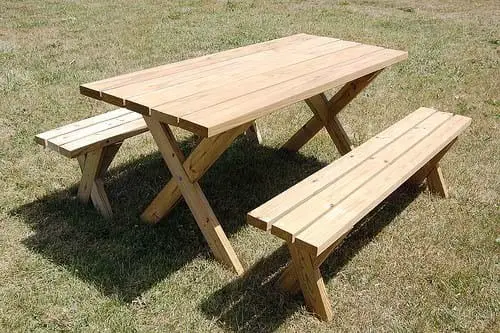 As you can see, the table is made from wooden pallets while the benches are also made of the same material. This table and benches are obviously new and need a nice coat of paint or wood stain.
2) Classic Picnic Table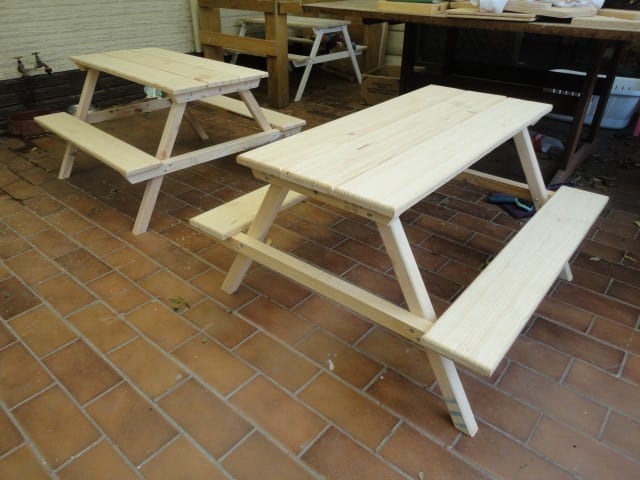 What's not to love about this table? This is another all-time picnic table classic design where the benches are connected to the table. You will find that this is a good option if you want to build a nice, clean and organized dining area on your backyard.
Take note that if you make outdoor furniture pieces like a picnic table or a bench, make sure you waterproof your wood. This will reduce damage from water and the harsh sun plus will also enhance the beauty of your furniture, like this one. The link to the picnic table plans easy and can be accomplished even on a weekend.
3) The Easy Step in Picnic Table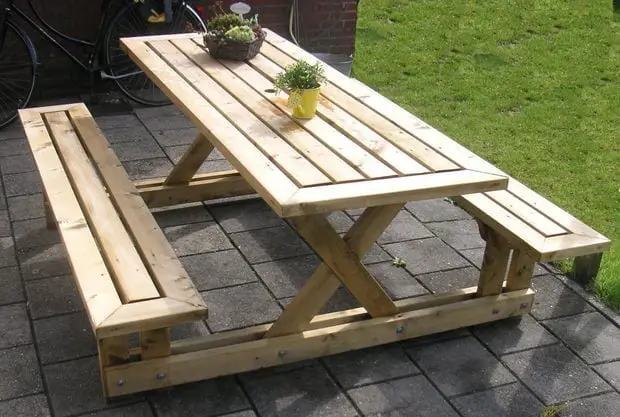 This picnic table is also wide and long which can accommodate up to six people, three on each side. It is made of strong wooden pieces and was stained to protect the wood. With this design, you don't need to worry about moving and assembling your benches too so everything stays perfect for all your guests.
4) Picnic Table For Kids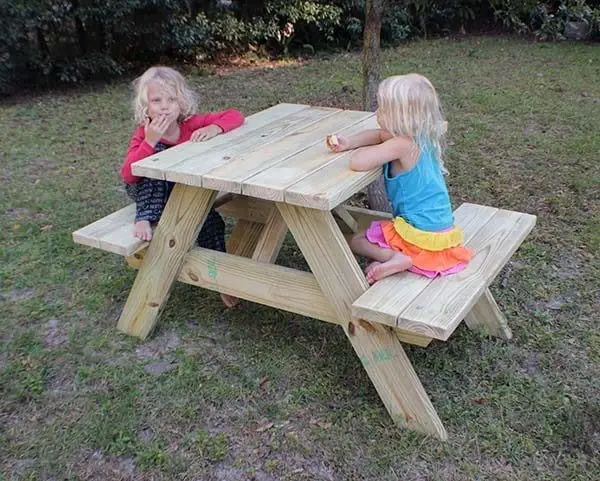 The seats are connected to the table so there's no movement on the benches whatsoever. This is made from very tough wood and was stained to protect the table and bench surfaces from heat and rain. This design can double as a kid's outdoor crafts table or simply just a place to sit, read and relax.
You can place this on your backyard, garden, and patio. The plans to make this project are very simple and can even be adjusted according to your preference. These seats four kids but you can make the seats and table longer to accommodate more.
5) Picnic Table Design with a Planter in the Middle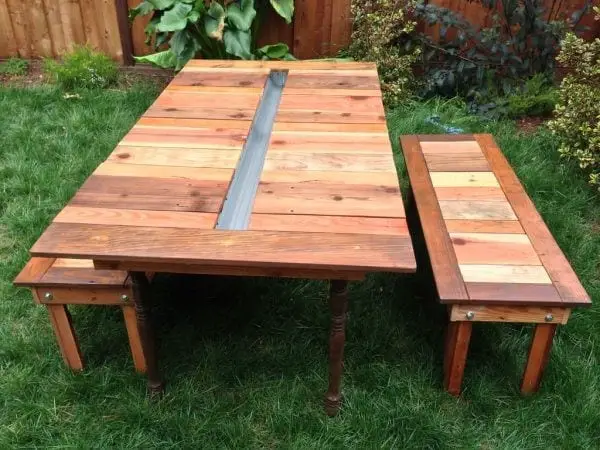 This is a picnic table/ planter which is a good idea if you want to host a party or outdoor event. The planter is simply a slot provided in the middle of the table. This space makes the table wider so you can place more food and beverages.
The seats here are separate from the table and are actually too low for most people. But despite this, this table seems to prove that even something as simple as a picnic table can be updated. But if you don't like to add plants or flowers, you can otherwise use this slot to place napkins, spoons, and forks or fill this with ice to make the ultimate beer cooler.
6) Convertible Picnic Table and Bench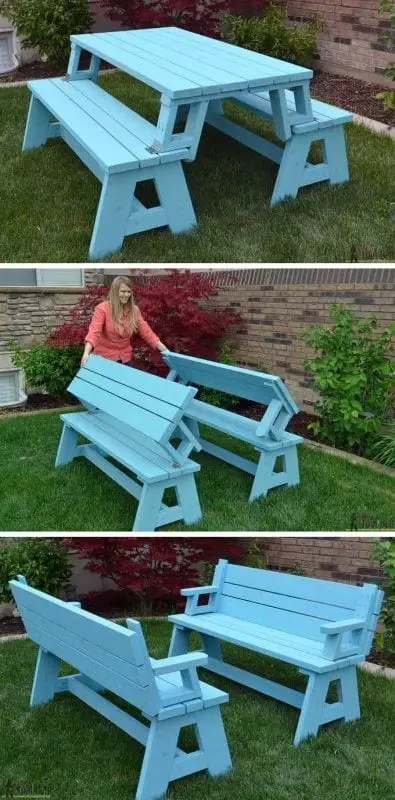 This is another innovative way to design a picnic table. Instead of just going for the table and bench set, why not make a picnic table that transforms into an outdoor seat?
This is a clever design that will save you time, money and effort. You can use this as a picnic table with chairs if you have company or if you want to eat out with family or your friends. But if you are not doing this, you can simply fold this to make large seats.
7) Kid's Picnic Table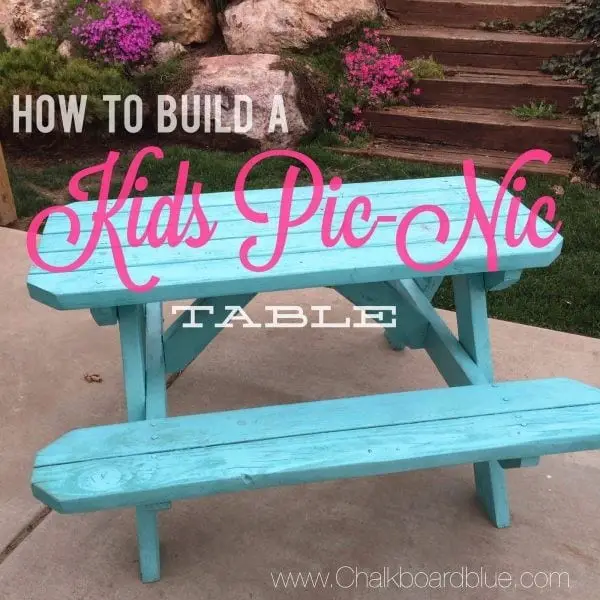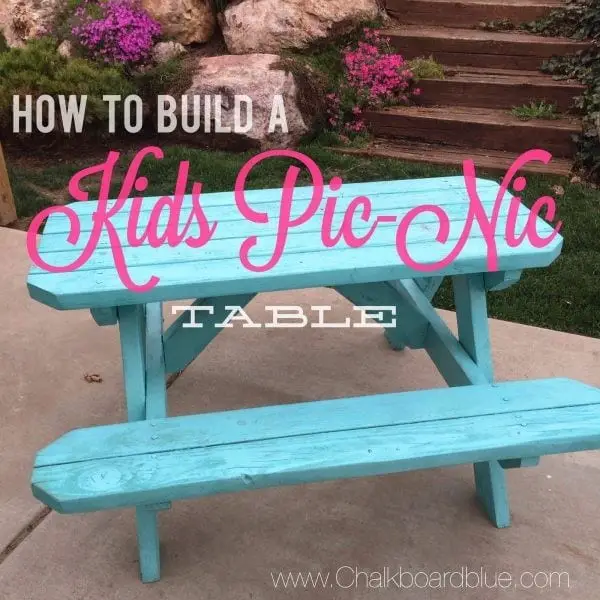 This is an adorable picnic table made especially for kids. This is small and will fit up to four kids. You can place this on your backyard, patio or in your garden where your kids and their playmates can do crafts, play or simply laze around.
This is made from wooden pallets and has a rounded edge even the bench has this shape. The benches are connected to the table so you won't have to clean up after your kids.
8) DIY Picnic Table for Kids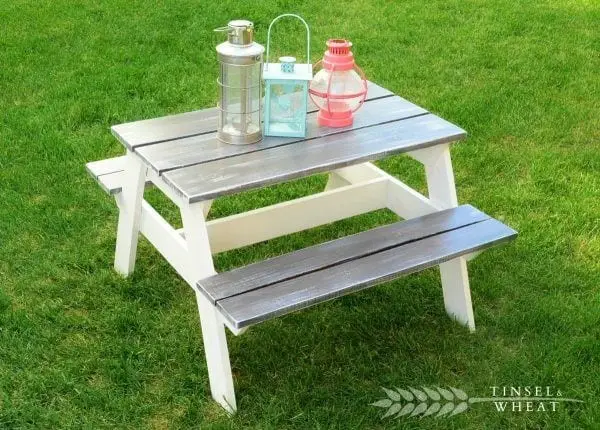 This picnic table follows the classic design where the benches are connected to the table. As you can see, this is a small table that was meant for kids to eat on. Most family outdoor picnics have the adult table and a kids' table so that the kids can have a good time dining with their playmates, cousins, and siblings.
This table can accommodate four kids, two on each side. But, with the easy plans to make this table, you can make the table longer and the benches longer too to be able to accommodate more mini guests. You may also make the table wider so you can serve more food.
And aside from eating on this table, kids may also use this to do their homework, to do crafts or to play with their friends and playmates.
9) Picnic Table Bench Design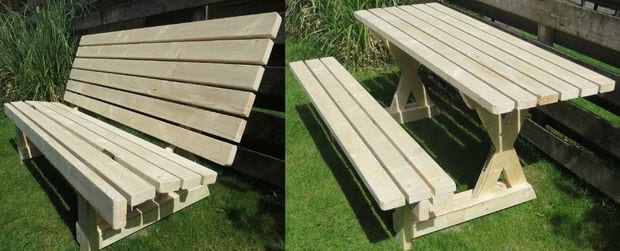 This is another design that will teach you how to build a full-sized picnic table and a bench. The table here is made of long wooden pallets which were obviously sanded and treated to protect the wood surface.
The bench is as long as the table but is narrower and made of the same wood pallets but with slots to allow air to move in. This foldable and dual-function outdoor furniture is actually very easy to construct and in fact, you don't need to be an expert woodworker to complete this project at all.
10) Cedar Picnic Table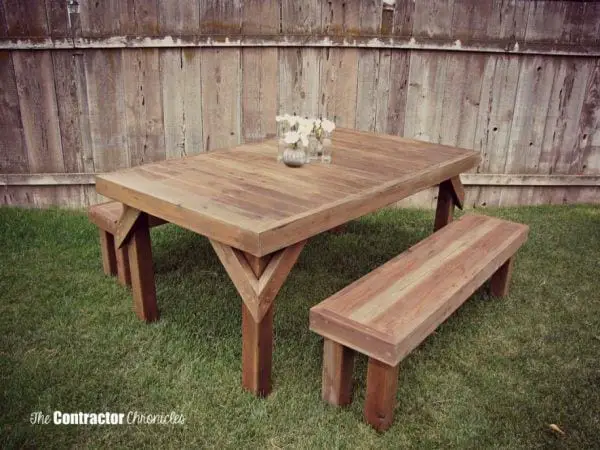 What I like about this table is that the builder took woodworking very seriously. Cedar was used, not just recycled wooden pallets, which means that foremost, the table and chairs are strong.
The table is not just joined pieces of lumber but rather arranged planks with long pieces of wood as edges. The table legs were provided with support beams to further improve the strength of the table. The benches have received the same treatment and were constructed with the same type of wood.
11) The Toddler Picnic Table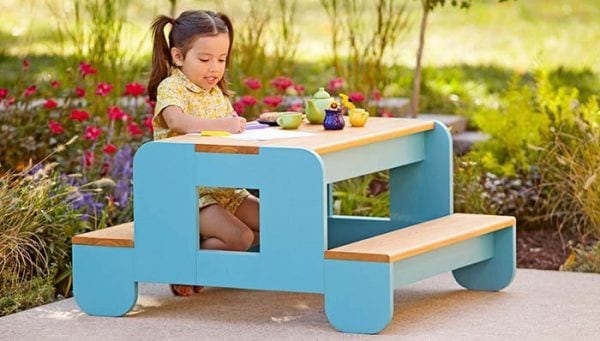 This picnic table has a contemporary design. It is cute, colorful a great outdoor seating and working area for your toddler. This seats only two kids but with the easy design, you can extend this table and bench to accommodate more kids.
The table in this design is supported by uniquely shaped feet and benches. Your toddler will surely love working on this table while you will adore the connected bench design. You can place this indoors or outdoors, on your patio or in your backyard, wherever your little one pleases.
12) Children's Picnic Table Plan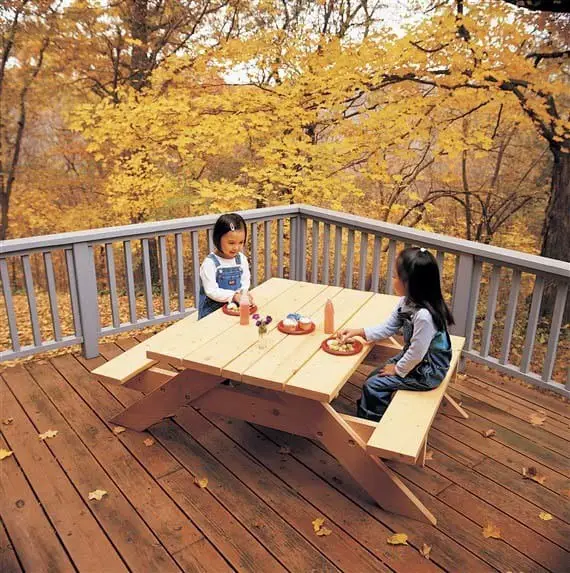 Kids love to do a lot of things especially having fun outdoors. If you have a large yard then you got yourself a large area where your kids can play. This picnic table will surely be a great outdoor piece that your kids will appreciate.
13) Foldable Chair that Turns into a Picnic Table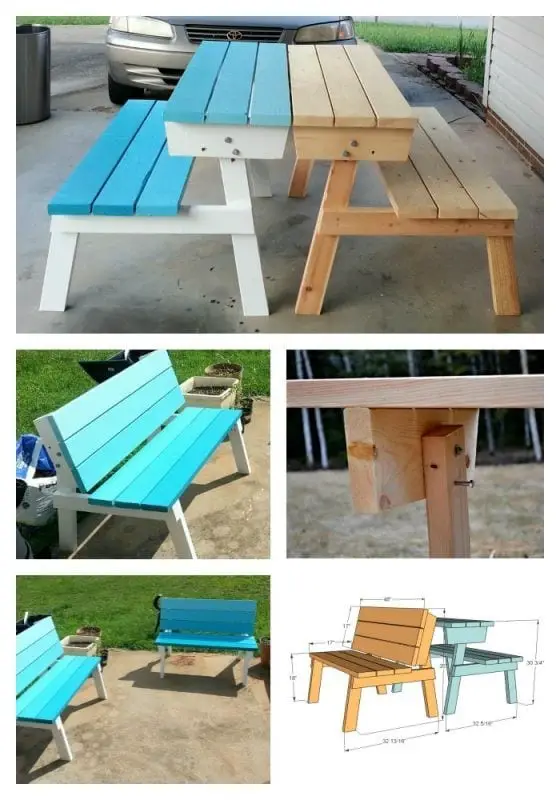 This is a plan to make a bench that folds into a table and can be folded away when not in use. There are many picnic table designs like this but this one has to be the most helpful.
Strong lumber was used to construct the table and was painted vibrant shades of blue. The design is seamless as the bench effortlessly folds out to become a table. Take note that you need to make two of these seats to create a full-sized picnic table.
14) The Composite Toddler Picnic Table Designs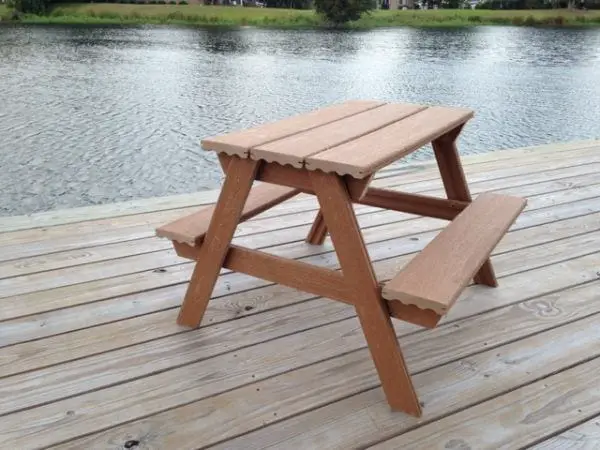 Your toddler will love to sit here and eat with his playmates or his siblings. Its small size and low form allow your toddler's small legs to move in and sit comfortably on the bench. The table is also low and this allows your child to reach for his spoon and to use this to eat.
15) Simple Kids' Picnic Table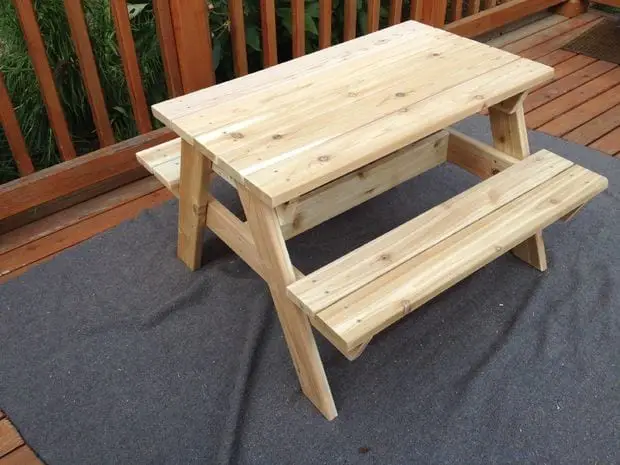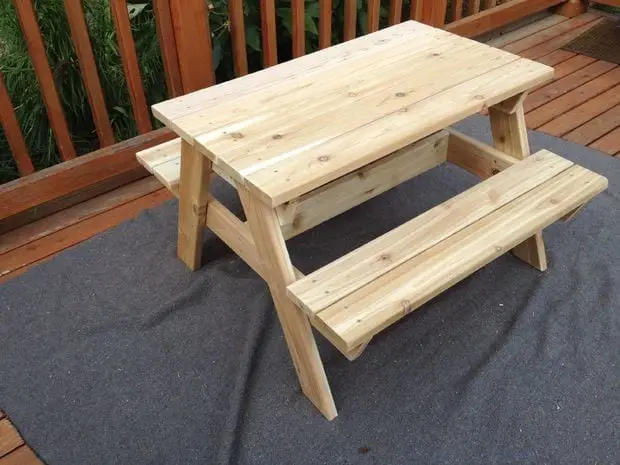 This is yet another very simple picnic table design and was made to fit a child. Unlike the toddler table, this one is higher and wider. The benches are attached to the table and were constructed with the same wood that was used for the table surface.
16) The Big Kids Picnic Table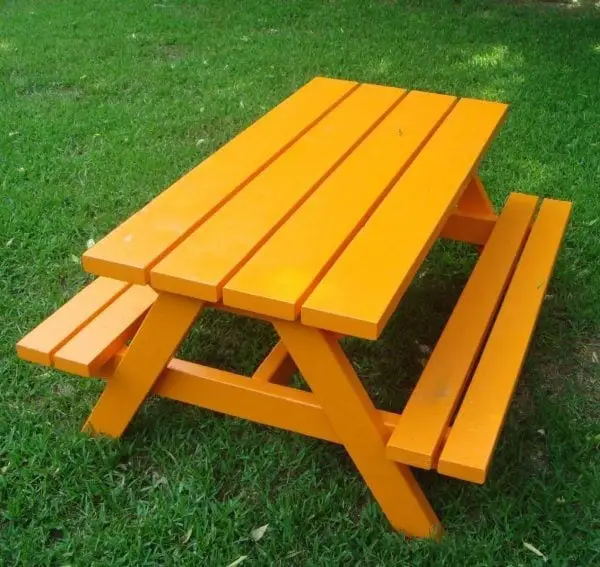 Kids grow fast and before you know it, your wee toddler is a young woman or man. Aside from having their own room, your big kids also need their own space outdoors.
A big picnic table is a good place to just sit, read, eat, relax or do crafts. A large picnic table such as this is something that your young kids will appreciate. It was made using durable pieces of lumber while the benches were also made with the same durable materials.
It was painted bright orange which will make any outdoor area lovely and charming.
17) Easy Folding Picnic Table Design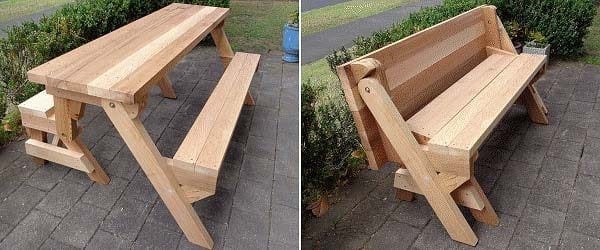 This is a picnic table with a folding design and it folds into a bench and into a picnic table and bench. What sets this folding design apart from others is that the wooden parts that hold the seat and table have rounded ends and are very prominent along the sides of the table.
This plan is all about building half of the table and bench, therefore, you must construct two to be able to enjoy a full picnic table. You can use this table to dine outdoors. Fold it and take it anywhere you wish to go like the beach, the lakeside, to a park or to any outdoor event.
18) Kid-Sized Red Picnic Table Plan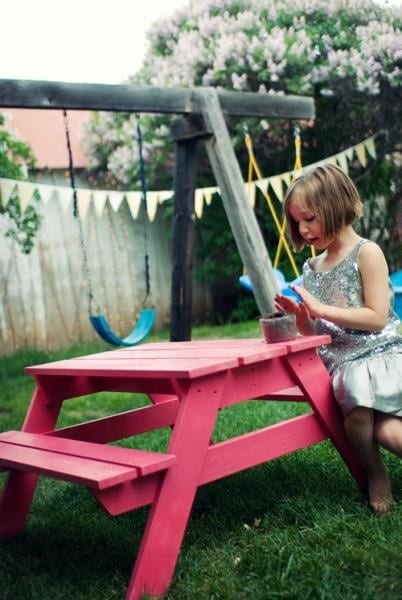 What makes red so awesome? It's a lovely solid color for any patio furniture and can energize an otherwise boring backyard. Your kids will love this red picnic table made especially for preschoolers.
19) The Picnic Table for Adults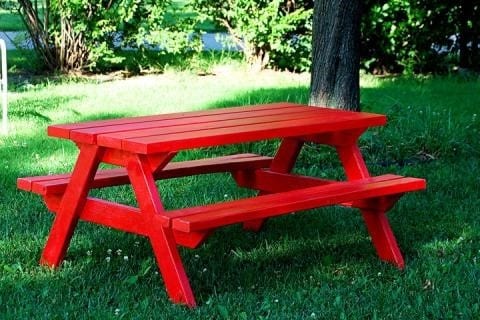 As most picnic tables, this is made from wood and a lovely stain was applied to protect the wood from rain and sun. The benches may be attached to the table but these are not too close to the table to make it hard to climb up and sit in.
20) Rounded Outdoor Picnic Table for Kids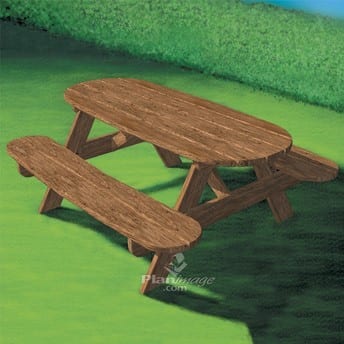 Now, this picnic table has been designed to be safe for young kids. While most tables have pointed corners, this one has rounded table corners and bench corners which will keep your little ones safe as they use this table.