31) Built by Kids Modern Birdhouse Plan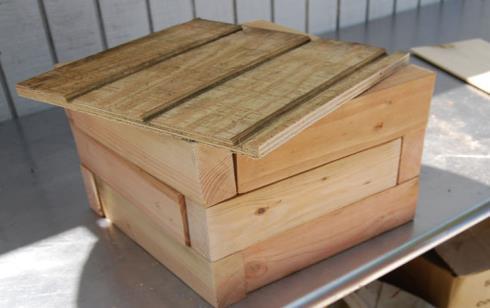 The tools you need to create this project include a driver or drill, measuring tape, wood glue, and sealant. The materials you'll need for the modern birdhouse plan include:
8 pieces of 10 ½ inch cut 2×4's
1 18×20 inch piece of MDF or a hobby wood for the roof
1 12×12 inch piece of plywood for the base
1 small hinge
30 deck screws
You need to sand the edges using an oscillating tool with a sanding attachment that made fast work of any splinters or burrs. Using a sandpaper and a block will also work. Attach the birdhouse base to the sides with screws and glue driven from the bottom. You can use a waterproofing paint or sealant to your birdhouse to provide protection from the elements. This is a very good birdhouse plan to start with.
Helpful Links: https://builtbykids.com/how-to-build-a-modern-birdhouse/
32) Birdwatching Bliss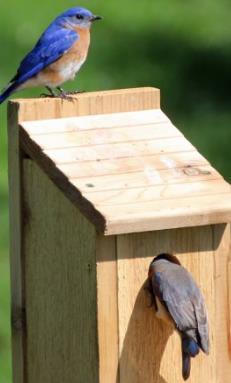 Most cavity-nesting birds use nest boxes with a 1 ½ inch diameter entrance hole such as tree swallows, chickadees,  bluebirds, wrens, titmice, and nuthatches. Wrens usually use holes that are smaller than 1 1/8 inch in diameter, while Woodpeckers prefer using larger holes with 2 ½ inches across. Make sure that the birdhouse is facing away from the prevailing winds.
When it comes to placement, placing the birdhouse in an open field will likely attract swallows and bluebird. If you place it in a wooded area, you'll like attract nuthatches or chickadees. It is important to bear in mind the natural habitat of bird species when choosing a location. The site of the birdhouse shouldn't be surrounded with thick foliage because parents need an open flight path. The locations should be abundant with food, water, and protective cover. Do not put a perch because it will be easier for squirrels, raccoons, and cats to reach inside the box.
Helpful Links:
http://www.birdwatching-bliss.com/bird-house-plans.html
33) Barn Owl Nest Box
Barn owls are generally cavity-nesting birds but they don't make their own nest holes. They are frequently using cavities and hollow trees. Barn owls readily move into nest boxes or open buildings. A barn owl box encourages barn owls to be permanent residents in your backyard.
The nesting platforms can be placed in steeples, silos, or barns if they are able to access them easily. Minimize or eliminate nighttime lights in the surrounding so the owls are not disturbed or exposed. A barn owl nest box has a 6 inches entrance hole suitable for a barn owl.  You can design your birdhouse with a narrow slat so adult birds are able to kick out unwanted dirt or debris. The top or side should be safely opened for easier cleaning. The interior dimensions vary greatly. The owl box should not be less 10 by 18 inches floor.
Helpful Links: https://www.thespruce.com/barn-owl-boxes-nesting-owls-386640
34) Mail Box Bird House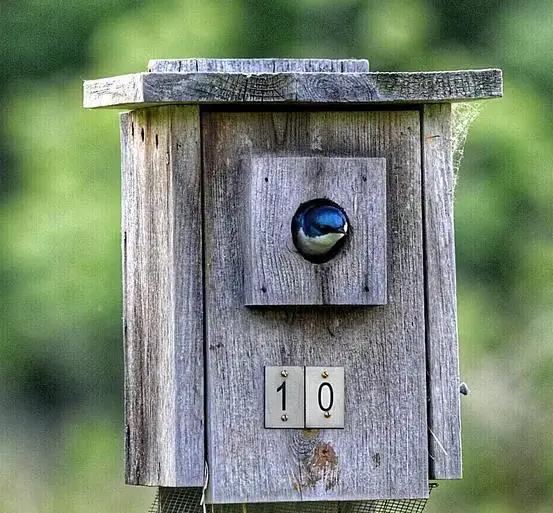 You can use any standard-sized mailbox that can be easily converted into a birdhouse. You can purchase new mailboxes from home improvement stores or used boxes found in thrift stores, garage sales or neighbors who are doing garden renovations. The most common are curved-top mailboxes but you can also use other shapes. You can also use newspaper delivery tubes that are also considered safe and comfortable as innovative birdhouses. Minor damages like rust or warping won't bother birds.
Carefully remove any peeling paint so nestlings don't nibble on the potentially toxic debris. All screws should be tightened so the birdhouse is secure. Create drainage holes by using a small drill bit. Drill several ventilation holes halfway up the sides instead of the top of the house. Higher holes will likely leak, but avoid positioning the holes so low on the sides which can cause blockage when birds will build a nest.
Helpful Links:https://www.thespruce.com/mailbox-bird-house-385673
35) Birds and Blooms DIY Birdhouse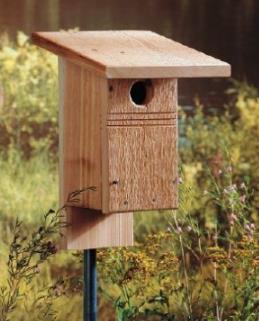 The Birds and Blooms DIY bluebird box has interesting features. It is assembled with the wood's rough side facing out so it closely resembles the natural nesting sites of birds. There is no perch. The notches beneath the entrance hole are providing footing for bluebirds, but discouraging visits from wrens and house sparrows. This is relatively easy to make. Just make sure you follow the specifications and guidelines to create a beautiful birdhouse for bluebirds.
The swing-open side of this birdhouse is convenient. You can easily monitor and access it for cleaning the nesting materials after the young ones have fledged. The swing-open side allows you to peek in on the nestlings, giving them a safe and sturdy home. With the side door, it is great for monitoring to know what is happening inside.
Helpful Links: http://www.birdsandblooms.com/backyard-projects/diy-birdhouse/diy-birdhouse-bluebirds/
36) Missouri Department of Conservation Birdhouse Plan
This birdhouse plan uses a single 1 x 6 inches, 5 feet board long. The front edges of this birdhouse have sides ½ inch shorter than the front of the nest box. The crack provides adequate ventilation. The hole size measures 1 1/2-inch is important because it keeps out cowbirds and starlings. If ever squirrels or woodpeckers enlarge the hole, you can replace the front panel or just patch it with a piece of wood measuring 1 1/2-inch hole.
You don't have to paint it, but if you like it, you can apply tan or light gray. Install the nest box 4 to 6 feet high on a post, facing the entrance towards the nearest shrub or tree. If ever you put up more than one nest box, be sure to space them. Clean and repair the nest box every February because Bluebirds prefer lightly wooded or open country.
Helpful Links:
https://nature.mdc.mo.gov/discover-nature/activities/woodworking/build-bluebird-house
https://nature.mdc.mo.gov/sites/default/files/downloads/4627_2364.pdf
37) Birdhouse Buzz Nesting Box for Bluebirds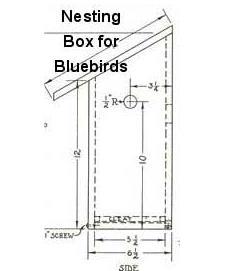 This is a free plan used in building a nesting box ideal for bluebirds. If you are lucky enough to have brightly colored bluebirds you can encourage them to stay on your birdhouse as their permanent home. Bluebirds are insect eaters and they prefer semi-open or open areas with low grasses for foraging.
This is a simple lean-to shed birdhouse design that is perfect to be nailed on a tree. It is now possible to enjoy watching adult bluebirds and their emerging chicks. You can build a bluebird nesting box from available scraps of wood then just follow the blueprints provided. Adding screws is a good idea to secure the bottom part and to make cleaning a lot easier. The website offers trusted and reliable information about bluebirds and other bird species.
Helpful Links:
http://www.birdhousebuzz.com/bluebird.html
38) NRCS USDA Bluebird House Plan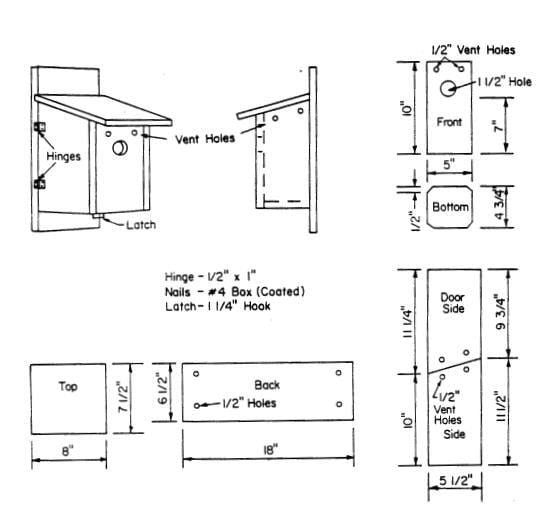 If you want to paint this birdhouse plan, you can use pastel colors since bluebirds are frightened with bright colors. Don't paint the inside of the birdhouse. It should be erected in open houses. It should be cleaned and inspected. Avoid placing bluebird houses in areas near insecticides because of the risk of killing the birds. To make this birdhouse plan, you can use softwood like pine or cedar.
Protect the birdhouse from predators using conical guard attached beneath the house. You can mount the birdhouse on trunks or fences that are isolated. Make sure that it is away from animals and attached high enough to prevent some animals from using them as scratchers. Every February, it is important to repair and clean the birdhouse. It is easy to build by following the guidelines on the PDF file.
Helpful Links:
https://www.nrcs.usda.gov/Internet/FSE_DOCUMENTS/nrcs144p2_063895.pdf
39) Michigan Bluebird Plan (Gilwood)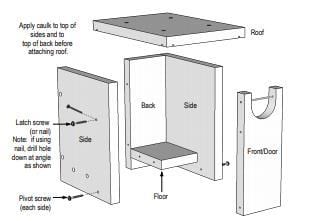 The Gildwood Michigan Bluebird Plan is a successful design by Steve Gilbertson of Minnesota. It has been shown that this design is loved by Bluebirds. But this is not preferred by House Sparrows because they are more on traditional nest box designs. This birdhouse plan has an unusual and open-top entrance hole. It has a relatively shallow depth that is not liked by sparrows as more deeper designs having entrance holes that are regular round.  The entrance hole is hard to make. You will need to have a 2 ¼ inches diameter hole saw.   The nest box uses the rebar mounting system or Gilbertson conduit.
All the designs of birdhouses on the website as well as photos are obtained from the original source with the permission of the owner as specified by MBS. You can download the clear PDF file for your next birdhouse project.
Helpful Links:https://michiganbluebirds.org/nestbox-plans
40) Michigan Bluebird Society MBS Gilwood Slot Box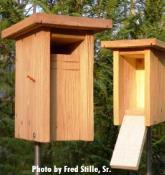 The Gildwood Slot Box was designed by Steve Gilbertson.  It is one of the simplest bluebird nest boxes you can build.  There's no entrance hole that needs to be drilled due because it has an open top slot entrance.  Its open entrance makes it less attractive to most House Sparrows. The slot entrance is more secure and safer for bluebirds, allowing them to easily escape from the box.
This nest box also has a double thickness roof, helping to provide better heat retention as well as insulation from the summer sun. It's important to ensure that the slot entrance is 1 3/16 inch high at the very least. The material can be cedar using 1 by 8 inches. If ever there is no table saw available, it's probably easier to use 1 by 4 stock instead.
Helpful Links:
https://michiganbluebirds.org/nestbox-plans
https://michiganbluebirds.org/images/stories/easygallery/downloads/GilwoodSlotbox2015.pdf