41) Michigan Bluebird Society MBS X Box
The Michigan Bluebird Society MBS X Box is a great and simple nesting box that is specifically designed and developed by Mr. Tom Comfort and a special committee of the national bluebird house experts.  The early test results show that the bluebirds love this birdhouse design as compared to other designs.
 The Michigan Bluebird Society MBS X Box features a hole size of 1 9/16 inch, which is slightly larger as compared to traditional 1 ½ inch hole size.  It's specifically designed to be mounted with the use of 1/2-inch rebar and electrical conduit. This birdhouse is relatively easy to build and it can be constructed with either pine wood or cedar.  However, the cedar wood is more expensive. However, it is harder to find in lumber stores. You'll definitely enjoy building this simple birdhouse even if it is your first time.
Helpful Links:
https://michiganbluebirds.org/nestbox-plans
https://michiganbluebirds.org/images/stories/easygallery/downloads/xbox%20plan.pdf
42) CBRP Bluebirds House Plan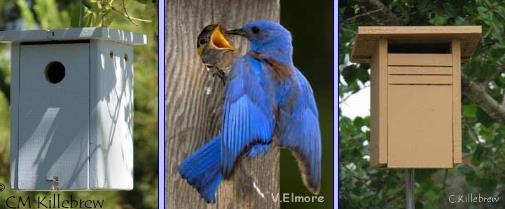 It is best to select a nest box that is made of wood with great insulation from extreme temperatures. The diameter is at least 5 x 5 inches for the interior floor ideal for Western Bluebirds. From the bottom of the entrance hole, it measures 6 to 7 inches to the floor for keeping the eggs and nestlings unreachable from crows or scrub-jays.
The pine or cedar wood should be 3/4 inch thick, providing sufficient insulation against the heat of the sun. Adding 1/4 to 1/2 inch ventilation holes is recommended if you live in an area of the county where summer temperatures spike 90 degree and above. The roof of the birdhouse should overhang the entrance hole (1 to 2 inches). You can extend the life of the wood by painting the outside of the nest box using a water-based paint.
Helpful Links:
http://www.cbrp.org/SDBluebirds/nestboxes.htm
43) Modern Cardinal Birdhouse Plan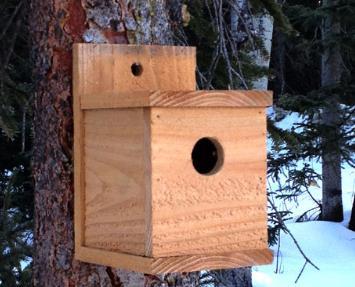 This is a good place for migratory birds, allowing you to set up a cozy and warm small house for the birds' needs and special care. This birdhouse plan is specifically designed for a 5 ½ inches wide x ½ inch thick fence picket. If you are teaching your children to do the assembly, pre-drill the holes and have them attach with screws or nails.  Wood glue is designed for exterior applications and oily wood.
You need to read the entire plan prior to starting this project. Review the needed information on the PDF file. It is important to take all the needed precautions so you can build a birdhouse smartly and safely. Working on a clean level surface is important, which is free of debris or imperfections. It is best to use straight boards. Check the square after every step, pre-drilling holes before you attach with screws. For a stronger hold, you can use glue.
Helpful Links:
http://www.ana-white.com/2013/04/plans/kids-kit-project-1-modern-birdhouse
44) Hanging DIY Birdhouse Plan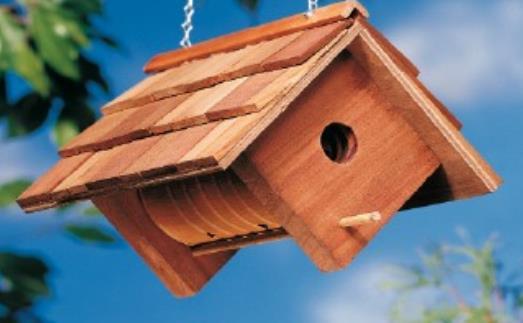 The materials you need in building this cute overhang birdhouse includes 2 scraps of thick pine board (¾ inch), with a measurement at least 4.5-inch square, 2 plywood (¼  inch) or paneling scraps. The measurement is at least 6 inches by 9 inches each ¼-inch dowel. First, you have to cut the ends 4.5 square inches from the pine boards. Measure 3 and 7/16 inches to locate the hole of the entrance.
Hold the birdhouse's front and back pieces together clamping them together. The perch is located by measuring 1 and 1/4 inches from the same corner and drill a hole ( 1/4-inch) through the birdhouse front piece. The roof pieces are cut from the paneling scraps or 1/4-inch plywood. One piece is cut measuring 5-3/4 by 9 inches, and the other piece at 6 x 9 inches. Next, nail the pieces to build the roof.
Helpful Links: https://www.homedit.com/cute-diy-birdhouse/
Conclusion
Birdhouse DIY plans are available in varying sizes. As you have learned, the size hole is very important when it comes to determining the bird species you want to attract. You can build the best birdhouse you need for your yard, enjoying the view of flying creatures around your beautiful home.