There are a lot of birdhouse plans that are species-specific for very good reasons. For instance, cavity-nesters need varying entry-hole diameters. The hole size for a bluebird house plan differs as compared to a birdhouse for chickadees. It's also crucial making the appropriate size hole to exclude undesirable bird species.
For example, a birdhouse plan with a hole size of 1 1/8 inch in diameter can exclude house sparrows and starlings, monopolizing nest boxes and evicting more desirable bird species.
Choosing the appropriate bird house plan is essential for the bird species you want to attract.
1) USGS Free Bluebird House Plan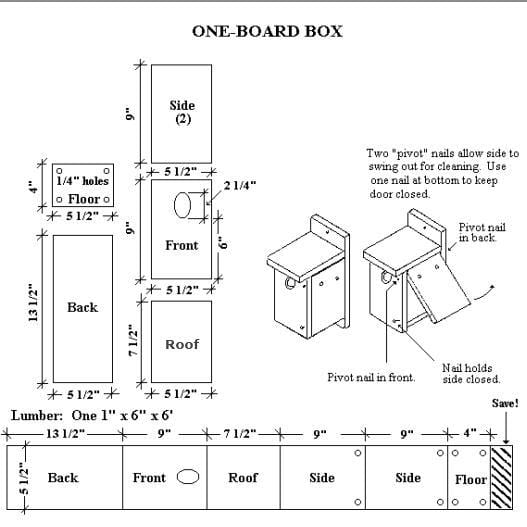 The USGS Free Bluebird House Plan is for Western, Eastern, and Mountain Bluebirds. Building a bluebird nest box is a good way to help in the conservation of bluebirds at the local level. A nest box helps in maintaining bluebird populations declining at 90%. You can also create your very own bluebird nest box.
If you build and mount them correctly, a bluebird nest box can deter competing species and predators. In this plan, the bird hole size measures 2 ¼ inches in diameter. It is an easy DIY birdhouse given the right tools available. There are 2 pivot nails allowing side swing out for easy cleaning. One nail is used at the bottom of the nest box to keep the door closed. Simple as that. This bluebird one-board nest plan is recommended for first-time wood builders, ideal for private or commercial use.
Helpful Link: http://www.birdwatching-bliss.com/bluebird-house-plans.html
2) Mark Bluebird Bluebird House Designs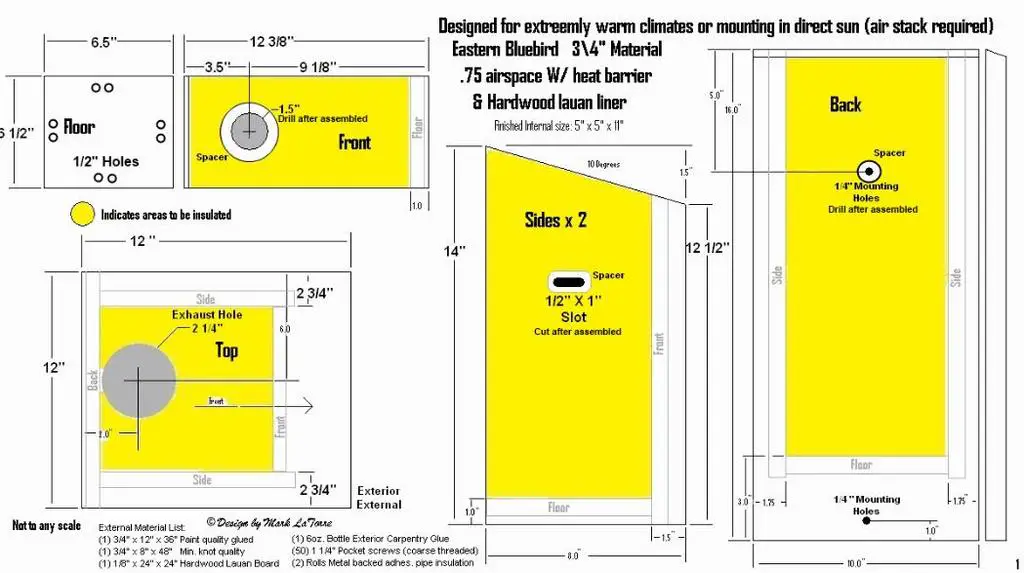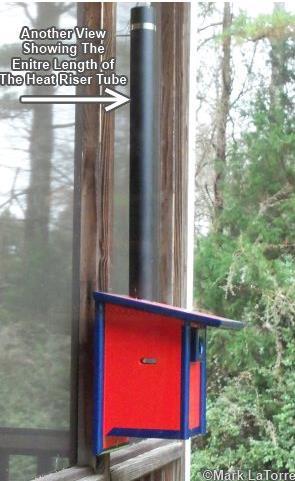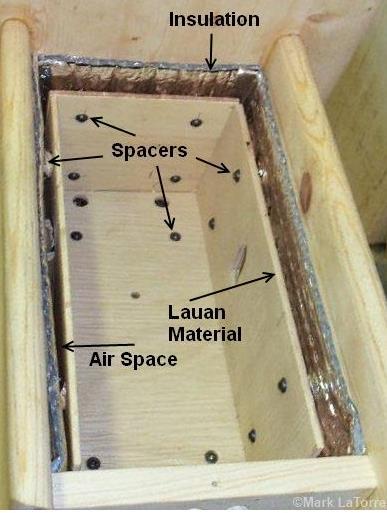 These designs are made by Mark LaTorre of Alabama. These are birdhouse plans that are specifically designed to keep nestlings and eggs cool in very hot weather. Mark documented that heat can stress eggs, lowering fledging success. You can reduce heat inside the nest box by increasing the number of young ones that fledge.
Mark possesses the perfect carpentry skills so he designed great bluebird boxes with airspaces between the outer and inner walls. His birdhouse plans include black vent pipes when heated draw air into the air space below the nest box. He painted some of his designs with the colors of his favorite sports team. The exhaust pipes are plugged to avoid convection in spring, and unplugged when the temperature rises above 90 degrees Fahrenheit.
Helpful Link: http://www.birdwatching-bliss.com/free-bluebird-house-plans.html
3) Mark's Bird House With Hole Guard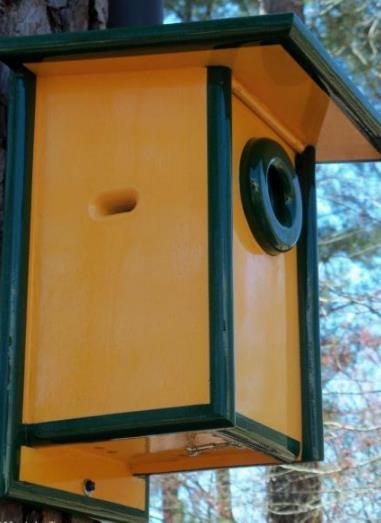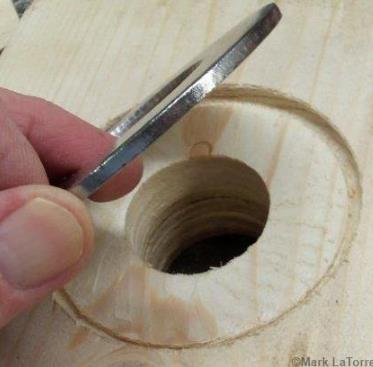 Mark LaTorre of Alabama installed another birdhouse with a hole guard. It is a protector of the bluebird house of his sister because she was having problems with squirrels that are chewing out the hole. Mark conceal a large washer surrounding the hole. After which, he shaped a wooden doughnut that served as a cover of the washer.

Squirrels would slow down with the washer. While they may attempt to gnaw around the hole guard and cause damage most especially to the doughnut, squirrels won't be able to gnaw through the attached washer. Although they may eventually dislodge the washer given enough time, they tend to give up and look for natural holes instead. Just simply take a lid of a can and then nail it in front after cutting the correct size of the hole in the center. 

Helpful Link:
http://www.birdwatching-bliss.com/bird-house-hole-guard.html
4) Nestbox Plans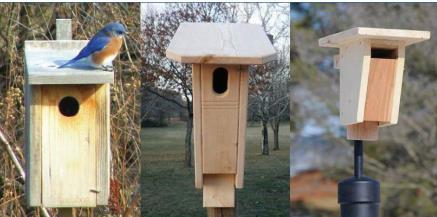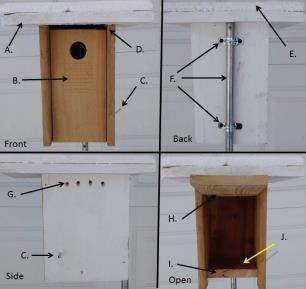 In February of 2012, the NABS Nestbox Committee has discontinued the process of nest box approval and they acknowledged that nest boxes of varying designs can work in one geographical area. They are encouraging bluebirders to take into consideration the basic recommendations that are listed in the Nestbox Fact Sheet before deciding whether a nest box is safe to be used by cavity-nesting birds.
The specifications written in this document are recommended for small and native cavity nesters such as bluebirds. By following the guidelines on the Nestbox Fact Sheet, you'll be more confident that the birds coming to your nest box are safe all throughout the nesting cycle with their offspring fledging successfully.
Helpful Links: http://www.nabluebirdsociety.org/PDF/NABS%20factsheet%20-%20Nestbox%20Recs.pdf
5) Eastern or Western Bluebird Nestbox Plan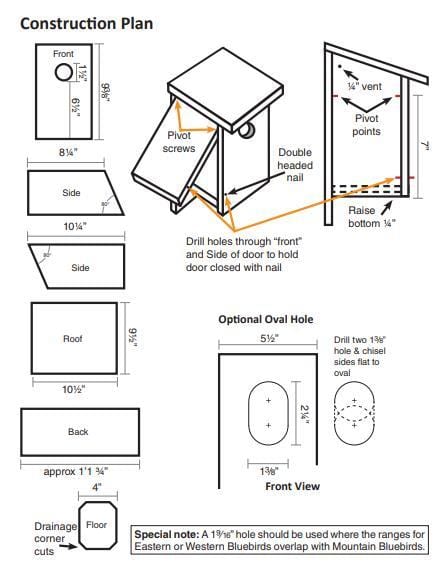 The board design starts cutting at the "floor", working towards the "back" because the "back" dimension is considered the least critical part. The materials you can use for the Eastern or Western Bluebird Nestbox Plan include the following:
Standard board 1-inch x 6 inches x 4 feet long
Standard Board 1 inch x 10 inches x 10 ½ feet long (for the roof)
1-3/4 inch galvanized nails or screws (approximately 20)
1-3/4 inch galvanized screw or nail for pivot point (2)
Double-headed nail for holding the door closed (1)
For the bird hole, you need to drill two 1 and 3/8-inch hole and chisel the sides flat to
oval. The oval hole is optional depending on your preference. A 1 and 9/16-inch hole must be used wherein the ranges for Western or Eastern Bluebirds are overlapping with Mountain Bluebirds.
Helpful Links:
http://www.nabluebirdsociety.org/PDF/NABS%20factsheet%20-%20Nestbox%20Recs.pdf
6) DANDR Nestbox Plan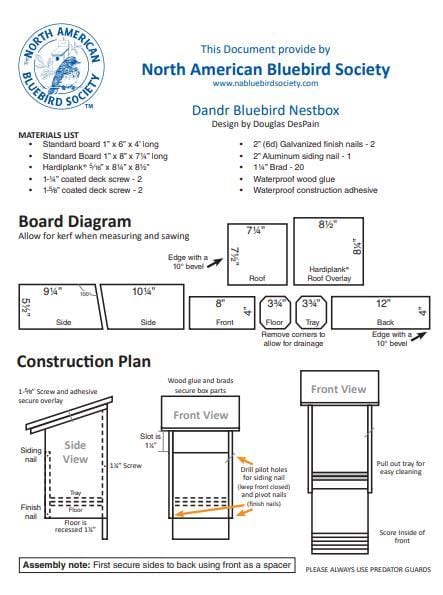 The materials you can use include the following:
Standard board 1-inch x 6 inches x 4 feet long
Standard Board 1-inch x 8 inches x 7¼ inches long
Hardiplank® 5/6 inches x 8¼ inches x 8½ inches
(2) 1– inch coated deck screw
(2) 1-¼-inch coated deck screw
(1) 2" Aluminum siding nail
(2) 2" (6d) Galvanized finish nails
(20) 1¼ inch Brad
Waterproof construction adhesive
Waterproof wood glue
When it comes to the construction plan, you need to first secure the sides to the back using the front part as a spacer. Wood glue, as well as brads, are used to secure the parts of the box. Also, you have to drill pilot holes to keep the front part closed using a siding nail and pivot nails as finishing nails. For easy cleaning, this birdhouse plan has a pullout tray, as well as scoring the inside of the front.
Helpful Links: http://www.nabluebirdsociety.org/PDF/Dandr%20Bluebird%20Nestbox%20plans.pdf
7) Gilbertson Bluebird Nest Box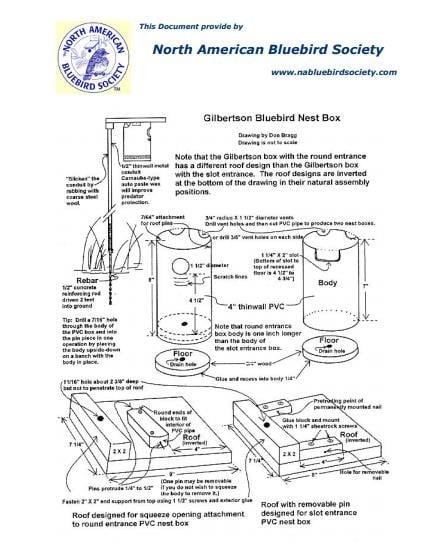 The Gilbertson Bluebird Nest Box has a round entrance and a different design of roof as compared to the Gilbertson Box with a slot entrance. These are inverted roof designs in positions of natural assembly. There are 2 nest boxes wherein the vent holes are drilled, cutting the PVC pipe, thus producing these nest boxes. The PVC pipes measure 4 inches.
To improve the predator protection, there is an attached ½ inch thin wall metal conduit auto paste wax. You can slick the conduit through rubbing it with coarse steel wool. The ½ inch rebar concrete is reinforced 2 feet into the ground. The roof is specifically designed to squeeze the opening attachment to the round entrance of the PVC nest box. On the other hand, the roof having a removable pin is designed for the slot entrance f the PVC nest box.
Helpful Links:
8) Peterson Bluebird Nest Box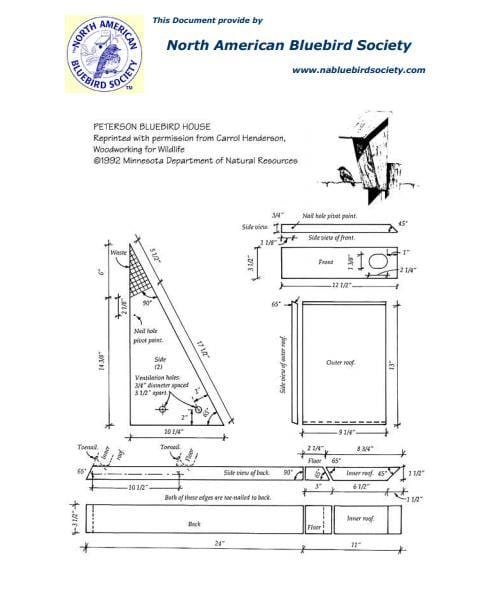 The Peterson Bluebird Nest Box has been reprinted by the North American Bluebird Society with the permission obtained from Carrol Henderson of Woodworking for Wildlife from the Department of Natural Resources of Minnesota in 1992. This is a simple bird house plan in pdf format. It is easy to build so any first-time wood builder or carpenter can follow the easy construction plan.
Helpful Links: http://www.nabluebirdsociety.org/PDF/Peterson.pdf
9) The Carl Little Bluebird Box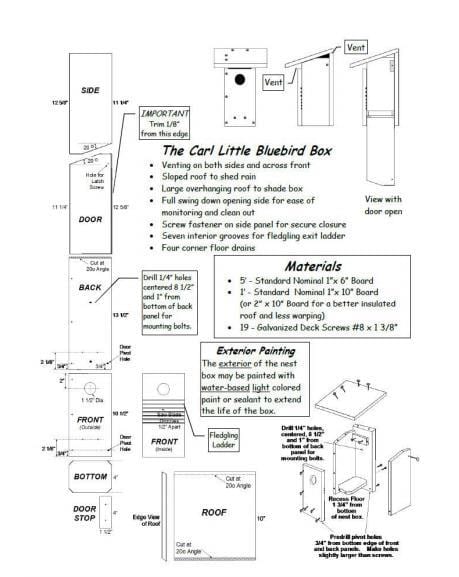 This birdhouse plan has vents across the front and both sides. It has a sloped roof for shedding rain. The large overhanging roof is also designed to shade box. It has a full swing down opening side for easy cleaning and ease of monitoring. For a more secure closure, you need to screw the fastener on the side panel. This bluebird house plan has 4 corner floor drains.
The materials you need to prepare to include the following:
Standard Nominal 1 by 6 inches board (5′)
Standard Nominal 1 by 10 inches board (1′) or a 2 by 10 inches board for less wrapping and an insulated roof
Galvanized deck screws #8 x 1 3/8 inch (19)
You can paint the exterior of this bird nest box using a sealant or water-based light colored paint for extending the lifespan of the box.
Helpful Links: http://www.nabluebirdsociety.org/PDF/Carl%20Little%20Bluebird%20Box.pdf
10) Hanging Western Bluebird Nest Box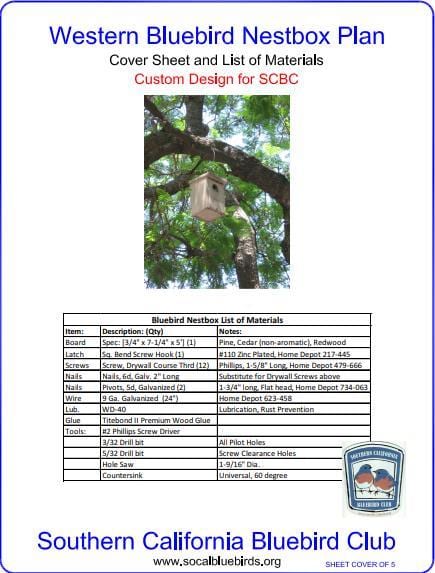 This is based on ¾ inches planks. Before you measure and cut, you can make adjustments for other thickness of lumber.  The recommendation is using 1 by 8 inches planks. But you can also use redwood or non-aromatic cedar. Never use treated plywood or wood. For the initial assembly, you can assemble the floor, back, and sides with the use of good quality nails, glue, or drywall screws.
For lubrication and prevent rust, you can brush the screws and nails with WD-40. You can choose to modify the doors. The roof is positioned with the hanger wire over the center of the cavity and the front large overhang. Fill the joint gaps or surface holes with the use of DAP or wood filler and sand smooth. Hang the birds nest box 8 feet or more above the ground away from trees or structures with the bird hole away from the wind.
Helpful Links:
http://www.nabluebirdsociety.org/PDF/Hanging%20Nestbox.pdf