Wooden pallets for DIY projects are now becoming more and more popular for people around the world, especially for those on a tight budget. The added advantages of recycling wooden pallets into some kind of craft or furniture are one of the most common and popular reasons why DIY is now very rampant.
Doing DIY projects are not just fun but highly functional at the end. Crafting tables, chairs and other furniture are popular DIY projects. But your wooden pallets can also serve as your next Christmas tree.
Here are some wonderful and festive ideas of wooden pallet Christmas trees.
#1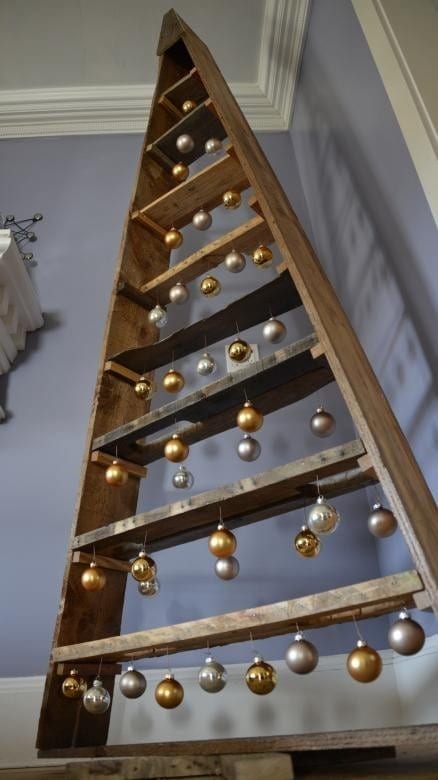 Via Habitat
Rather than cutting down a pine tree for your Christmas display this year, you can opt to do it yourself with used pallets. You can buy a real tree or a plastic tree, but this inexpensive DIY allows you to create and decorate your own tree.
Compared to a real tree or a manufactured one, used pallets are cheaper and customizable. For this type of Christmas tree, you would simply need to create a triangular frame for the base of the design. You can create a tall and wide tree according to your preference.
Simply add a triangular brace for the top of the frame to strengthen it. After finishing up the frame, gather up more pallet woods and add shelves to your frame from top to bottom.
To finish up the whole tree, a layout he hooks on the shelves and adds your Christmas ball ornaments. This DIY is sure to make your Christmas holiday more fun and festive, and inexpensive.
This DIY Christmas Tree Pallet Idea requires experience in disassembling wooden pallets.
This plan is very flexible as you can decide the height and width to best fit your space. First, you would need to build a triangular frame by cutting a bottom piece of your wooden pallet. Trace the top of the triangle on a scrap piece of your pallet wood and cut with a jigsaw. The piece of wood will be your brace for the frame.
After securing the frame, you can start with the shelves cutting the pallet slabs into one inch by one-inch pieces to make the cleats to hold each shelf slab. Each Install and nail each cleat and shelves.
Decorate all you want either by hanging holiday ornaments or painting it.
#2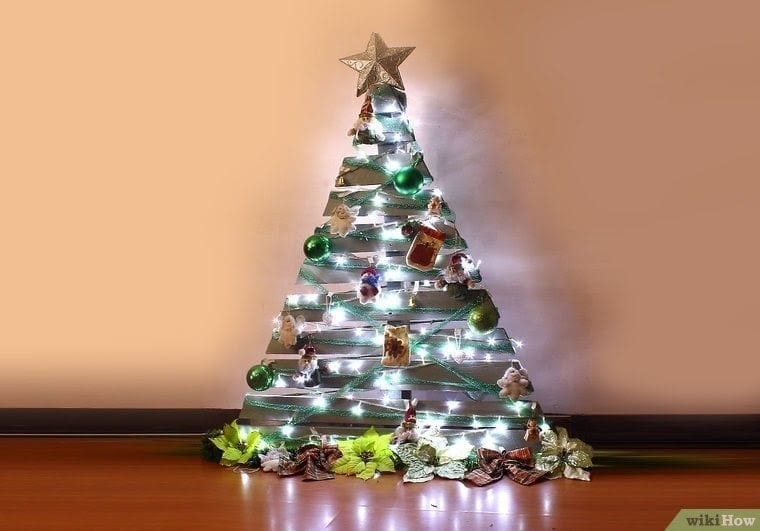 Via wikihow
There are many design plans to a DIY pallet Christmas tree but this one requires 3 simple steps: cutting the pallet, adding some finishing touch, and decorating. Cutting a Christmas tree from a wood pallet is a cheaper alternative to buying a tree which makes it a great decoration or gift for the holiday season.
Since this design is cut from one wood pallet, it's simpler and cheaper than other pallet Christmas trees. It's also a relatively small decoration you can fit anywhere you'd like. You may even create several for different parts of your house or give them away as gifts.
As a wooden pallet DIY maker, there is one thing that you would always almost certainly have to do, and though you must do it a lot, does not mean that it is easy. I'm talking about disassembly of wooden pallets.
Some people, especially that beginner DIY-er can spend up to six hours trying to take apart a single wooden pallet for repurposing. There is an easier way to do it in less than seven minutes with a hundred percent usability.
Here is an easy way to disassemble and take apart your wooden pallet for reuse without all the painstaking hard hours. First, you should recognize that pallets are designed strong and built to hold tremendous weight on top of it but are light in transport.
There are different kinds of pallets, but usually, when I talk about a standard, I am talking about American Wooden Pallets, this pallet is standardly having 48" slats and some can be 36" wide and 60" in length.
Basically, construction of a wooden pallet is a 2×4 regardless of fork cutouts to support the top and hold by bottom slats. Some pallets can have 4×4 blocks instead of 2x4s.
You should know that the slats are secured by a pneumatic nail gun. These nails have a spiral twist and are preheated with glue to hold the 1×4 or 1×6 slats.
The twists in the nails prevent pulling out of the board so the pallets can last long and extensive use. Wood pallets are also treated to prevent rotting. These are basically designed not to come apart.
#3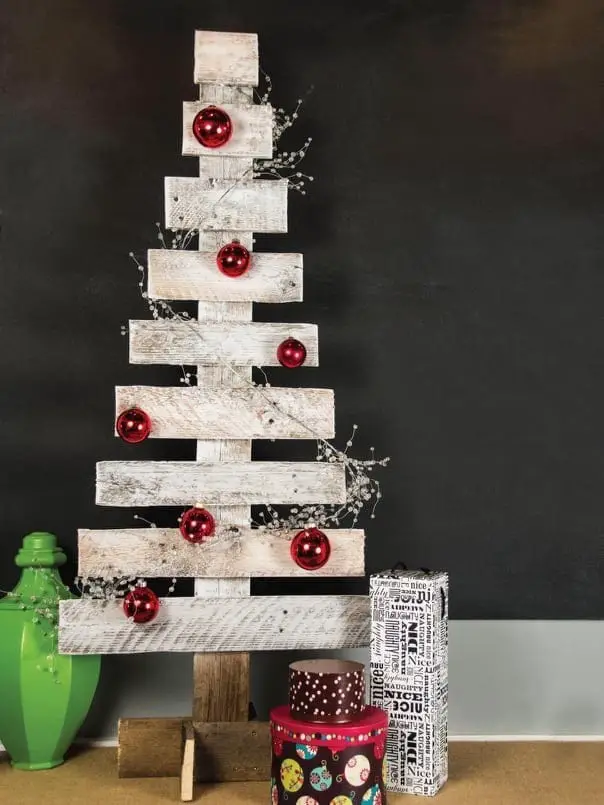 Via HGTV
There's no need to buy a tree this holiday season for a modern Christmas look for your home. In comparison to simply cutting a triangular shape from a wood pallet, this DIY uses pallet planks.
In addition to the rectangular planks used for this plan, the contemporary charm of this tree can also be attributed to its white and red theme. This simple and cost-effective holiday décor will surely provide your home a bright and modern Christmas season. It's an easy craft you can upcycle from used wood pallets.
When working with wooden pallets you might want to try familiarizing with terms that would help you find your desired wood. Here is a quick list of some things that you should find: a wooden pallet is comprised of top boards, stringers, and a bottom board, a skid, on the other hand, is only a top board with stringers. A crate is a wooden frame with plywood walls. A-frames are wooden supports with side decks. All these are good for wooden DIY projects.
#4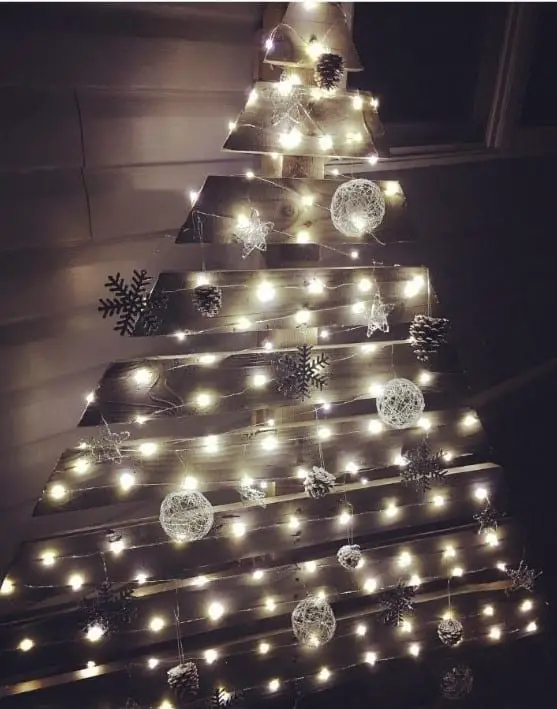 Via simplest
A simple pallet wood can easily turn to a country chic and rustic holiday décor for your Christmas holiday season. This template is simply a triangular cut from a pallet wood decorated to its rustic charm using some led lights and white, brown and gold ornaments.
In contrast to using a real tree, this is a smaller decoration making it more manageable than others. It's lighter and easier to display and store. It will definitely add color to your living room while taking up less space and less of your money.
#5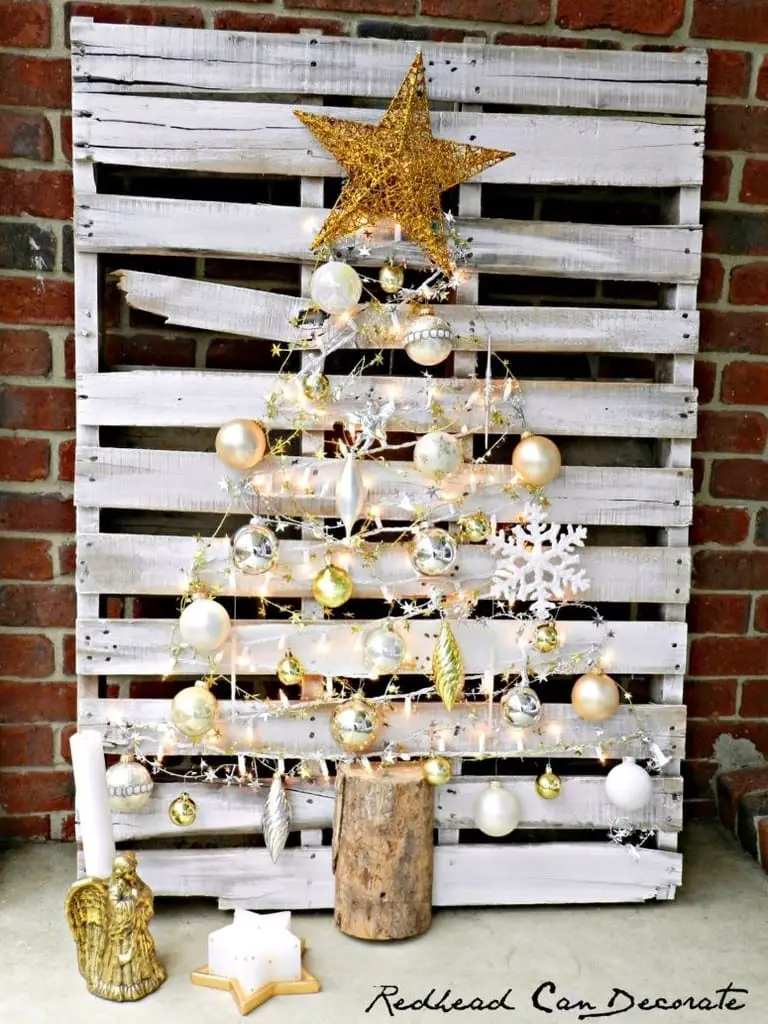 Sometimes, simple upcycling is enough to color and decorate your whole Christmas holiday. This DIY pallet Christmas tree does not need your heavy power tools or complicated woodworking skills. Simply grab the right pallet and start decorating.
To achieve this very rustic but very decorative look, you will have to find the best rustic pallet you can find and lightly paint it with white paint. Starting from top to bottom, layout the Christmas lights, garlands, and ornaments onto the pallet with nails.
Make sure to layout the light from side to side and as symmetrical as you can to get the triangular shape of a pine tree. As a finishing touch, screw a half log onto the bottom. With this, you will not have to worry about spending too much on a tree that you would have to make do of cheaper gifts for your family.
#6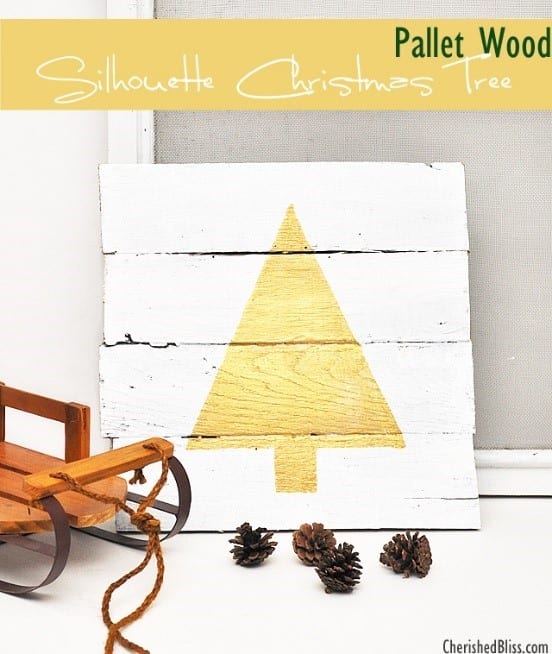 Via Cherished Bliss
If you're having trouble with space, time or money to decorate your home for the Christmas season, worry no more. This simple DIY is easy enough that you can finish it in an hour or so. You'll definitely be delighted by how simple but beautiful this project will decorate your home.
Using some pallet planks and some white and gold paint, you can create several décors for several rooms and some as gifts. It's a simple and fun display that you can stand on your desk or hang on the walls. What's more, you don't have to bother cleaning up this decoration after the holidays.
#7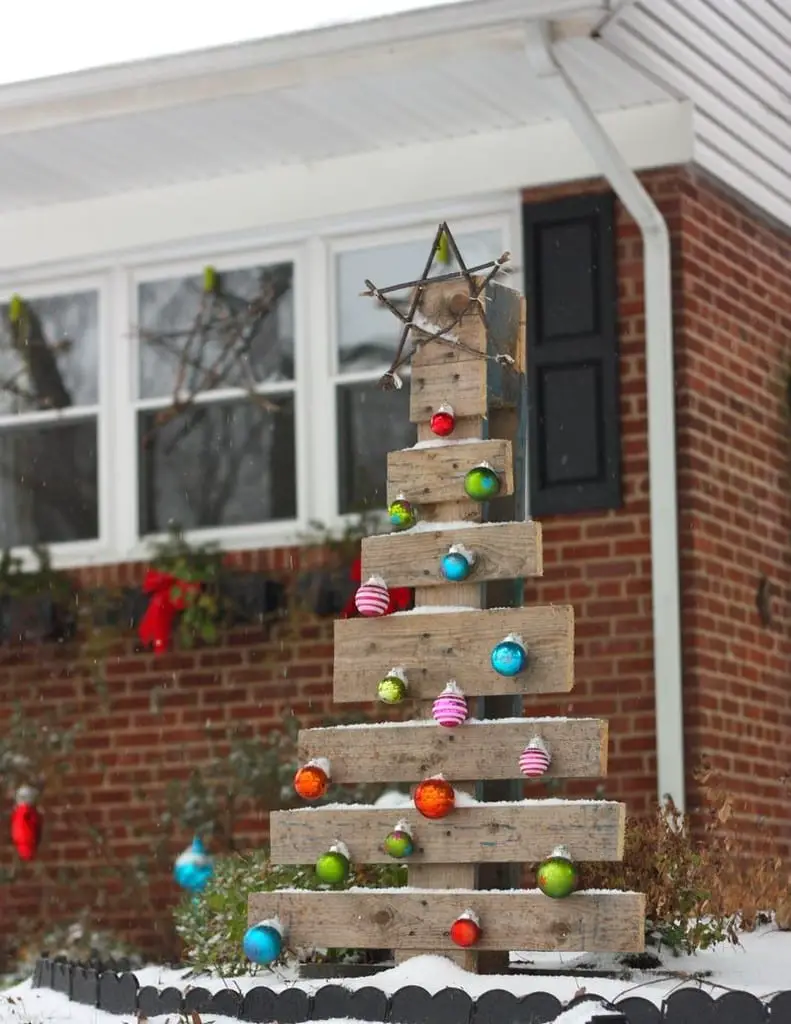 Via Buzzmills
Decorating your front or backyard with a beautiful outdoor Christmas tree is very tempting. However, there is a matter of cost in buying two trees from the depot or the lumberyard. Still, this should not stop your dream of standing a Christmas tree outside of your home.
With a single pallet wood, you can cut it to a triangular shape and decorate it with some Christmas balls and place it outside. If you have an idle pallet lying around, this is the time to pick it up and start making use of it. You don't need to spend to fully decorate your holiday, this cheaper solution will surely brighten your home.
#8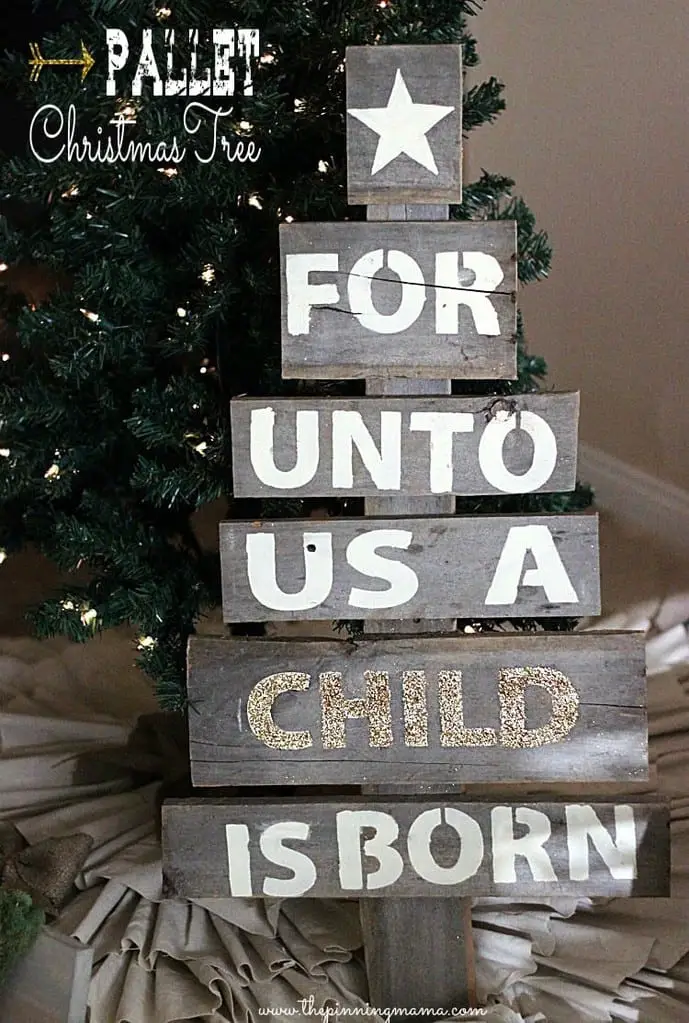 Via The Pinning Mama
This DIY project is perfect to add to your diorama if you decide to make one as well. Like most pallet ideas on this list, this one requires you to nail the disassembled slats onto a spine. But you can write anything on those, so you can get creative!
When repurposing your wooden pallets and DIY-ing your furniture, you would need these basic tools: first, a hammer, because starting a DIY project without one is just not possible. Hammers is handy for all DIY projects and it is probably one of the cheapest tools in your toolbox. Types of hammers are drywall, roofing, framing, sledgehammers, ball peen, and bricklayers.
Make sure to choose the one you need for your project. A standard curved claw hammer would be handy. Second, you will need a saw, since DIY wooden pallet is basically woodworking, it is imperative that you cut your wood at one point or another.  A handsaw would suffice but you can invest in a jigsaw for more precise and powered cutting.
You can also opt for a circular saw, or a table saw. If you're taking wooden pallet DIY's seriously, you should invest in a reciprocating saw to disassemble quickly. Third, you should always have a tape measure Since DIY-ing your furniture would need this plan and measurements. This is an essential tool, but you might also want to get a T-square.
Next, you should already have screws and nails, these come in a variety for different DIY projects but for this, you would particularly want wood screws. If you're getting screws, you should have a screwdriver too. This handy tool is a must for any toolbox, so you should already have one.
One more tool you should have is a drill, this is one of the most helpful tools when working on a DIY pallet project to drill holes on your planks. You should also consider getting a sander, this is particularly, useful for preparing or finishing your wood to remove rough edges and splinters. Safety is important when making DIY projects, so you should get safety goggles and gloves to avoid splinters and wood debris from injuring you.
#9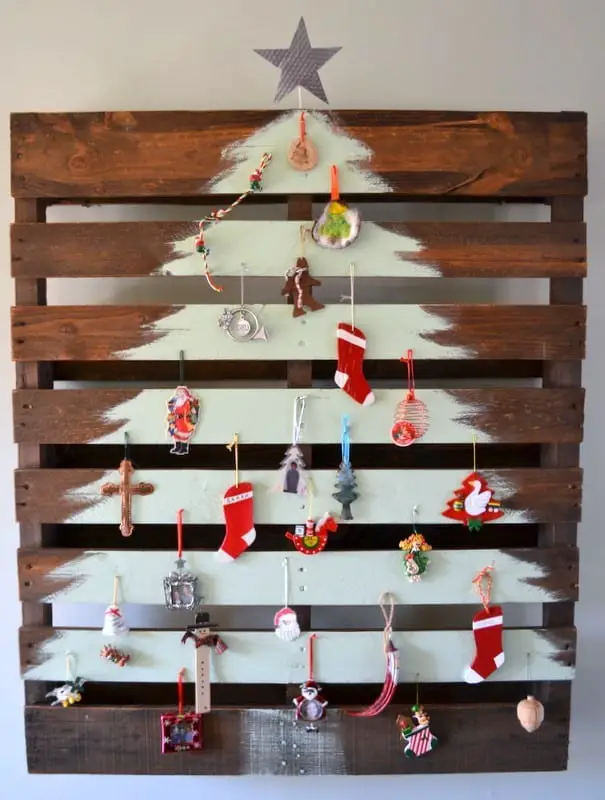 Via affirmaison
Even without woodworking skills, you can DIY your Christmas pallet with the right pallet wood and white paint. To create a Christmas tree decoration like this one, simply sand your pallet and paint the shape of a tree onto it. You can get as creative as you can before adding some ornaments for the finishing touch.
#10

Via Thinking Closet
This easy DIY Christmas tree can cut down a lot on the  expenses of a Christmas tree this holiday season.
For this project, you will need a saw, since DIY wooden pallet is basically woodworking, it is imperative that you cut your wood at one point or another. 
A handsaw would suffice but you can invest in a jigsaw for more precise and powered cutting. You can also opt for a circular saw, or a table saw. If you're taking wooden pallet DIY's seriously, you should invest in a reciprocating saw to disassemble quickly.