Chickens can be raised to lay eggs and can also be raised for food. It's not too hard to take care of chickens; all you need is a place where these can roost, eat, rest and be safe. You don't even have to construct an elaborate chicken coop or hen house. All you need is a chicken tractor coop.
If you have not seen a chicken tractor coop, it is actually a large chicken coop usually made of wire. The coop has no flooring to allow chickens to roost on the grass or ground. The coop usually has wheels on one end so that it can be easily pulled by a tractor in case you want to change the location of the coop or during extreme weather (extreme rain or sun), hence the name chicken tractor.
Letting chicken graze on the ground and not keeping them locked in hen houses actually helps make these animals healthier. Chickens that are allowed to eat organic food tend to bear more eggs and tend to taste better and are more nutritious when eaten compared to commercially grown chicken.
The coop lets chickens graze safely to the different parts of the yard without worrying about larger animals that can prey on them. The coop can be taken anywhere and since the coop is made of light materials, you can also move it on your own even without using a tractor.
There are many designs for a chicken tractor coop. We have gathered the top and the easiest to make for you. These are simple plans to make a simple chicken coop made of wire and a few pieces of wood to coops with average-sized hen houses where chickens can move in or out as they please.
The most important thing to consider is that the chickens must be allowed to roam free inside the coop. Remember, the larger the area your chickens can roam, the better.
Here is a lengthy list of the simplest, easiest and the most inspiring chicken tractor coops online. These designs vary from size, complexity and the type of materials used to make the structure. You will find simple chicken tractor coops to large chicken coops complete with houses where chickens can rest especially on a hot day.
Whatever design interests you, the plans to construct the design were included for your convenience. No matter the reason why you are raising chickens, we hope you'll find the right one that will suit your needs.
1) Surprising Woman's Chicken Tractor Plan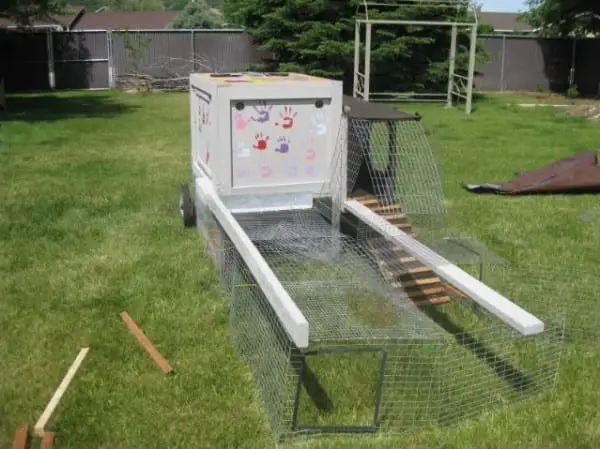 We begin with a very easy chicken tractor plan that uses only a few pieces of wood to make the coop frame. Chicken wire covers the frame to prevent the chickens from escaping from the tractor coop.
The chickens can rest, roost and stay comfortable inside the coop. You can move the coop anywhere you want to because the frame has built-in wheels. A tractor can pull this coop or you can do it yourself because it was only made from light materials.
You can improve this design by making the coop bigger for more chickens. You can also add a door or an entryway along the sides of the coop. Overall; this is a good-sized chicken tractor coop that has lots of potentials. This is an easy project that you can make in just a few hours. 
http://www.backyardchickens.com/a/surprisingwomans-chicken-coop-tractor
2) Chicken Tractor Coop Design from Scrap Lumber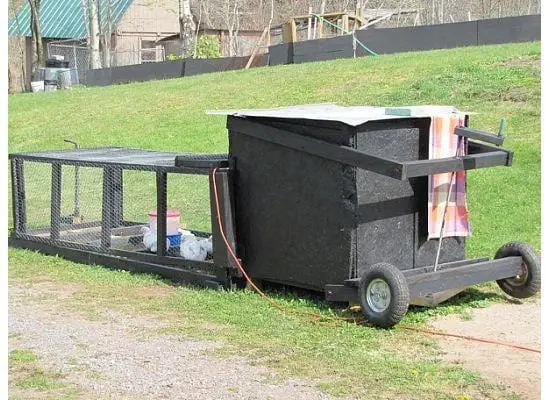 Consider the number of chickens you have and the possibility of having more when you construct a chicken tractor coop. If you have chickens that lay eggs then you definitely need a larger coop as these eggs will soon hatch and become chicks. If you intend to add more chickens then a large one would also suffice.
Now, this is a coop that will give your chickens plenty of space to roam around, eat and socialize. The coop has a wooden frame covered with chicken wire to protect your birds from other animals in your property and to prevent them from escaping as well.
A large wooden compartment at the end of this coop has two large wheels so this can be transported anywhere fast. This simple chicken tractor design has a lot of potentials and can serve as an inspiration for a bigger and better chicken coop project.
https://www.backyardchickens.com/articles/surprisingwomans-chicken-coop-tractor.49188/
3) Master Chicken Tractor Coop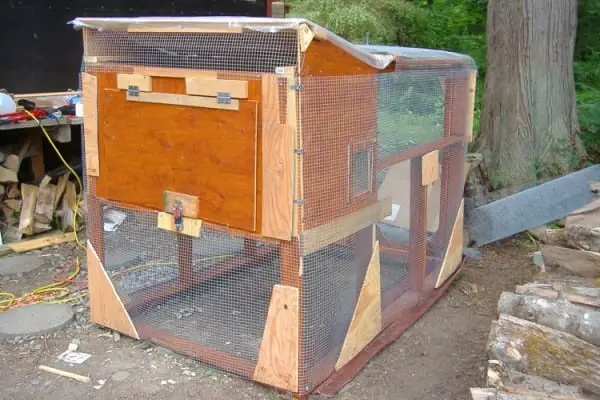 This is a chicken tractor coop built from materials that were readily available from the builder's shed including wooden plans, chicken wire, and hardware. First, the coop frame was constructed out of wooden planks with legs reinforced from all sides as well as the ones that hold the hen house.
Yes, there is a cute little hen house on one side of this coop that has a convenient large opening from the back so you can clean it up and remove any eggs. A small door is also found along the side of the house so you can feed the chickens without having to open the large door at the back.
Your chickens will be able to rest comfortably inside the coop. The area that the coop covers is larger because it also has space underneath the hen house. This may look difficult to move in and around your yard but no doubt it can be transported anywhere. It is light, easy to make and cheap to construct as well. You can build this chicken tractor coop in just a weekend.
https://www.backyardchickens.com/articles/chicken-tractor-the-third.48923/
4) Moveable Poultry Pen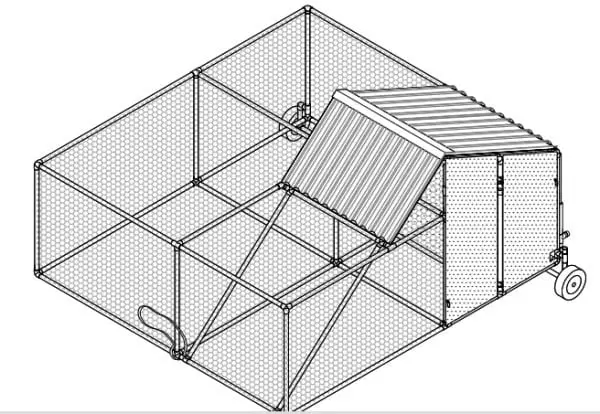 This is an extra-large chicken tractor coop that would surely fit a dozen or more chickens. This has a wooden frame but you can also use metal so that the frame will last longer. This coop has a square shaped design with a hen house in one corner. This house occupies a fourth of the area of the coop but still, there is plenty of space for the birds to roost and rest.
This movable poultry pen has wheels fitted under the hen house. The wheels are strong and large and allow a tractor to pull the pen to anywhere in your yard. The hen house in this design shelters the birds when there is rain or extreme heat. A door is found at the back of the house that you can open in case you need to clean the house up.
This plan includes all the things you need to construct this chicken tractor coop. You can improve this design by making the coop larger if you have more chickens to roost. But as you increase the area covered by the coop, you must also make the hen house larger to accommodate more birds.
http://www.pvcplans.com/PORTABLE%20POULTRY%20PEN%20-2-10-12.pdf
5) From Scrap to Chicken Tractor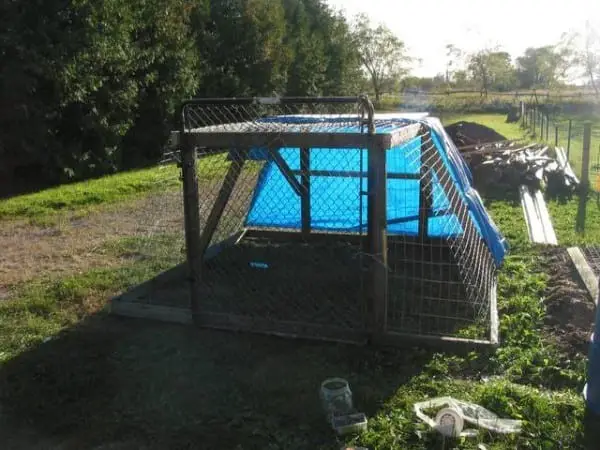 This chicken tractor coop design is for a small number of chickens such as three to five because it is a small pen. This is also meant for a small yard. The chicken coop frame was made of wooden pallets and leftover plywood which were cut and assemble in just a few minutes. The frame has a box-like design, however, one side has a slanted design.
Chicken wire mesh wraps around the frame and an additional tarp was placed along the slanted section of the coop.
There is no area to shield the chickens from the sun and rain except for the tarp. There's no hen house inside this coop either. All-in-all, this is an easy makeshift chicken coop that has lots of potentials. You can make this bigger, add even a small hen house and a door at the side of the pen would be great. 
https://www.backyardchickens.com/articles/scraps-tractor.48469/
6) Fancy Chicken Tractor With Wheels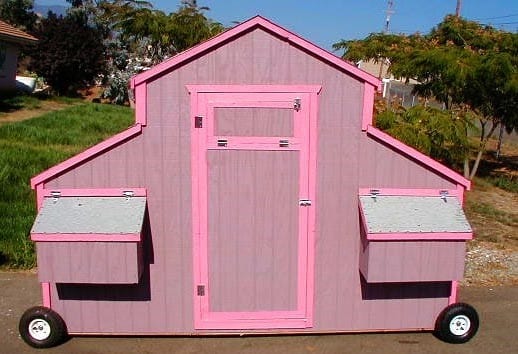 Now, this is the life!  Your chickens will be spending their days inside this spacious tractor coop. This hen house has a tall roof, spacious interiors, and amenities that your birds need. It has sections for eating, drinking water and for roosting.
This fancy chicken coop has large doors that you can open in case you need to clean up after your barnyard birds. And since this coop has wheels, this can be moved by tractor or a car to any place in your yard. You won't be able to move this on your own because it is quite heavy because of its design.
http://www.braingarage.com/Dons/Coop/Coop.htm
7) Cheerful Mobile Chicken Coop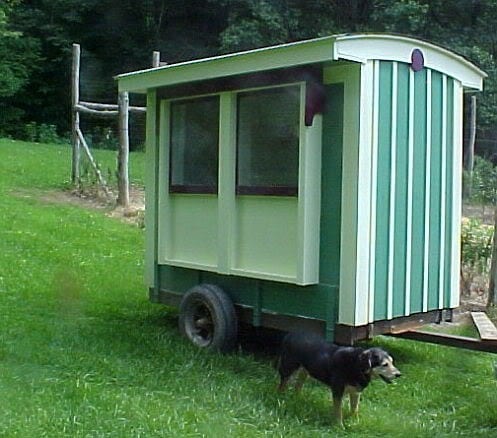 Nothing could be more cheerful than this teal-colored mobile chicken coop. This design looks complicated but it is actually very simple to make because of the coop's box-like appearance.
The large coop has large and strong walls to keep at least a dozen or more chickens safe and comfortable. You will immediately notice that there are large screened windows on each side of the mobile coop. These windows allow some light in and improve ventilation inside the coop. This coop has well-constructed windows and openings to check up on your chickens and to clean up as well.
You can use this design to build a coop for a smaller number of chickens or a large mobile hen house for more birds. But no matter how many or how few chickens you want to keep inside this coop, make sure to use only the best and safest materials.
https://www.backyardchickens.com/articles/blueridges-chicken-coop-tractor.48047/
8) Garden House Coop Plan
What's noticeable about this chicken tractor coop plan is that it very spacious. It looks like this can accommodate two dozen on more chickens. The frame for the coop was designed out of wooden pallets as well as the extra-large hen house.
The large area lets your chickens roam free and to keep the chickens from escaping. The large hen house is the highlight of this build because it is very large and spacious with designated areas to eat, sleep and drink. The hen house is made of wood, save for its roof which was made from corrugated metal sheets. All-in-all, this large and spacious chicken tractor lets you take care of your animals closely and effectively.
https://www.backyardchickens.com/articles/a-bayou-swamp-coop.47859/
9) A-Frame Coop Style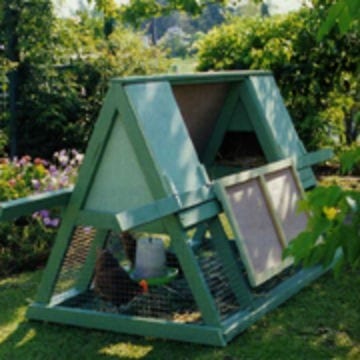 This chicken coop style has an A-design that lets you keep your chickens out your backyard. This size of coop meant for only a few chickens. It can house at least five or six chickens at a time. The A-shaped house has wooden sections at the top while chicken wire keeps the birds comfortable at the bottom
A large door can be opened along one side of the triangle and this is where you can access the inside part of the coop. You can clean the coop, add food and water and get a chicken or two using this access door.
And of course, this coop can be moved anywhere because it has wheels to transport the large A-frame. You can see that it is a very easy project and can take only a few hours to complete especially when you have all the materials and hardware at hand. 
https://www.backyardchickens.com/articles/a-bayou-swamp-coop.47859/
10) PVC Chicken Tractor Coop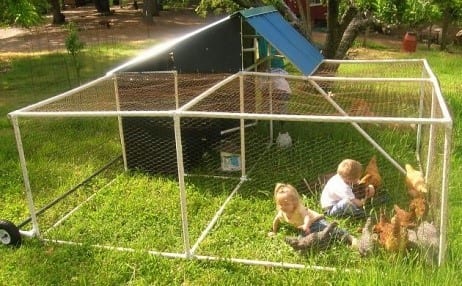 Check out this extra-large tractor coop which uses PVC instead of wood. The chicken coop frame was constructed entirely of durable and easy to find PVC which has more benefits to offer than wood. Although wood can be easily cut, shaped and transformed into a frame, PVC is stronger and will not rot or break like wood.
The coop also has a chicken wire that wraps around the area of the coop to create a safe and comfortable area for chickens to roost and live. See that this chicken tractor coop is so spacious you can easily move in and out of it. Setting this up is simple too because all you need to do is to assemble PVC pipes, fitting and the wire.
This chicken tractor coop project can be assembled in just a few hours. And because this is made from PVC, you can easily adjust it should you want to increase or decrease the area your coop occupies.
http://smallfarm.about.com/od/diy/tp/Free-Chicken-Tractor-Plans-for-the-Small-Farm.htm