If you have been trying your hand out at woodworking for a while now and feel ready to take on projects that you can use as fully functional household items, try building pallet cabinets! The pallet is so easy to work with that you can use it to build nearly any kind of cabinet, rack, and similar items for the home or office.
We put together 8 pallet cabinet DIY plans that you can work on over the weekend. You can find projects that work for both beginners and advanced woodworkers. Feel free to share this list with your fellow woodworkers and let us know what you think!
1) Kitchen Cabinet With Top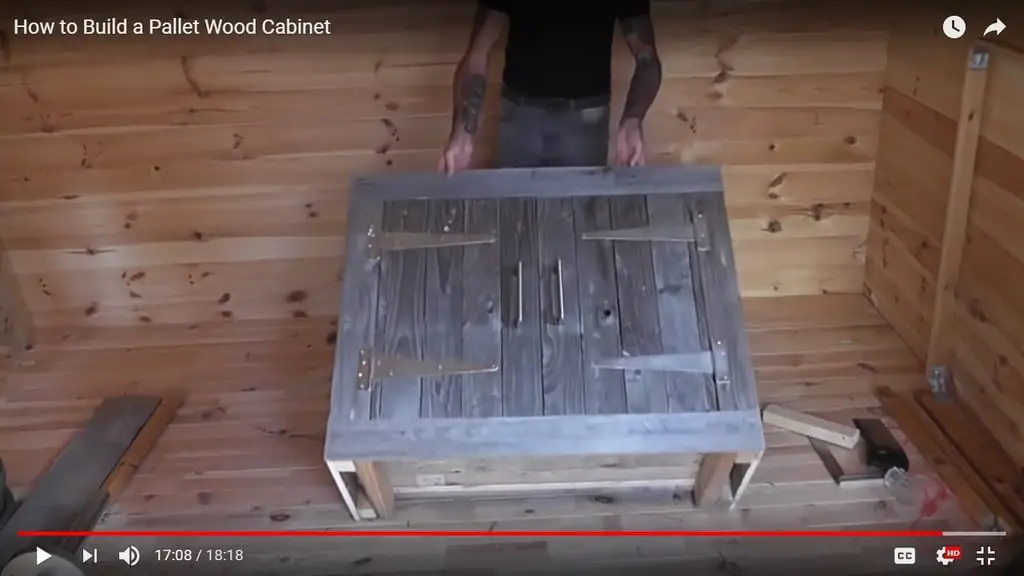 The first item on this list is a simple kitchen cabinet with a top. What caught our eye is the simplicity of it all. You know what they say: Less is more. We can go on and on about sayings, but the long and short of it is just that there is something undeniably and irresistibly elegant about simplicity.
The pallet kitchen cabinet in the plan and in the video is a bit wide and has a top, so it is a great storage piece for fruit baskets, utensils, bottles, tools, small appliances, supplies, and the like. It is also a nice project to try out because the measurements can be easily tweaked so that the cabinet fits whatever awkward space you are trying to fill.
The exteriors can also be easily changed. The one in the video has a rustic look, and you see how the accessories and the finish help create that look. But simply changing the stain color and you've got a completely different cabinet.
Source: https://www.youtube.com/watch?v=SJy9h1M1LCY
2) Living Room Console Table

This entry is a great addition to any rustic-, farmhouse-, or shabby chic-themed living room, bedroom, or family room. We are also partial toward anything dark because such pieces do not show dirt or damage easily.
The entire media cabinet is wide, and there are two levels inside, so you can put a lot of things in it aside from the usual remote control, players, chargers, and similar items. You can place your TV on top or completely fill it with decorative items, lovely storage boxes, books, photo frames, and more while your TV hangs above the cabinet.
The "X" pattern on the doors are very iconic and appealing. As a whole, this pallet media cabinet is very much comparable with much more expensive pieces you can find online or in high-end brick-and-mortar stores.
Source: https://how-do-it.info/living-room-decor-rustic-farmhouse-style-diy-console-table/
3) Barn Door Cabinet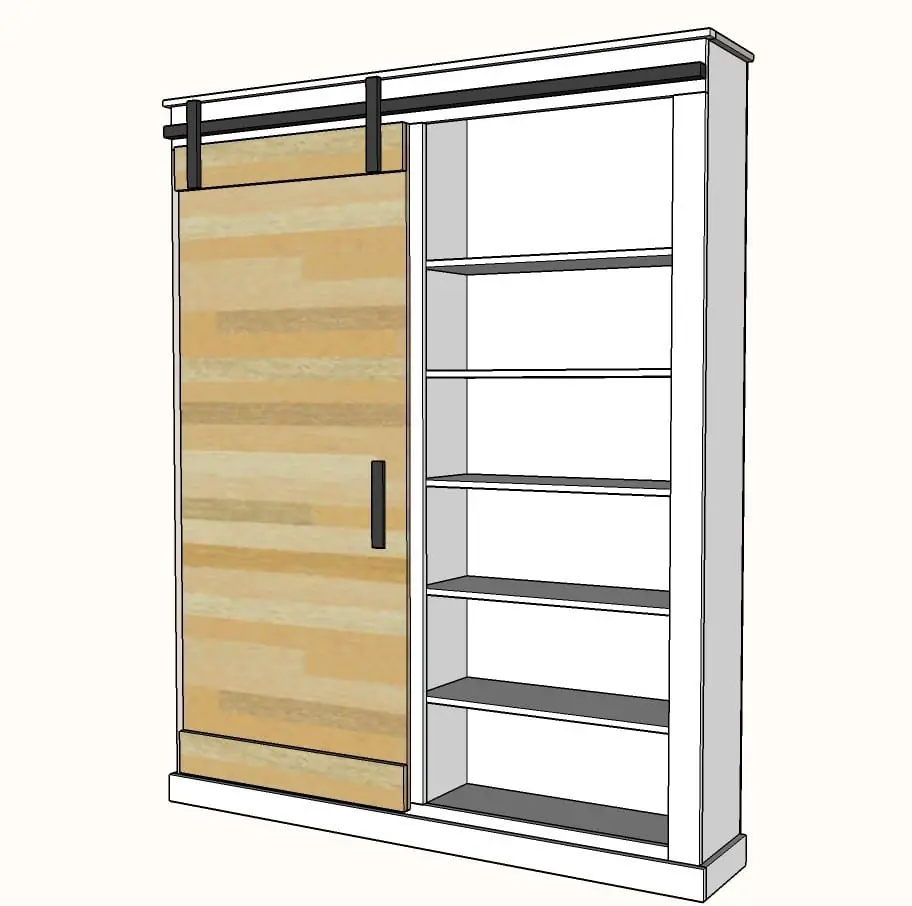 Barn door cabinets are one of the most ingenious marvels of woodworking. They help you maximize space. You get to stuff a lot of things in without having to live with a bulky eyesore in your kitchen or wherever you decide to install this piece. It can also easily blend in with the rest of your wall or the dominant theme in your kitchen.
You can put tools in it or use it as a pantry. You can put kitchen supplies, odd-shaped trays and appliances, and maybe even spices or rarely used ingredients. The pallet barn door cabinet in the plan has a sliding door, so half your stuff are in full view of everyone visiting your kitchen.
So place all your pretty, organized knick-knacks in one side and all the unsightly ones in the covered side. However, you can always opt for the conventional door design if you are pressed for space.
Source: http://www.ana-white.com/2018/04/free_plans/barn-door-cabinet-or-pantry
4) Reese Media Cabinet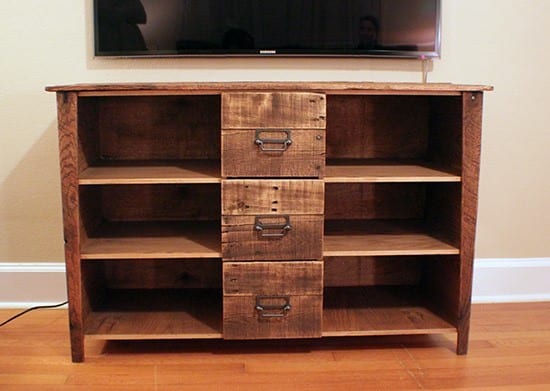 The height of the pallet media cabinet in the plan is quite common. It is not one of those short and long ones you can find in minimalist interiors, and it is not awkwardly tall either. You can place your TV on it together with some other items, depending on the width of your TV. You can also just place the cabinet directly under a hanging TV so you can use the top for decorative items.
There is a lot of storage space inside, but that is by no means license to accumulate clutter because most of the cabinet is open. Only the middle section is closed (They are drawers.). You can get around that, though. If you have no idea how to maximize the open spaces without making the whole thing look messy, stuff in some storage boxes or books, and you should be good to go.
Source: https://www.iliketomakestuff.com/wp-content/uploads/2014/01/ReeseMediaCabinetPlans.pdf
5) Drinks Station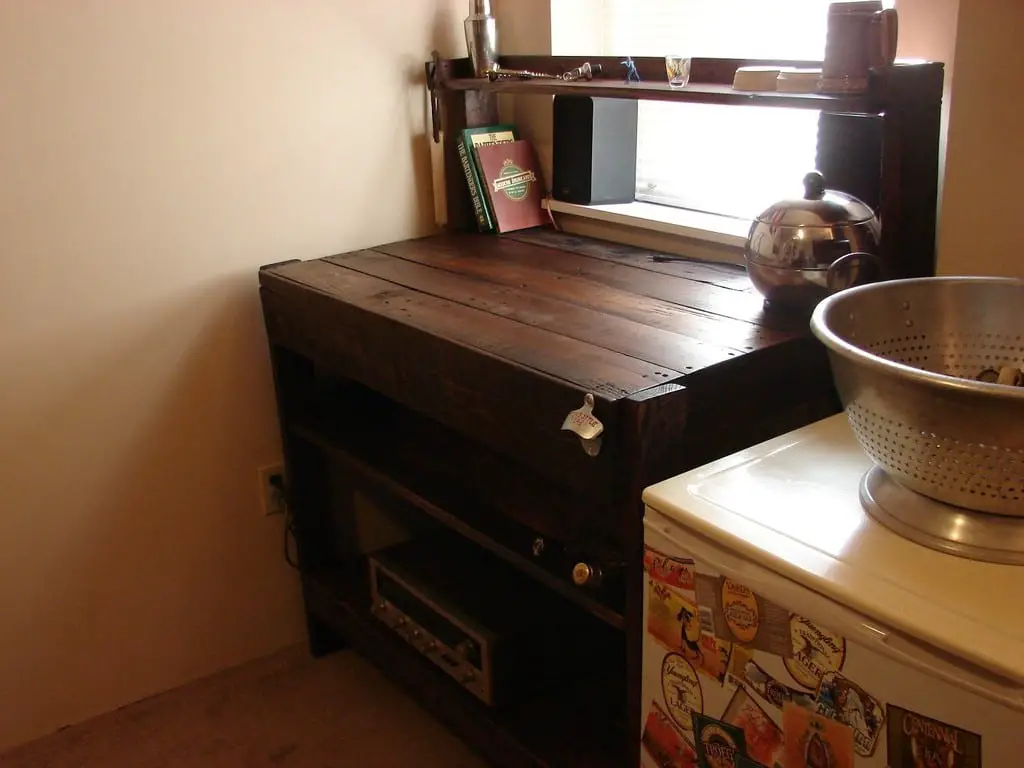 This plan was originally for a pallet potting bench, but you can easily tweak it so that it serves whatever another purpose you may have in mind. A fellow DIY woodworker built one up and used it as a drinks station, a perfect addition to any man cave or nook. At the same time, you can place this on your patio or any other area where you entertain visiting friends or relatives.
This pallet drinks station or cabinet is also a good piece to make if you are an aficionado who has a lot of bartending tools and differently sized bottles and glasses. You can also use the top rack as a display shelf. Meanwhile, you can add doors if you plan to store bulky, unsightly items on the bottom shelf. All in all, this pallet cabinet maximizes space a lot and is an ideal project for new DIYers.
Source: http://www.ana-white.com/2011/03/simple-potting-bench
6) Emerson Console Or Buffet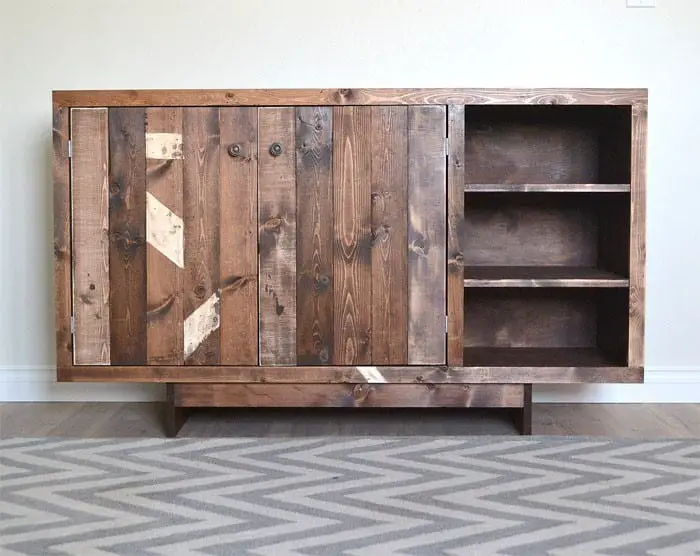 If you are looking for a console or just about any cabinet that would fit in inside any room in your home, you should try building this one. It offers equal parts pure storage and display, and you can use it in thousands of ways.
You can treat it like a normal console table and place it in your living room or hallway. You can hang a mirror above it and place flower vases, books, picture frames, or a set of those Russian nesting dolls on the top. One-third of the cabinet is open, and you can choose to use this part for display or just fill it with chic storage boxes so you can freely stuff them with small items.
It can even function as a storage cabinet for a baby's things. You can put diapers, your stash of formula, bottles, and more. Meanwhile, you can use the top as a changing table. Isn't that versatile?
Source: http://www.ana-white.com/2013/10/plans/emersen-consle-or-buffet
7) Kitchen Cabinet
One of the things we love the most about this pallet kitchen cabinet is its size. It is just the height of your average counter, and it is meant to fill those awkward small spaces that you don't quite know what to do with.
It is also great for storing pots, baking molds, and other accessories, and those other kitchen what-nots that you need to have easy access to but can't put in plain sight because let's face it, they are not always pleasing to the eye.
You can position this pallet kitchen cabinet right beside your oven or gas range so you can easily grab the utensils or tools you have in the cabinet. It can also be used to hold spices and condiments.
Source: http://www.scrapality.com/2016/01/reclaimed-wood-kitchen-cabinets-for-the-kitchen.html
8) Outdoor TV Cabinet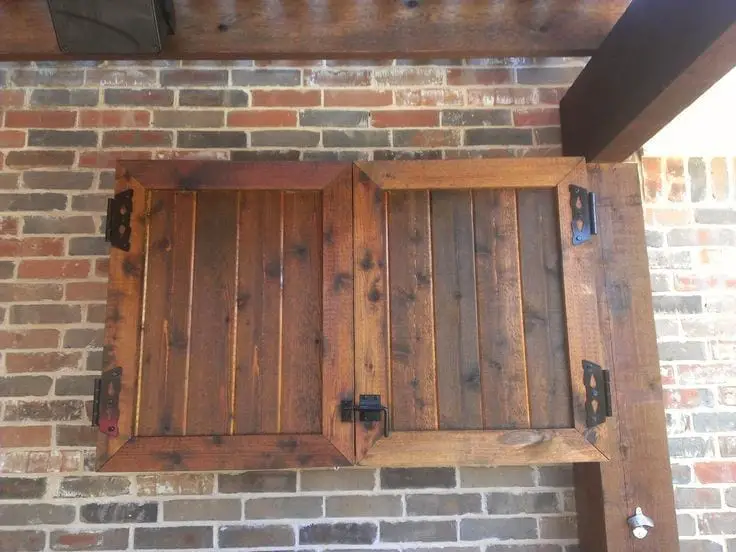 You will love this rustic outdoor TV cabinet with double doors. It can be installed anywhere: in the living room, in your bedroom, in your nook, or on your patio. Not only does it serve as a protective cabinet for your wall-mounted TV, it also accentuates your wall and adds beauty to the room altogether.
You can also easily change the finish or the stain to make it jive with the rest of your furniture or wall. Overall, this project is a recommended piece for new woodworkers who want to come up with something highly functional and decorative at the same time. Furthermore, it should not be too costly to make because you do not need an awful lot of pallets, and it is not time-consuming.
Source: https://www.buethe.org/plans-to-build-outdoor-tv-cabinet/
A Final Word
We hope you had a grand time going over our DIY pallet cabinet plans, fellow woodworker! As fans of the craft and of pretty cabinets, we sure love having a neat collection to look at and try out every now and then.
Feel free to let us know what you think, and to share this list with all your fellow pallet-loving friends. We hope to hear from you and maybe even see your take on these plans!