Woodworking makes almost everything possible: from enormous wardrobes to tiny phone stands and everything else in between! One of the most common projects you can do is the classic nightstand, and you can do this even with cheap or free pallet wood!
A well-built pallet nightstand will be very useful and should last you a long time. It may even become a stylish, eye-catching piece that will stand out in your bedroom. Here are some pallet nightstand ideas you can work on. Happy woodworking!
1) Simple Pallet Nightstand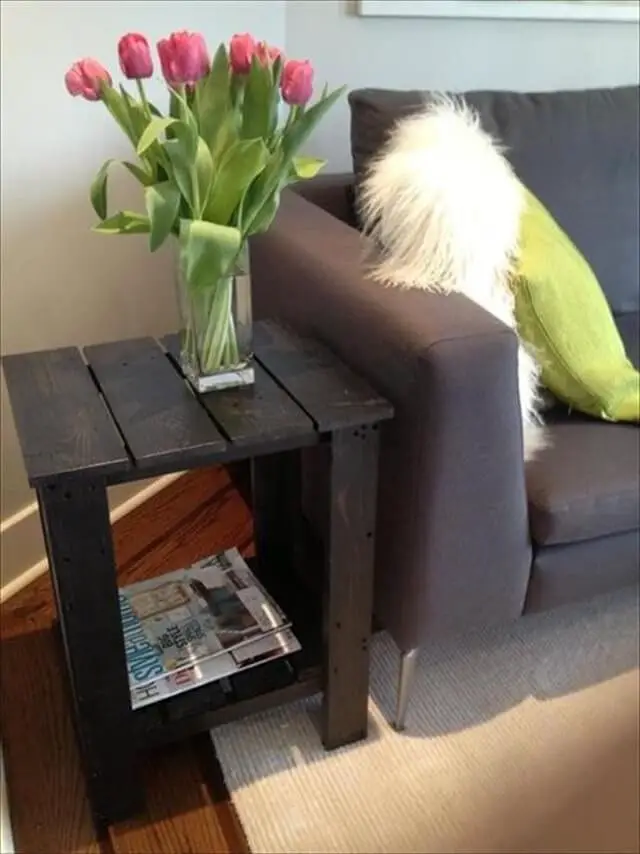 Always start simple. Get to know your material and the basic techniques first, and then slowly work your way up to more complex patterns and designs. This pallet nightstand is very plain and simple yet elegant in its own little way.
2) Pallet Nightstand With Deep Drawers
We love how the contrasting lines give this nightstand a lot of character. It's also very quirky how the panels covering the drawers create the impression that there are many small drawers instead of just two deep ones.
This would look great not just in rustic-themed rooms but also in relatively modern interiors. We think this will definitely stand out and make a statement. Its simple but unique design is sure to catch your guests' attention.
3) Chic Polished Pallet Nightstand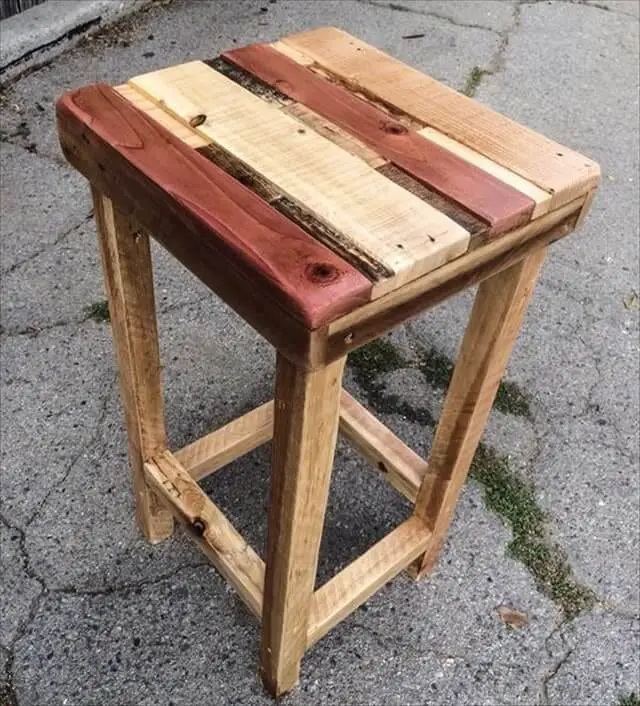 If you are going for a rustic/minimalist or shabby chic/minimalist look for your room, try putting this piece by your bed. It has a small footprint and a very simple construction, but the design on the table top gives the entire piece a splash of aesthetic appeal. This is just like those pieces you can commonly find on furniture shops selling handmade but excessively priced furniture.
4) Pallet Nightstand With Cute Cutout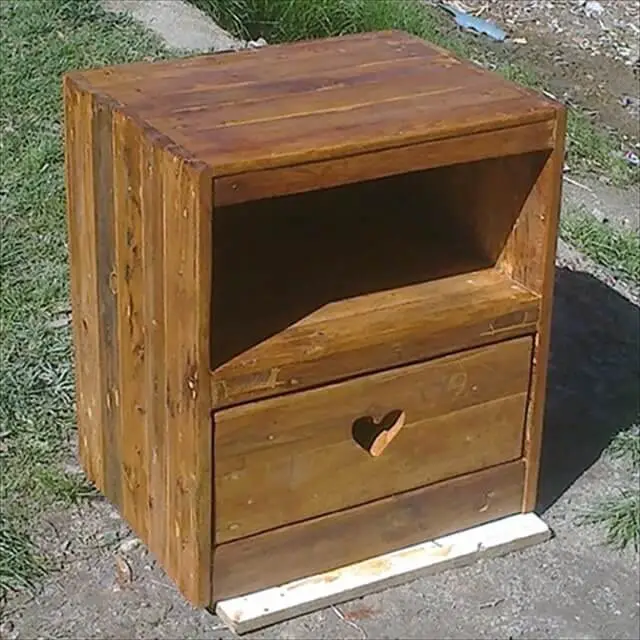 There is nothing wrong with going traditional. After all, the convention would not have become what it is if it was not liked by many people to begin with. This traditional design is easy to pull off using free, discarded pallet wood.
This is ideal for spacious rooms. The nightstand looks very solid but at the same time bulky, so if you put it in a small room with many items already, it can make the space look even more cramped.
5) Night Stand Pallet Wood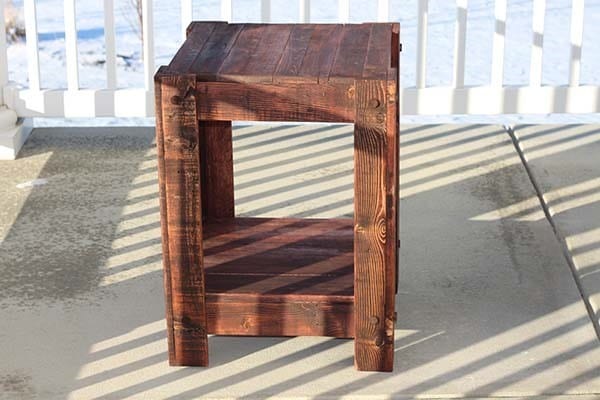 End tables are small tables that are usually placed at the end of a seating section. If you have a sofa with two armchairs on each side, an end table can be placed near an armchair. Most of the time, end tables are used for display. Despite its size, you can place a lamp, photographs and small decorative items.
6) Hollow Pallet Nightstand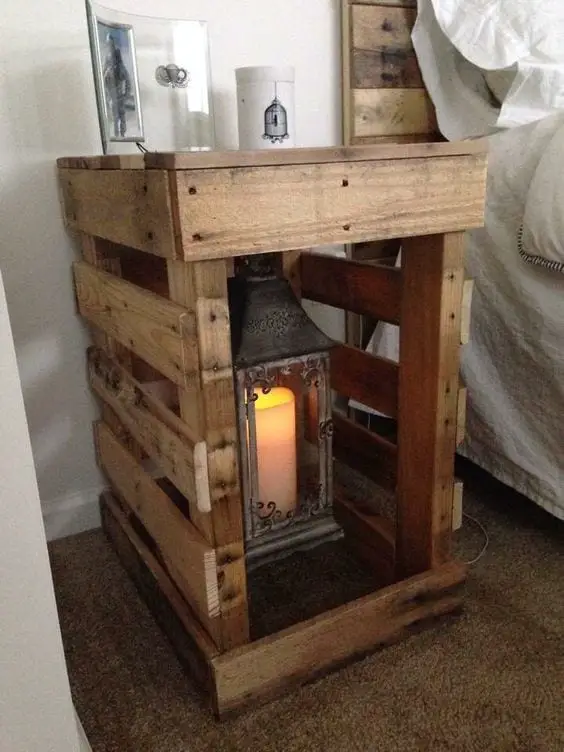 The uniqueness of this pallet nightstand makes it very captivating. There is a lot you can do with the vertical space inside what is essentially a crate lying on its side.
You can create a look opposite that in the photo and go for a modern lamp in place of the one in the picture. The contrast will make both the nightstand and the lamp pop. This is a great project to work on if you are aiming for a head-turning piece that can be built easily.  
7) 2-Drawer Pallet Nightstand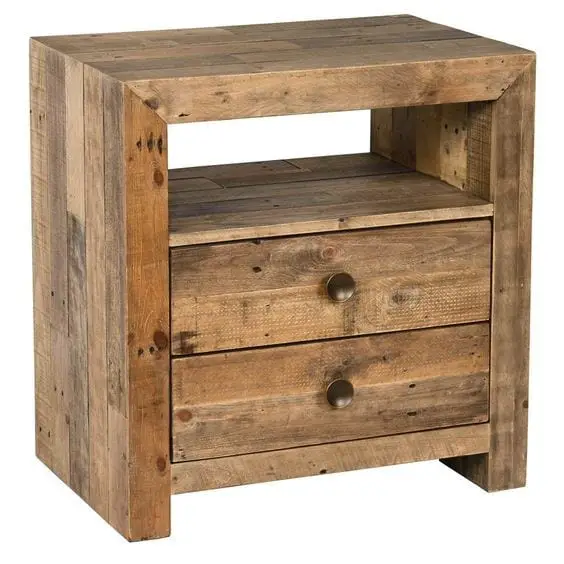 This is a slightly different version of the pallet nightstand with the heart cutout in the drawer. We like this more because although it has ordinary details, it is pretty and highly functional.
You can build this for yourself or gift it to a no-nonsense friend who is all about utilitarian furniture pieces. Overall, it looks very solid and sturdy. You can put a lamp on top and use the open shelf underneath for phones, tablets, chargers, and other things you need to pull out constantly.
8) Modern Pallet Nightstand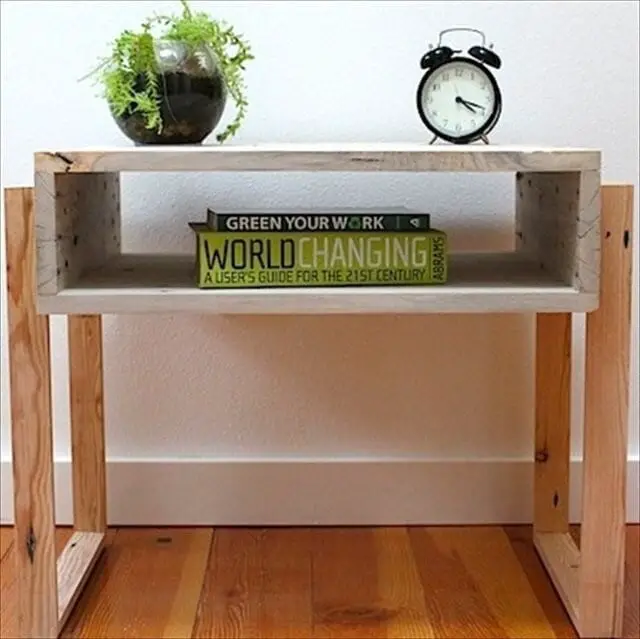 We absolutely adore this modern pallet side table because we are all about minimalist design and because it shows you that you do not have to get suckered into those pricey furniture pieces in shops.
As you can see in the photo, the design and construction are very simple, so you should be able to build this quickly and easily. You can also experiment with different paint colors and stains to produce so many attractive looks for your pallet nightstand.
9) Pallet Nightstand With A Diagonal Pattern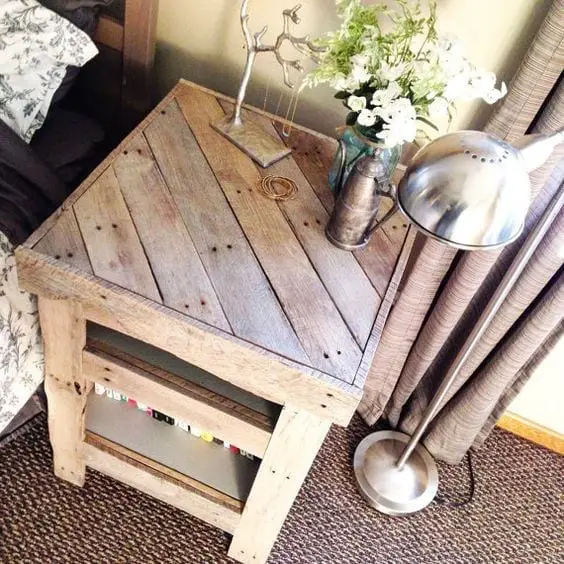 We love the look of this pallet nightstand because it is traditional with a twist. The legs and the shelves all look quite ordinary, but the diagonal pattern on the tabletop makes the entire piece look unique.
This project should suit you well regardless of whether you are a novice or an experienced woodworker. This is a good way to practice cutting precision, given that you need to make diagonal cuts on several panels while making sure everything looks perfectly even.
10) Pallet Nightstand With A Criss-Cross Pattern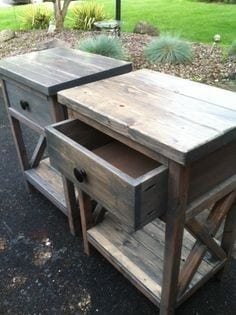 We find this pallet side table very charming. The criss-cross pattern on the sides gives the nightstand a very traditional appearance. As a whole, the side table evokes feelings of nostalgia.
At the same time, the nightstand is very functional and offers a lot of storage space. You can put lamps, books, a terrarium, or random knick-knacks. Electronics and other unsightly items (Hello, tangled cables!) can go inside the drawer.
11) Pallet Nightstand With Open Shelves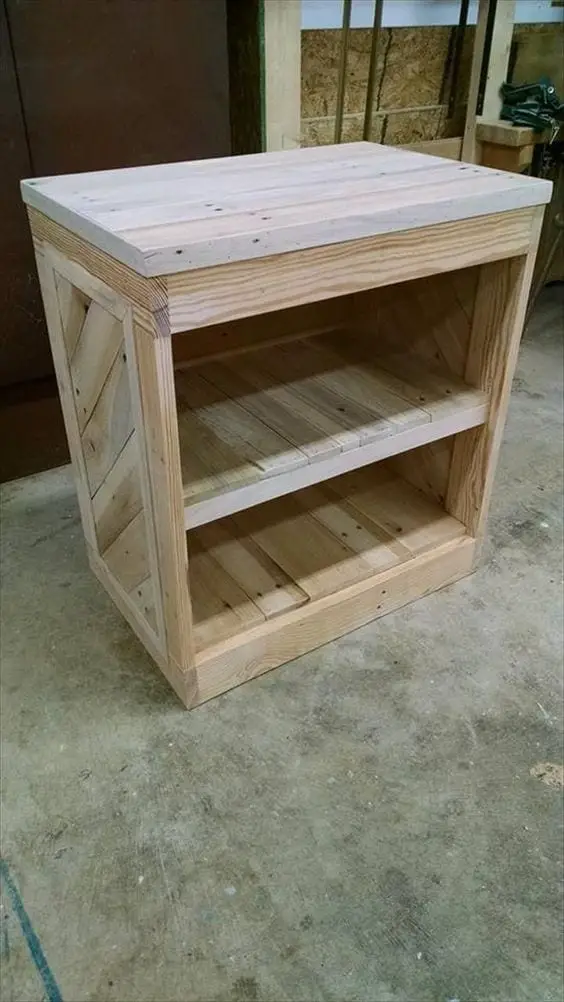 We love the simplicity and the clean look of this pallet nightstand. There is also ample storage and display space. If you have favorite books, pretty lamps, and lovely boxes you want to put on display, just arrange them on the shelves.
As an alternative, you can fill the shelves with those cheap woven storage boxes where you can stuff all your important (but not display-worthy) items. Another good thing about this design is that it would look good in nearly any color.
12) Pallet Nightstand With Small Drawer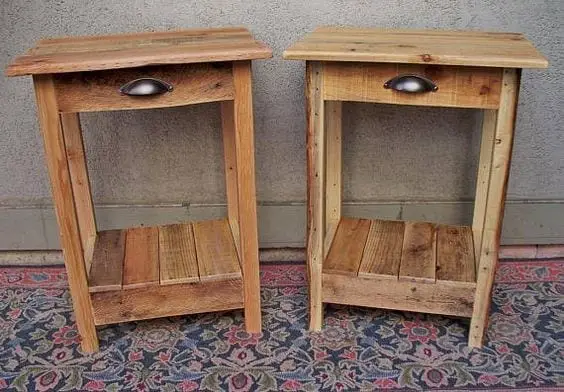 This rustic nightstand looks very easy to make because of its basic design. We particularly love the detail on the drawer on this one and how it makes such a big difference despite being so small.
You can easily adjust the depth of the drawer so that it fits all your gadgets, some cash and jewelry, and some other valuables. In the bottom space, you can put a framed photo, some books, a jar, and any other beautiful keepsake that the rustic beauty of the nightstand will compliment.
13) Pallet Nightstand With The Door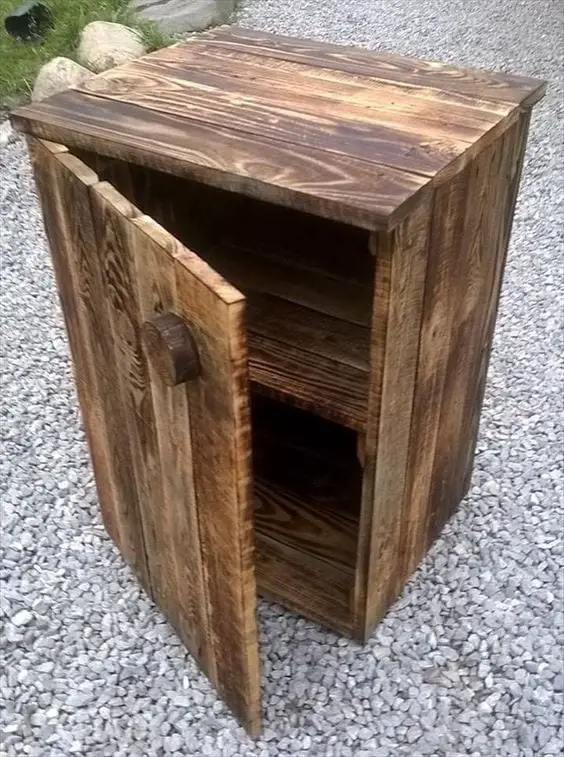 We like how this pallet nightstand looks like a mini-fridge. This is a great piece for individuals who prefer to have as many of their things concealed as possible.
The biggest advantage of this side table is that you do not feel pressured to keep your things looking tidy (Who has the time?) just to have an orderly room. Furthermore, if you are a novice woodworker, you can use this as practice for working with knobs, hinges, and locks. 
14) Clean-Looking White Pallet Nightstand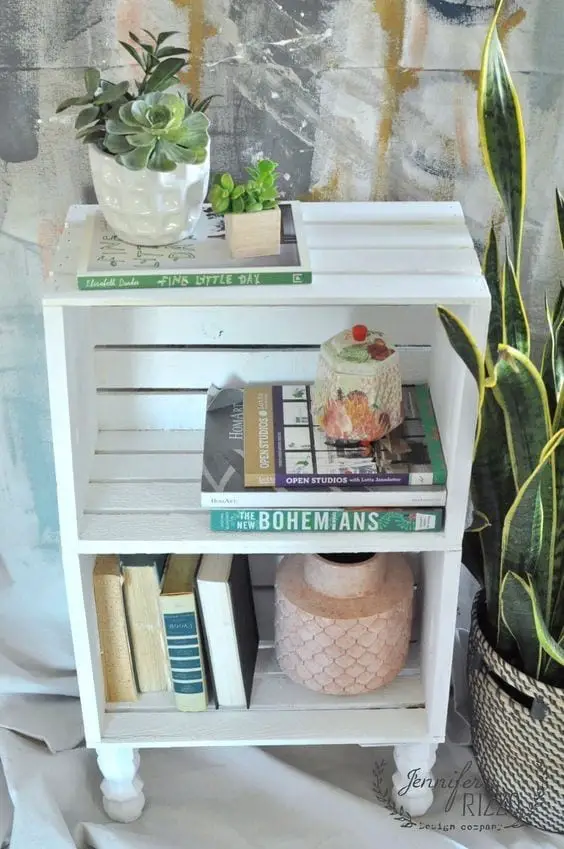 This pallet side table is very plain and simple at first glance, but the eye-catching detail is really in the legs. The top itself, the sides, and the shelves are very ordinary, but all parts combined create a very charming, one-of-a-kind minimalist look.
It is hard to score finds like this in shops, and those that are available can be quite pricey, so you are indeed better off making this one yourself. Also, regardless of what you paint it, it can and will make a statement!
15) Multicolored Pallet Nightstand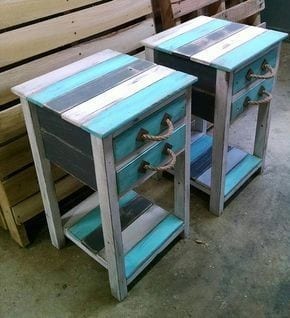 The rope-like drawer handles to create an appealing look reminiscent of ships, and the combination of colors reminds us of sea foam. Aside from the appearance, storage space is a highlight of this pallet nightstand.
The two drawers should give you a lot of space for valuables, and the top and bottom spaces can be used to display keepsakes, photos, books, lamps, and similar items. We suggest you put photos and souvenirs related to sea travel. 
16) Crate Nightstand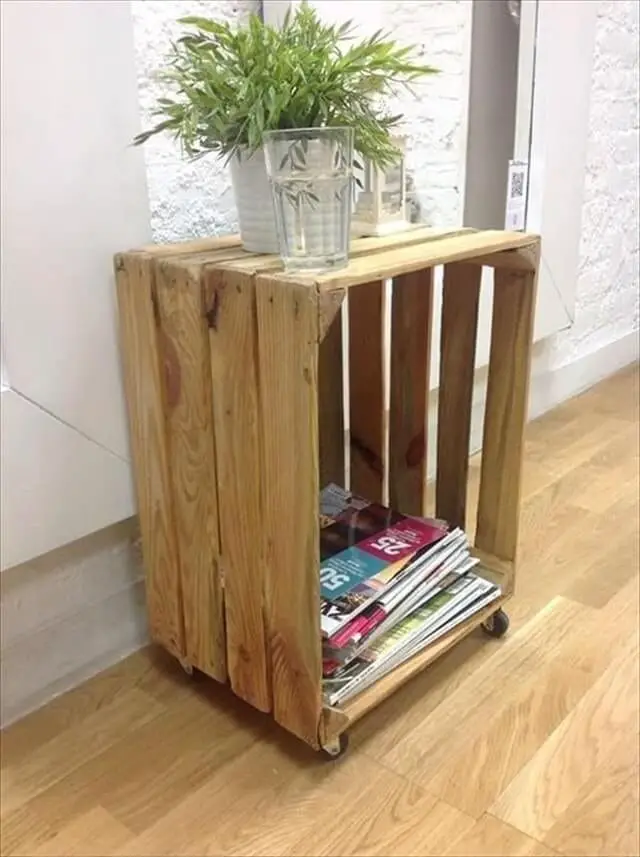 This nightstand is simple but ingenious at the same time. It is basically a pallet crate lying on its side and has caster wheels. It effortlessly grabs the attention of anyone who catches sight of it and is sure to become an interesting conversation topic.
About the wheels, we think you can always do away with them. After all, nightstands are supposed to… just stand. Besides, if you do have to move this elsewhere in your home, just lift it.
17) Pallet Nightstand With Display Case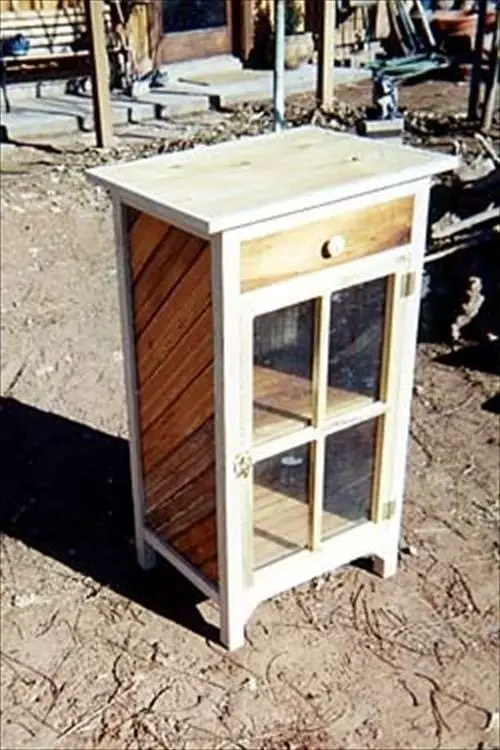 There is almost absolutely none like this in furniture shops. You can probably find one in antique shops, but they are undoubtedly expensive. Why buy when you can just build it yourself?
This is a great project if you have been woodworking for a while and want to try working with doors, locks, and glass as well. We love the dark-stained, diagonally arranged panels on the sides and think that they definitely set the whole piece apart from the competition.
18) High-Contrast Pallet Nightstand
Do we adore this pallet table because who does not love dark-stained pallet wood? Dark is always elegant, and in this case, it gives the pallet wood (which you probably picked up from your neighbor's trash!) a premium look and feels.
Meanwhile, the contrast between the dark surfaces and the white body of the nightstand is very striking and modern. The whole nightstand also looks very sturdy, so you can place this even in areas with heavy foot traffic.
19) Pallet Table Night Stand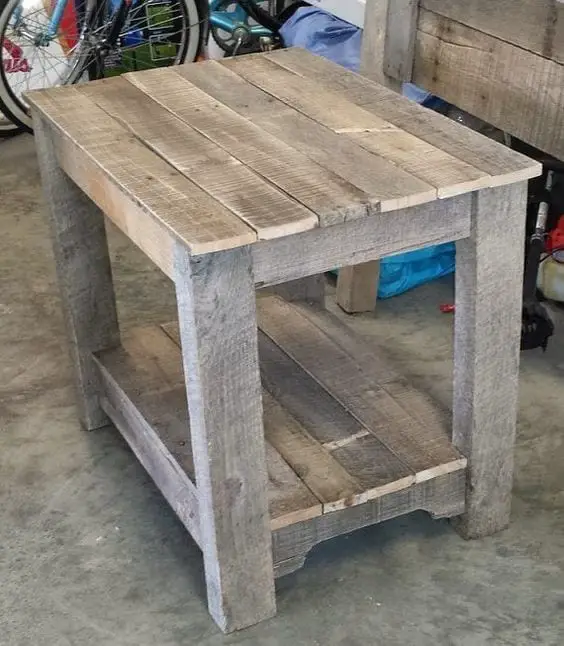 These pallets have a slightly darker shade and were used to construct this cute nightstand. A slight stain should be applied on the surface of this table to protect it from the sun and from the water. But is a nightstand really necessary?
20) Bright And Colorful Pallet Nightstand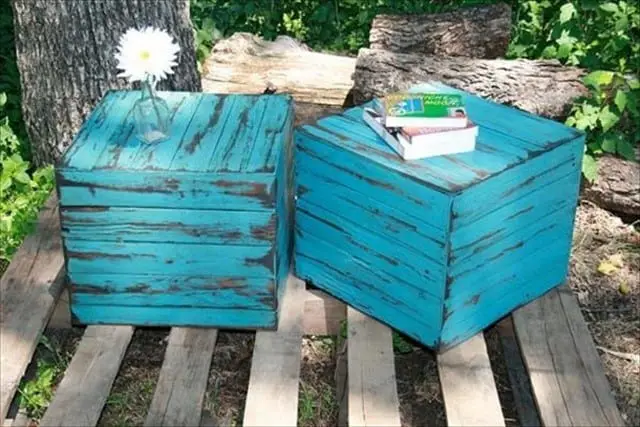 This is a very refreshing and youthful take on upcycled pallet furniture. The entire item is very simple but should not fail to give a room a nice touch of color. This is an ideal piece for kids' rooms or any part of the room you want to decorate with artistic flair.
Go for white if you want a clean-looking piece that makes the room look more spacious, dark colors if you want a striking effect, and pastels if you want something quirky.
Conclusion
The mere thought of working on a smashing pallet nightstand is already so exciting, especially when you know that your completed piece is as lovely as the items we have listed here. We sure hope you loved our list of pallet nightstand ideas. Show us what you did in the comments and feel free to share!