Having a herb garden is a practical way of saving cost on the spice, but it can be a hassle to figure out how and where to plant these herbs.
Good news for you, if you know some woodworking skills, have some basic carpentry tools and have a few hours to spend then you can create your garden by yourself.
No more worries about the expensive costs of a garden or growing the herbs and no worries on how you're going to do it either because I have a list of the best plans for a DIY herb garden for you!
Here are 20 DIY Pallet Herb Garden Plans that you'll find easy to follow.
1) Vertical Box Herb Garden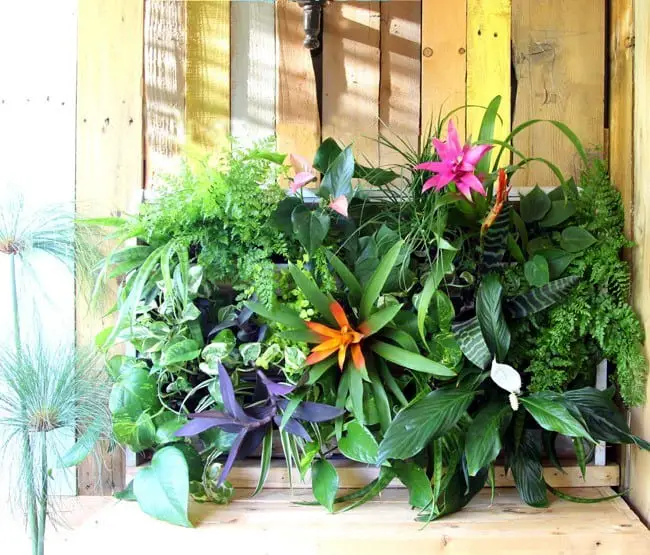 Via Morning Chores
This DIY Pallet Herb Garden is a unique twist to a box pallet. It's easy to follow instructions are great for beginner DIY-ers and can be done in under just one weekend.
It includes dismantling your old wooden pallets and rearranging them into a box. Having the box vertical is a lot more space efficient than having it stand horizontally.
2) Hanging Vertical Herb Garden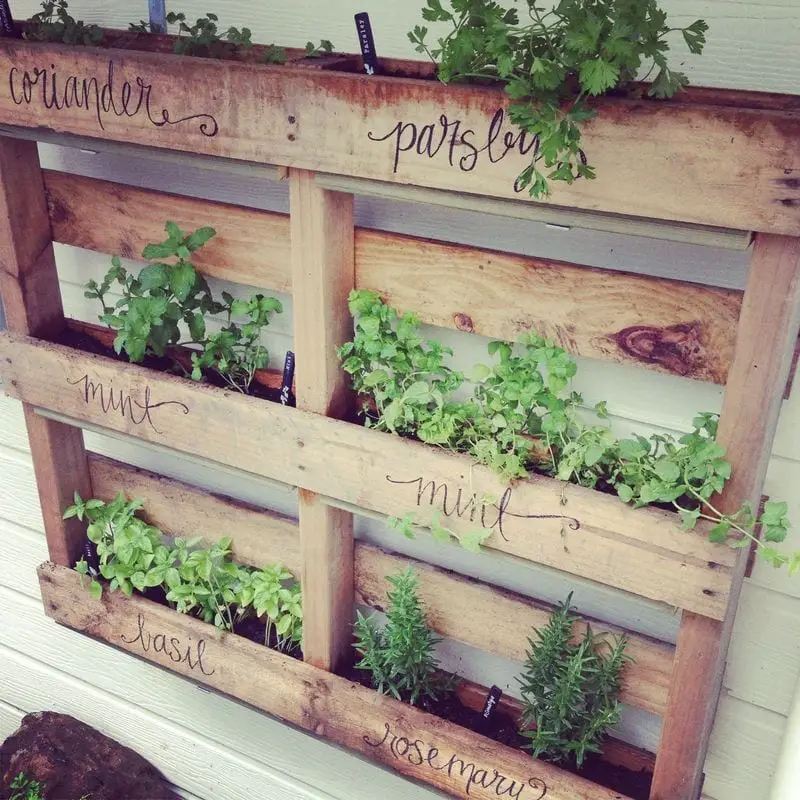 Via Zina Wright
This DIY is perfect for those who want an Herb Garden plus a house décor. This Vertical Herb garden is an easy to follow DIY Plan from Zina Wright and she does not only talk about DIY-ing the herb garden, she also talks about the herbs themselves.
3) Multiple Pallet Herb Garden
Via One Hundred Dollars A Month
I personally like just how practical this DIY Pallet Garden Plan is. This plan does not require woodworking skills, all you need is your old wooden pallet. 
If you don't have one, you can easily buy one at the junk's or shipping companies that are disposing of their old ones, so practically this cost zero money to create. Except for the organic soil and herb seeds of course!
4) Varnished Pallet Herb Garden
This DIY Herb Garden Plan talks about using newer wood to create this pretty herb garden stand, but I can guarantee that you can switch out the new and regular wood to your wooden pallet planks and it would be the same. If you have minimal woodworking skills, specifically cutting and hammering then this DIY herb garden will be a breeze for you.
5) Pallet Herb Garden Crate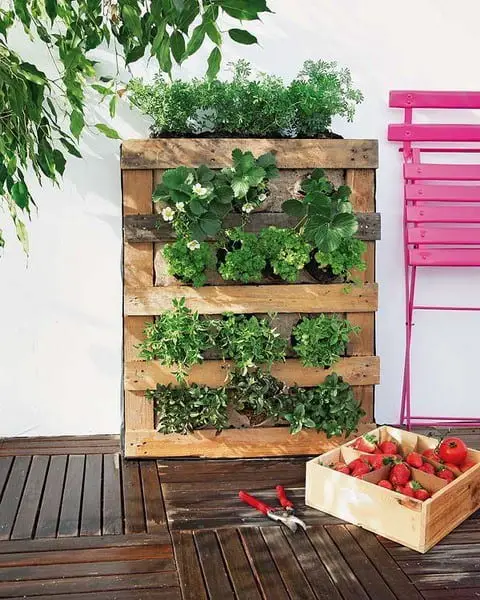 Via DIY Enthusiasts
This self-standing DIY Pallet Herb Garden is nothing really special from a wooden pallet. This plan requires little carpentry skills and strength for dismantling your pallet with a crowbar.
But overall, this plan is perfect for novice DIY-ers and those herb garden enthusiasts. Did I mention that it also stands?
6) Outdoor Pallet Herb Garden Stand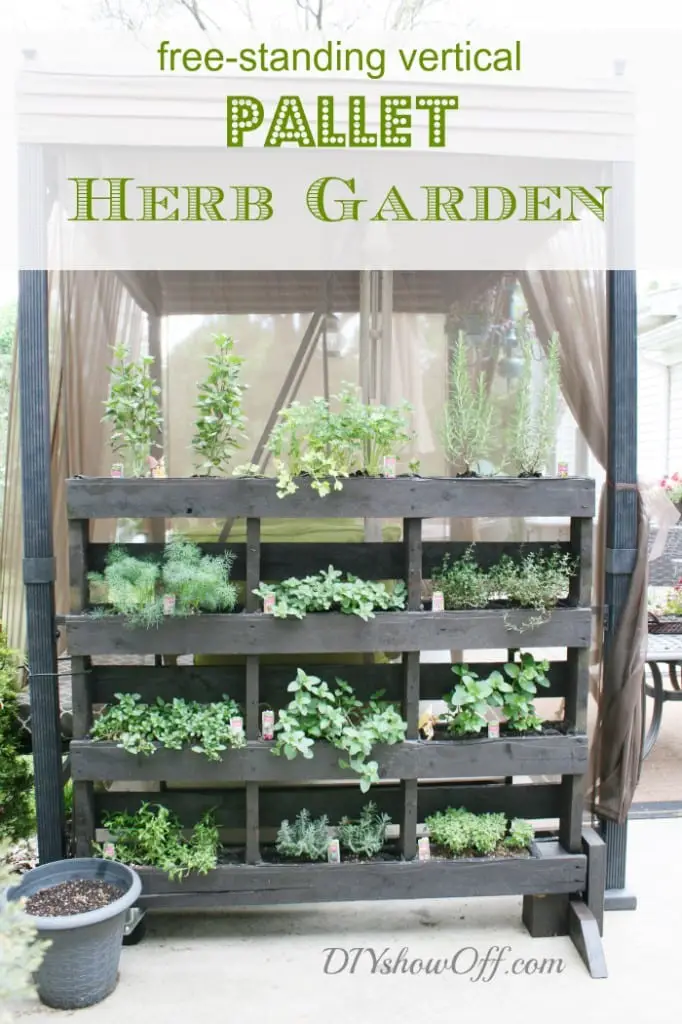 Via DIY Show Off
DIY Show Off gives a detailed step-by-step instruction and plan on how to do this DIY Pallet Herb Garden. And yes, it does look fancier than most on the list and even has its own stand, but you can rest assured that this is easy to follow and do project and costs very little money. Finished with a little paint, this herb garden is perfect for outdoor patio or garden.
7) Pallet Herb Garden And Strawberry Farm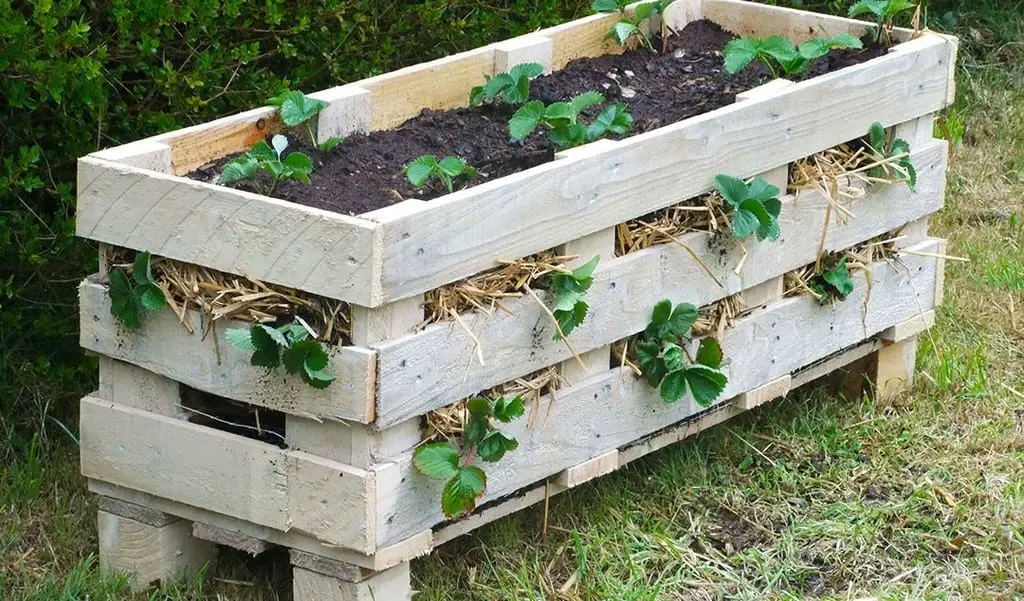 Via Lovely Greens
This Herb Garden also works as a strawberry farm. Although it might look a little complex and different from its original look, this is actually very easy to do from a pallet. If you have a crowbar, some basic woodworking tools, and the patience for a bit of carpentry work, then this project is perfect for you.
8) Pallet Herb Garden Stand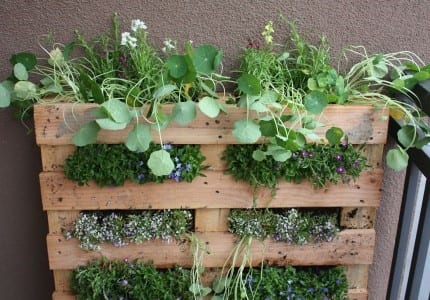 Via 1 Million Women
This DIY Pallet Herb Garden is a vertical hanging garden that was placed on a balcony. Proves to say that this kind of DIY project is not only for those who have big backyards or spaces.
I mean sure, you would need some space or probably a workshop to do this DIY but the actual wooden product itself is cheap and space saving. Perfect for those who want to grow their own herbs at home.
9) Easy Pallet Herb Garden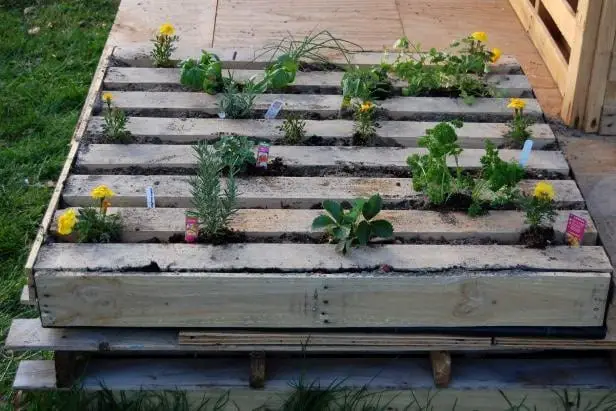 Via DIY Network
This is also one of the easier ones out of this DIY Pallet Garden Plans list. This project requires minimal carpentry skills. You don't actually have to work on the pallet to change what it looks like, instead, this plan details the process on how to hammer the covers and put the soil and herb plants in the pallet itself. Excellent for those who want to start their herb gardening in the next few hours or so.
10) Labelled Pallet Herb Garden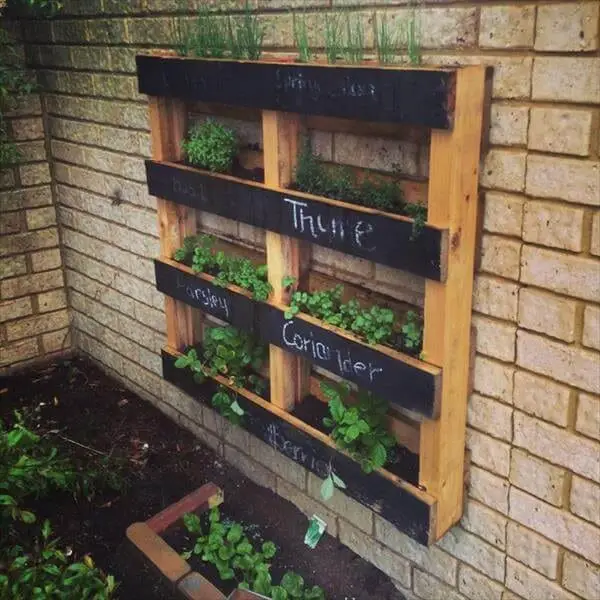 Via 99 Pallet Ideas
This is one of my favorites. If you're looking to add some herbs in your garden but you're running out of the soil, then you can definitely check this plan out. It does an amazing trick on doubling the soil space by having a hanging vertical planter. And as an added bonus, you can paint the front planks and write the names of your herbs, so you never mistake your Parsley for a Coriander.