9) Bedroom Floor
Image URL: https://www.palletsdesigns.com/wp-content/uploads/2018/01/pallet-flooring-desings-6.jpg
If you realized that you have some useless wooden pallets out there lying somewhere, this pallet flooring project is a perfect option for you to start with. This awesome design is perfect for your bedroom. It uses an original wooden texture will bring further spice to your home by making it appealing and interesting.
If you are planning to do a renovation to your home, or if you are building one soon, why not incorporate this design, and save some bucks from your flooring project. You can choose to keep the natural color of the pallets or change the color by painting to make it match the color motif of your room.
This wooden flooring would definitely work perfectly if you also have other wooden fixtures inside your room. Even if you do not have, other things that you have inside your room will only be accentuated even further with your new wooden floor.
10) Stunning Floor Plan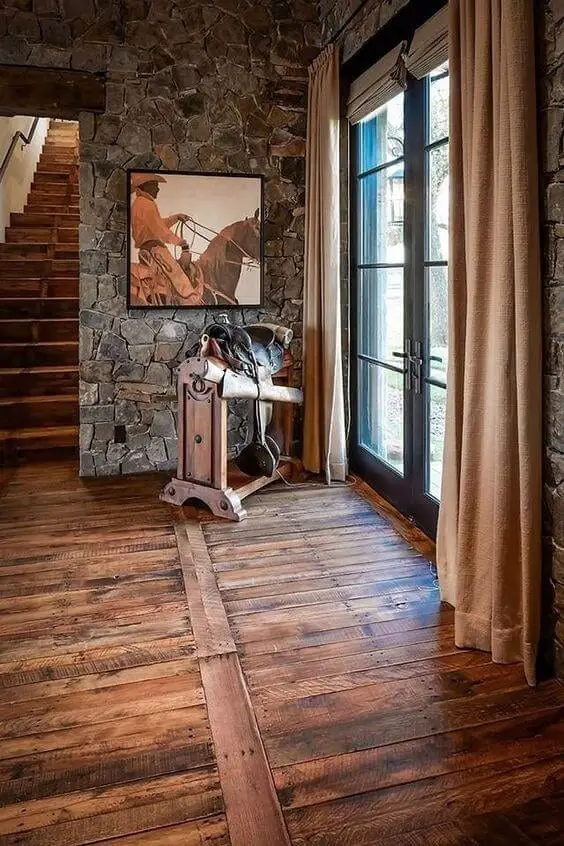 Image URL: https://www.palletsdesigns.com/wp-content/uploads/2018/01/pallet-flooring-desings-5.jpg
This flooring project is perfect if you love wooden designs and fixtures for your home. Why not transform the boring appearance of your home with this stunningly elegant floor plan? This is perfect for your living room or bedroom.
The use of wooden pallets is often considered an amazing innovation of the year. This design will no doubt provide your room with that modern and stylish look which will match the latest fashion trends of today!
Alter the color of the pallet and create those interesting hues for your wood. In this specific project, the look is slightly altered by adding a different direction of the pallet in the middle.
Looking at this project will certainly encourage you to start making your own project now. Why not start gathering those useless pallets in your yard, start cleaning them, and enjoy this project of yours. Change your dull looking floors, turning them into something that will certainly grab the attention of your guests.
11) Basic Flooring Pattern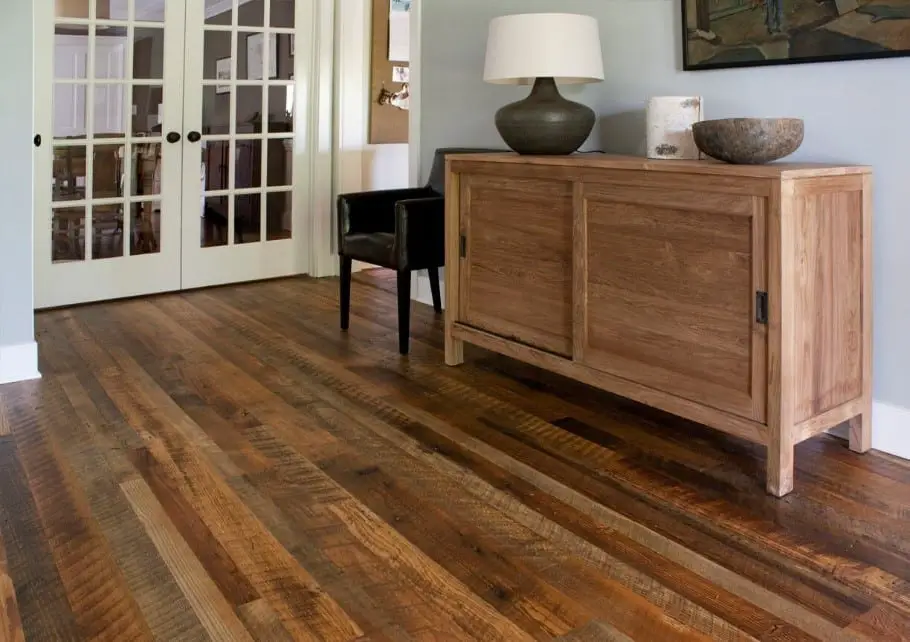 Image URL: https://www.palletsdesigns.com/wp-content/uploads/2018/01/pallet-flooring-desings-1.jpg
If wood and rustic style is your favorite, why not make the floors of your home wooden during your next renovation? This does not necessarily mean a project that will cost you a fortune.
In fact, you can shy away from those expensive lumbers and wood, and turn your attention to using those quiet, wooden pallets which may just be lying around somewhere in your yard.
The use of these pallets has been considered as one of the latest innovations in the construction trend. They are not just affordable and easy to locate but are highly attractive and efficient at the same time.
If you are a DIYer in renovating your home and you want to use wooden pallet flooring on your own, this project is a good option for you to start playing with. This is just basic, without any complicated patterns to follow.
12) Artistic Floor Plan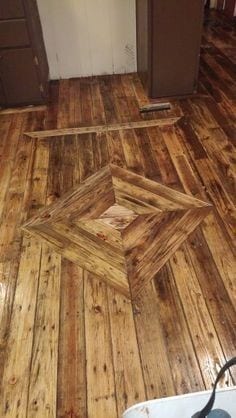 Image URL: https://www.palletsdesigns.com/wp-content/uploads/2018/01/pallet-flooring-desings-14.jpg
Interested in making a pallet flooring but would like to stay away from the standard, basic design? Sure you can! For this specific project, the owner decided to create a pattern in the middle of the other pallets in order to spice up the look and making it more than just the ordinary design.
This will certainly give an extra elegant touch to your floor, making it a conversation starter for your guests as they see what you did to your floors. You can also choose another pattern, or even select a different color for your centerpiece, and let it even stand out further.
If you feel even more artistic, why not allow your imagination take you to places where you can choose any design of your preference. The final design that you choose will simply represent your personality and preference which will stand out with this project.
13) Illusion Floor Plan
Image URL: https://www.palletsdesigns.com/wp-content/uploads/2018/01/pallet-flooring-desings-15.jpg
If you look at this image, it looks like there is a table in the middle. Well, there's none! However, the way that the owner of this project arranged the pallets made it look like there is something in the table, creating that interesting illusion that further makes this project a more interesting one.
Actually, this has something to do with the way the pallets are grouped together, giving more attention to the centerpiece. Treatment of wood has also been applied to make it look shiny and glossy. To make the entire masterpiece not boring, you can also choose to paint certain pallets, and create a masterpiece similar to this output.
Explore further on your artistic side and create other illusion based patterns for your next pallet flooring project. There are also other options for friends or experts in the field of woodworking. You will certainly enjoy your next project for sure!
14) Natural Looking Pallet Flooring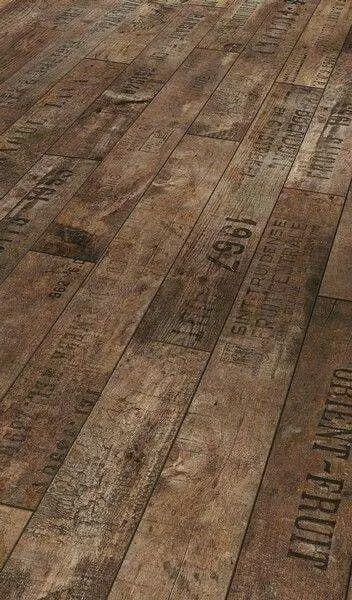 Image URL: https://www.palletsdesigns.com/wp-content/uploads/2018/01/pallet-flooring-desings-4.jpg
Do you want to make your flooring look natural, and thus promote the use of wooden pallets for your woodworking projects? Why not choose the parts of the pallets with their marks on them, and arrange them in a way that would make them appealing on the floor.
In this way, you are not just using wood on the floor, but also incorporating some artistic pieces of information that will certainly make this part of your home a conversation starter. You may want to use this for your deck or patio flooring, to make your floor one with nature. You may or may not choose to change the color of your floor, depending on your preferences.
These parts of the pallets with names are usually thrown away first after selecting the clean ones, so to say. Rather than throw these away as well, why not turn them into something more creative and artistic by using them into your wood flooring project.
15) Rustic Interiors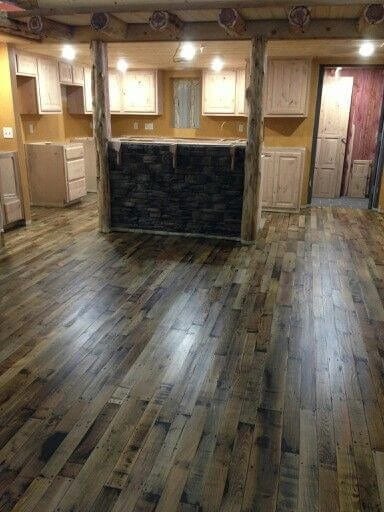 Image URL: https://www.palletsdesigns.com/wp-content/uploads/2018/01/pallet-flooring-desings-3.jpg
If you are looking at improving the way your house looks by incorporating wood in your interiors, this is a project that you can take into consideration. If you notice the image, all other fixtures, the ceilings, the counter in the middle, and the cabinets are all made out of wood and wooden products.
To complete the ensemble, creating a floor that is made of wood, not just any wood, but wooden pallets will give you that elegant interiors that are incomparable to others.
A polished wood will even make the entire area appealing. You may want to choose some pallets to leave some paint on, or just leave them as natural as they can be.
16) Garden Flooring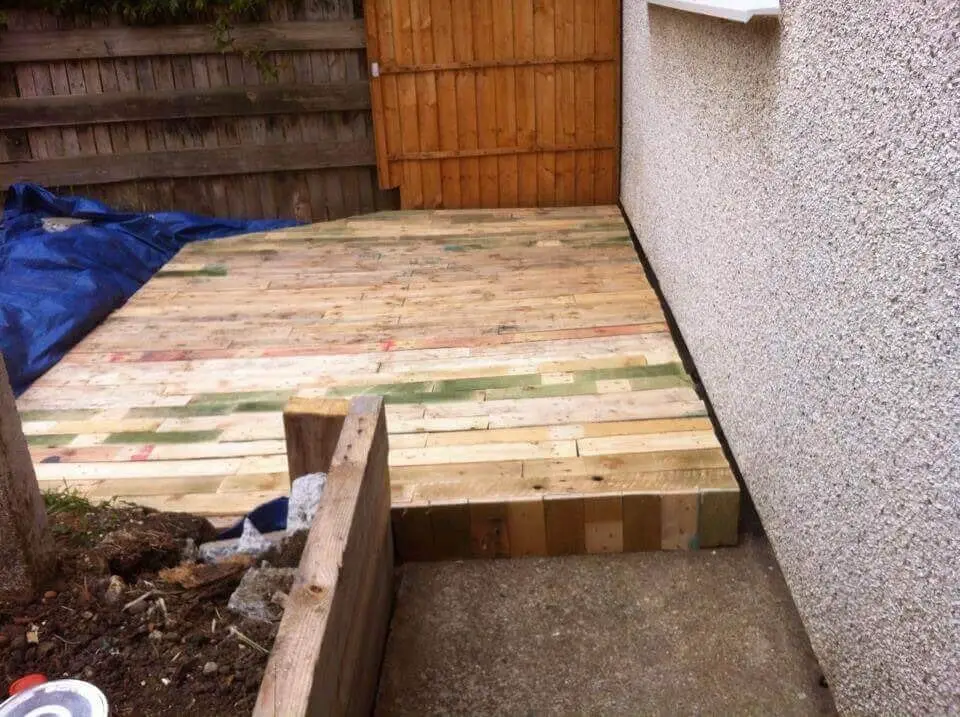 Image URL: https://www.palletsdesigns.com/wp-content/uploads/2018/01/pallet-flooring-desings-2.jpg
Dreaming of creating a garden that will not just serve as a place where you place your plants? Why not create a garden that will also represent your personality, while serving as an area where you can also receive some guests, or simply enjoy the place outdoors?
Rather than just leaving everything to the ground, why not create a specific space where you can place some tables or chairs?
Using wooden pallets for the flooring will certainly leave the natural look of your garden while making sure that you do not need to spend a lot of money for spending on this project. In this image, you may notice that some of the pallets have been colored, to further add to its overall look.
17) Stunning Pallet Floor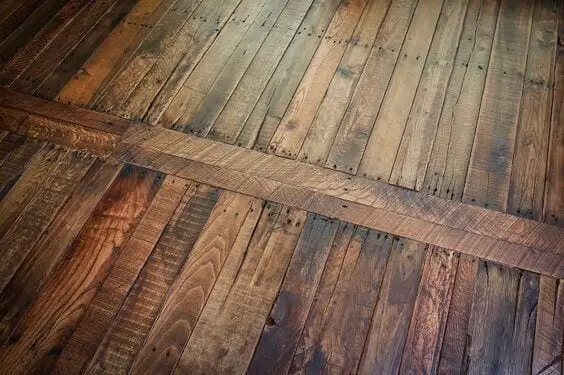 Image URL: https://www.palletsdesigns.com/wp-content/uploads/2018/01/pallet-flooring-desings-10.jpg
This design for your pallet flooring is an exceptional and stunning one. This is elegant to look at because of the design created in the middle, made possible by arranging the pallets in a way that leaves a space in the middle for a pallet combo in a different horizontal direction.
This pattern is perfect, not just for your home floors, but also for the construction and renovation of your restaurants, shops, and café area. It gives that sense of art that will certainly have your guests and customers coming back because of the ambiance and feel of your place.
You can also choose to alter the design of this pallet flooring. It is often best to select a design that will best represent your personal preferences and requirements. You may want to paint the pallets, or just leave them with their natural look.
Conclusion
Deciding to give wooden pallets another chance by turning them into pallet flooring will certainly be a satisfying project for you! Interior pallet flooring offers a number of benefits. For one, they are very easy to clean.
Also, because of the zero conductivity of wood, you can also avoid the under flooring heat. These wooden floors are also cost-effective while helping your interiors get proper insulation.
Plus, you can enjoy the liberty of showcasing your personal preferences by exploring further on your artistic side. Create patterns and styles that will represent your personality, making your new pallet flooring a conversation starter with your friends and family.
If you are a beginner, however, you can start with one of the projects above, and enjoy your first flooring endeavor! Now, you can easily install your pallet flooring patterns for your project and expect a very interesting interior at home, restaurant, office, or wherever you want to highlight the beauty of these floors.