11) Organizer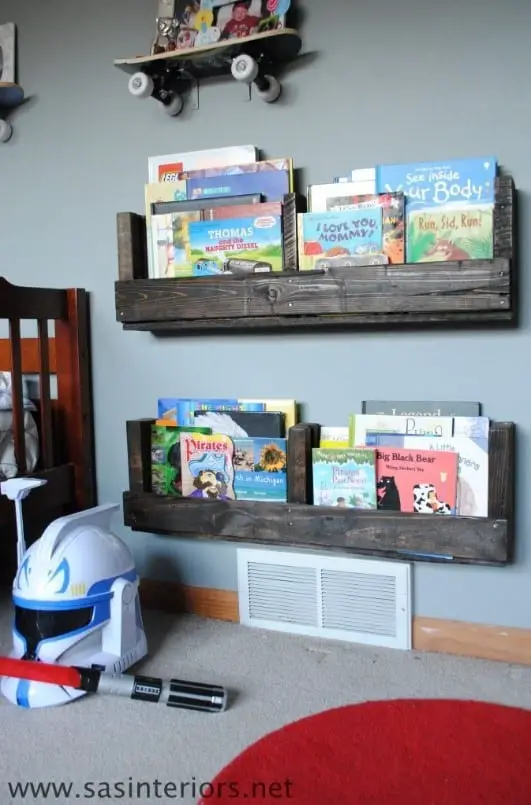 Via JennaBurger
This pallet organizer will be very popular with moms. This low lying and perfectly crafted organizer shelf are perfect inside a kid's playroom to be filled with storybooks or toys. It's not just your regular shelf because it has a slat in front that prevents anything inside from falling out.
This shelf is perfectly safe for children to be around as they may grab a book from behind and the one in front won't fall on them. Your wooden pallet would require a lot more work if you're wanting to sell your woodwork to anyone with kids. To be safe, you should always use wooden pallets that you are sure are not treated with chemicals.
Next, as they are used in another industry they are not as polished as the wood sold for actual furniture making. You should also try to make sure that you have sanded and/or planed every surface and corner of your wood. As the disassembly might cause for rough surfaces and splinters. You might want to finish by priming and painting it, having a smooth and elegant product at the end.
12) Center Table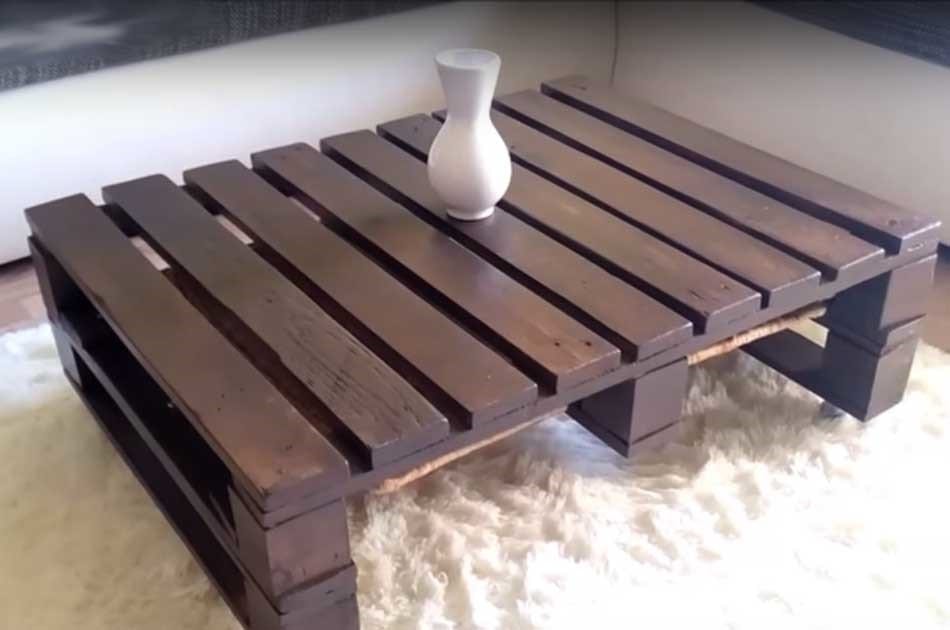 Via DIYProjects
This DIY center table is obviously a wooden pallet, but its elegance can pass off as a high-end high-fashion center table. This wooden pallet is the same as any regular type of wooden pallet. Although you can use a wooden pallet that has a bottom and just disassemble the bottom planks and slats.
This would require sanding before varnishing or painting. You can also try to add a flat board under to have some storage space. But this will definitely sell, all from a free and used wooden pallet.
13) Hanging Shelf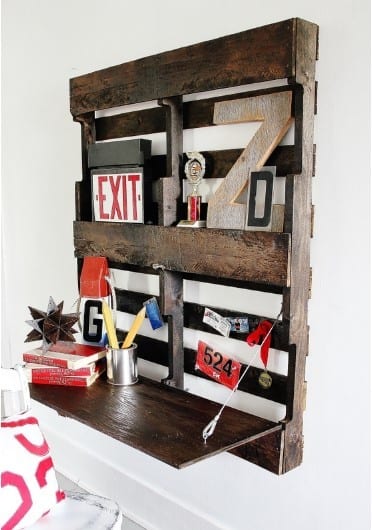 Via Thistlewoodfarms
This hanging shelf is unique as it has a folding feature to it. This flap of wood adds not only an extra feature but an extra cost to the buyer. This wooden pallet does not need any disassembly, but instead an addition. You can use any wire or chain that you'd like to hold the sides of the wooden flap.
Once attached, you can sand your pallets to a smooth texture and finish with varnish or paint. This can and will definitely become popular for anyone looking for an organizer for a small place, it is hanging and has a foldable wood table or surface. Perfect to save space and money. And perfect for you to sell.
14) Sofa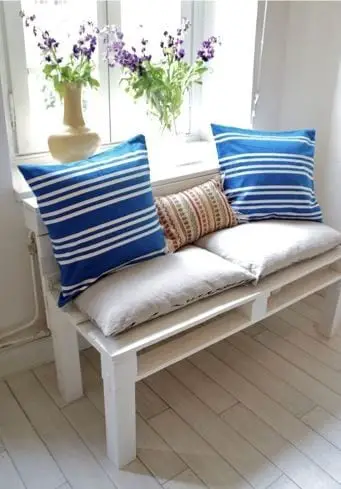 Via Scrap Hacker
This pallet sofa looks very posh and elegant that you might not believe that it is from a used wooden pallet. You will need one or two wooden pallets for this project. Both cut in half or in any size and dimension you would like. Once done, start on the seat by adding a backrest to it.
Then add the legs by using the solid wood frames of your wooden pallets. Sand or plane until smooth. Prime and paint white or any color you desire. You can add some throw pillow before you sell it or it can be sold bare. One thing is for sure, it will be sold.
15) Corner Lounge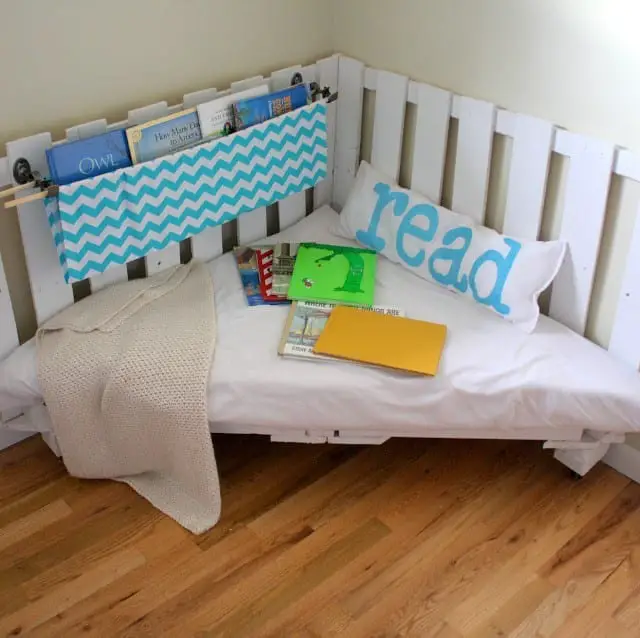 Via Kojo-designs
This corner lounge is perfect for kids and adults alike. This corner lounge project would need at least three to four pallets. Disassemble two and use the stringers and/or slats or planks as the corner fence and use the other wooden pallets as the seats.
You can get creative on how to follow the corner angle. Make sure to smoothen every surface to avoid splinters and wooden debris. Prime and paint. Add a good foam and enjoy your corner lounge whether to read or for your kids to take a quick nap.
16) Sofa Table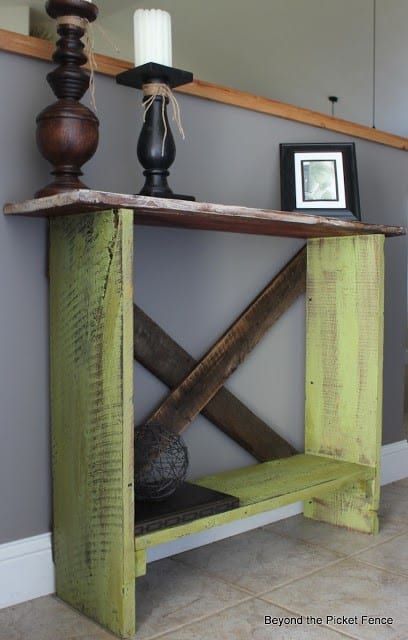 This antique looking sofa table is one of the easiest to DIY on our list. This requires just one wooden pallet. You have to disassemble your pallet though, so it would be better if you have or can borrow a reciprocating saw or a Sawzall (a tool that can be used to cut the nails of the wooden pallets and reduces so much time from pulling out planks from wooden pallets.)
Use the planks of the wooden pallets for all the parts of this sofa table. Nail two parallel planks to horizontal one In-between the two of them, this will serve as the stretcher support of the table, and the two parallel planks will serve as the legs.
Nail a horizontal board on top of the two legs either the same length as the distance of the two kinds of wood or longer. Once done, add some more security by adding an X wood at the back either with two more planks or two stringers. Smoothen surfaces by planning or sanding then prime and paint.
17) Computer Table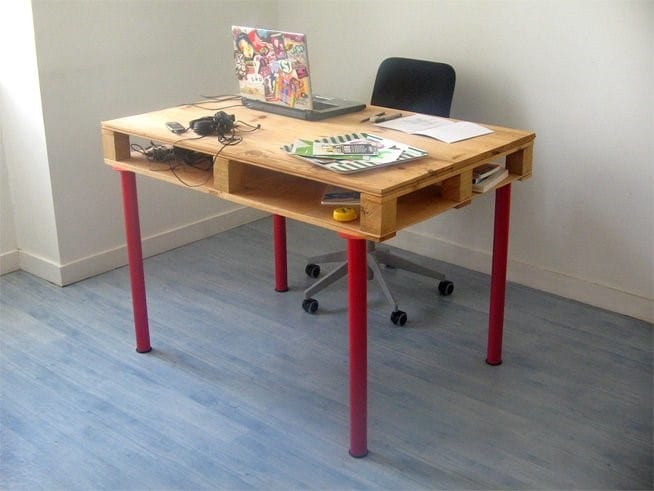 Via Instructables
This computer or work table is perfect for anyone looking for a budget table. This DIY is really easy, you can choose a standard pallet with an open bottom and add a flat wood under or you can choose a closed board pallet if you can find one.
If not, you can close the slats and stringers of pallets with wood putty. Sand the surface to smoothen and finish with clear varnish. Add legs, you can choose to use metal ones or use another wood. You can use the space inside to store wires and small things while working.
The building is the most common woodworking DIY skill you may have heard of. This is still, in fact, the main track of many who study woodworking. There are various types of woods that you can easily imagine limitless of projects that involve wood construction.
18) Table Organizer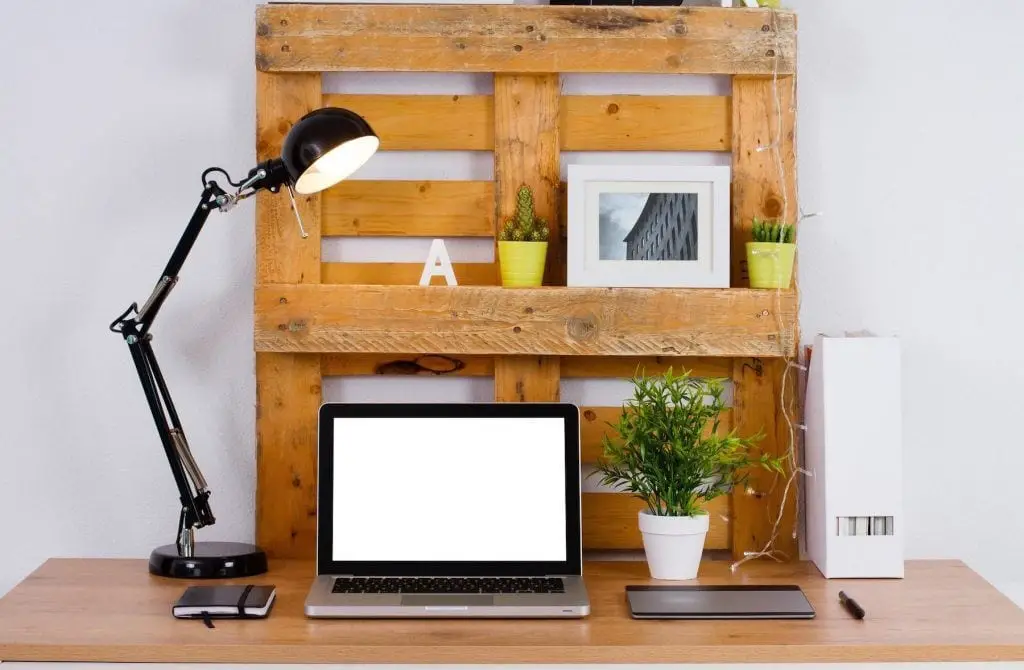 Via Pressherald
This perfect workspace organizer is easy to DIY since it does not need much to no disassembly at all. You can opt to use a smaller pallet and refurbish that to make it look more expensive and elegant.
This project can be done with some cheap materials like a sandpaper or an electric sander, some primer, wood finishing, and varnish. This look is very popular with those who like the minimalist look.
The 'building' area of woodworking DIYDIY targets furniture products and creations. While there are a variety of products out in the market, creating your own furniture, customized to your own style and needs is the best thing. You can express personality, creativity, and originality very well in this area.
19) Hanging Key And Mail Organizer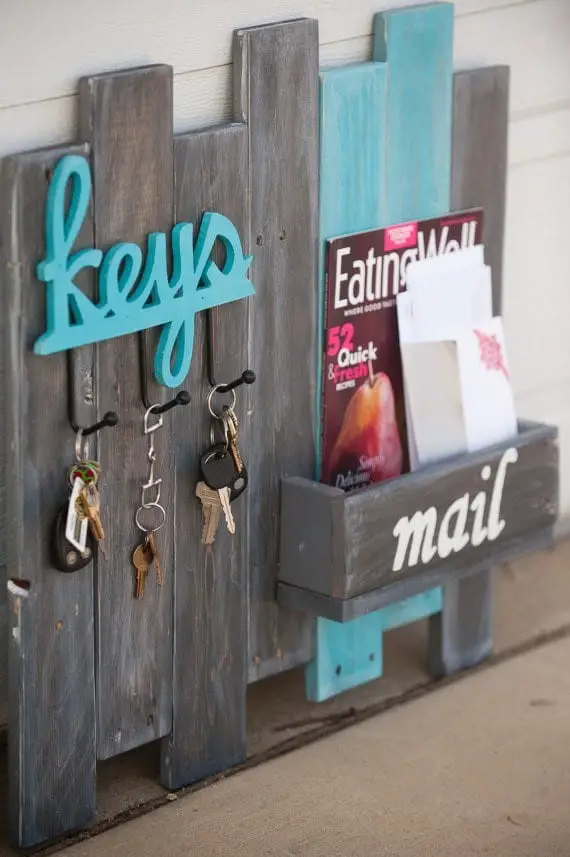 Via GreatDIYS
This organizer is perfect for the entry organizer in any house. This can be designed to be hanged or to be placed on the entry table if you have one. This key and mail organizer will allow you to be stress-free because you will no longer lose your keys or wonder where you put the mail.
This project would need you to disassemble your pallet and cut your plants into smaller sizes. So this is a perfect side project for any big ones that you have excess wood from.
Constructing your own creation is satisfying but you should always start with and learn from standard and simple building plans. As you gain more experience, you can create your own product from paper to wood.
20) Umbrella Box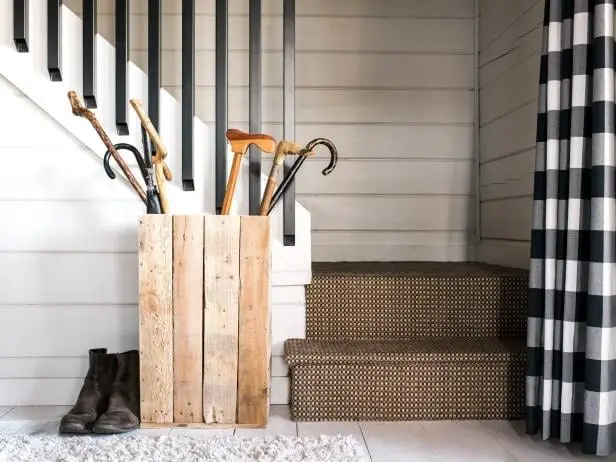 Via DIYNetwork
This umbrella box is one of my favorites on this list. This really pretty but functional box is also easy to do. Once you disassemble your wooden pallets you can nail them together to make a box. You can finish by sanding and smoothening the surface and applying clear varnish, or you can choose to paint it.