21) Hanger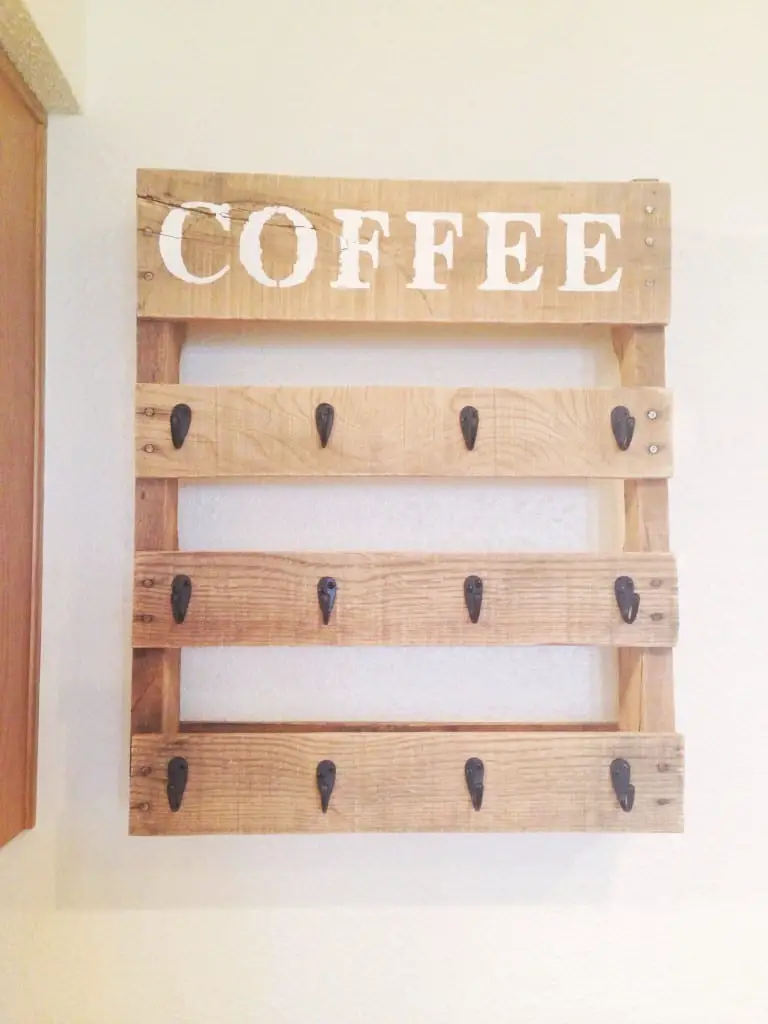 This hanger is perfect for any house and numerous purposes. The size is also good for anyone wanting to save a little space. This project only needs you to remove a few wood parts of your pallets so that it can look cleaner. Drill some holes and add hanger screws. You can sand your pallet and add some letters to finish it.
22) Hanging Garden Tool Storage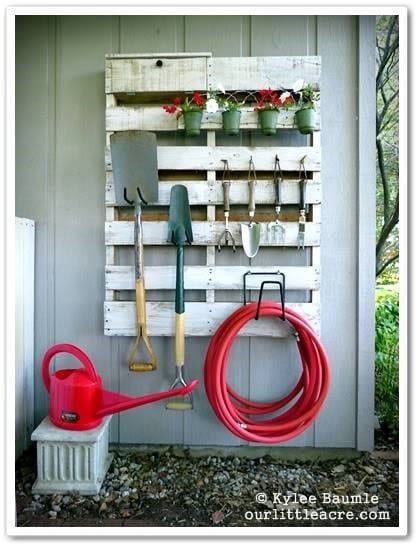 Via Our Little Acre
This hanging garden tool storage has a great step-by-step tutorial. You can repurpose your wooden pallet by simply painting it and adding some hanging screws. This DIY project is sure to sell for its space saving capabilities and it aesthetic equal to its functionality.
23) Collection Storage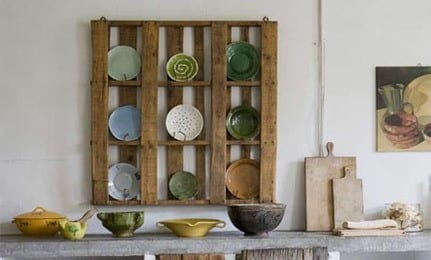 Via Care2
This Collection storage is an old and used a wooden pallet. This project is perfect for those looking for a cheap way to display their collections of plates, figurines or anything for that matter.
You won't have to do much except to make this pallet look more antique and but elegant. This is just a perfect example of how you can make some money doing the things that you like.
24) Hammock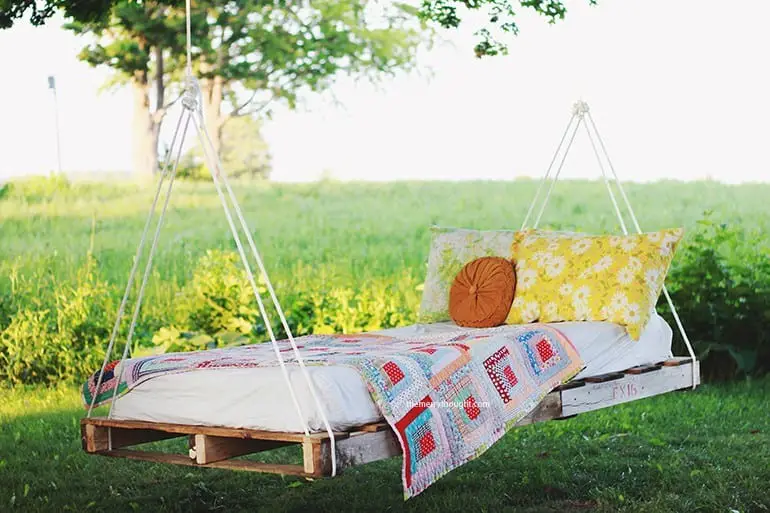 This idea will sure to sell well as it is both fun and stylish. This hanging hammock may have fewer customers, but it will sure be sold quickly. Hammocks are perfect for anyone looking for an addition to their backyard.
This project requires at least two wooden pallets, a good wood to connect and support the two and a rope. You can refurbish your pallet to smoothen it first or you can just opt to add some good bed foam and tie the ropes.
25) Outdoor Bench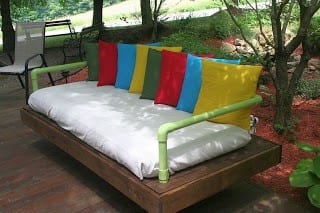 You have your wooden pallets; do you have some old pipes lying around? If you do, then this DIY project will be easy as pie to you.
Use a close boarded wooden pallet (the ones that use flat boards and not planks) or you can use the standard ones and fill up the spaces in between with more planks and some wood putty.
Smoothen and varnish then add your armrests and backrests using a long old pipe of just any material you like.
26) Outdoor Garden Table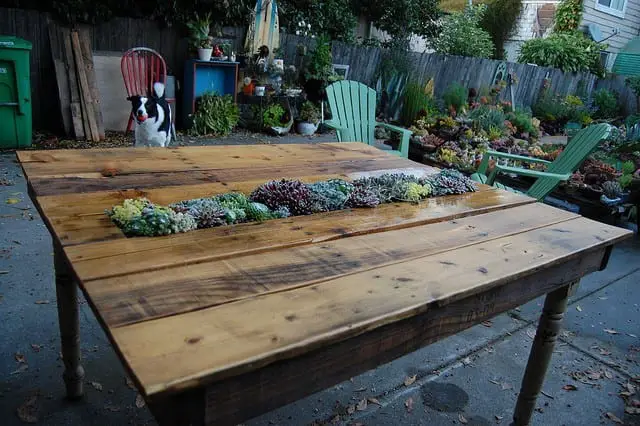 Via FarOutFlora
This outdoor garden table is much like any table project. But this one is a garden in itself. Perfect for those who like having 2-in-1 furniture or just love having plants everywhere. This project requires you to leave a hollow space in the middle where you place the pants.
27) Plant Box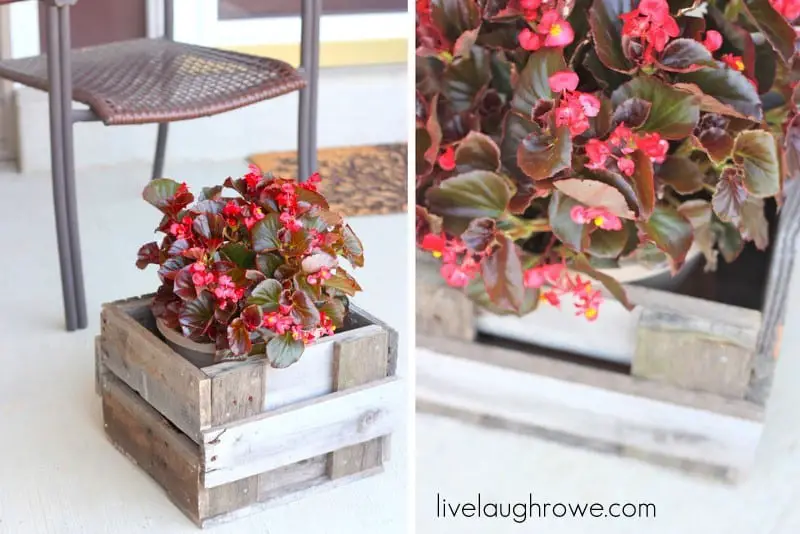 Via LiveLaughRowe
This plant box is sure to sell for its wide audience. This plant box is excellent for anyone wanting to plant but has a small space or fears having soil everywhere. This plant box secures the plants and gives an aesthetic touch.
28) Sandbox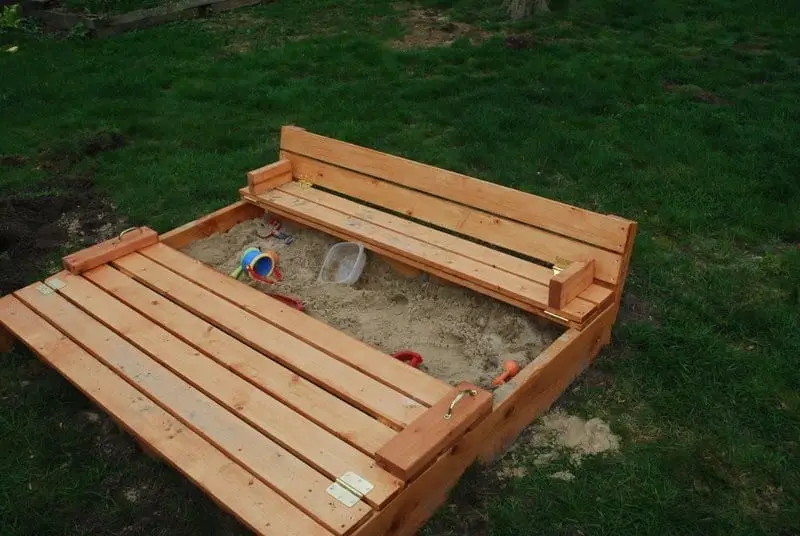 Via Ana-White
If you've ever thought about having your own sandbox at home, this is the ideal project for you. This sandbox is truly unique and fun. You can use up to four pallets when doing this.
First, you might want a close boarded pallet to use are your actual sandbox, or you can fill up all the spaces of the planks on your standard pallet.
Then you have to turn it upside down and ad the extra features such as a small pallet bench at the side (use two planks as a backrest. And use some more planks and hinges to make a folding door that you can open and close whenever you want to use your sandbox.
29) Swing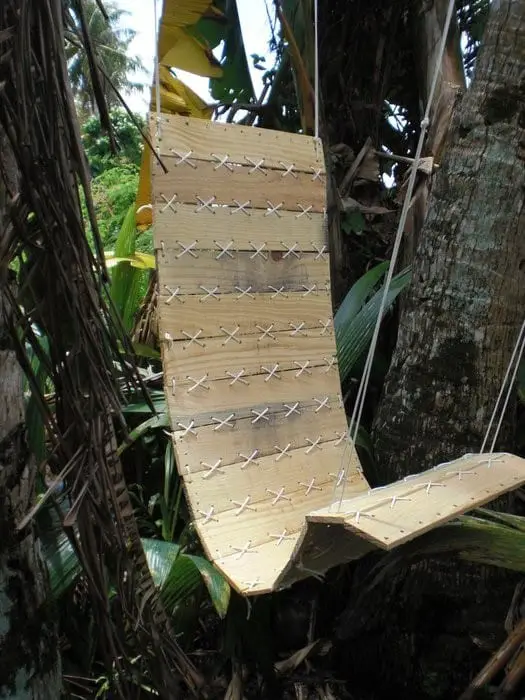 Via Instructables
This special swing is specially sewn (or nail gunned) to be an elegant hanging pallet swing or hammock. You would have to disassemble your wooden pallet and sew the planks together and add a rope. Always make sure to install it in places that can hold the weight.
Making money from this DIY is really easy. Using just a few planks from your pallet (meaning you can use the others for more DIY's) and paying almost next to nothing to finish this project to sell it at the right price to the right person.
30) Bar Table And Chairs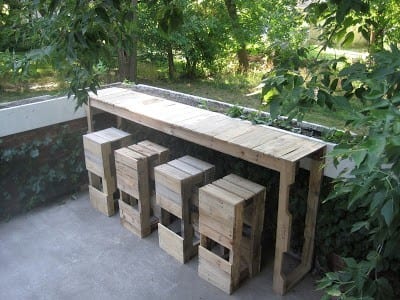 Via Stacked Design
This DIY Bar table and chair set are suitable as an outdoor hangout. You would need more pallets for more chairs and a long table of course, and you would need to disassemble your pallets as well.
Having the right tools for disassembling pallets would make it all the work easier and faster for you. You can opt to use crate boxes, but it is not recommended. Pallets are your best bet when making this project.
Conclusion
Woodworking DIY and trying to sell them does not simply involve hammers and nails. From simple wood boards, there are various shapes you can carve and create.
This type of woodwork would require greater skill or experience to produce the most picturesque result, but it can still be fairly easy with the right plan.
You can create various ornaments and decors with this activity, perfect for souvenirs and gifts and merchandise. So, what did you think of our list? Tell us in the comments section and make sure to check back for new blogs!