Pallets and TVs – is it possible for these two to go together? Why not? Modernism combined with rustic style is in! The best part about this partnership is that you will not just take care of the storage of your precious TV, but you can also achieve a more affordable option which will also release your artistic side at the same time!
In fact, you can simply look for some old and discarded wooden pallets. With a good input from other DIYers and a few skills and imagination, you can now create a customized pallet TV stand for your living room.
Are you looking for an idea for a pallet TV stand? You have come to the right place! The possibilities for creating this project are endless. Why not start creating something that is remarkable for your home?
This guide will highlight 13 pallet TV stand DIY plans for you to choose from. After successfully creating your first project, it will not take you long before you get persuaded to start your next masterpiece.
1) Upcycled Entertainment Center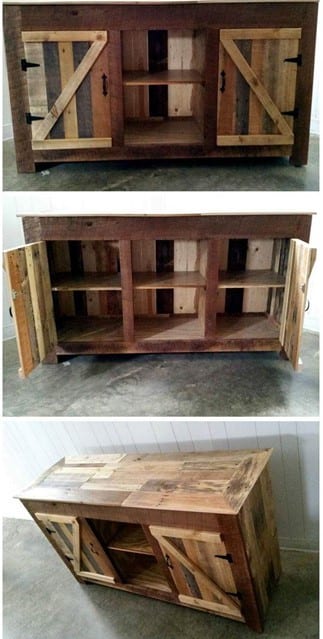 Image URL: https://cdn.easypalletideas.com/wp-content/uploads/2016/12/Wooden-Pallet-Entertainment-Center-1.jpg
This DIY pallet entertainment center is a smart solution for your TV storage needs. This one will fit, not just your TV, but also other stuff that you need for your living room. This model uses wooden pallets, though you can also copy it using other wood species.
This media console can also be customized according to the size that you want. In terms of storage, this specific project comes with a sub-storage cabinet which is built into each side of the cabinet. It also features built-in shelves for you to display some of your media concerns.
2) White Pallet TV Stand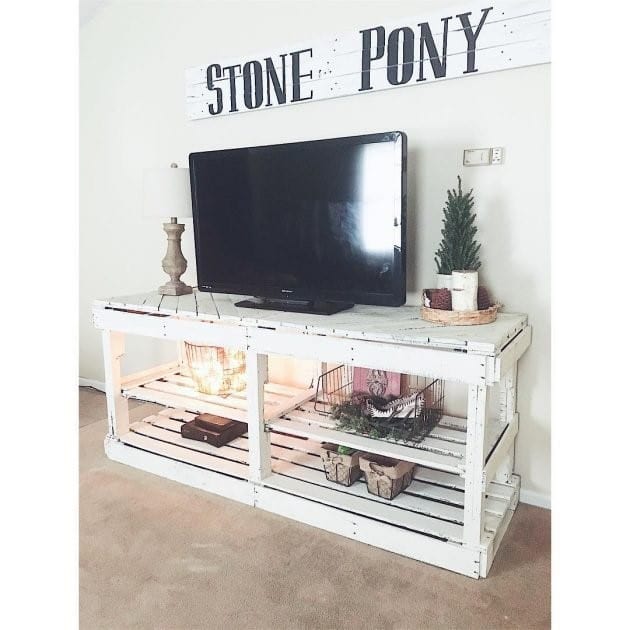 Image URL: http://www.architectureartdesigns.com/wp-content/uploads/2017/04/2-6-630×630.jpg
While you actually have the liberty to use any color that you need, this specific DIY sample particularly uses white as its main color. This is to match the paint used on the wall.
The beauty about using white as the color of choice for this pallet TV stand is that it contrasts well with the color of the TV, as well as the other stuff that you may be planning to place for your entertainment center.
This TV stand uses a number of pallet pieces, formed together to create a masterpiece that is not just perfect as a storage solution, but also a great fixture for your living or entertainment room.
3) Cabinet and Pallet TV Stand
Image URL: https://cdn.easypalletideas.com/wp-content/uploads/2016/11/DIY-White-Painted-Pallet-TV-Stand.jpg
Watching your favorite TV show in a suitable sitting angle and position makes the activity a very enjoyable one. Otherwise, it may take a toll on your health. A media console or TV stand is designed to hold your display screen on a good height, thus ensuring convenient TV watching.
This pallet TV stand is also storage friendly, given that it comes with some drawers and built-in cabinets. You can even opt to build a slim long stand, along with a flat bottom by easily putting some flat slats of pallets altogether.
4) Rustic Styled Pallet TV Stand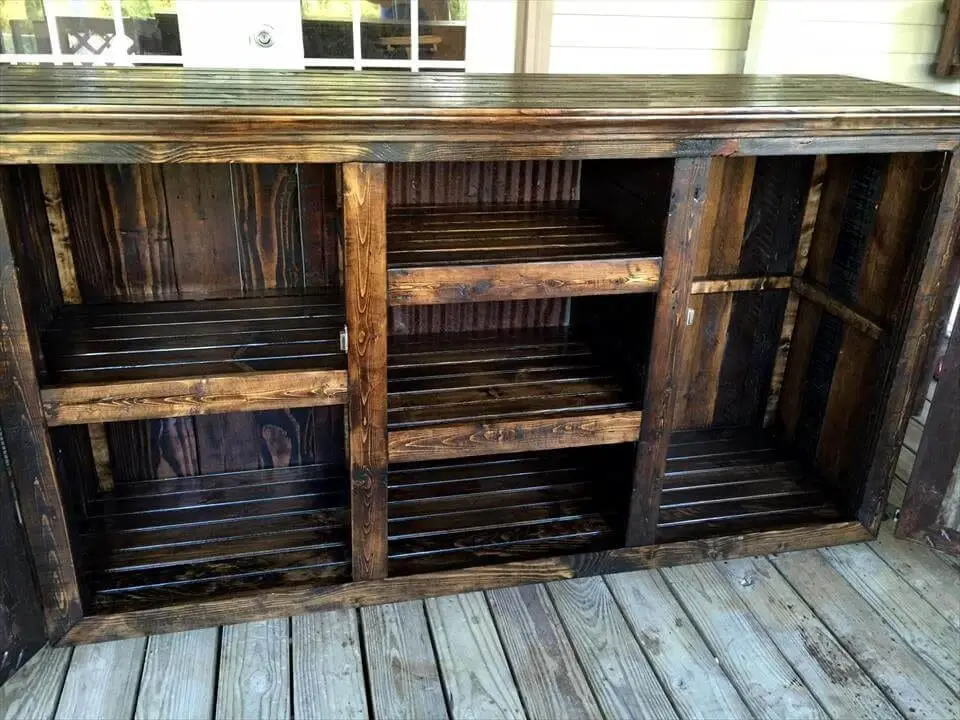 Image URL: https://cdn.easypalletideas.com/wp-content/uploads/2016/08/pallet-entertainment-center-with-cabinets.jpg
If you are the type of person who loves entertainment and fun in your home, you definitely need a media console table with a large size or an entertainment center that can hold all media stuff easily on it.
Rather than going to the store to purchase a huge media center which is expectedly expensive, making a customized version of the stand is an even better option.
As a bonus, it is also rustic styled, which means that it will certainly stand out in your living room. All you need to do is to grab some pallets and turn them into this cool project.
5) Simple Rustic Stand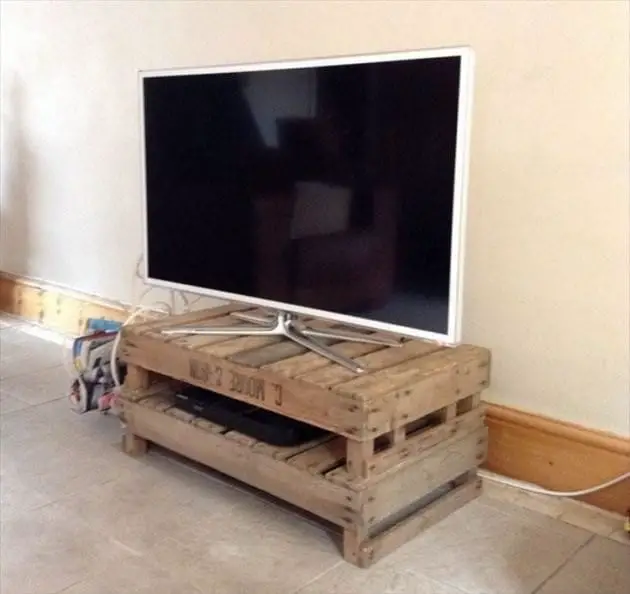 Image URL: http://www.architectureartdesigns.com/wp-content/uploads/2017/04/6-6-630×594.jpg
Why not make up your space deficiencies for storage through DIY projects. The main material that is used for this furniture project is wooden pallets. Boost your creativity and place this pallet TV stand anywhere in your living room as a perfect station for storage.
This design can be considered as a basic one. The DIYer has also chosen not to paint the wood, to make it as natural as possible. In your project, however, you have the option to apply color to the wood.
6) Pallet TV Stand with Shelves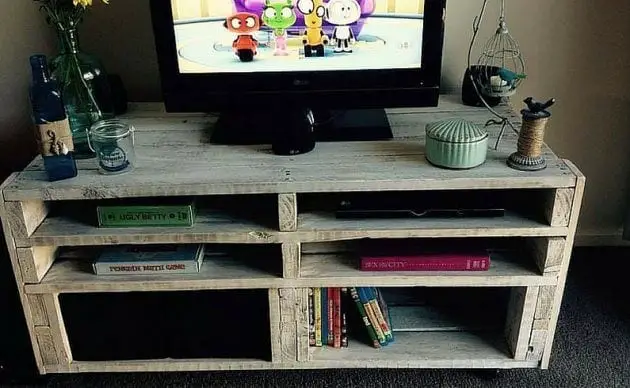 Image URL: http://www.architectureartdesigns.com/wp-content/uploads/2017/04/7-6-e1491949349692-630×388.jpg
Media stands are created to offer a presentation to your media room. This furniture is associated with entertainment, thus enhancing the overall entertainment and fun in your room. This elegant pallet TV stand is an amazing example of a creative masterpiece.
This design comes with extra dimensions, as well as 3 shelving levels to allow you to easily organize your media items, such as DVD players. Simply boost your creativity by staking or remaking wooden pallets. It is recommended to use heat treated pallets so that they would be safe for use inside your home.