11) HGTV Wooden Pallet Rack
This is truly a wonderful pallet wine rack that will greet your guests the next time they visit your home. It has all the things you need to share a drink with your friends. It has enough space for a number of wine bottles, on the middle and top shelf. The lower part is where the wine glasses go; ready to be filled with your favorite wine.
It is very easy to see that the middle shelf is where the most recently opened wine is kept and possibly a bottle of your most favorite.  The top shelf is where the most prized bottle is kept as well. If there was an upgrade that's perfect for this rack it would be to place a wine bottle holder for the upper section.
You can also further improve this wine rack by painting this the color you want.  Overall, it is a simple pallet rack design that would surely be a good inspiration for your own project.
https://runyonrental.wordpress.com/tag/wooden-pallet-wine-rack/
12) Twine and Vines Pallet Wine Rack
This is possibly one of the cutest wine racks in the list. It is small yet classy and can be your next woodworking project as well. This pallet wine rack was made from only a few pallets. It was painted a dark shade to contrast the light wall. The rack can accommodate six bottles, not so bad for a wine rack for a small home or apartment.
The rack is also divided into two which means you can use this to separate white wine with red wine or your favorites to the collectible wine. You can also see that there are glass holders available at the bottom of the rack.
This means that you are ready to get the party started! And when it comes to building this wine rack project, this plan will help you out. This is a simple yet perfect addition to your
13) Wine Rock from Pallets
This is a wine rack that only has a very small shelf that can only take up to six bottles of your favorite wines. Recognize the wood pallet section that holds the bottle together? This is the corner section of a pallet frame. The builder only cut the pallet frame leaving this section and painted it a dark color.
And because of this very easy design, you can actually make this pallet wine rack in minutes? Just take out the old circular saw and you have the pallet frame cut nice can clean. You can improve this wine rack design by either applying varnish or use a torch to distress the wood for that rustic look. You don't have to be an expert woodworker to create this cute wine rack at all.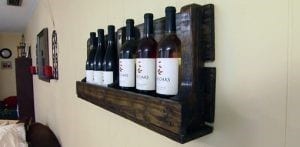 14) The Quick and Practically Free Pallet Wine Rack
Pallet wood is actually so cheap that you can buy this from a wholesale or home center for a very good price. Some people may have these lying around the house as well. This pallet wine rack uses only a few pieces of pallet wood, therefore, this could be a possibly free project.
This wine rack has a boxed design that gently holds the bottles in place. The builder made two shelves and each one can take about four bottles of wine. The pallet wood used in this project was varnished a very dark color and this made the rack look older and rustic.
There is no wine glasses holder in this design but nonetheless, it looks perfect in holding your favorite collection. You can make one now and enjoy a drink with a friend later at home.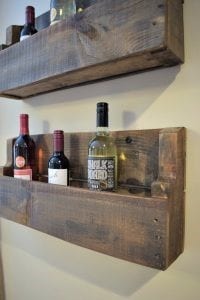 15) And Possibly Dinosaurs Wine Rack
This is a rustic wine rack made from stained pallet wood. This design is for anyone with a small collection or for people who want to display the best of the best. This was made from only a few pieces of pallet wood and again, the builder did not complicate the design at all. This was actually made from the lower section of a pallet frame.
The rack can hold about five bottles of wine and more than five wine glasses from the rack below. It is a very easy project indeed because all that needs to be done is to cut the frame and paint the rack.
You can actually paint this your favorite color or according to the accent color of the room. You can also improve this by adding more section and making the wine rack larger and wider to accommodate more bottles.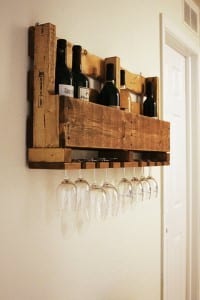 16) DIY Vintage Pallet Wine Rack
Have a look at this vintage style wine rack. This is a simple wine rack that looks like it came from an antique shop. The pallets used for this project have been carefully stained to achieve this lovely look.
This can hold up to ten bottles of wine proving that it looks simple but it is very strong. The rack does not have a space to hold glasses but it does not matter because you can always place delicate wine glasses in another holder.
Making this vintage pallet wine rack is quite easy and this is true even if you have never made any wooden shelf or rack before.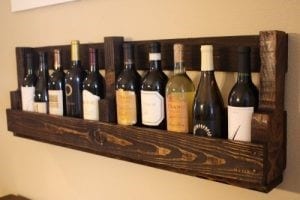 17) Upcycled Wine Rack Made of Pallet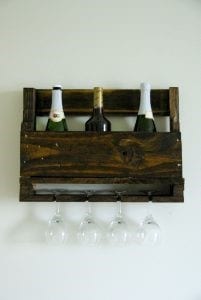 18) Personalized Wine Rack
This is a personalized wine rack that looks like a customized wine rack because of its label at the front. This has a simple design and uses only a few pieces of pallets. It can take four bottles of wine and four wine glasses.
The plans for this wine rack will teach you how to personalize this project. And of course, you can choose to paint your wine rack or stain it lightly or using a dark stain. This is a very easy design that you can make in just an afternoon or in just a few minutes if you are in dire need of a wine rack for your party tonight.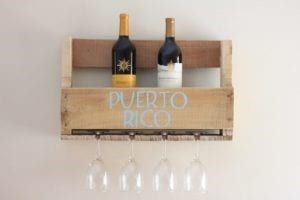 19) Hometalk Pallet Wine Rack DIY Design
This pallet bar has a classy design. It looks like a large frame which can accommodate eight bottles of wine and a number of wine glasses as well. You can also tell that there is a lot of effort to make this wine rack because of its lovely design. 
The middle portion houses the wine and other bottled liquor while the top and the bottom rack holds wine glasses. You can improve this design by adding a bottle holder on top so you can store more wine bottles here as well. The plans to make this pallet wine rack are quite easy to follow and have a complete list of things you need for this project.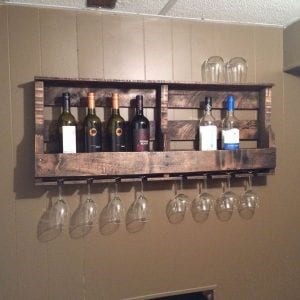 https://www.hometalk.com/6055067/how-to-make-a-pallet-wine-rack?expand_all_questions=1
20) Lighted Pallet Wine Rack
This lighted pallet wine rack is a sight to behold. It looks like a large picture box with the lights at the back. It can hold as many as ten bottles of wine as well as several wine glasses.
This wine rack plan is quite easy to follow with its step by step guide. You will also find it easy to make with its complete list of materials and tools you need. And because it is so easy to make, you can actually make this lighted pallet wine rack even if you have never used a power saw before!  And you can further upgrade this pallet wine rack by adding more shelves and sections to hold more bottles and to paint this according to the color you want.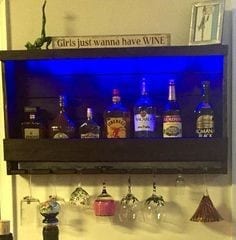 https://www.instructables.com/id/LED-Lit-Upcycled-Wine-Rack-with-Recycled-Pallet-an/