#31. A complete guide for your big bed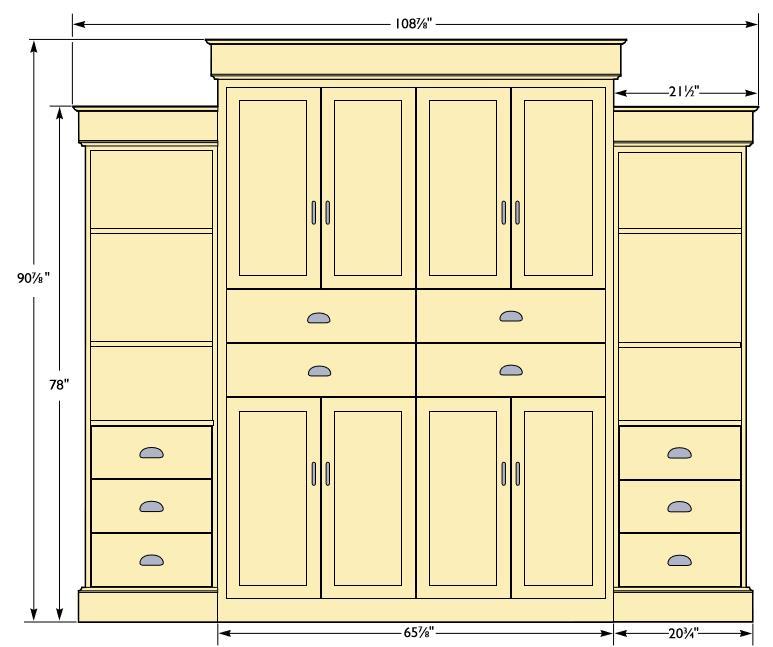 Want to make a Murphy bed for your queen size mattress? Then this guide will surely help you!

In this downloadable PDF file, the size of the Murphy bed is already adjusted for your queen sized mattress. This eliminates the possibility that the wood will be cut with an incorrect size and risk wasting it.
Though the file is a manual for installing the Murphy mechanism, it still requires the maker to buy wood and cut them into pieces, and assembling those accordingly. With this manual, though, the process becomes easier because it also assigns each wood piece with a number and providing instructions based on mentioning the part number.
This Murphy bed plan also has drawers that can be used to store possessions. This reduces the need for another storage space in your room.
With these advantages, there's only one thing to do – include this in our list.
http://go.rockler.com/tech/queen-size-deluxe-murphy-bed-plan.pdf
#32. Murphy bed fashioned like a police box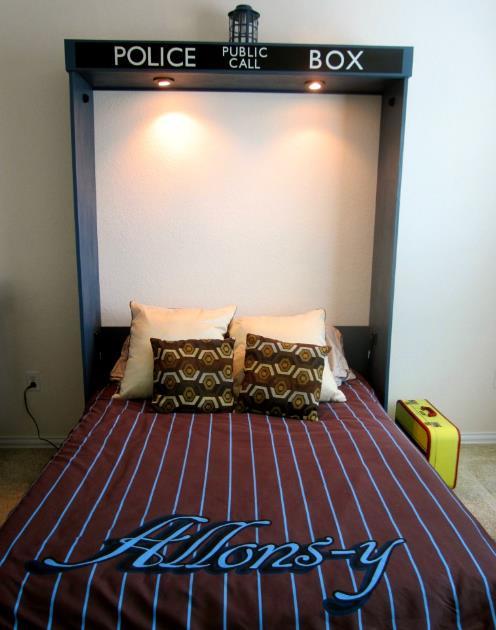 Just because the Murphy bed is used for sleeping, that doesn't mean that you can't fashion it based on your preference. If you are a fan of Doctor Who, this TARDIS styled Murphy bed is for you.
This Murphy bed plan does not provide too many details related to how the bed can be made. However, she provided enough pictures that will serve as a guide as to how each step in making the bed was taken.
She also provided details on how she was able to achieve the look and style that she likes for the bed. Not only did she focus on painting the bed frame, she also spent some time figuring out how to make the lighting inside the bed work.
The simple instructions in her journal and the unique look that she gave to the Murphy bed should be rewarded by featuring it in our list.
#33. Making a well-designed Murphy bed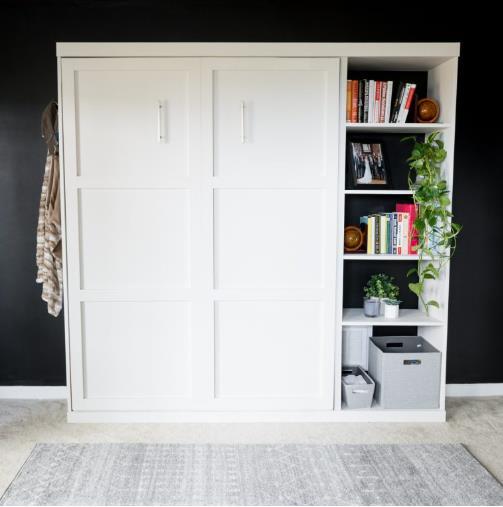 A black and white color scheme in your room might be simple, but these neutral colors are timeless and look just fine. That is the look that this Murphy bed wants to achieve.
Aside from being a bed, it can also serve as storage space for some of your stuff. It has enough shelves for items such as books, and can even houseplants that further improve how it looks.
The tutorial for this bed isn't too difficult to figure out as well. Instructions are presented just like they're telling a story and does not mention any jargon that beginners might find difficult to understand.
The instructions are also supplemented with photos. This will give anyone an idea what the bed should look like if they are on a particular step.
These points are more than enough for this Murphy bed plan to be included in our list.
https://www.bybrittanygoldwyn.com/2018/07/our-modern-diy-murphy-bed/
#34. Sturdy Murphy bed for children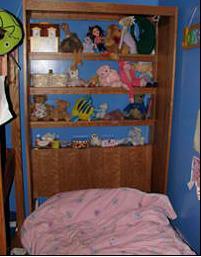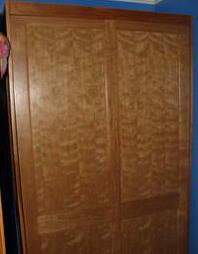 The maker of this Murphy bed mentioned that he deviated from the instructions that he saw on how to make it – rather than use plywood, he used maple wood. But even if he didn't follow the recommended material, he still made a sturdy Murphy bed for his daughters.
And boy, it really is sturdy. Even with so much jumping from three girls, it can still be used!
Another good thing about this tutorial is that the maker included as much detail as possible for each step. This will allow anyone to be able to copy the Murphy bed that he made and follow the processes that made it sturdy.
He also broke down the steps of the process into different pages on his site. This will make it easier for anyone to pick up where they left off in case they need to put off working on the project.
http://www.leevalley.com/us/newsletters/Woodworking/3/3/article2.htm
#35. Construct an inexpensive Murphy bed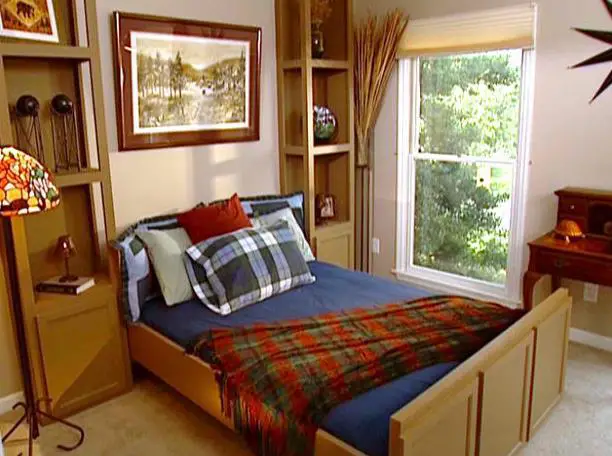 Yes, Murphy beds do save space. However, those that can be bought at the store are quite expensive.
If that's the case, then maybe you should consider making your own!
This Murphy bed plan uses wood and other materials that can be easily acquired in a hardware store that's near to you. It also makes use of inexpensive materials, so you can expect savings after the project.
What's good with the plan is that the steps are laid out in an easy to comprehend manner. Each big step is also broken down into smaller steps that ultimately help in accomplishing that big step.
Photos are also provided for each step. This is extra helpful on some steps where it can be difficult to imagine how it should be done.
This deserves to be included in our list because, despite its simple-looking site, it was able to provide the needed information.
http://www.londonmurphybeds.com/how_to_build_my_own_murphybed.html
#36. Murphy bed disguised as a dresser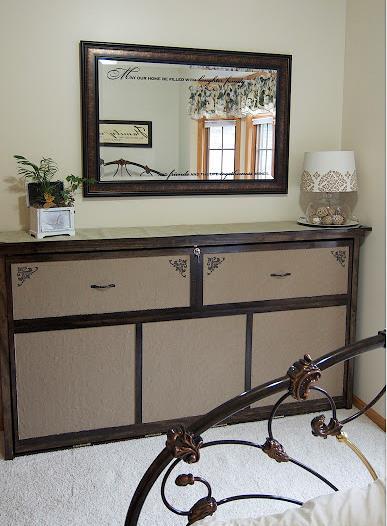 The horizontal Murphy bed is a better space saver than a vertical one. And this Murphy bed plan is perfect for those who want to make this project.
Since this Murphy bed is fashioned like a dresser, it needs to have a lock. Installing one is a great idea, as the lock keeps the whole bed when it's not in use.
Since this bed does not require too much space, it can be put inside a room with another bed. This is a good arrangement for families who want to have their child in the same room or don't mind if one of their guests sleep inside their room.
It also serves as a great aesthetic addition to any room. Just paint it according to the style of your room so that it will look complimentary. 
With all those positive points, this bed plan should be included in our list.
https://www.remodelaholic.com/how-to-build-a-murphy-bed-diy/
#37. Converting the entertainment center into a Murphy bed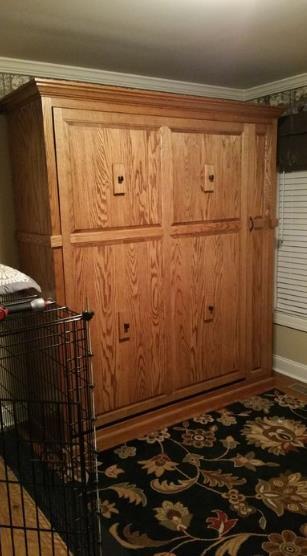 Having an unused furniture in your home such as an entertainment system can be a big hassle. Not only will it take precious space in your attic or storage, but it can be difficult to move out of the house.
If this is the case, then why not consider turning that furniture into a Murphy bed? Not only will it save space in your bedroom, but it'll also eliminate the need for buying a new bed frame.
What's great about this Murphy bed plan is that most of its body is already made. This is a good project for beginners to start with, as they get involved in the process of making the Murphy bed without some of its time-consuming processes such as cutting the wood.
Since most of the frame is already made, this project will only need slight modifications so that it can be used as an actual bed.
https://www.instructables.com/id/Murphy-Bed/
#38. Sideways Murphy bed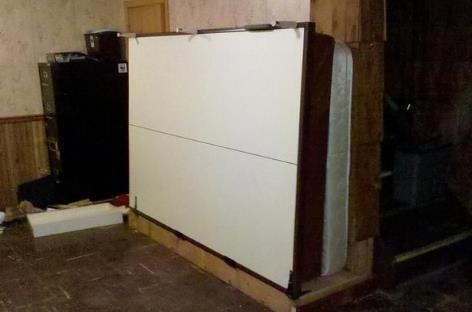 Do you want to install a Murphy bed but your house has limited vertical space? Then consider installing the bed sideways!
This tutorial shows how one can make a Murphy bed that's installed sideways. Not only is it not difficult to install, it also requires fewer materials for it to be installed in the wall.
This Murphy bed plan should also be noted because its instructions are short but are easy to understand and follow. Even those who don't have enough experience in woodworking will be able to make this sideways Murphy bed with the help of these instructions.
These benefits are more than enough for this bed plan to be discussed in this list.
https://www.instructables.com/id/A-Murphy-Bed-Installed-Sideways/
#39. Advanced bed plan for the advanced woodworker
For those who have been into woodworking for quite some time, it's possible for them to make something as long as they know the exact details such as the size of each wood piece or how the final product looks like. This is exactly what this kind of project requires.
Compared to the other PDF files, this one is unique because it does not provide actual instructions on how to make the project. The files only provide a diagram of the project when each of its pieces is broken down and a guide on how the wood should be cut, respectively.
While this is an intimidating guide for beginners, it can be a challenge to anyone who's experienced enough and would want to improve their skills in woodworking.
The unique presentation of the instructions for making this Murphy bed is more than enough for it to be mentioned in our list.
https://www.familyhandyman.com/woodworking/murphybed/view-all/
https://www.familyhandyman.com/wp-content/uploads/2017/06/Binder2.pdf
https://cdn1.tmbi.com/TFH/Attachments/MurphyBed_Art_for_web_new.pdf
#40. E-book guide in making a Murphy bed
It's not new to see downloadable PDF guides that will serve as a tutorial for making a Murphy bed. But it's rare to see a free E-book that one can easily download as a guide for making this project.
Although this E-book is part of a Murphy bed kit that one can readily purchase, it's still a useful guide because it provides information that is not too limited to what the kit contains.
Another good point in this e-book guide is that it provides a lot of information that other tutorials don't give. For example, it provides numerous tips on how to be safe while making the project, and it also provides other useful techniques such as labeling the wooden pieces, how to apply edging tape, and proper assembly of each part of the bed.
With all of these positive points, it only deserves to be included in our list.
https://easydiymurphybed.com/wp-content/uploads/Construction-Guide-Easy-DIY-Murphy-Bed.pdf