#11. Constructing a Murphy Bed with Stay Level Desk
For those who prefer a Murphy bed that is usable if it's not in use, this is the plan that you should follow.
What makes this unique with other Murphy bed plans featured earlier is that the extension which serves as the desk is also used as one of the support of the bed when it is used for sleeping.
Another good thing about this tutorial is that it focused more on visual demonstration rather than providing instructions using the written word. This is a great guide for those who want the instructions to be shown rather than just read about it.
The whole bed also has some compartments on the side wherein possessions can be placed. This makes the Murphy bed fulfill more functions when not in use.
It's because of this unique feature and improvement on the traditional Murphy bed that this deserves to be mentioned in our list.
http://www.ycmt2.com/murphybed/
#12. Applying the "Rule of Thirds" in Making This Murphy bed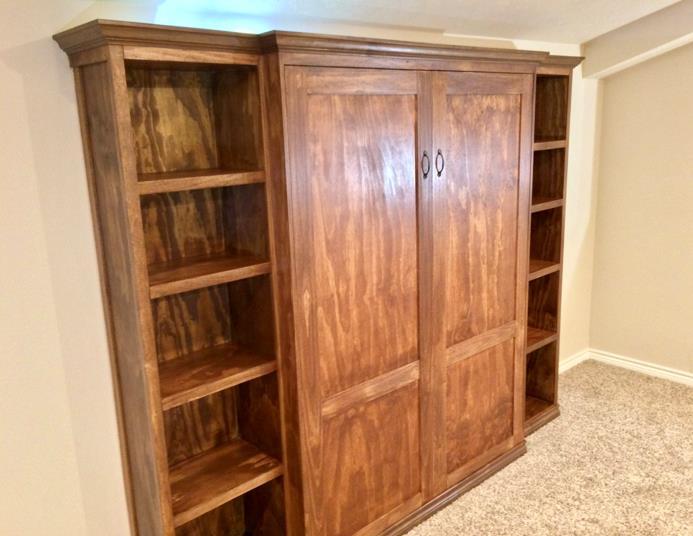 For those who know a thing or two about photography, a concept known as the "Rule of Thirds" is often mentioned. But it can also be used in woodworking.
The maker of this Murphy bed ensured that he followed that rule so that the whole bed will have a great look aside from being functional.
Though very few details have been mentioned in the website, the video presentation is more than enough to cover important details and the process of making the Murphy bed. This is surely a great help for those who find it difficult to follow instructions without some demonstration as to how one step should be done.
Its great look and video demonstration, this tutorial only deserves to be part of our list.
#13. A brief guide for making your Murphy bed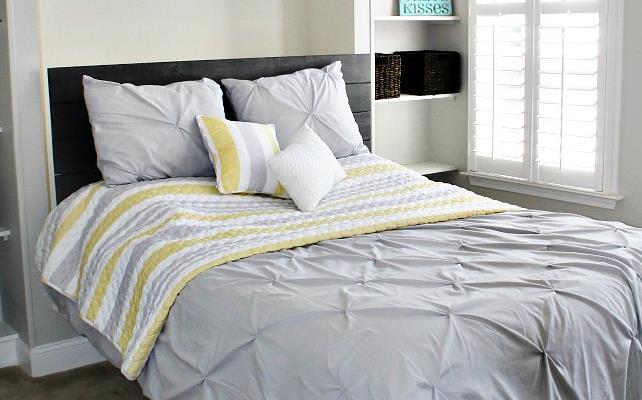 If you are just starting out with woodworking and you want to get your feet wet on making a Murphy bed, then this tutorial is for you.
Though it can be seen that the website is trying to make its visitors buy the bed plan, it still deserves to be included on our list because its content is friendly to beginners. Having a general idea on how the bed can be made is a great help for those who are new to the craft and want to gauge if they can take on the project before actually buying the plan.
There's also a video that serves as a general guide on how it was actually constructed. It also shows the beauty of the final product, which can be a motivator for some people.
The benefits mentioned above are more than enough for it to become a part of our list.
https://www.yourmodernfamily.com/diy-wall-bed/
#14. Murphy Bunk Beds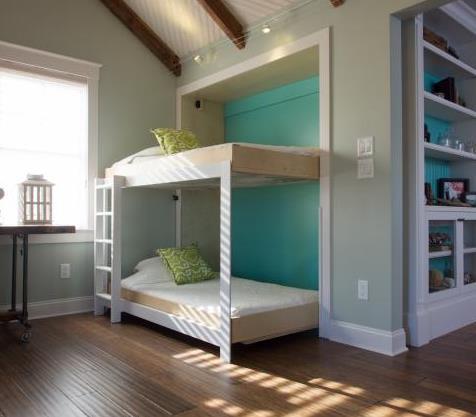 Most Murphy beds are made to be a single bed that can accommodate one or two people. However, for this Murphy bed plan, the final product is a bunk bed!
This is a great sleeping place in case your guests have kids. This is also a great bed option for your own kids, as they will have their own beds even if the room where it is installed isn't too big.
The instructions on the website were written in a short but easy to understand manner. Aside from that, photos are provided for each step in the process, which is important for beginners so that they can easily visualize what the project should look like after following the instructions for one step.
With its clear instructions, great aesthetics, and wonderful idea for a Murphy bed, this plan deserves to be mentioned in our list.
https://www.diynetwork.com/how-to/skills-and-know-how/carpentry-and-woodworking/how-to-build-a-side-fold-murphy-bunk-bed
#15. Murphy bed frame for a standard sized mattress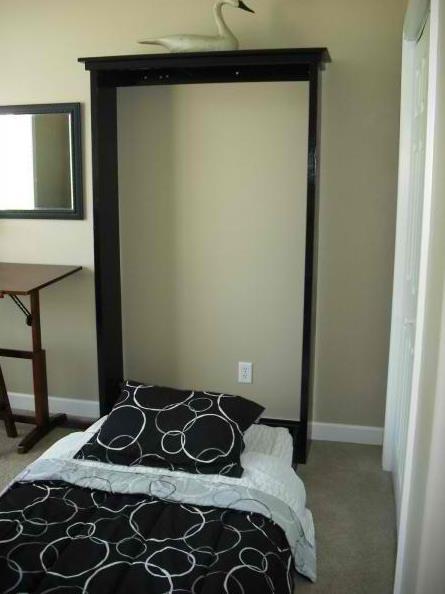 The Murphy bed isn't only to hold extra beds that your guest can use. Sometimes, it can be used to hold your own bed regardless of its size.
The Murphy bed plan found on the website is highly flexible. Simply change the size of the frame based on the size of your bed, and follow the same process as mentioned by the maker.
The instructions provided for each step are short and brief. But even if the maker doesn't like typing words too much, she made up for it by providing helpful diagrams that show how the project should look like once that step is accomplished.
Showing the cost at the end of the guide is both helpful and motivating. Knowing how much you need to start the project and how much you'll be able to save after you're done with it is accomplished by just knowing that information.
http://www.ana-white.com/2010/03/plans-a-murphy-bed-you-can-build-and-afford-to-build.html
#16. A Murphy bed and bookcase in one!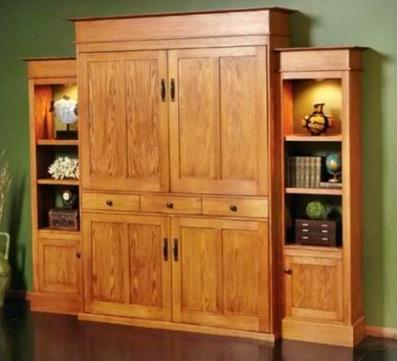 Yes, the photo above really looks like a bookcase. However, this furniture is actually a Murphy bed – all you need to do is to pull down the middle part of the cabinet.
Since it does have shelves at the side, it also gives you space for holding your books or other stuff. Don't worry, as the shelves can't be pulled down.
Another thing that can be noticed with this Murphy bed frame is that it can hold a huge mattress. This only means that even you and your spouse can use the bed when there are no guests.
Once the bed is pulled down, a small painting and an overhead light can be seen. This gives the feeling that you are in an actual bedroom.
The source also provided instructions in a manner that is similar to a manual and is accompanied by photos for each step.
#17. Making a Murphy bed for your guest room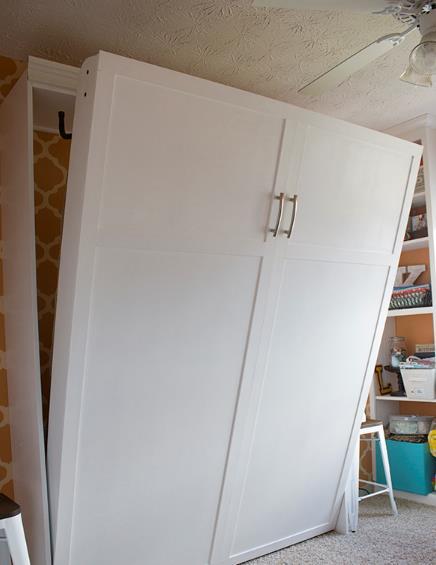 Even for houses who have an extra room that they can offer to guests, a DIY Murphy bed is a great option. This project is far cheaper than getting a store-bought bed frame, and you'll definitely spend less on something that will be rarely used.
Another good thing about getting a Murphy bed for the guest room is that if the room is not in use, you can reclaim the space that was occupied by the bed. This is not possible if you have the traditional bed frame.
The maker of this website mentioned that they used Purebond plywood for this bed, which will sport a great look regardless of whether it is painted or stained. If you're quite concerned with the style of your Murphy bed, then this point is worth considering.
Pictures for each step of the process are also generously provided. This is definitely a great guide for beginners.
#18. Drop down Murphy bed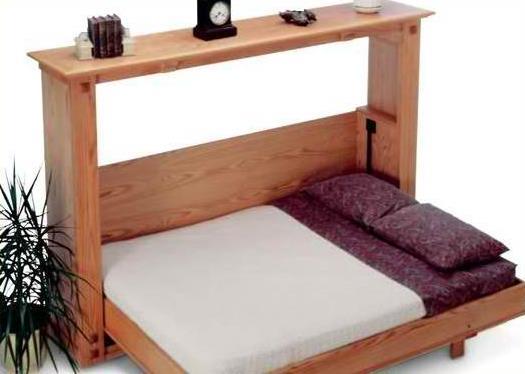 For those who prefer a Murphy bed that isn't too obvious and will occupy a much smaller space compared to the usual Murphy bed, this is a good plan to follow.
Made from wood that looks polished, this fold-down Murphy bed is great for those who are not bothered sleeping in a bed that is quite narrow. This bed is just big enough for one person and is a perfect fit for areas that can be quite narrow such as studio-type rooms or dormitories.
The instructions for this Murphy bed plan are straightforward. The process of making it is also different, as the bed box is constructed first before the frame rather than the other way around.
There are also diagrams that are helpful to those who want to make it. That can serve as their guide in making a template, which in turn helps in cutting the wood accurately.
http://www.woodworkerz.com/fold-down-bed/
#19. Is it a guest room or a home office?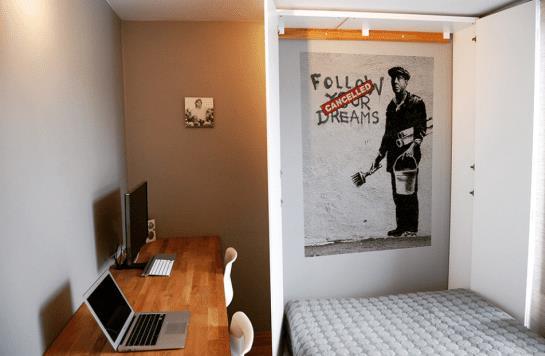 Does your house have an extra room but can't decide if it will be the sleeping place of your guests or an area where you can do your work? Why not make it both?
With this Murphy bed plan, that's possible. If there are no guests, just pull up the bed and enjoy the desk and small space; otherwise, just open the cabinet and pull the bed down for them to rest at.
This bed plan is different because the bed is placed inside the cabinet, and the doors really do open so that the bed can be used. Another unique thing with this Murphy bed is that it uses wooden slats that will support the mattress rather than a single wood piece.
With this unique take on the Murphy bed, it deserves to be featured on our list.
#20. Looks like a wall but it's actually a Murphy bed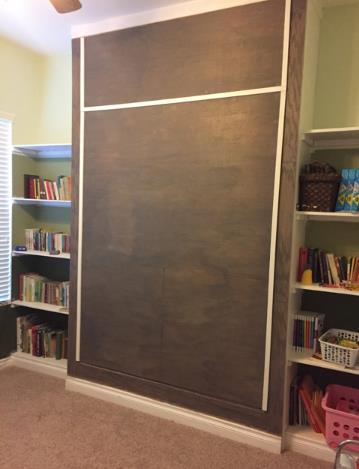 Looking at this picture, it would seem that the room has a huge beam in the middle of two shelves. However, this "beam" can turn into a bed for your guests!
Although the tutorial found on the website does not provide specific details such as the size that should be followed, they provided general instructions on how to build the whole thing. Simply measure according to the mattress that you have, and you'll still be able to finish the project.
The instructions provided on the website are very short. However, this is compensated by the photos that are provided for each step, making it easier for one to still follow each step even with limited verbal instructions.
The maker made use of a screw that will "lock" the bed in place if it's not in use. This will eliminate the risk of the bed suddenly falling out and hitting someone.
https://junkintheirtrunk.blogspot.com/2015/03/diy-murphy-bed-wall-bed.html