#41. Step by step overview of the Murphy bed construction process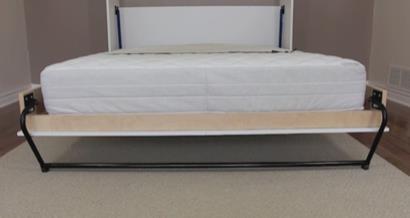 The focus is key to making any woodworking project such as a Murphy bed. That's because one wrong move can cause serious injury to the maker and the potential user of the finished project.
That is exactly what this tutorial is able to achieve. Not only does it provide complete explanation and instructions for each step of the process, it also forces the individual to just focus on one or a few steps at a time before starting to do the next steps.
This will truly help beginners in woodworking, as they will not get overwhelmed by the other processes that should be done in order to construct the bed.
Another good thing about the tutorial is that it presented optional steps that can be taken in making the bed. In case you want to improve the bed, these are actions that you can safely take without risking the bed's quality.
https://easydiymurphybed.com/how-to-build-murphy-bed-preparation/
#42. Concise Murphy bed plan
Sometimes, instructions for DIY projects can be intimidating. Aside from the many figures and specific details, it can be easy to get lost and eventually lose your motivation in doing the project.
With this bed plan, that problem can be solved. That's because the website presented each step in the instruction part concisely.
By removing the details that are not needed for making the bed, one can solely focus on the process and not on the terms needed just to understand what's being said.
Another good thing about this tutorial is that it enumerated all possible materials that you'll need in order to get started with the project. With this, you can be sure that the bed will be made correctly.
The efficiency and conciseness of this bed plan gave it the chance to be part of this list.
http://www.mademan.com/mm/how-build-murphy-bed.html
#43. Taking a few steps one day at a time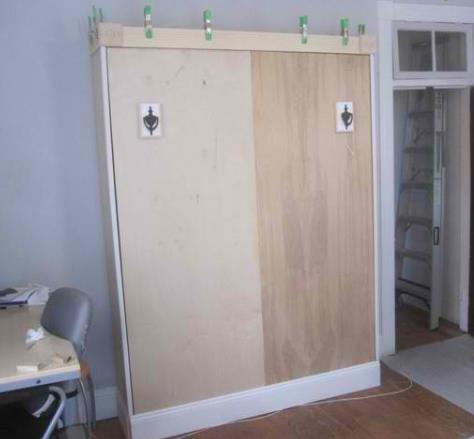 Although this Murphy bed plan appears to have a simple look, it's able to do its job just fine – that is, to ensure that the readers understand the process of how it can be made.
Another good thing about this tutorial is that the website owner provides the process of making the bed one day after another. Think of the website as the maker's journal, and he provides instructions based on the steps that he has done for the day.
Though it can be time-consuming and may delay the creation of the Murphy bed, it allows anyone to just focus on a few steps at a time. With this set-up, even new beginners will find it easy to understand and even become more motivated in making the project.
All of the great points for this bed plan are more than enough for it to be included on our list.
#44. A Murphy bed plan for your pet!
The dog has been the companion of so many houses for centuries. Maybe it's time to give them a great place to sleep in.
This tutorial provides instructions on how one can make a Murphy bed for their pet.
Although this guide shows how to make a Murphy bed for animals, it still deserves to be given attention. That's because the process of making one that can be used by humans is also similar to a Murphy bed that will be used by humans.
This can also be a good starting point for beginners who want to try out woodworking but are not yet confident in their skills. Starting to make a miniature version of the human Murphy bed can be a great practice for anyone.
Simply remember the process and change the sizes of the wood, and you're good to go!
https://www.thisoldhouse.com/how-to/how-to-build-murphy-bed-your-dog
Conclusion
So, what can you say about our list of DIY Murphy bed plans? If you think you're ready enough to take on this project, we encourage you to get started right away!
Murphy beds really are space savers because of its ability to be hidden when not in use. Because it can now be designed to look whatever it is that you want or can be made in a way that it serves another function, more and more people are getting interested in making one for their home.
In fact, some people even consider using a Murphy bed even if it is not installed in the guest's room.
Did you find any design that appeals to your preference? Or is there someone you know who is planning to buy a store-bought Murphy bed rather than make it themselves?
Feel free to share this list to others who might be interested in woodworking or would want to use a Murphy bed and get started with the project as well.
If there's anything that you'd like to share with us about this topic, feel free to also leave us a comment in the comments section.