9) Pallet Headboard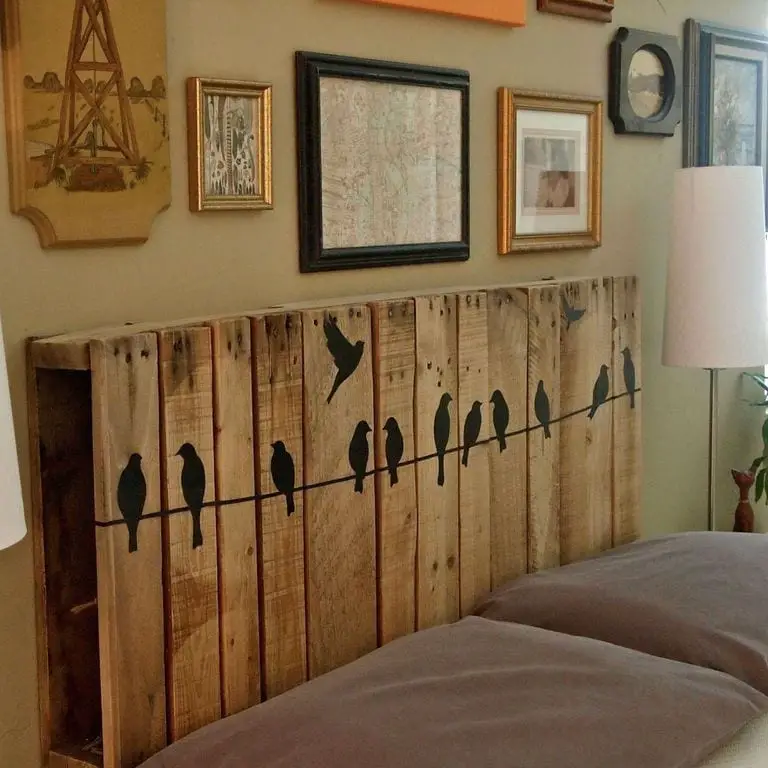 There are many pallet headboard projects online, and this one is among the simplest. Just anchor a pallet or two to the wall, and design away. The bird silhouettes are not difficult to paint, and you can always just buy some cheap stencils.
In some other pallet headboard projects, the pallet wood panels are unevenly arranged horizontally with or without spaces in between. You can also experiment with dimmable reading lights, especially if you are quite a bookworm.
Source: http://www.catheywithane.com/2013/08/pallet-love-finished-product.html
10) Storage Bench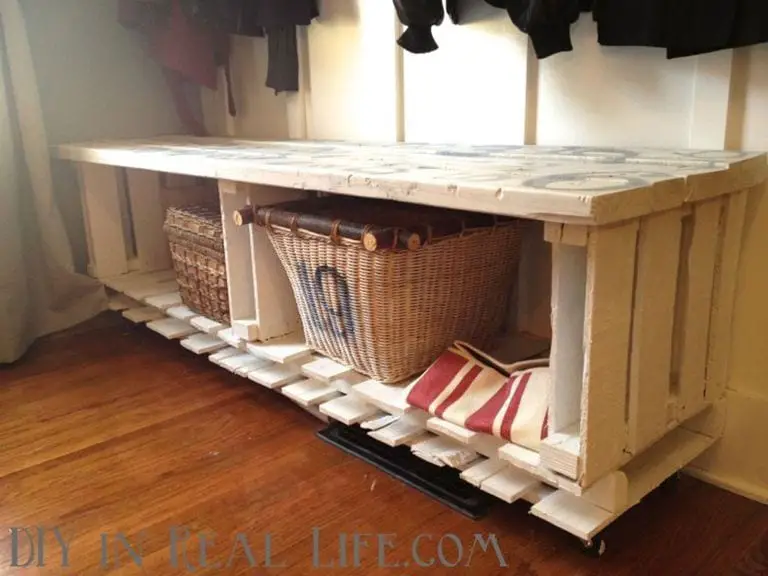 A bench with storage makes perfect sense. Leaving all that space under the seat unused is a crime. The pallet bench with storage in the photo would look great in your workshop, garden, or mudroom, in which case you can fill the bottom with gardening or cleaning tools, linen, and the like. You can also put this in your home office or reading nook and fill the storage space with books.
A variation of this project is a totally closed bench where the seat can be lifted to access the storage space inside. Such benches are easier to work with because you have more choices as to where you can put them. They are also more ideal in rooms frequented by kids and pets.
Source: http://diyinreallife.com/easy-diy-numbered-pallet-bench/
11) Wine Or Spice Rack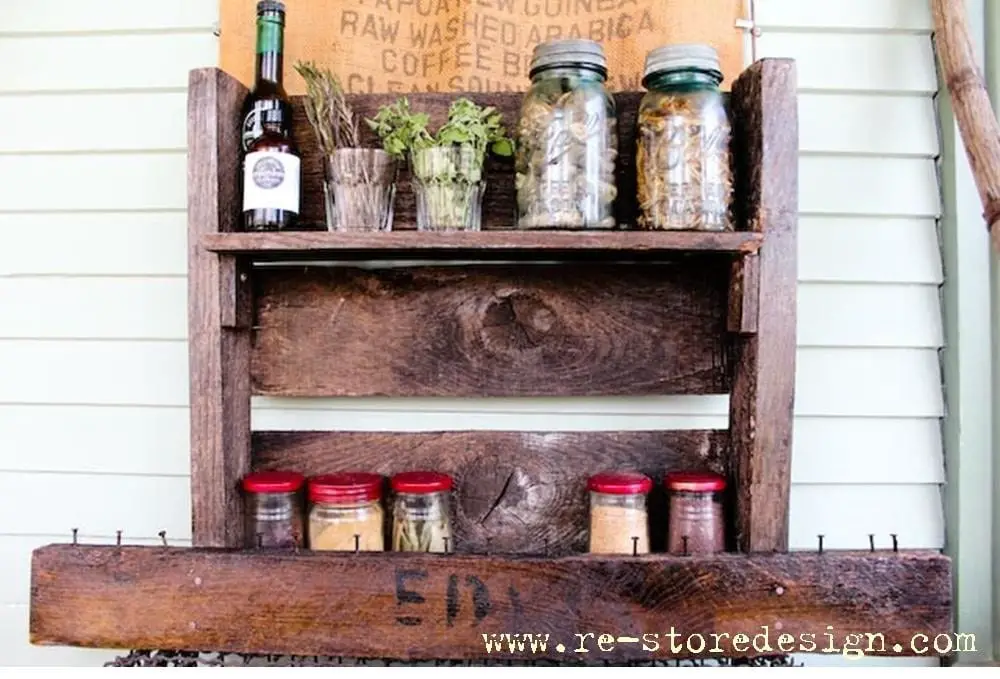 All those spices, condiments, and herbs in your kitchen need a beautiful home from which their colors pop on display. Of course, your rack should also be designed in such a way that the contents of the rack can be easily grabbed during cooking.
The pallet rack in the picture is very simple in design and should suit novice woodworkers well. A few tweaks here and there, and you can transform this into a wine rack with slots for hanging wine glasses.
Source: http://www.ana-white.com/2013/01/wood-pallet-wine-rack
12) Moss Sign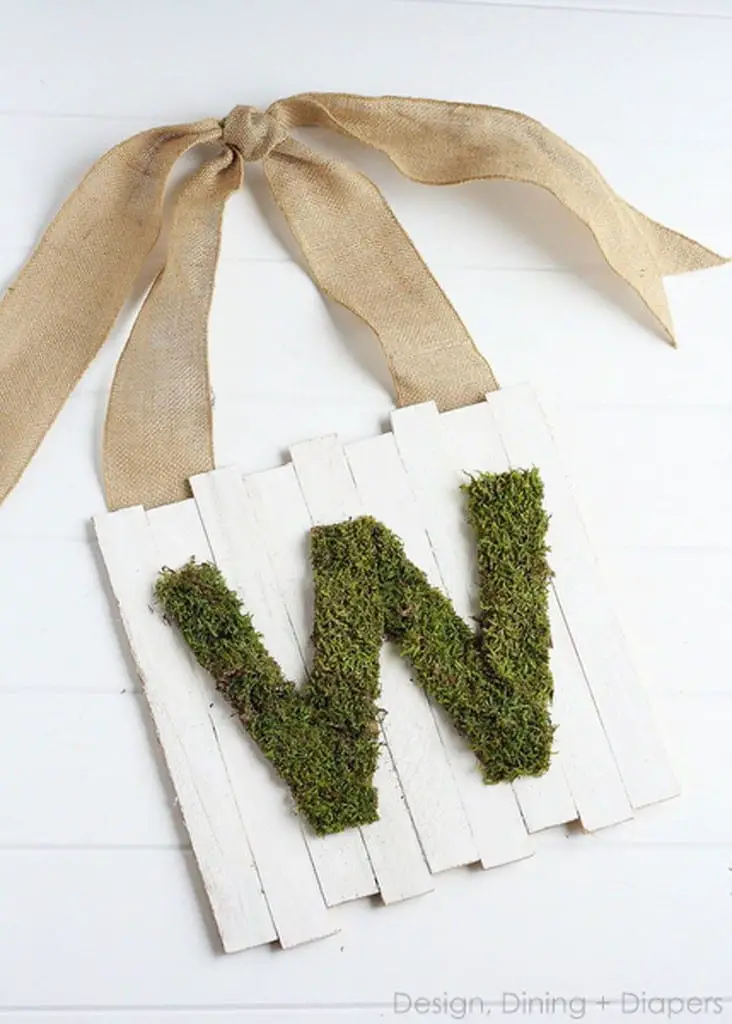 Moss signs are gorgeous. They stand out and should grab the attention of your visitors easily. The pallet moss sign in the sample photo is very thin, light, and easy to build, and it uses just a few cheap materials. However, with the white backdrop, the precisely outlined W definitely pops.
You can hang your pallet moss sign anywhere in the home, garden, or even office. Just take note of some extra factors to consider when building something that will be displayed outdoors. If you follow the steps to the T and apply the right protective materials, your moss sign should last a while.
Source: http://designdininganddiapers.com/2013/03/moss-monogram-door-sign-for-spring/
13) Sliding Barn Door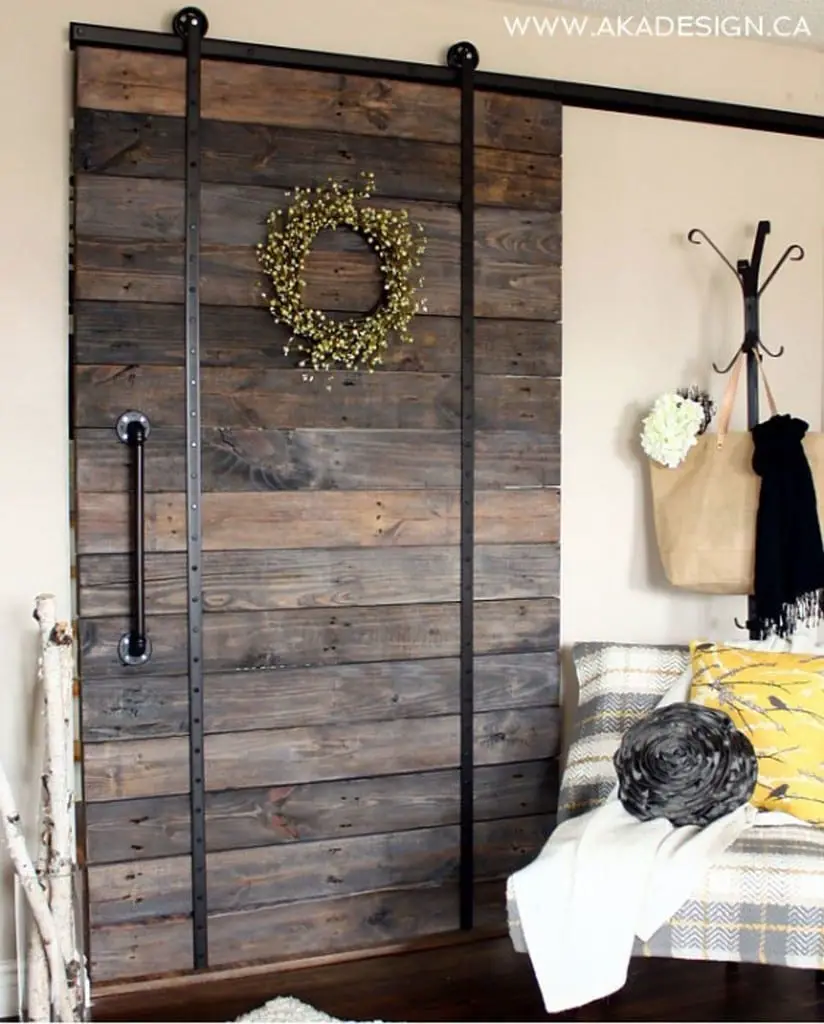 Sliding barn doors like that in the photo would look well with a huge variety of interior themes: shabby chic, rustic, vintage, and even modern, minimalist interiors. Given that this is a large, heavy, and prominent part of the house and installing sliding door tracks can be tricky, this project is reserved for experienced woodworkers.
One more good thing about this pallet craft project is that it certainly does not look cheap. With the right handling and stain shade, your pallet sliding door should look perfectly comparable with pricier sliding doors on the market.
Source: https://homemadelovely.com/diy-barn-door-and-diy-barn-door-track-that-wont-break-the-bank/
14) Rustic Cooler Stand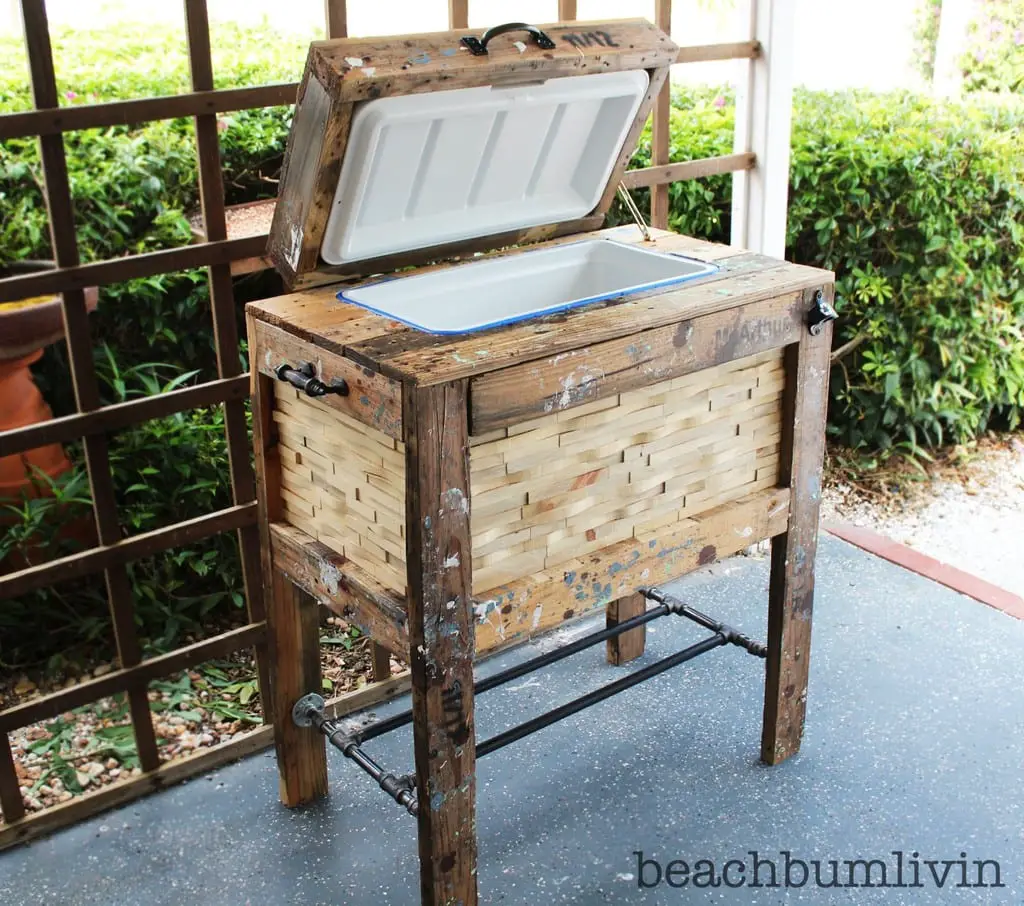 Isn't this rustic cooler stand just marvelous? You do not need a lot of pallet wood to do it, and you also do not need to be picky about the appearance of the wood to pull off this look. It is also quite easy and simple to put together, so it should not take up too much time.
There are many types of pallet cooler stands available online. This one in the photo is one of the most basic designs, and you can choose to build stands with more space on top for canned drinks and snack bowls, for example. There are also a lot of ways you can design the lid.
Source: http://www.ana-white.com/2013/06/rustic-wood-cooler-box-made-pallets
15) Pallet Sofa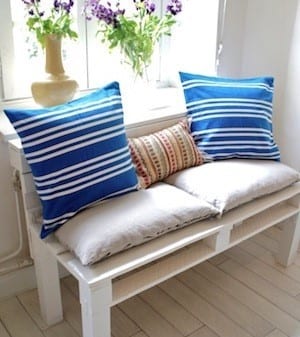 Do you know how much sofas can cost? Clue: They are not cheap. But this pallet sofa is! From the photo alone, you can already imagine how simple and easy it is to build, but you can always refer to blog and video tutorials for some step-by-step instructions.
This furniture piece is great for nooks, patios, sitting areas, and gardens. You can also build a smaller version for your child or for decorative purposes. This only goes to show just how versatile pallet wood is.
Source: http://scraphacker.com/diy-sofa/
16) Nook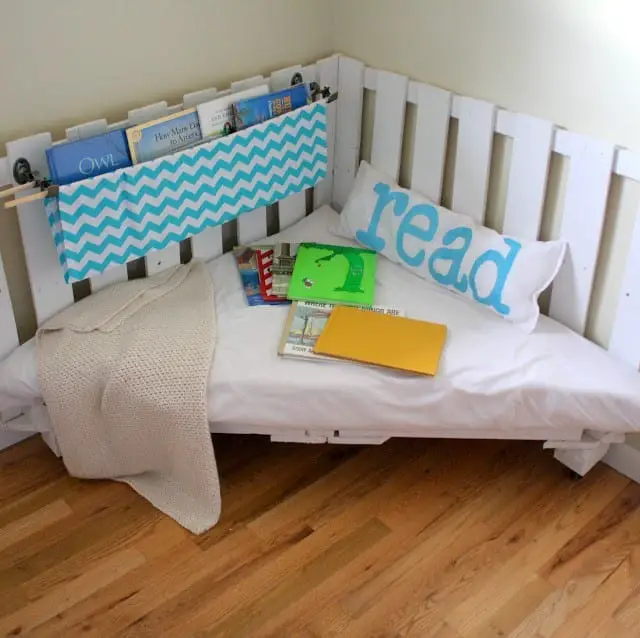 Do you have a favorite corner in your home where you just like to sit to kill time, rest, or read? How about you spruce up that corner with this cozy pallet platform? Complete it with a homemade triangular bed foam plus your favorite pillows and blankets, and you will never want to leave.
You can also build storage space under it or attach it to a bookshelf, for example. Depending on your taste, you can also complement it with rustic wall decor, fairy lights, and some knick-knacks to really set the mood.
Source: http://kojo-designs.com/2010/12/kojotutorial-reading-chair-made-from-two-wooden-palettes-part-2/