17) Coat Rack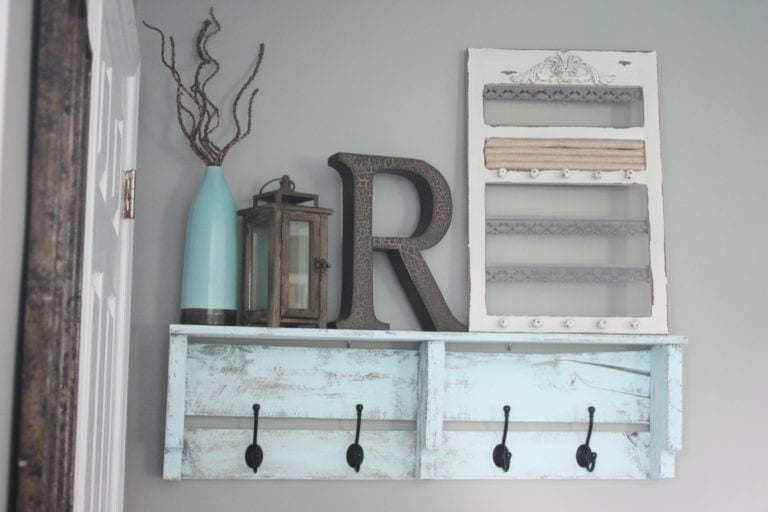 Coat racks are among the easiest to make with pallet wood. You can follow the design of the coat rack in the photo or build one sans the panel on top for a cleaner, minimalist look. If you do opt for the style in the picture, you can place candles, photo frames, and ornaments on top. Screws and nails are both okay, but nails fit in better with the rustic feel.
This project is ideal for novice and experienced woodworkers alike. If you already have some woodworking experience, this project should not even take you an hour.
Source: http://www.re-fabbed.com/easy-diy-pallet-coat-rack/
18) Cup Holder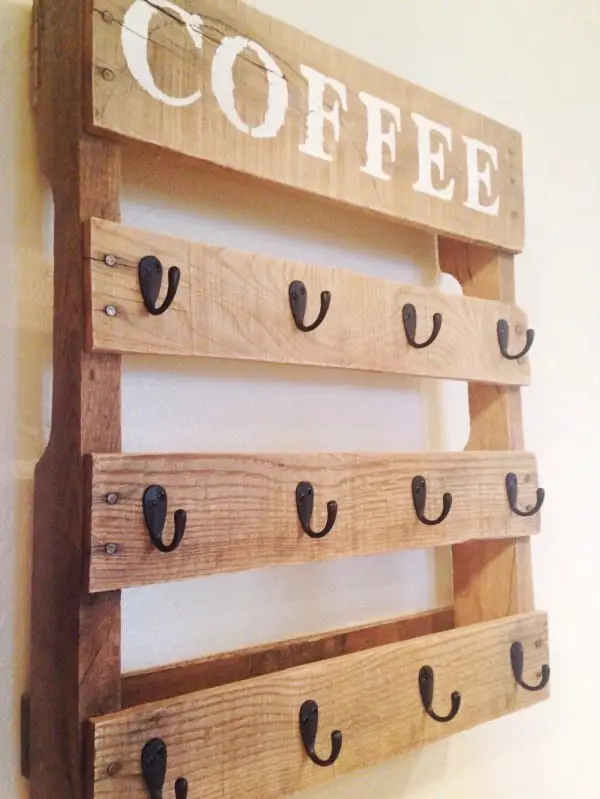 For this pallet cup holder, you need to find pallet wood with a good-looking, stable surface. The tools you need are a cordless drill and a circular saw. Everything else is quite basic and should be lying around somewhere in your basement.
The letters in the photo were done using stencils and a sponge brush, and we like the way it turned out and how it looks in combination with the hooks. You can experiment with other typefaces and stains and maybe make a smaller version to serve as a jewelry organizer.
Source: http://www.onelittlebirdblog.com/?p=1755
19) Ball Jar Storage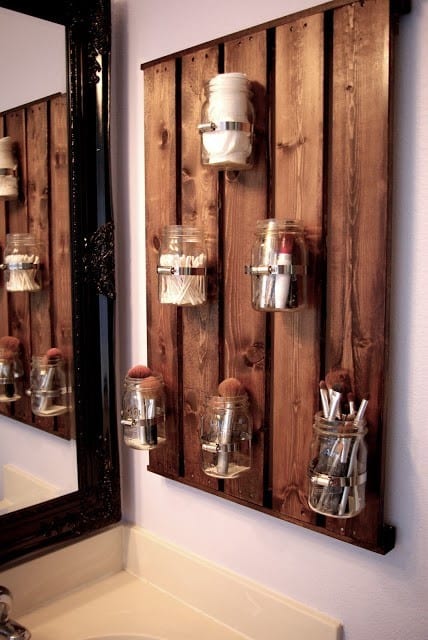 We love this ball jar storage project because it is functional and pretty at the same time. The stain goes well with the mirror and even the contents of the jars. Affixing the jars is not problematic at all. The DIYer did it with pipe fittings and a powerful drill.
This is ideal for storing items of different lengths and have to be frequently pulled out for use. Although if you ask us, we would not leave makeup brushes exposed to dirt like that.
Source: http://www.skinnymeg.com/2012/06/ball-jar-storage.html
20) Fold-Up Pallet Desk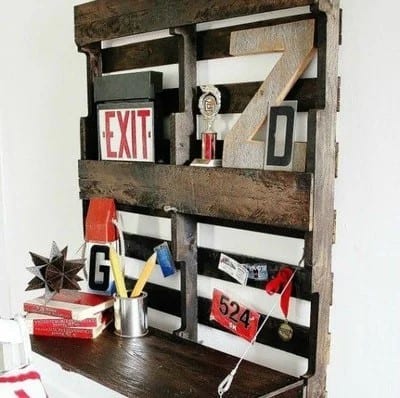 In desperate need of a desk but can't give up any more floor space? This fold-up pallet desk is the solution. True, this specific table can't stand in place of a full desk where you can work for hours, but this is great as a "station" where you can store and figure out bills, letters, etc.
This project is also simple and easy enough for beginners. The original DIYer did not have to take their pellet apart to create this. Finally, the best part is that you only have to pay for the tiny parts, like cables, hinges, and the like.
Source: https://thistlewoodfarms.com/fold-up-pallet-desk/ 
21) Crates With Images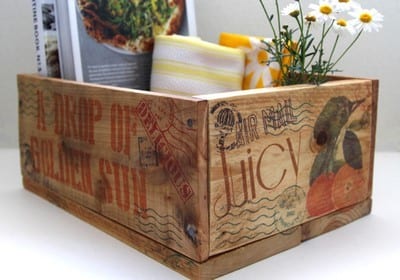 Can you imagine having one of these crates for free (or for very little cost)? No, right? Because they are sold for unbelievable prices in shops and online stores. However, this is actually very easy to make. It is just a basic pallet box crate with some images transferred on the wood.
You can check out the source link for a quick guide on how to make the box and how to transfer photo images. Meanwhile, the video focuses more on the techniques you need to follow to transfer photos well.
Source: http://www.apieceofrainbow.com/diy-pallet-wood-crates-easy-image-transfer/
22) Pallet Nightstand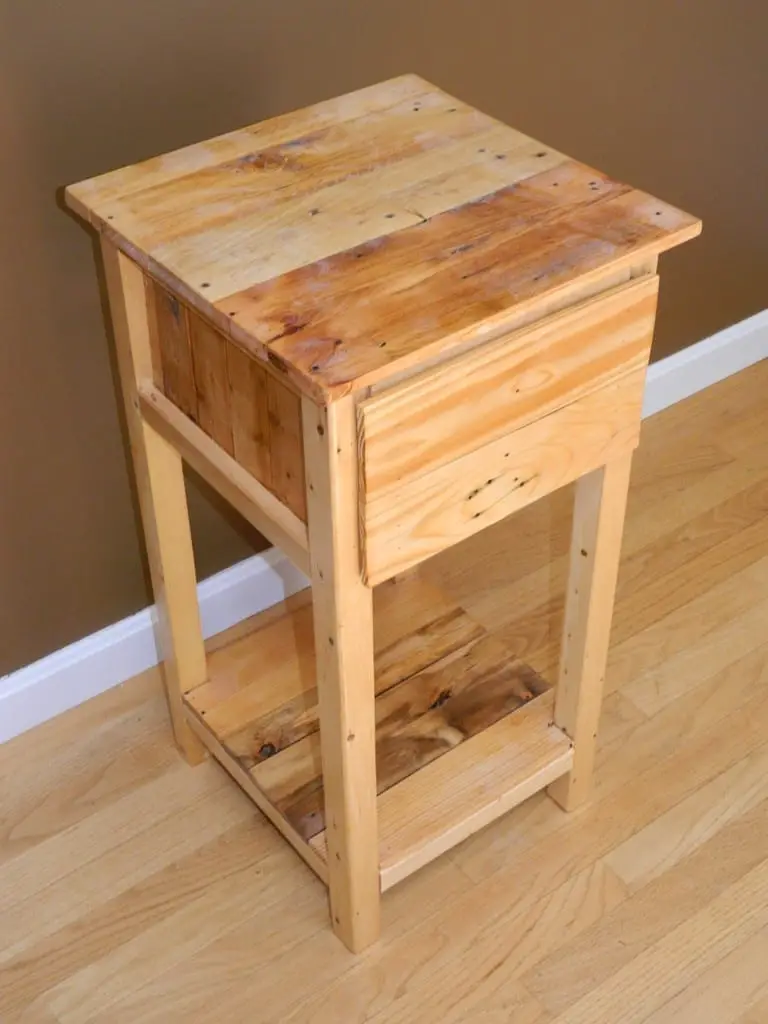 Pallet nightstands are always great projects to work on because they are easy to do and very useful. Nightstands also do not have to be particularly heavy duty because they are not used to store particularly heavy things anyway.
The source link below leads to a detailed step-by-step tutorial, complete with photos, so you should not have a hard time building this even as your first project. The tools and techniques needed are all very basic, so you should not have difficulty following.
Source: http://creationsbyash.blogspot.com/2014/06/pallet-nightstand.html 
23) Kitchen Utensil Box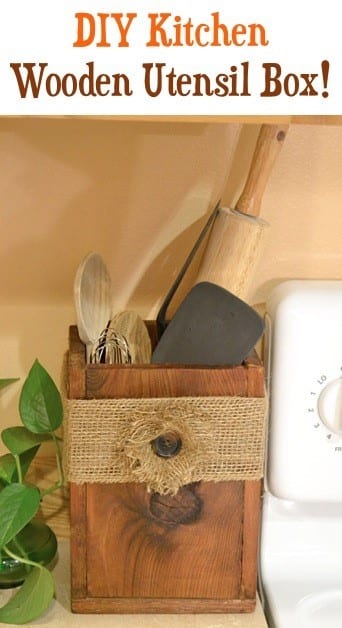 The kitchen is formidable. There are so many things of different sizes, so you never quite know how to organize them. This pallet utensil box is a nice option because it is open, so you are free to put in utensils of any length.
The burlap flower is a wonderful touch, but you may experiment with other accents. Sand the wood well, and apply a good wood stain. Afterward, you need to put on a layer of gloss to keep the pallet wood protected and a wee bit shiny.
Source: https://thefrugalgirls.com/2012/02/diy-wooden-utensil-box-with-burlap-flower.html
24) Hanging Chair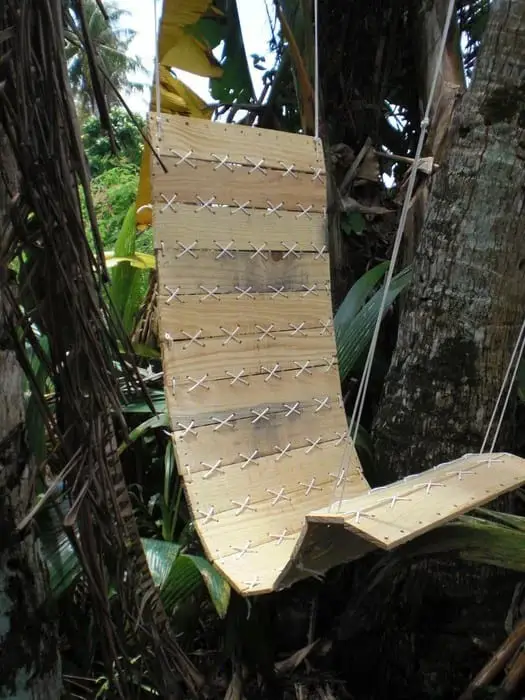 Who doesn't like a hanging chair in their backyard? Sitting on one is like literally being cradled by the wind. You can find many hanging chair plans online, but few are as comfortable as the one in the photo. It conforms to your body, so you shouldn't feel any discomfort regardless of how you want to lie down.
The hanging chair in the photo is assembled together using paracord, which is strong despite its unobtrusive size. It also isn't as stretchy as other types of rope, so your hanging chair should stay in great shape before it needs any renovation.
Source: https://www.instructables.com/id/Paracord-Laced-Pallet-Hanging-Chair/
25) Coffee Table With A Twist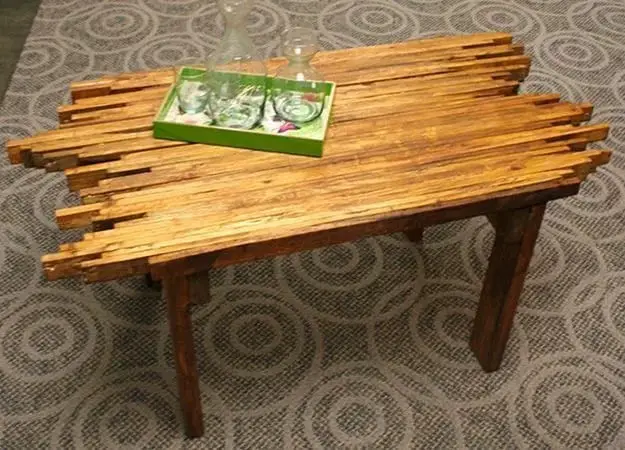 We already have a conventional pallet coffee table on the list, so this one should be a welcome addition. The unique construction, the uneven ends, and the distressed overall look all combine to produce a striking appearance.
This table would look great if your interiors resemble that in the picture, but we would prefer to make this the centerpiece of an all-white or mostly white setting.
Source: https://www.instructables.com/id/Coffee-Table-from-Pallet/
Conclusion
Don't these pallet craft projects look great and exciting? We did have fun putting all of these together and can't wait to build them all. Let us know what you think or show us how you put your own twist to any of these pallet projects. And feel free to share this article with your friends!