41) C-Shaped Pallet Garden Design
This is a unique garden planter design which features a C-shaped structure with a door. Like a greenhouse, the plants are planted in beds. Different sections, different kinds of plants but every plant thrives well because the garden structure is exposed to natural light and receives fresh air and water on a regular basis.
This is quite a different design and will work for people who have a large space or area at their own garden or yard. This is also recommended if you are growing very sensitive plants and plants that require protection from heat and cold. And although this looks very complicated, it won't take you an entire day to build this planter.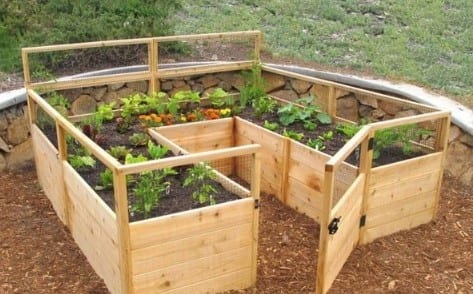 42) Pallet Planters
If you use pallet furniture indoors then there's no reason not to love these mini planters. These square-shaped planters are made entirely from pallet wood and each one grows a lovely, thriving indoor plant. These planters are durable and watertight; you can build one and use it for growing herbs, flowers, and decorative plants.
You can also make these bigger so you can simply slide the plant in a pot and all. And no doubt that this project is very simple to make. You can construct one, two or more pallet planters. The most important thing of all is to keep  your boxes dry and lovely by using wood stain or varnish. This protects your wood and preserves its natural beauty as well.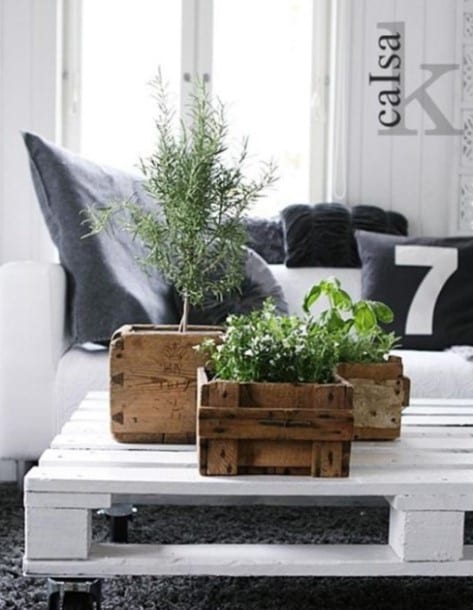 43) Vertical Planter Plan
This is a vertical planter that can hold a number of plants. It has a small size and is lightweight. You can take this planter anywhere and place it anywhere you want indoors or out. Just remember to grow only plants that grow well whether in the garden or indoors.
You must never overlook taking your plants out even twice or thrice a week. Even indoor plants need the sun too. And you don't need to worry about the weight because this is very light and therefore easy to carry in or out.   
44) Tree in a Box
Securing a young tree using pallet wood is something that you should consider. Young trees need to be nurtured and protected so it can grow a healthy and strong trunk and good roots. A pallet wood fence made for trees is simply a structure that protects newly planted trees.
The fence keeps people and animals out and is left until the tree is strong and tall enough to protect itself. If you have recently transplanted a young tree in soil then this should be placed around it. This is made from pallets using a simple design. You can easily make one out of pieces of scrap pallets.
https://www.instructables.com/id/Pallet-Planter-1/
45) Two-Faced Planter
This raised planter works two ways. It raises plants so that these can get more sunlight because more light equals improved growth in plants. With the improved height, it also helps plants get more water from the rain. A raised planter improves plant health above all and therefore using one in your garden should be your next woodworking project.
This is a two-faced planter that holds a lot of plants. It is called two-faced because you can use any of the sides compared to other planters that are placed against a wall. This is simply bracing a large pallet frame and placing soil and plants on each side. This is so easy you can make this in less than an hour.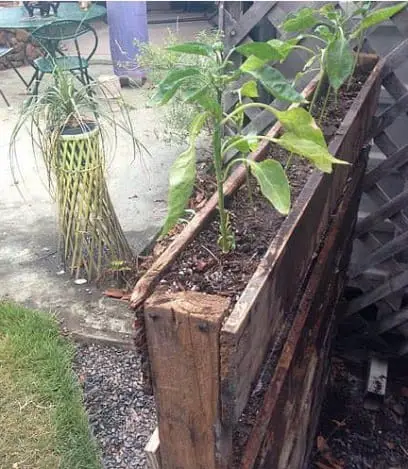 http://www.instructables.com/id/Double-Sided-Pallet-Garden/
46) Compost Pile
Composting is done by collecting organic material like food waste, wood shavings, paper, roots, leaves, and table refuse and place in a pit or large container. This is left for bacteria to break down through a very slow but natural process. The result of this is a mixture high in organic nutrients that will benefit your plants.
You can make your own composting pile using pallet wood. If you cannot dig a hole in the ground then this is your next best option. This plan will help you make this compost pile using simple materials. By starting composting now, you can have your organic fertilizer ready in about a few weeks. 
https://www.backyardboss.net/diy-how-to-pallet-compost-bin/
47) Pallet Wood Seating Area
This is a simple seating area made from pallets. It is so simple that you can assemble this in minutes. This is a place to relax, drink coffee or just to admire all your hard work. It is a place of tranquility and where you can entertain guests and family who share your passion for the outdoors.
You can improve this simple seating area by creating actual lounge chairs instead of just using pallet frames. You can also build a table and if you have plenty of pallets, you can possibly make a deck where you can erect your lounge area.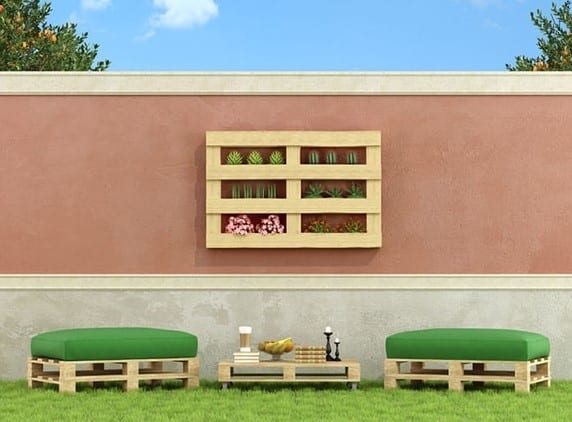 https://www.backyardboss.net/garden-ideas-with-pallets/
48) Pallet Garden Plans
Now, this is a vertical garden that has completely flourished. As you can see, the flowering plants have bloomed and what lovely colorful blooms have emerged! You can tell that the builder has carefully planned this vertical pallet planter because the plants that need to have more sunshine and water are found at the top section while the plants that require less are found at the middle and bottom areas.
This vertical pallet garden is tall and watering it might pose a problem. The best choice is a continuous drip system that will let water drip from the top to the bottom section. And of course building this is so easy you can make it in less than an hour.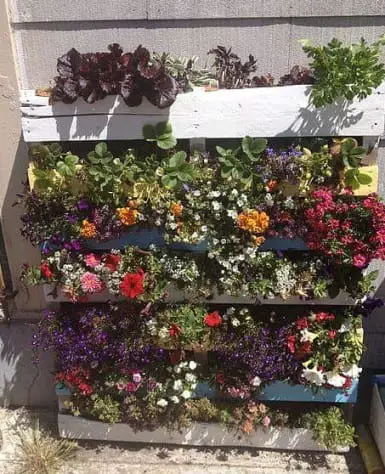 www.instructables.com/id/Make-Your-Own-Pallet-Garden/ 
49) Vertical Pallet Garden with Pots
This is a plan to make a lovely vertical pallet garden but not the kind that is propped against a wall. This one has posted so you can place it anywhere. This vertical garden can be erected on your porch, at your patio or anywhere in your garden.
Because it is made from a large pallet frame, it can accommodate a number of plants. It has a lot of space to hang planters from too and because this is made from pallet wood, it is lightweight and easy to make. This one was   painted bright red, you can paint yours any color you want.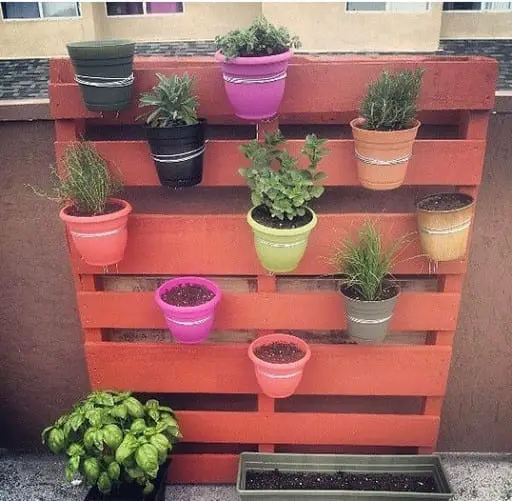 https://www.instructables.com/id/Vertical-Garden-2/
50) Hanging Pallet Garden
What to do if you have so little space in your home for a garden? You can place plants on your windowsill or at your kitchen window to create a mini garden or you can use this pallet garden design.
This is made of just one pallet frame but it can accommodate more than a dozen different plants. There are common herbs, flowering plants, decorative plants and exotic plants in one frame. You can prop this near your door or in an open area that  has good sunlight.
This is so small but compact. It can be moved easily too because it's made from light pallet wood. And aside from cultivating flowers and decorative plants, you may also use this planter to grow veggies instead. This versatile and very functional pallet shelf is so easy to make and won't cost you anything at all.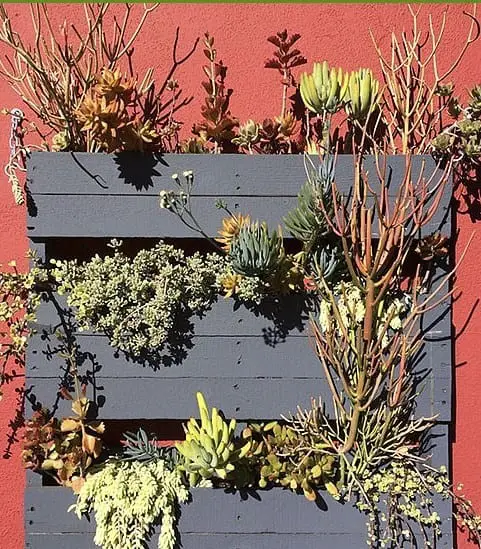 https://www.backyardboss.net/garden-ideas-with-pallets/