41) Dreamcatcher and Lights Pallet Wood Headboard Design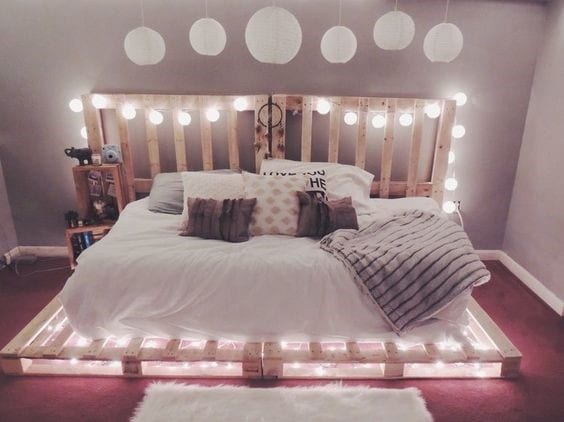 This headboard was made to be just like another pallet headboard project but the designer decided to make it look magical by using light effects. The large stringed lights in this photo create a chic glam look.
The bed has a pallet bed frame which was loaded with lights as well. The dreamcatcher at the middle of the headboard creates a whimsical effect.
This project is yours if you love chic dramatic effects. This is no doubt easy to make and won't cost you anything to make as well.
42) Pallet Bed Frame and Headboard Design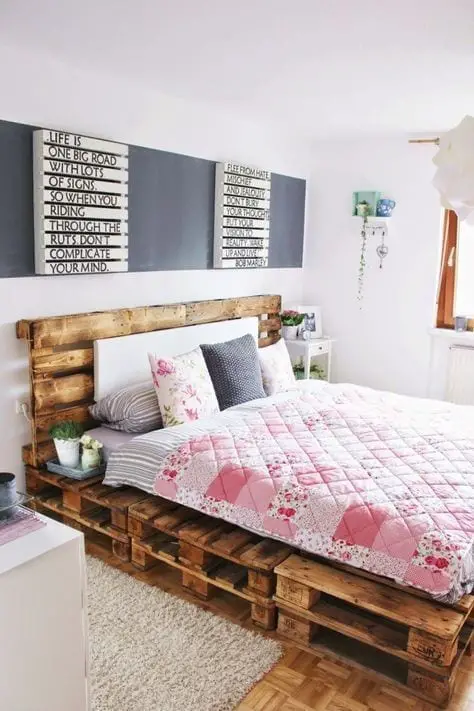 This pallet bed frame and headboard design were made to please. You can tell that a lot of effort was placed to make this lovely design and at the same time a lot of pallet frames as well. This is as easy to make as stacking Legos. The frames were stacked to make the bed frame to hold the large mattress. Meanwhile, the pallet frames were assembled at the back to create an easy headboard.
43) Bohemian and Chic Headboard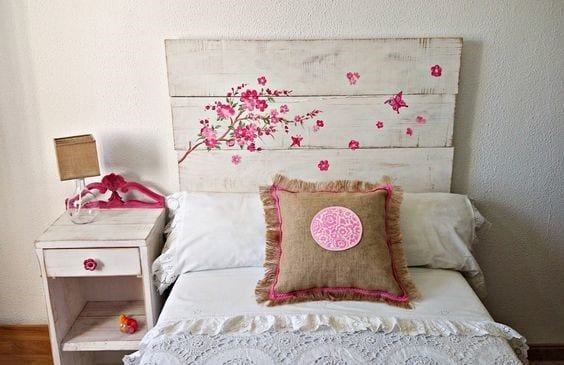 This is a headboard made for someone who obviously loves the Bohemian charm. It has a laidback design with a painted headboard with a flowery pattern. You can tell that this headboard was made for a girl's room. You can actually follow this design for your own room because it is very easy to build. Stencil flowers and leaves are available if you don't know how to paint freehand.
44) Chic and Classy Pallet Headboard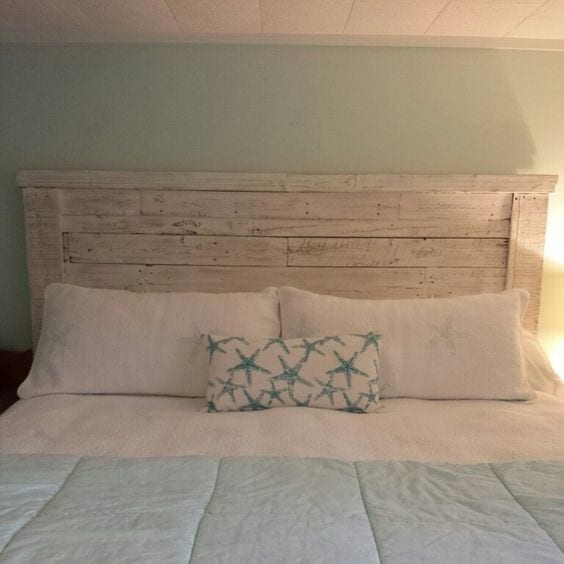 This is not just a headboard but a headboard full of class. It has a traditional design with a lovely flat pallet body with framed edges. This design oozes possibilities. First, you can paint this according to the color you want. You can also stain this if you wish to have a natural look.
A larger, wider ledge can be built on top to hold decorations, photographs or souvenirs. The sides of the board can hold lamps which will function as reading lamps and to highlight the natural beauty of the pallets. This is an easy design that will surely inspire you for your next woodworking project. 
45) Decorating on a Budget Pallet Wood Headboard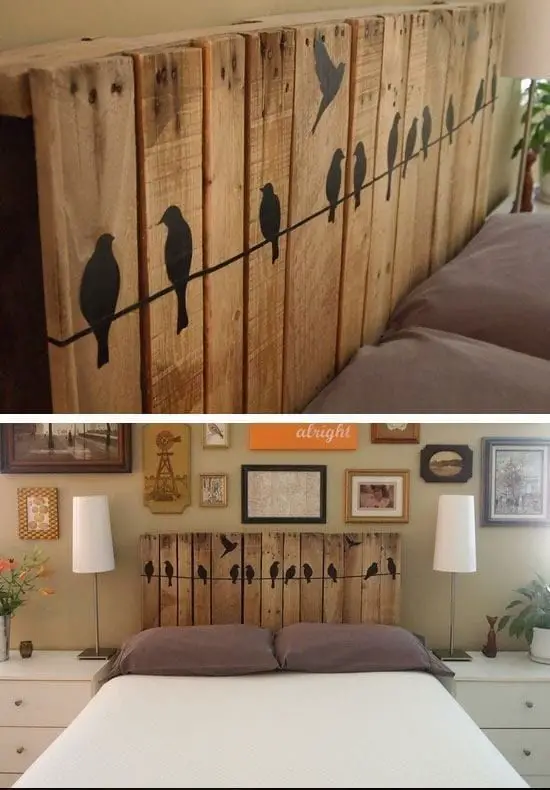 This is a rather interesting design for a headboard right? The boards were initially cleaned and stained before these were assembled to make a headboard. A light to moderate stain was applied to protect the wood and to highlight its natural features.
After the stain was completely dry, the bird silhouettes were added. These may have been hand painted but you can make yours out of stencils. This should serve as an inspiration for your next project with a painted design like this one. 
46) Pallet Headboard Design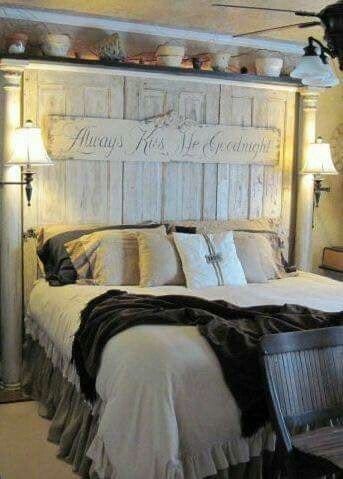 This is a pallet headboard made for a master's bedroom. It is huge and occupies the entire wall at the back. The pallets chosen for this design had that aged look. These were assembled carefully and a painted sign at the top makes it a fun and romantic accent in this room. This design may look large and intimidating but it is actually very easy to build. You don't need to be an expert at all to have this lovely DIY pallet headboard in your own bedroom.
47) Peace Pallet Headboard Design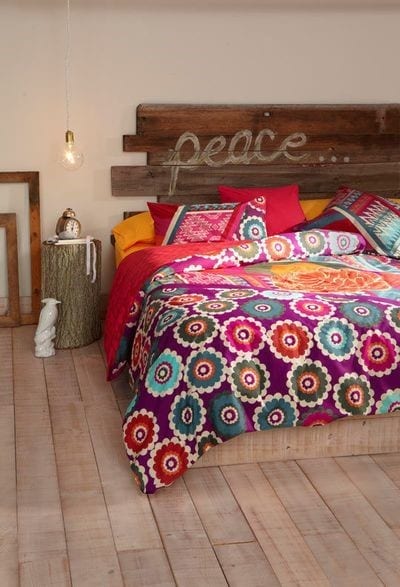 This headboard looks unique because of its irregular shape but it looks very lovely as well. It was given a dark stain treatment which was a good idea since the PEACE word was written in white.
You can also use this design to make your own irregular pallet bead headboard and you can write anything on it as well. As always you can use stencils or freehand to write your own striking or dramatic words.
48) Pallet Headboard Design 2
Now, this is a headboard that looks so enchanting, it has a lovely decorative fabric that was made to cover the headboard pallets. The pallets were arranged neatly to let the fabric cling to it like skin.
49) Headboard Pallet Design
Would you like a bed that looks like a sultan's cot? This is a classy design with a towering frame. The pallets used for this design were vertically arranged to create this interesting effect.
50) Beach Cottage Pallet Headboard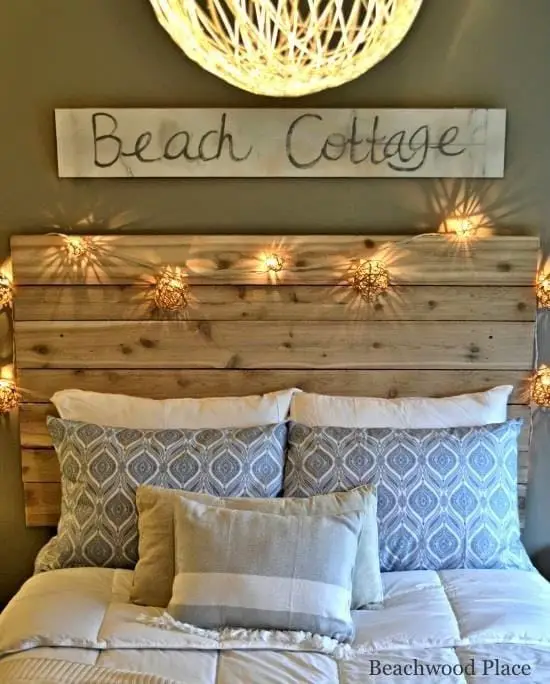 Lovely little lights were used to accent this otherwise very simple pallet headboard design. The headboard here has a very basic, traditional design while a sign was added on top. This is a very simple one even for anyone who's new to woodworking.
51) Pallet Bed Headboard and Bookshelf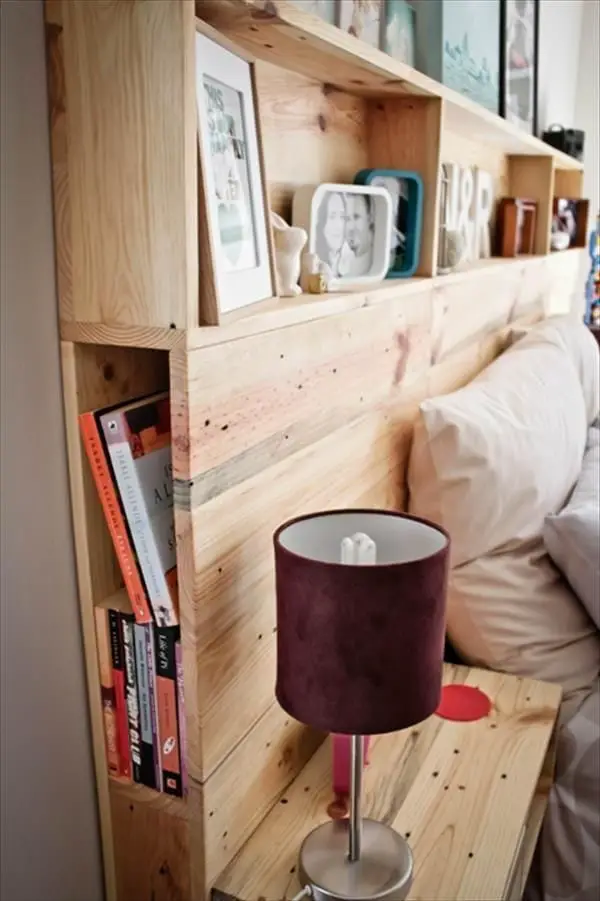 This is a unique headboard design that makes use of wooden pallets. The designer made this section of the bed to not just accent the headboard but also as a functional piece as well. This pallet headboard can be used as a bookshelf, with interesting shelving at the front and the side of the thick frame.
The top of the shelf was used to display picture frames, photographs, and different accessories. Both sides of the large headboard/bookshelf have a pallet side table where a lamp is placed. The designer has made the natural appeal of pallet wood the focal point of the bedroom. The linen and beddings matched the color of pallet wood as well.
The pallet wood design makes the room more inviting and comfortable as well. It is also functional since you can place reading materials at arm's reach.
52) White Pallets as Bedboard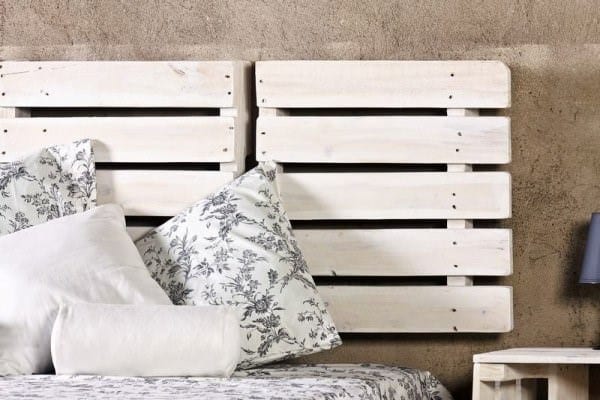 In this design, the wooden pallets were not just used as a bed frame but also as a decorative bedboard. Call this design rusty chic, it enhances the color and the texture of the otherwise very comfortable bed. The bed is moderately-sized with pillows of different sizes in pastel colors and prints. The bed board offers are inviting and it seems to enhance the level of comfort inside the room.
Accessorizing is a must for a bedroom with a pallet bed frame. This is important as further enhance the beauty and comfort inside a room.
53) Scandinavian Infused Bedroom Design with a Pallet Headboard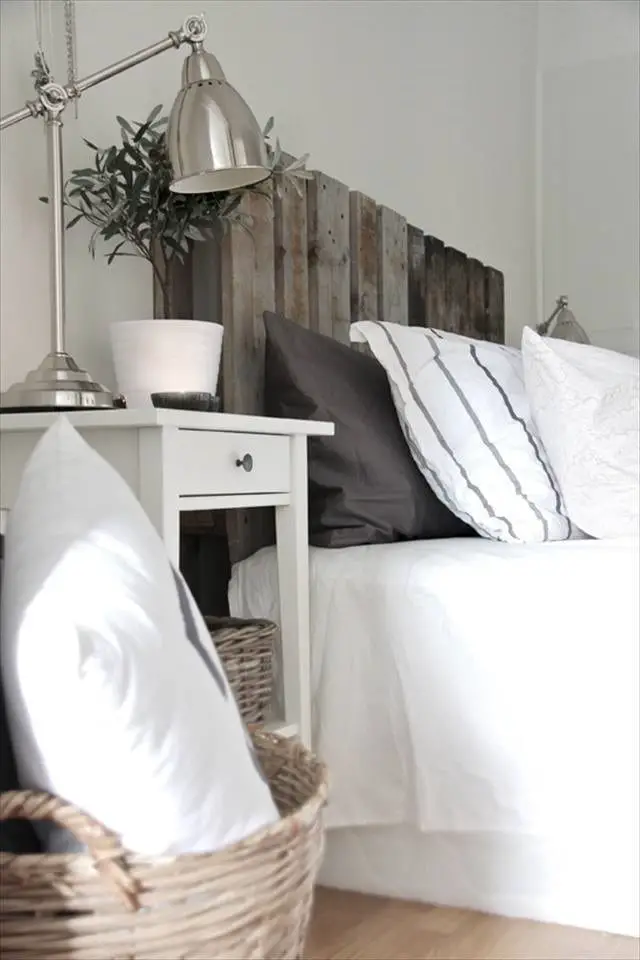 The headboard in this design is made from recycled wooden pallets. The pallets were cut side by side in a ''decreasing in length manner'' and this creates a dramatic effect which translates to the different elements in the room.
This is just one way to decorate a bedroom with wooden pallets and a unique one as well. Most designer and builders that decide to integrate wooden pallets in the bedroom use these as bed frames or as wooden panels, not really in this particular manner.
You can use this simple yet unique inspiration to come up with your own infused bedroom design using wooden pallets.
54) Cozy Pallet Bed Frame and Bed Boards
This is a very cozy bed indeed and it is all because of the special way the wood pallets were treated and finished in this project. This was made from natural wood pallets which were sanded and stained that perfect glowing color. Add two glowing lamps on each side of the bed and you got an inviting area to relax in.
The bed has a pallet bed board and a pallet bed frame. Even the bed linen color was chosen wisely. The linen is white, flesh and gold, colors that complement the overall color theme of the room.