21) Festive Pallet Headboard Design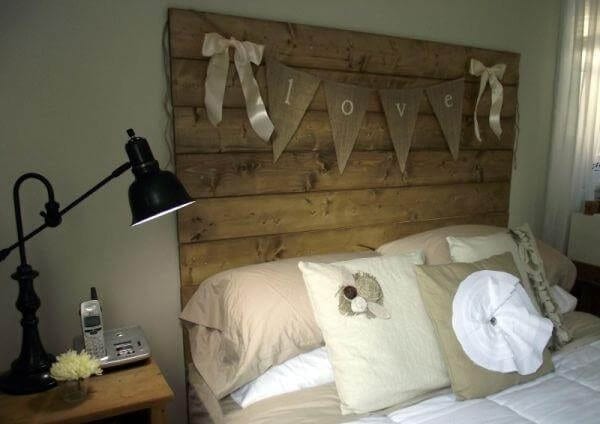 This is a festive design that is made of pallet wood. The board is high and is as wide as the bed, therefore, it frames the bed and complements the wall color and décor of the room. You can see that the headboard was decorated with a festive fiesta design. The banners and ribbons seem to shout "Welcome" to the resident of this room.
Every bedroom should have a welcoming atmosphere. No doubt that you can make this by creating a lovely wall décor like this festive headboard. This design is very easy to make and requires only a few materials to do so.
22) Unique Pallet Wood Headboard Design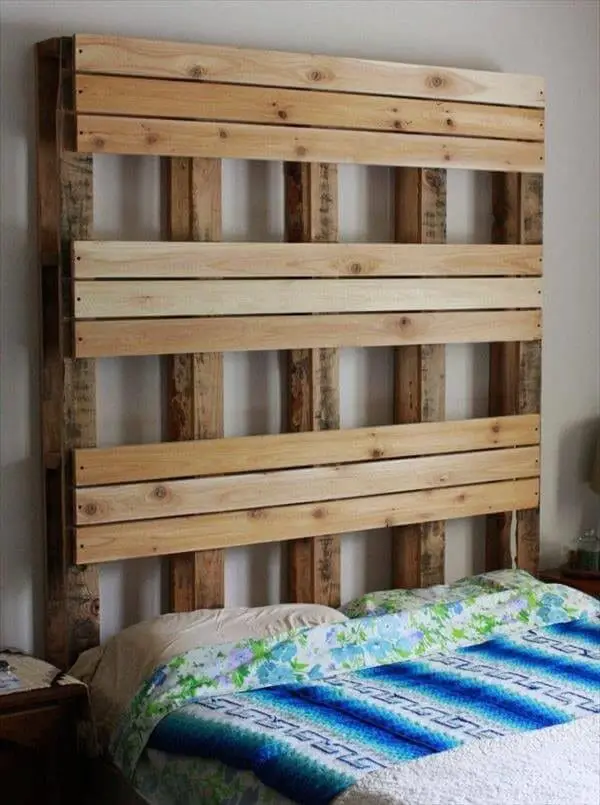 This pallet headboard has a unique design. Compared to other headboards with a solid design, this has a slotted design which has made it larger and wider.
This headboard counters the other design and décor of the room. You can improve this design by making it smaller and by using the slots as storage. 
23) Palled Wood Headboard with Tree Branch Design
As mentioned earlier, pallet wood makes a perfect canvas. This design has a lovely tree branch silhouette design. The body of the headboard is made of two large pallet frames. The slots of these frames were covered to create a flat and usable space for any design.
As you can see this is a very easy design to make. You don't need to spend so much time to do it because all you need to do is to install your frames. You can paint this using freehand or you may use stencils instead.  
24) Stylish Pallet Headboard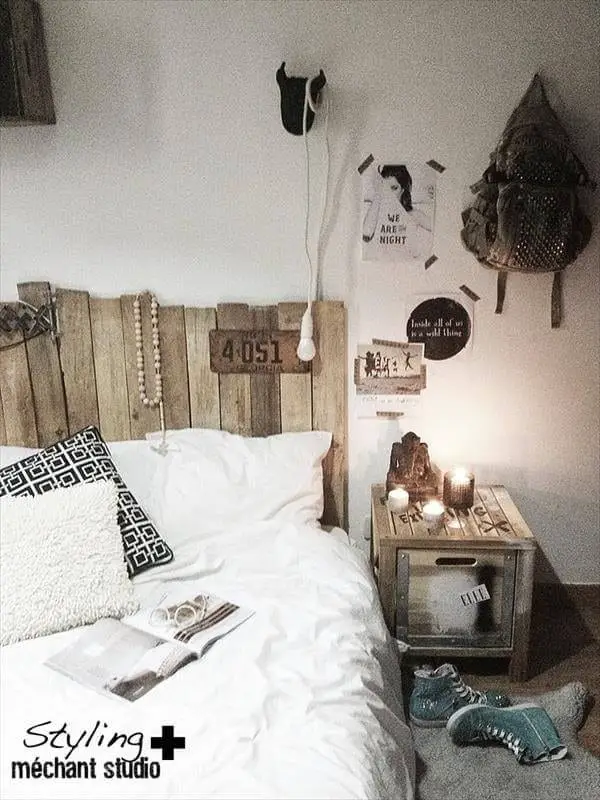 This is a headboard made from dark-colored pallets. This has an irregular design which has been stained a very dark stain to highlight the lovely curves and irregular appearance of wood. The dark pallets contrast the light colored walls. This is very important if you have light walls, accessories and furniture color.
You can build this project in just a small amount of time because it has a very simple design. You can also paint this any color or stain it lighter if you have a room with darker colored walls and accents.  
25) Palled Headboard with Lamps
Are these wood pallets or natural stone tiles? It's hard to see from this shot but as the title suggests, it is a pallet headboard. The pallets used in this design have unique markings on them which depict the natural appearance of natural stone.
The lamps found on each side of the headboard creates a lovely glow over the pallet wood and this accents the headboard as well.
26) Classic Pallet Wood Headboard Design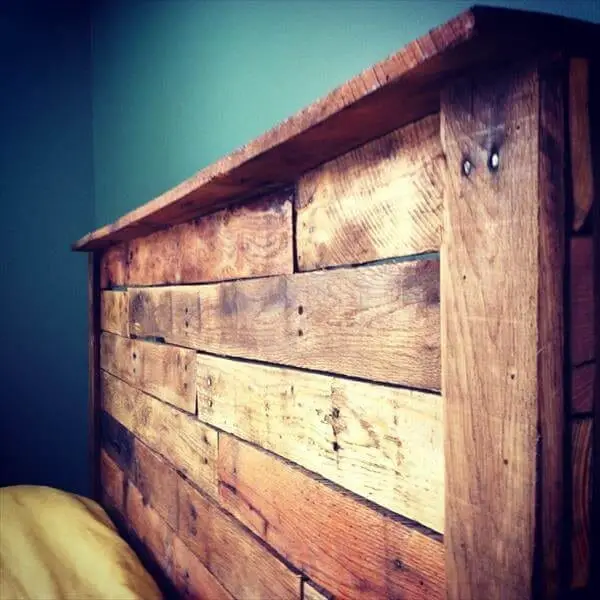 This is a close up photo of what a classic headboard design is. Look at the pallets used for this project. The lovely natural grooves, swirls, and indentations of the wood can be clearly seen from this angle.
You can also appreciate the traditional frame and mantle on top which can also hold more stuff. This headboard design can fit a double bed. You can make this larger and wider for a larger bed.
27) Pallet Wood Design Headboard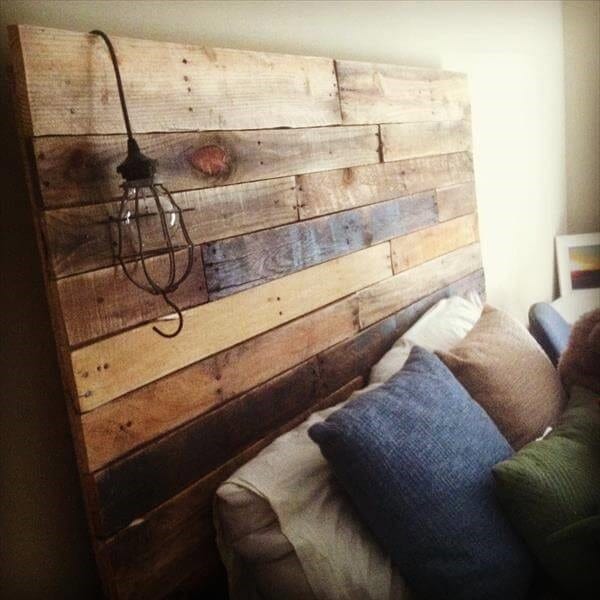 What a way to improve your bedroom with this pallet wood headboard. This is a large headboard that occupies the entire width of the bed. It is large and can accommodate a double size bed.
The large pallets in this design were carefully chosen. You can tell that these are clean and have very minimal marks on them. The pallets were stained with a very light stain which was enough to bring out the natural beauty of pallet wood.
28) Pallet Headboard for Single Bed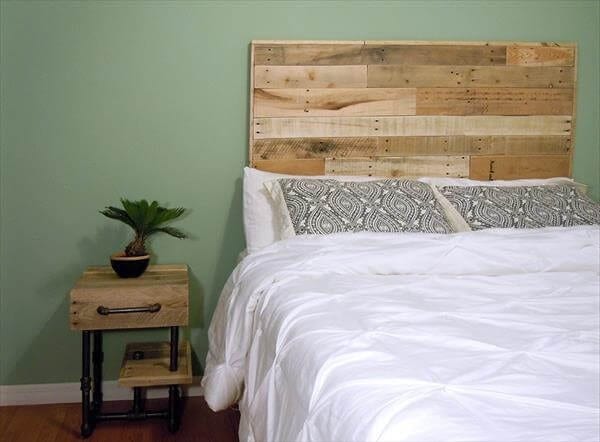 A single bed won't be too lonely or too small when you have this cute pallet wood headboard. This headboard was made of a few pallets which were carefully assembled to create a seamless design.
This simple design has been seen in many headboard styles but the main difference in this design was that the builder did not stain or paint his work. He merely relied on the natural beauty of pallet wood to shine through and it worked!
29) The Classic Pallet Wood Headboard Design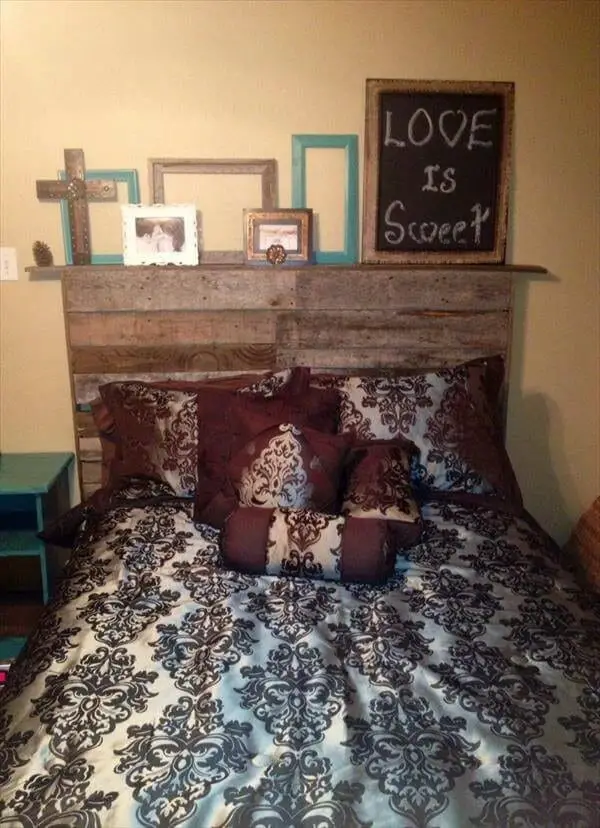 This is another classic pallet wood design but this time the headboard was not just for design. It was made to hold some items as well. As you can see, it was able to hold a few frames, a crucifix and some décor from are wide ledges.
If you have the same style and would like to use your headboard as a decorative installation in your bedroom then you can make the ledge larger. The headboard here is only for a double bed. You can make this wider and larger for a larger bed.
30) Light Up Your Night Headboard Made from Pallet Wood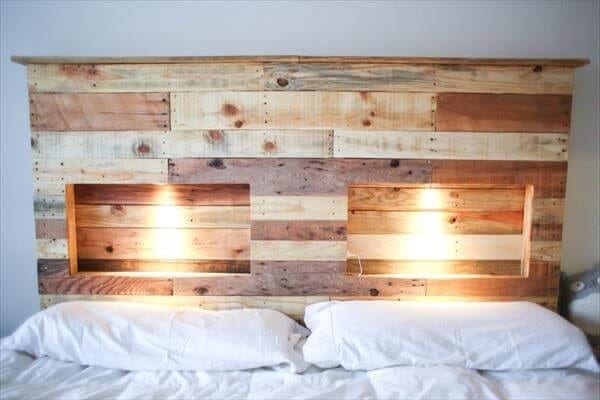 Starlight, star bright, as bright as this pallet headboard design. This was made from light-colored pallets which were arranged to be as high as half of the room walls.
The pallets were given a light stain which has made it lovelier and glowing. Because of the stain, you can see the natural beauty of wood including the dark circles, swirls, and dents. And of course, the light was crucial in highlighting the many dramatic imperfections of pallet wood.
31) Very Simple, Very Chic Pallet Headboard Style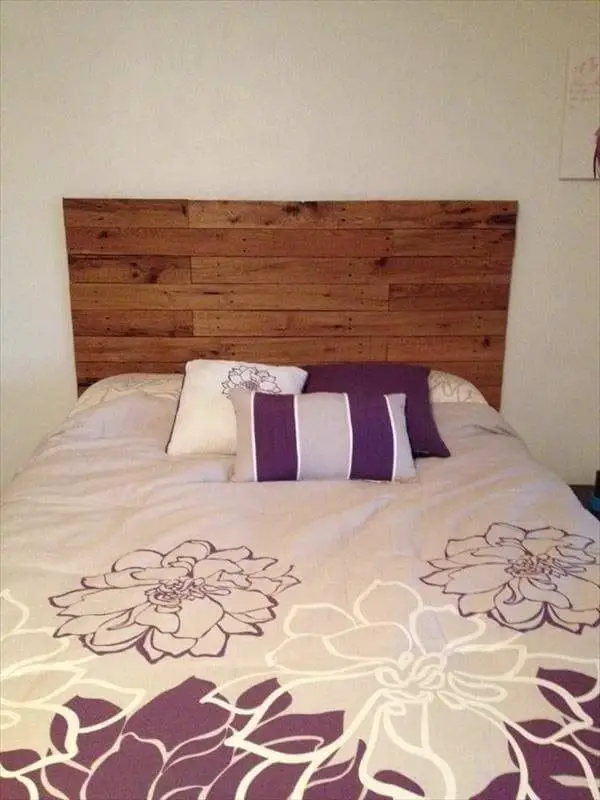 This pallet design is very simple yet very chic. It was made for a single bed yet it has made this small bed larger than what it actually is. The headboard was made of pallet wood, clean, well-defined pallets which were carefully chosen by the builder. The pallets were given a dark stain which has transformed it from flawless white to dark and chic.
32) Rustic Simple Pallet Wood Plan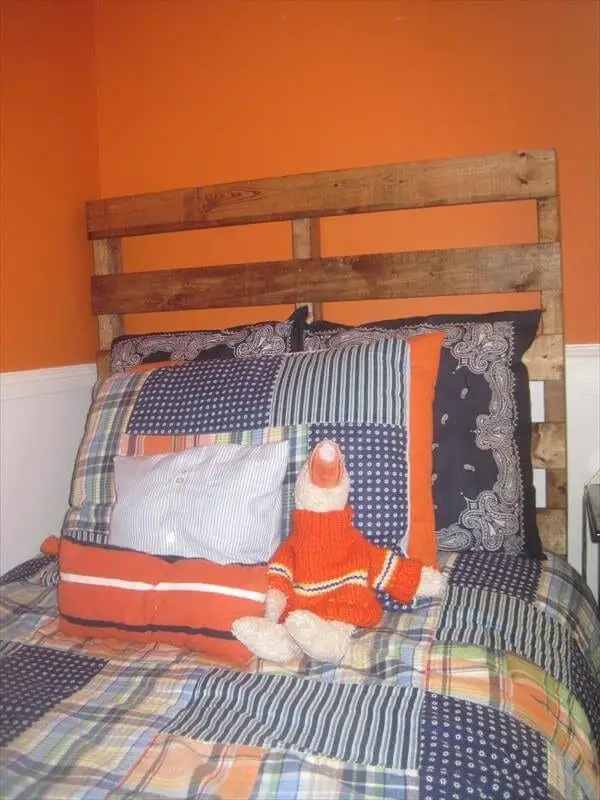 Now, this is really a very rustic and easy pallet wood design that makes use of only a few pallets. The pallets were given a moderately dark shade stain which has made it look golden. The stain still highlighted the natural beauty of wood without making the wood to dark to use.
How do you know how much stain to use? If you are new to staining wood, you can try a lighter shade first. Apply a coat and wait till it dries to evaluate the color and intensity. If you think that this is not enough, you can add another coat. Again, wait till the stain dries to decide if you need a darker coat or you are okay with the intensity. 
33) So Simple Pallet Wood Headboard Design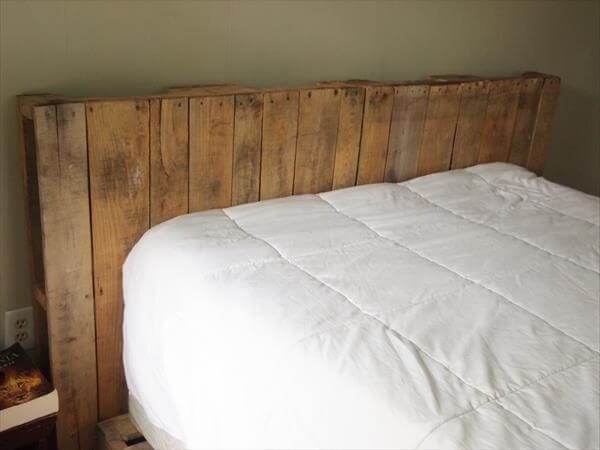 This is a pallet wood headboard made for a very thick, very soft single bed. The design here is very simple and in fact, you can make this in just a few minutes if you have everything handy. 
34) Pallet Wood Headboard for a Child's Room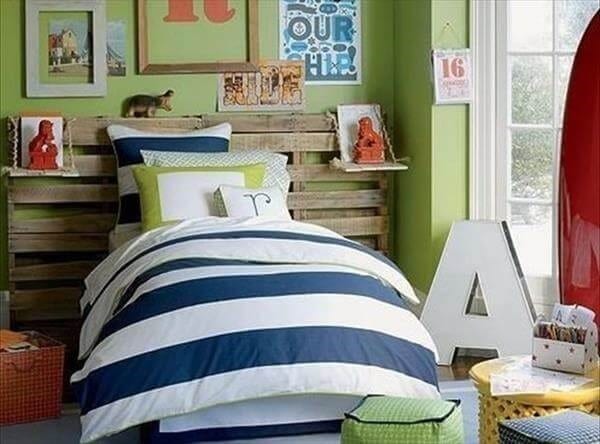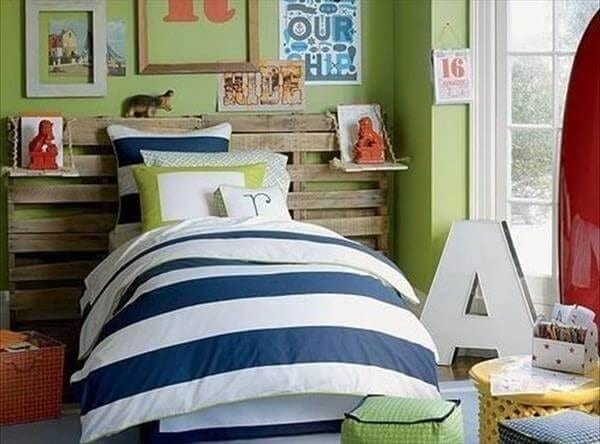 This is a headboard made for a child's room. It is narrow and fits a single bed for a child. At first you might say that this is a simple design but actually, it isn't. The pallets were arranged in a typical horizontal manner with a small space between the pallets.
Each corner has a small ledge where a child can place anything he wishes. In this design, his favorite toys were placed on the ledges and there was room on top for more décor. This design was made for a child's room but obviously, this can also work with a room for grownups as well.
35) Very Rustic Pallet Wood Headboard Design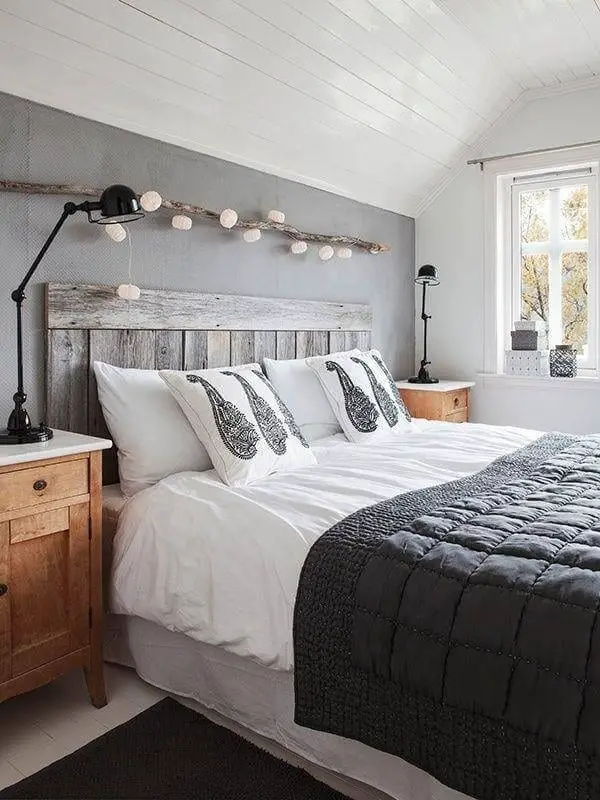 This headboard has a classic and rustic charm. It is made from gray colored pallets which were given a slight stain to just intensify the natural swirls and design in wood. The wood on top of the headboard is a real beauty. It has a rustic feel that seems like it was washed from a beach or something.
The stringed lights on top make a lovely glow on the rustic headboard when these are lit.
36) Pallet Wood Headboard for Boy's Room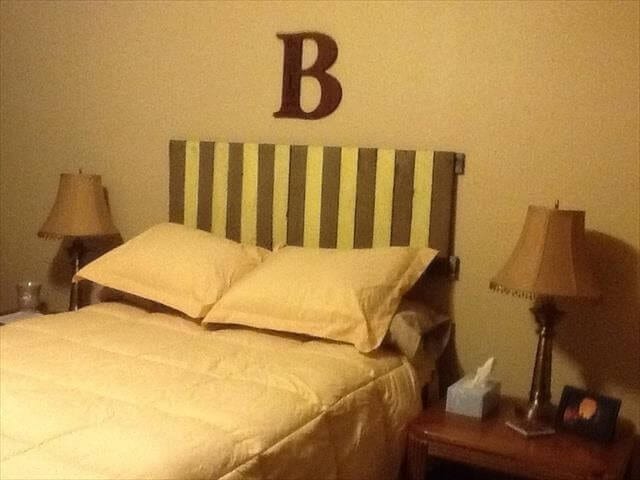 This headboard has a classic design and as you can see it was made for a young boy's room. This was made from pallets and the pieces were arranged vertically for a more uniform effect.
The pallets were painted following a striped pattern and a large B made of pallets is at the top of the frame.
37) Huge Headboard for Classy Room
This is a classy headboard design with is as large as the wall found at the back of the bed. The wall where the headboard was installed looks like a mirror wall and this creates the rather interesting effect.
The room looks very accommodating and very classy with the lovely chandelier piece in the middle of the room. No doubt that despite the size of this headboard, this is very easy to assemble.
38) Pallet Wood Headboard Plans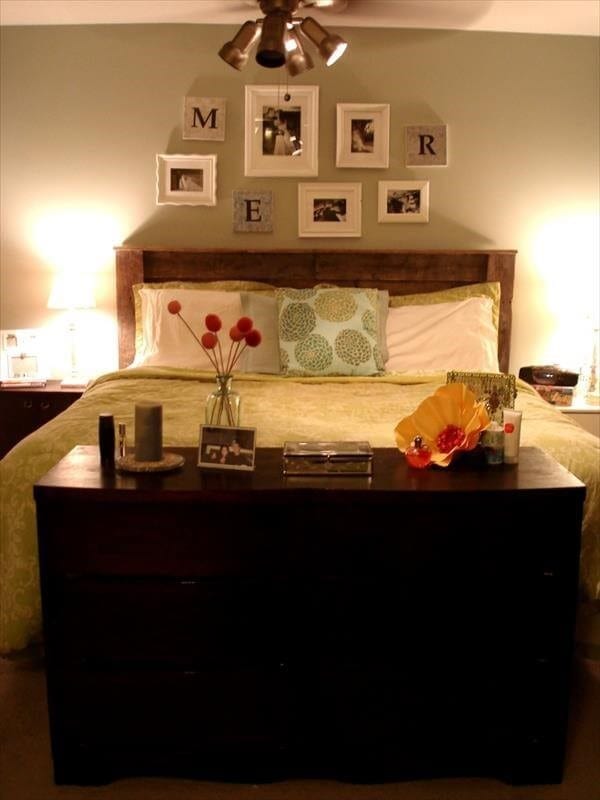 The pallet wood headboard and footboard in this bed has a dark stain which warms the room up. The room has a light colored wall and the darkly stained board contrasts the wall color perfectly. This board is part of a bed frame that holds a large mattress.
39) Love Pallet Headboard Design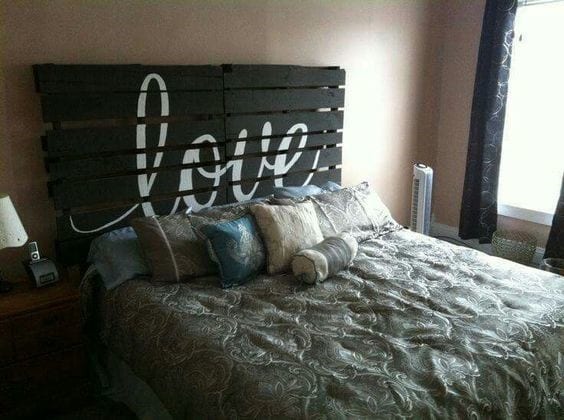 The headboard was stained using a very dark stain and this was because the designer wanted to paint the word love on the pallet surface. This is indeed a unique design and you can build your own design as well.
40) Cool Headboard Idea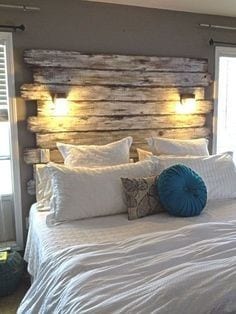 The pallets used for this headboard have a dark, whitewashed design. The headboard in this design was installed to frame the bed from the two windows on each side. The bed is notably comfortable with large mismatched pillows.
The two lights on each side of the headboard highlight the board creating a lovely shadow even when windows are open during the mornings.